Fall 2014, Pt. 2

11/26

As November Draws to an End, we've got a few amps and guitars from the 'end of the line' for the Silvertone brand (and the start of the 'Space Dot' insignia) as our first ups today.

1475 MIJ (Univox?) HBEG w/ C G $450 Clean, some wear, logo has glue residue from where it was 'shamed' at some point, gold finish worn from metal parts, wood inlay missing from whammy, weird dots in finish (mold damage?)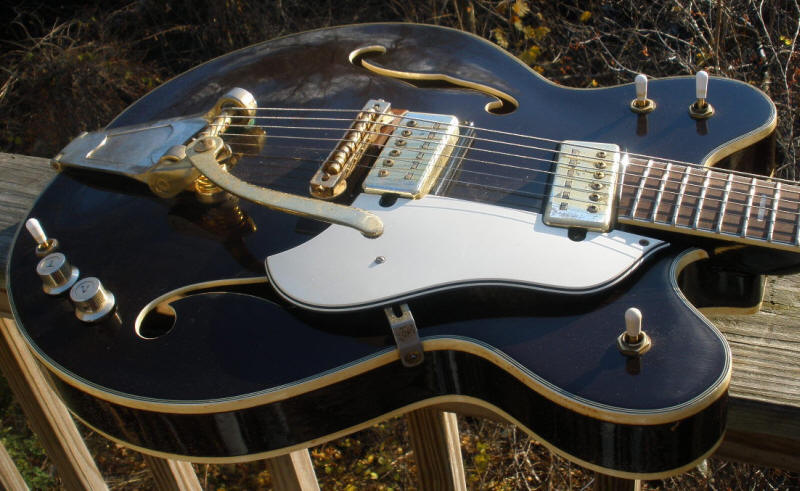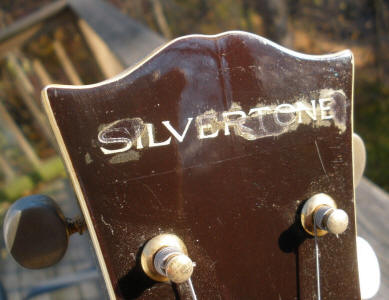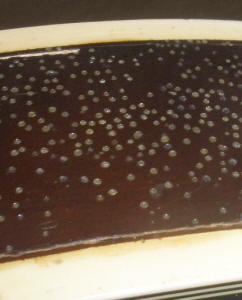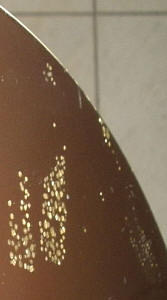 Could the quality of the photos have been the determining factor in the disparity in these prices for these two 1212 guitars?

1212 Harmony FTAC VG $170 Clean, light wear, 'Space Dot' in great shape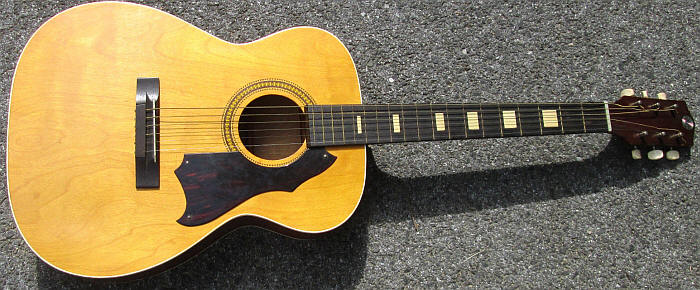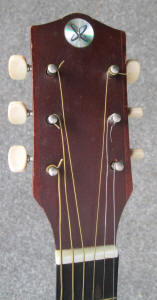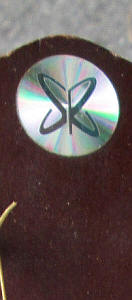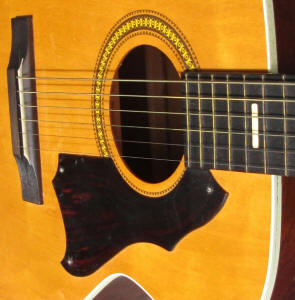 1212 Harmony FTAC VG $56 Clean, light wear, 'Space Dot' in great shape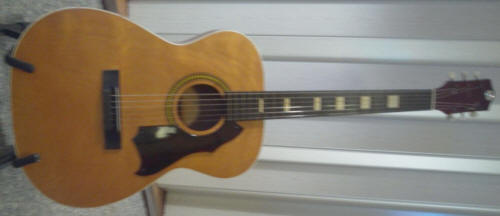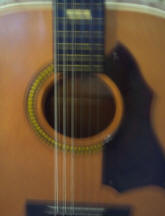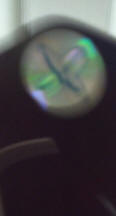 The Seller's wife demanded he clean house get a little holiday cash, so out these early 'Space Dot' 1420 amps go! Check out the build differences between these two amps. They are both 1420 designated, but the suffix to the number varies a bit, and did over a variety of 1420 models.

Here's a nice informative bit from the seller/modder about what he did to these amps: " I have several of these 5XL amps, because they're easy to work on, easy to customize, and sound great. Plus these are a real steal for a "vintage" tube amp -- no circuit boards, no transistors, just point-to-point wiring, and made in the USA. Of course these were cheap to buy new, and were made cheaply. They use the tubes from the old "All American 5" radio circuit -- 35w4 rectifier, 50c5 power tube, and 12au6 preamp. These tubes are dirt cheap even now, so you won't have a problem re-tubing in the future. The down side on these amps is that they had no fuse and no power transformer - the juice comes out of the wall, and directly into the amp. So, depending on which way you plugged this into the wall, you could be the path from the metal chassis to ground. An easy way to get that Hendrix hairstyle you've been lusting after. This one's been updated with a fuse. And an isolation transformer. And a grounded power cord. No, you should still not play this in the shower, but it is about as safe as any modern amp now. The filter caps have been replaced, since they're only expected to last 10 years, and this amp is about 45 years old. All resistors and capacitors were checked and replaced if not to spec."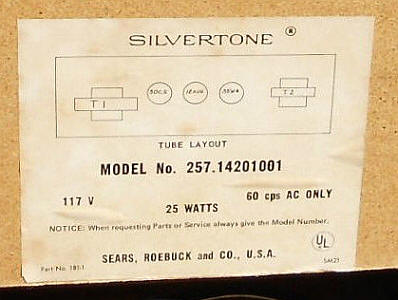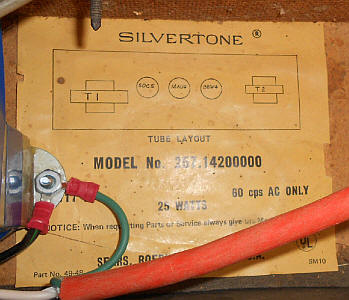 1420(1001) Sears tube amp MOD $85 Clean, light wear, modded with transformer and 3-prong AC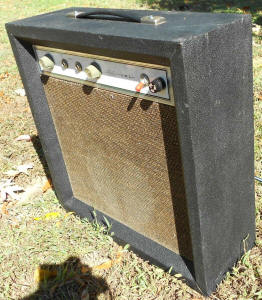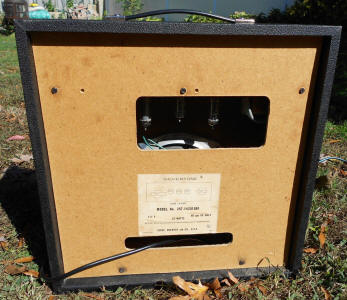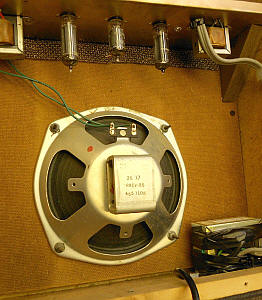 1420(0000) Sears tube amp MOD $67 Clean, light wear, small rip in grille, modded with transformer and 3-prong AC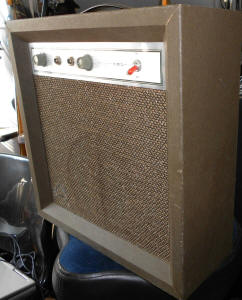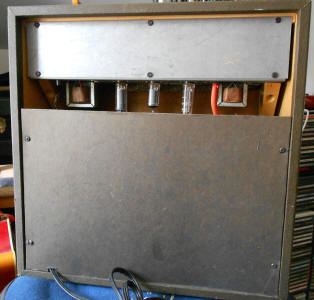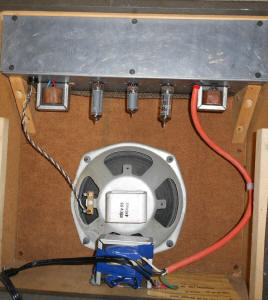 Alright... on to the true Silvertonium!

1446 Harmony HBEG w/ C G $760 Could use a cleaning, some edge wear, finish dull, some scratches on back, pickguard missing, rust to Bigsby roller and spring bolt, logo broken at 'S,' crack at jack wraps around to treble waist, looks like some overspray or removed finish on head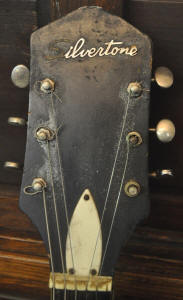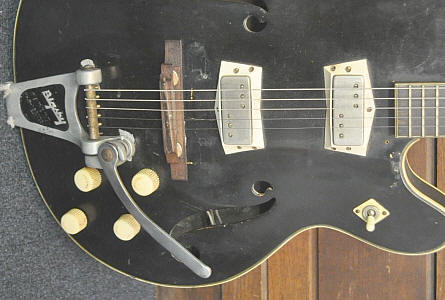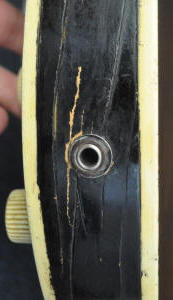 1450 Dano SBEG G $411 Clean, surface wear and scratches, whammy arm missing, logo strong, stress crack at neck pocket, pickguard screw crack at treble upper bout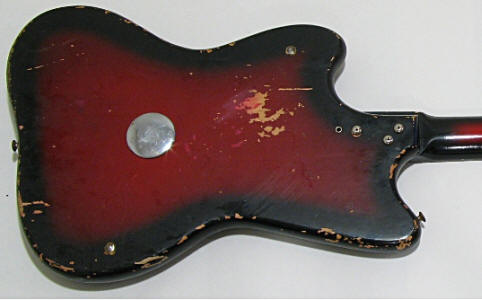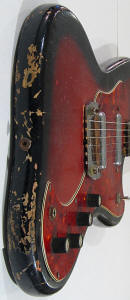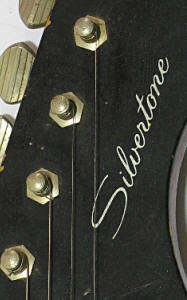 Another 1450; this is one a later version with a different logo, a symmetrical neck screw pattern and triangular plate

1450 Dano SBEG VG $375 Clean, some wear and finish checking, repro pickguard, NS whammy arm, logo strong, whammy spring cover missing, NS knobs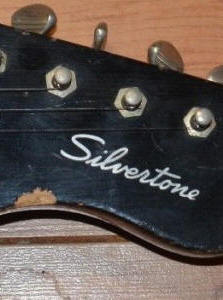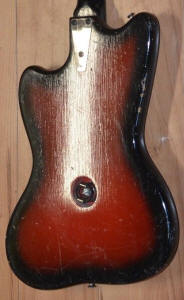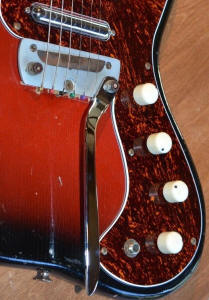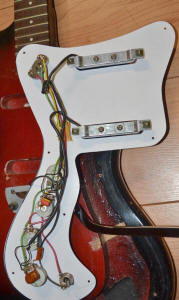 1474 Dano tube amp MOD $155 Covering rough, knobs DYMO-labelled, grille looks good, NS handle, tubes light up otherwise untested, modded with various additional jacks and cooling fan (!)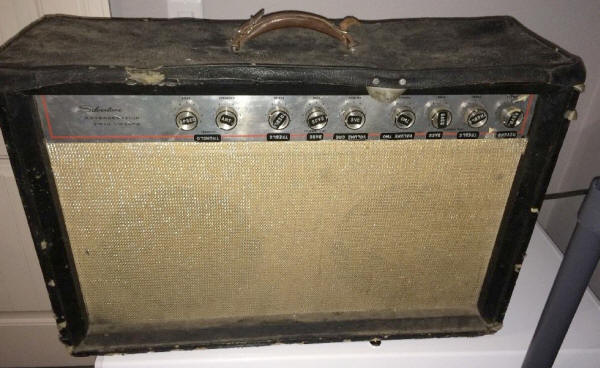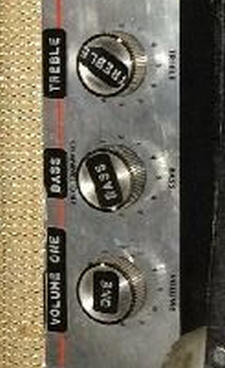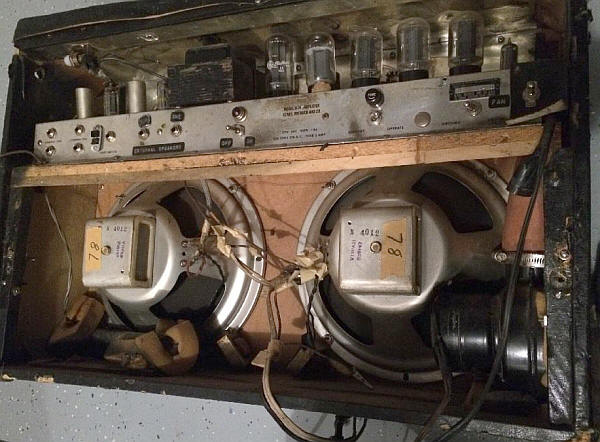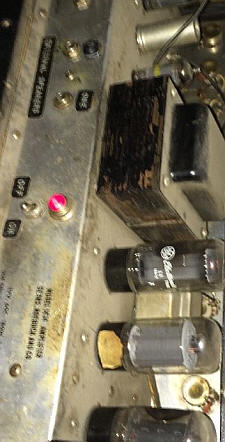 1471 Dano tube amp P $75 Covering rough, stains to grille, no tubes, power cord spliced, date stamping indicates March 1962 build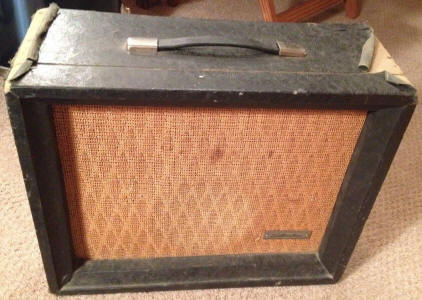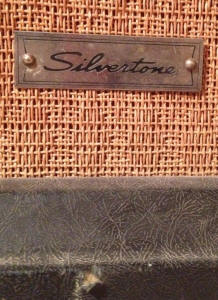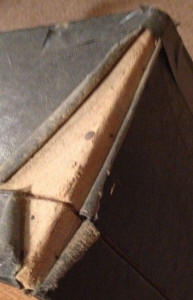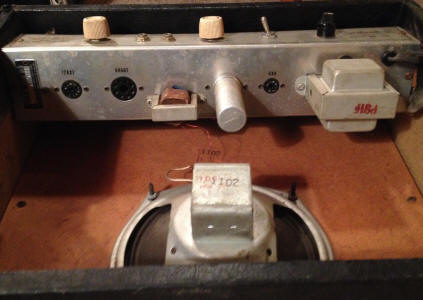 1470 Sears tube amp G $99 Wear to covering, logo strong, inner label intact, "The amp has just been serviced and re-capped; however, there is still a slight intermittent hum."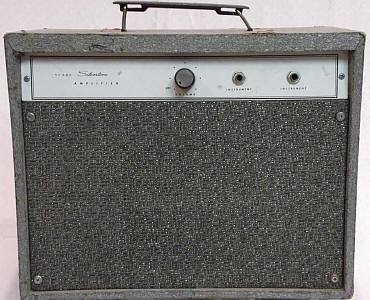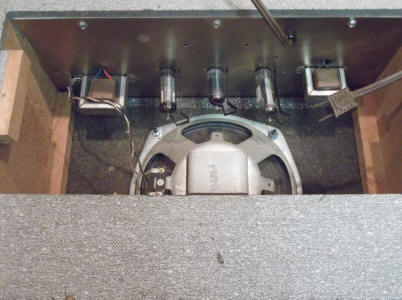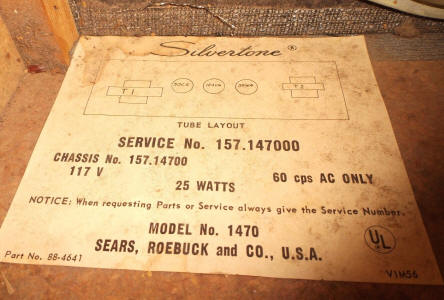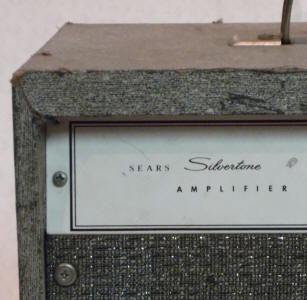 1465 Dano sold state amp only G $65 Clean, some covering wear and one ciggy burn, amp feet missing, functional but distorted, trem works, rev doesn't, no footswitch, speaker cables left hangin' seller says " the harder I strum a guitar chord, there is a momentary reduction in the volume"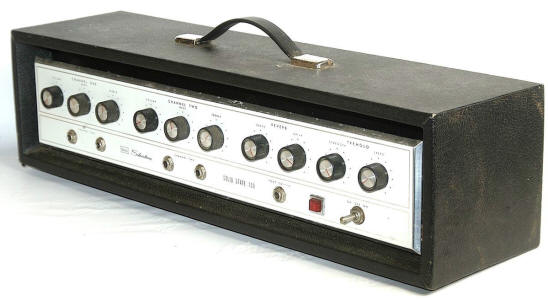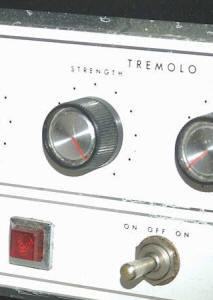 1385/1427 Harmony HBEG MOD <$1150 Clean, light wear, some finish checking, repro logo, NS bridge, NS tuners, neck has been reset, pickguard missing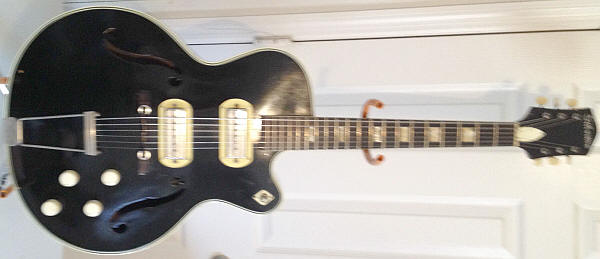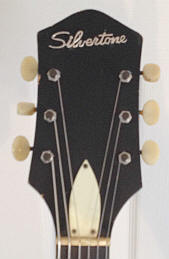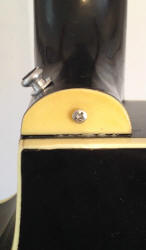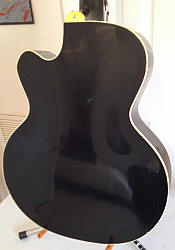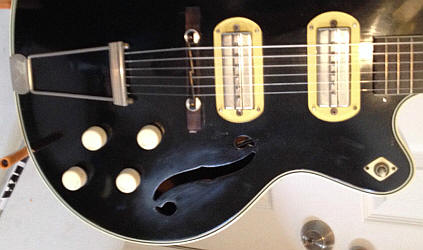 615 Harmony FTAC w/ C VG $119 Clean, light wear, logo strong, serial #5390H1143, date stamped F-65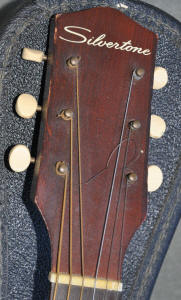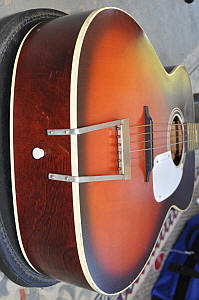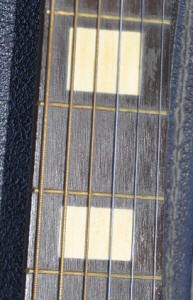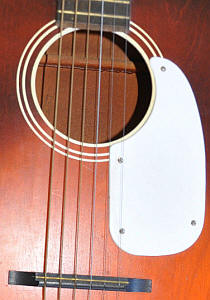 641/1210 Harmony FTAC VG $55 Clean, light wear, logo strong, nut shimmed two light cracks on bass upper bout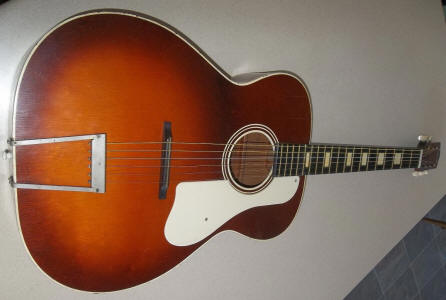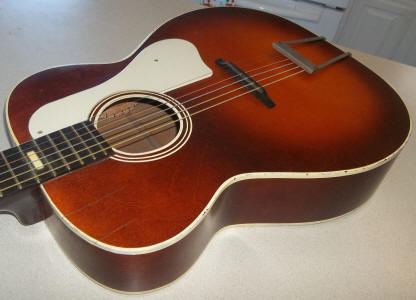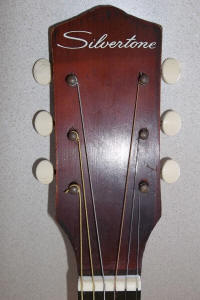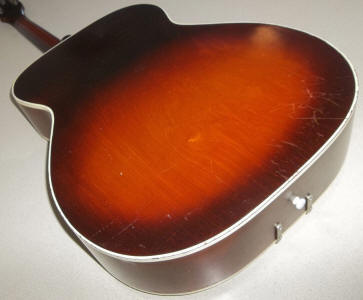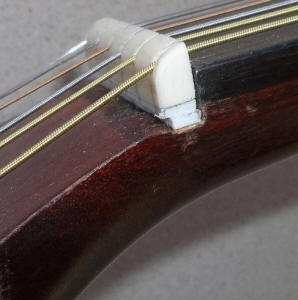 758 Kay mandolin w/ OC E <$450 Clean, minimal wear, slight mar on headstock at logo, neck has been reset, pitch pipe/strings/how to book and guarantee/care pamphlet incl.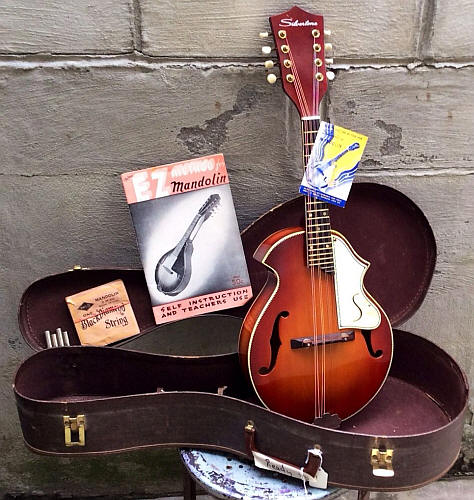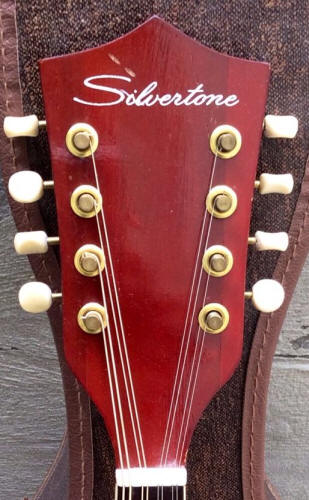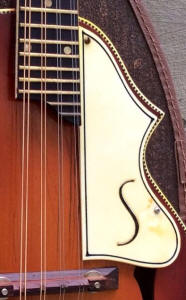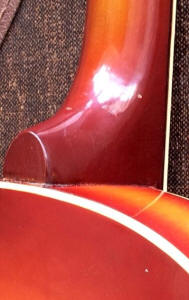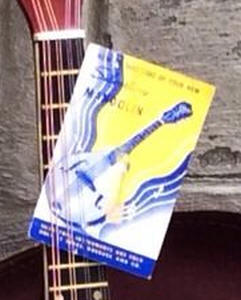 856 Harmony ukulele w/ OC VG $120 Clean, light wear, logo strong, some tape residue on bass side top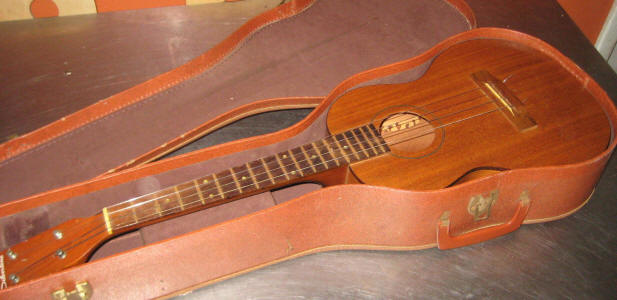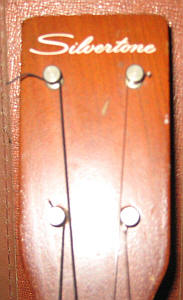 603 Harmony FTAC VG $155 Clean, light wear, a few scratches on top and back, logo strong, stamped F-66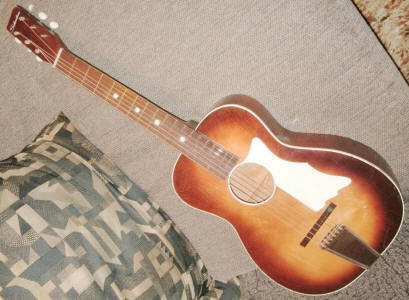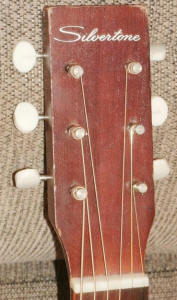 216 Harmony FTAC VG w/ C VG $180 Clean, some pick wear at soundhole, 'Melody Ranch' logo strong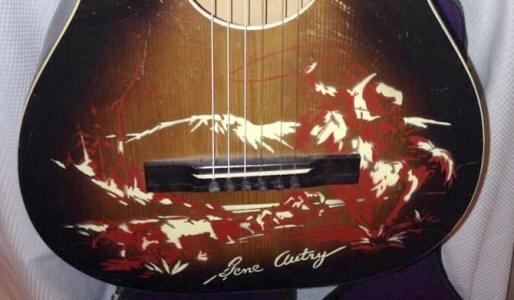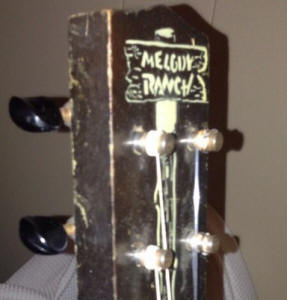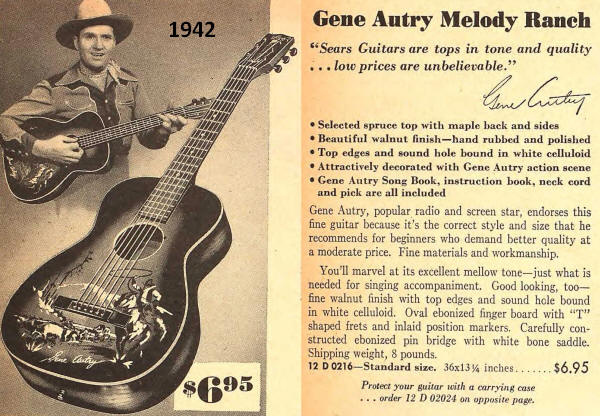 11/24

Kentucky... RED? "This was owned by a European polka band who painted all their instruments red and white."

653 Kay FHAC w/ C MOD $69 Clean, plenty of wear, refinished, NS bridge, logo still visible under the paint.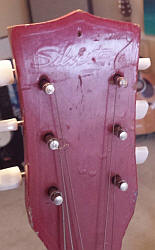 Alright... that oddball was just one small part of an ENORMOUS Silvertonin' weekend... check it out:

1204 Harmony FTAC w/ OC VG $150 Clean, light wear, logo strong, NS tuners, , holes in top indicate the guitar pickguard was set up for left-handed play at some point, serial #6362S1204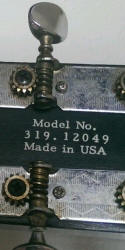 604 Harmony FTAC w/ OC G $24 Could use a good cleaning, light wear, logo strong, bridge needs some TLC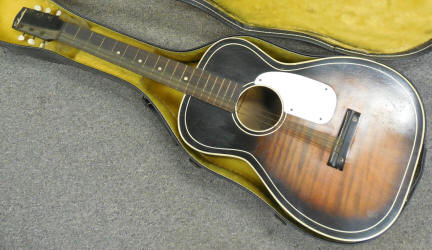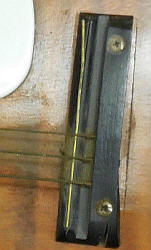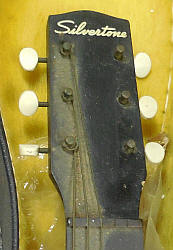 Here's a Silvertone World FIRST... of course, there wasn't a Silvertone logo anywhere on this violin, but the included pamphlet ID'd it as such. The inner label says "Copy of Jacobus Stainer Made in Germany." I won't comment further than the fact it looks like it's been through many a hoe-down, with the neck of the fiddle worn down to the wood. Went with case and bow for $105.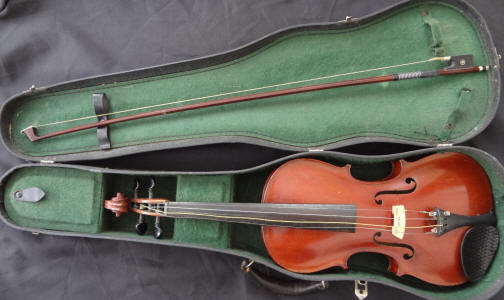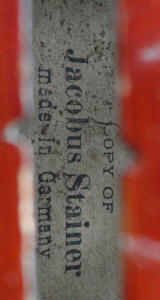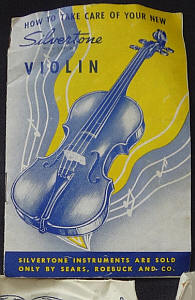 1423 Harmony SSEG w/ OC VG $960 Clean, light wear, logo intact, pick wear at treble side of lead pickup, pots dated Spring 1960, original cable incl.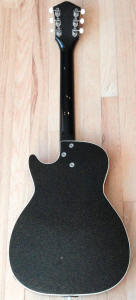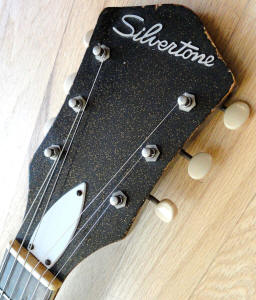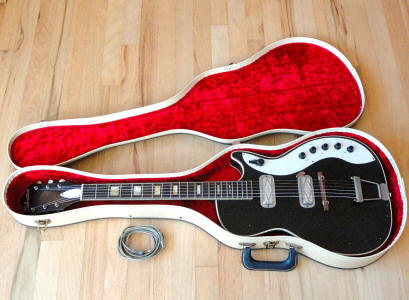 1302 Dano SSEG VG $500 Clean, edge/surface wear, logo barely there, rust to tuner plates, date stamp indicates March 1958 build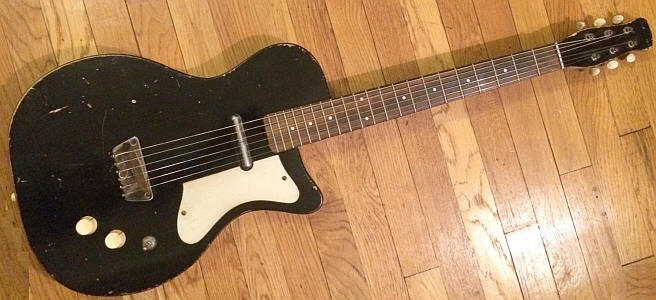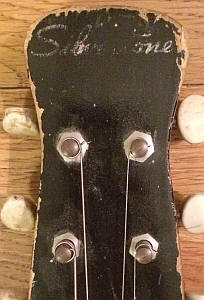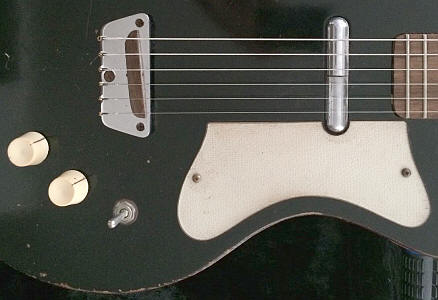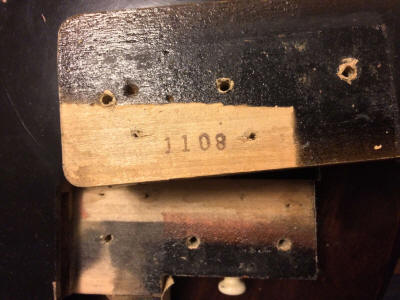 619 Kay FHAC w/ C VG $300 Clean, light wear, logo strong, treble side tuners NS, NS pickguard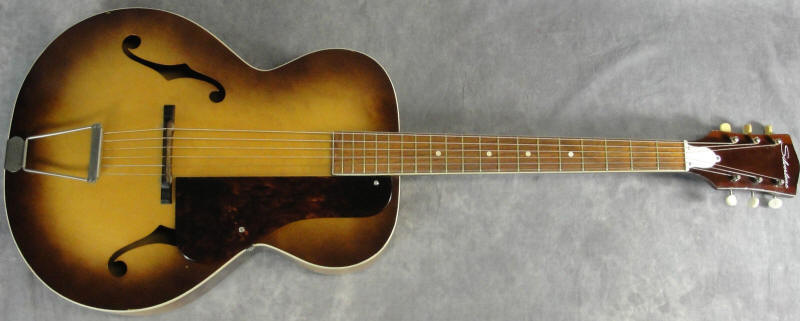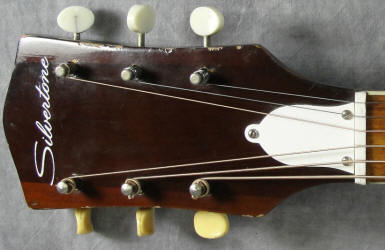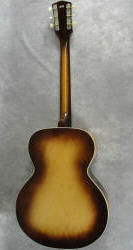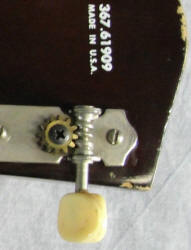 1333 Dano tube amp VG $450 Clean, some edge and corner wear, some scratching to control face, recently serviced, trem functional, no footswitch, cabinet stamping indicates Spring 1956 build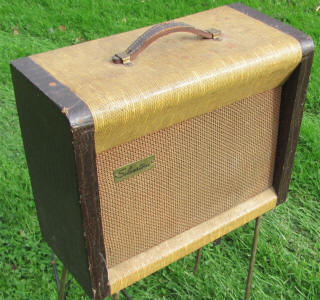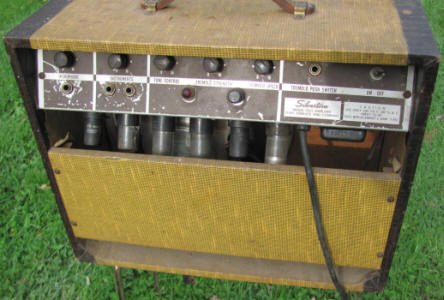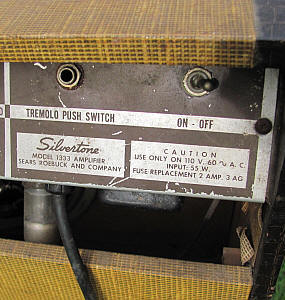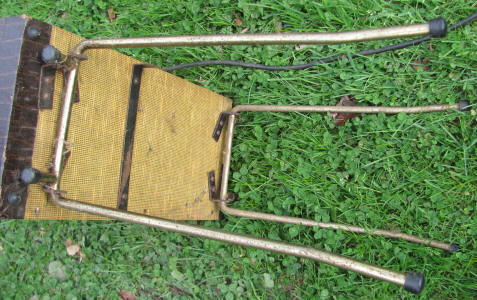 Did ya think those legs under that amp were some homemade jury-rig? Think again!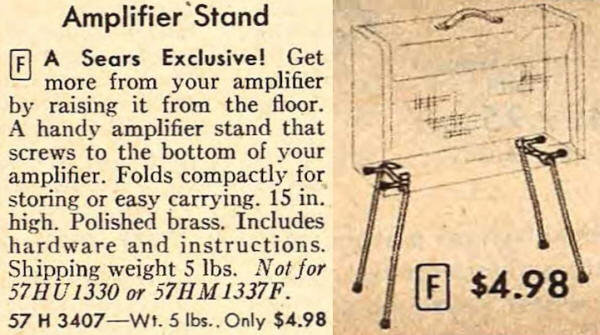 1457 Dano SSEG with tube ampincase VG $539 Clean, light wear, logo strong, some wear to case, small rip in guitar sidewall lower treble side, duct tape 'repair' to case corner, rust on clasps, 'cord keeper' still present, tremolo functional, footswitch incl. but doesn't work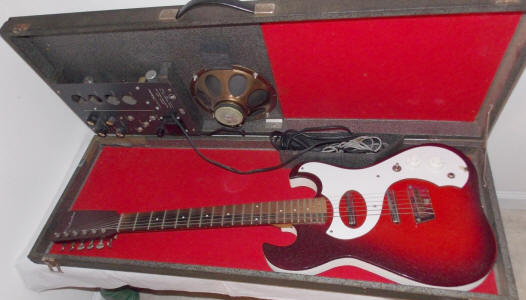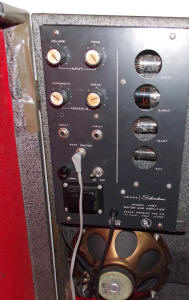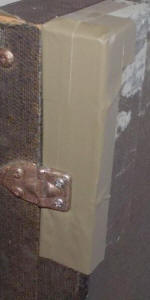 1448 Dano SSEG with tube ampincase VG $315 Clean, light wear, 'cord keeper' still present, some tape playing guides on fretboard, logo strong, case faded, transitional model with oval-button strip tuners, 3-screw neck attach & neck tilt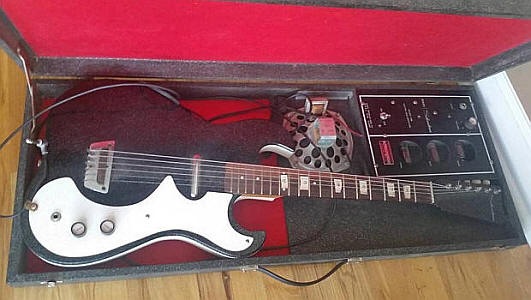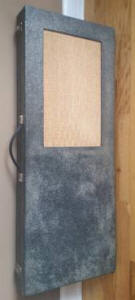 1448 Dano SSEG with tube ampincase VG $310 Clean, light wear, logo strong, inserts missing from guitar knobs, transitional model with oval-button strip tuners, 3-screw neck attach & neck tilt, speaker stamping indicates 1964 build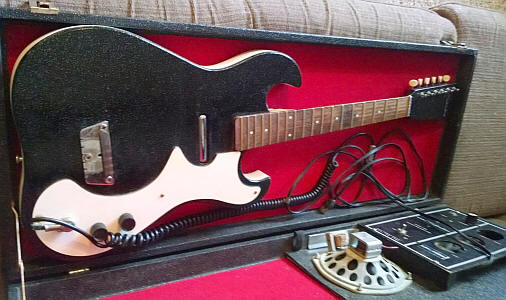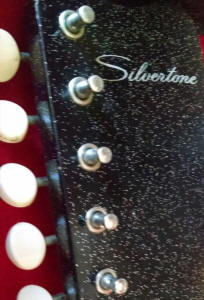 1448 Dano tube ampincase only G $149 Cover worn with some tears, NS speaker, insert missing from knob, functional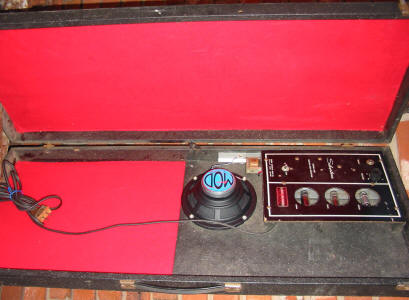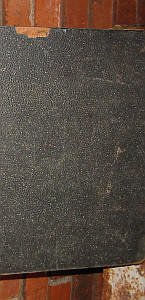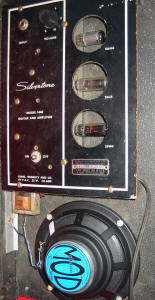 1448 Dano tube ampincase only G $103 Wear all over, lining faded, some slight warping to case edge, NS speaker, NS knob, clasps functional but rusty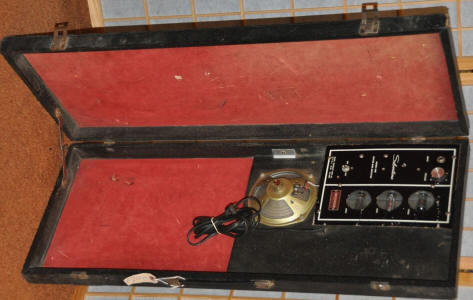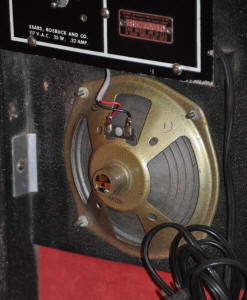 11/21

'Me and My Silvertone' Flashback Friday for ya... it's The Trends from Louisville, Kentucky and 1968! My friend, author Alanna Nash is the groovy drummer there in the back. Looks like the keyboard player is using a Silvertone 1483 to get her sound out, while the bass player and guitar player are playing a Teisco KB-2 and a Harmony H75. Photo by Edgar L. Daub.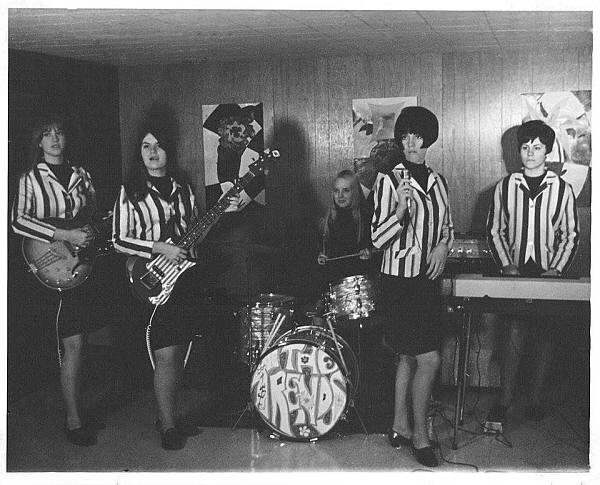 These groovy young ladies are firing on all the 'guitars and amps we love' cylinders, with a Silvertone 1483 amp for the keyboard, the bassist with a Teisco KB-2, and the guitarist is rockin' a Harmony H75.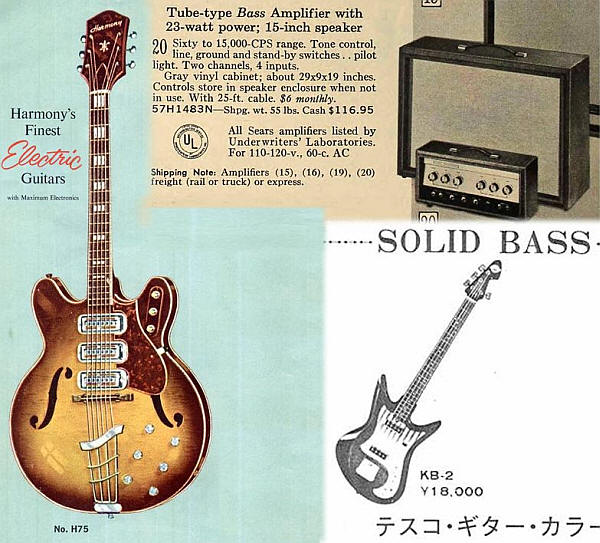 Here are a few more 'Me and My Silvertone' snapshots, gathered from our recent Facebook page posts:

From an unknown officer's club in the early/mid-'50s, here's a fine bunch of men in uniform, enjoying a rockin' combo with a Silvertone guitar and amp front and center! That's a Harmony-built 1350 guitar and one of the first Dano-built amps that Sears sold, the 1304/44.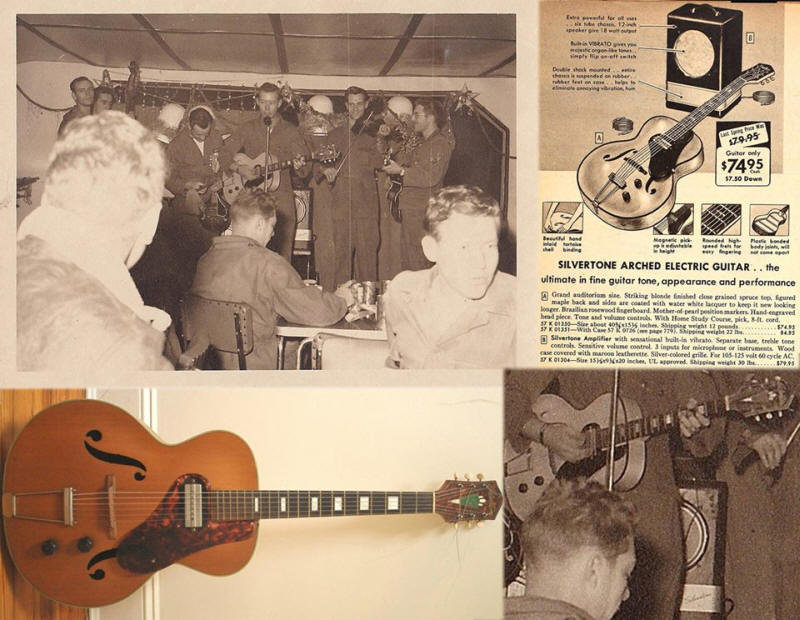 Garage band fun with The Elusives, from 1965 and Malta Bend, Missouri. Rockin' some Silvertonium all around; coupla 1484s and a back-up 1481 (there by the drummer... see it?), a 1444 bass and a 1477 six-string up front. A Gibson Firebird rounds out the mix.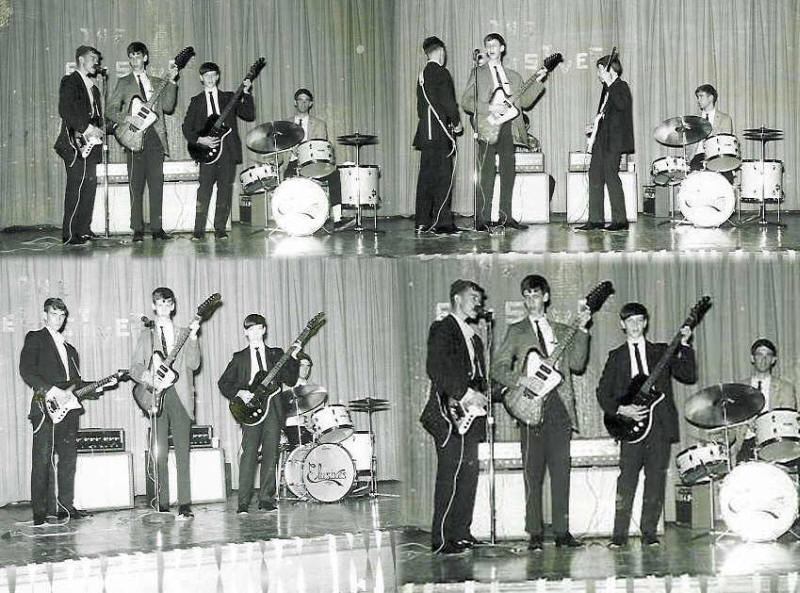 From 1965, it's The Warringtons! Looks like a 1485 and a 1484 amp on the backline, 1454 and 1446 guitars up front.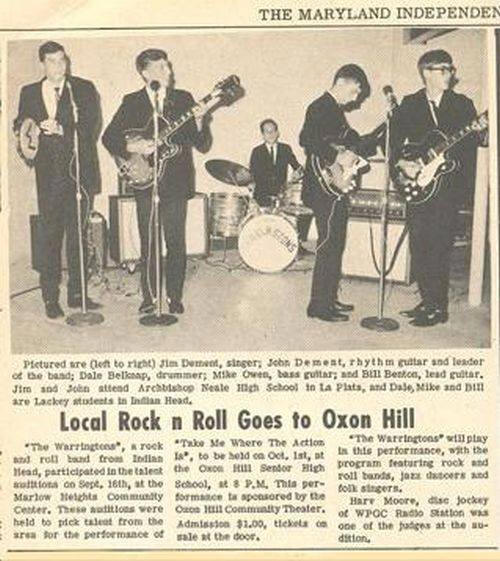 Ladies and Gentlemen, Everett. That's all we know. Well, that and March 1958. And Silvertone. So, what else can we *guess* from this photo? Looks like Everett was on top of the fashion trends of his time; he's got the cool Elvis-with-a-jacket look, his pomp looks regulation, and he's rockin' with a fine Harmony-built Silvertone 605!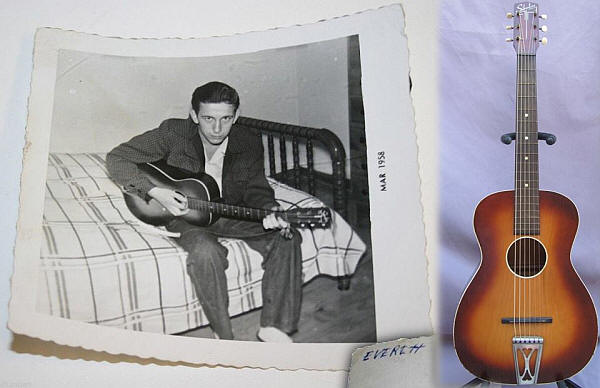 Great shot of a couple of US Navy sailors and a mid/late '50s Harmony-built Silvertone 602.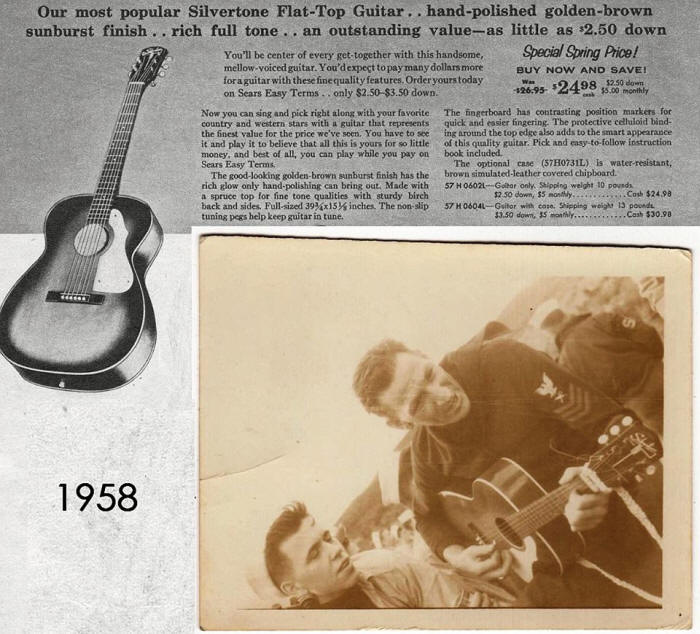 Unknown sailor, unknown ship, unknown location. But we *do* know it's from 1954, and that's certainly a Harmony-built Silvertone 1317 he's got to keep the swabbies entertained!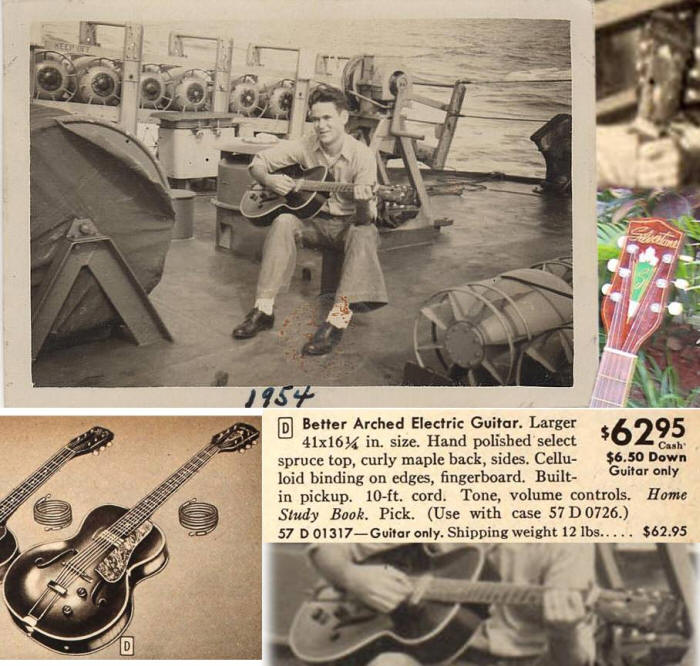 670 Kay FHAC w/ OC MOD $365 Clean, top nicely refinished, crack on top repaired, logo laminate in great shape, pickguard insignia strong, light wear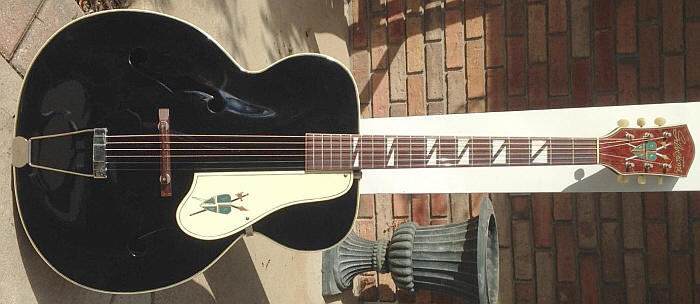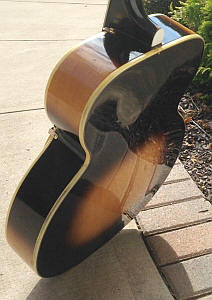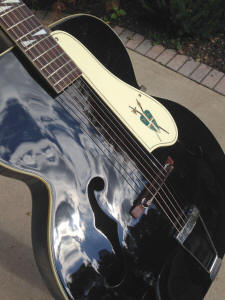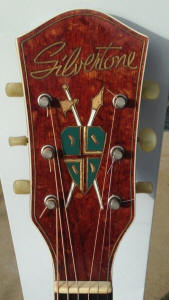 856 Harmony ukulele w/ OC VG $149 Clean, light wear, logo strong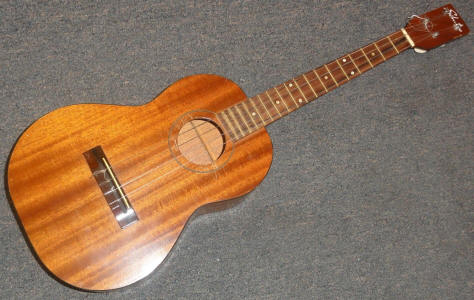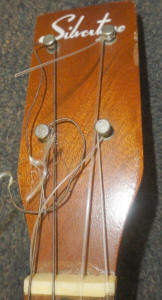 618 Kay FTAC VG <$345 Clean, light wear, logo strong, action 'a little high going up the neck'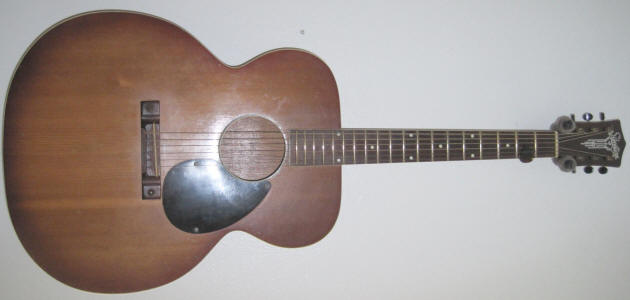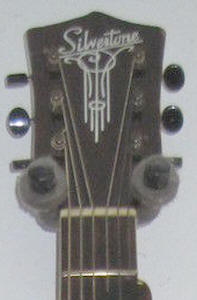 11/19

AMPITTUDE!

1340 Valco tube amp VG $220 Clean, light stain to grille, logo strong, handle and covering in great shape, bottom schematic damaged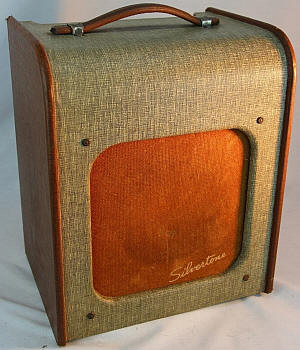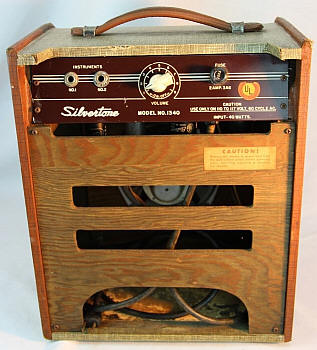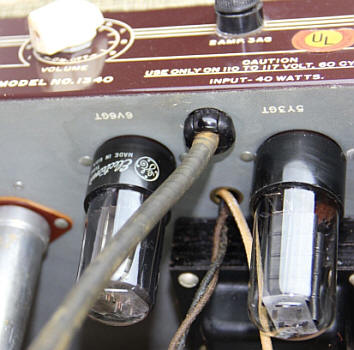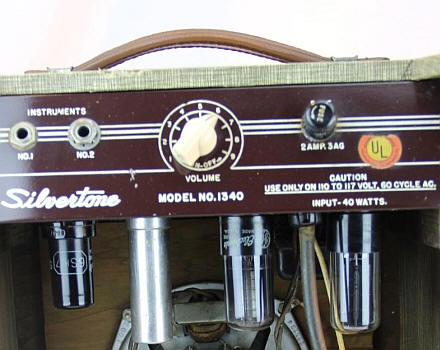 1340 Valco tube amp G $173 Clean, grille faded, handle missing, some edge wear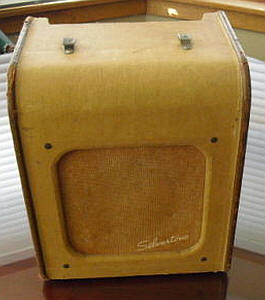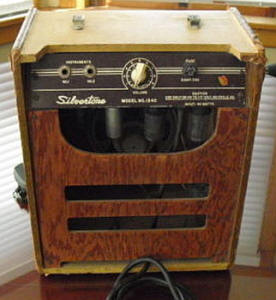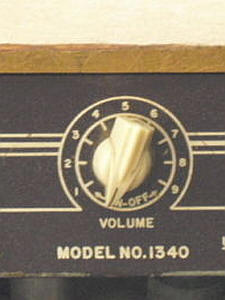 1301 Valco tube amp G $147 Needs a good cleaning, handle badly worn, grille cloth a bit ripply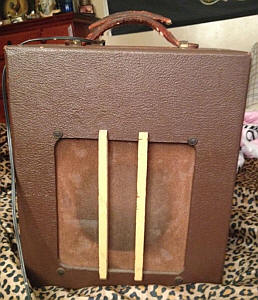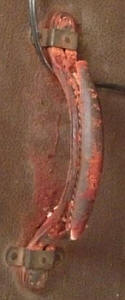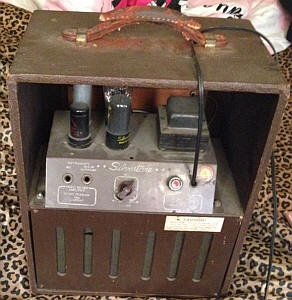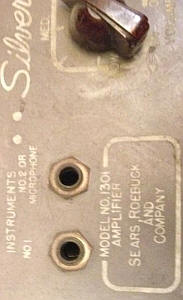 1484 Dano tube amp and speaker cabinet G $423 Clean, plenty of wear and some cover peel, control face shows rust dots, AC cord replaced, speaker stamping indicates early 1965 build, rev/trem functional, no footswitch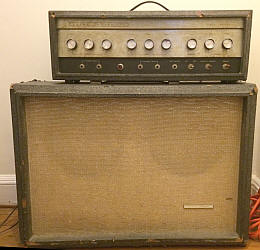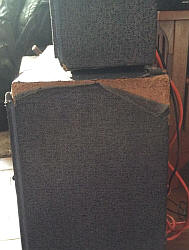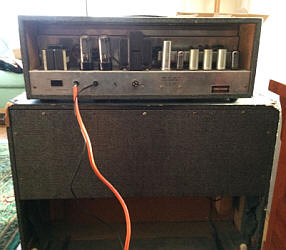 1448 Dano tube ampincase only VG <$249 Clean, light wear, liner looks great, a few scuffs to grille fabric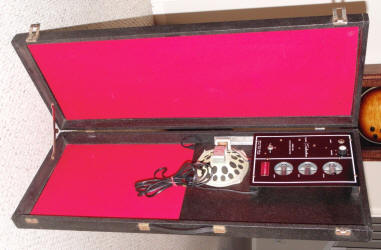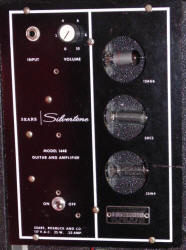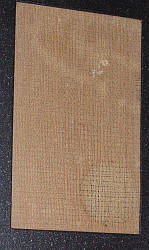 1419 Sears tube amp VG $181 Clean, light wear, some water spotting to back cover and inside cabinet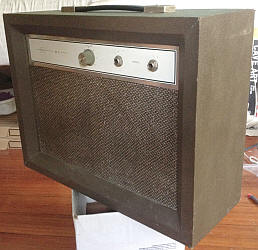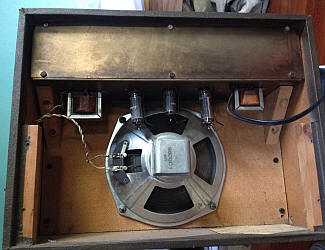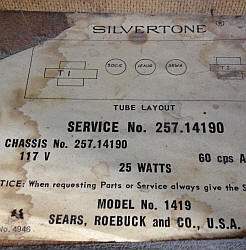 11/18

No Logo... but still pretty neat.

1321 Dano SSEG MOD $406 Could use a good cleaning, refinished, logo "can be seen very faintly," date stamped October 1957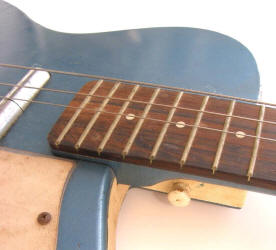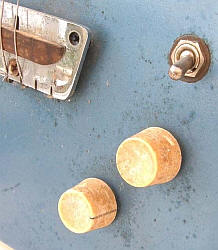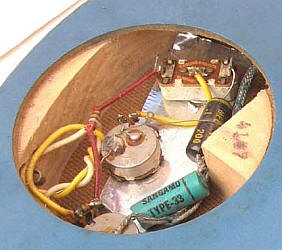 619 Kay FHAC G $151 Clean, some wear and dings, logo strong, some neck separation, high action, (1) bent tuner, stamped 57-619 & P-3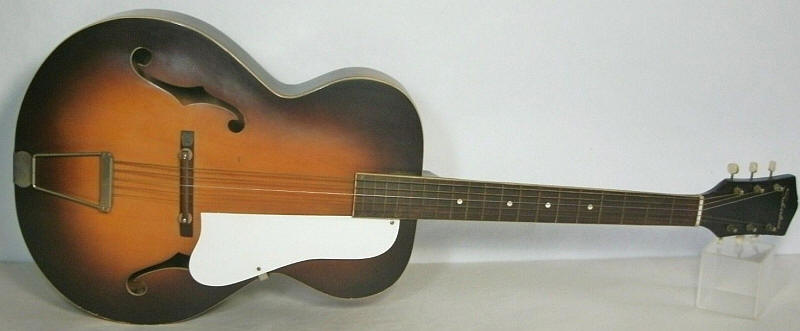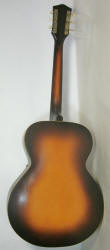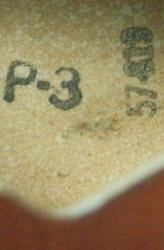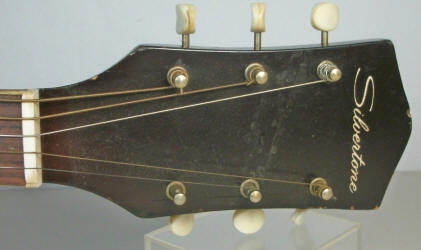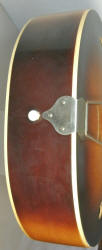 Someone needs a little bit a whole lot of TLC...

1420 Harmony SSEG $61 Body/neck only, badly worn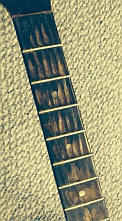 14XX Series Dano Reverb/Tremolo Footswitch $63 Worn, a little oxidation around the button nuts, untested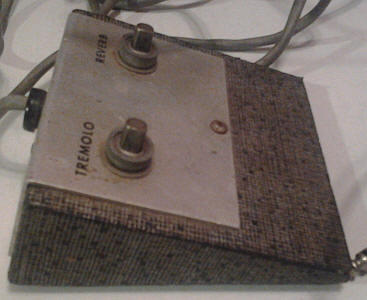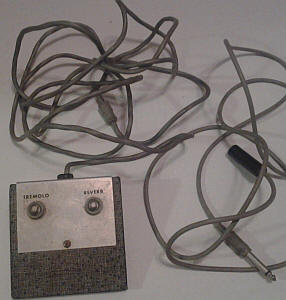 OK, I know ZIP about Silvertone accordions. The auction only caught my eye because of the relatively high price. That said, here's an early 50s Silvertone accordion, model 1565, apparently manufactured by the long-running accordion concern Scandalli of Italy... Went for $1450 on an eBay auction... doggone, it wasn't cheap in the first place! The catalog listing is from 1953.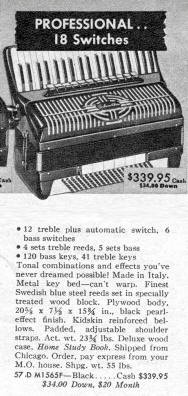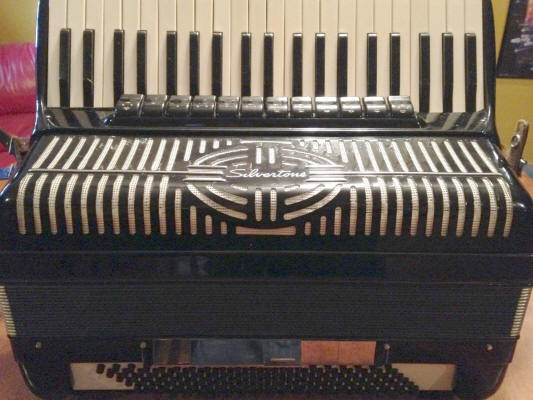 A little something from the '64 Files...

My Mom Was a Big Elvis Fan, and I eventually turned into one. I've heard this song as long as I can remember, and there's really no other version that compares with it (even though there are over 100 recorded versions of the Hayes/Johnson tune). I knew this song was part of the "Elvis' Christmas Album," released in late 1957, but what I didn't know (until stumbling across this industry ad in my year-long search for all things 1964) was that it wasn't released as a single until this week 50 years ago! Oddly, the flip was a song from the four-years-previous movie "G.I. Blues," a tune called "Wooden Heart."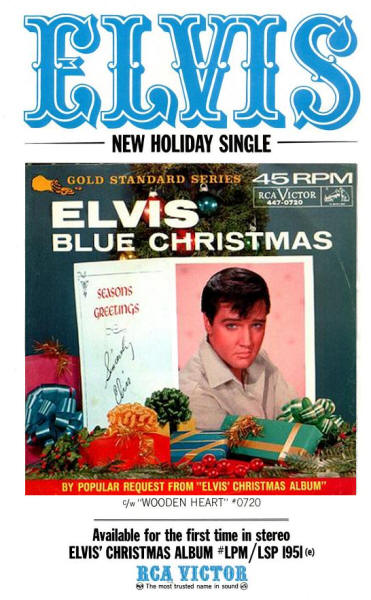 Annnnnd... just in case you've never heard it... here ya go, the original with Scotty, Bill, DJ, the Jordanaires and the high voice of Millie Kirkham:



TV Theme show collections have been popular a mighty long time it seems. Too bad the art of the television show theme seems to have gone downhill in recent years, using a 'known' song for a show theme, or in many cases these days, no theme at all.




How about this? Billboard Magazine giving DJs a little craft project so they'll have some hep patter to spin along with those stacks of wax!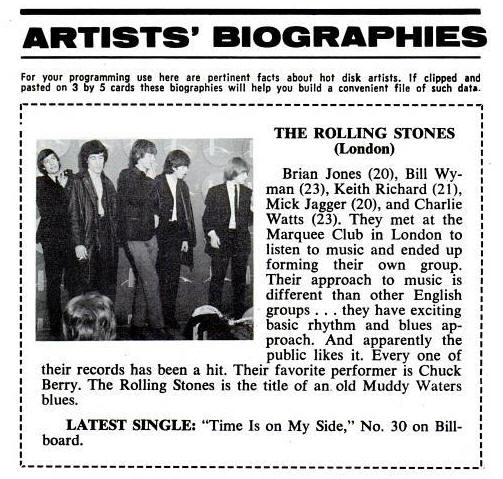 OK, I certainly remember the Nashville Teens' "Tobacco Road." Um... "Google Eye"... not so much. Just a great example of the record industry hype machine. Went Top 20 UK, apparently.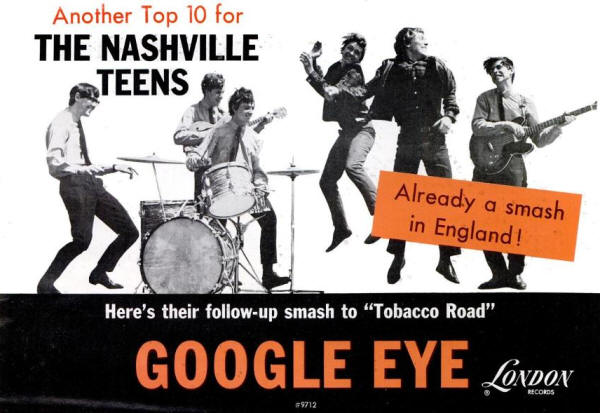 I used to play songs from their "Ballads and Bluegrass" album on my Saturday bluegrass shows back when I was a DJ, so I was excited to find this program announcement for Buck Ryan and Smitty Irvin appearing on Jimmy Dean's network show this week 50 years ago, and even more thrilled when I found the clip was available on YouTube!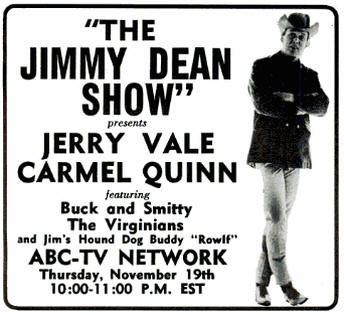 11/7

Little o' This, Little o' That....

605 Harmony FTAC VG $45 Clean, some edge wear, logo strong, light rust to tuner plates, (1) tuner bent, stamped F-64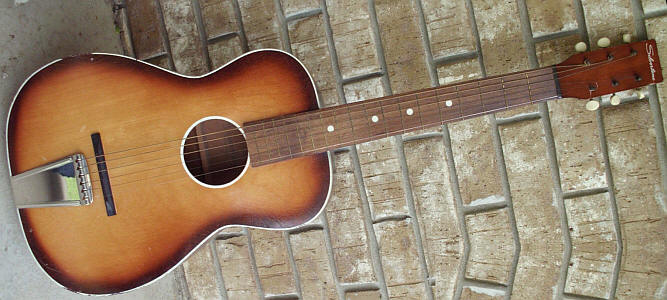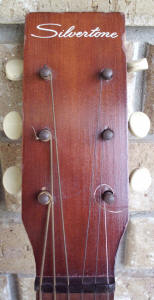 1459 Sear tube amp VG $95 Clean, light wear, grille looks good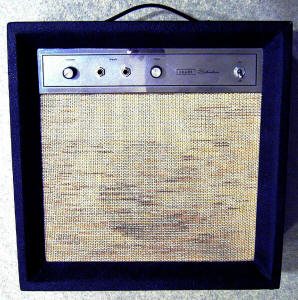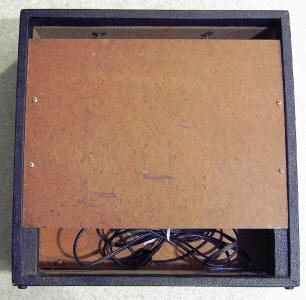 1392 Dano tube amp VG $499 Clean, light wear all over, 'flying V' logo a bit skewed, recently serviced, trem functional, no footswitch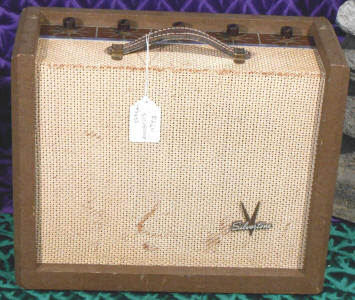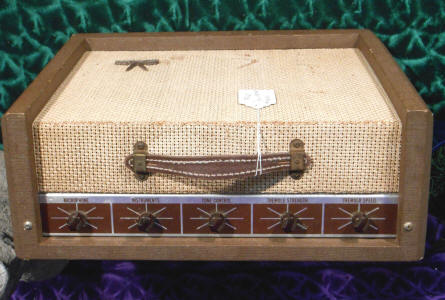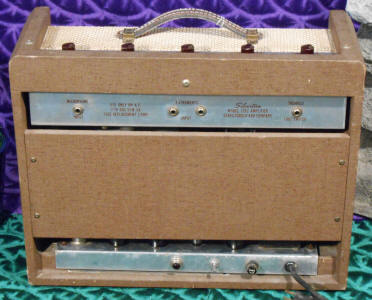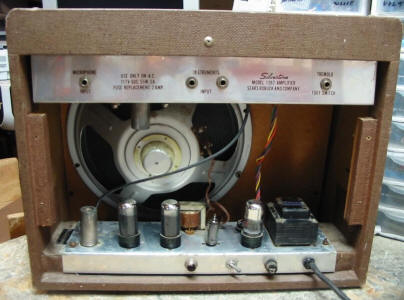 1448 Dano SSEG guitar only VG $425 Clean, light edge/surface wear, logo strong, knobs missing inserts, seller is original owner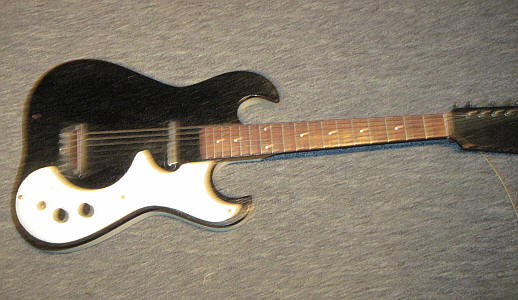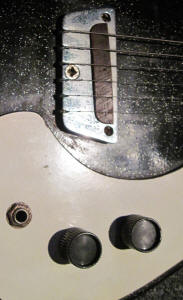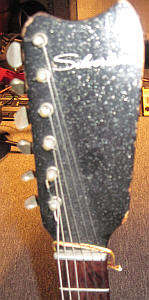 11/6

Soooo Many Speakers... the Solid State 1466 was one of the priciest, most powerful amps that Sears ever made available. This one looks great, and needs a little TLC to get back up to gut-punching speed... those half-dozen 10" Jensens are ready to rock!

1466 Dano Solid State amp and speaker cabinet G $700 Clean, light wear, casters present, amp "makes very low volume when ranked," cabinet stamping indicates late 1967 build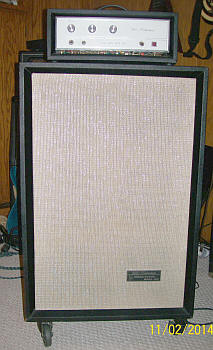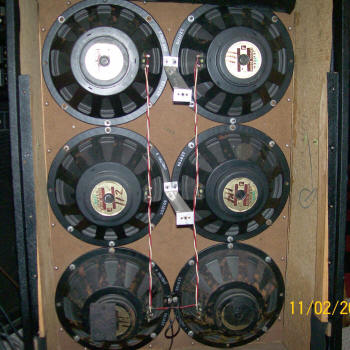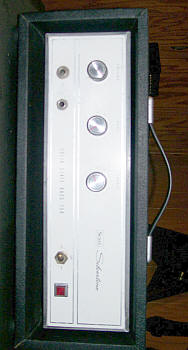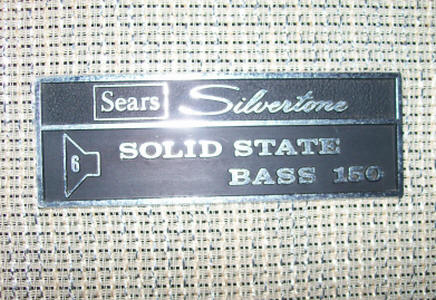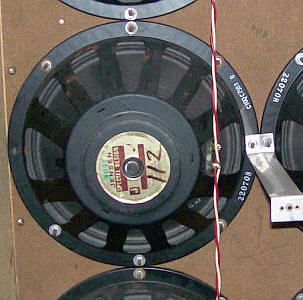 1483 Dano tube amp MOD $445 Clean, light wear, one ciggy burn on top edge. Recently serviced; from the seller/tech: "This amp has been blueprinted to better than original specs without destroying it's classic sound. All it's old electrolytic caps have been replaced as well as any marginal drifted resistors. A 3-wire grounded power cable has been fitted and the death-cap removed. The unnecessary ground switch has also been disconnected. Switching (auto grounding) 1/4" input jacks have been installed. Both channels are strong - Mods that were done: channel one had a 180 pf cap added across the volume pot to give it a brighter sound. The other channel is stock; the 16 mfd first stage power supply filter capacitor was replaced with a 60 mfd that fattened and tightened up the bottom end. Dimed it has a bit of crunch - more so on the 2nd channel. This thing takes pedals extremely well especially a Screamer and sounds great through a 8 ohm 2 X12 cab. Very quiet at idle, clean and NO HUM. It has 2 Sylvania 6L6 Output tubes, 2 - 12 ax7s preamp tubes (one an original Silvertone), a Silvertone 6FQ7 mixer tube and a Sylvania 5Y3GT Rectifier. The original transformer has not been replaced - sounds like it was not abused - strong and functioning well. The original speaker cable was removed and was replaced with a 1/4" jack (it will be included in the sale)."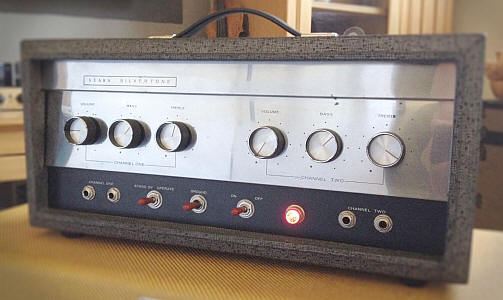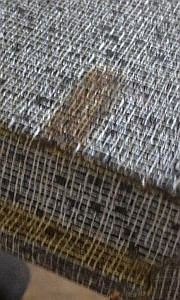 This bass would go great with either of those amps up there!

1444 Dano SSEG bass VG $899 Clean, light wear, logo intact, NS knobs, looks like the neck has had its share of stage dives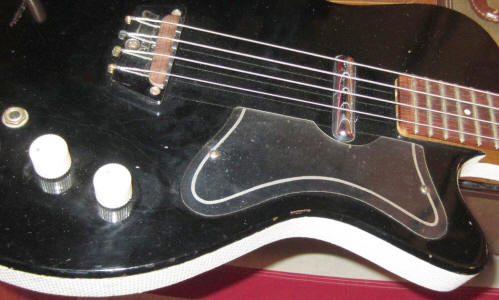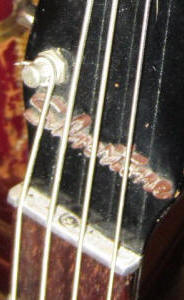 1454 Harmony HBEG E $1060 Clean, minimal wear, logo strong, date stamped F-66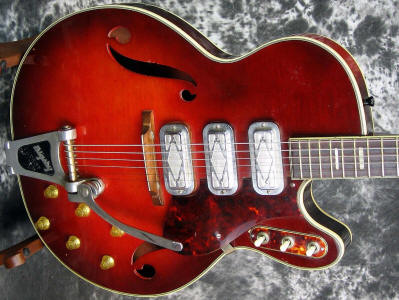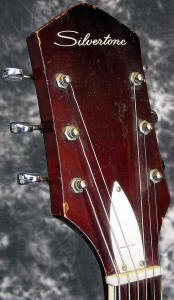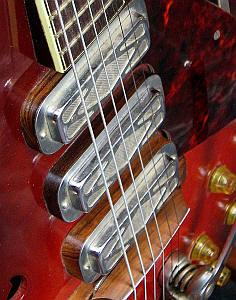 1454 Harmony HBEG MOD $381 Clean, light wear, logo strong, small ding on headstock, playing wear to neck, some 'cord melt' on back, pickups replaced, middle p/u covered, (2) V/T controls eliminated from network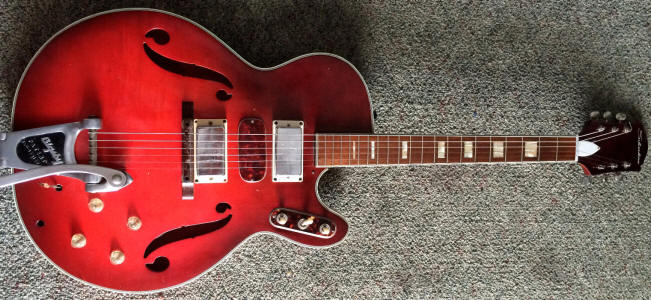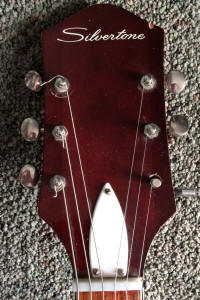 1448 Dano SSEG with tube ampincase VG $375 Clean, some light scratches to back of guitar, case-scrape ding on lower treble bout, ampcase has some scratches/tears, logo strong, recently re-capped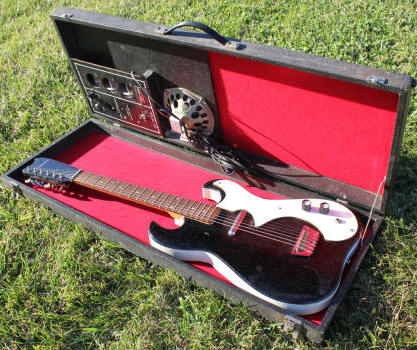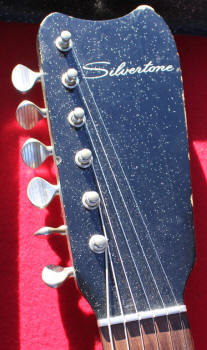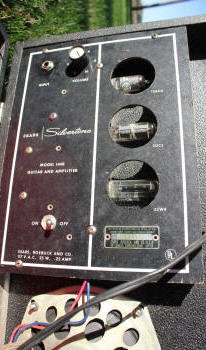 653 Kay FHAC w/ C P $79 Needs a lot of TLC; no hardware, several cracks, finish faded, 'wind chime' logo strong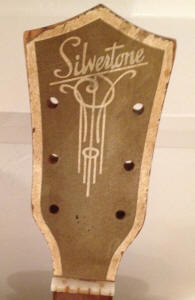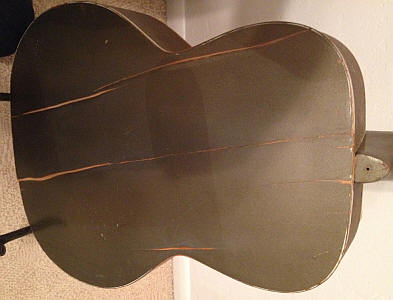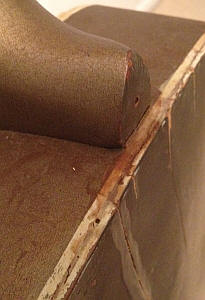 623 Harmony FHAC w/ C G $185 Clean, some edge wear, some repaired cracks, logo strong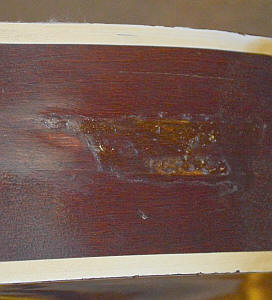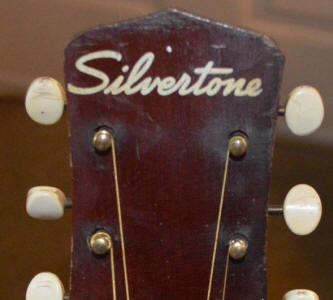 11/5

1446 Harmony HBEG w/ OC VG $999 Clean, light wear, logo looks worn, NS tuners, scratch on back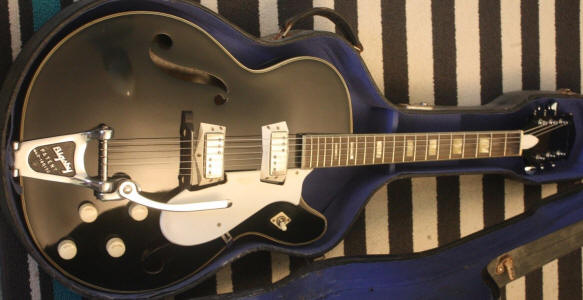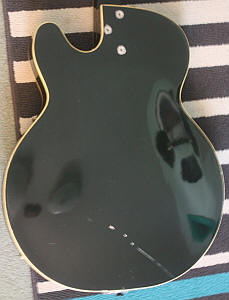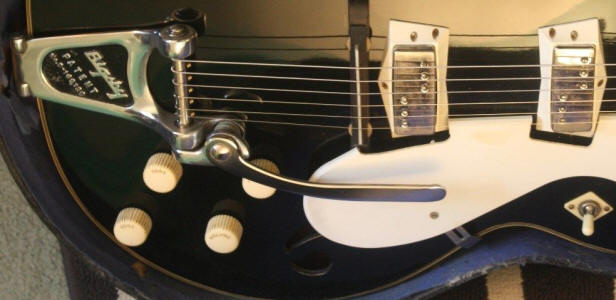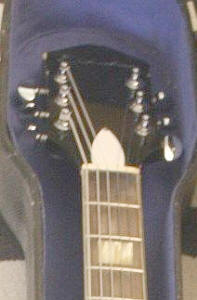 11/3

There's Always That ONE Zombie that comes out after you think the rest are vanquished.

1449 Dano SSEG guitar only MOD $250 Clean, NS humbuckers, NS knobs, pickguard cut to accommodate pickups, logo strong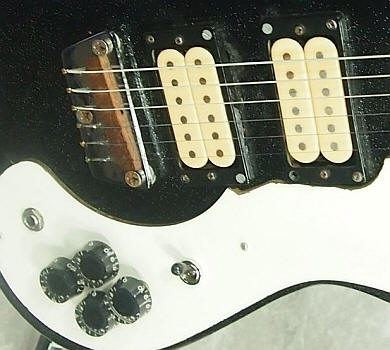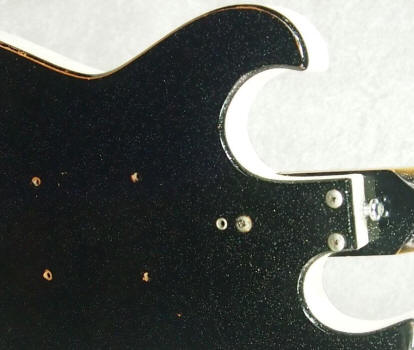 Check the bridge... those front two screws are supposed to go under the plate, not through it.


1340 Valco tube amp VG $165 Clean, light cover wear, small bump on front corner, logo strong, handle worn, recently serviced, 3-prong AC mod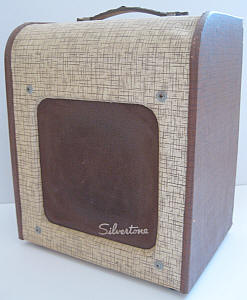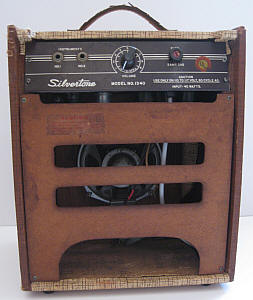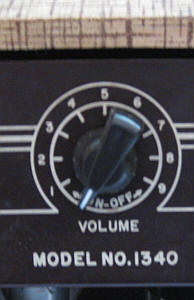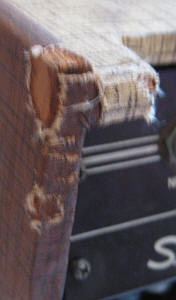 1482 Dano tube amp VG <$400 Clean, light wear, xformer replaced, stamping indicates early 1966 build, tremolo unmentioned but seller says : "WORKS FINE, HAS A VERY SLIGHT HUM, GREAT SOUND."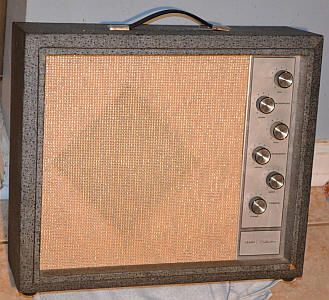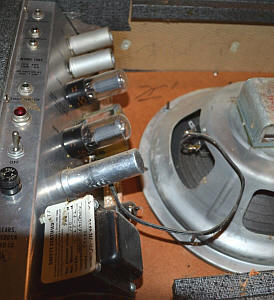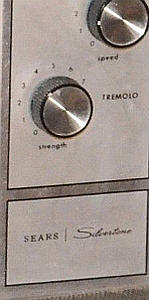 1482 Dano tube amp VG $255 Clean, light wear (esp. corners/edge), NS speaker, tremolo works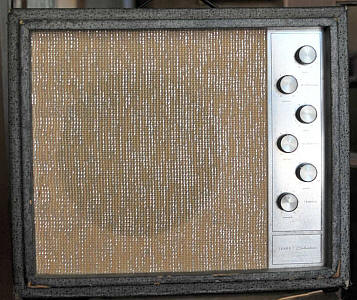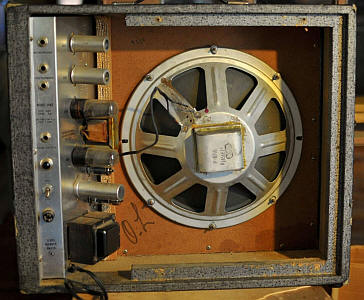 1448 Dano SSEG with tube ampincase VG $320 Clean, logo seems faded, NS speaker, some rips to case covering, 'NIRVANA' and 'NIN' scrawled on sidewalls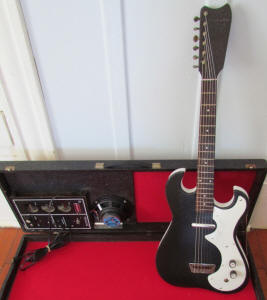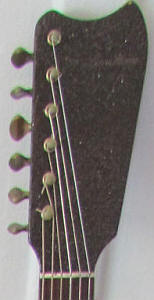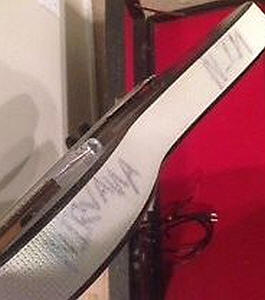 They turned it into a bass!

1476 Harmony SBEG w/ C MOD $224 Finish dull, logo strong, cord melt and wear on back, chrome pitted, NS nut, pickups dated 1965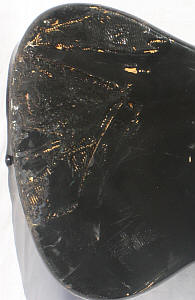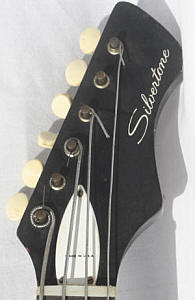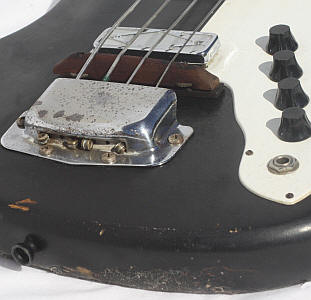 Note the 'reverse peak' pickguard.

1217 Harmony FTAC w/ OC VG $195 Clean, light wear, 'Space Dot' looks good, bridge sound, serial #9599S1217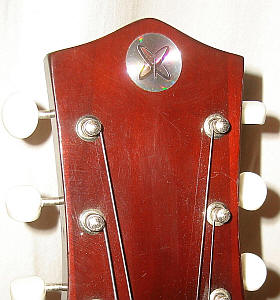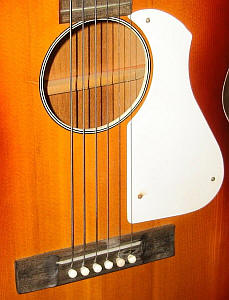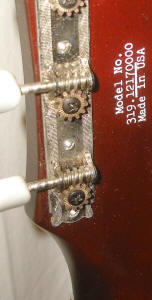 Bolt-on neck!

1245 Kay FHAC VG $223 Clean, light wear, logo worn/retouched, playing wear to neck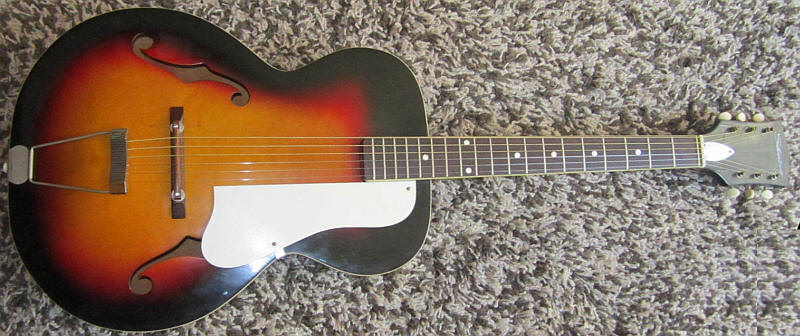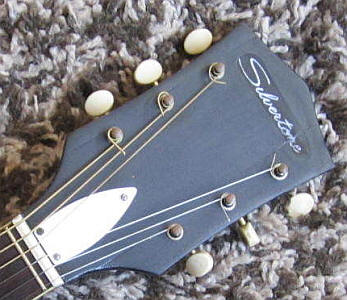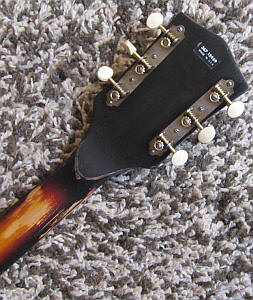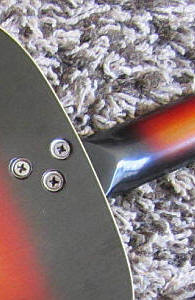 Sad puppy...

641 Harmony FTAC G $100 Clean, wear all over, logo strong, looks like some water damage along back bottom edge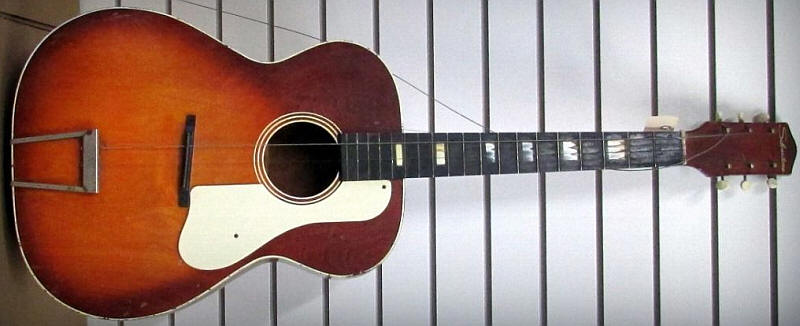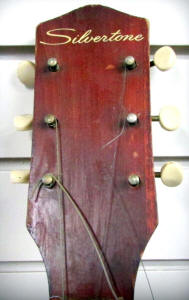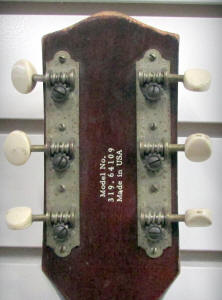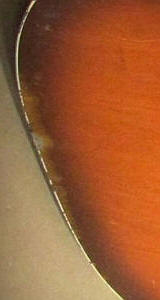 11/2

Prince Has A New Album Out... and he appeared last night on Saturday Night Live, in an unprecedented 8-minute slot in the middle of the venerable late-night show. Being the creaky sleep-deprived geezer I am (regardless of the extra hour of snoozetime we got last night), I TIVO'd the show, and FF'd to Prince's performance this morning. From the opening group still of the band, and given the non-Silvertonium tendencies of Prince and his bands, I wasn't expecting anything in the way of our fave instruments, so I was pleasantly surprised when Ida Nielsen, bassist for Prince's current band 3rdEyeGirl, could be seen holding down the bottom end with a Danelectro Longhorn bass! Warmed my ol' heart to see some lipstick-pickup goodness powering the sound of one of the most innovative and controversial artists of the past 35 years.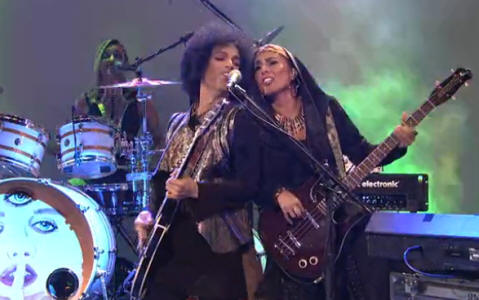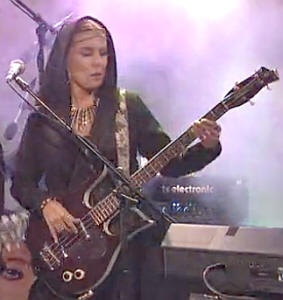 Check out the entire performance of "Clouds" and the guitar-melting "Marz" and "Anotherlove:"


ABBREVIATION KEY:
MODEL # / MANUFACTURER / INSTRUMENT TYPE / CONDITION / PRICE / NOTES
Abbreviations: M-Mint, NM - Near Mint, E- Excellent, VG- Very Good, G- Good , F-Fair, P-Poor, NS- Non-Stock, HBEG- Hollow Body Electric, FHAC- F-Hole Acoustic, FTAC- Flat-Top Acoustic, SBEG- Solid Body Electric, SSEG- Semi-Sold Electric, MIJ- Made In Japan, MOD - Modified significantly from stock, w/ O/C Original / Case, BOA - (related to price) Best Offer Accepted; price shown was asking price, sold for less, DNS - Did Not Sell; used mainly to show an item of interest whether it sold or not.
Unless otherwise noted, I'm rating them by what I see in the pictures and read in the description.

The items depicted on this page are not for sale by Silvertone World. These are reviews of items from completed eBay auctions on or around the date specified.