The Silvertone World Interview with Dexter Romweber



8/23

Aw, give a big '10-4' to the Truckin' Man! 'Summer' by War is one of my favorite summer songs, and the first thing I thought about when this Silvertone CB Radio hit the auctions today. Quite a bargain for just $5, good buddy!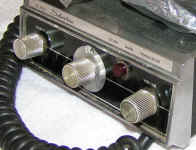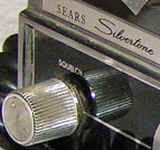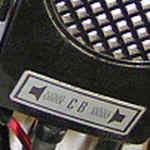 8/16

An August mystery! After the Silvertone name had faded from the pages of Sears & Roebuck, there were lots of Made In Japan electric twangers... some funky 'originals,' and a few clearly trying to look like a famous guitar. It was actually some years before Sears started selling blatant Les Paul™ or Strat™ rip-offs, but Sears got busy with the Telecaster™ clones pretty quickly.

Here's one I can't find in my catalogs, it's an ivory-colored version of the 1413. The 1407 shared this color, but was only one pickup and whammy-less. The 1442 Tele™ clone was much more 'Fender™-y' looking, so much so that it could have been mistaken at twenty paces for the real thing. The 1407 and 1413... not so much... they tried, but the pickguard dimensions, pickup appearance, bridge placement and structure were really off, and the whammy... well.... that's pretty NON-Tele™ in my book. Anyway, here it is, looks good, but no bridge or whammy arm and one knob gone.... it went for $165. Even weirder... the item was located in the UK! Of course, given that there is no 'Space Dot' on the headstock, this (probably Univox-built) guitar may not be from Sears at all! Well, at least we had some fun...
Here's a great 1972 Wish book page featuring all three mentioned Telecaster™ wanna-bes!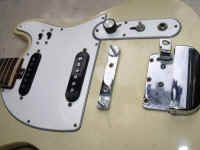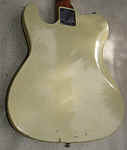 8/8

Nice old guitar, touching circumstance. This Harmony-made 1320 sold for a respectable $275 the other day, the proceeds going to help pay for the burial of its owner, a Kentucky "local musician who past (sic) away." The guitar was pretty rough; no pickguard, finish checking/flaking evident, mildew on the pickup bezel, a screw through the heel 'repair,' new tuners, and a still-strong 'deco' logo stencil. The electronics tested functional.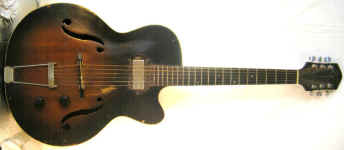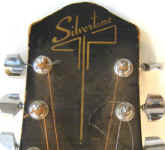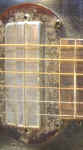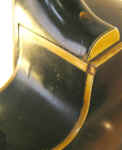 Rare one-off or Frankentone? That was the question in my mind when I saw this quite nice mid-late '50s 1367 Kay-made electric up for sale. It looks great, but the neck is the same as the late-era acoustic 712. The 'boater hat' marker'd, dark headstock logo laminate 712 models pre-dated the 136X line by a good five years (the linked 712 is from 1949). Custom job? Later repair/mod? Seller says "This is the only one like this I've ever seen. The original owner remembered getting it in 1956 or 1957. It is all original with the exception of reproduction knobs and tuning machines, both retrofitted. I took this to a luthier's shop when I bought it (2003) and had a neck reset, ground wire installation, strap button, and a finish polish." Bids went up to $360, but did not meet reserve.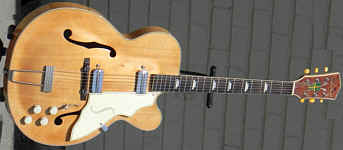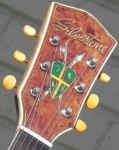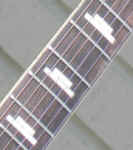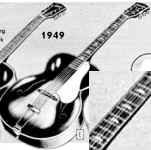 8/5

| | |
| --- | --- |
| | Dog days? Well, maybe that hound on "Hee Haw." You know the one who moves slowly (if at all) and yawns a lot? Beauregard! That's his name. Anyway, that's kinda how the auctions have been lately. However, I've gathered up a few pretties (and one ugly) to bring to you today. Enjoy! |
Here's a fine 1438 bass from that mid-60s selection of non-catalog Teisco instruments. I really think Sears was testing the waters with these in advance of the late-1968 MIJ takeover of the electric line. Serial #140531, it's nice and clean, the chrome is shiny, the tailpiece cover and finger rest are both present, and the logo tag is proudly displayed on the big 'tab' of the headstock. It just underwent a pro setup and checkout, and went for a tidy $345.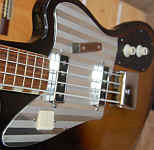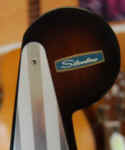 Aside from a little water staining to the grille, the fine 'Twin Twelve' 1396 is ready to rock. Tremolo's pulsing, there's a new handle, the Silvertone V is intact, mission control looks good and the original 12" Utah's are present. $750 took it home.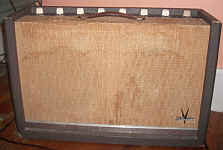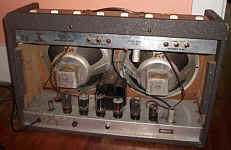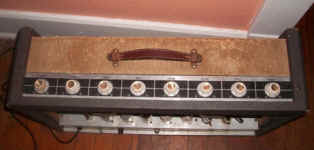 Another 1446 'Chris Isaak' Gibson-made humbucker, but this is the numbered version of the sought after pickup. See the example below for the confusing numbers game associated with this Seth Lover creation. A price of $249, though, is a number we can all understand.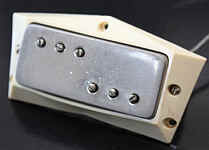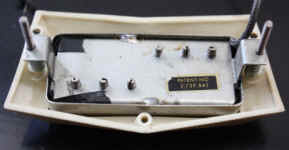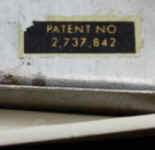 The Switchcraft 3-way switch with a hairline crack at the base of the original tip and no mounting bezel went for $55 in a separate auction.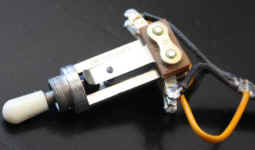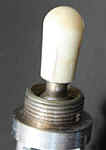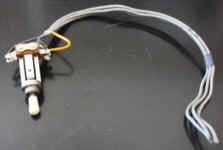 OK, here's the ugly I told you about. I've never seen a 1340 in such poor shape. The chassis seems serviceable, but the cabinet is pretty far gone. No tubes or speakers, obviously untested, looks like the original handle is intact, and this sad unit went for $60.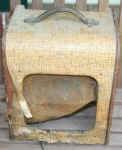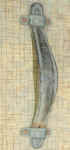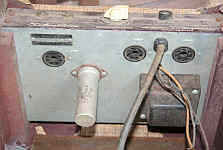 7/28

A few cool treats for these HOT July days...

First, this 1961 nickel-plated 'Patent Applied For' pickup from a 1446 'Chris Isaak' going for some big bucks...

This is a "Patent Applied For" as opposed to a "Patent #2,737,842" stickered model. Oddly enough, the patent number is actually for a Les Paul credited trapeze tailpiece from 1952. Hit the first link for more info, but here's the money quote from that link: "Gibson printed the incorrect number on some stickers after they obtained a patent (U.S. Patent 2,896,491) for the PAF pickups. Most humbuckers were labeled with U.S. Patent 2,737,842 until 1962 and the number shown on the pickup is actually a patent for a Gibson trapeze tailpiece bridge and not for a pickup at all. Both true PAFs and incorrect patent marked PAFs are fairly rare today and make an expensive vintage collectors' item."

Indeed.... this pickup went for $324!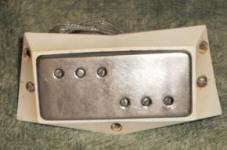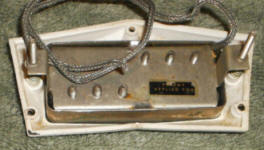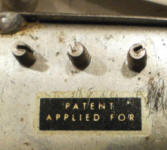 Here's a cool article on the designer of this pickup, Seth Lover.

Another chunk of 1446 that went for $104! It's an original pickguard, complete with nickel-plated bracket and foam bumper/standoff. Check the artful reinforcing ribs on the underside; simple yet elegant... it didn't have to be pretty... who would ever see it? But there it is.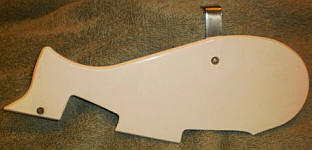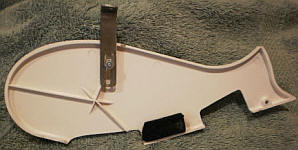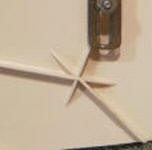 Next up, a wahini in a coconut bikini on this stored-in-its-box 452 Harmony-made 'Hawaiian Scene' ukulele. You can tell the 452s from the later 852s by the wooden fretboard. A little separation on this example, but still a stone bargain for $56! Cowabunga!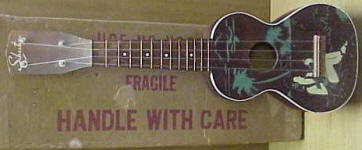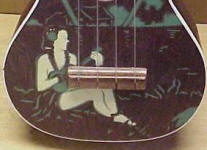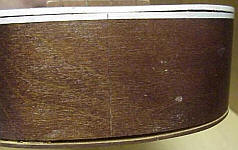 Lastly, in the 'Weird Things That Slip in Through the Silvertone Filter' department, this tiara... but it's the mannequin that's freakin' me out!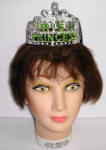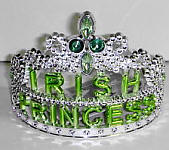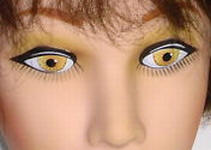 7/25

Got a hankerin' for some rock 'n' roll history? Then get your fingers clicking on these auctions for some Silvertonium
(and Kay-nite and Kent-on)-flavored amplifiers from the famous California studio, Indigo Ranch.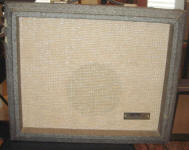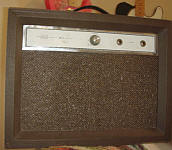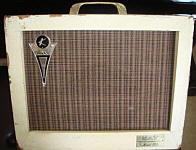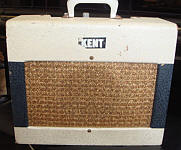 7/21
Wow... I don't know quite what to tell you about this one, except that someone got an amazing deal! This is the Silvertone-branded version of the very early (1956ish) Harmony-built electric H42, the so-called 'Newport.' I've still not been able to cipher out the Sears model numbers of these guitars, as they've never appeared in any major catalog. Supplemental fliers and weekly special catalogs or newspaper ads are MUCH harder to come by, and may be the only place these guitars (there were two of them; a yellow model and a green one) were ever listed, if they were listed at all. This one was painted at some point, and an attempt was made to remove the red, as you can see the original yellow showing through the sanding. Looks like this one was modded for a second pickup and has lost its simple bridge somewhere along the way, but $39 was an absolute steal! I've included a shot of a stock yellow model for comparison.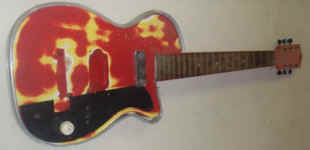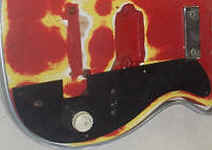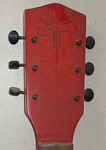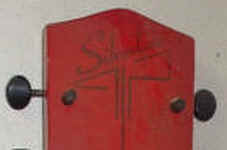 7/7

How cool is this? It's a fine-looking, fine playing 'art deco' style record player & AM radio combo, and it sold for $175 up for sale right now. I just had to show it to you. Check the video, it seems there are separate volume controls for the radio and the turntable and you can mix the two! What floored me was the audio snip when the radio first warms up; they're obviously talking about the controversial headline-grabbing Casey Anthony trial, then the seller tunes from that horror to a different time as he cranks up the 78 on the turntable, and it's Pat Boone on the Dot label singing "Tennessee Saturday Night," the flip to "Ain't That A Shame." What a world... Silvertone World!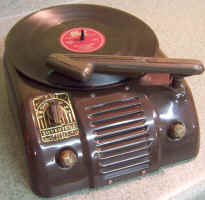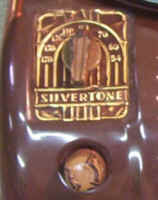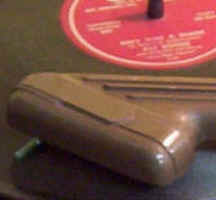 7/5

Here are the two things I said, Silvertone-wise, over the holiday weekend:

"Wow!" I was amazed at the grand-plus price this 1485 brought without even letting us know if the reverb and tremolo were working or not! Date stamping indicates Summer 1964 build, and it did look really clean, still wired together, and with the dolly roller platform. Wining bid: $1025. Seller: Jack White is expecting his commission check.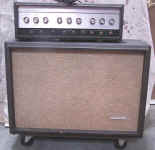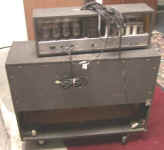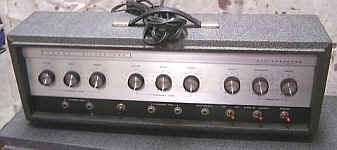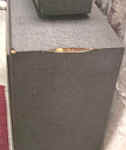 and

"Put down that saw!" But it was too late, the damage had been done to this Dano-built 1419 long ago. Even with the mod, no logo, no pickguard, a starting-to-split pickup, and some picking wear at the bridge, it went for $243.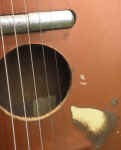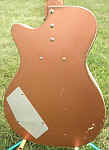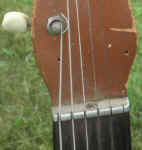 Oh, Yeah... Welcome to July!

6/30
Well, it's no 'Weekend at Party Pier,' but we've got a coupla nice Kay-made surf twangers that went under the gavel this week. One's the super-rare paddle-head brownburst 1416, and the other's its predecessor, the not-quite-so-but-still rare 1417, both from Kay, and both with the spring-loaded vibrato tailpiece mechanism. The 1416 (in fine shape, with some edge wear, whammy bar and gig bag) went for $228 and the 1417 (a bit more worn than the brownburst, and without its whammy bar, and a non-stock bridge) went for $175.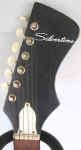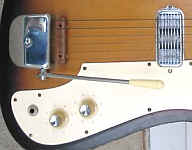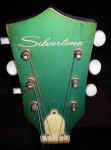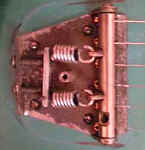 Keepin' on with the summer theme, here's a fine-looking Wahini Uke, the plastic fretboarded 852. With some slight seam separation apparent, this Harmony-built uke went for $83.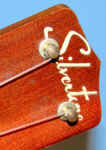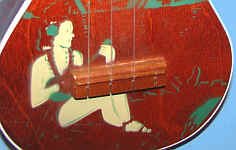 Another stenciled goody from Harmony, a fine Gene Autry model from 1953 that went for $243. If you want to see a prime example of how to write up a guitar auction for maximum info and maximum sales potential, check this one out.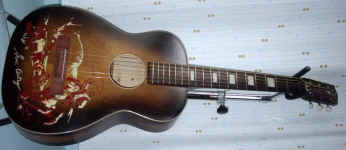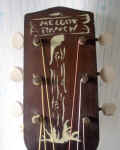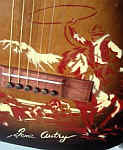 Cap the day with some inexpensive rock n roll history from the famous Indigo Ranch Studios. Ebay seller Sonic Circus has been parting out the Silvertone equipment from that famous California recording location, and this week saw three fine Silvertone amps: a seldom-seen but functional 1419, a worse-for-wear 1331, and a popular 1484, all personalized with the Indigo scrawl, and all suitable for refurbishing. Respectively, they went for $126, $86 and $260.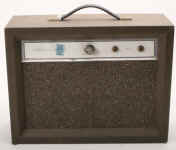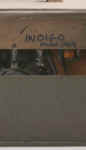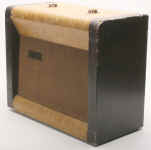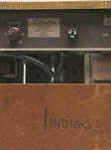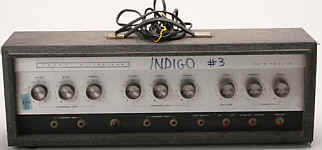 6/24

Hank Williams' steel player, the late Don Helms learned his first weeping notes on a Silvertone lap steel. It's entirely conceivable that it was this model, the 2317 from 1941. Don would have been 14 at the time, the age that we has said to have "bought a Silvertone lap steel and amp." No amp with this one, but it's in pretty good shape, with its hard-wired cloth-covered cord still present, one NS tuner, a bit of covering loss and a little tarnish here and there. The logoplate looks good, and there are some guide numbers written beside the fret markers, this mother-of-diner-counter covered steel went for just $125.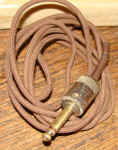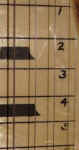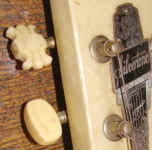 In other bargains, this edge worn 1451 went for the lowest price I've seen in years for this axe, just $180! Summertime is Silvertone bargain time, no doubt. I love how the bottom of this guitar preserves the same curve detail that the 1448 and the 1457 have, even though this short-lived axe is a solidbody. I can't figure out what's up with that big screw you see just above the bridge; it's present on nearly every 1451 I've ever seen. It may have something to do with the fact that the 1451 and 1452 share the same body. If you peek 'under the hood' on your 1451, you'll see it's already routed for another pickup. *** After further comparisons and research, the 1451 routing locations could not work for the pickup locations on a 1450/1452. The 'mystery screw' fall on the exact same place the the 'bridge anchor' screw would fall on a 1450/1452, and the bodies are nearly identical in shape and size, but the treble pickup route on the 1451 is far too close to what would be the bridge location on a 1450/1452 for these guitars to share the same body. The mystery continues...***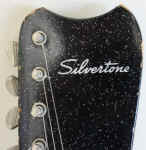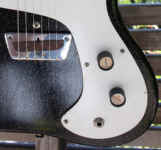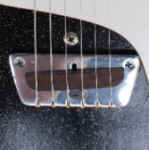 Let's close out this Friday with this wonderful example of the 1340 amplifier, built by our friends at Valco. The covering and the grille with its silkscreened logo look great, the control panel with its single 'chicken-head' is clean, and the AC cord and handle look pretty good. The worst thing about this amp is the schematic inside the cabinet; it's folded up towards the front of the cab, and we didn't get a good look at it in the auction views. Who knows? Maybe that preserved it better than being flat on the bottom of the cab! Untested, this amp went for a mere $202.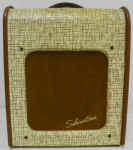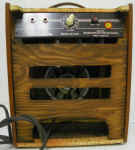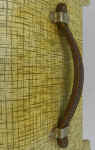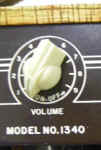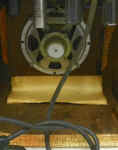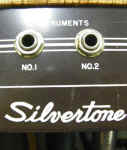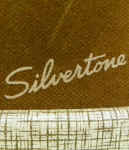 6/22

Summer keeps a-rockin' with this clean-as-a-pin MIJ 1461 from the early 70s. This hotrod red hollowbody in excellent shape went for a hot $650! Block logo makes it rare (most were 'Space Dots'), and the redesigned whammy, swoop headstock, slider controls and double-decker pickguard distinguish this one from its close sibling, the 1460.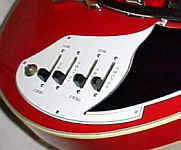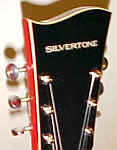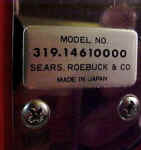 "Lookee, Pardner!" Available as far back as 1937 (as a Supertone), this bronco-ropin'-stenciled Gene Autry-endorsed 'Melody Ranch' guitar became the Roy Rogers model (with a different stencil) in the mid-50s as tastes and times and stars changed, and then was just a 'western' guitar (with the old 'Melody Ranch' stencil back but without Gene's 'autograph') by the time it faded away in the late 50s. This example still has the Gene Autry stenciled signature, its original cord 'strap,' a lightly cracked bridge, a little wear on the bass lower bout, and appears to be the FOURTH one off the production line as a 610! With original case, this little dogie amazingly didn't bring its starting bid of $149 (you can 'Buy It Now' for $225). Tell 'em Silvertone World sent ya!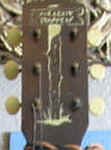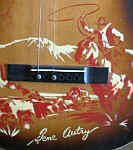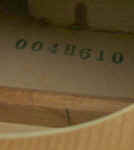 6/21

Some gems from the weekend.... dig in!

Here's an amazing find, and I'll just let the seller give you the lowdown on this awesome early '70s era setup: "12 YEAR OLD BOY GOT THIS NEW FOR CHRISTMAS IN 1972... BUT ALL HE WANTED WAS A DAISY BB GUN. REMEMBERS IT LIKE IT WAS YESTERDAY. BEEN IN HIS CLOSET EVER SINCE... HE'S NOW 51... THIS BOY IS MY NEIGHBOR A FEW BLOCKS AWAY I MET TODAY AT HIS WIFE'S YARD SALE. HE & I ARE BOTH IN OUR EARLY 50'S SO WE GOT TO TALKING, I ASKED, AS ALWAYS, GOT ANY OLD GUITARS UNDER THE BED. HIS EAVESDROPPING WIFE PIPED UP AND SAID NO, BUT HE'S HAD ONE IN THE CLOSET FOR 40 YEARS! I LOOKED AT HIM & SAID CAN I SEE IT, HE SAID YEAH AND THE REST IS HISTORY...COLLECTOR'S GRADE, VIRTUALLY UNPLAYED, ALL THE CHROME IS STILL SHINY AND NEW, ALWAYS KEPT IN THE CASE IN HIS HOUSE IN HIS CLIMATE CONTROLLED BEDROOM CLOSET. A TIME WARP BACK TO CHRISTMAS DAY, 1972." Dynamite 1413 guitar and 1421 amp in excellent condition... it went for a mere $228. I'm tellin' ya... summer is Silvertone bargain time!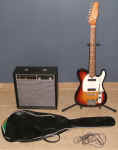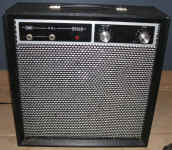 Here's a wild Frankentone from the mountains of West Virginia: Seller says "Purchased from a West Virginia family who wanted matching instruments for their band. Sale includes a Danelectro 1449 that has had the finish stripped and attractive wood parquetry applied to the face and back. The headstock has been modified, and the neck has been refinished. All of the hardware and electronics are original and in perfect working order." There was also a matching handmade lap steel that went with the guitar, and I'd love to see a picture of the band in action. It didn't sell, but it's a testament to the desire to mod a guitar in the image you choose.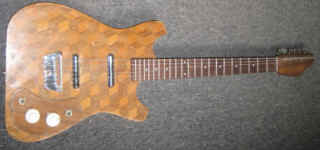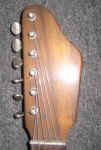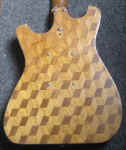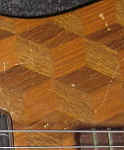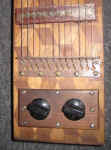 This Kay-made 604 is in great shape, and didn't sell! It could have been yours for just $85! sold on the 24th for just $50. Stamped L1912, with original case.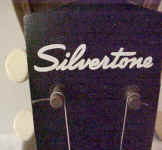 And a mystery... is this a 605 that's had a pickguard added and some lacquer brushed on the headstock, lending the logo a 'golden' color and those streaks you see? That's my bet. The seller indicated it was a 60s era guitar, but did not confirm any markings when contacted. Went for $75.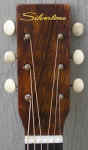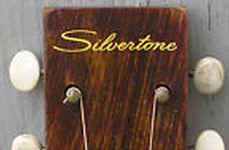 6/17

WockaChickaWockaChickaWockaChicka... here's a great documentary on the Wah-Wah pedal for your weekend. How cool is that? Enjoy!



6/16

Lookin' for a hot mod? How about this pre-'66 Kay-built model 658 married to the electronics from a Kay-branded 'Sizzler?' Looks like the kind of guitar that Paul Stanley might have played as a kid. Little bit of wear, and some NS tuners, this one is certainly a unique piece. The seller had this to say: "I was told that the pickups and pickguard were added when the guitar was new. This is your opportunity to get something that nobody else has! Original tuners are included." Sold for a sizzlin' $355.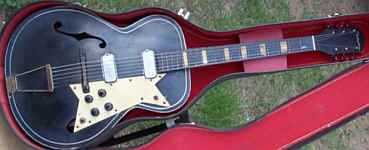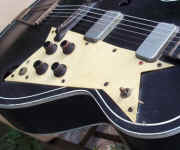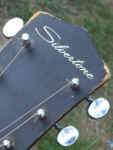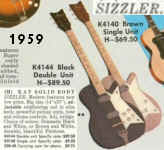 Beauty of a bass in this Dano-built 1443... in the case, tailpiece and finger rest still present, hardware shiny, just the slightest wear along the fingerboard, this is one of the nicest of this bass that I've seen. Went for $700. Apparently, this bass is a favorite of Sarah Brown. Also, the shape and look is a favorite of Pearl Jam's Jeff Ament; he had a clone built by Modulus, and we see him onstage frequently with it.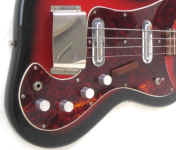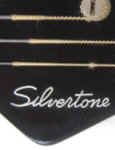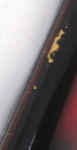 More Kay-built goodness, this time in the form of the easy-to-ID 1425. Why's it so simple to peg down? That curlicue pickguard is unique to the electric 1425. Some acoustics shared it as well, but he 1425 was the only electric hollowbody Kay-made Silvertone to sport it. With a nice case, it went for a little over half a grand.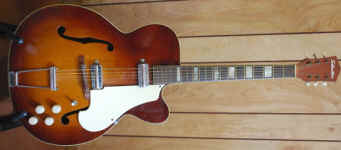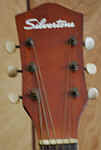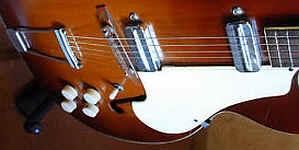 It sure is purty... too bad it don't work. This attractive, lightly worn 1333 went for just $162 the other day. It looked great; the faux-alligator and tweed was barely worn, the handle looked good, grille tight... however, the seller said "This is from an estate and had a layer of old dust suggesting it has been many years since last used. The red indicator light illuminated but the speaker would produce no sound." Here's hoping it's an easy fix.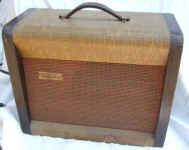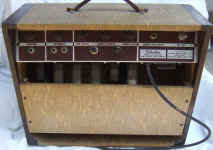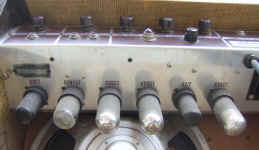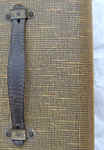 I just had to show you this crazy stereo stylin' from north of the border. A block logo on the deck (in a bold, serif'd font, typical of Simpson-Sears Silvertone guitars), some far-out 'tri-lobed' audio controls, solid-state guts, a Garrard-brand changer-type turntable, a smoked plexiglass lid, and a groovy faux "vinyl wood grain effect" cylinder housing for it all make it a real '60s period piece. It was heavy, and it was in Canada, so it didn't sell, but it sure gave us something to gawk at!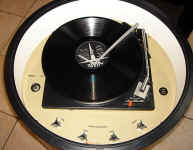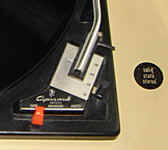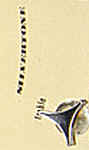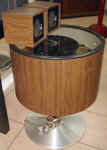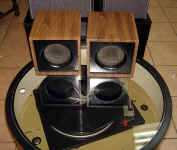 6/13

Here's a precious bit of Silvertonium that went pretty cheap (if you ask me) over the weekend. It's an early '40s era 'violin brown' Artist model 295, part of the first group of Silvertones that Sears sold, made by our friends at Kay, with its snazzy deco 'note' inlays, bound f-holes and fancy bridge that went for just $172. There was a small crack on the front, but it looked pretty sweet otherwise.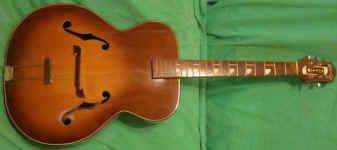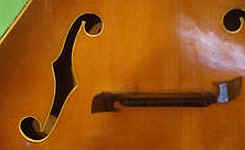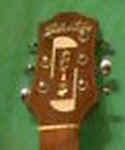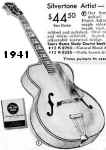 From a rare strummer to a rare amplificator... it's the seldom-seen 1433, built by Dano, and part of the late '50s / very early '60s 'Space Age' line of amps. This one is date-stamped for mid-March of 1961, the last season that the 1433 was available. This one has seen some action, but it's in working condition with this caveat-laced description: "...very noisy hum and dirty pots will need addressing to use. Sounds like simple filter cap issue but the amp rocks and is loud with working tremolo." This auction had some close-up shots of the controls that brought out a detail I'd never seen before on these amps; a letter 'N' at the midpoint of the bass and treble dials, presumably a 'flat' setting. Also, this Utah speaker-equipped amp still had its fabric-and-staple wire hold-offs in place. Some rust and some dust, some wear and some tear, no handle but still with a good-looking 'V' logo tag, this amp went for $255.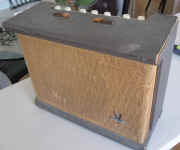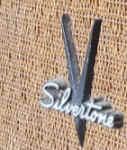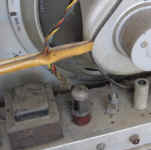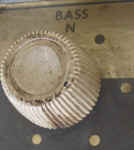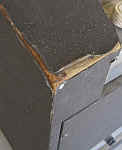 6/10

Well, our first head-scratcher of this summer came up today. It's an odd bird anyway, made even more puzzling by its various markings in and outside. The Silvertone 1485 was only around for a year or so, from late '68 though early '70 (last appearance was in the F/W '69 catalog). This one is an oddball in that it is stamped F-67, and also screenprinted on back of the headstock with a 664 model number. The '67 stamping can be explained away in that this example also has a 1454 model number stamping internally, the 1485 being a double-cutaway version of the popular 1454. The '664' on the headstock is rather odd, though, as there is no corresponding catalog listing I've found for a model 664. Many times you'll see a 1454 stamping on the heads of early models of this guitar, and 1485 on the later block-logo'd models, but the 664 stamping is rare. I've seen one before; about three years ago, so it's not completely unheard of, just unusual and puzzling. This well-kept example went for a tidy $923.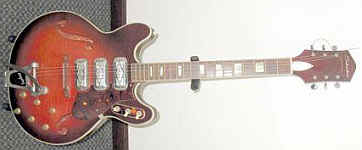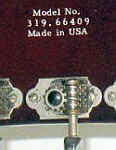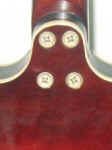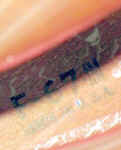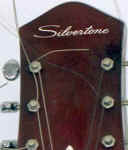 Here's a farmyard mod on this 1482 - it's the first one I've ever seen gussied up with a 'rabbit wire' grill. Some edge wear is apparent, and looks like a good cleaning is in order, the seller says everything's working, and this amp went for $171. Since we're on the subject, make sure you hit that link for the new 1482 page.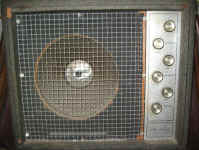 It's in need of some TLC, but this 602 is the second in the popular 600 series, and the last one to be offered with the rounded bottom. After the firsts 602s, they 'squared off' a bit, and lasted into the 1970s! No bridge on this example, it went for $175.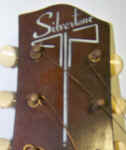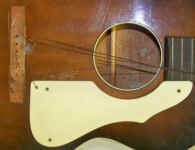 6/8

I reckon this is what they call a 'teaching moment.' I'll incorporate all this into the eventual page for this guitar, but right now I'll just lay out what I know about the Wish Book 1965-offered 1450, a nice one of which sold this week for $550. It's basically the same guitar as the solidbody guitar included in the 1452 ampcase/guitar package, the one that took over the position formerly held by the 1457. There are differences that will help you tell the difference between the sold-all-by-itself 1450, and the combo with an ampcase 1452: The 1450 has a 4-ply nitrocellulose faux tortoise pickguard, no chrome bezels around the pickups, and no model number on the back of the headstock. The 1452 guitar has a white-finished hardboard ("Masonite") pickguard, chrome bezels surrounding both pickups, and the model number 185.14529 and "Made in U.S.A." screenprinted on the back of the headstock. The 1450 was only available briefly, in the 1965 Wish Book, and the 1452 ampcase and guitar package came right on its heels in the Spring/Summer 1966 catalog. Even though only available for a short time, there are some slight variations over the life of the 1450; some had a two-bolt neck, then went to a triple-bolt staggered configuration, then finally sharing the equilateral triangle three-bolt with neck plate of the 1452. All had neck tilt. Some had the familiar 'thin script' Silvertone logo, while others have the thick script that decorated the 1451 and 1452 guitars.

Here's the 1450 that sold the other day. It's a fine example, with staggered neck bolts, a 'thin script' logo and a non-stock whammy arm.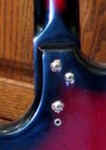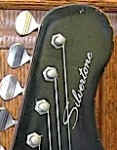 Here's a 1452 for comparison: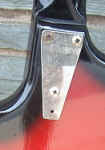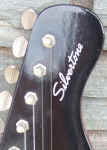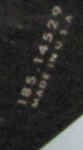 6/3

The beginning of June marks the summer hiatus of daily auction reports here at Silvertone World. I'll still be keeping an eye on the auctions, of course, but I'll only report on exceptional or unusual items that go under the gavel, and maybe track the daily sales of a few popular items on a couple of graphs. That said, I'm embarking on a catalog research trip this month, and I'll also be working all summer on a bunch of new pages for the site, so it's a perfect time to sign up to follow Silvertone World on twitter. I'll 'tweet' a message your way every time I do report into the recap page with a new item (it won't be daily), or to let you know of a newly published page here at Silvertone World.

That said, here's some special Silvertonium right off the bat; this beautiful 1432 going for $660! It's my favorite of that particular group of amps. A little bit of handle wear, but otherwise lookin' mighty fine... complete with early bare-wedge-of-wood tremolo footswitch.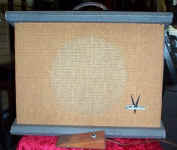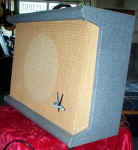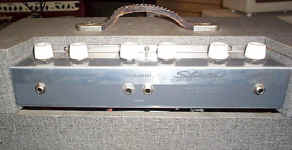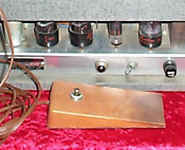 Here's a nice 1303 that went for just $300! The seller ID'd it as a 1948 or '49 model (we know better... these guitars are '58-'59 vintage), and it had some honest wear and a little cord melt on the back, but still a pretty good bargain, I'd say.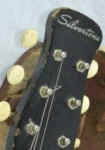 Here's a big ol' late-era block-logo'd 'Sovereign' going for five bills! I love that 'mod' bridge!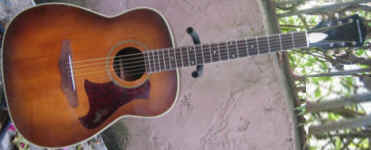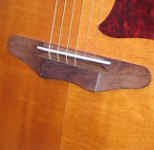 Mighty Mighty May! In May 2011, we reported on over 276 auctions totaling $73,356! That's about two grand shy of May 2010 totals, but four thousand dollars better than May 2008!

Here's some highlights of what changed hands: an aMayzing (29) 1448 guitars/amps or one or the other, (11) 1457 guitars/amps or one or the other, (13) 1484 amps, (12) 1482 amps, only (5) 1481 amps, a single 'Chris Isaak' 1446 model guitar, and just (2) 1385/1427 'Espanada' model guitars. An beautiful Kay-built 'Thin Twin' 1381 brought in the top green for May at $1630, and there were three more items in the $1,000+ category this month; $1525 for one of those 'Espanadas,' $1325 for a nice 1485 amp setup, $1325 for a nice 1454. The least amount brought in May was $2 for a piece of audio history; a TRW-produced, Silvertone branded late 50s/early 60s protocassette, and as far as instrumental Silvertonium goes, $16 for a sad 604 guitar.

If you haven't visited May 2011, give it a look... it was QUITE a month! Even if you've been recently, click over and check out the last couple of days, some great stuff ended up the month. While you're there you can peruse the archives for better than four years worth of auction reports and commentary on all things Silvertonium.






MODEL # / MANUFACTURER / INSTRUMENT TYPE / CONDITION / PRICE / NOTES

Abbreviations: M-Mint, NM - Near Mint, E- Excellent, VG- Very Good, G- Good , F-Fair, P-Poor, NS- Non-Stock, HBEG- Hollow Body Electric, FHAC- F-Hole Acoustic, FTAC- Flat-Top Acoustic, SBEG- Solid Body Electric, SSEG- Semi-Sold Electric, MIJ- Made In Japan, MOD - Modified significantly from stock, w/ O/C Original / Case, DNS - Did Not Sell; used mainly to show an item of interest whether it sold or not.

Unless otherwise noted, I'm rating items by what I see in the pictures and read in the description.

The items depicted on this page are not for sale by Silvertone World. These are reviews of items from completed eBay auctions on or around the date specified.

Links in blue open in a new window, and take you to a Silvertone World info page, a period catalog listing, or a link of interest.