SUMMER 2008





Well, it seems August is upon us, and I think I'm going to continue my summer vacation from auction tracking (not that I've really stopped, I just haven't been detailing the rather run-of-the-mill items up on the ebay block the past two months. I promise to start tracking auctions again in September. Too much going on here lately in the real world, and really not a lot goin' on in the Silvertone Auction World. Some nice pieces going for some bargain prices, but auction activity continues to be diminished. If you need to get a bearing on what an item may be worth, just give the archives a look (the link are at the bottom of this page).

I've been churning out more pages for the site, and working on another site of mine, waxingpoetics.net, so it's been a busy time on the Internets out my way.

Look for a bunch of catalog and non-catalog Teisco made Silvertones to enjoy, and we'll start counting the money in September. I'll still be checking in here when something remarkable pops up auction-wise, or to let you know about newly featured guitars. As always, keep those cards and letters coming!





8/20: The Mt. Fuji headstock'd guitar, the short-lived 1418

8/13: Japan-mania continues... please greet the 1460!

8/4: You shall have your Teisco pleasure! THAT I decree! Here are new pages for the non-catalog
1436 and 1437 Teisco-built Silvertones.

7/31: Teisco-mania in full effect... I've been on a roll with these crazy guitars, and it's still rollin'... here's the non-catalog 1435!

7/24: Gettin' bass happy! Here's the non-catalog 1438 bass!

7/22: Sorry I've been away so long! Here's a new page for the 1490 bass.

6/26: Another Kay off the wall: the 4-string model 661
6/20: Happy 1st day of Summer!
OK, I don't have all the guitars up yet, but here's a Dano-built Silvertone guitar timeline!

6/20: Wish Book Only Dano-made 1304 available for your perusal

6/19: Thanks to Silvertonian Dan for reminding me to get this 1457 guitar page up!

6/12: Last Silvertone Standing: The MIJ Country Gentleman clone, Silvertone model 1475

6/10: More Kay goodness with the Kay-built Silvertone 620

6/9: New Patent Information on the Buck Owens American Model!

6/8 Kay-built Silvertone Model 618!



Wheeeeeee doggies! As Jed Clampett would say... I've been enjoying a little bit of vacation, a good bit of Silvertonin' and a whole lot of work. New pages for the site, lots of emails from all of y'all, and of course the actual work that gets the bills paid. All in all, a pretty normal summer. I just attended a reunion of my 'New Wave' compadres from the early '80s, and that was a pretty good deal. Saw lots of folks I hadn't seen in 25 years or so, saw some great friends that I still keep in touch with, and found where we've lost a few along the way. A good time was had by all, and a concert is planned in Norfolk Virginia for the fall.

Been gettin' lots of emails inquiring about some guitars I don't have on the site yet. I'm prioritizing what I put up by that list, so if you own a particular model I don't have a page up for yet, or there's something I haven't covered yet that you want me to bump up to the front of the line, just let me know!

To be honest with you, not much exciting has been on the auction block the last little bit, that 'lightning bolt' acoustic from the 40s (see below) was the most interesting thing I've seen lately, and prices and auctions have, shall we say, diminished somewhat. I don't know if it's summer-related or economy-related. As I've said before, if you've got some cash, now's the time to get a Silvertone bargain. I'm still kicking myself for missing out on that $179 1451 guitar from a couple weeks back.
Here's something new (to me anyway)... let me know if you already had this figured out. If you've perused the site, you know I frequently refer to the stylized logo that was applied to the later era Sears guitars and amps as the 'Space Dot.' From a distance, it looks like a futuristic atom or something, and it's also frequently silkscreened or embossed onto a silver circle, adding to its 'spaciness.' Up close, it's a couple of discs set perpendicular to one another, viewed at an angle, with an axis protruding slightly from what would be one of the devices poles. Nice, but nothing earthshaking, right?

Viewing an ebay auction this week, an astute Silvertonian mentioned that the logo was actually a stylized 'S' and 'R' representing, of course, Sears and Roebuck. I've looked at that logo a thousand times, I even have some products with it on them, and it never hit me.
Stroke of genius, design-wise... now that I can see it.

I love surprises!



I'm still gonna call it the 'Space Dot.'



6/26: Bargain-o-rama! A very nice 1451 guitar went for just $179 yesterday!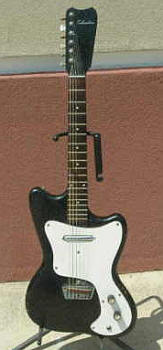 6/24: YOWZA! If you've been hankering for an 'amp in case' style guitar of the 1448, 1457 or 1451 variety, there are at least 17 guitar/amps or just the guitars active on ebay as of this post (noonish on 6/24).





6/19: A rarely-seen stock black '59-'60 era Kay-made Silvertone Model 649 went for a respectable $461 yesterday.

Here are my notes the seller used in his auction:
1959 Model 649 Silvertone.
The L1 tells me that Kay made it. Kay guitars are VERY hard to track by the inside stamps. Early on they used the actual Sears model number as part of the stamped numeral, but abandoned that by the mid-late 50s. And with precious little info on Kay production runs and serial numbers, we're left to visually ID the beauties.
I narrowed yours down to the 649 model that I told you about. I've checked my Sears catalogs thoroughly (I've got a collection from the early 40s through the early 70s), and I believe my info to be accurate. They were available for only the brief 59-60 window, as hollowbody cutaway acoustics fell out of fashion. Too 'jazzy' for the rock and roll 60s.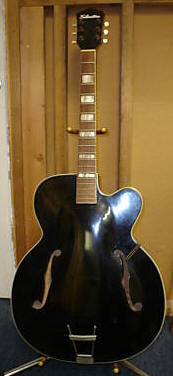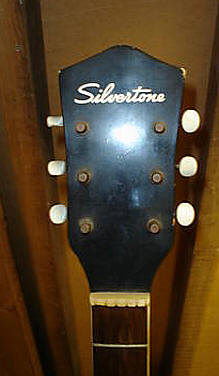 6/18: Thanks to all my fellow Silvertonians for pushing the hits higher! Our friends at Quantcast show peaks and valleys, but steady growth, and our highest ranking ever! Woohoo!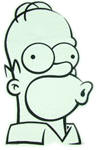 6/18: A trio of rareness went on the block the last couple of days, check these out:

Here's a very nice 1300 Dano-built guitar; one of the first of the so-called 'U' style body, along with a companion 1390 amp. The pair went for $610. The seller said he found it in an attic. We should all be so lucky.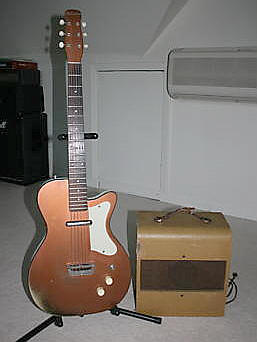 How about a 'tan and ginger' 1357 guitar, along with an accompanying 1330 amp. The pair went for $631. Note the narrower 'C' style body, the 'cupcake' knobs and the contrasting (not white vinyl) sidewall finish.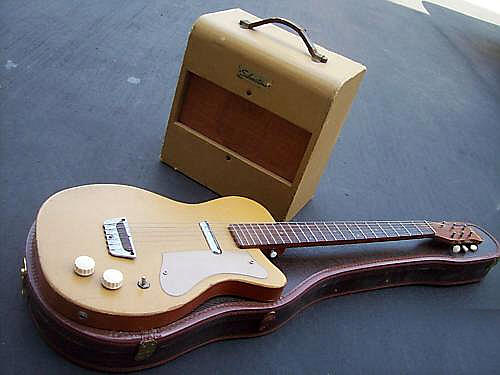 Thirdly, here's a guitar from the very earliest days of Silvertone. It's a Kay-made guitar, I don't have any catalog listings for it, but I've seen similar ones in my 46/47 catalog. Check out the wooden (!) pickup housing, the upper bout mounted controls, the lightning bolt headstock, and the screw-on cord jack, seen only in this early family of models. This piece of guitar history went for $460.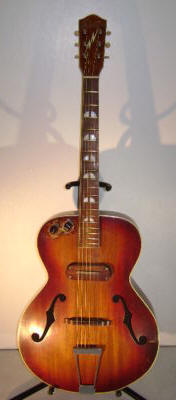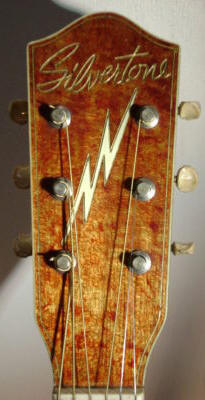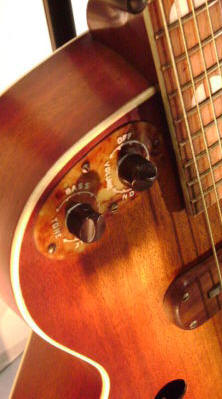 I've said it before... I LOVE surprises!



You don't see too many of these babies! The Made in Japan (presumably by Teisco) 1475; first available from Sears in late 1968, it's one of the many 'Japanese invasion' guitars that came into the Sears catalog that year, replacing the Danos and most of the Harmony and Kay electric models. Price was originally $137.95 (dropped to $124.95 in '69 and $99.95 by '71), so it didn't sell so well, and it was gone by early 1971, making it a pretty rare guitar. One of the very last (if not THE last) Silvertone-branded guitars available from Sears. This example is actually one of the first available, as the very last ones had a simple 'block' logo decal (and block neck markers) instead of this axes' more desirable metal inlay. There was originally a wood panel inlay in the 'Bigsby-san' tailpiece. This one went for $600.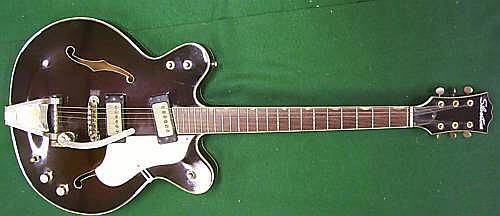 Just gotta show you this absolutely unique 1210 that just sold on ebay for $339: Let's call it the 'Ava Maria.' It's really top notch work, although I imagine all that overlay kinda dampens the sound of the guitar. Pretty though; nice details on the edges.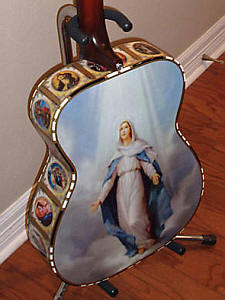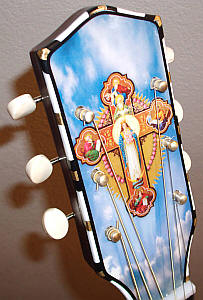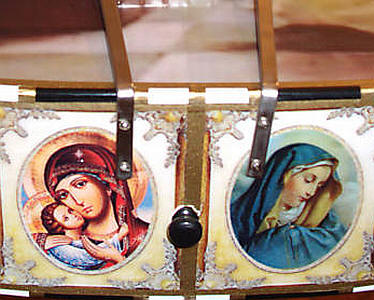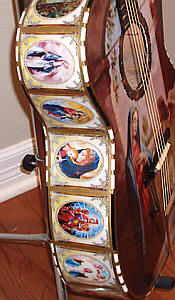 After a jittery start to June, (health problems, passing of close family member, swimming lessons for girls, general slowdown in buying selling here in onlineauctionville) I've declared June (and possibly July) to be auction watch free! The prices don't seem to be fluctuating greatly; if anything there is a downward trend because of the generally unhealthy pallor of the US economy currently. As I've mentioned before, guitars and amps that would have commanded respectable prices just a half-year ago, now look forlornly out from their online galleries, reserves not met and sometimes completely unbid on.
If you've got some cash and a Silvertone desire, now's the time to pick up a bargain.
All that said, I will of course be keeping an eye on the auctions, because there's no telling when something like a super-rare MURPH is gonna sneak up on ya!
I've also got a big backlog of new guitar pages and other content to get online, so I'll not be gone, just won't be updating daily here on these pages. When something exciting does sell, I'll note it here with some words and prices and a few pics, but no 'everything Silvertone that sold today' for a coupla months. Look on the front page lower left corner 'feature area' for the latest pages added, and we'll start watching the money again towards the end of Summer. Deal?




Total $$$ Spent on Silvertone items in May: $65,917, which is about 11 grand down from April, and 18 grand down from March!
Biggest ticket item: 1448 Dano SSEG w/ tube amp in case E $1300
Cheapest item: Guitar Pamphlet VG $6
'Spanish Guitar' version