March 2012


3/29

Earl Scruggs, 1924-1988. Can't let the day pass without paying respects to the banjo-playing man from Flint Hill, North Carolina. He yelled "I got it!" when he figured out his revolutionary three-finger approach to the instrument, and the banjo has not been the same since. Steve Martin said "Before him, no one had ever played the banjo like he did. After him, everyone played the banjo like he did, or at least tried." Here's the entire tribute Steve wrote back in January. Earl got his first banjo from Montgomery Wards. Unlike Sears, whose banjos were mostly Kay-made instruments, Monkey Wards banjos were made by Gibson, who apparently did a lot of 'jobber' instrument production in its early days.
Here's some video of Earl pickin'... two on the banjo, and one pickin' the 6-string (tryin' his best to emulate the 'Carter Scratch') with Mother Maybelle on autoharp!





3/28

Let's watch a RADIO?!?

Your brain must be loose!

Perhaps you'll like

This one

With graphics by

SEUSS!




This operational wall-mount AM/FM radio went for $18 over the weekend. Also, check the wonderfully playful Dr. Seuss spread in the 1970 Sears Wish Book. The 'Cat in the Hat' radio is on the wall on the first page (see inset at the end of the line), along with a wicker Yertle the Turtle (!) and other great vintage items from the mind of the good Doctor. Click on the pages to go to full size scans from the awesome folks at WishBookWeb.



And one more Seussian sample... this one from "The Lorax"... how about the Once-ler's six-string strummer?





Alright... on to some certifiably scintillating Silvertonium!

1478 Harmonmy SBEG w/ OC VG $850 Clean, light wear, whammy bar present, chrome shiny, logo strong, 'raincoat' protector jacket incl., slight pickguard screw pull, ding on lower bass side and upper treble side bout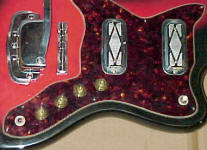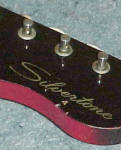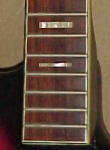 712 Kay FHAC VG $375 Clean, pickguard incl. but not installed, light wear, logo laminate in good shape, later-era 'boater hat' fretboard markers, nice graining to back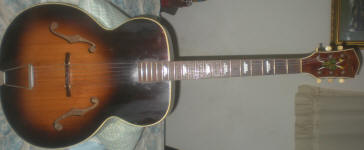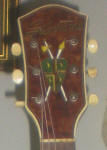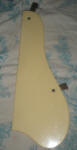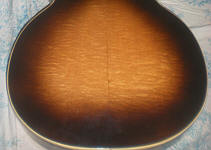 620 Kay FTAC G $400 Clean, playing wear to top, logo strong, some finish checking, neck's been reset; the Lawman says "It had a New York Net Reset sometime in its life.. this method of resetting the neck angle has been around for a long time...this one is not recent...what they did was take the neck off, shave a little of the neck heel down and put it back on, re-gluing it, and putting a bolt thru the neck heel thru the neck block to hold it all in place...we still use this method today and its called the New York Neck Reset.. not sure where that came from, but there you have it."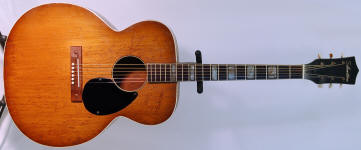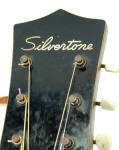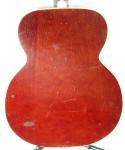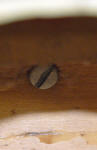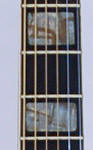 618 Kay FHAC G $111 Clean, some wear, pickguard present, maroon logo strong, neck tight, edge binding loss, stamped 839 and N1, seller says "action is a little high"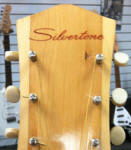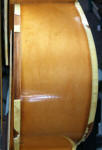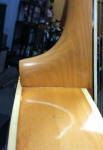 1452 Dano SBEG $106 *Sniff* I hope whoever rescued this jumble will restore it to some of its former glory. Good luck! A 1451 pickguard was included, but the whammy cavity, the triangle-plate three-bolt neck and the pickup surround bezels all point to this being a 1452.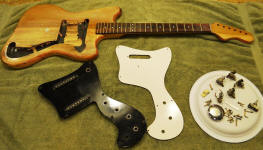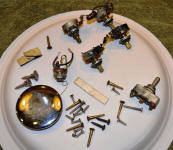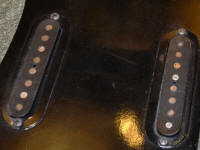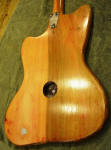 1420 Harmony SSEG w/ C MOD $256 Nicely refinished, 'A' for effort on the scrawled logo, mis-ID'd as pre-50s era (the 1420 family was available from 1959-1962). Seller says "THE NECK OF THE GUITAR WAS REPLACED SOME YEARS AGO, AND AT THE TOP OF THE NECK WAS CARVED 'SILVERTONE' AND IT DOES LOOK PROFESSIONAL."
Well, I wouldn't go that far...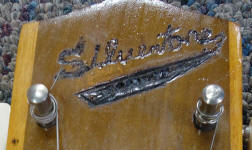 3/25

Shouldn't be Surprised, I reckon, at this rarity from the weekend... Not the way this month has been churning up the unusual Silvertonium. Here's one we've talked about this month in our discussions of just-after-the-war instruments. It, too, appeared with the Gretsch-made 714 and the first 'Aristocrat' in those days of scarce resources in 1946 as the only stringed instruments available from Sears.

760 Kay Banjo G $145 Clean, light wear, odd staining to head, hardware dull, early 'chimeless windchime' logo strong, seller says "The neck shows a bow in it "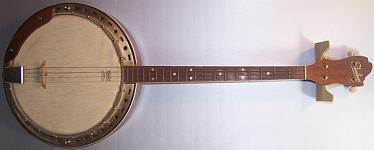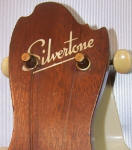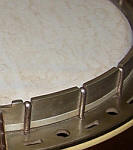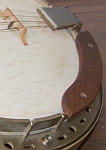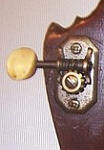 3/24

Some Mad Money flyin' around this first week of spring! Here are a few of the big-ticket chunks of Silvertonium that the auction gavel slammed down on, generating a cartoon cloud of dollar bills...

First, there was this Harmo-Metal'd 'Espanada.' Not a Silvertone, I know, but a close relative of the 1384/5.

H63 Harmony HBEG w/ C VG $3950 Clean, light wear, logos strong, 'harp' tailpiece present, pickguard missing (repro incl.), (3) NS tuner ferrules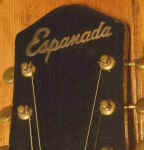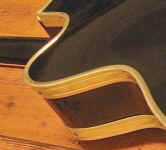 Now, for some Silvertone-style amplifyin'! How about this fine 1483, a favorite of R.E.M.'s Peter Buck?

1483 Dano tube amp only E $690 Clean, minimal wear, all stock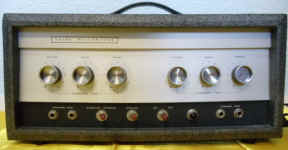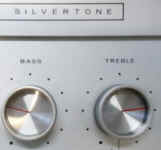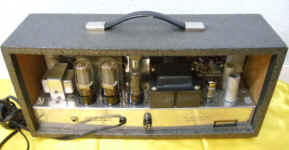 A lovely Harmony-made 1348 from the early '50s...

1348 Harmony HBEG VG $950 Clean, light wear, logo laminate looks good, pickup chrome a bit dull, uncommon 'edge legend' knobs, NS bridge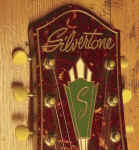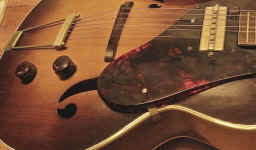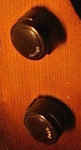 A late-model Kay-made 'Aristocrat'...

642 / 651 Kay FHAC w/ C VG $800 Clean, light wear, logo strong, NS pickguard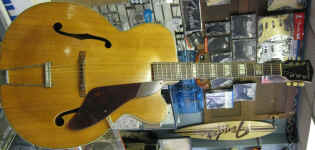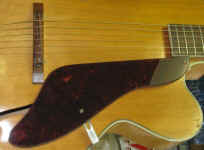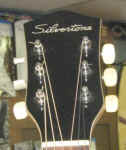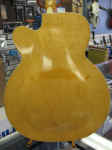 And lastly but not leastly, a Dano-built 1452 setup featuring a 1450 guitar. The faux-tortoise-shell multi-ply-pickguarded 1450 was introduced all by itself in the 1965 Wish Book, and then the white-finished-Masonite-pickguarded 1452 was intro'd along with its ampcase in the 1966 Wish Book. And, as always, it's feasible there was a little crossover between the two guitars as this 1452 ampcase with tortoise guitar combo indicates.

1450/52 Dano SBEG guitar with tube amp in case E $1775 Clean, minimal wear, whammy bar present, chrome shiny, two-bolt neck, logo strong, tremolo functional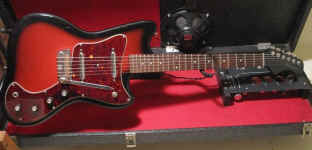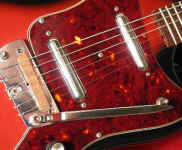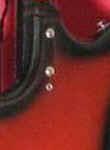 3/19

Is it a Blue Moon? Because that's how often these Gretsch-made 714s come around! The US had just emerged from its 'war footing,' and this Gretsch-built Silvertone, along with the first 'Aristocrat,' the Kay-made 712, were the first guitars to appear in the pages of the Sear, Roebuck catalogs in late 1946 after guitars not being available at all in the catalog during the mid-1940s.

714 Gretsch FHAC w/ OC $220 Clean, light wear, neck has hairline crack, some binding damage, chunk missing from B string section of bridge, G tuner bent, inlaid logo looks good, original pickguard present (bracket needs to be re-located underneath), serial #7509, stamped "Gretsch Super Structure" internally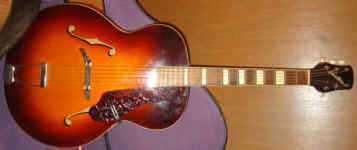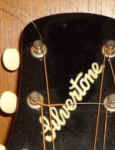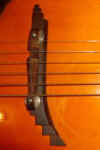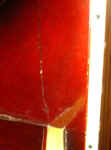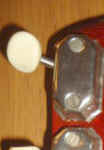 3/15

SXSWXS&S... that would be South by SouthWest by Springsteen & SILVERTONE!!! Bruce Springsteen joined Alejandro Escovedo, Joe Ely and Garland Jeffreys for a few rousing tunes Wednesday night after Ely asked "Is there a guitar player in the house? We need another guitar player!" Bruce stepped up, strapped on a Silvertone 1446 and cut loose with the band. Bruce gave the SXSW keynote speech Thursday afternoon ('Stay hard, stay hungry'), and will be taking the E Street Band out on the road in support of his great new album, "Wrecking Ball." The tour kicks off this weekend in Atlanta. Check the videos as Bruce peels off a couple of sweet solos on "Midnight Train" and then joins in with a rough-and-tumble take of "Beast of Burden."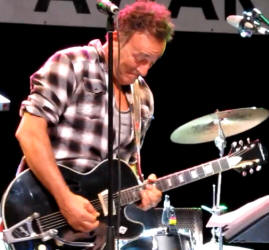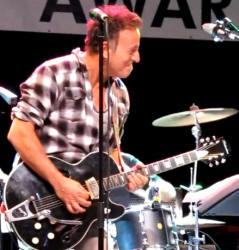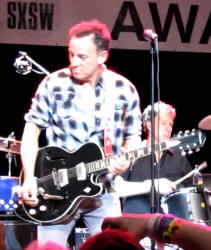 Hat tip to Silvertonian Stuart P. Thanks!

3/14

Couple of Beauties Today from the time when the Silvertone name had taken a firm hold in the Sears catalog. It was just after World War II, and country-wide production shifted gears from wartime to peacetime. For a couple of years in the Sears catalog index, there was an asterisk beside "Guitars," indicating none were available. Soon after the Allied Forces declared victory over the Axis, production ramped back up, and after the scant three instruments offered in the Fall/Winter 1946 catalog (one Gretsch-made archtop, the first 'Aristocrat,' and a couple of Kay-made banjos) players all over soon had their choice of Harmony, Kay and soon enough Danelectro-built instruments for their pickin' pleasure.

1350 Harmony HBEG G $900 Clean, some playing wear, logo laminate looks good, pickup cover chrome shows some dulling, light rust to tailpiece, crack at bass side f-hole at the 'dot,' note letters scratched into upper bass bout, date stamped F-48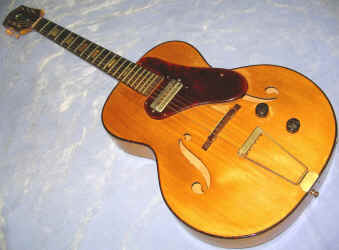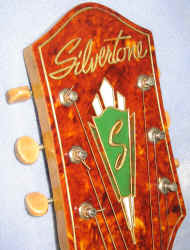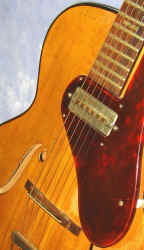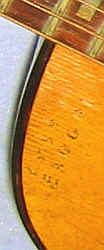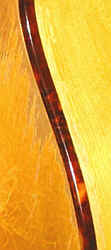 853 Harmony Ukulele NM $185 Clean, minimal wear, logo strong, original box incl.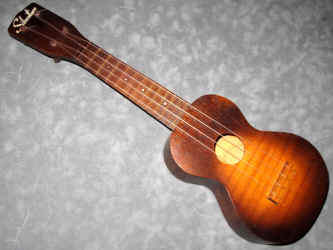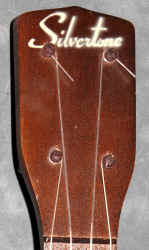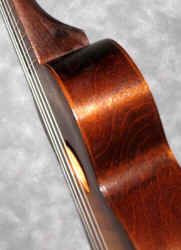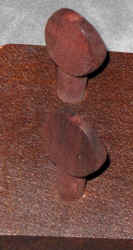 Every Silvertone Ever™ marches on with a new page up for the black-finished 1302 and 1303.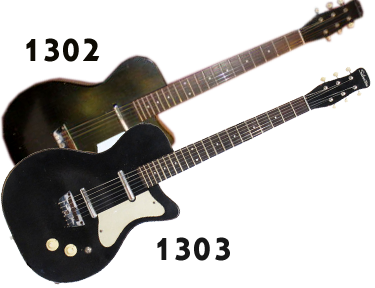 3/13

Tax Refunds must be making their way into bank accounts. Seriously, it's kind of been a lull the first part of this year; wonderful things going unbought that normally would have been snatched right up. This week, though... a flood of big money for some choice Silvertonium. $1440 for a lovely 'Chris Isaak' 1446... $800 and then another nearly eight bills for a couple of fine '1423 Jupiter' models... another eight hundred for a fine 1478, seven Benjamins for a sweet peace sign-adorned 1452 ampincase setup, $330 for a seldom-seen 702. Even an 'E' rated Jelly Roll Morton 78 disc on the Silvertone label went for $259.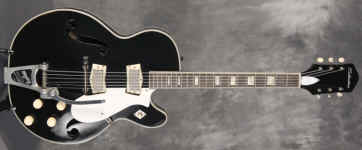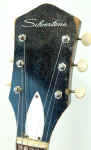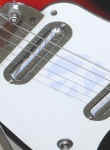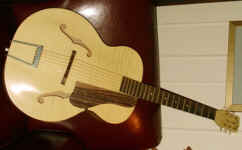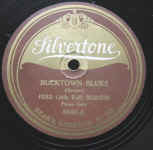 Oddly, this Super Silvertone Automatic Battery Economizer didn't bring its selling price of $5.99. I can only figure this was some kind of automatic switch to turn your radio off after a preset time if you liked going to bed with your Super Heterodyne musicmaker playing...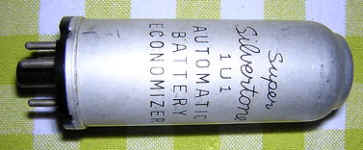 I tweeted this, but forgot to leave a note here... the next page in the Every Silvertone Ever™ effort is up! It's for the first of the 'U' shaped Dano-built guitars, the bronze 1300 and 1301.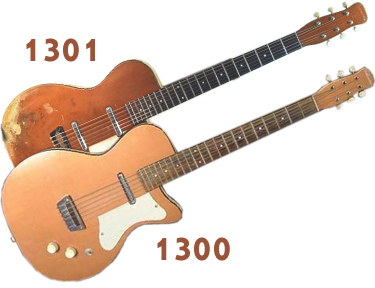 3/8

Heavy coat one day and shirtsleeves the next... that's March for ya! The Silvertone deals are running hot and cold, too... if you're looking for something, now's the time to sit on the ebay auctions and cast your line!

Here's a guitar we see every now and again, and aside from those shrinkage cracks at the waist, it's a fine example of this axe. It's the only Silvertone to feature that particularly shaped headstock, so I always know it as soon as I see it. Click the link on the model number, it'll take you to a 1953 catalog listing that shows you its very rare blonde sister as well. Also, here's a nice flickr photostream for a 694 restoration project.

694 Harmony FHAC VG $255 Clean, light wear, logo strong, stable shrinkage cracks on back at waist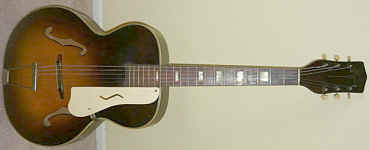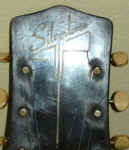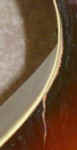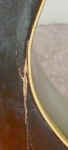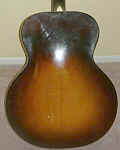 Here's an example of the Dano that I'm currently working on a page for, the single-pickup 1300. I'm pairing it up on the same page with its much hard to find sister, the 1301.

1300 Dano SSEG VG $430 Clean, some wear, logo strong, scratch on back near neck screws, playing wear to neck, cracked saddle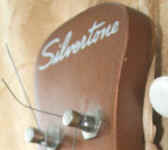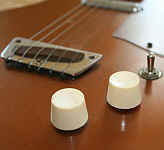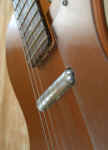 3/5

Well, it's not quite St. Patrick's Day, but Silvertonian Steve reported some pot o' gold luck to me over the weekend. He picked this up for $50 at his local pawn shop. Why, yes, it is a super-rare 1485 double cutaway from the late 60s. These were stamped internally (and in the case of this one externally) with the 1454 (single cutaway) number, but the catalog listed them as the 1485. Yeah, Steve, you did OK.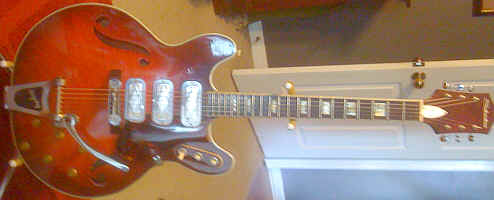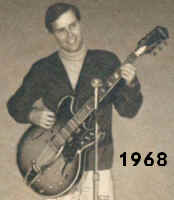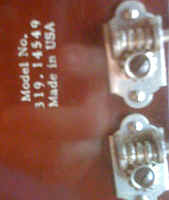 On our march towards Every Silvertone Ever™ we've posted a new page for the long, lanky 6-string bass, the 1373. Go!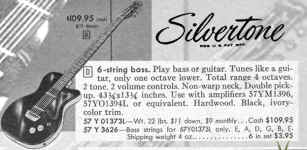 Here's some fun... these mahogany 656 models come along pretty infrequently, and we got TWO over the auction wire within just a few hours of each other over the weekend! Available for just a couple of years in the mid-50s, these are rare birds indeed.

656 Kay FHAC w/ OC VG $250 Clean, light wear, 'wind chime' logo on 'hump' headstock strong, some discoloration/shrinkage to tuner buttons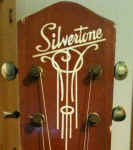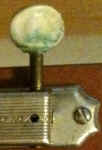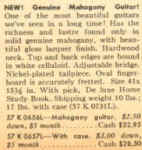 656 Kay FHAC VG $196 Clean, light wear, 'wind chime' logo on scalloped headstock strong, NS tuners, some neck lift but joint is solid, earlier version with heel cap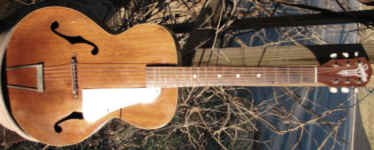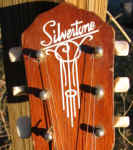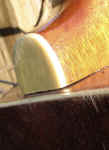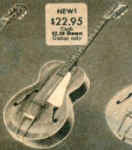 3/2

Another nice one as we begin this rockin' and rollin' month... not as rare as that beautiful 1359 from yesterday, but a jewel in its own right. It's the end-of -the-run version of the venerable 1478. This Harmony-built axe from yesterday's herd is the 'redfoil' 14781, neck-stamped as the 1480. Big knobs, compensated bridge, and colorful inserts to the DeArmond pickups separated this (and its blue-finished sister, the 14782) from the 1478s that came before.

1480 Harmony SBEG E $400 Needs a dusting, minimal wear, whammy present, stock strap buttons present, chrome a bit dull, treble-side 'horn' pickguard screw missing (possibly removed as a crack preventative), truss rod cover intact, logo strong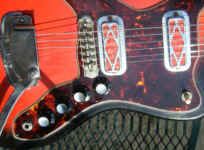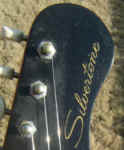 And, something unusual and rare in this very modern Silvertone-branded guitar case sold (briefly... they arrived in 1965 and disappeared just as quickly; original price $7.95) by Sears.

742 UNK Case $49 Clean, light wear, latches/hinges sound, logoplate in good shape, some pulling of fabric lining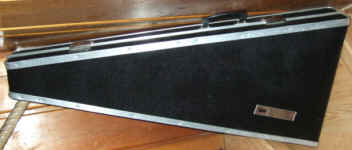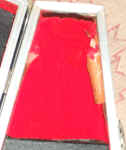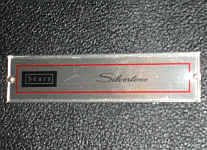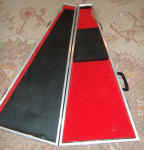 This next one would have gone great on Valentine's Day, but love knows no season, eh? It's a black with pinstripe Kay-made 658, with a little historical inscription on the pickguard: "To Trina from Elmer... Given to me by my husband on my 31st birthday, Aug. 21, 1976.... God Bless my Husband... Love Forever." A little Googling revealed that Elmer passed away last year at the age of 79. Trina is still with us, and I sincerely hope that desperation didn't drive her to sell this guitar. By the way, Elmer loved loved farming, carpentry work, riding motorcycles, and talking on the CB radio.

658 Kay FHAC w/ OC $255 Clean, light wear, logo strong, dot neck markers indicate 1966-198 production date, stamped 57-658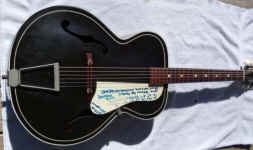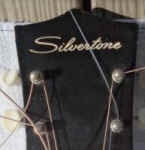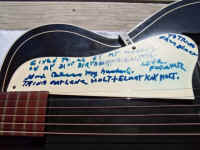 We've not looked at (well, hadn't SEEN) many amps lately, so here's a beautiful 1484 'Jack White' that just went under the gavel for a few Benjamins.

1484 Dano tube amp and speaker cabinet E $800 Clean, minimal wear, NS tubes (orig. incl.), control face looks great, cabinet/speaker stamping indicates Summer 1963 build, no footswitch, rev/trem unmentioned but seller says "everything works as it should."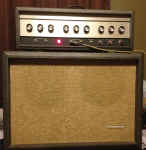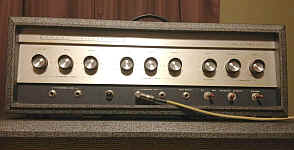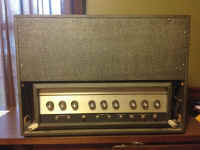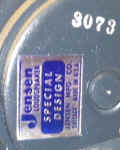 3/1

Marching into the coming Spring, we've got an exceptional find from today. It's a very early Dano-built Silvertone, and a double-pickup'd one at that! It's the 1359, with a visible fabric-wrapped truss rod, a glued on 'pickguard,' a very seldom-seen 'gator'-laminated headstock (same material as the sidewall strip, the 'truss wrap' and the pickguard), and a not-seen-before-by-my-eyes plexi/screened logo plate! Look at the neck shot, showing the painted aluminum rod making up a good portion of the neck, and what look like plugged holes where the screws holding everything together would be. Also, check the screw placement on the back, with the neck screws set wide apart into the aluminum neck rod, and the double screws holding the cavity cover on back. The pots dated to the 45th week of 1954, so this is a very early example of this guitar, as they were first offered in the Sears catalog in late 1955.

1359 Dano SSEG VG $1374 Clean, some finish checking and wear to neck/headstock, some playing wear to fingerboard and 'pickguard,' strap button missing, logo 'plate' looks good, rhythm pickup cover split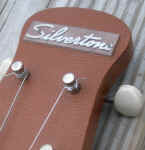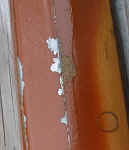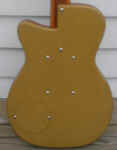 Silvertone King Dex Romweber is hitting the road with a few dates in the Eastern US with his sister Sara on drums, and some guests from Norway, Orbo and the Longshots, a rockin' bunch currently in the Top 20 of the Americana charts. I spoke to him last night to see if he'd be taking his 1448 on the road with him. It was damaged just before Dex & Sara hit the road last year for the big Dex Romweber Duo cross-country tour, and he had to bring in his Danelectro re-issue two-pickup guitar to take care of the onstage six-string duties. I've seen the 1448 onstage recently, and wondered if he'd be bringing ol' Number 13 out on the road.

"We're gettin' geared up to go, it's gonna be a good tour, for sure. I've been using the re-issue (two-pickup Dano), but I am taking the '63 (1448)... more as a backup because the thing's getting so old and gnarly, but I'm missing it, and last night I was thinking about it and I wanted to maybe soup it up for the main part of the show, and I'm not sure what I'm gonna do, but I am taking it."

Head over to the Spring Tour Page to get venue/show info and to keep tabs on the tour with photos and video.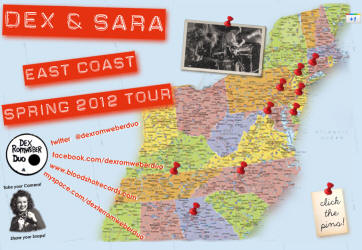 | | | |
| --- | --- | --- |
| | You'll be grinnin' while you're pickin' with our exclusive new Silvertone World Custom Picks! Head over to the Pick Store and grab a dozen or two in the bulk pack for some serious Silvertone-flavored strummin', all at great prices and free shipping on US orders. | |



MODEL # / MANUFACTURER / INSTRUMENT TYPE / CONDITION / PRICE / NOTES

Abbreviations: M-Mint, NM - Near Mint, E- Excellent, VG- Very Good, G- Good , F-Fair, P-Poor, NS- Non-Stock, HBEG- Hollow Body Electric, FHAC- F-Hole Acoustic, FTAC- Flat-Top Acoustic, SBEG- Solid Body Electric, SSEG- Semi-Sold Electric, MIJ- Made In Japan, MOD - Modified significantly from stock, w/ O/C Original / Case, DNS - Did Not Sell; used mainly to show an item of interest whether it sold or not.

Unless otherwise noted, I'm rating them by what I see in the pictures and read in the description.

The items depicted on this page are not for sale by Silvertone World. These are reviews of items from completed ebay auctions on or around the date specified.

Links in blue open in a new window, and take you to a Silvertone World info page, a period catalog listing, or a link of interest.