May 2012


5/31

May goin' out with a bang! Some great stuff these last few hours of the fifth month. Here, let me show you some. We'll start off with a trip to Jupiter for a little less than a grand!

1423 Harmony SSEG w/ OC E $850 Clean, minimal wear, logo strong, pickguard print strong, plenty of glitter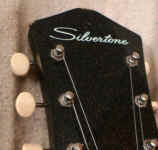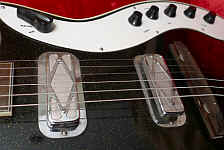 Continuing the basic black theme, here's a beautiful 1303 from the late 50s.

1303 Dano SSEG VG $788 Clean, light wear, logo strong, sidewalls a bit dingy, tuner assembly rusty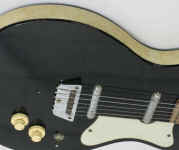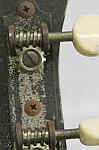 One of the nicest rare 1418 models I've seen.

1418 Teisco MIJ HBEG E $895 Clean, minimal wear, whamy bar missing, pickguard design strong, logo tag looks good, serial #335744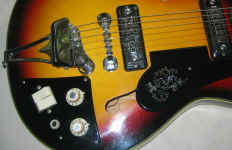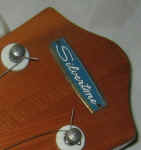 Here are a few non-Silvertone treats I thought you might enjoy. A lot of ebay sellers will put 'Silvertone' in their guitar/amp description to help bring anyone interested in funky guitars in general to their item. Here are a couple.

Lawman Mike had this first one up for sale as a fixer-upper, and it brought in a couple of Benjamins... it's an Alden/Holiday branded version of a Harmony-built guitar in the 'Caribbean' line, most closely matching (in trim, anyway) the H1006 from the mid-50s. Man, it looks like that 'Harmo-Metal' would eat your hands up in some furious strumming...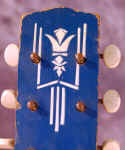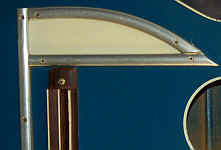 Here's another non-Silvertone goody, but it was sold by our friends at Sears & Roebuck. It's the rare ropin' cowboy stenciled 'Melody Ranch' guitar that retains the official 'Gene Autry' signature endorsement. As the movie cowboy era gave way to the era of the TV cowboy (the line changed in the catalog from 1955 to 1956), Gene Autry was replaced by Roy Rogers as Sears guitar endorser, and we had a 'singin' cowboy by the fire' stencil to go with the new cowboy strummer. In 1957, the Roy Rogers guitar was reduced to one available model, the ¾ 'childrens size' 600. In the 1958 Fall/Winter catalog, a ¾ size guitar was offered as the Silvertone-branded model 612, but with the stencil of the Gene Autry guitar (less his signature). By 1959, rock and roll had replaced gallop and strum, and the Sears 'cowboy' guitar was no more.

610 Harmony FTAC G $71 Clean, edge/surface wear, stencils strong, possible NS bridge, some sloppy gluing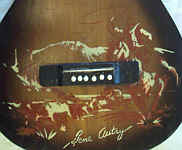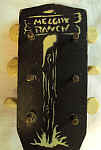 Speaking of Sears guitar endorsers, here's the other one. This is the one of the best Buck Owens 'American' models I've ever seen, and went for a mighty fine price. If you'd like to get one of these, there's a couple of 'em up on ebay right now. Get out your wallet...

1219 Harmony FTAC E $1441 Clean, minimal wear, light checking, repro logo laminate (from Buck Owens Productions), colors bright, NS nut, serial #9902H169, stamped F-70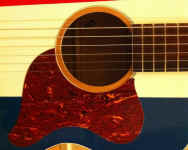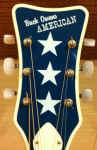 5/30

Doc Watson, R.I.P. Influential and awesomely gifted guitarist / singer / multi-instrumentalist Arthel 'Doc' Watson has passed away. The man from from Deep Gap in Western North Carolina began playing the six string late in life, starting on a homemade fretless banjo (with a catskin head) at 11, playing a Stella guitar for a while, then using some wood-chopping money to buy a "good little guitar," a mail order guitar from Sears, Roebuck * in 1940 at the age of 17, and trading up to a Martin (a D-28, of which Doc said "Compared to my guitars now, it was like fretting a fence) some time later. Doc performed his 'traditional plus' music all over, with everyone in folk and bluegrass you could name, and his gentlemanly charm and self-effacing manner will surely be as missed as much as his incredible music. Thanks, Doc.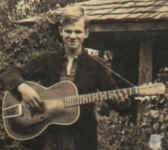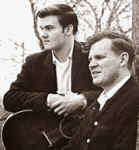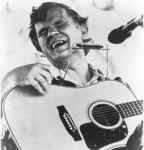 *Whether Doc's guitar was branded a Silvertone is debatable. Many of the articles I've read mention Silvertone by name, but in some interviews I've read and heard, Doc just says "Sears & Roebuck." 1940 was the very beginning of 'Silvertone' being used as a name for Sears' instruments, and the new moniker wasn't fully implemented until the early 40s.





Here's a few interesting items that came over the auction transom the past couple of days...

A very nice example of the sought-after 1472 amp, complete with bare wood footswitch!

1472 Dano tube amp E $350 Clean, minimal wear, square speaker cutout, 'tremolo' spelled correctly, tremolo unmentioned, footswitch incl., seller says "works perfectly in every way"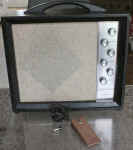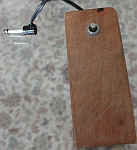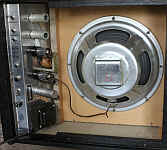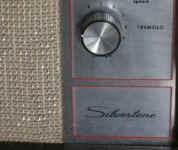 Wonder if James Bond plays guitar?

1448 Dano tube ampinbriefcasecase MOD $81 What can you say? It's a 1448 amp in a briefcase! Great notes from the seller/modder: "No mods have been done to the amp itself, although the input jack is new and it's got a new plug on the original 2-conductor power cable. I also switched out every capacitor, mostly with Orange Drops, and a few resistors that had drifted. (I'll be including the old parts with this auction.) The cap job greatly reduced the 60-hz hum, but you'll still get some buzz especially if you crank it up all the way. So you're thinking that the 5" speaker's going to cramp your style? No sweat—Take a close look at the lower left side of the grille and you'll see that I wired in an extension speaker jack that mutes the 5-incher when you use it. I plugged this into an 8-ohm 12-inch and it really sounded great; then I plugged it into a 4-ohm 2x12 cab and it sounded even better. "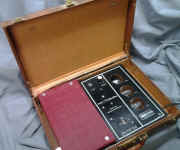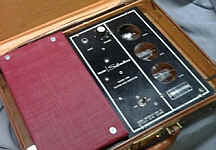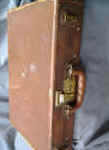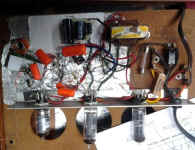 More modified mischief, this time on an unsuspecting Kay-built 1413...

1413 Kay SBG MOD $DNS Clean, light wear, huge pickguard added, knobs re-decorated, logo almost gone, looks like it was painted black all over at one point, tuners rusty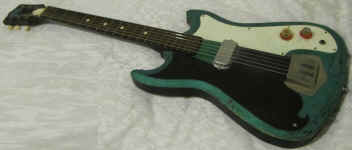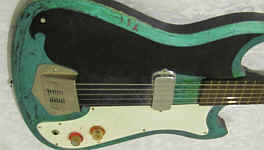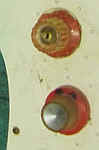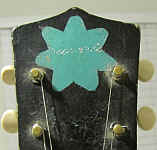 5/24

Another oddity this week in Silvertone World is this neat little piece of doll house furniture that sold at auction the other day. Handcrafted from an old cigar box, there's brass nail heads for knobs and a tacked-on paper tuning dial, and under the hood... tiny bulbs for tubes, and the crafter labeled it a Silvertone!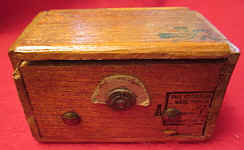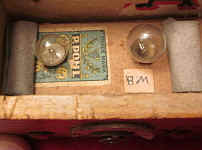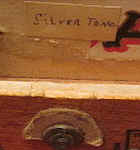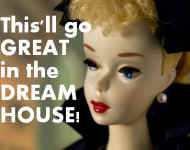 5/23

Here's a terrific piece of Silvertone ephemera that I missed by 50 cents at auction the other day. It's a photo postcard (wish I knew the date) of the "Virginia Hill Billies." You can see Shorty on the doghouse bass, Tex on guitar, Jack on the fiddle and right in the middle of it all is steel player Gile with his fancy Silvertone amp setup. That's the very rare model 2334, offered in the Fall of 1940. The steel Gile is playing has some angular shoulders, so it doesn't quite match the steels being offered in the Fall 1940 catalog, but it does look like there could be a Silvertone 'Artist' badge up on the headstock. The group was popular enough to have these postcards printed, but I can't find a thing on an outfit called the "Virginia Hill Billies" with the personnel listed. I reckon they're from Virginia, but I don't know anything else. I found a link to the history of radio station WSLS that mentions the musical group "Virginia Hillbillies," and would seem to be in the right time frame and location, and the Digital Library of Appalachia seems to know something but I get a failed server connect on the query, and there's a reference to a "Virginia Hillbillies" group coming down and playing some tunes at this Google newspaper link from Miami News of 1934. They apparently never recorded, and so my search hits the wall. Anybody know any more about this group?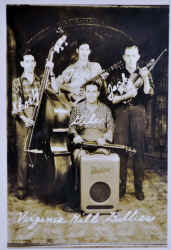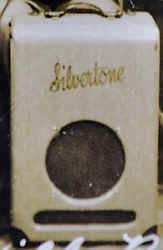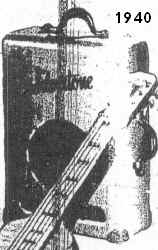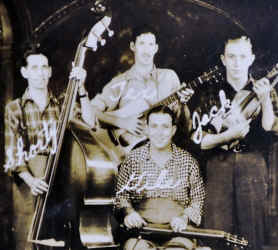 5/21

A Tale of Three... Chris's? Isaaks? Minis? Meh... It's Monday; I can't think of anything snappy. Anyhoo, here's three fine 1446 models in various degrees of preservation going for some OK moolah. It's just fun to have three sell this close together for the sake of comparison and contrast. Have a gander:

1446 Harmony HBEG G $850 Clean, light wear, light finish checking, NS tailpiece replacing absent Bigsby, logo strong, two holes in headstock, bottom strap button missing, 'G' tuner slightly bent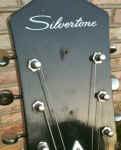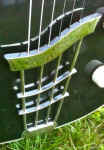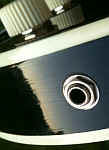 1446 Harmony HBEG G $860 Could use a cleaning, some edge/surface wear, logo lightly worn, paint residue on truss rod cover, pickguard modded at bridge, some buckle rash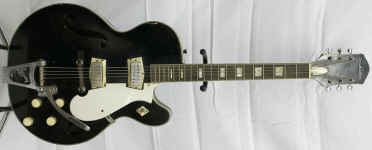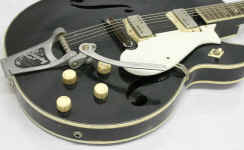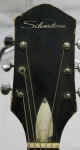 1446 Harmony HBEG w/ OC G $500 Clean, surface & edge wear, pickguard and truss rod cover missing, logo strong, side has long crack centering on jack, NS tuners, frets show playing wear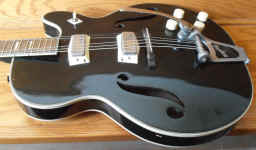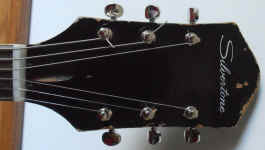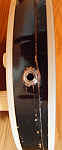 Here's a rare bird that only flies by every now and again... it's the all-mahogany 623, available only in the 1966 Wish Book. Obviously related to the long-running 600 series, this Harmony-built strummer stands apart with its faux-tortoise binding and pickguard and mahogany goodness all around.

623 Harmony FTAC VG $208 Clean, light wear, logo double-screened, action high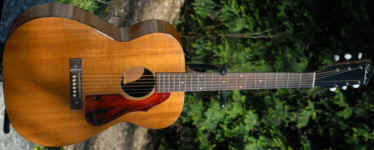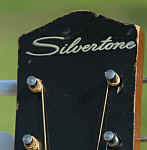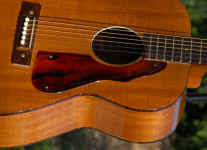 Don't worry, 1484s are as popular as ever... here's a nice 'un... with video!

1484 Dano tube amp and speaker cabinet VG $895 Clean, light wear, light 'rust dust' to faceplate, rev/trem functional, footswitch incl., cabinet stamping indicates Fall 1965 build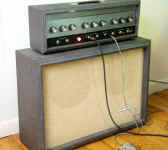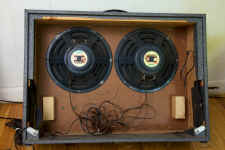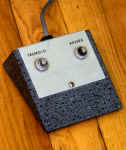 5/17

Tan and Ginger? Sounds like a drink... but it's the finish/trim package of our two featured items today, a snazzy Dano-built guitar and a cool treble clef-adorned Valco-made amplifier. They were auctioned separately (and separated by 7 years or so in the Sears catalog), but they'd look great together! The guitar is the most common version we see of the 1359; there is a very rare earlier version with the wider headstock and back-of-the-headstock teardrop volute of the 1377 and an exposed 'duraluminum' truss rod. The 1300 amp (also sold as a Valco Tone master and a Harmony-branded model 200) is in mighty fine shape, with its schematic beautifully intact, and the decorative tube protection screen grid onboard.

1359 Dano SSEG w/ OC VG $1550 Clean, light playing wear to neck and top covering, logo strong, neck pickup cover looks slightly split on the treble side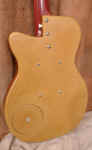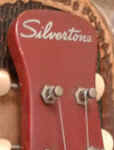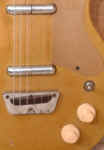 1300 Valco Tube Amp VG $500 Clean, light wear, handle and captures look great, tube protection grid present, schematic intact, 3-prong AC mod, recently serviced, seller says "sounds great."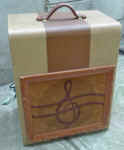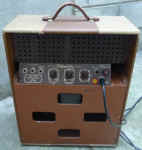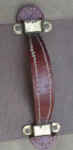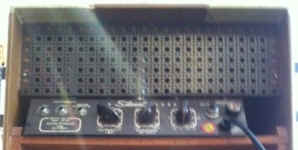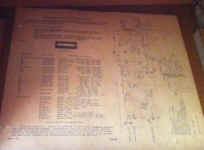 5/15

Well, they're not 'really' Silvertones, and I have no idea who built them for Sears, but we see examples of the XL line quite frequently. A few were tube-powered early on, but by 1972, it was transistors all the way! Today's first up is a good example of a Sears-branded 40XL. This amp changed innards mid-stream, becoming a 'Space Dot'-ted solid-state amp in 1971.

1422 Sears tube amp VG $425 Clean, some edge wear, some wear to control face, back panel missing, tube dampers in place, rev/trem functional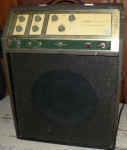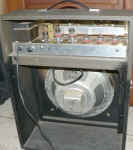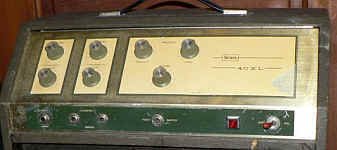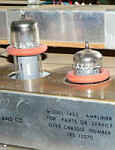 Speaking of Space Dots, here's a pair of acoustic strummers from the Land of the Rising Sun the we don't see too often. It's unusual in that it is actually branded a Silvertone internally, and sports a distinctive 'moustache' bridge and squared off headstock. The first one's a had a 'Strad O Mike' pickup and controls added.

1217 MIJ FTAC MOD $139 Clean, light wear, NS pickup/controls added, prismatic 'Space Dot' looks good, inner label clean, NS tuners, NS truss rod cover, pickguard design slightly worn, three-piece back, zero-fret shimmed on treble side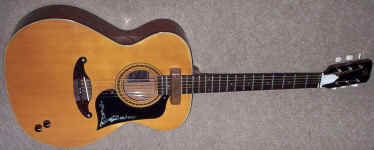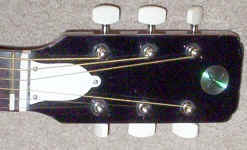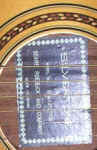 1217 MIJ FTAC VG $79 Clean, light wear, prismatic 'Space Dot' looks good, inner label clean, pickguard design worn, one-piece back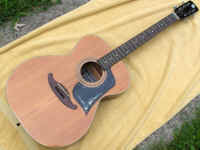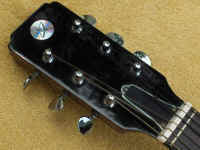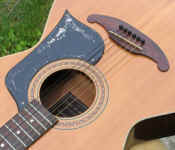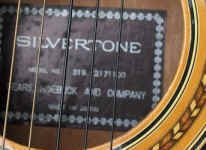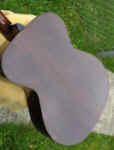 Just before the MIJ 12XX series of acoustic guitars took over, these guitars ruled the roost, being the longest-available and largest-selling acoustics in the Silvertone line, and these two examples were near the end of that line. The first example, the 643, was the last 6XX in the line, just before the catalog wide "upgrade" of acoustic numbers from 6XX to 12XX in 1968.

643 Harmony FTAC VG $400 Clean, minimal wear, logo strong, NS bridge, neck pulling slightly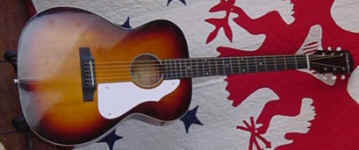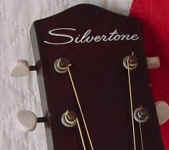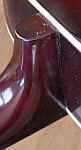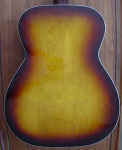 Next, it's the first in the 12XX series, the 1214.

1214 Harmony FTAC w/ C VG $50 Clean, light wear, logo strong but slightly worn (or not completely screened) at second 'e,' neck needs a re-glue, serial #3608S1214, orig. booklet incl.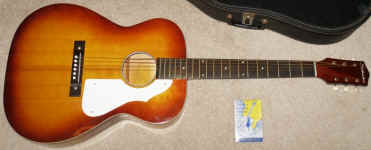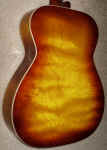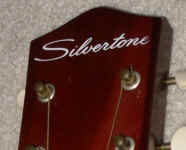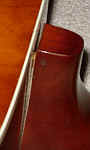 Loss/Gain. The sky blue-refinished (with stripes!) 1477 down there also got new guts, so some lucky Silvertonian got this full kit (everything but the tailpiece) of parts for just $65! Looks like the buyer may a have a little re-building to do.

1477 Harmony Hardware $65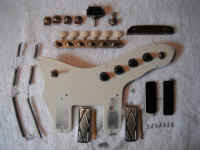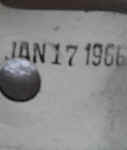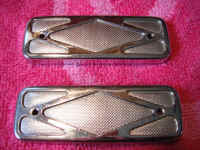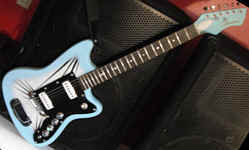 5/11

Looks a little more 'Jumbo' to me with this replacement pickguard. It's the big-bodied, pinched-waist Kay-built 618.

618 Kay FTAC MOD $379 Clean, playing wear, finish checking, logo strong, seller says "This one is ready to go, with new tuners, new nut, new pickguard, neck reset, bridge reset, frets leveled and dressed. "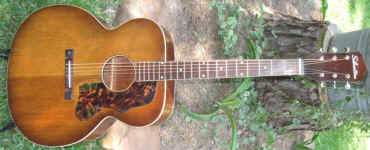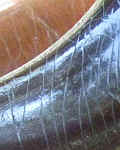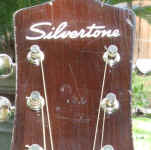 Oh, hey! almost forgot, Silvertone World got an unattributed quote shared in Chicago magazine this month!
Click the graphic for the entire article.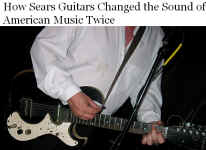 Here's another nice strummer we don't see every day; the snowflake-adorned Harmony-built 632. Went for a song!

632 Harmony FTAC VG $62 Clean, light wear, logo strong, slight crack along bass side back at waist, serial #2617H632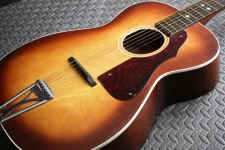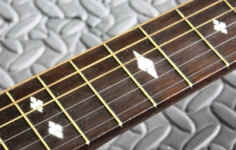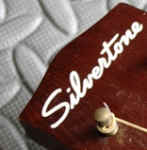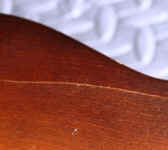 A Tale of Two Blues... Kentucky, that is.

653 Kay FHAC w/ C VG $350 Clean, some edge wear, finish faded, 'wind chime' logo strong, tuner buttons deteriorating, light rust to tailpiece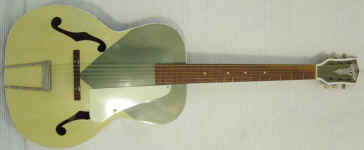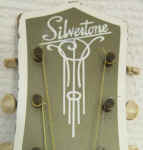 653 Kay FHAC w/ C VG $263 Clean, nice and blue, light wear, logo strong, pickguard missing, slight neck pull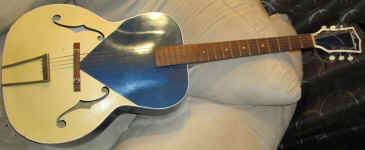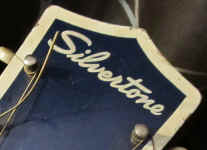 One more Kay-made music machine to round out your day... pass the Grey Poupon, it's an Aristocrat!

1365 Kay HBEG VG $497 Clean, light checking logo laminate looks good, pickguard design shows slight wear, NS tuners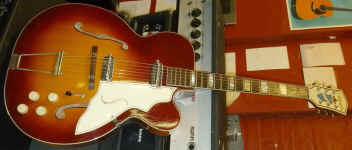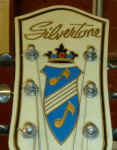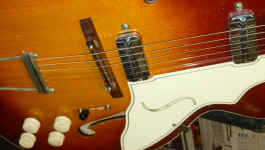 I know I'm a day late for Young MC's birthday, but I figured I'd share this vintage sighting with you anyway. At about the two-minute mark into his "Bust A Move" video, you can see Red Hot Chili Peppers bassist Flea amusingly laying down his bass line through a Harmony H-191, also sold as the Silvertone 1340.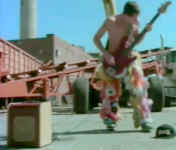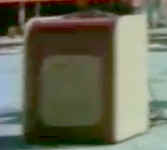 And... it's FRIDAY! Time for a Silvertone DANCE PARTY! Look at those rockin' tunes! Everybody twist!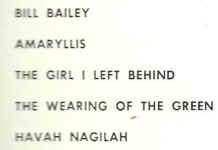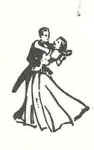 5/6

Well, I knew it was gonna go big... but, WOW! Remember that 1377 from April? What a great piece of Silvertonium! Here's the bit I wrote on it a couple of weeks back: "One Of A Kind... I don't usually say that, as the reality of that statement is few and far between. And, I don't usually do this, bringing a guitar to your attention before the final auction gavel has come down. However, this is a unique guitar, and it deserves some wide exposure to our select audience of Silvertonians. It's the very early Dano-built 1377 from 1954, and this example was owned by a Mr. Glen Carver, who worked at Sears corporate. Instead of the usual thick script 'Silvertone' and lightning bolt in maroon, we've got Mr. Carver's name engraved into the headstock laminate plate (the flipside is blank). Glen wasn't much of a player, apparently, as this guitar shows almost zero wear. Pots are dated 137422 (Manuf. by Chicago Telephone Supply in the 22nd week of 1954), and the seller says it's been in storage in Maine for fifty years! It's a great piece of guitar history, and Danelectro history in particular. You can see many of the Dano features we've come to know and love in a near prototypical stage: the simple yet elegant bridge (wider, and made from aluminum instead of chromed steel), the not-yet-lipstick'd pickups hiding under a vacuform bump in the pickguard, the stacked V/T knobs (just as they would appear until 1967), the wider 'Coke Bottle' head taking shape, a 'Duraluminum' truss rod running from headstock to bridge (later truss rods would be steel, two of them, and just in the neck), and the familiar Les Paul™-like shape of the body, seen until the early 1960s. Awesome!"

1377 Dano SBEG E $3050 Clean, minimal wear, light oxidation to bridge and 'Duraluminum' rod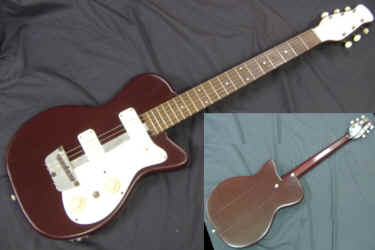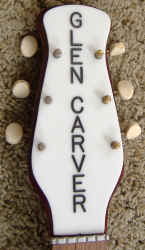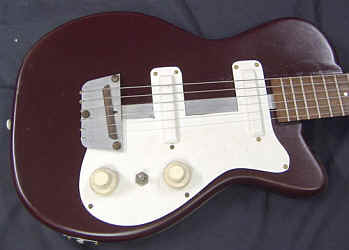 Lots more from this weekend! How about a ready-made collection? There were two Silvertones included in this terrific array of guitars. The entire shebang went for $1042! In this lineup of six-string strummers we had hardwareless top-cracked Kay-built 619 (mis-ID'd as a Harmony N-2, second from left), a Silvertone 641 (second from right), and an assortment of other Kay and Harmony boxes, including the fabulous Harmony All American (third from left)!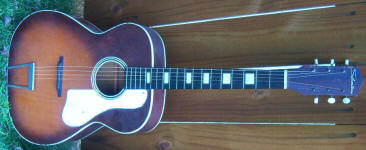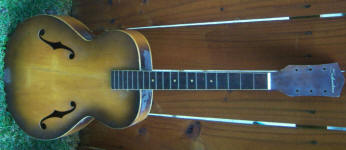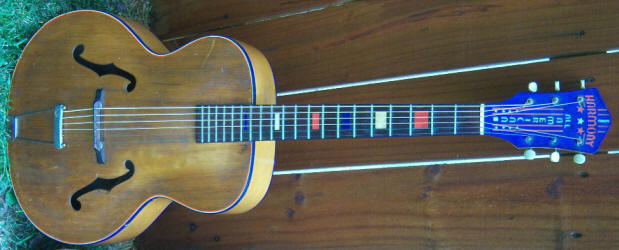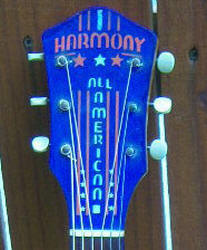 More, please!

Na na na na na na na na BATWING! POW! ZAM! BIFF!

1488-9 Harmony SBEG VG $616 Clean, light wear, whammy bar and string mute (!!!) present, chrome shiny, logo strong, (1) knob missing, string mute spring missing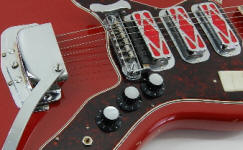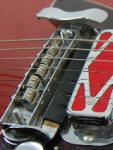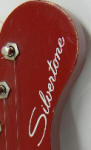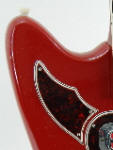 1484s continue to be strong sellers...

1484 Dano tube amp and speaker cabinet NM $1709 Clean, minimal wear, rare molded footswitch, rev/trem functional, stamping indicates late 1964 build, estate sale find; in storage virtually since purchase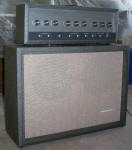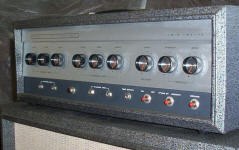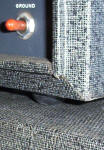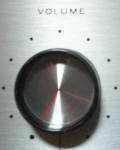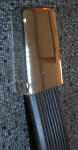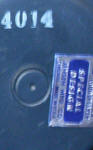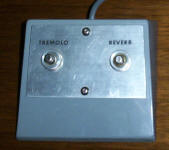 1484Dano tube amp and speaker cabinet VG $780 Clean, light wear, some oxidation to jack nuts and handle captures, cab re-grilled, date stamping indicates Summer 1963 build; the first year of this amp's availability, seller says "Head was just serviced for 300 dollars ,,,new caps,,new 3prong plug, new output jack ,, etc No issues at all,, Runs Quiet & Smooth and Everything works great including the Tremolo and Reverb"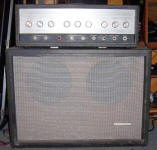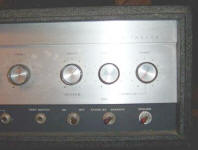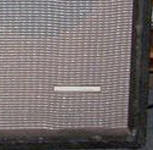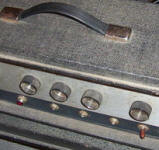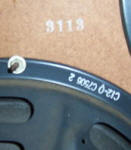 1484 Dano tube amp only MOD $335 Clean, re-upholstered in black, rev/trem functional, seller says: "MY AMP GUY JUST CHECKED EVERTHING, REPLACED A FEW CAPS AND ADDED A 3 PRONG CORD FOR SAFETY. NEW PLUGS, NEW TOLEX, NEW HANDLE, NEW RUBBER FEET, NEW HEAT SHIELD. NO HUM, POTS ARE SMOOTH WITH NO FUNNY NOISES. ONE KNOB HAS A CHIP."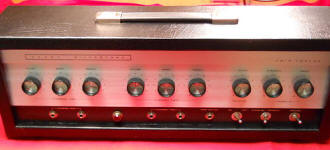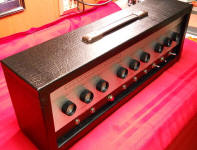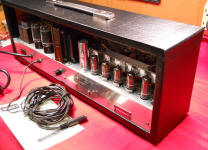 604 kay FTAC VG $135 Clean, light wear, slight damage to bottom near strap button, logo strong but double-screened, stamped S-69-ML, original box incl.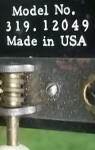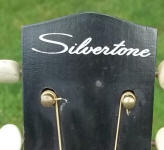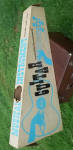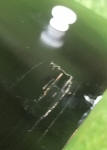 How about a cool little Supertone from the mid-1930s?

203 Harmony FTAC VG $170 Clean, light wear, stencils strong, 'crystalline silver color fingerboard' finish shows some playing wear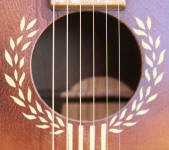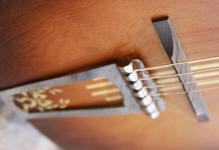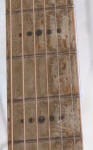 Let's end up this Cinco de Mayo weekend haul with a trio of double vision...

1454 Harmony HBEG w/ OC VG $900 Clean, light wear, logo lightly worn, NS bridge, Bigsby paint worn, some finish checking, DeArmonds dated May 13 1964,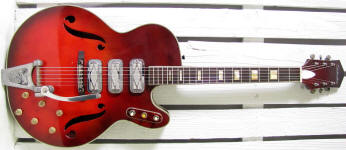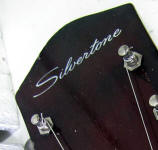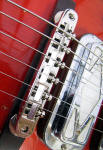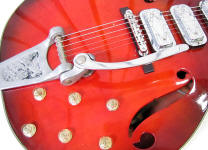 1454 Harmony HBEG w/ OC VG $1150 Clean, light wear, logo strong, lamination lines showing at headstock, some finish checking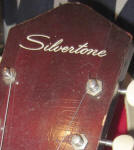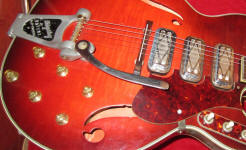 1304 Dano SSEG VG $372 Clean, light wear, logo worn, cutaway strap button missing, plenty of gold flecks, re-fretted, swoop neck cutaway and aluminum cavity cover indicate one of the last of these to be sold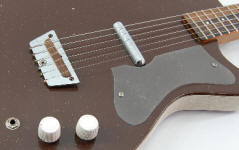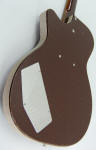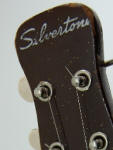 1304 Dano SSEG VG $322 Clean, playing wear, finish checking, pickguard missing, logo gone (painted over?), pots dated 24th week of 1960, cavity stamping indicates Summer 1960 build, mis-ID's as 1415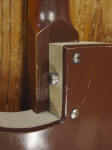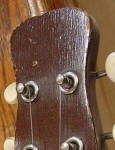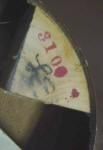 1478 Harmony SBEG VG $525 Clean, playing wear and a ding or two, NS nut, NS neck screws w/o ferrules, truss rod cover missing, logo faded, light rust to chrome, some pickguard shrinkage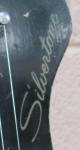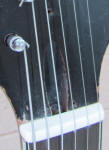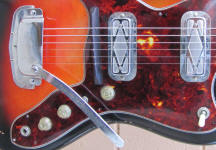 1478 Harmony SBEG G $550 Clean, playing/edge wear, logo 'shamed,'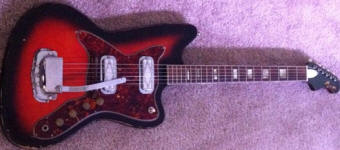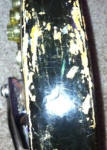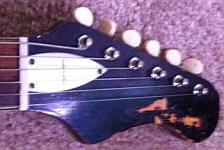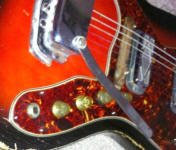 5/4

I'd like a Combo, please... We visited the popular 1482 the other day, and here's a fine just-before-it-changed-its-stripes example of its predecessor, the 1472. The round speaker cutout had been ditched for the cheaper/quicker square cut (although a few 1482s had round cutouts), and the red-border control panel (the 1482 would be a strictly monotone affair) now sported the correct spelling of 'tremolo.'

1472 Dano tube amp VG $328 Clean, minimal wear, NS brass corner protectors, (1) replacement 12AX7, cabinet stamping indicates a build date of Summer, 1962.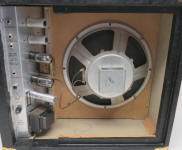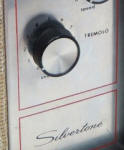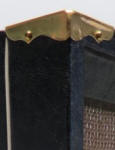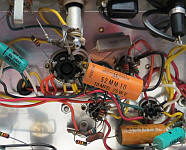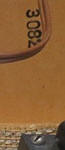 5/1

May I? I think I shall. Let's start the fifth month off with five fun pieces of Silvertonium. We'll start off with the "Amp Of The Moment™," the well-loved Dano-built combo, the 1482. These amps are surging in popularity right now, bringing some good money, and supplying some lucky players with a strong, tremolo-laden (if you want it), room-filling, PA mic-able, studio-recordable, tube-powered 15-watt sound mosheen

1482 Dano Tube Amp VG $377 Clean, light wear, square speaker cutout, tremolo functional, couple of pieces of masking tape on back, no footswitch, cabinet and speakers date-stamped 1963 (first year of this amp's availability)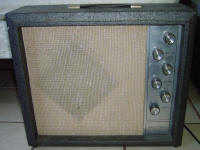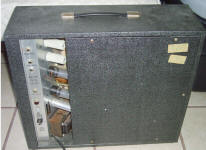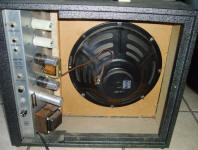 Now for an OK, but kinda rare 'Aristocrat'... it needs a little TLC, but still nice.

670 Kay FHAC F $277 Clean, pickguard missing, top shows heavy playing wear, three all-the-way-through cracks at bass side f-hole, headstock laminate in good shape, 'cheese wedge' markers look good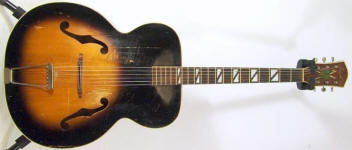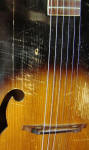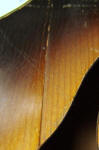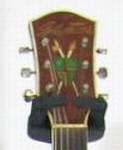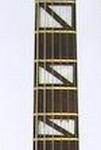 An ampincase bargain. Gimme!

1448 Dano SSEG and tube ampincase VG $250 Clean, some wear to guitar and ampcase, amp functional, logos strong, amp-to-speaker wire spliced/taped, early version; triangle knob inserts (amp AND guitar), oval-buttoned strip tuners, no shots presented of the back but I'd reckon a two-bolt neck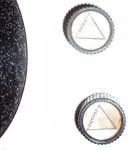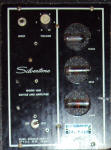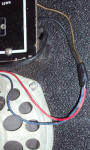 A little Land Of The Rising Sun Silvertonium... it's the Fatocaster 1436!

1436 Teisco SBEG VG $400 Clean, light wear, a little buckle rash, whammy arm locked down (spring and parts incl.), logo tag looks good, serial #173169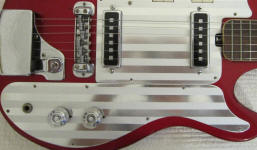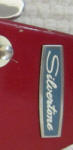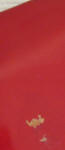 Some Kay 'Thin Twin' innards... we rarely get a look at these babies without their guitar surrounding them. The 'blades' coming out of the massive magnets are the 'Thin' in 'Thin Twin!'

1381 Kay pickups only $399 Tested functional, original leads full-length and in good shape, mounting screws and springs incl.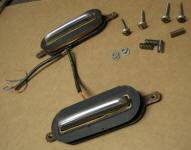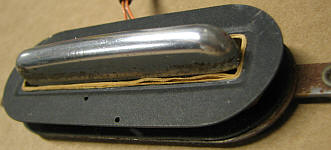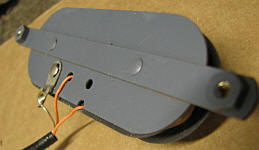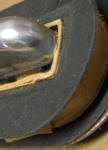 Make sure to visit April 2012; we saw some great stuff last month... no foolin!




Help keep Silvertone World 'on the air.' Buy some picks!

| | | |
| --- | --- | --- |
| | You'll be grinnin' while you're pickin' with our exclusive new Silvertone World Custom Picks! Head over to the Pick Store and grab a dozen or two in the bulk pack for some serious Silvertone-flavored strummin', all at great prices and free shipping on US orders. | |

MODEL # / MANUFACTURER / INSTRUMENT TYPE / CONDITION / PRICE / NOTES

Abbreviations: M-Mint, NM - Near Mint, E- Excellent, VG- Very Good, G- Good , F-Fair, P-Poor, NS- Non-Stock, HBEG- Hollow Body Electric, FHAC- F-Hole Acoustic, FTAC- Flat-Top Acoustic, SBEG- Solid Body Electric, SSEG- Semi-Sold Electric, MIJ- Made In Japan, MOD - Modified significantly from stock, w/ O/C Original / Case, DNS - Did Not Sell; used mainly to show an item of interest whether it sold or not.

Unless otherwise noted, I'm rating them by what I see in the pictures and read in the description.

The items depicted on this page are not for sale by Silvertone World. These are reviews of items from completed ebay auctions on or around the date specified.

Links in blue open in a new window, and take you to a Silvertone World info page, a period catalog listing, or a link of interest.