January 2012


1/31

One-Twelfth of 2012... gone! My goodness... weren't we just toasting the new year and sweeping up confetti? Well, it's been quite a month... if you read down through what I've done so far this year... well, it kinda looks like I'm slackin' off, but I assure you it's not the case. I'm using the extra time afforded me by just bringing you auction 'highlights' to good use. We've already got most of the 'Aristocrats' up (click on the screen shots below to go to the acoustic or electric pages), and we're well on our way to "Every Silvertone Ever," which is going to happen by the 100th anniversary of the Silvertone name being used by Sears.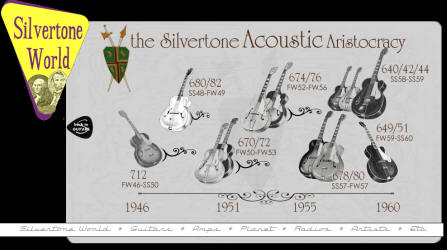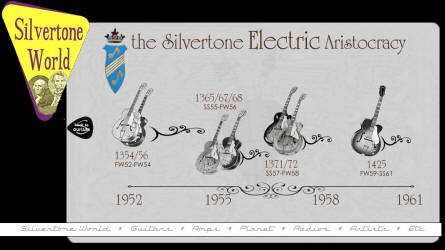 Here's a funky sound machine... this one comes with its original case, but I wish we could find one in its box... I'd love to pin down the Silvertone/Sears model number on this Harmony H1-derived lap steel. Block logo, so we at least know it's late 60s/very early 70s, never appeared in any seasonal Sears catalog.

UNK Harmony Lap Steel w/ OC E $206 Clean, minimal wear, chrome shiny, block logo and 'fretboard' decor strong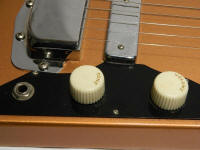 eBay seller hankeroo always seem to have some choice Silvertonium on hand, and here's a little something that went for a tidy sum just last night.

1446 Harmony/Gibson Humbucker Pickup only $216 Bezel broken, wear to chrome, patent # sticker mostly intact, screws incl.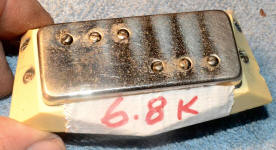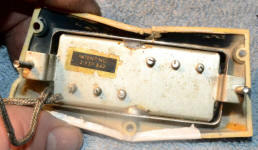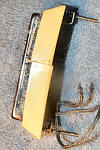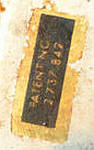 These are the "Patent #2,737,842" vs. the "Patent Applied For" stickered models. Oddly enough, this patent number is actually for a Les Paul credited trapeze tailpiece from 1952. Hit the first link for more info, but here's the money quote from that link: "Gibson printed the incorrect number on some PAF stickers after they obtained a patent (U.S. Patent 2,896,491) for the PAF pickups. Most humbuckers were labeled with U.S. Patent 2,737,842 until 1962 and the number shown on the pickup is actually a patent for a Gibson trapeze tailpiece bridge and not for a pickup at all. Both true PAFs and incorrect patent marked PAFs are fairly rare today and make an expensive vintage collectors' item."


Speaking of pickups, here's another from the same seller as last weeks 'lipstick.'

Dano Pickup $126 Little bit of tarnish, small nick at center separation, all mounting hardware present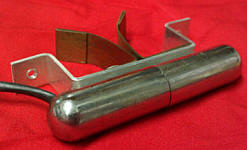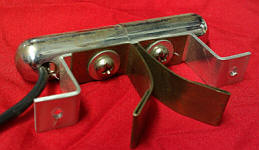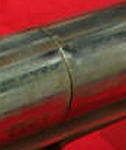 1/30

The Aristocracy Marches On! Here's the page for the 680/682 models, the second pair of acoustic 'Aristocrat' models on the Silvertone scene.

Here's some craziness for ya... I usually just blow right past things that totally don't 'look' Silvertone, but lately I've been clicking a little deeper to see what's really going on with some of these. This next wild one looks to be a Canadian-sold Silvertone judging from the serif'd block logo that was particular to Canadian axes (no model # sticker, unfortunately), and it certainly never appeared in the States. Check it out! Similar to the Domino 'Californian / Rebel, which is itself similar to the Vox Phantom... it's certainly in the Top 20 of the rarest Silvertones around. It didn't bring its asking price of $975. I gotta get me some Simpson-Sears catalogs.... there was some wild stuff going on up there!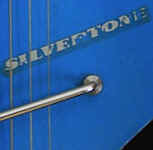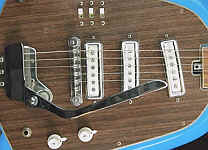 Want some more rare? You got it! How about this, one of the earliest Silvertone solidbodys, the 1361.

1361 Kay SBEG MOD $495 Refinished, 'wind chime' logo saved (huzzah!), tailpiece shows rust, original cupcake knobs and 'soap bar' pickup present, tuner buttons deteriorating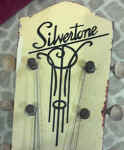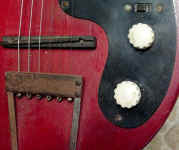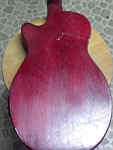 Been a while since we saw a nice 1442 bass. This one's in great shape, and the price certainly reflects that.

1442 Dano SBEG Bass VG $580 Clean, light wear, chrome shiny, tailpiece cover present, logo intact but bent/worn at 'S,' couple of side dings, screw crack at jack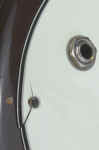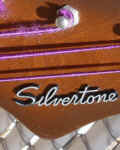 Another rarity, the end-of-the-product-line Bobkat-based Silvertone model 1477-2.

1477 Harmony SBEG w/ OC G $350 Clean, whammy bar missing, wear and checking all over, chrome shiny, logo strong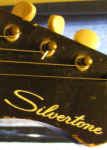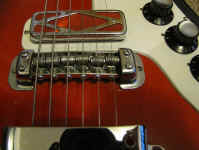 One more... this is the model I think I'm going to tackle once I've gotten all the 'Aristocrats' completed. The 619 was a very big seller during the '60s, and this example is the rarest of the bunch, never appearing in a seasonal catalog.

619 Kay FHAC G $195 Clean, light wear, unique pickguard, aluminum headstock decoration and logo look good, NS tuners, headstock broken at treble tuner line, neck lifting, stamped P-7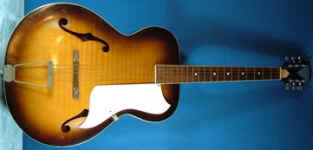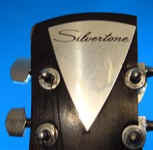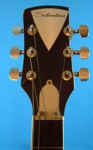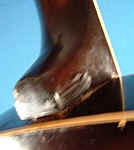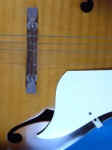 1/27

An 'Aristocratic' couple joins Silvertone World... new page and a big photo/catalog gallery up for the 670 and 672 Kay-built acoustic archtop models. 'Every Silvertone Ever' gets a little closer. Enjoy!

Here's a couple of rare six-strang twangers for your weekend.

First, it's the Wish Book only 'Value Leader'-based guitar from our friends at Kay.

1458 Kay SSEG VG $610 Clean, minimal wear, finish and chrome shiny, logo strong, NS 'chicken head' selector, NS strap button at neck screws, screw crack at bottom 'point' of pickguard, pots dated Spring 1960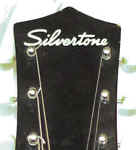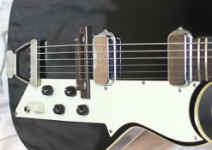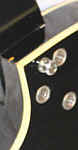 Next, one of the very last guitars to be branded a Silvertone

1406 MIJ SBEG VG $111 Clean, light wear, metal logo intact, orig. gig bag incl.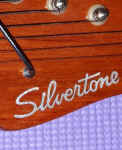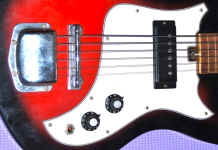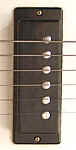 1/26

Kind of a slow week, auction-wise. Here's some good stuff that came across he wire the past couple of days. Also, I should have some more 'Aristocrats' to unveil come the weekend. Stay tuned!

1451 Dano SBEG guitar only VG $589 Clean, light wear, logo strong, knob inserts discolored, some buckle rash, all screws show some rust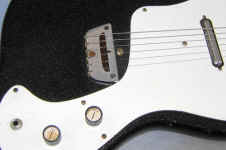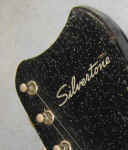 676 Kay FHAC $441 Restored, headstock laminate looks good, pickguard missing, some finish worn from top, neck joint repaired. Read all about this guitar, the repairs made, and give it a listen at Jukebox Bonfire's auction write-up. If you want a great example of how to sell a guitar, this is it.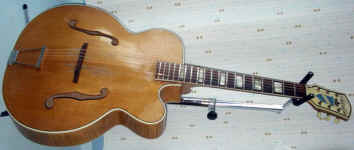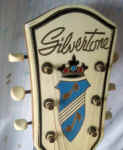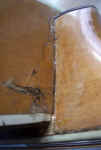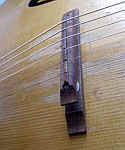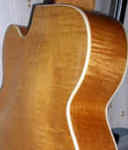 Here's a seldom-seen Harmony cutaway flattop from guitarsgoround. I thought these were Kay-made for the longest time, until I got a peek inside one.

628 Harmony FTAC G $225 Clean, surface wear, 6" crack in top bass side, bridge looks to have been re-glued, pickguard needs re-attachment, logo laminate looks good, seller says "The top is bellying up a little at the bridge area but is not moving"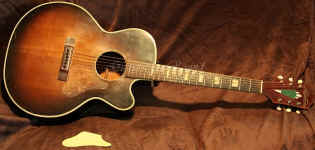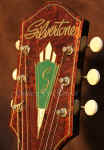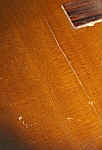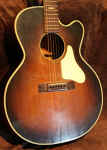 I love it when items come with their original boxes and paperwork...

1481 Dano tube amp VG $315 Clean, light wear, round speaker cutout, some grille staining, original manual and box incl.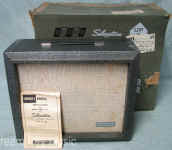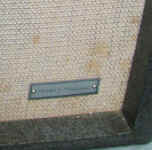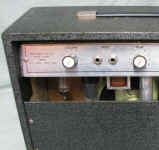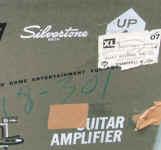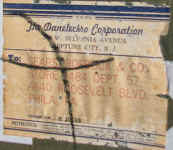 The real deal...

Dano Pickup $147 Looks like some chrome loss treble side, small dent on top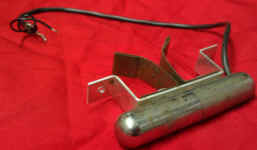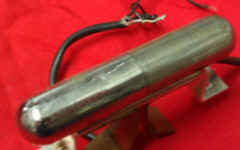 And a modern counterpart...

Kent Armstrong Pickup $29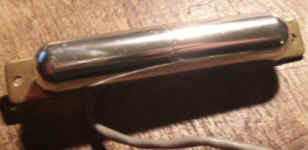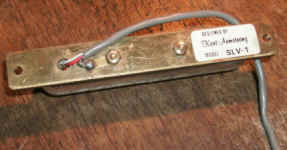 1/23

A Pair of Sixes! That's right, a couple of fine 6-string Silvertones, one from Harmony and one from Dano!

1454 Harmony HBEG VG $621 Clean, light wear, Bigsby looks good, light edge flaking, NS tuners treble side, logo strong, some 'cord melt' on the back, stamped S-65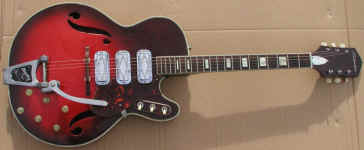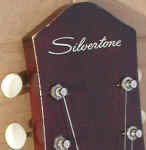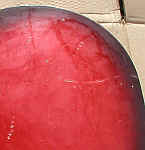 1303 Dano SSEG VG $830 Clean, light wear, logo strong, pickguard missing, stamping indicates Summer 1958 build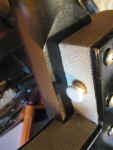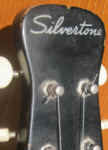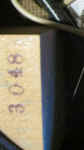 1/22

Alright, here we go... the Kay-built 640 family of 'Aristocrat' acoustic archtops is up for your enjoyment, as well as the double-'speedbump'-pickup'd 1365, 1367 and super-rare goldtop 1368.

Here's a fine find from the weekend. One of the last Silvertone-branded 'Sovereign' based flattops. The Harmony version of this jumbo strummer was the model that Jimmy Page played the famous 'Stairway to Heaven' intro on. and was also a favorite of Pete Townshend.

1220 Harmony FTAC VG $290 Clean, light wear, logo worn at 'S,' pickguard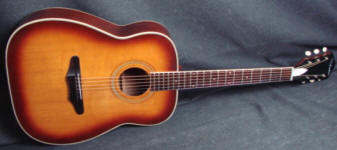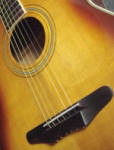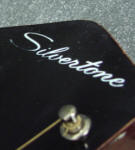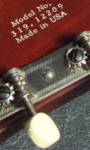 1/19

Have no fear! The daily page won't be going away, I'm just not gonna report on every ampincase and beat-up strum box that comes along the auction wire on a daily basis for a while, while I concentrate on getting Every Silvertone Ever (that's my new motto) up on the site. I got a bunch of emails hoping their daily dose of Silvertonium wouldn't be going away, and it's not. We'll still be on the auction case, and you'll still get your ration... it'll just be more... refined. Silvertone prices have held pretty steady the past few years, so just give the archives a gander if you need to cipher out a price range for something (shoot, give the archives a look, anyway... it's great fun!). Daily, though, I'll be bringing you the rare, the unusual, the super-nice... like this one-of-a-kind Top Ten Rarest Silvertone Guitars Ever. Check it out; it went up for auction near the end of 2011, and didn't sell! It's an amazing piece, though; my theory is that it was built by Harmony 'on spec' for Sears at the same time they were considering the Kay-made 'Kentucky Blue.' Well, we know who won that contest, don't we? Obviously related to Harmony's wildly-painted 'Colorama' guitars of the mid-50s (such as the Monterey, Catalina and Riviera), this example used the same shape scheme as the 'Trinidad,' an Alden-sold guitar. Sears didn't take the green-and-teal bait on this model, but Harmony's sales team did have one success (sorta) at the same meeting that pitched this guitar, the briefly-available 616. Described as 'Flamingo Red' in its first catalog appearance (right alongside the debut of the 'Kentucky Blue'), and then demoted to a tiny illustration in its second and final catalog listing (now dubbed a less exotic 'Tennessee Red'), the 'Harmo-Metal' adorned acoustic was a poor seller.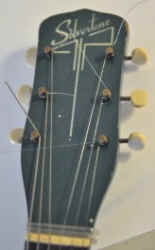 OK, that was the rare... now here's the unusual.

1431 Dano tube amp MOD Oh, my. Here's a great description of the piece from the artist, El Daga. "Si, I did see many SEARS SILVERTONE guitars and amplifiers in my home country. Many were brought over in the 1960's and played until they became dust in the street. So, para mi, SILVERTONE is a historic brand. And as an artiste, their late 1950's-early 1960's amps have the coolest designs (as also do the other catalog amps)... it is my true "DIAMONDSILVERTONE". I have used a "crock" skin for the top and bottom and laminate for the sides and front. And, of course, lots of chrome. Check out the cool feet and the top handle. And the diamonds are the breath of fire for this small volcano (note-these diamonds are lightly attached and can be easily removed without damage to the finish if you desire-or I can attach them permanently before shipment-your choice-with or without)." He's got some awesome pieces up on ebay (the amp below included), if you're looking for some one-of-a-kind functional guitar art.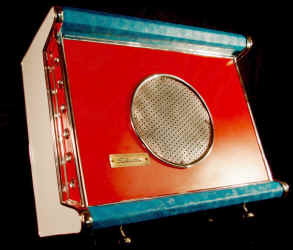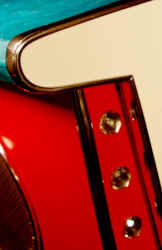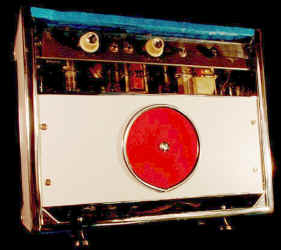 And, the super-nice...

1437 Teisco SBEG w/ C E $600 Clean, minimal wear, logo tag looks good, whammy bar and all knobs/switches present, chrome and finish shiny, serial #267897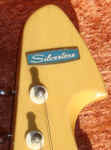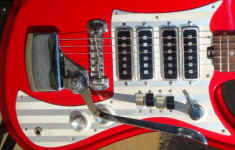 1/18

Alright, Silvertonians... I've been wrestling with what to do the past few days, and here's what I have to tell you. Silvertone World is not my full-time job (though I wish it was), I have a wife and two young'uns aged 4 and 7. Given that, I have limited time during any 24-hour period to work on Silvertone World, and daily auction reports take a lot of time to compile, leaving me little time for new model pages. We've got nearly all of the amps, and roughly 1/3 of all Silvertone guitars and other fretted instruments up on the site with their own page, and I want them all here for ya... yup, every last one one, from the 1930s right on into the 1970s. So, here's what I've got planned: I'm going into 'Summer Mode' for the foreseeable future... suspending daily auction reports while still keeping an eye on the auctions, of course, because you never know when a 12-string Murph or other amazing rarity will come along. I'll report to you the most unusual, uncommonly nice, or maybe just plain weird things that pop up at online Silvertone auctions here on this page. With the extra time I'll have, I will redouble my efforts to get every Silvertone ever up on this site; which, I'm happy to say, has risen organically over the past six years to become a Top Ten return on most any search engine you wish to check. My first push will be to finish up the 'Aristocrat' pages that I started at the tail-end of 2011, and go from there.
Viva Silvertone!


1/13

There's a Neil Young song called "Get Back On It." Well.... that's what I'm a-gonna do! The first few days of 2012 have seen some fine Silvertonium go over the auction wires, and we're here to let the reporting commence. We're gonna jump on the horse with a couple of axes in our saddlebags that shared the same catalog pages in the mid-60s, the popular classic 'Chris Isaak' 1446, and the 'wonder why they didn't sell more of these' 1439. Giddyap!

1446 Harmony HBEG w/ OC VG $950 Clean, light wear, light oxidation to pickup covers, finish shiny, some light edge flaking, logo intact, stamped F-62, seller says "The headstock was professionally refinished back in the 1980's and couple spots on the body were touched up. Otherwise, it is all original. All controls and knobs are intact and work properly with the exception of the treble setting on the 3-way pickup selector which does not work."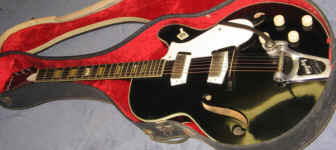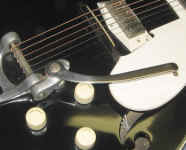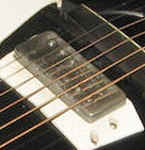 1439 Harmony HBEG w/ OC VG $700 Clean, light wear, logo strong, some playing wear to neck, light buckle rash, repro pickguard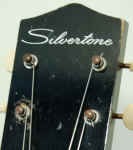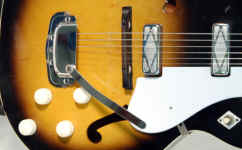 Friends don't let friends do this to their Silvertones...

1439 Harmony HBEG MOD $256 Refinished, logo gone, NS pickguard, whammy arm missing, serial #4403H1439, stamped F-66-M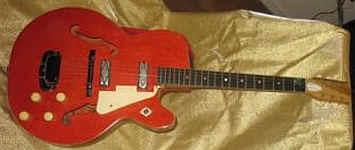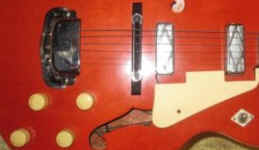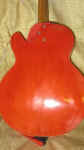 1454 Harmony HBEG w/ C VG $500 Clean, light wear, logo strong, NS tuners, (2) knobs missing, truss rod cover missing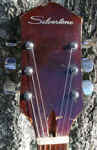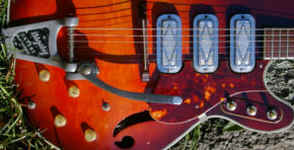 1454 Harmony HBEG w/ C VG $650 Clean, light checking, some surface wear, pickguard cracked/worn, logo gone, (1) knob missing, serial #7501H1454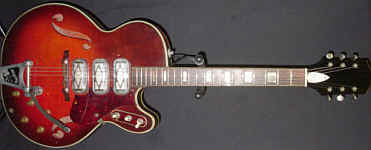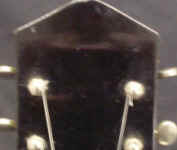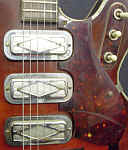 1423 Harmony SSEG MOD $306 Clean, light wear, logo worn, weird design on bass side top, NS Rickenbacker 'toaster' pickups, NS knobs, NS selector, NS tuners, NS bridge, NS small toggle "doesn't do anything," seller says "There is a shim in the neck pocket to make the neck angle work with the replacement pickups. Frets are in great shape. The bridge is very hard to adjust, but functions."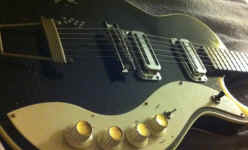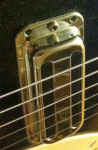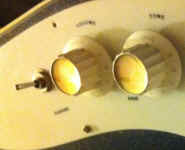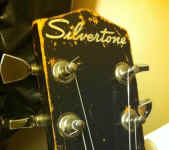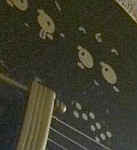 Hey, a couple of the better-looking-than-its-Kay-counterpart 'Thin Twin,' the 1381.

1381 Kay HBEG w/ OC MOD $975 A bit dusty, logo and pickguard design strong, NS strap buttons, seller says "The sides and edges of back are oversprayed with very thin coat of matched tinted lacquer. The top is all original finish. "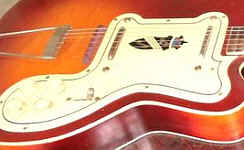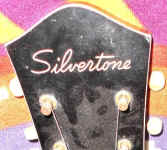 1381 Kay HBEG MOD $809 Refinished (nice job!), NS tuners, NS jack, NS strap buttons, logo laminate and pickguard designs strong, seller says "The frets are in great shape, and that big chunky neck is to die for. The only small annoyance is that the high E somes jumps out of the slot on the bridge if you are a chicken picker."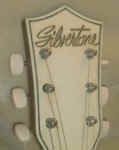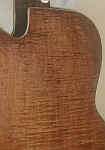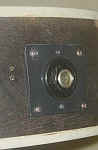 Quick and easy differentiator between the 1450 (below) and the 1452? The 1452 has a white Masonite pickguard (just like every other amp-in-case model), while the (briefly available) individually-sold 1450 has a faux-tortoise guard.

1450 Dano SBEG VG $495 Clean, light wear, light checking, logo strong, typical screw crack at upper bass horn, 2-bolt neck, NS selector switch (orig. incl.), some NS pickguard screws, gouge at neck joint area, seller says it is in the finish only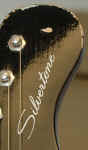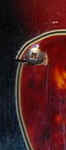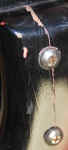 1300 Dano SSEG VG $459 Clean, edge/surface wear, logo strong, some pickguard wear, playing wear to neck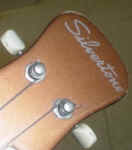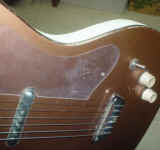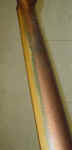 1444 Dano SSEG Bass w/ C MOD $305 Poorly refinished, some checking, NS knobs, logo broken at leading edge of 'S,' tuner covers rusty, sidewalls look painted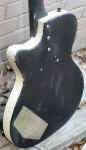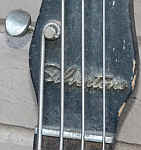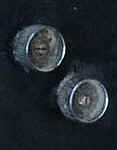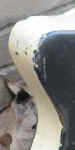 1448 Dano SSEG with tube amp in case $267 Clean, light wear to guitar and ampcase, logos strong, knob inserts worn/discolored, seller says "I plugged in the amp and did not light up." Guitar tested functional through another amp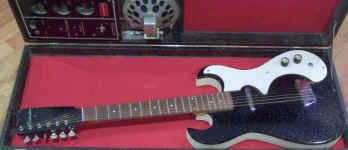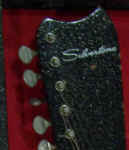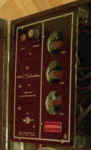 1448 Dano SSEG with tube amp in case VG $523 Clean, light wear to guitar and ampcase, chrome and finish shiny, logos strong, NS knobs on guitar, stamping indicates 1965 build (so, one of the last of its kind), seller says "guitar and amp has a classic clean chimy sound that really sounds incredible."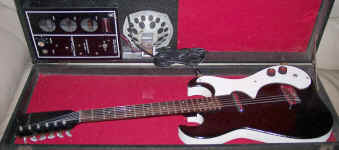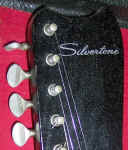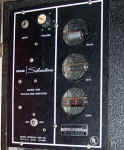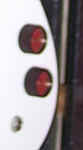 1492 MIJ SBEG Bass VG $149 Clean, light wear, diffraction 'Space Dot' looks good, finger rest and pickup cover present, tailpiece cover missing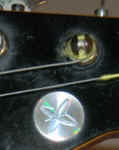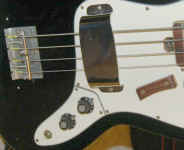 1484 Dano tube amp only G $290 Clean, some edge/corner wear, light rust to handle captures, 1/4" speaker jack mod, NS footswitch incl., re-capped, reverb non-functional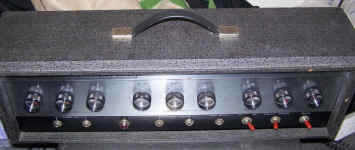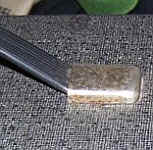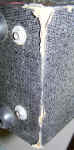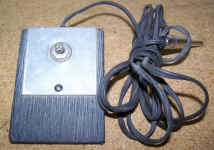 1392 Dano Tube Amp VG $265 Clean, light edge/corner wear, peace sign painted on grille, handle worn but functional, logo slightly worn, some tape residue on back panel, AC cord has tape repair, tested functional with microphone, tremolo status unmentioned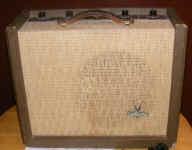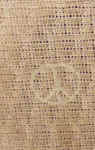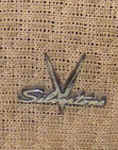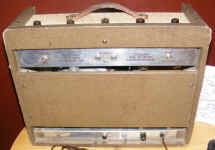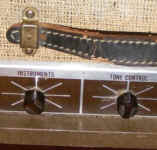 1391 Dano tube amp $100 Looks good in limited photos, logoplate bright, some drips or stains to grille, handle worn but functional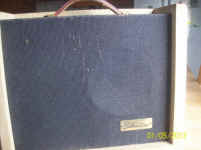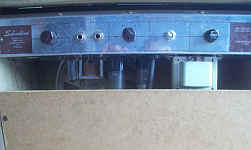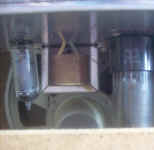 1483 Dano tube amp only MOD $307 Clean, some edge wear, light rust to handle captures and control face, NS 'chicken head' knobs (nice touch on the two-tone), some new tubes and caps, 3-prong AC mod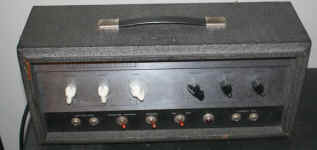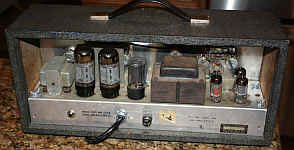 1471 Dano tube amp VG $229 Clean, light wear, NS speaker (orig. incl.), back panel broken/modified, stamping indicates late 1962 build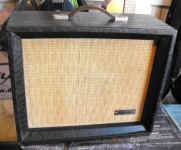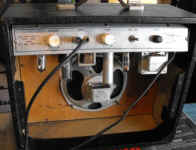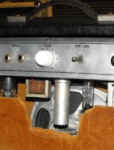 619 Kay FHAC w/ C VG $414 Clean, light wear, logo strong, neck-reset, frets dressed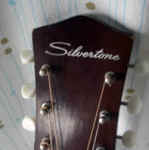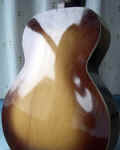 621 Harmony FTAC VG $123 Clean, light wear, logo strong, strap button missing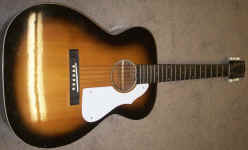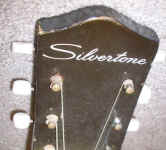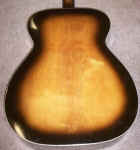 602 Harmony FTAC VG $150 Clean, light wear, logo strong, tuner plates show light rust, NS strap button at heel, seller says "SOME SLIGHT BOWING ON THE NECK, SO THE ACTION IS A LITTLE HIGH, BUT IT STAYS IN TUNE WELL. IT IS A CHARMING AND SOLID PIECE OF LUMBER!"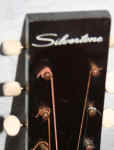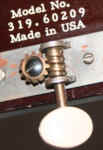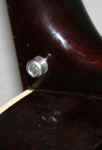 604 Harmony FTAC VG $61 Clean, light wear, logo strong, neck re-set, new frets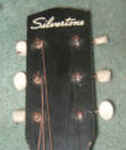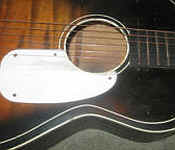 856 Harmony Baritone Ukulele VG $79 Clean, light wear, logo strong, listed as a "children's guitar"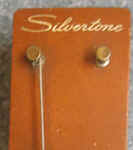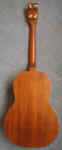 2574 Oscar Schmidt Autoharp w/ OC E $77 Clean, minimal wear, Mother Maybelle record/tuning wrench/warranty card incl.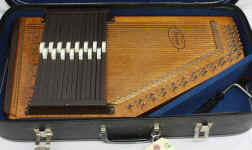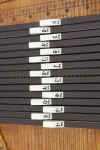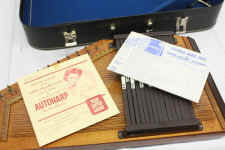 2574 Oscar Schmidt Autoharp w/ OC G $65 Needs a cleaning, rusty strings, yellowing keys, no case or accessories, seller says "It looks like there are a few chord pads that are loose and need to be re-glued."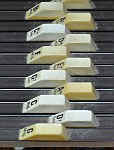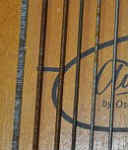 1319 Harmony Lap Steel G $175 Clean, surface/edge wear, 'deco' logo strong w/ some staining to head, NS tuners, chrome dull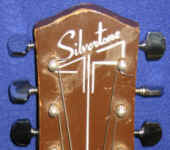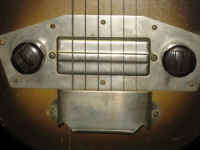 658 Kay FHAC $150 Pre-66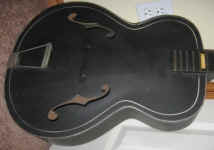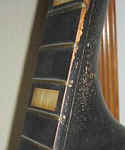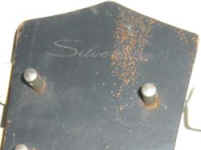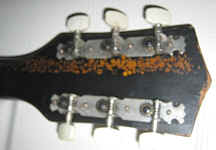 Dano Aluminum Nut $10 New, with screw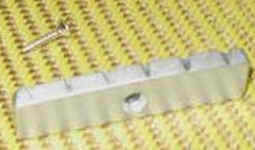 1477 Harmony neck $70 No tuners or truss rod cover, nut present, neck screws incl.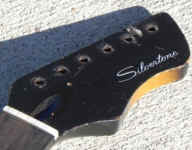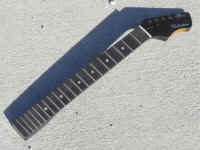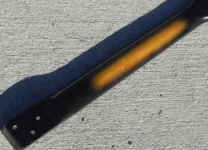 1/10

Alright, with 2012 already 1/36 over... time to close things out, and open things up!

Delightful December... In December 2011, we reported on nearly 300 auctions totaling just over $84,962! That's FIVE GRAND better than December 2010 totals, or the price that a chunk of undeveloped land in Winterville, Georgia will cost ya.

The highest dollar amount we tracked was $2500 for a fine Buck Owens 'American' model. However, since not technically a Silvertone, we'll let you know the biggest chunk of change for a Silvertone branded instrument was $1475 for an excellent "closet stored" 1446, the so-called 'Chris Isaak' model. As far as amps go, it was a rare and rockin' and very clean, 1464 that took the top spot at $979.. The least amount of credits transferred was $10 for a simple, clean, "How To Care For Your Guitar" pamphlet.

If you haven't visited December 2011, give it a look... it was QUITE a month!



| | | |
| --- | --- | --- |
| | You'll be grinnin' while you're pickin' with our exclusive new Silvertone World Custom Picks! Head over to the Pick Store and grab a dozen or two in the bulk pack for some serious Silvertone-flavored strummin', all at great prices and free shipping on US orders. | |



MODEL # / MANUFACTURER / INSTRUMENT TYPE / CONDITION / PRICE / NOTES

Abbreviations: M-Mint, NM - Near Mint, E- Excellent, VG- Very Good, G- Good , F-Fair, P-Poor, NS- Non-Stock, HBEG- Hollow Body Electric, FHAC- F-Hole Acoustic, FTAC- Flat-Top Acoustic, SBEG- Solid Body Electric, SSEG- Semi-Sold Electric, MIJ- Made In Japan, MOD - Modified significantly from stock, w/ O/C Original / Case, DNS - Did Not Sell; used mainly to show an item of interest whether it sold or not.

Unless otherwise noted, I'm rating them by what I see in the pictures and read in the description.

The items depicted on this page are not for sale by Silvertone World. These are reviews of items from completed ebay auctions on or around the date specified.

Links in blue open in a new window, and take you to a Silvertone World info page, a period catalog listing, or a link of interest.