October 2012




'Tis the Season... for



That's right, another ghoulish crop of bolted, stitched, re-wired and re-animated Silvertones is ready for your perusement and amusement.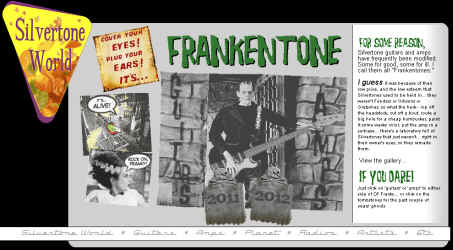 10/31

Perhaps You've Seen this one already in the 'Frankentone' galleries... if not, prepare for a scare... it's the Frankentoniest of the bunch, and I'm pretty sure the Kay-made neck is the ONLY actual Silvertone part on this scarily crafty creature...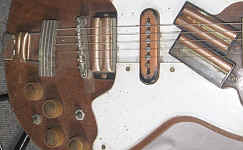 Here's a Frankentone that used its power for good instead of evil, modded by the fine folks at Reverend Guitars.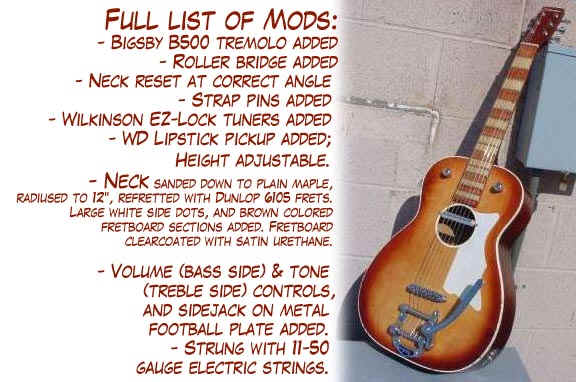 And in the trippy-dippy department... it's a love-in FULL of wildly-decorated Silvertones...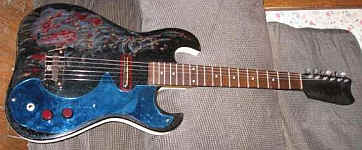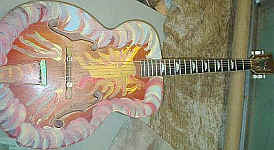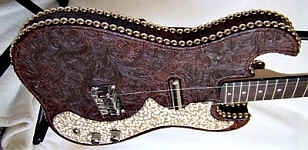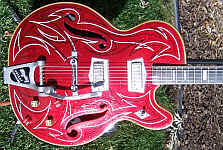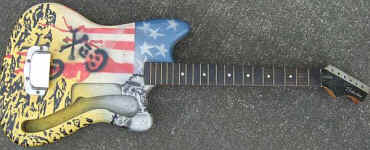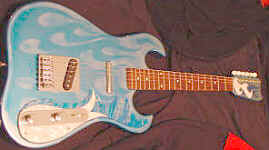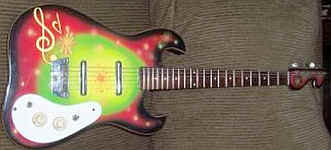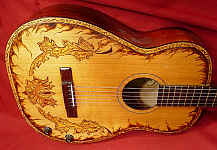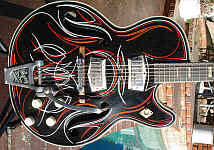 This is but a few of the teeming horde that you'll find at our Frankentone gallery...



10/28

Mostly Tricks Today... with a treat to start off with: a fine looking Kay-made 'Aristocrat,' the 644/649.

644/649 Kay FHAC w/ C VG $935 Clean, light surface wear and finish checking, a bit of buckle rash, logo strong, 'S' on pickguard shows some wear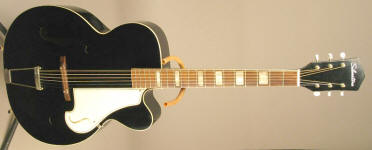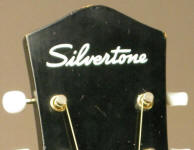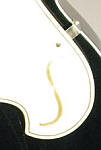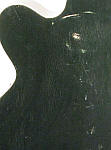 Let's take a quick trip to Japan, with a rare but 'meh' 1438. Truth be told, the only reason I'm bringing it to your attention is its relative obscurity; remember, the 14XX mid-60s series Teiscos never appeared in any catalog. I think they were a test to see if Japanese-made guitars would be accepted by Sears customers.

1438 Teisco MIJ SBEG Bass F $144 Clean, surface/edge scratches and wear, lower pickguard worn, logo worn, (2) tuners missing, bridge missing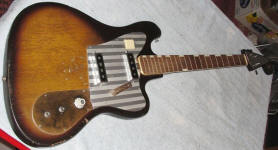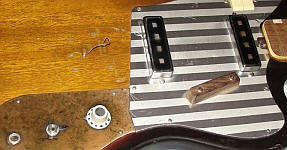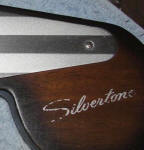 Here's a severed handful of Frankentones, one completely re-made, one abandoned mid-mod, and one that is missing its neck and head.

Looks like a repurposed phono amp with chassis #528 59230. Seller/builder dates it to 1957 , and it's been built into a custom head cabinet, with a nice 8" Jensen built into a custom speaker cabinet. Fine workmanship all around, I'm kinda surprised it didn't bring its asking price of $220.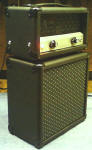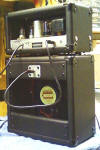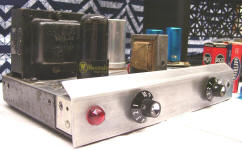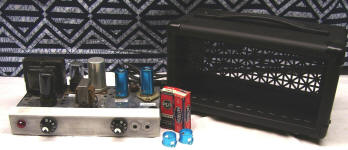 Here's a 1449 that the seller was gonna auction off piecemeal because "...the instrument had the most hideous art work all over it." He disassembled the guitar to part it out, but "the auction didn't go as planned so I put it back together." Pretty standard failed auction story, right? Well, here's where things take a turn: "With much regret and after three-hour paint removal job by me, I came to realize the guitar had been painted and signed by none other than Michael Okuda of yes, Star Trek fame... he has signed lots of guitars for events and charities." So, our seller is now a sad camper that obliterated something unique that would likely have brought a pretty penny if the 'hideous' artwork had remained intact. However, the few images I found of Mr. Okuda's autograph bear little resemblance to the signature on the sidewall of this 1449. So, is this an early signature from Okuda (the looped 'O' is vaguely similar), a consciously 'neat' sig, a careful tag that doesn't resemble Okuda's 'normal' handwriting because of the uneven surface he was writing on, or a pure coincidence? If he, like his wife Denise, was born in or around 1954, Mr. Okuda could have owned this guitar as a child. I've got a tweet in to Mr. Okuda, perhaps he'll give us a shout. ***10/29*** Mr. Okuda did tweet back from my inquiry last week: "I'm guessing it's someone else." Seller, you can stop beating yourself up.

1449 Dano SSEG MOD DNS Finish stripped, NS knobs and knobs missing, pickups covers split, pots date to late 1960 (!)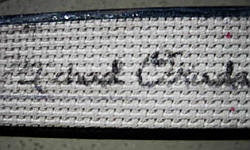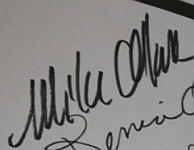 1420 Harmony SSEG $46 Body and some parts, no pickups, (2) knobs missing, cutout for a middle pickup, truss rod cutout, serial #4782H1420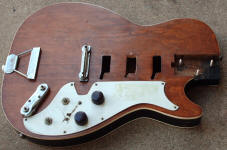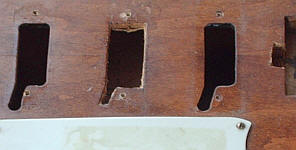 From the Silvertone World Purely Speculative Research Department: Quotes, Questions, Theories and Revision/Clarification

Came across one of these last year, and here's what I wrote at the time: "Samick as it ever was? Here's an oddball from what my research is pointing to be from the early days of the Samick-made Silvertones. As you know, Sears stopped using the Silvertone brand name in 1972, and the name had disappeared from the headstocks of guitars and the front badges of amps a couple years before that. So, the trademark lapsed and there it lay, until giant Samick (one of the largest producers of musical instruments then and today) picked up the trademark for themselves in the '90s. This is a WG59 (Western Guitar), with a nice sunburst and an adjustable saddle at the bridge, and a gold 'Silvertone' logo in a font I've never seen used before until this example showed up on eBay a couple of days ago. It has the three-piece back typical of more recently-built guitars, and the other few examples I found mentioned a 'Made in Korea' label (I don't see one on this example) that lit the Samick bulb in my head. It didn't bring its asking price of $50, but it did give me a good research run."

So, since THIS WG59 came up the other day, I've tried to dig a little deeper, and found a blog post stating that the writer recollects his dad getting it for him from a Sears outlet store in 1975, which is most puzzling to me knowing what we know about the timeline of the demise of the Silvertone name from Sears, and another blog post just looking for some info. I've also found a reference to a WG59 with a SEARS logo on the headstock. So, mucho puzzling to say the least. I'm pretty sure now that my Samick assumption was/is incorrect, and that possibly this was a Canadian-sold guitar. Anyway, it's mysteries like this that make Silvertone World a constant source of fun and surprise to me.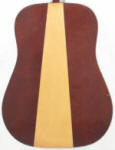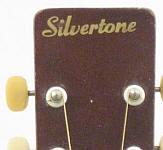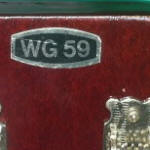 Here's a slot-head classical we came across last year, note the similarities in the label. The 5-digit model number is indicative of Simpson-Sears models from our Canadian friends.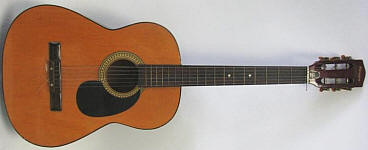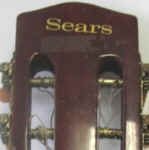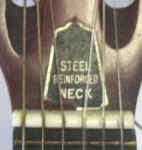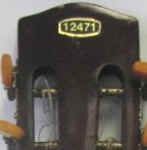 10/25

Sorry I Haven't checked in in a week... been mighty busy with a jillion projects. Here are the fruits of some of my work:
brand spankin' new pages for the 1450, 1451 and 1452! Enjoy!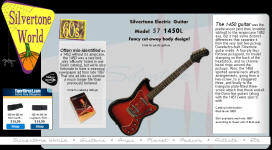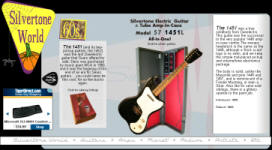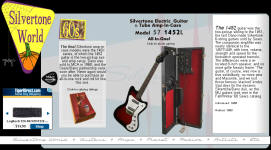 Hallowe'en's gettin' closer... how 'bout a ghoulish green Silvertone?

1454 Harmony HBEG w/ C MOD $700 Clean, refinished, NS knobs, bridge, tuners, truss rod cover, pickguard and newer Bigsby, switch bank needs work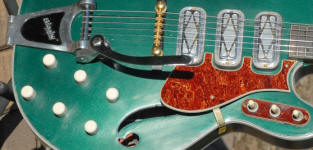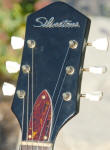 I'm guessing this black-cat-crossed-its-path amp is a 1484. Amp head and speaker cab were re-built in plywood and 'spray painted back.' The seller gave a barebones (see what I did there?) description that includes "previous owner tried to drill a custom jack but i disconnected it and the original plugs work fine." and "re-tubed in July."

1484 Dano tube amp and speaker cabinet MOD $380 Scratchy pots, reverb housing in rough shape, rev/trem unmentioned





Haven't seen too many of these lately... wish I could go back in time to 1958 and order one from the "Wish Book!"

1304 Dano SSEG G $550 Clean, edge/surface wear, some small dings in the sidewalls, logo shows some wear, bottom strap button broken off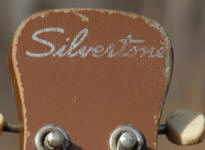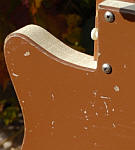 Here's a treat I wish I had more/better pics of... it's a rare round-bottomed late 40s 600!

600 Harmony FTAC G $50 Clean, light wear, 'deco' logo strong, binding and back separating near the neck joint, NS tuners, NS tailpiece added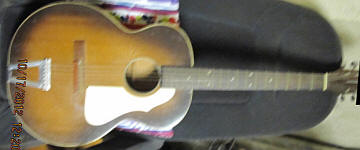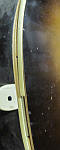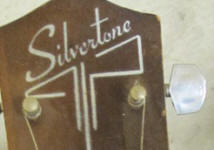 More finds from the "vintage guitar photo" search... Dad's strummin' a Martin, but little Jane is rockin' a G chord on her Silvertone... possibly a late-1940s 600 like the one above!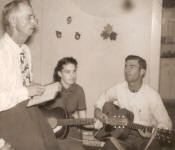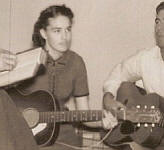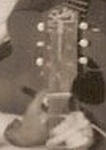 We can't know for sure, but this could easily be a mid-60s Kay-made 660 classical our young lady on the porch is pickin'. The badge that appears near the nut and the peaked headstock sheds doubt, but it's certainly a related model.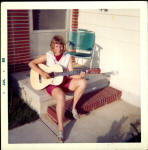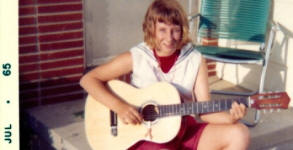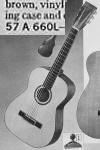 10/18

Always fun to see this rare sorta-Explorer-shaped Airline guitar from the mid-60s. Built by Kay and sold by Monkey Wards, I kinda wish Sears had picked up on a version of this funky axe. This one has some nice shiny knobs and chrome hardware, with the original tailpiece still in place, and went for a fair $529.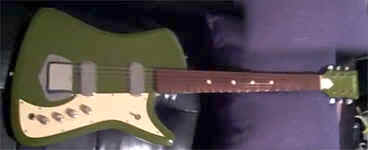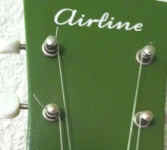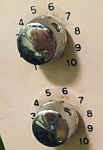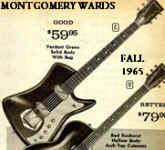 A funky machine Sears DID pick up on was this store-only Teisco-built model 1487. Never seen in any catalog, it still sold quite a few, judging by today's market.

1487 Teisco MIJ SBEG with sold state onboard amp VG $440 Clean, light wear, logo shows some wear/misapplication (look how the 'S' is 'broken'), amp non-functional, light rust to tuners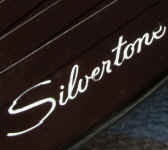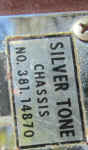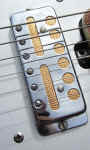 10/17

"Vintage Guitar Photo" is an eBay search that as turned up a few gems recently, a couple of the snapshots even featuring some shiny Silvertonium!

There are a few batches of photos up for auction right now that involve musical instruments of some sort, one bunch from from this eBay seller that revealed a Harmony-built Silvertone 605 hangin' out with some crooning '50s frat fellers, another auction that features a snap of a Harmony-built model 1316 Silvertone lap steel amongst 'Opal's musical instruments,' and another collection from Cassie's Tale that had a snapshot of one wildman out in the woods who might be strumming a 'wind chime' logo'd Silvertone archtop, and one mystery guitar that was just so wildly decorated I had to give you a look at it.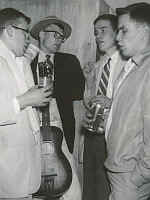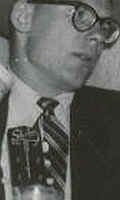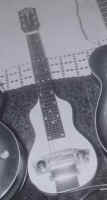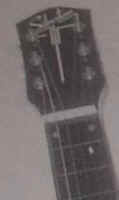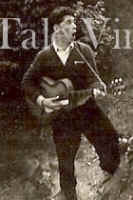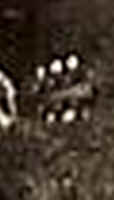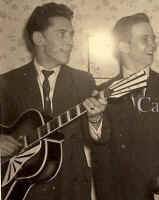 Speaking of lap steels, here's a 70+ year old machine that didn't sell at auction the other day, and it's from the Supertone/Silvertone borderline in the very late 30s/early 40s. It even features an amp-in-case setup! The Silvertone model is the 2320... the Supertone model number? I'm still looking, but since they're identical, and since every Silvertone-branded 2320 I've seen came with a Supertone branded amplifier, it may be that this Supertone was never listed in any catalog. Rare? You bet!

2320 Valco Lap Steel with tube amp/case DNS Clean, light wear, logo decal worn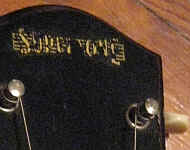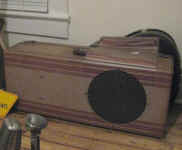 10/16

EIGHT BILLION DOLLARS in Hallowe'en Spending?!? That's the estimate for this year. Sheesh. Well, their doesn't seem to be a lack of cashflow in Silvertone World, either. Check the money on some of this choice Silvertonium.

1384/5 Harmony HBEG w/ OC VG $1400 Clean, light wear, logo intact, hardware shows some oxidation, serial #3956H64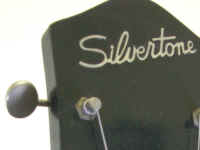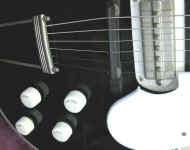 This next dynamic duo sold as a pair, and was available in the '61 and '62 Sears catalog as such, just order part number 1462L2!




1472 Dano tube amp / 1423 Harmony SSEG E $1200 (for both) Clean, minimal wear, logo intact, amp has red-border control panel with "Tremlo" misspell, footswitch incl., cabinet stamping indicates late 1962 build, seller says "Both pieces came from the same person and was purchased at the same time in 1962."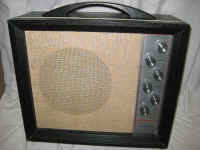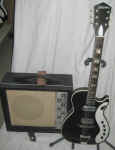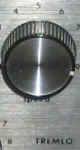 1429 Harmony HBEG w/ OC VG $910 Clean, light wear, logo intact, some finish flaking along bottom edge Relisted, brought $1000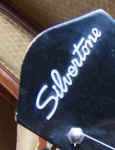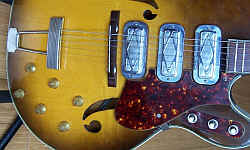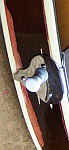 Anybody got some Canadian Simpson-Sears catalogs they want to scan for me? 60s and early 70s? Anybody?

26932 Teisco MIJ SBEG VG $500 Clean, light wear, (1) knob missing, whammy and bridge cover(!) present, serif'd logo strong, Canadian-sold version of the 1445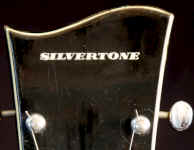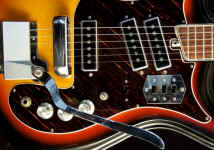 More MIJ goodness with this rare red 1460!

1460 (Univox? Teisco?) MIJ HBEG VG $252 Clean, light wear, logo intact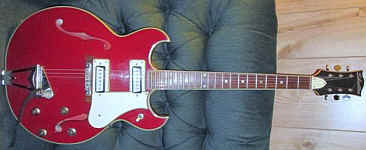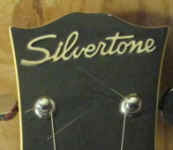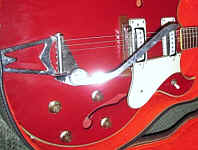 If you break this one down into $/string, it's really a bargain!

1226 Harmony FTAC 12-string VG $300 Clean, late-era block logo strong, some finish peel at bottom sides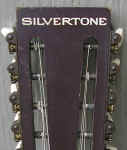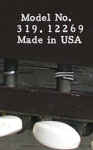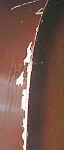 And, so as not to disappoint you Frankentone fans out there, we have a blue guitar... probably not the one Wallace Stevens was writing about...

1457 Dano SSEG $79 Body, neck, nut and shielding support (!), obviously refinished, logo long gone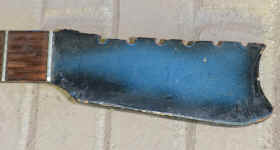 10/11

Sometimes Frankentoning Involves merely a little... shall we say... redecorating.

1420 Harmony SSEG $375 Clean, some light striping decoration, selector switch tip missing, possible 'shamed' logo, recently serviced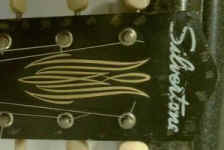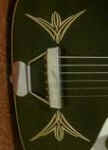 1417/19 Dano SSEG $99 Desert Hummer refinish to this 14XX body (sidewalls, too!), switch and shielding still present, no cavity cover, neck (sold logo- and tuner-less for $199 in separate auction... at least the nut was still there) dates to 1960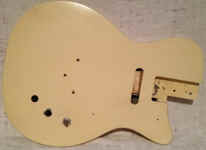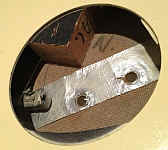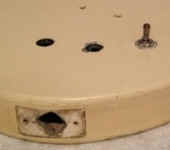 Not quite a Frankentone (and certainly not a Silvertone, but it was sold by Sears), this early '80s vintage MIJ Les Paul™ knockoff certainly features some mad scientist action... phase, wah, fuzz, tremolo, echo and something called 'whirlwind' all built in!

1489 MIJ SBEG VG $208 Clean, some wear, seller says "Special effects seem to work well, but the speed dial does not seem to change the tremolo."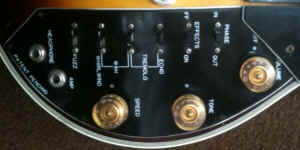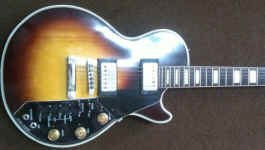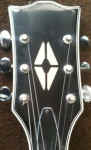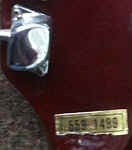 Here's the 1983 Sears Wish Book listing for this Mission Control guitar, spec'd as the model 1488 in this catalog.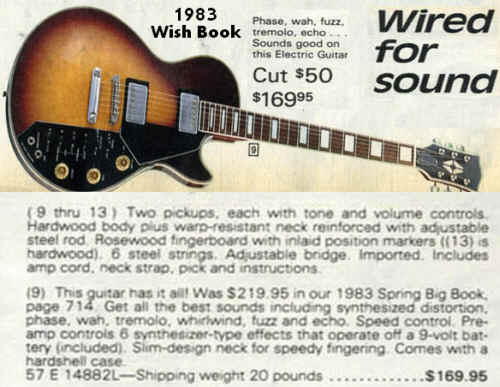 Here's a 'Jumbo' Kay-built 620 that was only available for a year from Sears & Roebuck; it's the 'upgraded' sibling to the popular 618.

620 Kay FTAC G $399 Clean, light surface wear, logo intact, NS tuners, strap button missing, 'JH' scratched into top bass side near bridge, stamped L9280 8111, seller says "...it's still very sturdy and very playable. The action is ok on the open chords but gets a little high further down the neck. It measures 1/4" at the twelfth fret."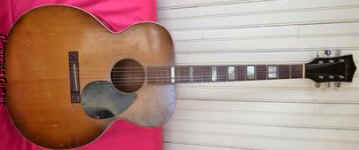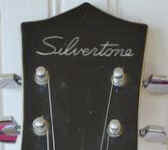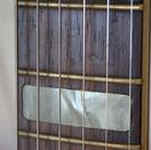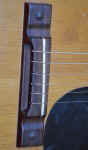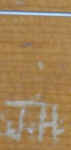 This Harmony-made guitar sports a unique (in the Silvertone family) headstock, and actually has a blonde sibling, the 692. Never seen one.

694 Harmony FHAC G $152 Clean, some surface scratches/wear, crack on bass side upper bout repaired/retouched, 'deco' logo lightly worn, serial #3901H694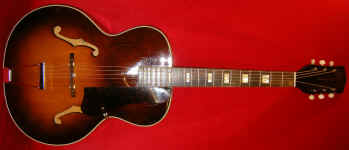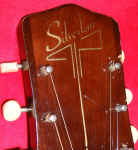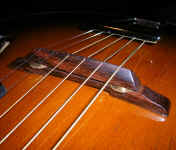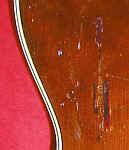 10/10

There's No Stoppin' 'Em! Today, we've got an oh-so-subtly Frankentoned Dano-built bass, and UKEMANIA continues unabated...

1444 Dano SSEG Bass w/ OC MOD $500 Clean, neck refinished, knobs/sidewalls bright, logo intact, NS tuners, mysterious additional access plate on back, pots date to 1964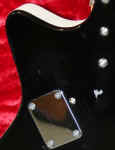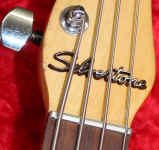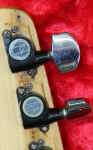 This late-era MIJ uke (that confusingly shared a number with the last of the Harmony-made 1255s) sold with a sweet little Harmony-branded plunker with a cool musical staff legend on the body (and a little crack on top below the bridge).

1255 MIJ Ukulele G $58 (for pair) Clean, some wear, block logo strong, light wear on soundhole decal, K10314 scratched onto the back of the neck near the heel, seller says "a small doink on the bass side has caused an indent about 1" long and a crack about 2" long."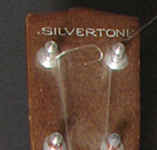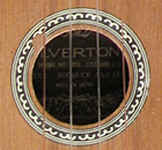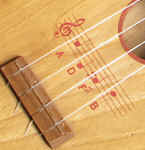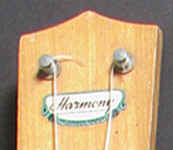 This baritone Harmony-made uke is beautifully kept, with its original faux-gator case and a cool little Czech-made tuner! The old school logo points to this being from the late 40s/early 50s.

856 Harmony Baritone Ukulele w/ OC VG $225 Clean, light wear, logo strong, light fingerboard wear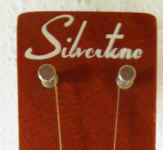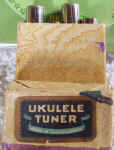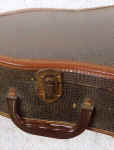 And, if you're goin' to Jupiter... pack a rain jacket... this 1423 came with the frequently MIA protective cover.

1423 Harmony SSEG w/ OC VG $600 Clean, light wear, logo intact, pickguard legends strong, plenty of glitter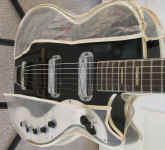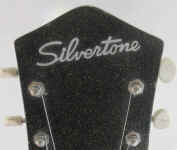 10/9

Well, We've Seen Some Uglies... Here's a Beauty! It's one of the best 1350 models I've ever seen, and it's mighty fine. Look at that shiny pickup! The logo laminate! The faux tortoise binding! The tuners have been swapped out, and a cheaper tailpiece subbed in... but it's still a terrific example of this late 40s/early 50s Harmony-built electric.

1350 Harmony HBEG VG $875 Clean, light wear, logo laminate looks great, NS tuners, NS tailpiece, stamped S-49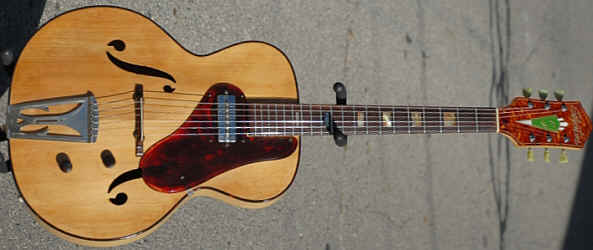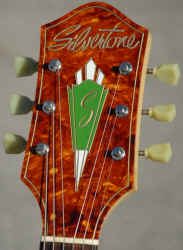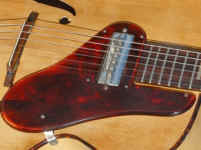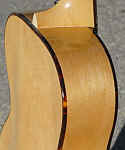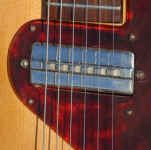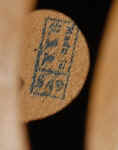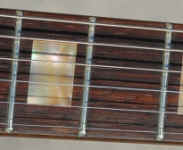 We saw one of these 'Thin Twin' models the other day sporting a new paint job, but it's good to see one in stock shape.

1381 Kay HBEG w/ OC VG $781 Clean, light wear, logo laminate and pickguard design in great shape, tuner buttons shrinking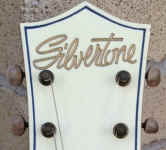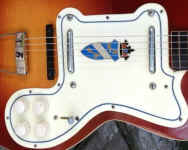 Eeeek!! Here's a mildly Frankentoned 1488...

1488 Harmony SBEG MOD $600 Clean, edge/surface wear, light checking, lamination line showing at headstock, logo shows some wear, NS tuners (originals incl.), NS bridge, NS tailpiece with no whammy bar (original assembly w/ bar incl.), (1) knob missing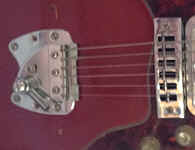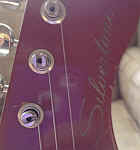 How about a doppelgänger for the Country Gentleman 6122?

1475 Univox MIJ w/ OC VG $437 Could use a cleaning, light wear, logo intact, goldtone finish shows a little tarnish/wear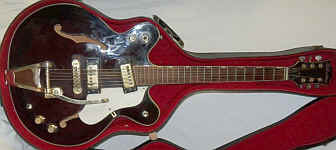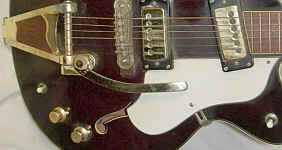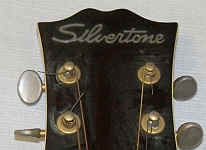 Here's a couple of parts for some Frankentoning of your own...

UNK MIJ Tailpiece $18 Nice to see what's going on inside of 'em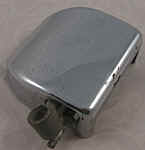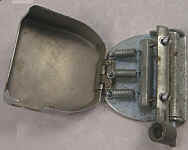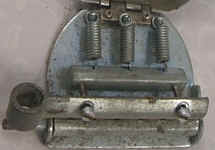 1413/1417 Kay Pickup assembly DNS Pickup silkscreen show light wear, NS chicken heads, pots/pickup dated 1965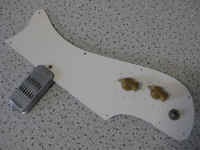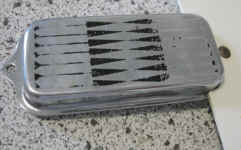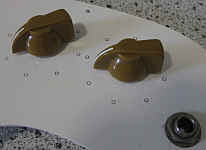 10/8

Funny How These Frankentones just seem to pop up for us during October, and here's a wild one! It's a 'Wish Book' only model 1304 that's been bumblebee'd to the max! And... you can still buy it!

1304 Dano SSEG Refinished in yellow/black stripes, a little grunge to the pickup cover and bridge, looks like stress cracks in top at bridge attach, logo (obviously) gone, access panel bar missing, pots date to late 1960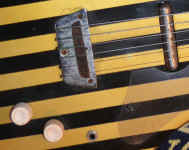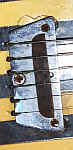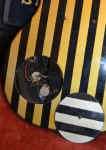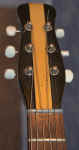 Here's a mildly 'Frankentoned' Kay-made banjo, the 761, the first banjo made available after World War II. Aside from the eagle decals on the resonator, it's also been modified with Ball (looks like) brand cam-type tuners, giving the player the ability to quickly switch between tunings. These look like an early attempt at the 'Keith Tuners' and their variants that are available today.

761 Kay Banjo MOD $399 Clean, light wear, early chimeless 'wind chime' logo worn, eagle decals to back of resonator, headstock modified for 'key change' tuners, seller says "HOMEMADE PLASTIC ARMREST, VERY COOL OLD PLASTIC. RESONATOR IS BOUND TOP AND BACK AND HAS FIVE EAGLE DECALS. LOTS OF BUMPS AND BRUISES AND FINISH CHIPS, PRETTY TYPICAL FOR THE VINTAGE. ALL METAL PARTS ARE SHOWING THE PROPER TARNISH FOR AGE. FRETS ARE IN OK CONDITION, ONLY WEAR SHOWING ON FIRST TWO FRETS. FINGERBOARD HAS A LITTLE WEAR, NOTHING VERY BIG AS FAR AS RUTS. THE PEGHEAD FINISH HAS GATORED AND THEIR IS EVIDENCE OF AN OLD HEADSTOCK CRACK. THE OLD REPAIR IS VERY STABLE...... SOUND-WISE IT'S REAL OBNOXIOUS, BANJO GUYS ALWAYS TELL ME THE LOUDER THE BETTER."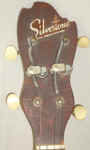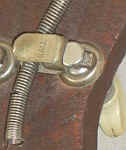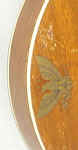 Now, in other matters... it's UKEMANIA! Well, two, anyway...

851 Harmony Ukulele VG $60 Clean, 'skier' screenprint and logo strong and clean, brown bakelite fretboard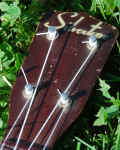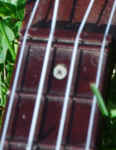 1255 Harmony Ukulele VG $46 Clean, light wear, three hairline cracks on back, block logo strong, swirled faux tortoise plastic fretboard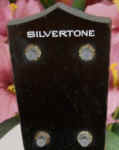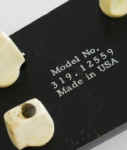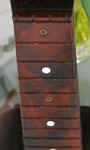 An seldom-seen steel came our way recently... it's the Kay-made 1313 with the snazzy lightning bolt headstock.

1313 Kay Lap Steel MOD $695 Clean. light wear, logo laminate looks good, NS knobs, NS tuners, new jack (original screw-type jack incl.)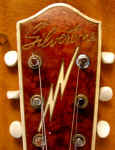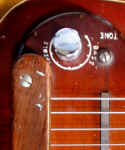 Check the comparison with the seller's Sherwood branded steel: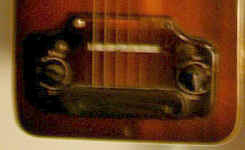 10/5

Little Somethin' For Your Weekend... Some nice nuggets of Silvertonium AND Frankentonium up from the mines overnight... enjoy!

First up, an odd 'Frankentone' that is most puzzling... standard humbucker with bezel and some vintage-knobs added... but the logo is quite unusual; at first, I thought the photo was elongated, but the tuner ferrules in the headstock shot are perfectly round. Front and back bound, bound neck (!), but this is NOT a stock Silvertone color. It's certainly a refinish, see the edge around the headstock where the painter 'saved' the logo? So, I throw my hands up and give it an 'UNKnown!' I wish the seller had spec'd any inside stamping... ah, well.

UNK UNK MOD $203 Clean, light wear, refinish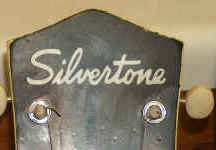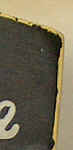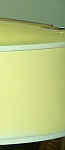 MORE Frankentone-iness, I say! Is it a Harmo-metal bound early 1384 Silvertone 'Black Beauty?' Is it a Harmony-branded H63 Espanada? The seller uses the phrase "1955 Silvertone Espanada H63," and gives no other clues to this guitar's name/brand heritage. Its been completely refinished (beautifully!), new Bill Lawrence pickups, new bridge, new pickguard and pickup surrounds, and... new neck, so no logo!

UNK Harmony HBEG MOD $1248 Clean, minimal wear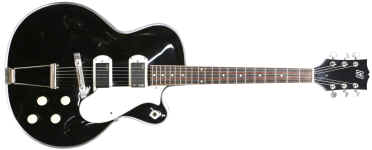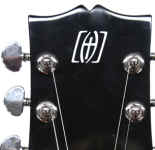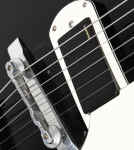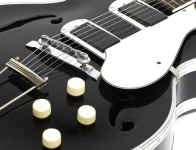 1423 Harmony SSEG VG $806 Clean, light wear, logo shows some wear (suspiciously only on the 'Silver,') pickguard legends strong, plenty of glitter, restored at Lawman Mike's shop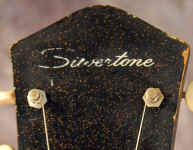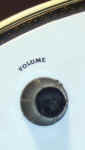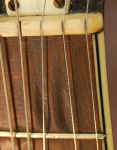 1477 Harmony SBEG w/ OC VG $355 Clean, light wear, logo strong, scratch of bass side top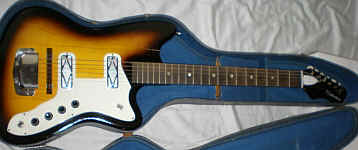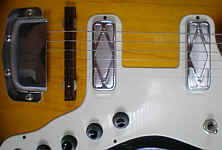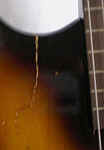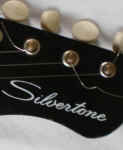 10/4

10-4, good buddies! We've had a pretty good start to October this year, so let me lay out some of the fine Silvertonium that's come our way...
First up, this nicely restored 'Thin Twin' from the fine folks at Kay by way of Burning River Guitars...

1381 Kay HBEG w/ C MOD $1400 Clean, restored (looks like at least a refinish of the 'burst), pickguard and logo laminate look good, little bit of grunge to pickup chrome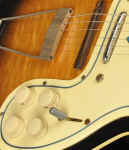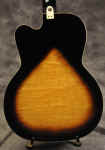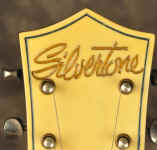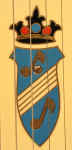 Next up, the ever-popular (and pricey) 'Chris Isaak, the venerable 1446. Also, remember to check out the all-new 1446 page!

1446 Harmony HBEG VG $1167 Clean, light wear, logo strong, finish touchup at headstock, slight crack on lower treble bout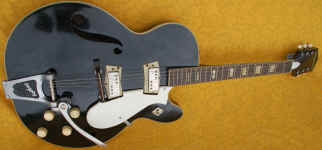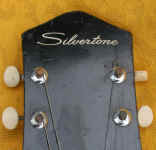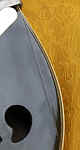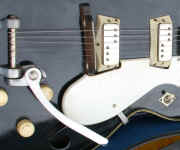 Check out the auction for a great bit of Delta blues played on this guitar by its seller; great stuff!

623 Harmony FHAC w/ C VG $299 Clean, light wear, logo strong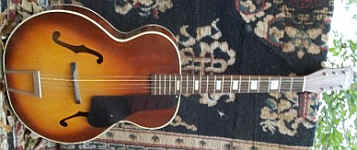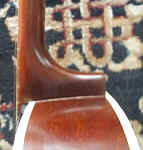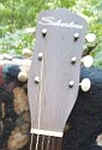 We'll go electric one more time today with this rare 1449, the first double-pickup ampincase offered (briefly) by Sears.

1449 Dano SSEG VG $530 Clean, some edge/surface wear, logo strong, neck pickup cover split, some finish rub on treble side of both pickup cutouts, lamination line showing on headstock, dent to top near bass 'horn,' Chicago Telephone Supply pots date to Spring 1963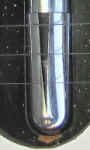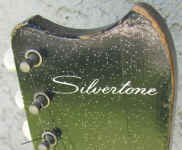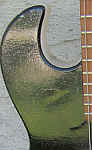 Time To Get Your Pick On! The pick store is back with classic black 'thin script' logos on a white matte-finish Delrin pick.
Our first batch sold out fast, so get 'em while they're hot!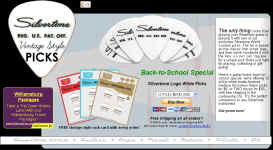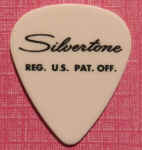 Make sure to visit September 2012; we saw some great stuff as fall got underway!

MODEL # / MANUFACTURER / INSTRUMENT TYPE / CONDITION / PRICE / NOTES

Abbreviations: M-Mint, NM - Near Mint, E- Excellent, VG- Very Good, G- Good , F-Fair, P-Poor, NS- Non-Stock, HBEG- Hollow Body Electric, FHAC- F-Hole Acoustic, FTAC- Flat-Top Acoustic, SBEG- Solid Body Electric, SSEG- Semi-Sold Electric, MIJ- Made In Japan, MOD - Modified significantly from stock, w/ O/C Original / Case, DNS - Did Not Sell; used mainly to show an item of interest whether it sold or not.

Unless otherwise noted, I'm rating them by what I see in the pictures and read in the description.

The items depicted on this page are not for sale by Silvertone World. These are reviews of items from completed ebay auctions on or around the date specified.

Links in blue open in a new window, and take you to a Silvertone World info page, a period catalog listing, or a link of interest.