Winter 2013

12/23

Just in the Nick of time (see what I did there?)... some old favorites and terrific new ads from Sears for your holiday enjoyment. Just click the frosty rectangle down there...




Enjoy, and we'll see you with a great new crop of Silvertonium next year!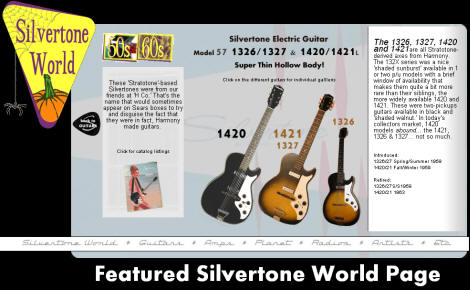 ABBREVIATION KEY:
MODEL # / MANUFACTURER / INSTRUMENT TYPE / CONDITION / PRICE / NOTES
Abbreviations: M-Mint, NM - Near Mint, E- Excellent, VG- Very Good, G- Good , F-Fair, P-Poor, NS- Non-Stock, HBEG- Hollow Body Electric, FHAC- F-Hole Acoustic, FTAC- Flat-Top Acoustic, SBEG- Solid Body Electric, SSEG- Semi-Sold Electric, MIJ- Made In Japan, MOD - Modified significantly from stock, w/ O/C Original / Case, BOA - (related to price) Best Offer Accepted; price shown was asking price, sold for less, DNS - Did Not Sell; used mainly to show an item of interest whether it sold or not.
Unless otherwise noted, I'm rating them by what I see in the pictures and read in the description.

The items depicted on this page are not for sale by Silvertone World. These are reviews of items from completed eBay auctions on or around the date specified.