Winter 2014

3/16

Silvertonium to spare! Quite a haul from around the wonderful world of Silvertone sales, and here are some prime (and otherwise) specimens that recently went under the gavel.

1484 Dano tube amp & speaker cabinet VG $795 Clean, light wear, date stamping indicates Summer 1965 build, rev/trem unmentioned, no footswitch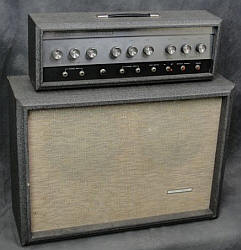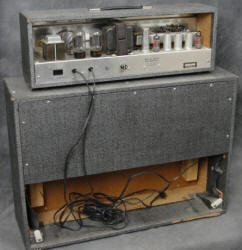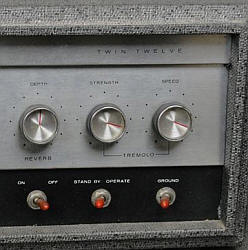 1421 Sears tube amp VG $216 Clean, light wear, back label in good shape, closet-stored since the '70s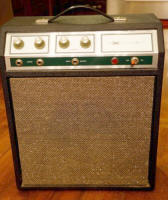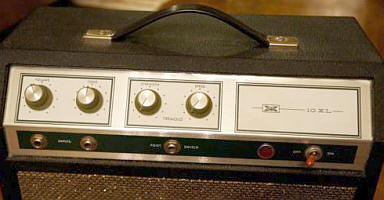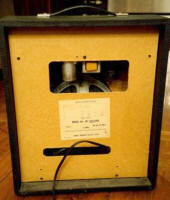 1482 Dano tube amp VG $400 Clean, light grille staining, light wear, tremolo functional, footswitch incl., date stamping indicates Summer 1965 build, 3-prong AC mod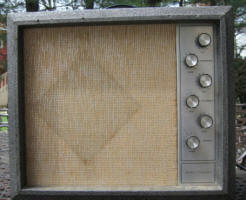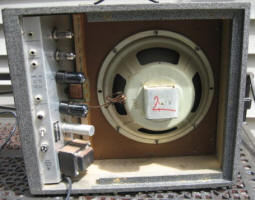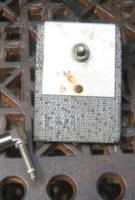 1478 Harmony SBEG w/ OC VG $400 Clean, light wear, whammy handle present, logo strong, lamination lines showing at headstock, pickguard warping has put the pickups rather high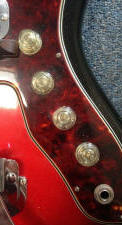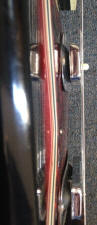 1452 Dano SBEG guitar only VG $599 Clean, logo strong, some finish checking/wear, significant pick wear to treble side of pickguard, whammy handle incl.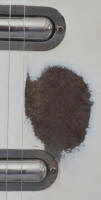 1460 MIJ HBEG VG $260 Clean, light wear, whammy handle missing, logo damaged, (3) NS knobs, (1) missing, some loose binding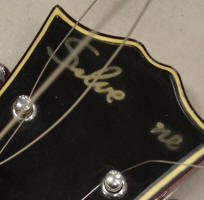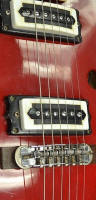 1296 Harmony FTAC E $103 Clean, very light wear, light rust to tuner plates, block logo strong, original box incl., stamped S-69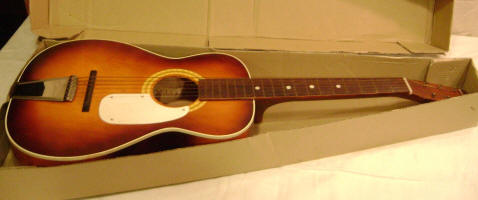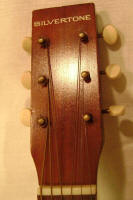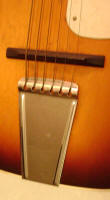 A few Odds and Mods...

619 Kay FHAC w/ C MOD $399 Clean, some edge wear, pickgard re-mounted for lefty use, logo strong, NS tuners, groovy Kay-branded case incl.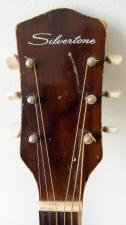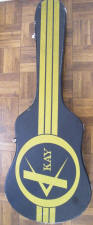 Someone tried to go all J.J. Cale on this one...

613 Kay FTAC MOD $28 Well, just look at the pictures...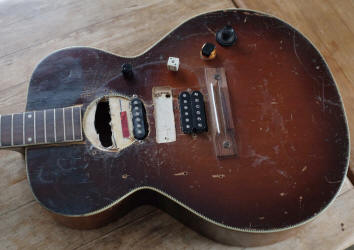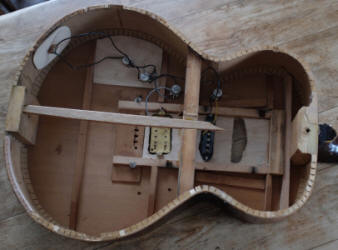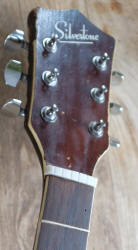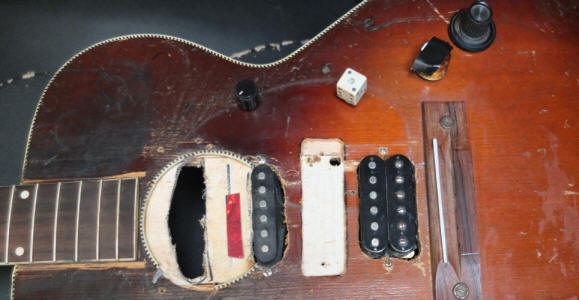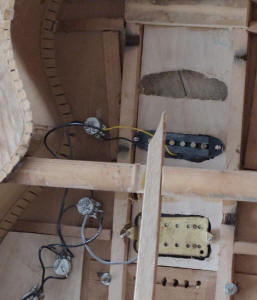 We see a variation of this oddball Silvertone from time to time, although it's usually seen sportin' a Simpson-Sears cursive/big 'S' logo, with a different body. This one was sold as-is/for parts/not working.

UNK MIJ (Kawai?) SBEG $79 Clean, needs work, 'thin script' logo looks as if it were taped over at some point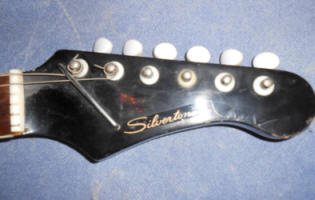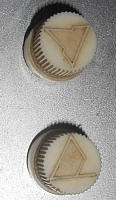 Here's a January 2011 listing for the Simpson-Sears version:
525
MIJ (Kawai ?) SBEG
VG $210
Clean, light wear, logo strong, one 'tightener' (that would be the high 'E' tuner) missing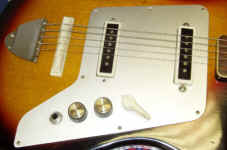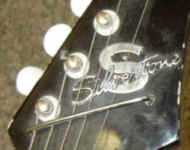 Meanwhile in mid-March 1964, they were bands other than the Beatles and the Rolling Stones! Amazing! "Bits and Pieces" made it to #4 on the charts in the United States.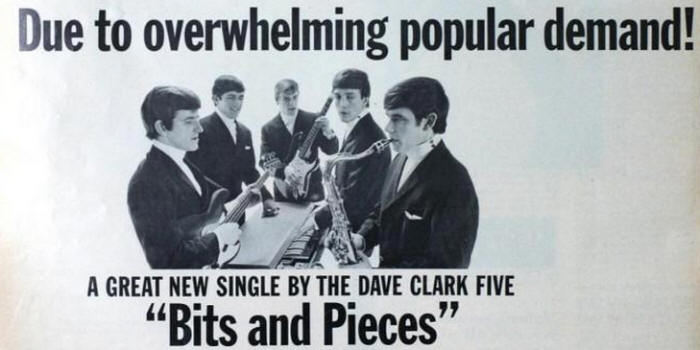 ...and w
ho can forget this little ditty?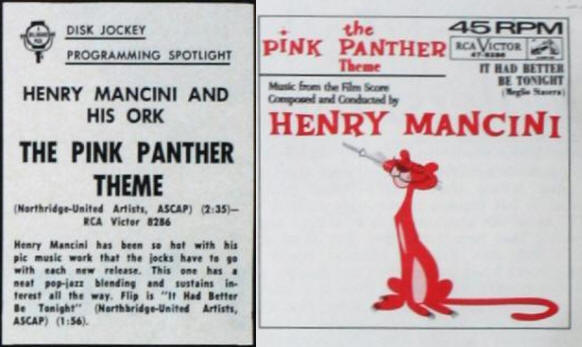 Pretty good lineup on the "one-eyed monster" this week fifty years ago...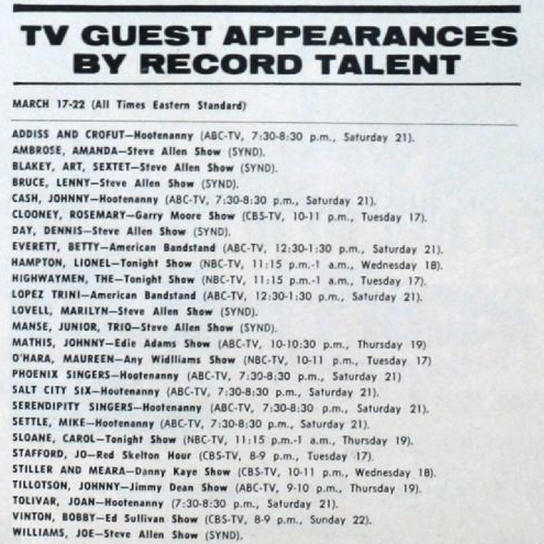 Plenty of names you know up there, although you don't hear much about Addiss & Crofut these days... so, here ya go:



3/13

Back in 1964, Jimi Hendrix was part of the famous Isley Brothers band, and just a year or so from his own superstardom. Now, fifty years later, the late James Marshall Hendrix is getting his own stamp in the United States Postal Services' "Music Icons" series. Today is the first day of issue, and it's happening at SXSW today.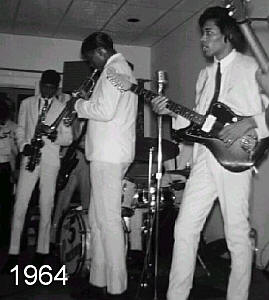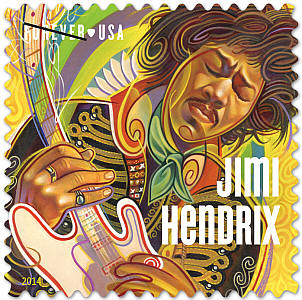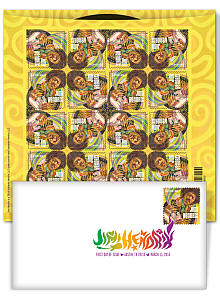 Since we're on the subject, might as well check out the Silvertone amp model that Jimi was using in the "King Kasuals" when he blew a speaker and discovered an exciting, thick, distorted sound... obviously, the amp below isn't the amp...

1474 Dano tube amp G $535 Clean, plenty of wear to covering, grille looks good, recently serviced, reverb tank checks as bad, date stamping indicates late 1962 build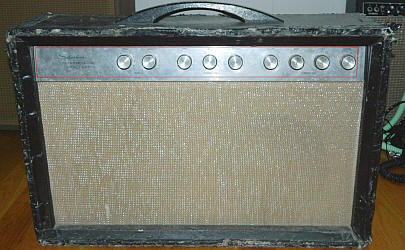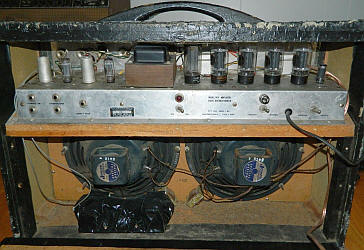 3/7

Houston, We Have a Space Dot! First up today with a fine and fairly rare Stella-esque Harmony-built 1202, briefly available from Sears in 1974.

1202 Harmony FTAC w/ OC E $189 Clean, minimal wear, 'Space Dot' strong, original polycord 'strap' incl.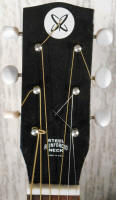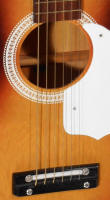 In other space news, here's a comparatively low-cost ride to Jupiter.

1423 Harmony SSEG w/ OC E $800 Clean, minimal wear, logo intact, plenty of glitter, stock selector, chrome shiny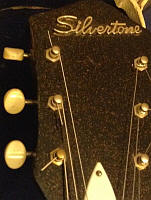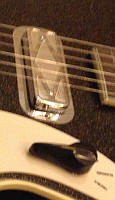 Here's a fine example of a Kay-built 1445, the one we saw our French cowgirl Jeannine Perreault pickin' on yesterday:

1445 Kay SSEG w/ OC <VG $850 (best offer accepted) Clean, light wear, logo strong, chrome shiny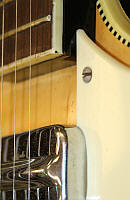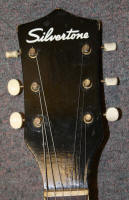 1384/5 Harmony HBEG VG <$1700 (best offer accepted) Clean, light wear, light checking, logo intact, stress crack at jack, pickguard missing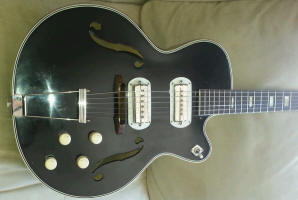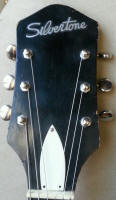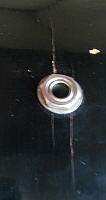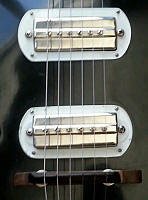 1448 Dano SSEG only VG <$399 (best offer accepted) Could use a dusting/detailing, some edge wear, knobs missing labels, bridge saddle currently installed upside down, logo strong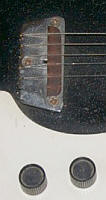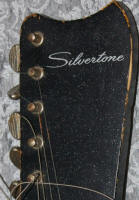 1448 Dano SSEG and tube ampincase VG $500 Clean, light wear, logo strong, 'cord keeper' present, NS (but well-made repro) saddle, light adhesive seep to knob labels, light sidewall/case rub, recently serviced, amp functional, amp knob missing label, transitional model; three-screw neck attach but strip tuners. For some insanely thorough hi-res pics, check this DropViewer link.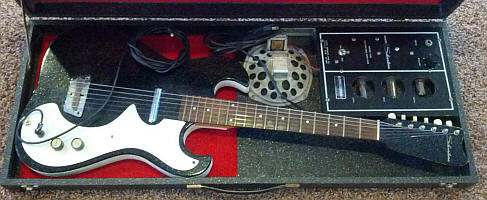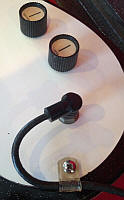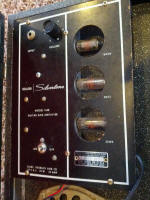 3/6

French Cowgirls playing country music? On a Silvertone? Well, why not?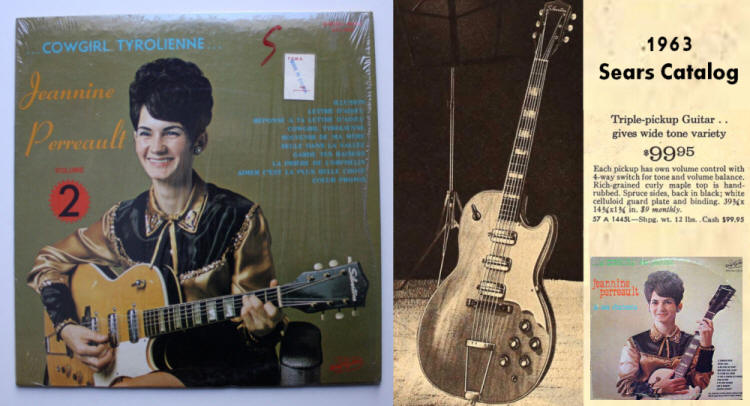 \

Lotta Silvertonium up from the mines today.... dig in!

653 Kay FHAC MOD $400 Clean, light wear, 'wind chime' logo strong, NS DeArmond pickup and NS custom pickguard, jackpin loose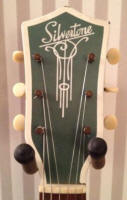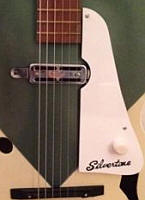 1448 Dano SSEG and tube ampincase VG $354 Clean, light wear, logo strong, slight neck bow, light adhesive seep to guitar knob labels, some staining to amp grille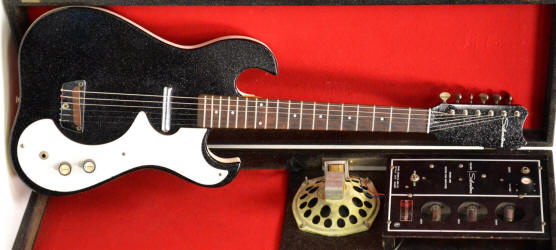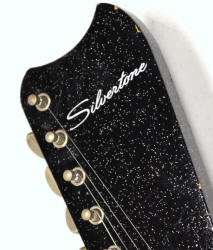 1448 Dano SSEG only VG $365 Clean, light wear, logo looks a little light, some adhesive seep to knob labels, chrome shiny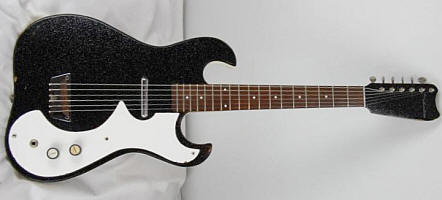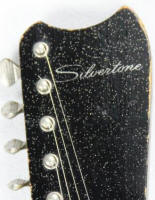 From ampincase to ampinguitar...

1487 Teisco SBEG w/ built-in solid state amp VG $350 Clean, light wear, logo slightly worn, amp functional (!)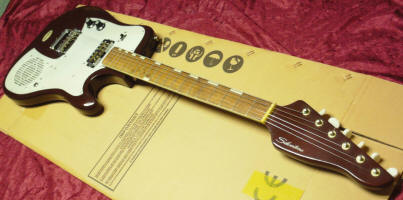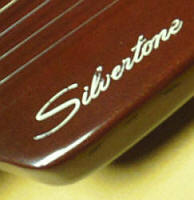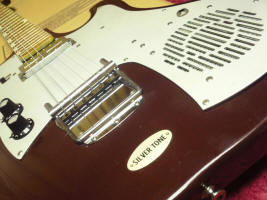 617 Harmony FTAC VG $95 Clean, light wear, logo strong, date stamped 1962, serial #4266H617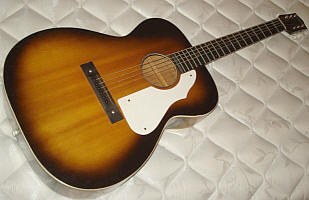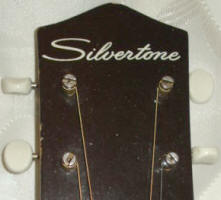 615 Harmony FTAC F $61 Clean, surface/edge wear, logo strong, faded marker writing to top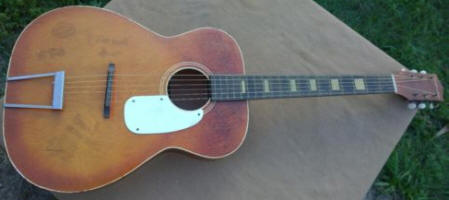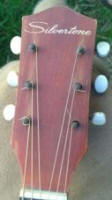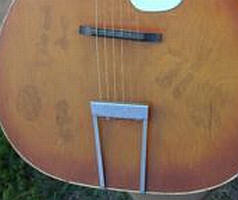 1477 Harmony SBEG w/ OC VG $300 Clean, some edge wear, logo strong, seller is original owner, non-whammy version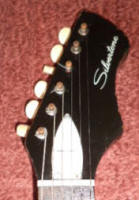 1446 Harmony HBEG VG $697 Clean. light wear, finish checking all over w/ some flaking, logo intact, truss rod is 'frozen or maxed out'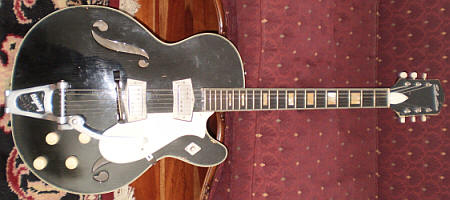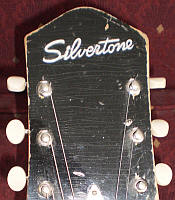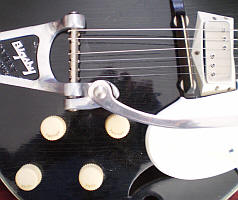 1304 Dano SSEG G $580 Clean, some surface/edge wear, logo shows some wear, late-era round cutout and corrugated cavity cover on back, volume control scratchy, light rust ro tuner plates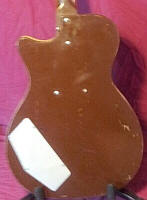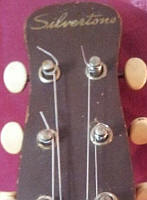 Most 1435s I see are tobacco burst, but here's a rare redburst one in terrific shape:

1435 Teisco MIJ SBEG VG $325 Clean, light wear, logo tag looks good, whammy handle present, serial #262786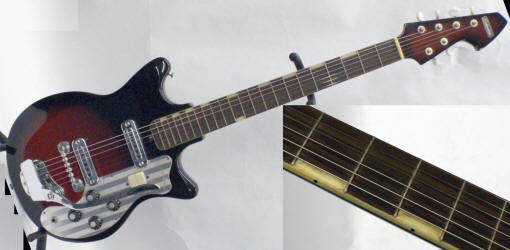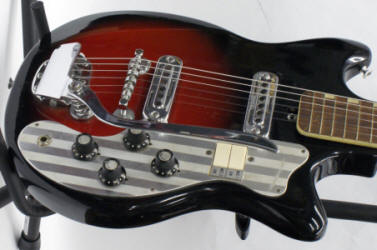 800 Kay 5-string Banjo VG $133 Clean, 'wind chime' logo strong, hardware clean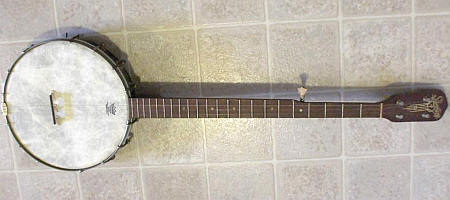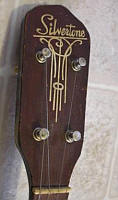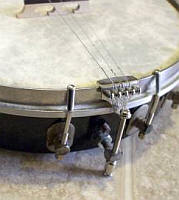 856 Harmony Baritone ukulele VG $160 Clean, light wear, logo strong, original pick/book incl.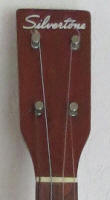 1485 Dano tube amp G $400 Clean, light wear, all knobs missing, tested functional, no mention of rev/trem function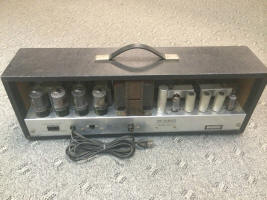 1484 Dano tube amp & speaker cabinet VG $800 Clean, light wear, footswitch incl., rev/trem functionality unmentioned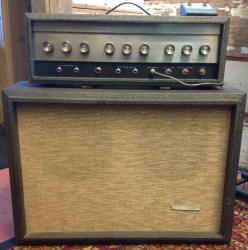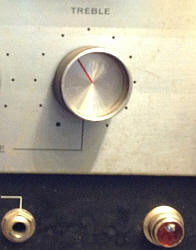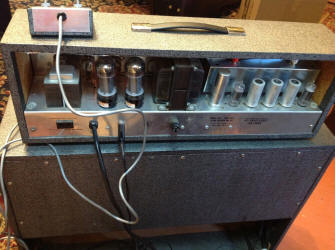 1482 Dano tube amp VG $299 Clean, light wear, tremolo functional, date stamp indicate 1965 build, tremolo mentioned but functionality unconfirmed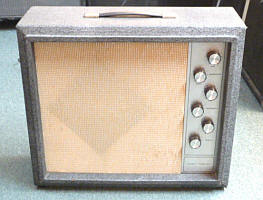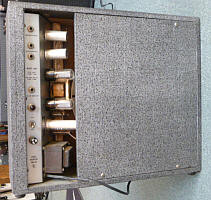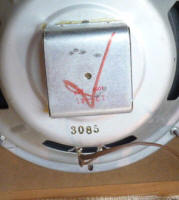 1482 Dano tube amp VG $300 Clean, light wear, tremolo unmentioned, bottom knob marred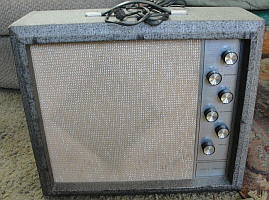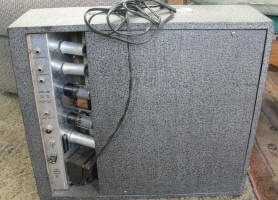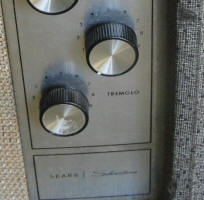 1451 Dano tube amp VG $195 Clean, some edge wear, logoplate looks good, handle good, grille pressed in slightly at speaker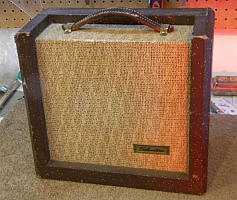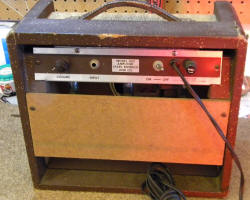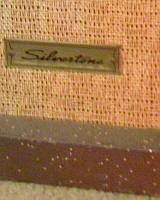 1422 Sears tube amp G $285 Wear to control face, grille decorated, Jensen speaker has been repaired, rev/trem functional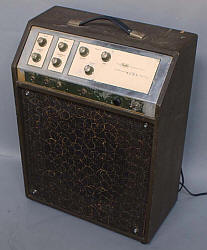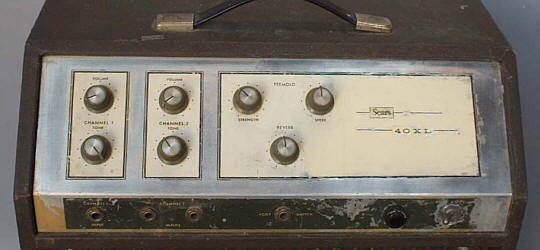 1457 Dano tube amp chassis only $317 Functional, metal shows light rust, pots date to late 1964, tremolo strength knob has chip on rim, original tubes, sell has owned since late 70s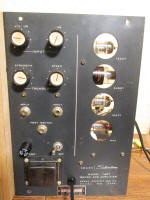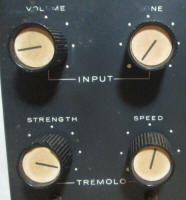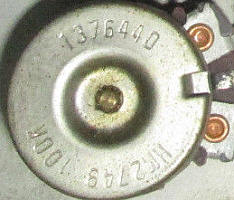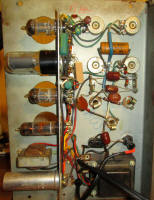 1478 Harmony pickguard/electronics $140 Knobs missing, bass upper tip broken, date stamped Feb 11, 1964, functionality unconfirmed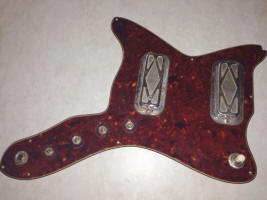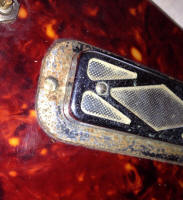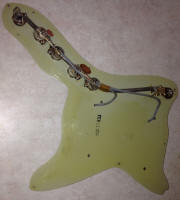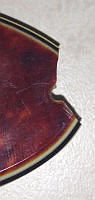 1448 Dano SSEG neck $83 No tuners, nut is present, logo strong, finish removed from back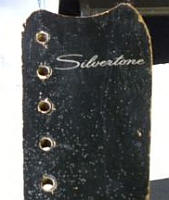 3/5

Well, St. Vincent did break out the Harmony 'Bobkat' for a couple of songs last night in Saxapahaw, but no Silvertone 1488 in sight. For most of the night, Annie Clark rocked a spacey-looking black whammy'd Ernie Ball / Music Man 'Albert Lee' guitar, and strapped on her tobaccoburst semi-solid Guild M-75 Aristocrat for a song or two, as well. If you get a chance to see St. Vincent on this tour, take it... it's a wild trip; bringing to mind (to this old geezer, anyway) everything from vintage Bowie to Prince to T-Rex to Kabuki to thrash to prog to silent movies to ambient to old-school DEVO.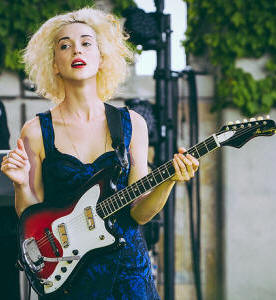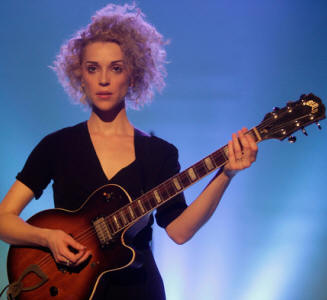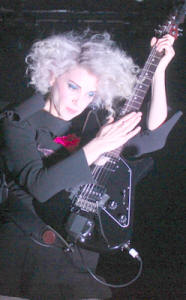 Speaking of spacey, an asteroid flew by today closer than the moon, and NASA wants to send a submarine to Europa, one of the moons of Jupiter. OK, you know what this is leading up to, don't you? Yup, coupla 'Jupiter' model 1423 guitars.

1423 Harmony SSEG w/ OC VG $565 Clean, light wear, logo intact, plenty of glitter, stress crack at jack, some chrome pitting to pickup surrounds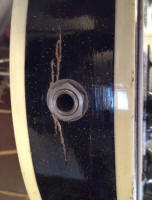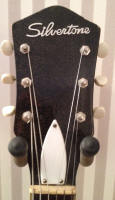 1423 Harmony SSEG w/ OC VG $590 Clean, light wear, logo intact, plenty of glitter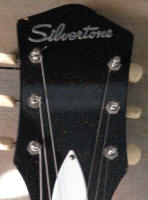 A little closer to Earth, this 'Stratotone' 1420...

1420 Harmony SSEG w/ OC VG $538 Clean, light wear, logo strong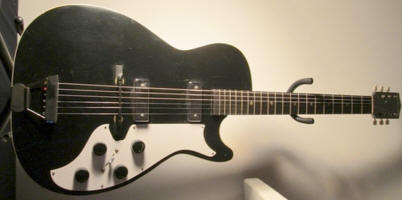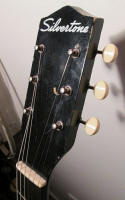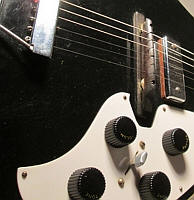 3/4

In like a lion, out like a lamb... wait... in like a lamb.. out like a ... um... anyway... it's March!

There's a lot going on in Silvertone World, y'all, and we're taking the soon-to-be-released Silvertone 1444's coming as a chance to go bottom heavy here at the site. Here's a few shots of the 1444 prototype shown at this year's NAMM convention, and following that, plenty of four-string vintage Silvertonium.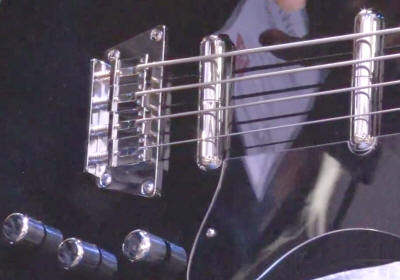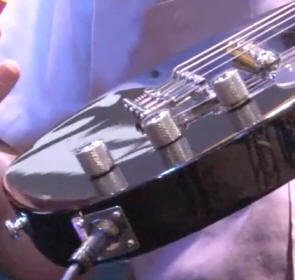 The pics above are screen captures from a video from our friends at Premiere Guitar, interviewing Rick Taylor from Samick/Silvertone at this year's NAMM convention:




Now, on to some vintage bottom end... we've got new pages up for the
Dano-built 1444, 1442 & 1443, and the Teisco-built 'Beatle Bass,' the 1495:

Some recently auctioned Silvertonium:

1476 Harmony SBEG w/ OC VG $300 Clean, light wear, logo strong, one tuner ferrule missing, one fretboard dot missing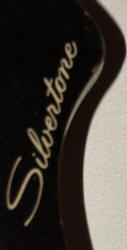 1477 Harmony SBEG w/ OC VG $499 Clean, some edge wear, logo strong, some chrome pitting, pre-whammy model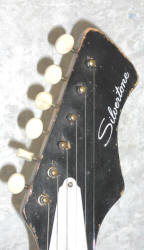 1448 Dano SSEG and tube ampincase VG $444 Clean, light wear, NS knobs on guitar, late-model triangle plate neck attach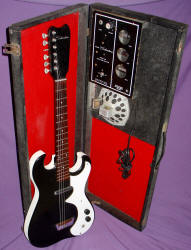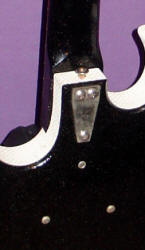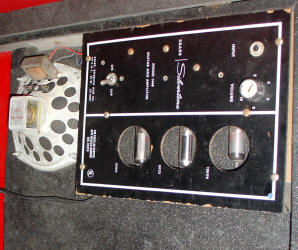 1471 Dano tube amp VG $250 Clean, light wear, logoplate looks good, grille clean, NS Weber speaker, pots scratchy, handle worn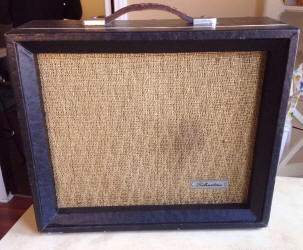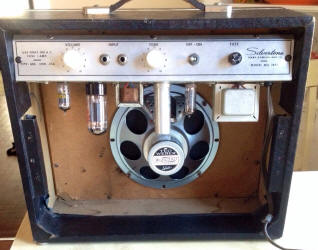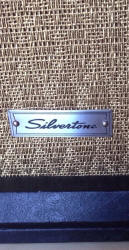 1451 Dano tube amp VG $200 Clean, light wear, logoplate looks good, handle in good shape, re-capped (originals incl.)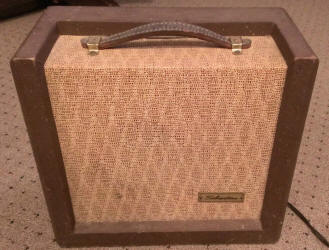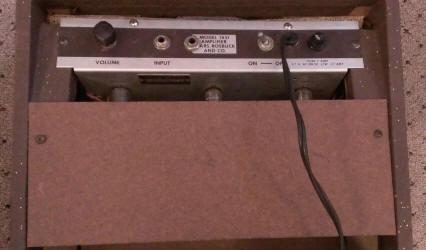 1399 DeArmond Pickup unit F $120 Needs work, functionality unconfirmed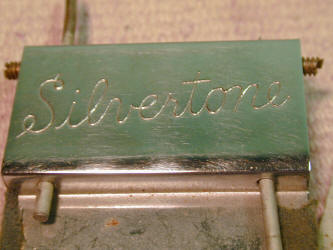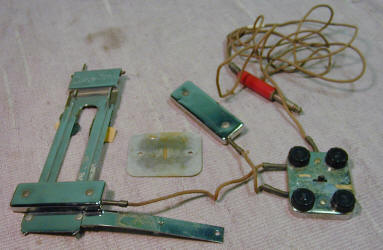 Now, let's grab a little 1964 throwback...

Pretty good selection of musical talent on tap for this week fifty years ago, spread all across the 'big three.' Wow! Charlie Byrd on the Edie Adams show? How about that 'Hootenanny lineup?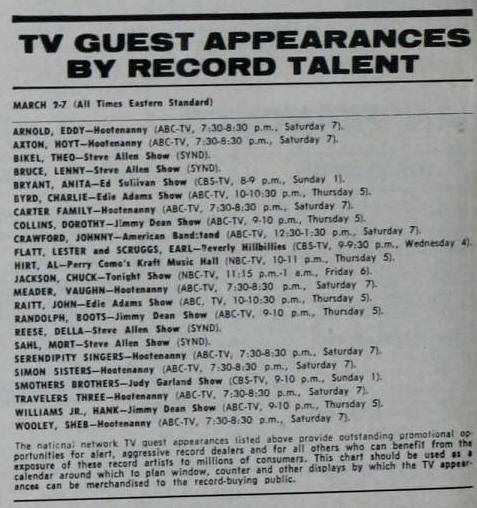 Here's a little note from the first week of March 1964 concerning a curiosity you may or may not have heard:

On 29 January 1964 in a Paris recording studio, the Beatles recorded two of their hit songs in German. The German lyrics had been hurriedly written by a Luxembourger named Camillo Felgen. EMI's German producer, Otto Demler, had desperately flown Felgen to Paris and the Hotel George V, where the Beatles were staying. The Beatles, in Paris for a concert tour, had reluctantly agreed to make two German recordings, and Felgen, who was then a program director at Radio Luxembourg (now RTL), had less than 24 hours to finalize the German lyrics and coach the Beatles (phonetically) in German. The recordings they made at the Pathé Marconi Studios in Paris on that winter day in 1964 turned out to be the only songs the Beatles ever recorded in German, and the only time they ever recorded songs outside of London. "Komm, Gib Mir Deine Hand" was the first song to be recorded. The Beatles recorded eleven takes, and the new German vocals were mixed with the original instrumental. As the original instrumental of "She Loves You" was destroyed by EMI after it had been mixed for mono, the Beatles had to re-record "Sie Liebt Dich" from scratch. The Beatles recorded the instrumental in thirteen takes, and then they recorded their German vocals. Beatles producer Sir George Martin later said "They were right, actually, it wasn't necessary for them to record in German, but they weren't graceless; they did a good job."

Here are a few more music industry dispatches from that first week of March, 1964: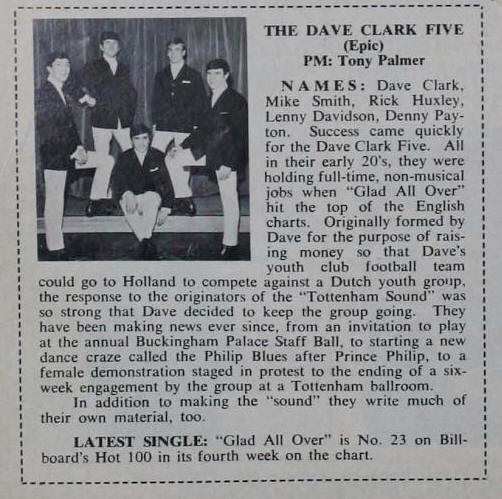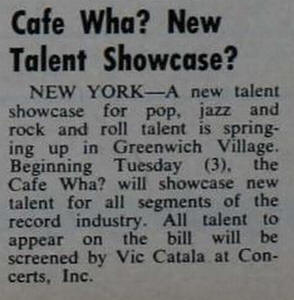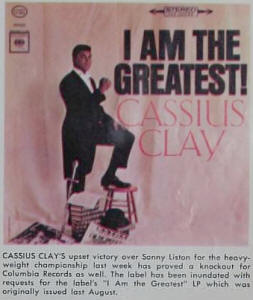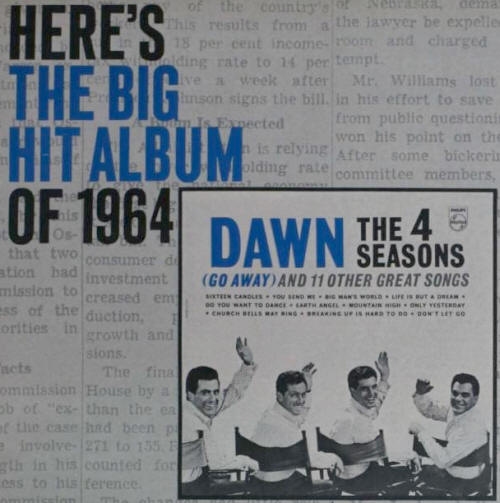 How about this week's top LPs?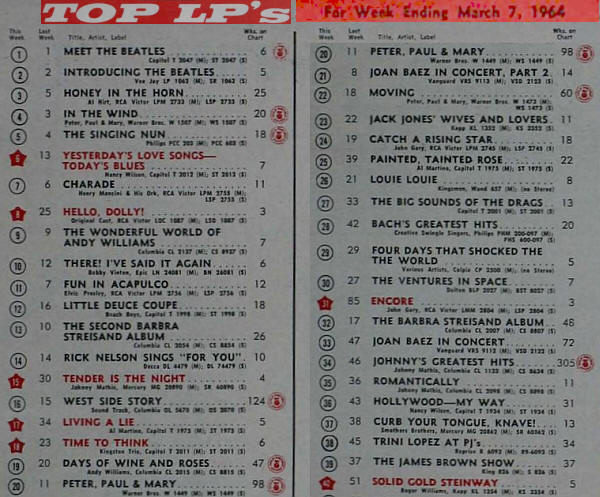 2/25

February has been chock-full of Beatles remembrances of 50 years ago everywhere you turn, and we're gonna keep the 1964 ball rolling all year. Not just the Fab Four... we'll try to bring you a lot of the happenings of that seminal year; in news, in music, and of course, in Silvertone.

Where were we getting our music fifty years ago? New music and old favorites to listen to anywhere? Well, for lots of music fans, it was a small, inexpensive device, featuring the latest in electronic technology, capable of wirelessly pulling music right out of the air! It was portable, you could use it with an earbud, two simple wheels controlled music selection and volume, and the playlist was pretty much endless, if not 'on demand.' Designer colors, modern design...
and from Silvertone!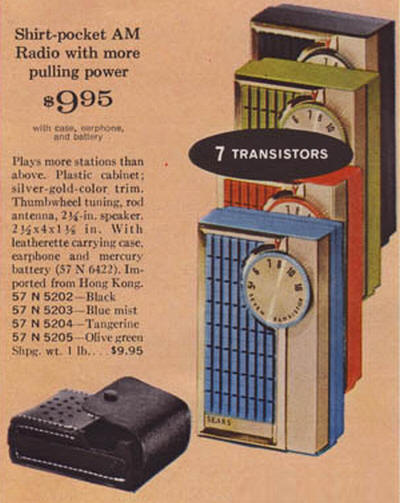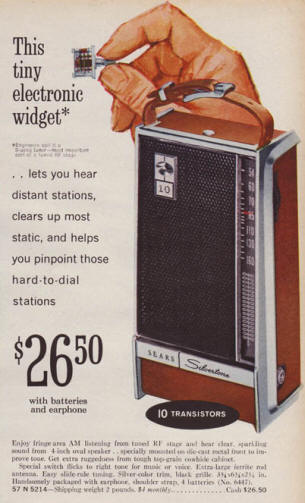 Lest we forget, there was other music in 1964...

Chuck's latest...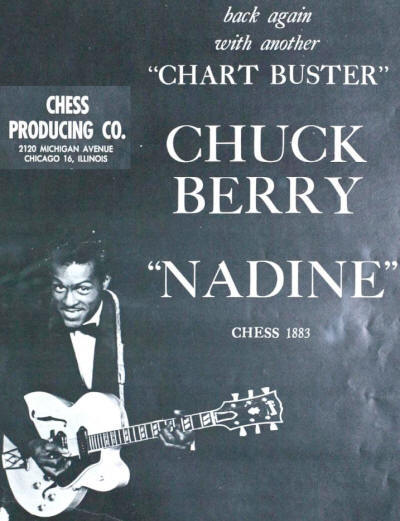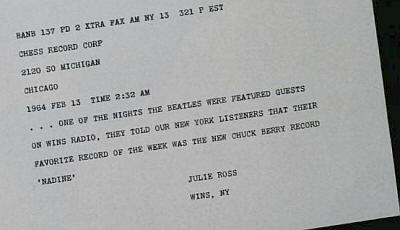 Beach Boys...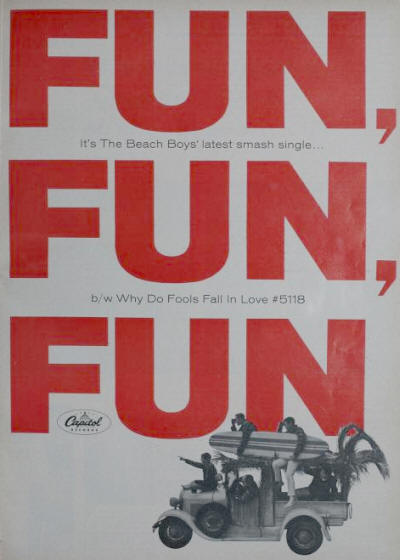 Plenty of what I guess would be 'Adult Contemporary' these days...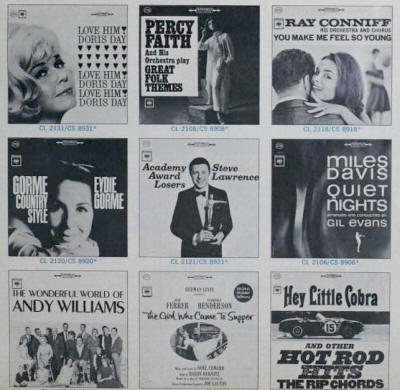 And lots of others... some we remember... some, well... I can't remember the last time I put my Beattle-ettes album on for a spin...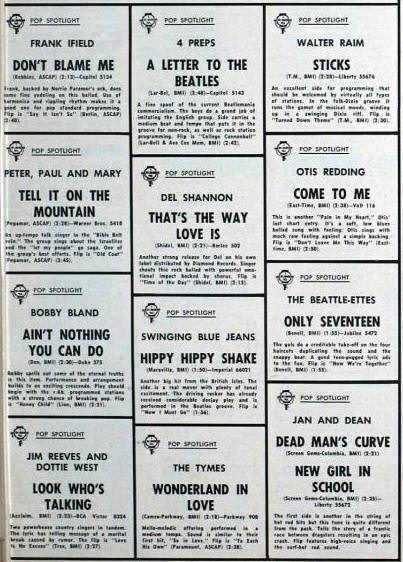 2/11

Ugly? Beautiful? So Ugly It's Beautiful? This non-catalog 1435 is one funky little axe. Snuck in under the radar at Sears, they must have sold a good bit of these lil babies, closely related to the mid-late '60s Teisco MJ-2L.

1435 Teisco MIJ SBEG w/ C VG $355 Clean, repro logo, whammy operational, serial #149795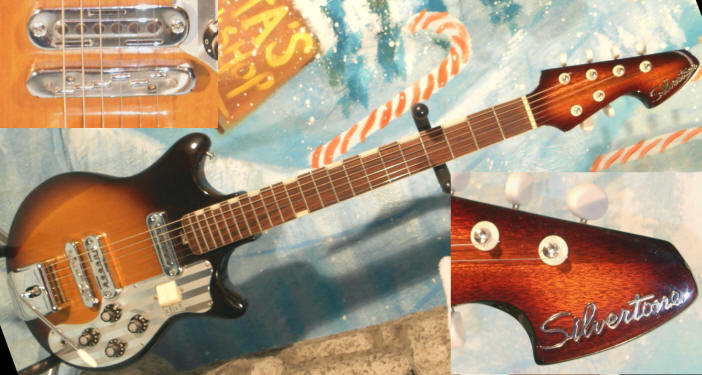 1405 MIJ SBEG E $200 Clean, minimal wear, logo strong, chrome shiny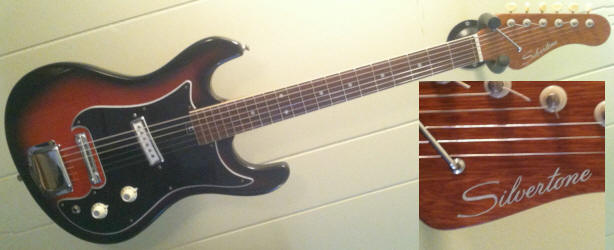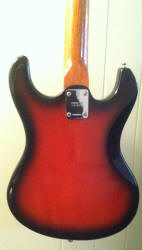 1484 Dano tube amp & speaker cabinet VG $685 Clean, light wear, oxidation to metal control face, rev/trem unmentioned but seller says "Everything Works."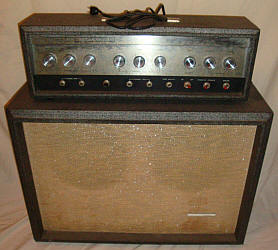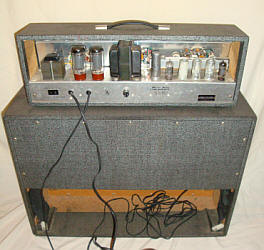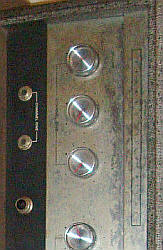 1484 Dano tube amp & speaker G $548 Dirty, covering wear, some cabinet warping, oxidation to control face, picks to grille material, stock Jensens present, XLR mod to speaker cab, "The Reverb works but is very weak. The Tremolo works but is very, very weak."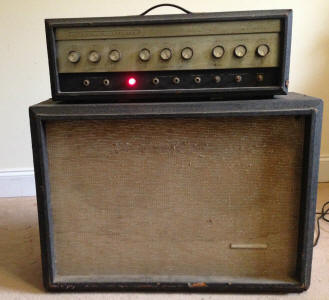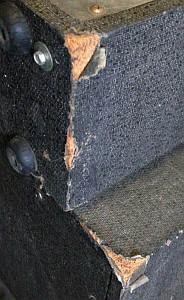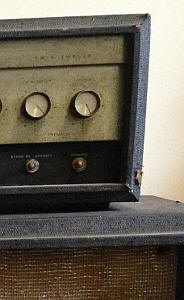 604 Harmony FTAC G $24 Clean, some edge wear, some small cracks, (2) tuners slightly bent, logo strong, serial 354H604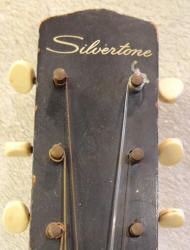 604 Harmony FTAC w/ OC VG $150 Clean, light wear, logo strong, some cracking at soundhole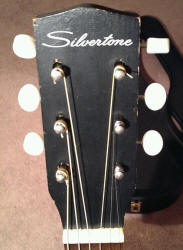 Before Silvertone, there was Supertone... and here's the Supertone 'Pep Leader' ukulele from the mid-'30s. The one shown went for $101 recently.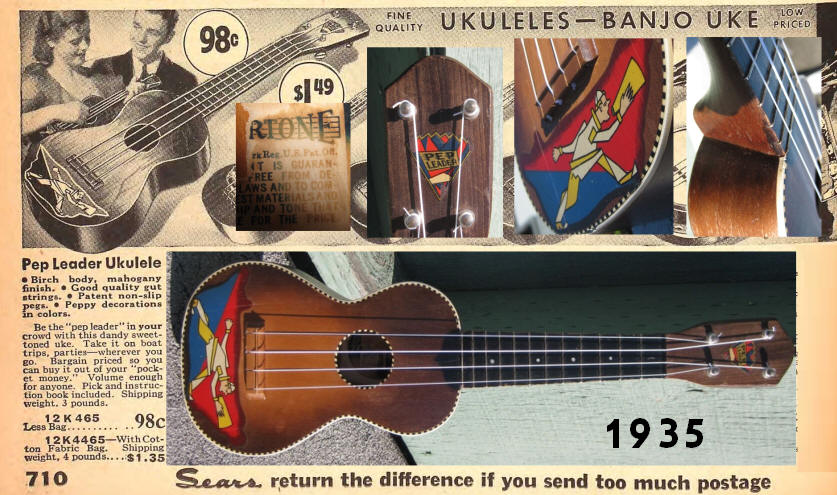 1803 Sears Harmonica VG $12 Clean, no tarnish, box looks good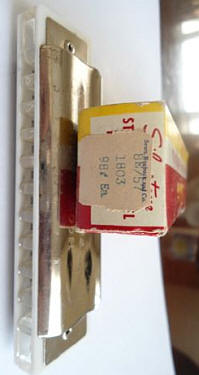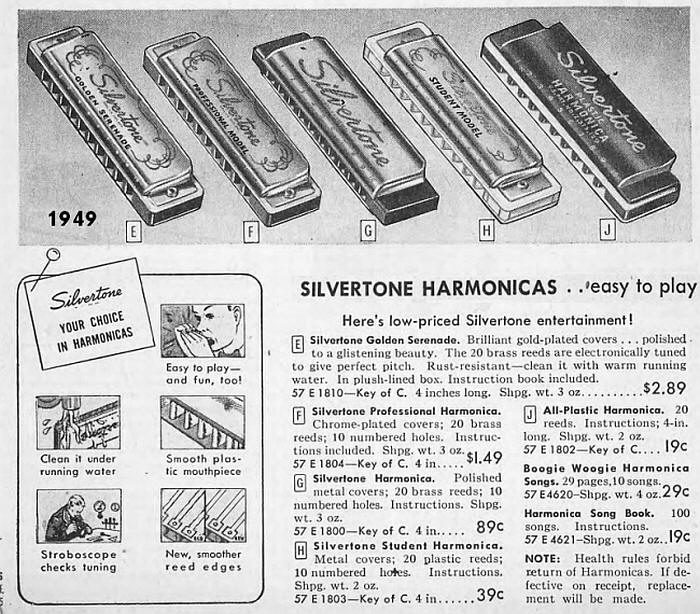 More Dateline 1964 news... this time, we've got another volley in the "Louie Louie" obscenity war.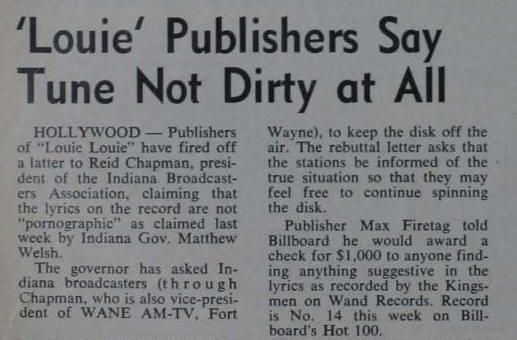 Wow, didn't take long to glom on to the Beatles' coattails...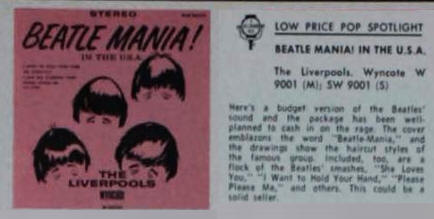 Also, set your... um.. well, be in front of your tube to catch these acts this week...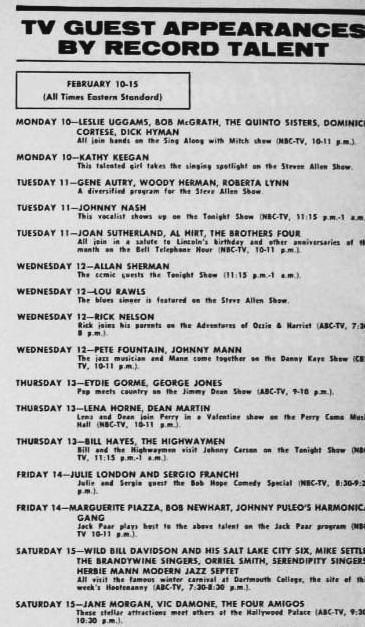 And some great dispatches from right after the Sullivan gig...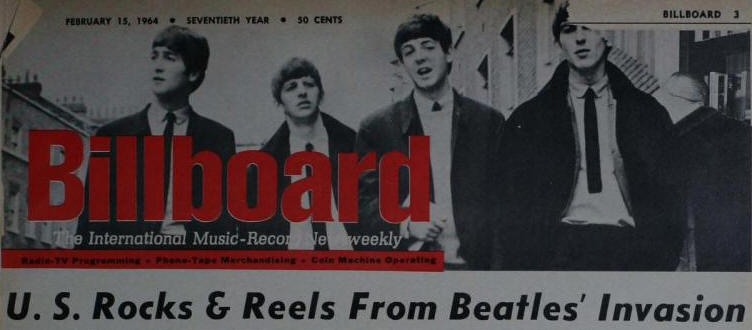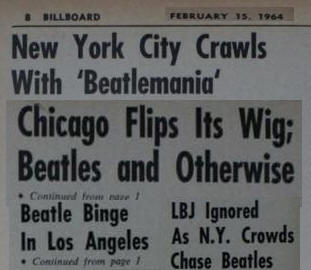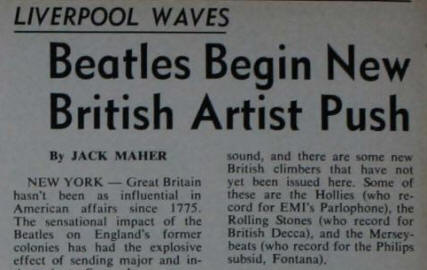 2/10

Beatles! Yep, I'm sure you got an eyeful and an earful of the Fab Four this weekend if you watched anything on TV. Well, here's something you didn't get...

Their personal instruments held up in baggage, the Beatles use Sears-bought Silvertone instruments as last-minute rehearsal stand-ins for the 'really big shew,' February, 1964.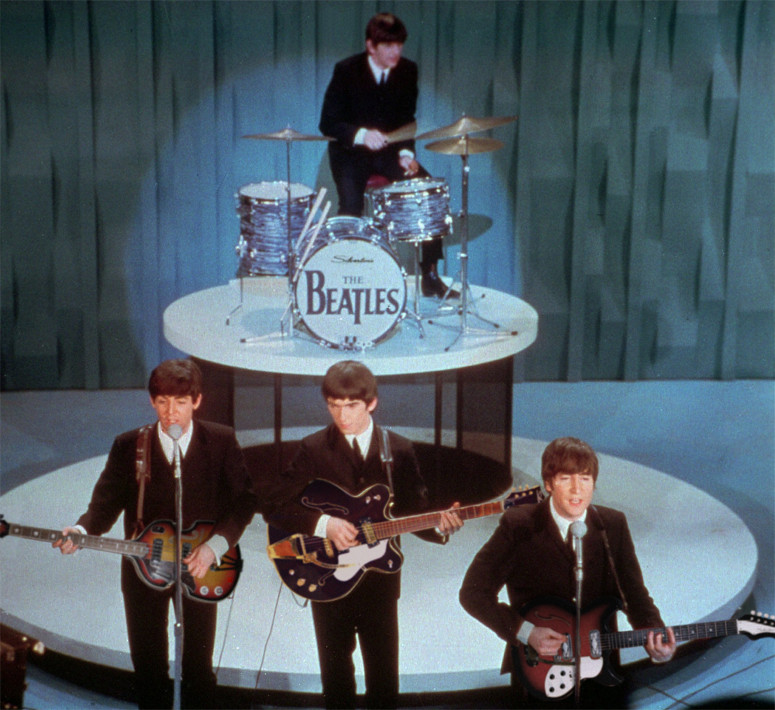 OK, that never really happened. Every one of those guitars didn't come along until much later, and drums from Sears never had a Silvertone logo that I know of. Still, those guitars don't look terribly out of place in the hands of Paul, George and John, do they? All of these guitars came along 3 years or better after the Fab Four set the pace for players, manufacturers and sellers with the guitars they were playing; at concerts, in movies, and of course, on TV. Paul's got a late '60s Japanese-made 1495 'violin bass' (that I flipped to be left-handed), George's 'Country Gentleman' clone, the Silvertone 1475 from the same catalog era as the bass, is also from the Land of the Rising Sun, and John's 1453 Harmony-built 'Rebel'-based axe is certainly reminiscent of a Rick, and wasn't featured in any catalogs until the very early '70s.


2/1

1964... What a year! The Beatles arrive in the U.S., the first Rolling Stones album is released, Bob Dylan releases "The Times They Are a-Changin' ," Pete Townshend destroys his first guitar, Bruce Springsteen starts playing his, Otis Redding's first album is released, Gemini rockets are a-flyin', the first Ford Mustangs roll off the assembly line, Eddie Vedder, Chris Cornell, Adam Yauch, Tracy Chapman, Diana Krall, Trey Anastasio, and Jeff Bezos are born, Sam Cooke is shot and killed and General Douglas MacArthur 'fades away,' Elvis & Ann-Margret tear it up in "Viva Las Vegas," Roy Orbison's "Oh, Pretty Woman" walks down the street, and Sears is enjoying huge success with a varied selection of Silvertone acoustic and electric guitars, amplifiers, and their now-iconic 'amp in case' guitar line. That last item has a lot to do with the first items in that list, as kids all over the United States just had to start a band after seeing the Beatles and the Stones on TV, or were ready to do some introspective strumming of their own after listening to Dylan's folk-oriented first efforts, and Sears was there to help make those dreams come true.





We'll be celebrating this special 50th Anniversary all year here at Silvertone World, and no better way to kick it off than to feature one of the main guitars that most people think of when they think 'Silvertone,' the 1457 'all in one' setup (the 'amp in case' tag that we all love never appeared in any Sears catalog listing) that was introduced mid-year in 1964. There's a lot more coming your way, and I hope you'll keep your eyes on Silvertone World, as we add dozens of new pages for the many, many Silvertone models from over the years, and concentrate on the many things wonderful things that came our way in that amazing year of 1964.





The 1448 was already a gigantic sales leader for Sears, appearing under Christmas trees and then in the bedrooms and garages of rock and roll hopefuls all over the country in 1962 and 1963. Then, a re-design of the 1449, the short-lived two-pickup partner to the 1448 (seen as too similar in looks to differentiate it much from its single pickup sibling) led to the venerable 1457 setup. Click the page graphic below to read all about it. It's a brand new page, with all-new detailed photos, a complete catalog history of the guitar and amp setup, and the amp schematic and manual that was included with every package.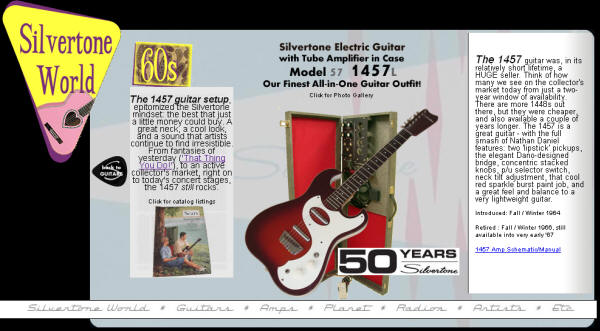 It's from a little earlier in the '60s, but you're going to enjoy this Kay-built 'Value Leader'-based Silvertone 1458 guitar just the same.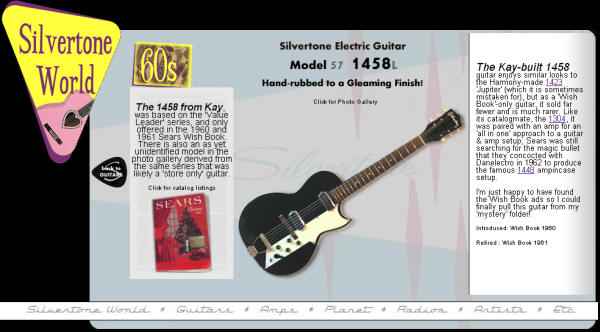 Alright, Silvertonians... look for more of the same the rest of the year, as we add lots of new content to the site, and explore some of the events of five decades past in our 50th Anniversary Celebration of 1964 at Silvertone World!



2/4

Two-Fer Tuesday! As luck would have it, we've got two great axes that got their start in our 50th Anniversary Celebration year of 1964. First up, the famous 1457.

1457 Dano SSEG w/ tube amp in case VG $405 Guitar and amp clean, light wear, guitar logo shows some rub-off at 'S,' guitar sidewalls loose mid-body, amp knobs show adhesive 'seep,' guitar and amp controls 'scratchy,' tremolo functional, footswitch incl.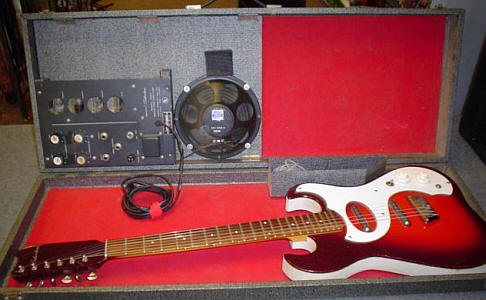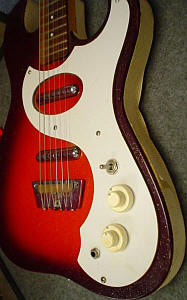 Another guitar that got its start in that banner year of 1964, the Harmony-built 1478.

1478 Harmony SBEG w/ OC VG $600 Clean, light wear, whammy handle present, logo strong, chrome shiny, all stock knobs present, screw pullout/break on upper bass pickguard peak due to shrinkage (common)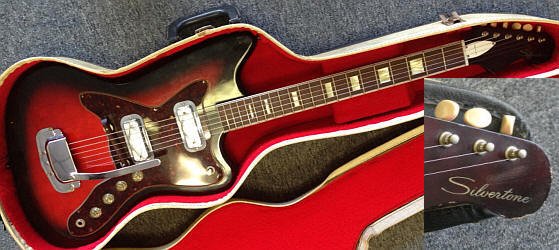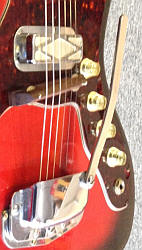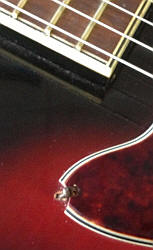 Dig the entire Harmony 'Bobkat / Silhouette' family right here, just click for more: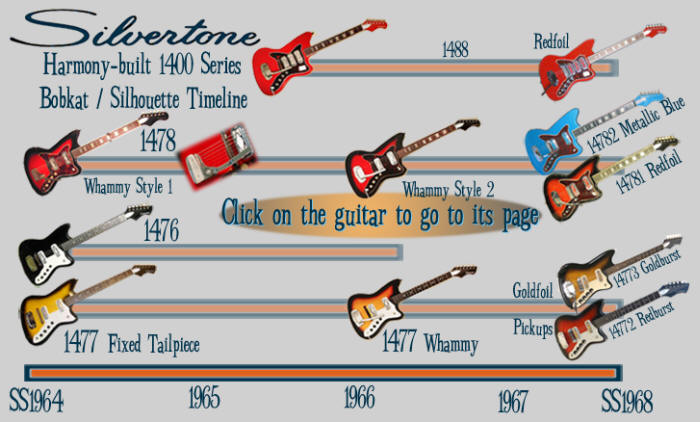 2/4

Our dispatches from the year of 1964 continue with these tidbits from the first week of February 1964 Billboard magazine; a note about the burgeoning "Louie Louie" controversy, and a piece about the honoring of the fifth anniversary of Buddy Holly's death: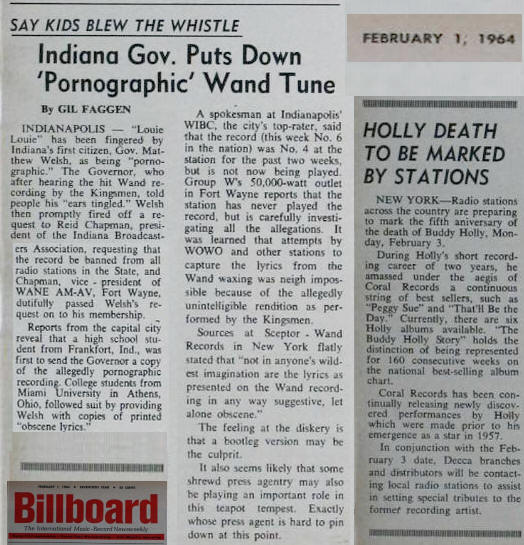 | | |
| --- | --- |
| The accusation that the Kingsmen's "Louie Louie" contained obscene lyrics is a laughable but persistent legend. What I find more incredible about the tune is that it was the first take, recorded the day after a marathon night of playing (including a 90-minute "LL!"), and that this one-off piece of muffled, grungy genius still turns heads today. For an extremely full exploration of this song, its origins, and its continuing cultural 'umph,' check out the great book by Dave Marsh, "Louie Louie, The History and Mythology of the World's Most Famous Rock 'n Roll Song." The rhythmic pattern of "Louie Louie" is every bit as persistent in pop music today as it's ever been. Give a listen to "You Don't Know You're Beautiful" by One Direction if you don't believe me. Once you start listening for it, you'll hear that crazy stop/start bit everywhere. "You Really Got Me," "I Can't Explain," "Wild Thing," "Smells Like Teen Spirit," "More Than A Feeling," all have that genius/insane rhythm idea embedded in them... just listen. | |

2/5

Soup to Nuts? Well, we've got amps to ukes...

First up, this 'shamed' 1457 amp without a case or guitar. Some misguided owner in this amp's past attempted to erase the Silvertone logo at some point. Who he thought he was fooling, I do not know. Say it loud! I'm Silvertone and I'm proud!

1457 Dano Tube amp only $175 Tested functional, tremolo unmentioned, logo/model # 'shamed'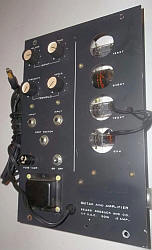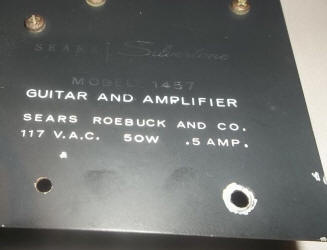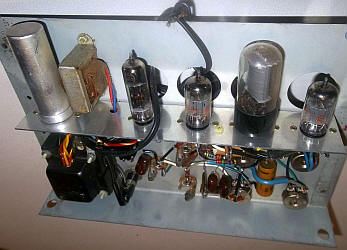 1483 Dano tube amp & speaker cabinet G $500 Clean, light wear to amp head, some oxidation to chassis/metal, covering tear/corner wear to speaker cab, cab modified to accept NS 'BLO-OUT-PROOF' brand speaker, water damage/warping to bottom of cab, amp tested functional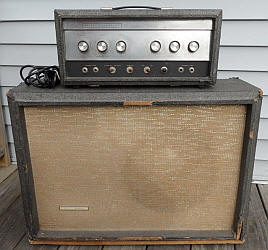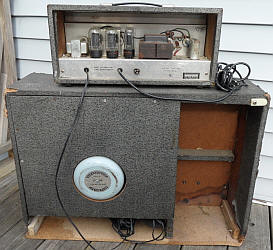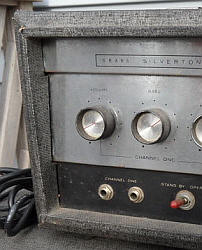 How about this one-owner 1478 in amazing shape? Actually, it's probably the nicest one I've ever seen! This one came with manual, cord, and final receipt. According to the shipping label and receipt, this guitar was sold as a combo (part #1497) with a 1482 amp for the catalog list price of $153.90 in New York City in 1965.

1478 Harmony SBEG w/ OC E $800 Clean, minimal wear, whammy handle present, logo strong, chrome shiny, all stock clear (!) knobs present, no screw pull-out or pickguard shrinkage (!), original cord & asst. paperwork incl.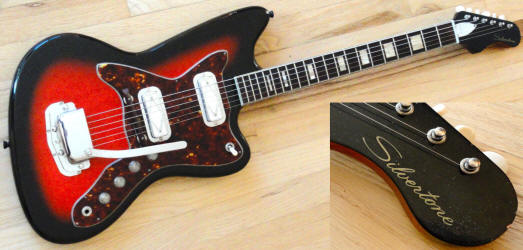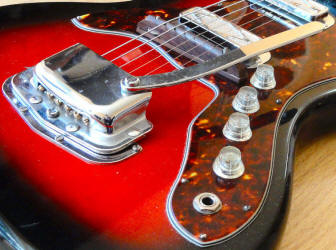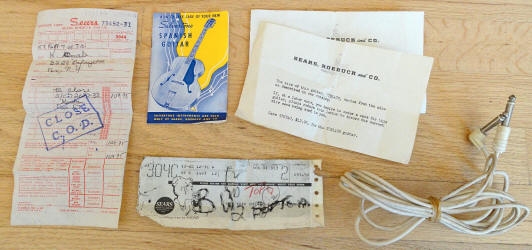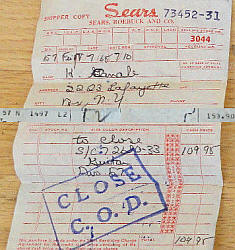 1421 Sears tube amp VG $192 Clean, light wear, some peeling to control panel, recently serviced, date stamping indicates 1972 build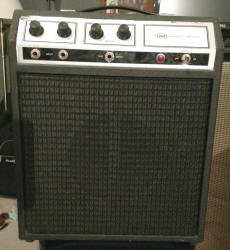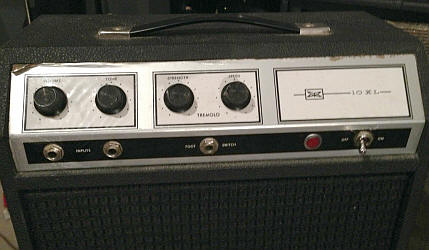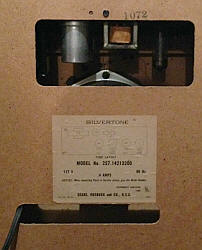 We don't get to see the backside of the elegant Dano bridge very often. On the flip, you can see the saddle adjustment/string compensation slot and the screw that holds the wooden saddle in place when you get it in the sweet spot. The forward screws fit under the bridge and adjust height, the rear screw holds the assembly in place.
Maximum utility with minimum parts/expense.

Dano bridge $50 Clean, grooves to saddle, chrome shiny, anchor and adjust screws incl. Should fit any 1448/49/57/51 Silvertone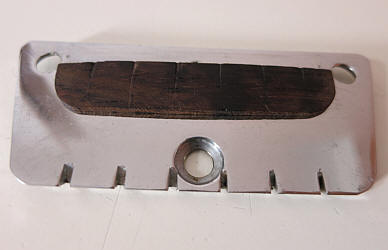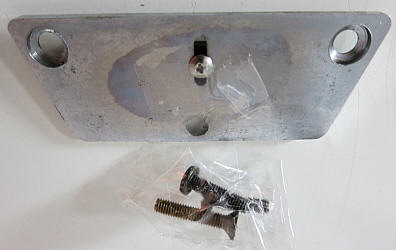 And here's that Uke! It's the 'baritone' model of the Silvertone ukulele line, the 856, made by Harmony, comparable to their model 695.

856 Harmony Ukulele VG $135 Clean, light wear, binding tight, logo strong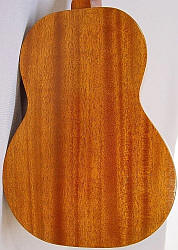 2/6

Couple of Acoustics for you today, and another note from 50 years ago.

Here's an oddball; it's the Harmony-built 1296, one of the last guitars to bear the Silvertone name. As such, it was caught in the weird 'twilight zone' that a handful of the last Silvertones were, and never made it to any catalog. The 1294 (available from 1970-73) was similar, but by then the Silvertone name was on its way out at Sears & Roebuck, with the 1294 sporting the stylized SR logo, the 'Space Dot.' There was also a (non-catalog) slot-head 1294 that had a classic 'thin-script' Silvertone logo! This gives you a pretty good indication of the many guitars that Sears sold, and the random nature of logo placement during the last years of the Silvertone name.

1296 Harmony FTAC w/ OC G $79 Clean, some wear/scratches, block logo strong, 'D' tuner bent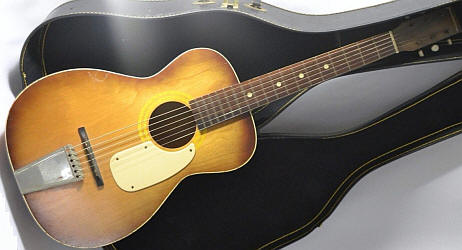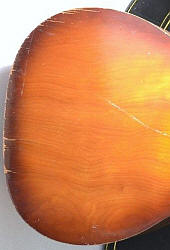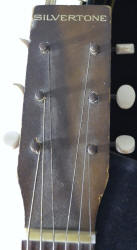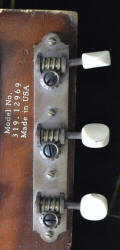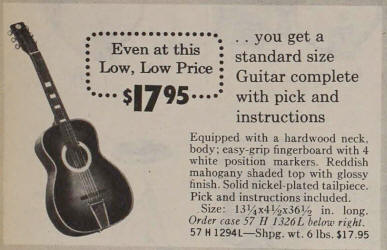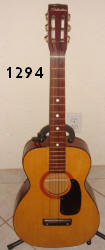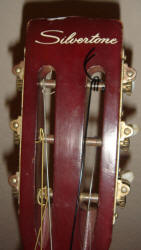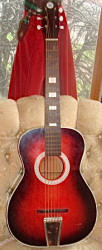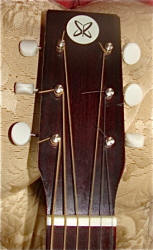 615 Harmony FTAC G $31 Clean, light wear, fretboard and painted markers show playing wear, logo strong, pickguard missing, date stamped S-65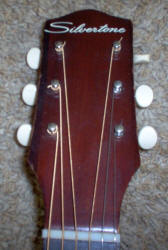 This just in from 1964... a spiffy little Solid State synthetic sapphire-supplied Silvertone something from Sears to crank those new Beatles records up on... transistors mean no warm up needed!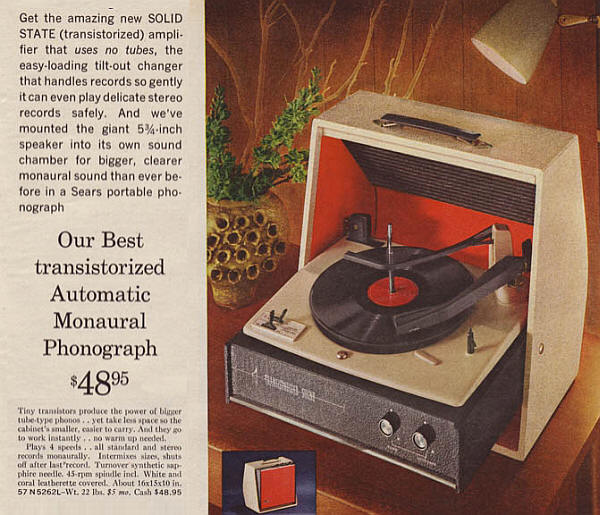 And, it's kind of hard to believe... but in 1964 Sears still sold record players that were strictly acoustic affairs, using diaphragm reproducer technology that dated back to the 1900s! An electric motor drove the record, but the audio chain was needle-reproducer-tube-opening. "Loud and soft needles for volume control." Record rack and records included. Fantastic!




2/7

Amazing Haul of Silvertonium coming your way today, amps, guitars, autoharps... let's tip that cart and check it out!

As George Takei would say... "Ohhhh Myyyy...." Look at this incredible 1485 amp from late 1963! Clean as can be, so little wear as to not even merit much of a mention, and all the stock accessories included. One of the highest prices I've ever seen any chunk of Silvertonium going for, and well deserved. Shiny!

1485 Dano tube amp & speaker cabinet NM $3700 Clean, minimal wear (just the lightest oxidation of the jack nuts and washers and one scuffed corner on the dolly), date stamping indicates late '63 build, footswitch and NS vinyl cover incl.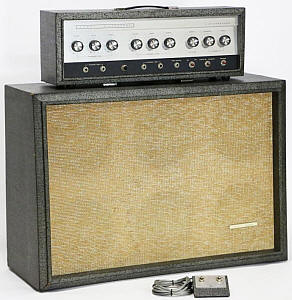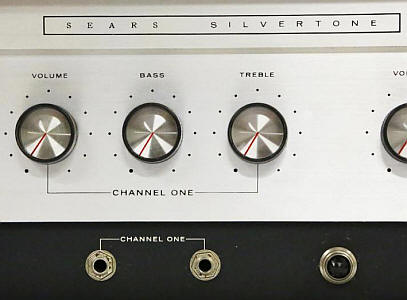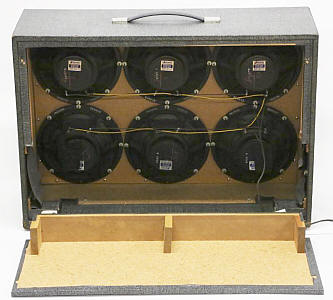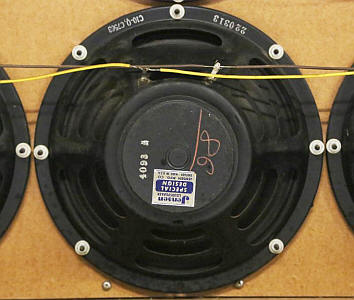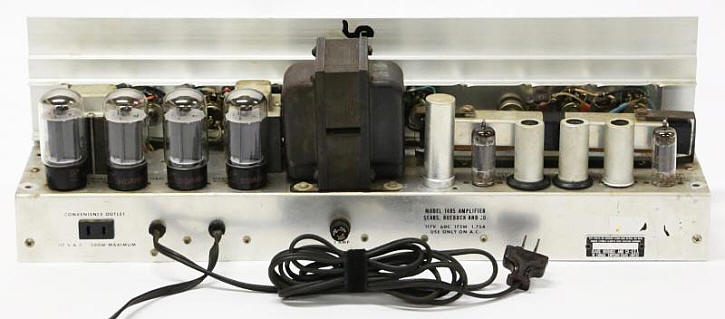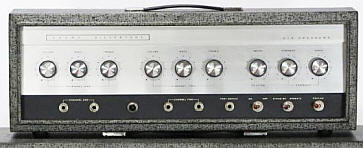 Three in a week?!? Yup... another great (well, good) Silvertone 'Silhouette' 1478 from our friends at Harmony.

1478 Harmony SBEG G $500 Clean, some edge & playing wear, some oxidation to metal parts, whammy handle present, logo worn, NS bridge/nut/strap buttons, pickguard broken at upper bass 'horn,' switch needs work; bridge p/u on in all positions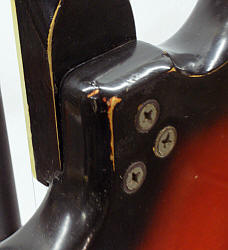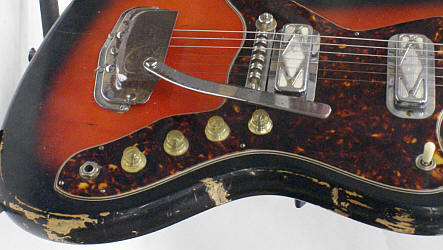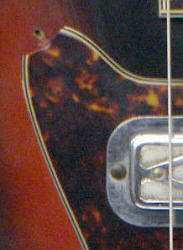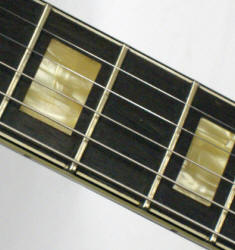 I meant to tell you about my first on-screen Silvertonium sighting of the year, and now's as good a time as any. In January, my wife and I went to see the Coen Bros. film "Inside Llewyn Davis," a film that follows a struggling folk singer through a week of his hard-knock life. In a dinner scene, Llewyn is asked by a friend to play a tune. Davis tries to beg off, but his dinner host insists, saying "...I'm getting my Silvertone..." Of course, my ears tingled and my eyes lit up, as Davis proceeded to pick out "Fare Thee Well" on what looks to be a pickguard-less Kay-built Silvertone archtop. Since the film is set in 1961, that would make it a model 627. In 1962, the model number for what is essentially the same guitar flipped from 627 to 619 from Spring / Summer to Fall / Winter of that year. Soooo... the 'thin script' logo appearing on the guitar in the movie would peg it as a 619, which didn't show up, as I've said, until late 1962. Regardless, it was a real treat to see a Silvertone, and have it mentioned by name, in what I thought was a very entertaining film with some terrific (my girls love "Please Mr. Kennedy!") music. T-Bone Burnett helmed the soundtrack, and it's hard to go wrong musically when he's onboard. Hey, maybe he was responsible for that Silvertone being in the scene! What a great way to start the year!
| | |
| --- | --- |
| | |
Speak of the devil... here's a fine 627 that went for a nice price.

627 Kay FHAC w/ OC VG $168 Could use a cleaning, light wear, 'thick script' logo strong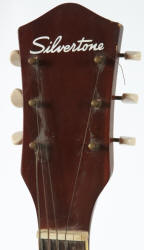 Here's a little more on the 'folk' tip...

2574 Oscar Schmidt Autoharp w/ OC VG $150 Clean, light wear, small veneer separation on bottom, paperwork incl., no tuning wrench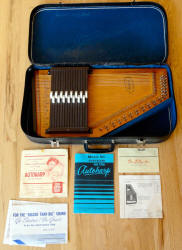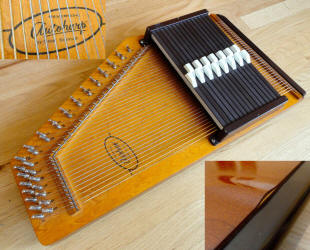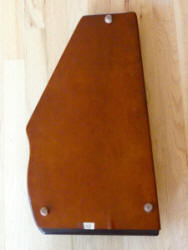 1958 Harmony archtop action...

710 Harmony FHAC VG $183 Clean, some wear and scuffing to bout edges, top has slight separation at upper bout, 'thick script' logo strong, date stamped F-58, serial # 2961H710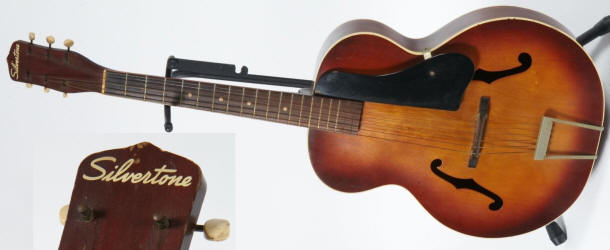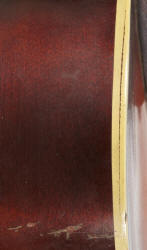 This flattop has seen better days...

605 Harmony FTAC P $40 Crack at soundhole, bridge and nut missing, fingerboard cracking, wear all over, (2) tuner posts missing, 'deco' logo strong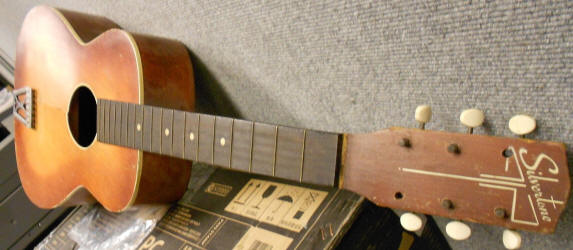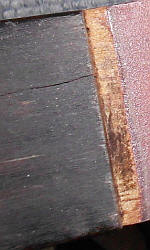 The huge-selling and ubiquitous 604...

604 Harmony FTAC w/ C VG $100 Clean, light wear, stripes prominent, logo strong (chunkiness of pics is due to video artifacting)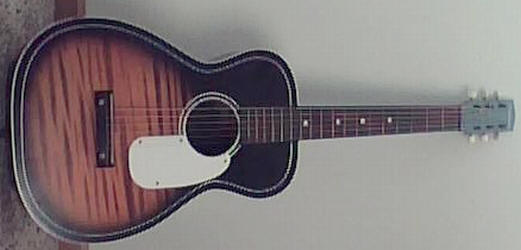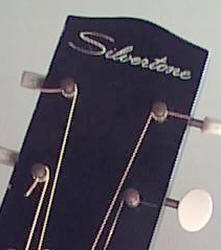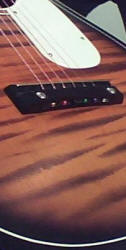 Here's a rare one-catalog-available-only 1418.. and, yes, that truss rod is supposed to be exposed...

1418 Teisco MIJ HBEG w/ OC VG $350 Clean, light wear, all stock hardware, logo tag looks good, controls a bit scratchy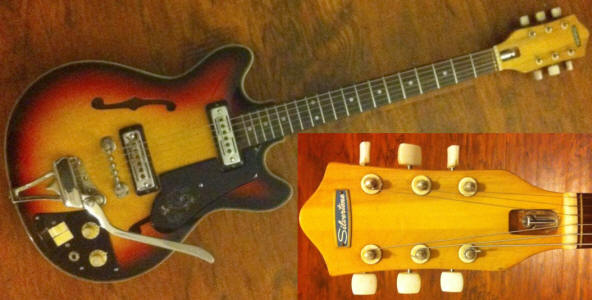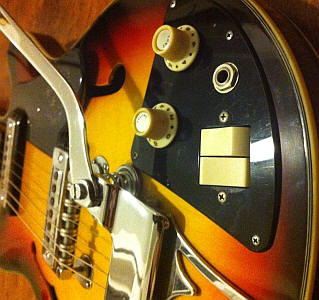 And from the week ending February 8, 1964... it's your Billboard Hot 100, with he Beatles already beginning their multi-song assault on the charts.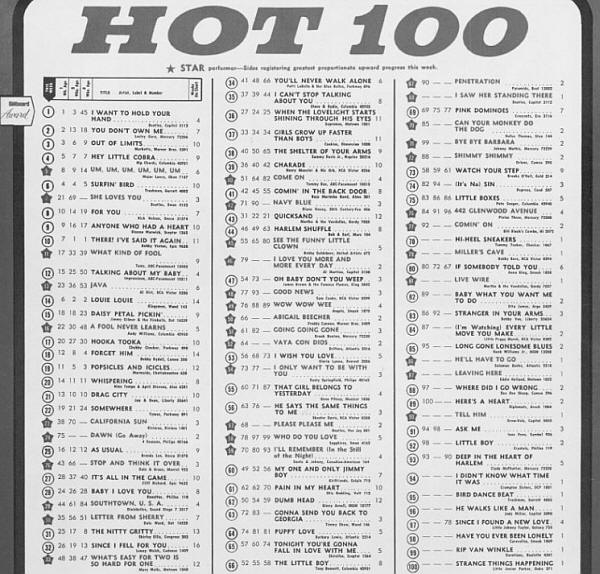 The day after this chart was tabulated, the four lads from Liverpool would appear on Sullivan, and the '60s would really begin...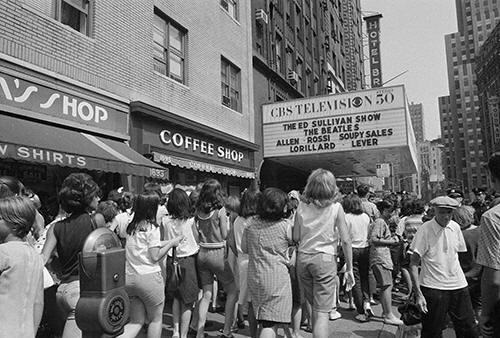 You'll be hearing plenty about The Beatles this weekend, I'm sure... CBS is even running a 50th anniversary special. Stay tuned to Silvertone World, though; on Monday, I'll be bringing you an exclusive shot of the Fab Four that you've never seen before. Guaranteed! More From '64 all year long!



ABBREVIATION KEY:
MODEL # / MANUFACTURER / INSTRUMENT TYPE / CONDITION / PRICE / NOTES
Abbreviations: M-Mint, NM - Near Mint, E- Excellent, VG- Very Good, G- Good , F-Fair, P-Poor, NS- Non-Stock, HBEG- Hollow Body Electric, FHAC- F-Hole Acoustic, FTAC- Flat-Top Acoustic, SBEG- Solid Body Electric, SSEG- Semi-Sold Electric, MIJ- Made In Japan, MOD - Modified significantly from stock, w/ O/C Original / Case, BOA - (related to price) Best Offer Accepted; price shown was asking price, sold for less, DNS - Did Not Sell; used mainly to show an item of interest whether it sold or not.
Unless otherwise noted, I'm rating them by what I see in the pictures and read in the description.

The items depicted on this page are not for sale by Silvertone World. These are reviews of items from completed eBay auctions on or around the date specified.