April 2012


4/30

Finally! I've watched this seldom-seen puppy bouncin' around eBay for a few months now, and someone finally ponied up the dough for this rare Telecaster bass clone.

1494 Univox ? Teisco? MIJ SBEG Bass E $495 Clean, minimal wear, light checking, chrome shiny, prismatic 'Space Dot' looks good, guards and rests in place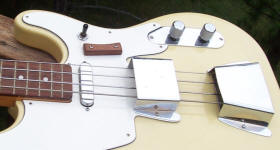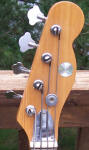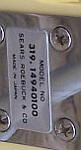 More rare Japanese-built goodness in this early '70s 1412.

1412 Teisco MIJ SBEG w/ C VG $125 Clean, light wear, some pitting to chrome, 'Space Dot' worn, some checking, (1) NS knob, (1) NS tuner ferrule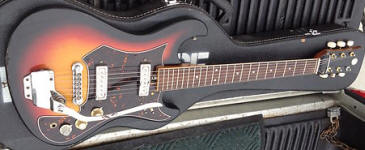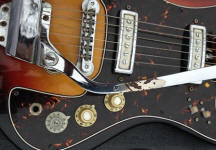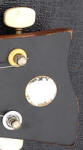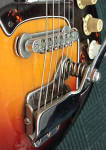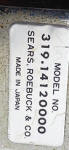 4/27

One Of A Kind... I don't usually say that, as the reality of that statement is few and far between. And, I don't usually do this, bringing a guitar to your attention before the final auction gavel has come down. However, this is a unique guitar, and it deserves some wide exposure to our select audience of Silvertonians. It's the very early Dano-built 1377 from 1954, and this example was owned by a Mr. Glen Carver, who worked at Sears corporate. Instead of the usual thick script 'Silvertone' and lightning bolt in maroon, we've got Mr. Carver's name engraved into the headstock laminate plate (the flipside is blank). Glen wasn't much of a player, apparently, as this guitar shows almost zero wear. Pots are dated 137422 (Manuf. by Chicago Telephone Supply in the 22nd week of 1954), and the seller says it's been in storage in Maine for fifty years! It's a great piece of guitar history, and Danelectro history in particular. You can see many of the Dano features we've come to know and love in a near prototypical stage: the simple yet elegant bridge (wider, and made from aluminum instead of chromed steel), the not-yet-lipstick'd pickups hiding under a vacuform bump in the pickguard, the stacked V/T knobs (just as they would appear until 1967), the wider 'Coke Bottle' head taking shape, a 'Duraluminum' truss rod running from headstock to bridge (later truss rods would be steel, two of them, and just in the neck), and the familiar Les Paul™-like shape of the body, seen until the early 1960s. Awesome!
Here's a link to the eBay auction.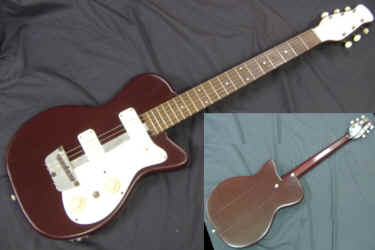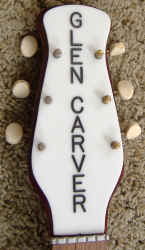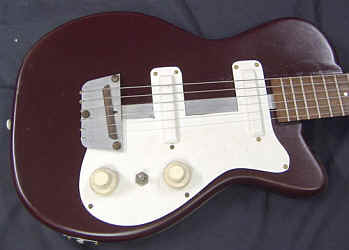 4/25

Typical Slooooow Wednesday... But, this crazy piece of equipment that Silvertonian Ginamann sent me some pics of really blew my mind. It's got the model number (62-9026A) of an obscure Airline amp (apparently built by Gretsch, or at least, the same schematic as the 6162), but it's got "Silvertone 30 Professional" stenciled where "Airline Professional" would have appeared, and the front control face has a slight backward tilt to it. The grille is identical to the Airline model, and the handle looks much like the handle on a Silvertone 1474. It's also got "2-12" stenciled on the other side where the model number is, but there are actually two ten inch Jensens inside (just like the Airline). Did someone go crazy with some rub-on lettering in a case of Silvertone envy? Is it some weird 'on spec' amp built for Sears in hopes of landing a contract? We'll likely never know...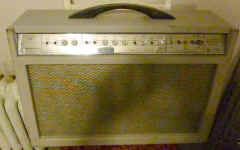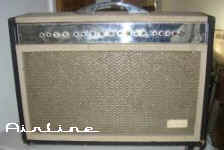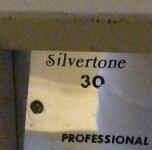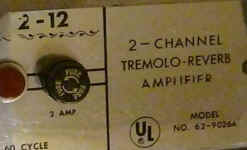 4/24

Record Store Day in Raleigh was great fun Saturday! Silvertone King Dex Romweber showed up with a beautiful 1322 that Jack White gave him (you can catch a glimpse of the headstock in "People, Places and Things" video at about the 2:30 mark), and there it is laying in the back seat of Dex and Sara's Travelin' Van. They rocked a great half-dozen or so tunes, and helped Schoolkids to their biggest sales day in 39 years! Viva Vinyl!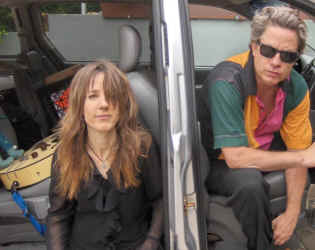 Speaking of Jack White, he's got a new album out today, his first 'solo' album, Blunderbuss. I imagine there's some Silvertone-amplified crunch available in there.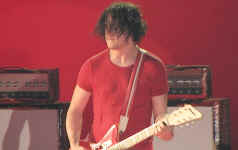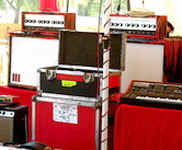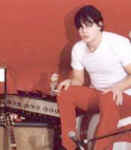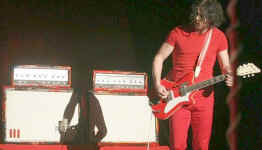 Batwing Bobkats?!? No, it's not a national Enquirer story... we saw an ultra-rare end-of-the-product-line1488 variant with the 'batwing' pickguard embellishment go for some good money over the weekend! Check it out!

1488-9 Harmony SBEG w/ OC VG $610 Clean, whammy bar missing, headstock cracked/repaired, logo strong, NS bridge, a few dings, some scratches, light corrosion to metal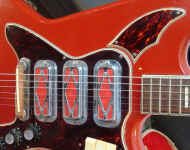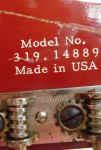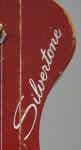 Speaking of 1488s, Annie Clark had some rockin' red vinyl out for Record Store Day, a rattling, crunchy rocker called 'Krokodil.' Dunno if she was playing her 1488 on it, but we can dream!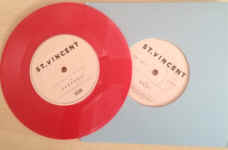 Speaking of krokodils, here's a nice faux alligator and tweed 1333 that went for nearly four bills...

1333 Dano tube amp VG $355 Clean, light wear to alligator, handle looks good, logoplate shiny, grille tight, tremolo operational status unmentioned, seller says "I PLUGGED MY EPIPHONE SHERATON II IN & PLAYED IT FOR A FEW MINUTES THROUGH THE AMP. THIS SUCKER HAS A GREAT CRUNCHY DISTORTION SOUND WITHOUT NEEDING ANY PEDALS. THE SOUND IS REALLY COOL. ALL CONTROL POTS WORK. THE RED POWER LIGHT WORKS. THE ON/OFF SWITCH WORKS. THE TUBES LOOK LIKE THEY ARE ALL ORIGINAL 1950s PERIOD TO THE AMP."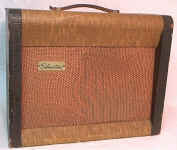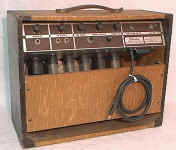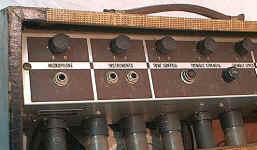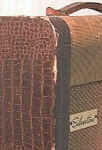 Speaking of faux... here's a Mosrite wannabe, the (mostly) 'Space Dot-ted' 1441, close relative of the Silvertone-branded 1445.

1441 Teisco MIJ SBEG VG $499 Clean, light wear, Space Dot looks good, whammy arm missing, looks like the trem is locked by a set screw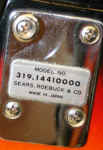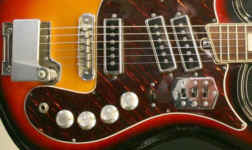 We'll bracket this Silvertonium report with another end-of-the-product-line rarity, the 1477-2. This setup came with a companion 1459 amp, it's schematic, AND the "True Tremolo" instruction sheet! If the buyer sees this, PLEASE email me... Silvertonians need to see copies of that schematic and instruction sheet! I'd also really like to know the return address for the 1459 box mailing label.

1477-2 Harmony SBEG w/ OC VG $550 Clean, light wear, logo strong, 1459 amp clean w/ minimal wear, original amp box and paperwork incl.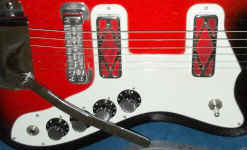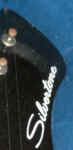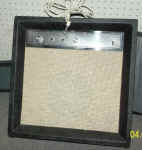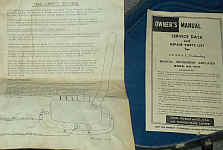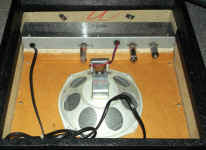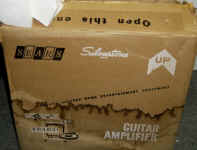 And, if you've a hankerin' for one of these rare red-foil lovelies, there's another up on ebay rat now!




4/20

Buck Owens Coloring Book? Yes, please! Don't know if I'll score one tomorrow at Schoolkids in Raleigh at the Record Store Day wingding tomorrow or not, but I will get to see the Dex Romweber Duo, pick up some unique vinyl, and a pass out a few Silvertone picks, though! See you there!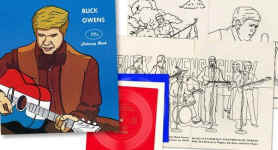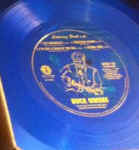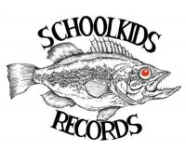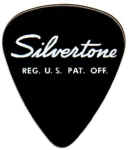 4/19

The Amp of the Moment seems to be the venerable 'combo' 1482. I've seen a bunch roll through the auctions the past coupla weeks, and I though I'd just bring you a quick gallery of 'em. All hovering in the $300-$400 dollar range, and all of 'em lookin' pretty good.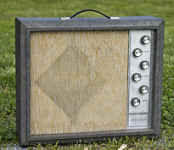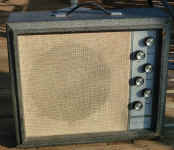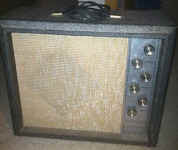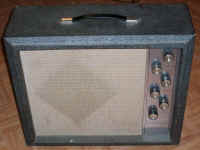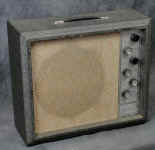 We've also seen a trio of the rarer earlier sister amp, the refrigerator-handled red-border control-paneled 1472 over the past few days. he first one had the 'tremlo' misspell and was sold as non-functioning ($203), the second had the misspell, a little covering tear, but it was working and went for $250. The last one in the line-up was spell-checked, clean and tight and crankin' (although the red border was oddly 'crackled') and went for a cool $450.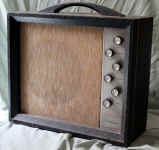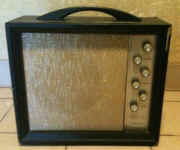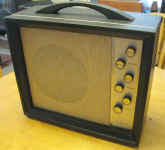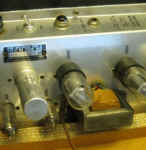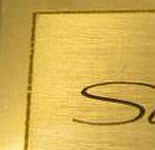 BTW, if you haven't checked out the re-vamped 1482 and 1472 pages... get on over there!




How about a couple of dandy 1454 Harmony-built guitars?

This first one included a 1482 amp in the deal, and the seller is the original owner!

1454 Harmony HBEG w/ OC E $1477 Clean, minimal wear, logo strong, amp clean and operational with footswitch and schematic/manual, instructional books incl.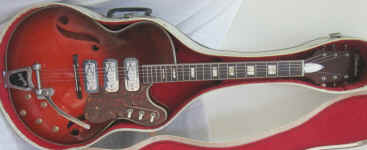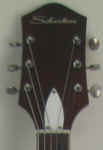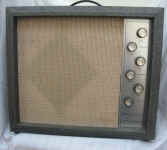 1454 Harmony HBEG VG $900 Clean, light wear, some cord melt on upper bass bout, NS tuners, NS bridge, some finish checking, logo worn, (1) knob missing, small stress crack at jack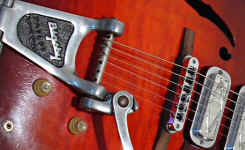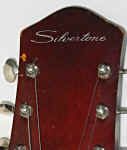 4/17

Spring Break was fun, now back to Silvertonium! I've got a pretty one to show you first up today! It's the VERY seldom seen Harmony-built model 1324, available from 1956-58; I'm surprised we don't see more of these on today's collectors market. Unique pickguard/electronics package, and an unusual (for a Harmony) headstock. Here's an example where rarity brought in some money.... not always the case.

1324 Harmony HBEG VG $550 Clean, light wear, some solvent spots on headstock, 'deco' logo strong (except where marred by those drips), knobs/'Hershey bar' electronics look/work good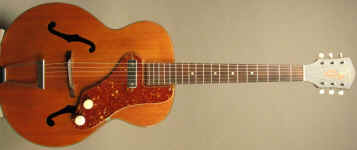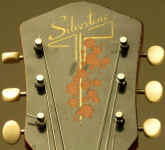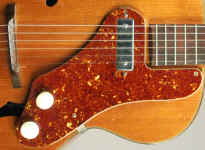 Here's another treat or two that bloomed recently...

1411 Kay SBEG VG $153 Clean, light wear, light checking, logo strong, tailpiece a bit dull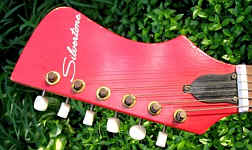 Here's a full 1483 setup...

1483 Dano tube amp and speaker cabinet E $380 Clean, minimal wear, all tubes stock, cabinet stamping indicates Summer 1965 build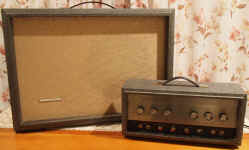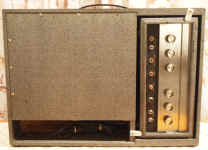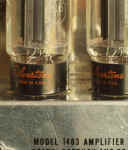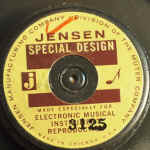 And a rare mid-40s Kay banjo to round out the sprouts...

761 Kay Banjo VG $105 Clean, light wear, light tarnish to hardware, logo strong, new head and bridge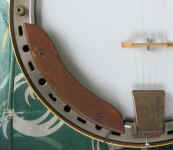 4/7

One More Silvertone 'Easter Egg' in Dolly Parton world. I caught the 'Early Show' on CBS this morning, and Rebecca Jarvis interviewed Dolly. She mentioned that the interview was conducted in Nashville, and before the main 'sit down' portion of the bit commenced, they cut in a shot of Dolly coming in and getting situated in the little 'Cracker Barrel Corner' that had been set up for Dolly's (apparently) many interviews to promote her new DVD/CD, sold only in Cracker Barrel stores. If you've ever eaten in one the chain's famous stores, you'll be familiar with the look: vintage looking planking for walls, covered in a hodgepodge of vintage 'down-home' items. Everything from vintage theatre and concert posters to woodcuts to oil cans to cross-cut saws to bicycles to washboards to vintage advertising signs (LOTS of 'em) to... well, you pretty much name it. If it's an unusual or sometimes even run-of-the-mill vintage piece, it's likely hanging in a Cracker Barrel somewhere. I'd LOVE to be the 'buyer' for them.... what a job! Anyhoo, many of those interesting things hanging on Cracker Barrel walls across the country include musical instruments, and, since this was Dolly, Cracker Barrel went heavy in that direction. Couple of banjos, a Kay mandolin, and this morning we got a much better look at the Silvertone on the wall that I showed you yesterday. So, courtesy of a 'behind the scenes' type cutaway, here's that 600 series Silvertone used as a proper prop to bring a sense of home and Americana to this artificial down-home set.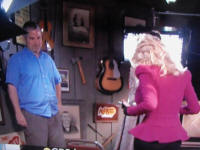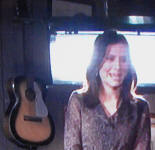 4/6

Always Fun to Discover new and unexpected things while exploring the wonderful place that is Silvertone World. Remember a few months back when I said I do consider Silvertone World a real world, unfolding in its own time, in our time, echoes of ephemera and snippets of sound and great guitars and hunks of hardware and awesome amplification, all winding their way from the past into our now. I do believe that, and that's a bunch of fancy talk to get to the fact that I just found a HURDY-GURDY in the 1969 Wish Book! Can you believe it? I was perusing the pages of the '69 Wish Book, and there it was in the first few 'intro' pages, the place where the Sears marketing department would go all out, placing their myriad products into social or practical or sometimes unlikely, fanciful or fun situations to entice you to buy. You can see the dinner party guests looking on as Mr. Turtleneck cranks the hurdy-gurdy up, and we even get a little history lesson on the origins of the instrument and its manufacturer, Vincentes Llinares, from the fine folks at Sears. I imagine its high price kept it from gracing too many living rooms, and I am really kind of puzzled at its appearance at this time... or maybe not... Donovan (who was a HUGE musical presence/influence/star at the time) had just had a hit with "Hurdy Gurdy Man" the previous year, and this was the first Wish Book after Woodstock, so who knows what was going in on the heads of Sears marketing? So, ladies and gentlemen, hippies and hipsters, squares and screwballs... here is, for good or ill, the Sears Model X57C2585N2...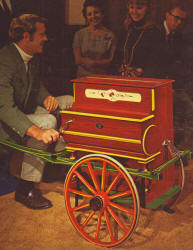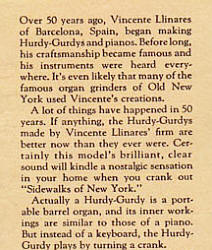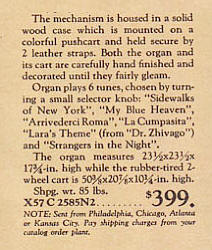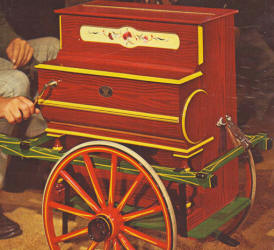 In the first clip, you can hear the percussion accompanying the 'barrel piano' sounds of the machine, and in the second clip dig the sounds of proto-Zep Page, Jones and Bonham (still hotly debated, apparently) on Donovan's trippy "Hurdy Gurdy Man."





Whenever I see six strings (or any instruments, really) on TV or in a movie, I start looking for clues, hoping for a Silvertone sighting. This happened last night when I was turning the TV off. I set the TIVO receiver to the channel we like to wake up to the news to, and turn the TV off. Last night, as I made the usual adjustments, Dolly Parton's familiar face popped up on the screen. Dolly was discussing her thoughts about Whitney Houston's recent demise and the fact that the two of them will always be 'linked' by her song "I Will Always Love You." Dolly and the Inside Edition interviewer, Megan Alexander, were sitting in what looked like a Cracker Barrel-built set (Dolly's releasing a live DVD/CD set through the countrified restaurants), and a Kay mandolin hanging on the wall caught my eye, and set me into 'hunting' mode. My efforts were rewarded about halfway through the interview when something caught my eye at the very edge of the screen. Then in a quick close-up of Alexander, a Harmony-built 600 series Silvertone six-string appeared on the wall just behind her.... it even had the common broken bridge! I love surprises!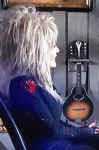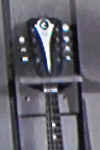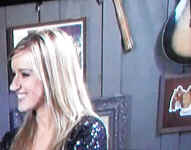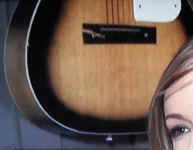 Oh, and I've also included a clip of the original (and best) "IWALY," a song Dolly wrote about ending her partnership with Porter Wagoner.


Speaking of Kay, here's a rare Kay-made bolt-neck version of the 604.

604 kay FTAC G $103 Clean, edge/back/top wear, pickguard missing, NS nut, NS tuners, logo strong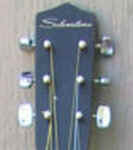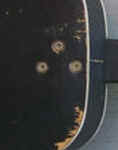 4/4

ELECTRIFY Your Guitar! Kinda says it all, doesn't it? One of the nicest of these setups I've ever seen, and the selling price certainly reflects that.

1398 DeArmond Dual Pickup Attachment E $250 Clean, minimal wear, chrome shiny, fully functional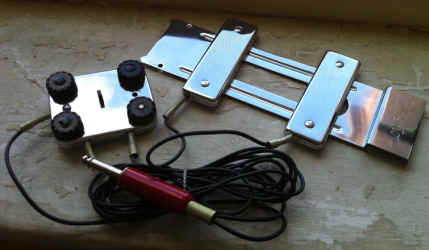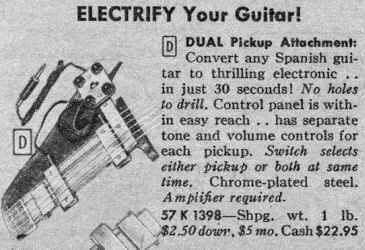 4/3

MY Time Machine Would Take Me To... NEPTUNE! New Jersey, of course... say, about 1965. The "Ampincase Age" of Dano-built Silvertones. I'd have a video camera, plenty of tape, and I'd make a stack-of-Masonite-to-glitter-covered-marvel film of a 1448 guitar, just like this great piece from Fender Films, a time-lapse slab-to-stage film of a Stratocaster being created.


I'd also spend plenty of time in the amp construction area, and sit down for a looooong talk with Nat Daniel.


A visit to the Harmony plant in Chicago would have been pretty sweet, too...

1446 Harmony HBEG w/ C VG $1500 Clean, light wear, pickguard not installed (but incl.), logo faded, some 'cord melt' and buckle rash on the back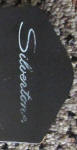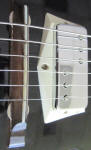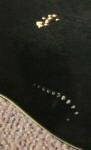 Might as well head over to Kay and have someone explain their wacky number stamping system to me...

658 Kay FHAC G $113 Clean, some wear/checking, bridge worn, logo strong, NS tuners (1 mismatched), some chips out of headstock, screw/filler neck 'repair,' block markers indicate pre-1966 build, sold as project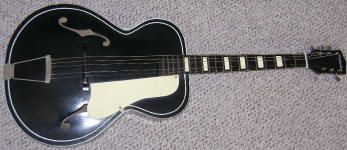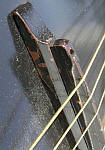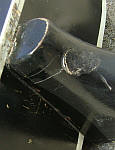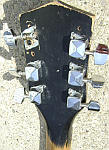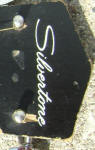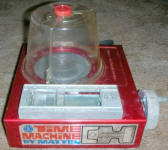 Now... where's that flux capacitor? I swear it was right here on my workbench...


4/2

Kinda Funny that this one gaveled off just before April Fool's Day. It's a run-of-the-mill 'Kentucky Blue,' the popular Kay-made model 653, available from 1955 through 1962. However, the application of a random vintage decal and a replacement Harmony pickguard threw things into a bit of a tizzy. The description declared it to be an ultra-rare "Mohawk" model, made by Harmony. Well, a quick image Google (first term was "red Mohawk decal" which led to "Mohawk gasoline"), and we had the origin of the headstock emblem. And of course, anyone could have fitted the 'Blue' with a Harmony-branded pickguard. Those odd marks at the top of the headstock above the Silvertone logo lead me to surmise there may have been an emblem installed there shaming the good Silvertone name at some point as well. Maybe a promo item given away by a Mohawk franchisee? Anyhoo, sound and fury, signifying nothing... the guitar brought about what you'd think a 'Blue' in OK shape would bring.

653 Kay FHAC w/ C MOD $228 Clean, light wear, logo strong, some paint on fingerboard at the 17th/18th frets, some blue touch-up on back top of headstock, NS pickguard with play-worn Harmony logo, bridge screwed down, 'Mohawk' decal, puncture marks at logo, stamped L1331 5520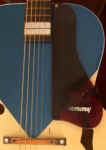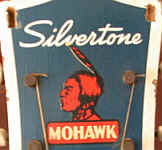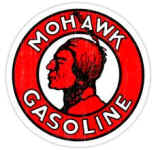 Here's something sweet that I was just too busy to squeeze in last month, so here 'tis. It's a Supertone mandolin, based on the Harmony-made 'Patrician' of the mid-30s. I love how the pickguard is cut to match the f-hole.

393 Harmony G $250 Playing wear, logo faded, crack on bass side at f hole, replacement nut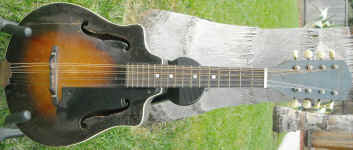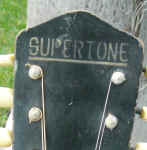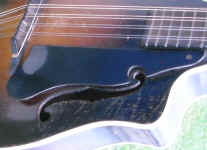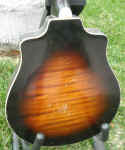 After what seemed like a slack March, sales-wise, it looks like the purse strings have loosened up a bit (or more likely, the tax refunds are coming in) in the past week or so and the Silvertonium is a-flyin' off the auction shelves again!

Work on Every Silvertone Ever™ continues as I am finishing up the Dano-built guitar family.




Help keep Silvertone World 'on the air.' Buy some picks!

| | | |
| --- | --- | --- |
| | You'll be grinnin' while you're pickin' with our exclusive new Silvertone World Custom Picks! Head over to the Pick Store and grab a dozen or two in the bulk pack for some serious Silvertone-flavored strummin', all at great prices and free shipping on US orders. | |



MODEL # / MANUFACTURER / INSTRUMENT TYPE / CONDITION / PRICE / NOTES

Abbreviations: M-Mint, NM - Near Mint, E- Excellent, VG- Very Good, G- Good , F-Fair, P-Poor, NS- Non-Stock, HBEG- Hollow Body Electric, FHAC- F-Hole Acoustic, FTAC- Flat-Top Acoustic, SBEG- Solid Body Electric, SSEG- Semi-Sold Electric, MIJ- Made In Japan, MOD - Modified significantly from stock, w/ O/C Original / Case, DNS - Did Not Sell; used mainly to show an item of interest whether it sold or not.

Unless otherwise noted, I'm rating them by what I see in the pictures and read in the description.

The items depicted on this page are not for sale by Silvertone World. These are reviews of items from completed ebay auctions on or around the date specified.

Links in blue open in a new window, and take you to a Silvertone World info page, a period catalog listing, or a link of interest.