November / December 2012


12/18

Well, seeing as I haven't updated in a couple of weeks, I guess you can tell the season is getting the better of me. I did post some great new vintage holiday ads from Sears, if you'd like to give them a gander... I'll see you bright-eyed and bushy-tailed in January!



11/29

Wrapping Up November in fine style, with some amazing bits of Silvertonium. We'll start things of with two dynamic duos that have managed to stay together for several decades, and it's nice to see them carry on together.

Our first rare pair is a faux-alligator-and-tweed 1331 combo amp and a "Newport-"style Harmony-built guitar, likely model #1380. I say 'likely,' because this model was never listed in any catalog. I did, however, come across a newspaper advert galley a year or so ago that I bought on ebay that revealed the yellow model of this guitar to be the model #1379, from late 1956, which fits right in with the availability of the 1331. Click on the graphic at the end of the lineup to view the vintage 1956 ad.

1379 series Harmony SBEG paired with 1331 Dano tube amp G $910 Both could use a good cleaning, amp powers on but otherwise untested, estate find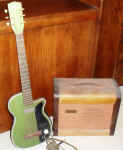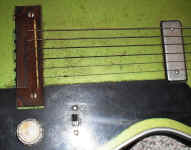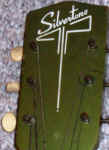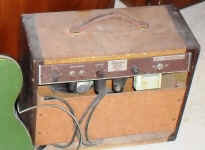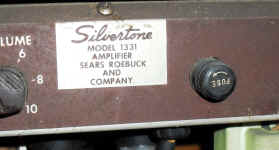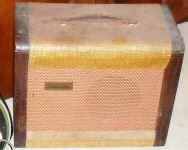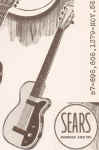 Next up, we have a 'Wish Book-'only inventory-clearing pair made up of a Kay-built 'Value Leader'-based guitar that was sold with a 1407 Sears tube organ amplifier.

1412L2 (combo model number w/ 1458 guitar and 1407 amp) VG $XXX Clean, light wear, logo strong, seller says "Tuners replaced with period correct set. Original pickup selector switch replaced (will include original). Guitar has been wired to bypass the tone and volume controls, however there are brand new pots included, should you choose to activate. Tiny part of bottom of pickguard is broken (pictured), causing you to be careful when un-plugging instrument cable. Guitar sounds great, but can definitely use a re-wiring by a professional. Original chipboard case is in great shape. Amp: Lots of visible water damage from long ago on top and back of amp. Bright and beautiful vintage tone (not the "woofy" sound of other similar period amps). Volume and vibrato work perfectly! There is a low-frequency hum, as the amp comes with the original two-prong power cable (3-prong conversion can be performed by your local pro amp repair guy). Tubes have not been replaced, and the amp has not be serviced. This amp does require a RCA-to-1/4'' connection for your instrument."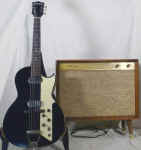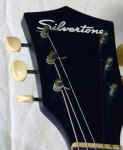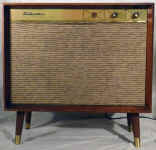 How about a couple of big, beautiful 'Aristocrats?' The very first, in fact!

712 Kay FHAC VG $420 Clean, light wear, logo laminate looks good, Fishman pickup added, NS tailpiece, some tuner button shrinkage, modified pickguard (faux tortoise overlay)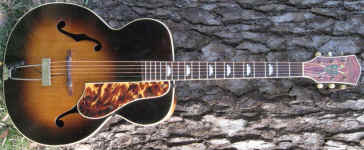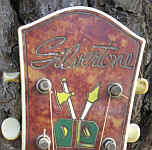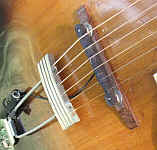 712 Kay FHAC w/ OC VG $200 Clean, some wear and scratches to top, logo laminate looks good, some rust to tailpiece, some tuner button shrinkage, interesting two-tone wood to fretboard, seller says "The action is really high, it definitely needs a setup."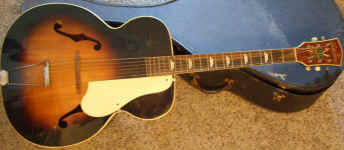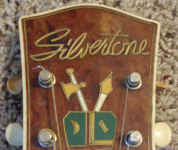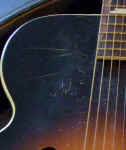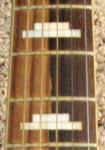 Let's take a quick visit to the late 1930s with this beautiful Silvertone "Crest." Check that fancy binding!

2255 Harmony FHAC VG $595 Clean, some wear and light checking, logo laminate looks good, stamped S-39, serial #2591H2255, seller says "Looks all original aside from the repro pickguard & endpin. One small cleated back repair (stable). Heel strap button removed and filled. Case in good condition, taped handle and shows wear."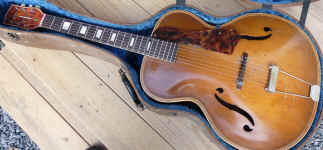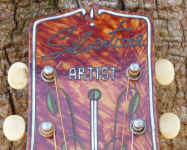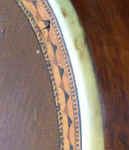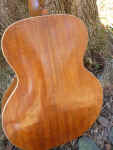 Lastly, but certainly not leastly, is this fine 1429 from our friends at Harmony.

1429 Harmony HBEG w/ C VG $1375 Clean, light wear, logo intact, truss rod cover broken at tip, stamped S-60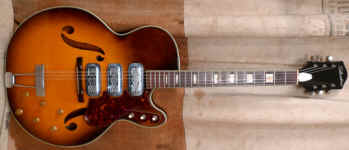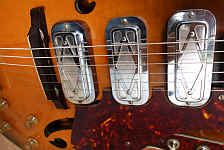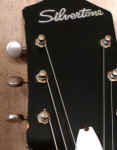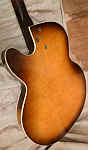 11/23

How About SILVER Friday? Sounds good to me! Here's some real 'doorbusters' for ya!

1384/5 Harmony HBEG w/ OC E $2500 Clean, minimal wear, logo intact, light oxidation to p/u covers, serial #3956H64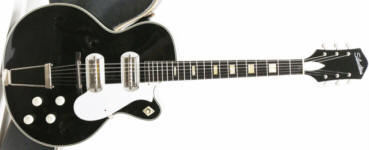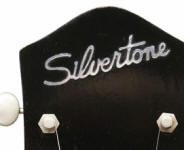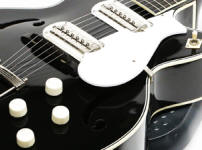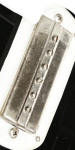 1384/5 Harmony HBEG w/ OC G $545 Clean, fair amount of wear, finish checking/flaking on side, logo intact, 'S' on pickguard shows some wear, back separating at upper bass bout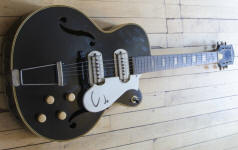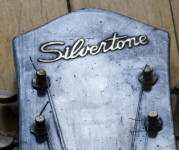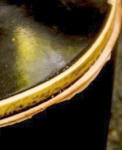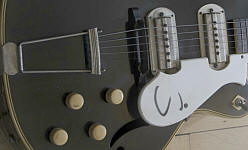 A little Dano action with this 1450 (hey, remember to check the new page for this guitar!)...

1450 Dano SBEG G $490 Clean, edge/surface wear, logo strong, split at neck attach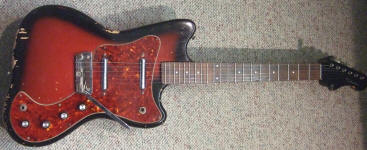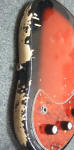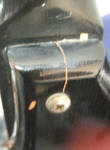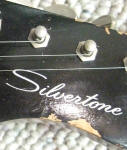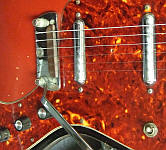 Let's go waaaaaay back to the late 30s for this terrific Valco-made amp, the Supertone 2310/11 or as the catalog designated the outfit in 1938, the 2298.

2311 Valco tube amplifier VG $305 Clean, some covering wear, hole in speaker grille, AC cord replaced, handle taped, note overstamping on model number plate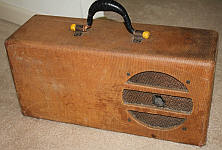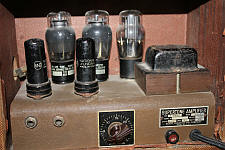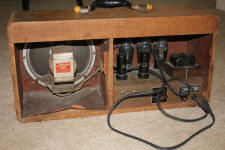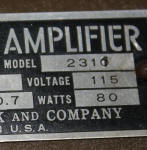 Here's an exciting note; you can still get the incredibly rare lap steel (that had to be Valco-made too, right?) that went with this baby! I'm not sure I would have split 'em up, but I ain't the seller...

2310 Lap Steel Auction link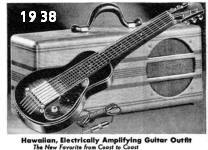 OK, if you took Chris Isaak on a trip to Jupiter and had Hello Kitty with a can of spraypaint as a stowaway, here's what you'd get:

1423/1446 Harmony SSEG MOD $1250 The body and neck of a 1423 and the guts of a 1446, with a classic LP stop tailpiece and adjustable bridge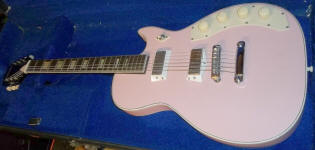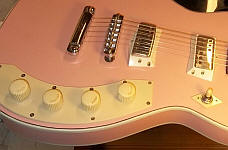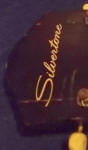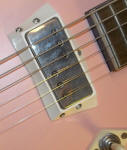 1487 Teisco SBEG with solid-state amp on board VG $299 Clean, light wear, logo strong, orig. strap and gig bag incl., amp non-functional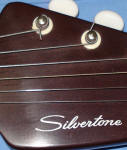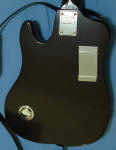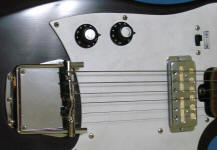 1381 Kay SSEG VG w/ OC $1150 Clean, light wear, light checcking, top strap button re-located, logo laminate and pickguard design strong, case missing handle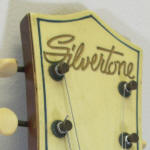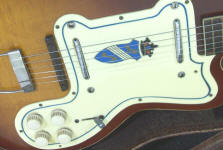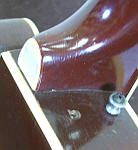 Let's intro this next segment with a neat little find; a Chris Isaak / Silvertone flyer from the very early days of the band... say... oh, mid-1980s. It's for a gig at the On Broadway Theatre, right above the famous Mabuhay Gardens (the 'Fab Mab'). Check the detail pic with Chris holding his 1446! How did this piece of ephemera come to us nearly 30 years later in such great shape? Seller says "I asked the person I got them from how they managed to be so pristine, that he obviously didn't take them off telephone poles like I did way back then. He said he picked them up from stacks at record stores, then he would slide them in between the records he bought in the bag, then put them in a file folder when he got home." Oh yeah, the flyer went for $20.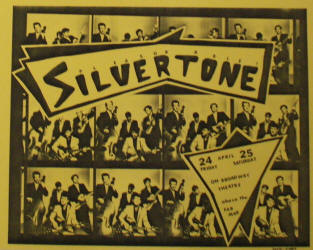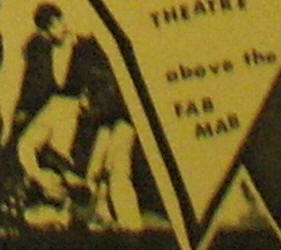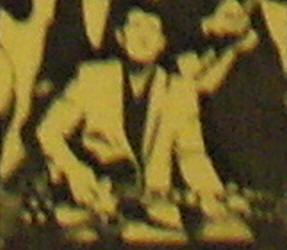 Now, on to a few choice 1446 models and some parts to build yer own!

1446 Harmony HBEG w/ OC G $800 Clean, light wear, pickguard missing, logo strong, NS Seymour Duncan Firebird bridge pickup (dead orig. incl.)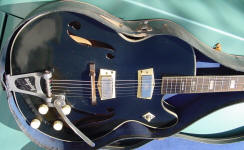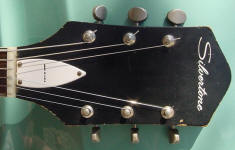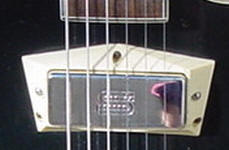 1446 Harmony HBEG w/ OC VG $1030 Clean, light wear, logo strong, screw holes in headstock (looks like the logo was temporarily shamed)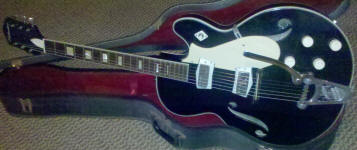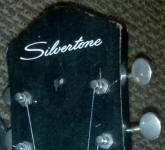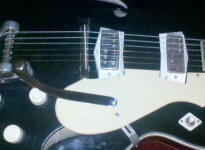 1446 Harmony HBEG w/ OC VG $1032 Clean, some edge wear, some finish checking/flaking, logo intact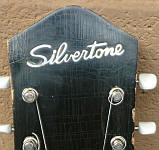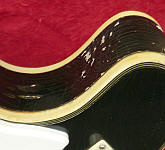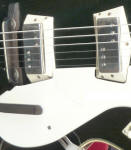 1446 Harmony HBEG w/ OC VG $1175 Clean, light wear, logo strong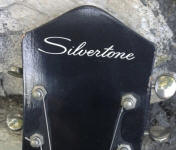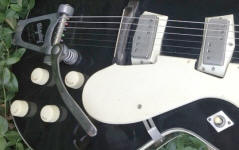 Here are a few 1446 parts, all going for a nice sum, the first seven lots from the same seller, so probably the same guitar.

Body / neck $228 Truss rod cover and nut incl., logo strong, long crack on bass lower bout repaired ('not the best work' says seller)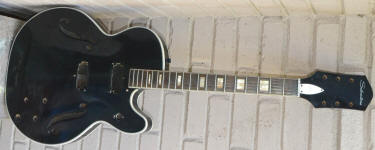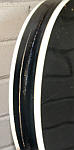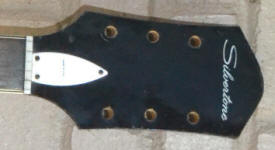 Pickguard $75 Missing bracket and bumpers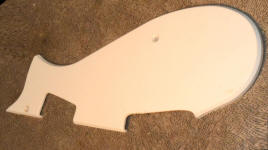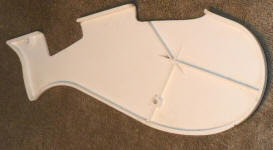 Pickup and mounting bezel $158 Patent number sticker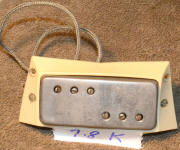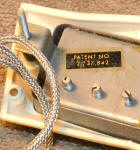 Pickup and mounting bezel $183 Patent number sticker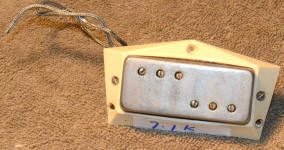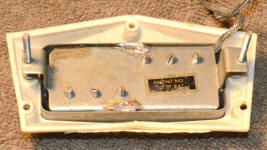 Tuner set $204 Screws/ferrules incl.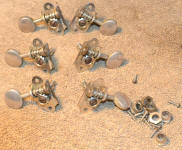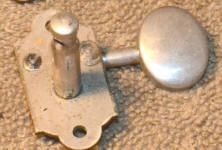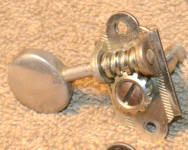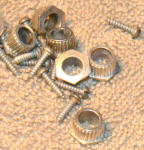 Knob set $79 Some dings and paint smears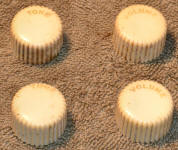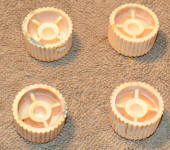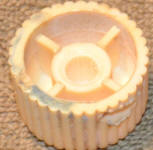 Bridge assembly $41





These three parts are from a different seller.

Selector switch mounting hardware $20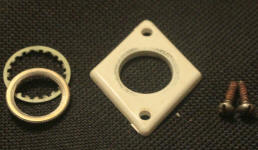 Neck, nut, neck attach screws $62 Truss rod cover missing, fret & fretboard wear, some binding peeling away on treble side near nut, logo strong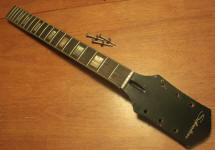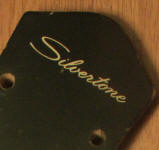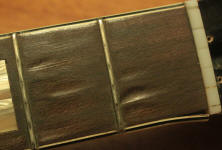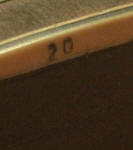 Pickup mounting ring $30 Body attach screws incl.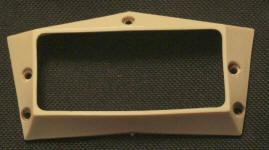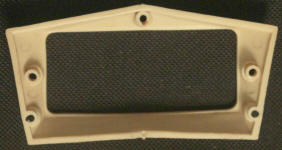 11/13

We've Got It Good here in Silvertone World, let me tell you. We love crazy old designs from the past, some of our favorite artists are still playing Silvertones, and we can get our very own Silvertone guitar or amp for way less than some misguided, trend-driven person paid for this Chanel bag... $2600?!?!? Seriously? If you had put this bag in with any number of $10 bags from the bargain store, I would not say this one looked out of place. In fact, here, you... you pick out the 2,600 dollar bag.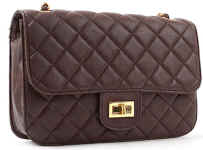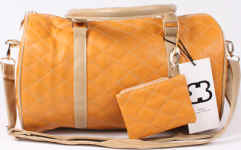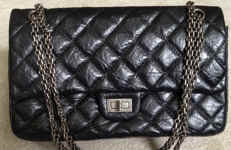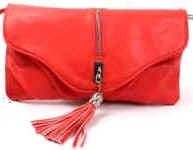 Give up? It's the third one from the left, a "Chanel Black Classic Flap Bag New Silvertone Hardware," the same kind that Victoria Beckham carries (well, maybe)! Whoop-de-doo! The other bags? All results of $10 already sold eBay auction search on "purse." The only reason the expensive Chanel slipped into my eBay search was because of the Silvertone (which looks more bronze-ish to me, but whatever) hardware, and this is what got me ol' brain-wheels a-spinnin'...

Rare? Oh, yeah! But look at that price! One of the rarest Silvertones available, one of the very first production model electric guitars available, a milestone in Dano/Silvertone history.... and not even $700. Plus, we get something just as valuable out of the auction... a look INSIDE! Check how the 'duraluminum' rod has notches cut in it to accept the pickups. Note that the bridge is not mechanically coupled to the square rod that runs the length of the neck and stops just shy of the bridge. In the second picture, see how the (not-yet-lipstick-tube-covered) pickups are merely taped to the back of the pickguard, nesting in their vacuformed bumps, and check the huge plate the circuitry is built on. Third pic, check the fitting cuts in the pleather covering as the material is applied to the guitar.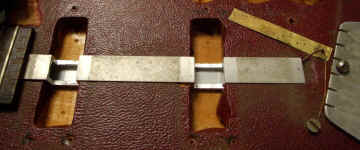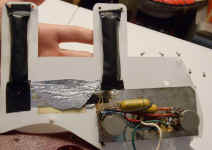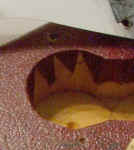 1377 Dano SSEG VG $644 Clean, light wear, some chips out of pickguard, 'lightning bolt' logo laminate looks good, covering wear at cutaway, bottom strap button off, some neck issues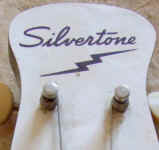 OK, here's a super-rare, Valco-made combo amp from the late 40s, and we didn't even break half a grand! Also, this auction revealed a design 'feature' in these amps; check the last photo in the 1340 line. See that brown paint to bare metal fade? The fade area is underneath the amp chassis on the side the tubes are fastened. I guess the paint person on the Valco assembly line just shot along the front edge of the bent chassis that were clamped up somehow to allow the underspray that we see. After I noticed it, I went back to confirm it in other 1340s. Some examples, the paint edge cuts off clean (as if blocked or taped) and fades like this one in others.

1340 Valco tube amplifier VG $440 Clean, light wear, 'Silvertone' on grille a bit faded, handle looks good, insides clean, attached schematic in good readable shape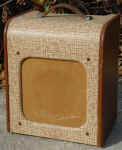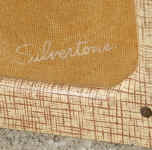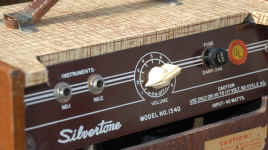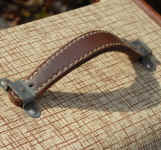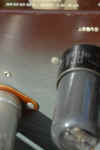 How about this fine 'dolphin nose' headstock'd late-era Dano-built Silvertone? Just $650!

1417 Dano SSEG w / C VG $650 Clean, some neck and surface wear, logo broken/worn at 'S,' internal stamping indicates 1960 build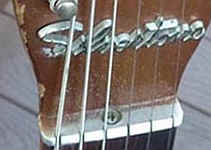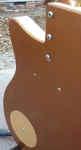 You could get this much-sought 1478 'Silhouette' in terrific condition for way under a grand!

1478 harmony SBEG w/ OC VG $610 Clean, light wear, logo not visible in auction photos, some 'cord melt' on back, orig. strap incl., warranty slip incl. dated 1/23/1965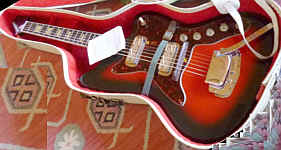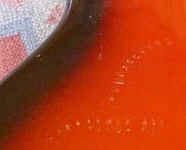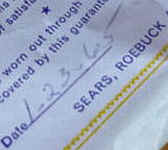 One more low-cost but high-rarity item, the Silvertone-branded version of the electric 1406. Made in Japan, this guitar went through a few shape changes as well as miniscule model suffix changes. Today's fine example of the very early metal-logo Silvertone-branded 1406 went for a mere $86. Collector's item on the cheap!

1406 MIJ VG $86 Clean, logo intact, light wear, volume knob insert missing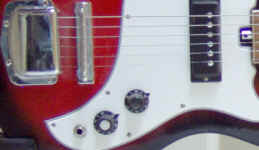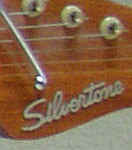 If I'd been paying more attention, I would have bid on this great autoharp setup, complete with the Mother Maybelle record, and a lot of fun vintage song and how-to books. I love the painting on the cover of the Meg Peterson book! Great setup, quality autoharp. All for less than you'll spend on people you _don't_ care about this holiday.

2574 Oscar Schimdt Autoharp w / OC VG $91 Clean, light wear, tuning wrench incl., Sears-produced Mother Maybelle record, picks, and lots of books incl.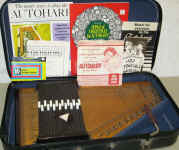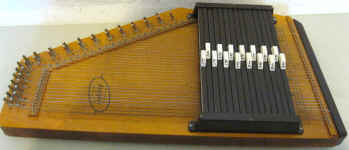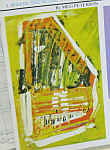 11/7

The Results Are In... and the Winner is... SILVERTONE!!! Yes, indeed... after an exciting campaign, you've voted with your clicks and put Silvertone World in the Top Five in many of the world's top search engines. Thanks, and we'll try not to let you down!

How about a fine 'Kentucky Blue' to start the day? Hey, it works if you're feelin' blue... or are on the blue team. I try my best to stay above the fray here...

653 Kay FHAC w/ OC VG $275 Clean, light wear, logo strong, pickguard present, light rust to tailpiece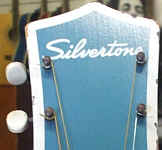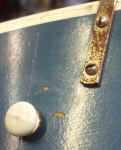 Well, as luck would have it, it's a fine RED 1488!

1488 Harmony SBEG w/ OC VG $650 Clean, light wear, logo shows light wear, whammy arm missing, pickguard stamped July 1965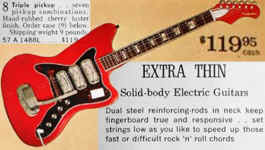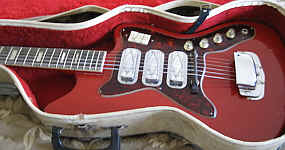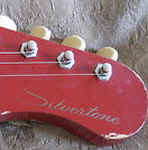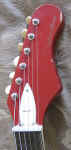 And we'll close out this post-election day recap with the nicest Buck Owens 'American' to sell recently, this one signed by the man himself!

1219 Harmony FTAC VG $1100 Clean, light wear, logo laminate show s some discolor/wear, stamped F-70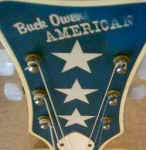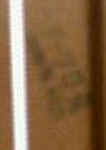 11/5

VOTE! To all my American friends - please get out tomorrow and exercise your privilege to vote!





November off to a fine start with some sweet Silvertonium up from the mines. Check this right nice 1460 from our friends in Japan!

1460 Teisco MIJ HBEG VG $258 Clean, logo broken, light wear, whammy bar present, truss rod cover missing, some corrosion to chrome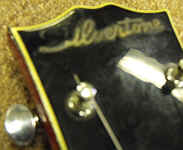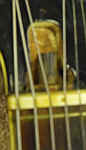 Here's the rare end-of-the-line variant of the super popular 1477. I daresay the 1477 was the largest-selling American-made solidbody Sears ever offered.

14773 Harmony SBEG VG $380 Clean, light wear, logo strong, whammy bar present, original strap incl., headstock stamped 1479, but listed as 14773 in the catalog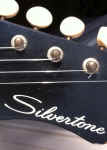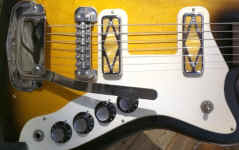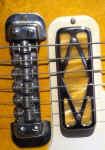 And a 'normal' early whammy-less 1477 for comparison; note the smaller knobs, non-roller bridge and silverfoil pickups

1477 Harmony SBEG VG $380 Clean, light wear, logo strong, (2) knobs missing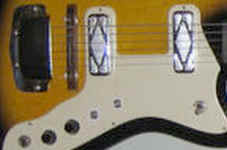 This 'Chris Isaak' has lost most of its Silvertone badge of honor, and has some other cosmetic/non-stock issues, but still went for a pretty penny.

1446 Harmony HBEG G $841 Clean, some finish wear/flaking, pickguard has a crack, logo nearly gone, fingerboard wear, jack repaired, Bigsby finish worn away and arm detached, NS bridge, NS tuners, (1) NS knob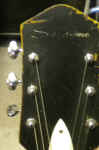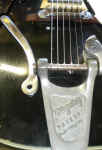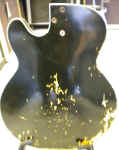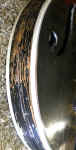 A little acoustic action with the popular Harmony-made 615, an early favorite of the inimitable Dex Romweber. Hit the link to see him and Crow playing "Who Can I Count On?" from "Two-Headed Cow."

615 Harmony FTAC w/ OC VG $88 Clean, light wear, logo strong, light rust to tuner plates, serial #5042H615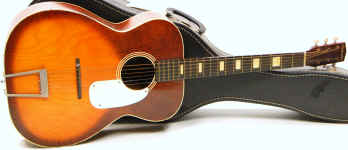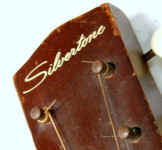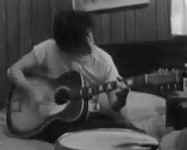 How 'bout some amplification? Here's a a rare faux alligator and tweed 1333, then a run-of-the-mill 1484, followed up with the transistorized '5XL,' a 'Space Dot'-era amplifier from the mid-70s.

1333 Dano tube amp VG $450 Clean, light wear, handle worn, footswitch incl., tremolo mentioned, but functionality unconfirmed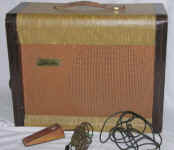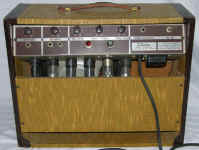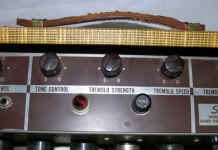 1484 Dano tube amp and speaker cabinet VG $465 Clean, light wear, some oxidation to control face, rev feebs back, tremolo functional, speaker cabinet worn on bottom, logo missing from grille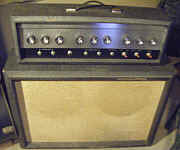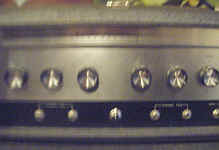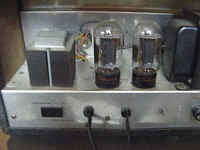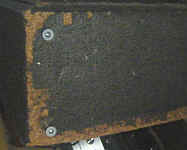 1420-4 Sears solid-state amplifier G$ 120 Clean, back missing, love the copy from the listing: "Pick this guy up & thank yourself later. Not for the valve purist or any hung up type of player. It's a little ol early solid state piece that is as funky as they cat who buys it."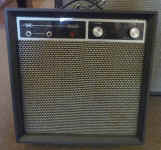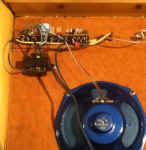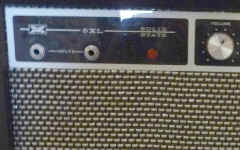 Haven't seen many mandolins lately.... but here's a rare one in OK shape, sporting the chime-less 'wind chime'-style script logo, pegging this model to the late 40s/early 50s.

750 Kay Mandolin G $75 Clean, some surface wear, logo strong, binding looks good, tuners deteriorating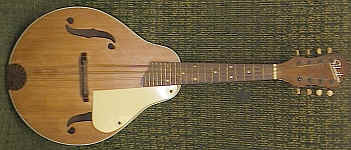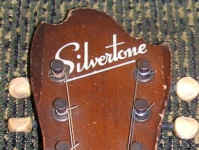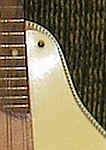 Time To Get Your Pick On! The pick store is back with classic black 'thin script' logos on a white matte-finish Delrin pick.
Our first batch sold out fast, so get 'em while they're hot!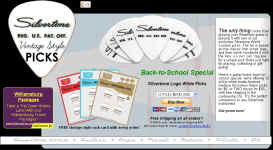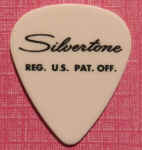 Make sure to visit September 2012; we saw some great stuff as fall got underway!

MODEL # / MANUFACTURER / INSTRUMENT TYPE / CONDITION / PRICE / NOTES

Abbreviations: M-Mint, NM - Near Mint, E- Excellent, VG- Very Good, G- Good , F-Fair, P-Poor, NS- Non-Stock, HBEG- Hollow Body Electric, FHAC- F-Hole Acoustic, FTAC- Flat-Top Acoustic, SBEG- Solid Body Electric, SSEG- Semi-Sold Electric, MIJ- Made In Japan, MOD - Modified significantly from stock, w/ O/C Original / Case, DNS - Did Not Sell; used mainly to show an item of interest whether it sold or not.

Unless otherwise noted, I'm rating them by what I see in the pictures and read in the description.

The items depicted on this page are not for sale by Silvertone World. These are reviews of items from completed ebay auctions on or around the date specified.

Links in blue open in a new window, and take you to a Silvertone World info page, a period catalog listing, or a link of interest.