Summer 2009

8/29-31

Got a tiger by the tail? No, but we do have a unique example of the famous Buck Owens 'American' model, with its original box, signed by Buck himself, taken from Buck's private stock! The headstock laminate has seen better days, the pickguard needs to be glued back on, and the tuners are showing some major oxidation, but hey... it's SIGNED BY BUCK OWENS! It's from the collection of multi-instrumentalist & singer/songwriter Scott Joss, player for Dwight Yoakum and Merle Haggard, and went for a tidy $759.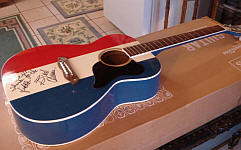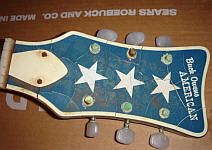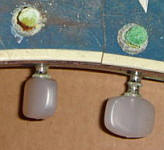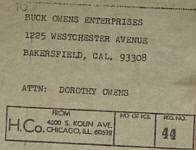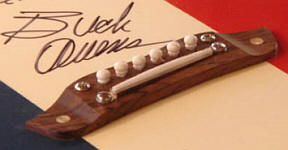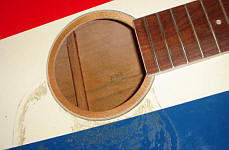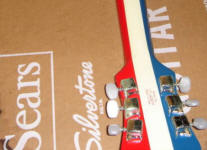 Here's a little oddity from our friends north of the border, a 'Silvertone 40' made in Canada that had no takers on the last day of the month. Solid state with tremolo and a cool little slant-face control panel. Looks like the power lamp is broken. A real rarity - I've never seen a catalog listing for one of these, but then again, I don't have a lot of Simpson-Sears Canadian catalog pages to reference.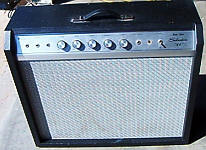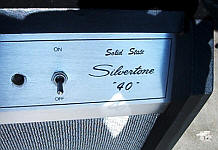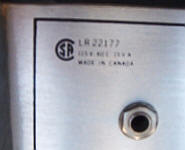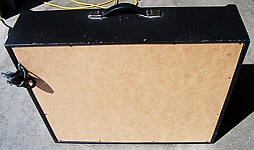 I really enjoyed graphing the sales amounts of the 1448 guitar/ampincase setups and the 1484 amplifiers.
Her are the August graphs: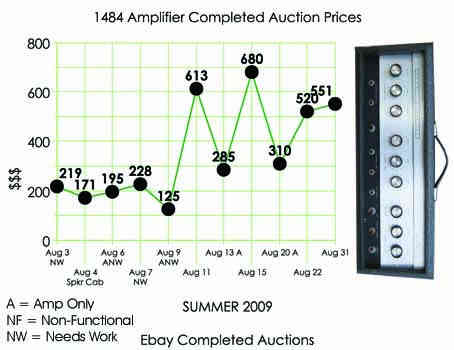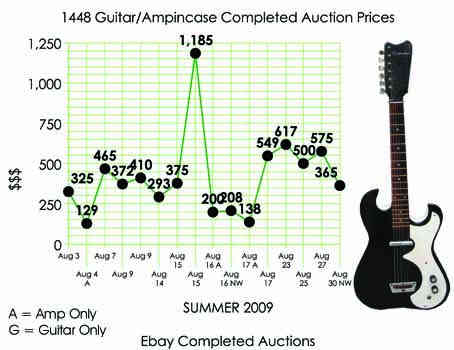 If you'd like to do your own nifty graphs, here's the link to the terrific and easy to use "Create A Graph" page, brought to you by the National Center for Educational Statistics (NCES).

8/28

A very clean example of my favorite Dano-made Silvertone, the 1451, went for half-a-grand today. Stamped 3047 (30th week of 1967), this guitar, along with the 1452 and 1442, were the last of the Dano-made Silvertones to grace the Sears catalogs and stores.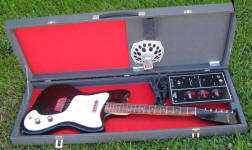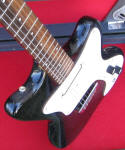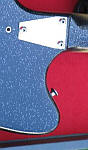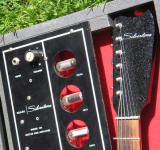 8/27

Here's a beautiful early-50s era 1348 that went for a cool $600 today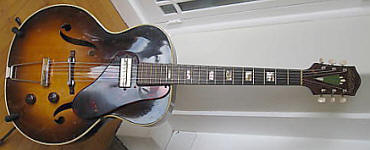 ...and a clean 1957 Harmony-made 605 that went for $150 yesterday.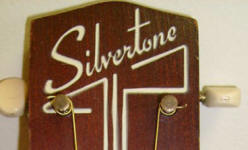 8/26

I really haven't been avoiding y'all... it's just been a s l o w time on the old auction circuit this last of the season.

Here's a big, beautiful Kay-made 1425 that went for a big $635 today: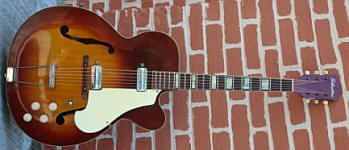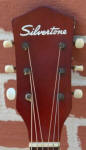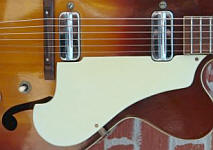 Also, here's a nice 1481 that went for $380 the other day: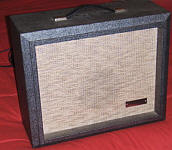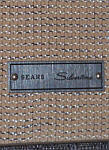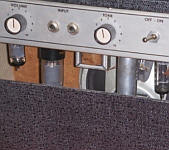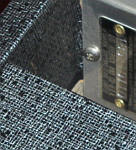 8/14
We started the summer off with the aluminum-bound version of this guitar that sold at auction yesterday. This is the celluloid-bound 1427, the "Black Beauty" that inherited the shape and high standing in the catalog of the 1384 model. This top-of-Sears-line guitar eventually changed/added a few features and became the 1446, the popular "Chris Isaak" model we see so many of. There was some wear to the fingerboard in the 'cowboy chord' area, the truss nut was busted, the logo was missing (with a repro included), and this guitar still went for $855.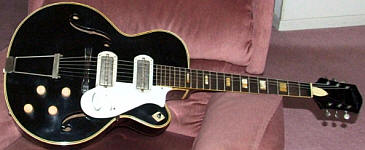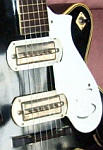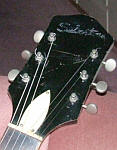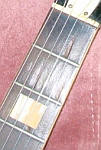 Here's an amp we don't see enough of, the wonderful 1434 'Medalist.'
This one went for $650 yesterday, and aside from the worn handle, looks to be in pretty great shape.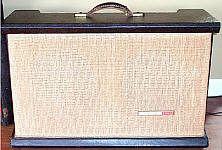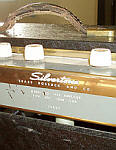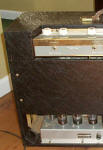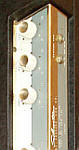 And last, a nice little attic find. This late-60s era 1410 from the Sears "MIJ" collection was one of the last guitars to be tagged with the "Silvertone" logo. I was impressed to see the guitar still had its whammy bar installed. Went for a mere $57.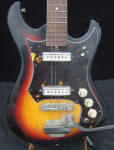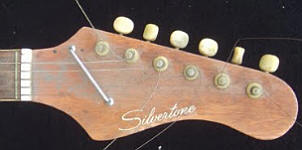 8/13

RIP Les Paul 1915-2009 The innovator who brought us multitrack recording, tape delay, phasing, looping, and,
of course, the solid-body guitar.



Back from the beautiful Outer Banks of North Carolina, and checkin' out what happened in the world of Silvertone auctions while I was away... let's see... only a handful of nice guitars and amps over the past few days, August really is the slowest time of auctioning, it seems...
Now, here's an amp you really, REALLY don't see everyday... it's the 1346, one of the first amps that Danelectro built for Sears back in the early 50s. This one is in pretty good shape aside from the grille stain and a little corner wear, and went for a well-deserved $1148.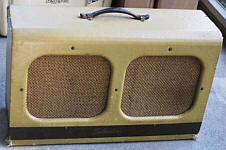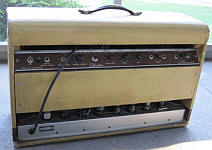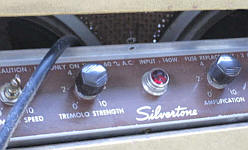 8/7

Yet another August mystery... this time, it concerns an actual guitar, one that I've seen more than a few times, was writing up a page on, then I noticed something wasn't right...

Here's one that sold yesterday, and the seller even ID'd it as a 'Stratotone.' That's the tack I was initially taking a coupla months back when I was constructing the page for the site. However, I really do not believe these are even made by Harmony, but rather by Kay. The more I kept looking, the more I just knew these were Kay solidbodies. So, it would seem to me to be a discrepancy in the catalog, or maybe a production snafu with Harmony. This one is in great shape, and sold for $1300!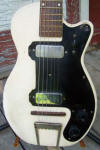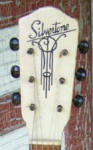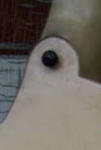 Here's the page for the 1361 and 1363 guitars. Enjoy!



8/5

The "Dog Days" are on us, and the auctions have even slowed down to the pace of a hot afternoon.

Here's a rare guitar; the 1418 only lasted one catalog in Spring/Summer 1968. A few little cracks and bumps here and there, but not too bad. Sold for $250.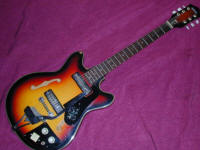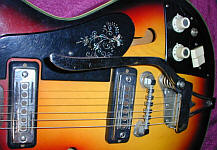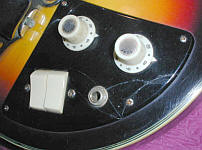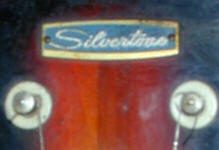 8/3

A nice end to July, and an auspicious beginning to August. Check out this weekend!
First off this August... a mystery! Here is a zither with double and quadruple coursed strings that calls itself a 'piano harp.' It's from the rather generically named U.S. Music Company based (in 1926) in Jersey City, NJ at 87 Ferry Street. The only reference I can find to an 'old' U.S. Music Company puts that organization in Chicago. Anyway, here we have an unusual zither from a long-gone company, nothing special there, right? Well other than the name 'Silvertone' as part of this instruments' labeling, I'd have never even seen it, let alone spend any time researching it. But I've seen it now and I have to ask, is this an infringement on Sears yet-to-used-on-musical instruments trademark? The label notes "Improved 1926 Model," so it pre-dates Sears' use of 'Silvertone' on musical instruments by half a dozen years or so (Sears had been calling its gramophones and radios Silvertone since 1915). If it's the 'new' model, why didn't Sears get them to 'cease and desist' using the name Silvertone before this one came out? The label also indicates "Sold only by advertising demonstration - not sold by mail or retail," so I doubt it was a 'one-off' sold by Sears...
gotta go find one of those catalog repros from the period...
Oh, by the way, it was serial number 1871, and didn't have any takers.
I love surprises!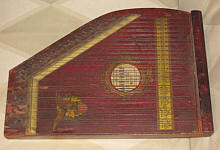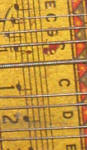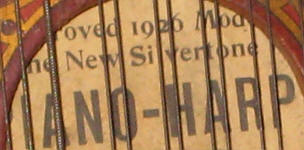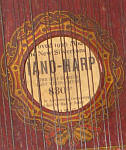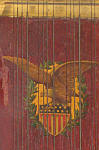 Buyers are still lapping up the Silvertone steel guitars, and this rare Valco-made 2325 "Crest" went for just $170 over the weekend.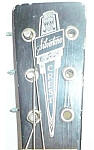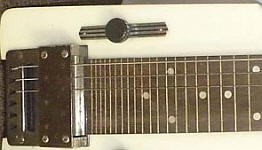 And wrapping up July, how about this rocket red MIJ 1437 with original case? Looks unplayed!
Brought a minty price, too: $1350 !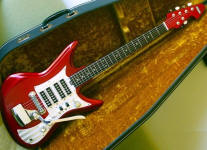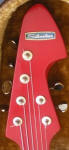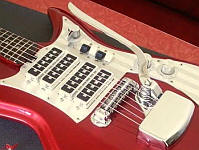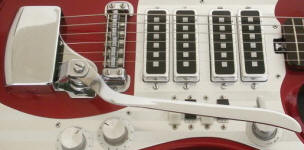 7/31

More lap steel goodness as we close out July. Here's a nice mid-50s Silvertone 1310 model from the fine folks at Valco. How did they get that swirled plastic covering onto the guitar bodies? Did they heat the sheet of material up until it was pliable and form it around the wood body? Anyway, it's nice to see this one with its pickup cover intact, and it went for a steely $599!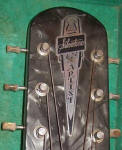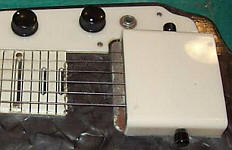 Here are the July Graphs for the 1448 guitar/ampincase and the 1484 amp. The wild ride continues...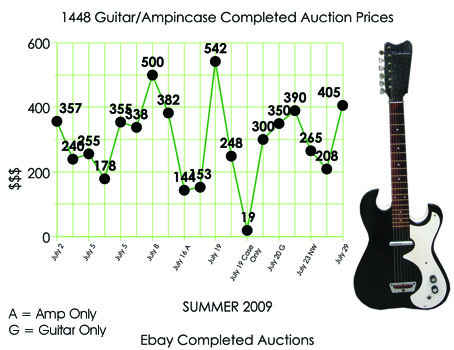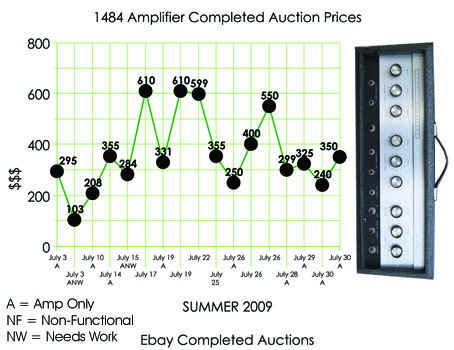 7/30

A rare 2317 made by our friends at Valco went for a nice $351 today; looks like the original case, and the tuner buttons even look pretty good. A little flaking to the pickup finish, but I fully intend to be a little flaky when I'm 68 years old...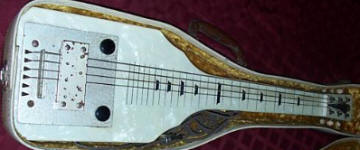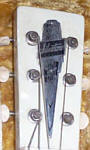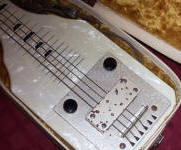 The above auction kick started me into getting the lap steel timeline page up. Enjoy!

Some new pics and info on the Harmony-built, aluminum-bound 'Black Beauty,' the 1384.



7/27

There was a good bit of selling activity over the weekend, I saw a BUNCH of 1484s (see graph below), a 1451, a 1429, a 1449 setup, a 1352, a 1438, a couple of 1304s, and an assortment of other amps and guitars. Possibly the most active weekend so far this summer.

Check out this sweet Kay-made late-50s 678 f-hole acoustic. A few scratches here and there, but for the most part everything is lookin' good: block inlays, wavy pickguard with most of the 'S' still there, and a very nice inlaid headstock, signifying one of the last of this breed (the plastic laminated headstock models were a different model #, but basically the same guitar).
This one went for a well-deserved $687.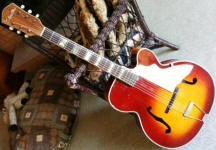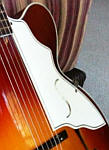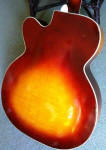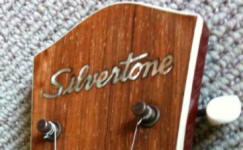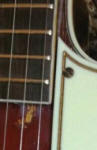 | | |
| --- | --- |
| Well, it looks Space Dot-ish, but I don't think it is. It did, however, have a knob marked "Growl Power" that I thought you needed to see. And what does that second pictured knob say? The seller ID'd it as a 1484 or 85, which it obviously isn't, but it does resemble late-era 'Space Dot' logo'd amps. Almost all identifying marks, however, have been worn away. I don't have any slant-faced amps from that era that match that knob/feature configuration in any of my Sears catalogs. Sold for $139. | |
We don't get to see many naked 1477 models around here, so here's one that went over the weekend for $67. Looks to be the later tremelo'd version.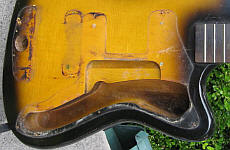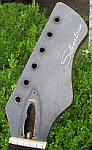 Watched a very nice 1474 come and go (quickly) for a $275 'Buy It Now' price this past week. The lucky buyer got in touch with me after the auction and had this to say about his new amplifier acquisition: "I have owned many amps and my pro friend an amazing amount (also). We were both dumbfounded how awesome ballsy this amp is. I guess people don't know the 1474 is much hotter than the 1483 and other models. It's only because people have never heard the 2 side by side. We were both amazed. This 1474 with 10 tubes/ 4 6L6's is the one. It also has the better Special Design Blue Alnicos not (the) later ceramic speakers. My amp man checked it out and I put a pricey $200 USA NOS set of 4 6L6's. I even have a little cute fan pointing at the super hot guts when it's on. I have owned much more expensive amps I didn't like as well (as this one). If I were a pro player I'd have a wall off them behind me...wouldn't that be cool, about 6 of them at least! When you hear a 1474 plugged in just guitar and amp....most people would never believe it. Past 1/3 volume look out. A Silvertone that can split your ears. I like them better then my Vox AC10's that cost $3000 and some other pricey amps I've had.
I love it when something rather inexpensive and humble turns out a great surprise."

That's why we LOVE SIlvertones, ain't it?



7/23

I'm tellin' ya, the classical guitar just don't get no respect in this rock and roll world - it seems to be the Rodney Dangerfield of six-strings (I hope the ghost of Segovia doesn't haunt me tonight!). Unadorned; no headstock logo, plain bridges, no fret markers or pickguard... the one concession to decoration is usually found (as in this one) in the soundhole trim. This Kay-made 660 got some love yesterday, selling for a better-than-average price. Clean, in its original case, it brought $78, a relatively high price for one our Silvertone-branded nylon-stringed friends. The seller mis-ID'd it as the larger-bodied, more expensive Harmony-made 657, but you can clearly see the differences in the 1967 catalog listing below; the 660 is on the left, the 657 on the right.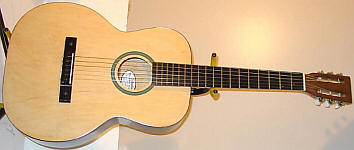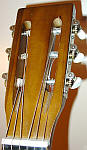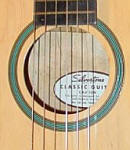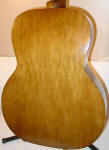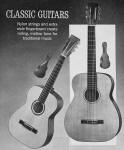 Here's a sharp 702 from our friends at Harmony, nice and clean, with the faux tiger stripe grain in full effect. This one brought $123.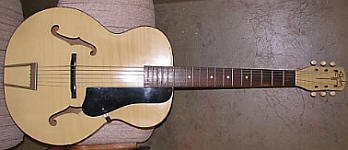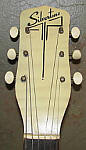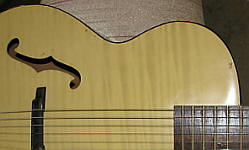 7/22

How did we get to Wednesday already? Time flies... Anyway, the past couple of days has seen a bunch of nice stuff go under the gavel, and here are a few highlights from the Big Three of Sears American guitar manufacturers:

A complete, if slightly worse for wear 1446 'Chris Isaak' went for $661. Everything's there, including the original case, the Gibson-made pickups, the Bigsby, the pickguard, and some edge wear, finish checking, and a bit of buckle rash.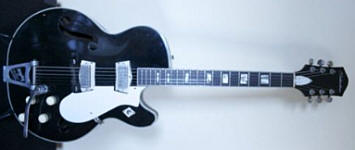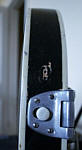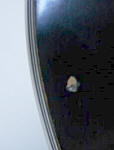 Here's a 1452 that's about as good as you get! Shiny finish, good looking hardware, whammy present, minimal wear; went for a well-earned $759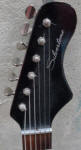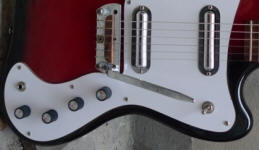 One of the nicest 'Jimmy Reed Thin Twin' models I've seen this year; great finish to this Kay-built model 1381, just a little wear, changed hands for $750.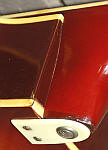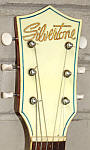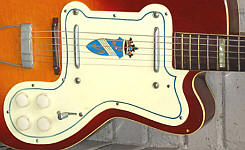 7/20

A pretty active weekend, with quite a few amps and guitars selling. Here are some of the standouts:
This 1485 was labeled and stamped as a 1454; the internal stamping isn't unusual, as this model utilized a modified 1454 body, but the back of the headstock labeling is a rarity. Brought a pretty penny, too... $1326! Serial #9880H14541.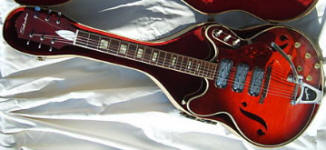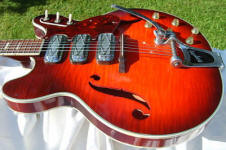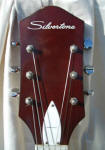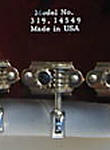 Here's a beautiful 1449 setup, the only flaws I can see is the magic marker scribble inside the lid of the case, some honest playing wear to the neck, and the teeniest bit of edge wear here and there. Otherwise this example is super clean, includes the original footswitch, cord and 'cord keeper' and brought $821!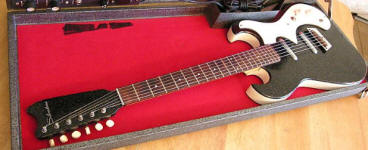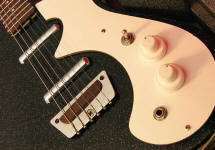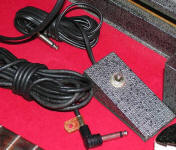 7/14

All except for the big scratch on the back of this 1304, it's pretty minty; just look at the shine on those tuners! Came with its original box, went for $597.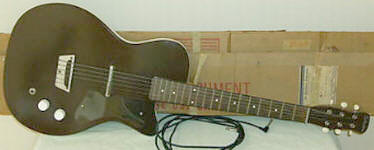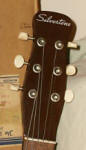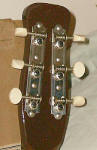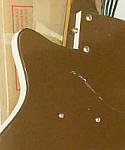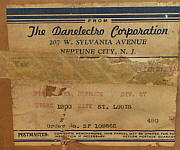 I just thought this 1457 looked interesting without the pickguard. Sold for 300 bucks, regardless.



7/13

A few summer treats over the weekend; this seldom-seen Harmony-made 1326 from the first year of the series' offering, with an interesting detail; that thin pickup surround bezel. A fairly clean example of this rare bird, his guitar went for a mere $212!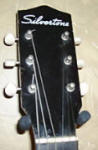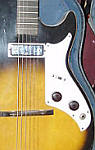 This 'wireless' phonograph from the 40s was just so cool, I had to give you a peep at it; no speaker onboard, it relied on nearby AM radios to broadcast its audio signal to. With beautiful Art Deco lines and a shiny bakelite case, it went for $71.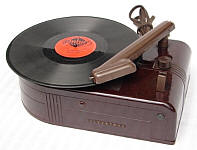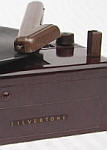 7/10

The seller of this '59 vintage 'Dolphin Nose' 1417 model inherited it logo-less, without any electronics, and routed for a humbucker. He made the best of the situation, getting a professional rewire with some repro knobs and a Seymour Duncan Antiquity Dog Ear P-90 to cover up that gaping humbucker spot. Not a bad bit of 'Frankentoning,' it went for $450.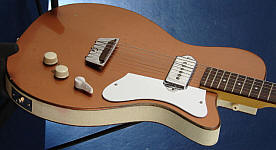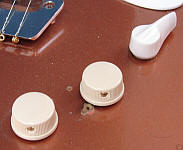 7/9

Here's a worn but wonderful late 1940s era Harmony-built 600 model. This guitar was the first in the very popular 600 series that ran right on into 'Space Dot' territory in the early 70s. The bottom is a more circular shape than most of the later guitars (the 602 shares the circular lower half), but the pickguard was the same shape that carried on throughout the series. This one certainly show some true playing wear, and, after 20 bids, went for a respectable $244. Stamped S-48, the serial number is 363?H600.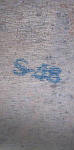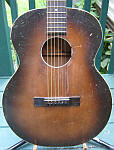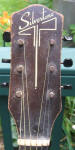 7/7

Nice guitar, eh? Here's a sweet closet find. It's a Teisco-made 26877, which is the Simpson-Sears model number for the 1445. Sold in Canada, with a unique serif'd block logo, this is the earliest version of the venerable Japanese-made guitar, with the edge binding. The wood has some beautiful graining visible, but I've always wondered why Teisco aligned their 'bookmatch' with the neck pocket, rather than centering it. This fine twanger went for $565.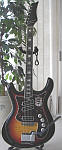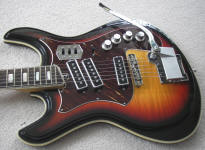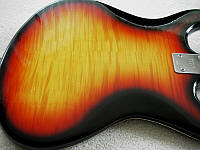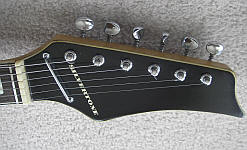 7/6

A great kickoff to our 'rest of the summer' Silvertone deals, check out this beautiful 1474. The seller titled this one 'as good as it gets,' and I think I'd have to agree with him. The electronic gavel dropped at $800 on this one.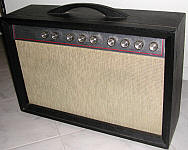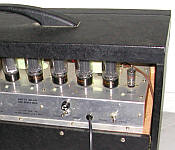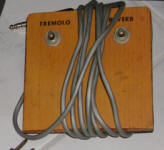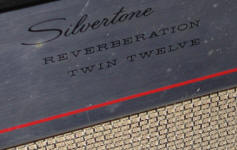 Could it be? Have we finally solved the Mystery of the Triangle Trimmed Guitar? This Kay-made guitar went for a few smackers ($175) the other day, but far more important was the info the seller passed along in the sale. Internally the guitar was stamped "57-619" which is a late-era Kay stamping. Generally, most Kay numbers have little or nothing to do with the Sears model number they're sold under. This one however, had the designating number for Sears musical instrument division (57), and a valid model number (619), as well as a 'P-3' stamp that I've seen in other 619 models. I've seen this brushed-aluminum trimmed guitar a few times over the years at auction, but, until now, could never get any ID info out of the sellers (couldn't see a number, already packed for shipping, etc.). Now, if I could just find a catalog listing somewhere that has that triangle...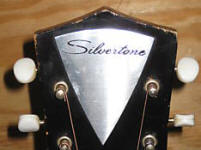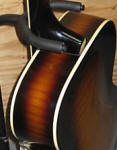 The following images are from other, triangle-less 619 models that I've encountered: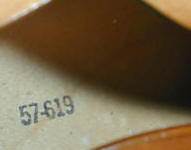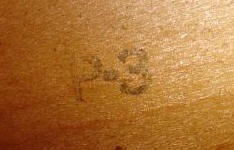 7/2

A couple of neat pieces as we head into the 4th of July holiday weekend here in the US...
Not sure how the seller got it in his head that this was a model 1214, but whatever. It's a mid-50s blonde model 702 (the 'burst version was the 710), made by Harmony, with the faux tiger stripe finish, neck issues, some body cracks, went for $86.
Stamped F-55.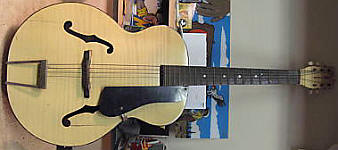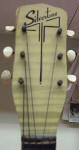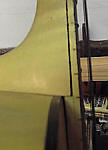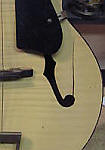 A fairly nice estate find 'Jimmy Reed' Thin Twin model 1381 went for $868 yesterday. No bridge or tailpiece, and a little buckle rash and tuner button shrinkage, but all in all, pretty nice.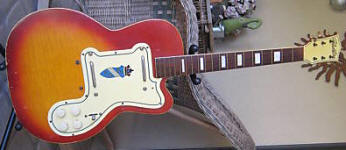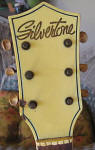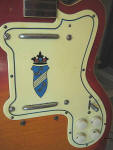 6/30

Funny how rare doesn't always translate into $$$. That's that case with this Buegeleisen & Jacobson (B & J) distributed Silvertone (I know absolutely zip about that particular business relationship, if anyone can enlighten me, please do!). This 'Sunset Bay' model guitar brought only $66. The key to spotting a B & J Silvertone is the gold pad that the logo script sits on. I've only seen a handful over the years, and only one with a B & J logo accompanying it. I've enhanced the photo of the stamp inside; looks like J56H. Jacobson? 1956? Harmony-made? Pure speculation.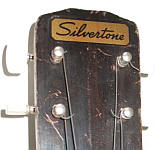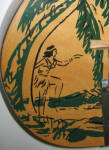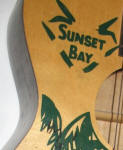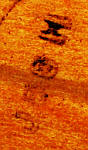 Here are the June Graphs for the 1448 guitar/ampincase and the 1484 amp. Looks like a rollercoaster to me!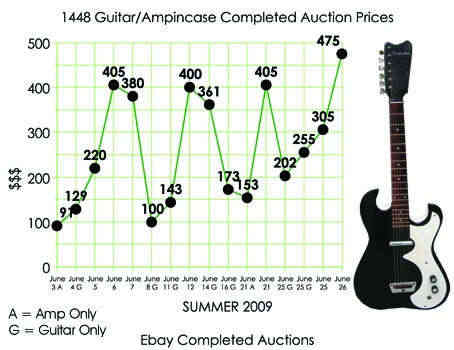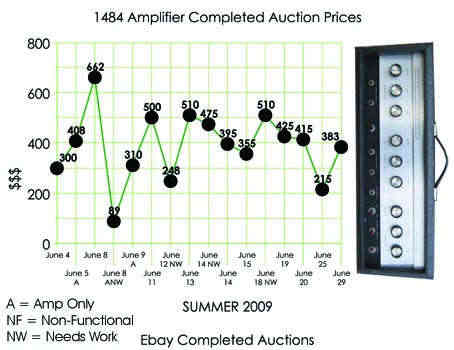 6/26

A flurry of 1448 activity as we head into the last weekend of June, and an interesting old-school lap steel goes for a Benjamin.

Here's a Kay-made lap steel from Sears in great shape that went for $100 yesterday: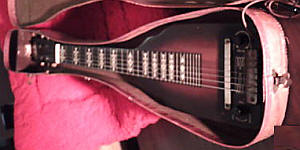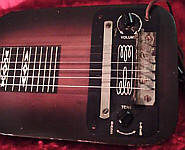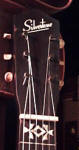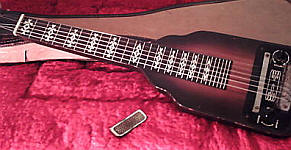 And here's the only place I've ever seen it, the Sears Christmas 'Wish Book' for 1947:




The cord was hard wired into the body, and you could get a seen-nowhere-else model 1302 amp to go with it.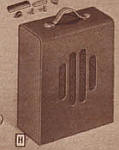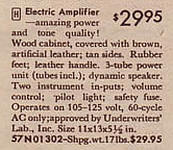 6/24

Here's a seldom-seen 1341, a rare little amp that only lasted one catalog cycle. This one's lookin' sharp; one NS tube, back panel in place, clean handle, nice faux tweed/alligator covering, a strong logo silkscreen, good grille, and it went for $255.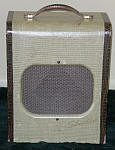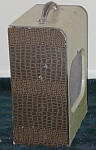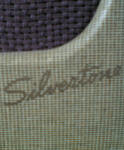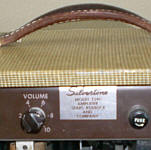 And here's a you-wouldn't-wanna-see 1331, that has been unfortunately modded into merely an extension speaker. The amp chassis is there, but no tubes. NS pegboard back panel, and a Scorpion speaker mounted inside.
No one wanted to give it a home. (Update 6/30: Sold for $75)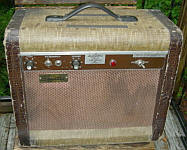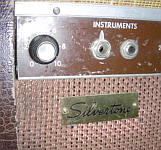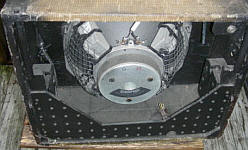 6/22
Summer really begins... as far as... you know, official astronomical data, sunset/sunrise times, and all that good stuff.

The best thing to be sold over the Father's Day holiday as far as out of the ordinary is concerned was a very nice Kay-made 1413 that has spent most of its life in the original owner's closet. He bought a Hagstrom soon after the 1413 purchase was made, and into the closet went the turquoise strummer, in its original gig bag, recently 'discovered' while cleaning out his parents' house. After 31 bids, $850 put it in the hands of some lucky player over the weekend. Nice!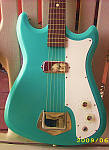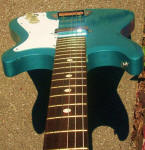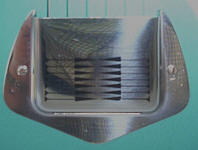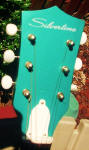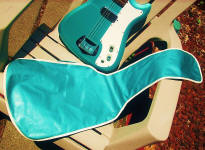 Just in time for the summertime island breezes, check out some newly found photos of the tropical 616.
Here's a full length shot; hit the page for more!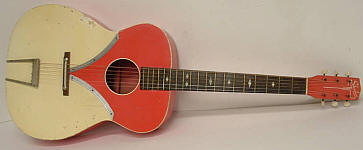 6/18

I almost didn't give this 1448 a second thought, until I saw what I thought was the white sidewalls showing through more than I thought they ought to in a straight-on photo (I really just thumbed through the pictures to see if it was a two-bolt neck model). It was an early two-bolt-neck/strip tuner model, but what really caught my eye was the binding. It wasn't the usual white vinyl sidewalls, it appeared to be slick with a sparkle paint job, just like the front and back of the body.
Weird very early model, or user-modded Frankentone?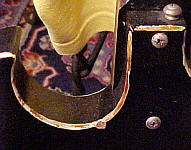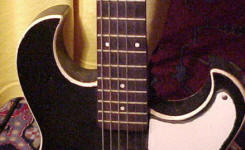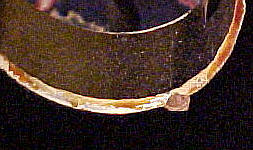 6/15
Something weird today... The seldom seen 1485 model is stamped internally with a 1454-based serial number, as it was a double cutaway version of the popular 1454, and used the same body, and (usually) has a headstock stamping of 1485. The example that ended its auction this weekend, however, has a headstock stamping of 1454! Anyway, it was in great shape, but had no takers.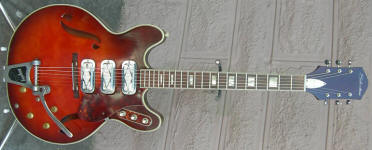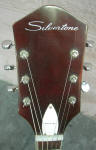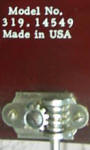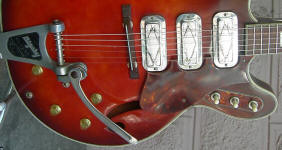 6/12

A big thanks to Silvertonian Jeff for providing most of the splendid shots for the new 1440 page.




6/10

A rare look inside a 1448 that went for $100 the other day. The former owner had attached a metal front with a Strat-type pickup control assembly; I believe that's where the holes around the edges came from.




6/3

Here's something we haven't seen since this website came online (waaaay back in 2006): A Harmony-built all stock 1384 "Black Beauty" with the aluminum binding! It's also possible this is the largest sum I've seen paid for any Silvertone item since I started tracking this information! It's in amazing shape too, with the finish still shiny and the case even looks great! Well, I told y'all I was going to keep up this summer with unusual or rare items going on the auction block... what a terrific start!
The grand price for this grand guitar? $2084!