| | |
| --- | --- |
| | Wheeeeee Doggies! That's what television character Jed Clampett used to say when something impressed him. It's the same thing I said when I looked back over the past three days worth of auctions. Some beautiful Silvertonium under the gavel since mid-week, winding September up in fine style. Have a gander! |
Let's get goin' with a quick trip to Jupiter via this great all-stock Harmony-made 1423...

1423 Harmony SSEG VG $419 Clean, some edge/surface wear, damge/repait at jack, logo and pickguard legends strong, plenty of glitter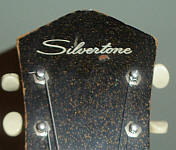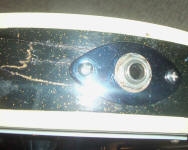 Keep the black and white theme going with a snazzy, modified 'Chris Isaak' model, the 1446.

1446 Harmony HBEG w/ OC MOD $795 Clean, light wear, logo intact, NS bridge, Bigsby missing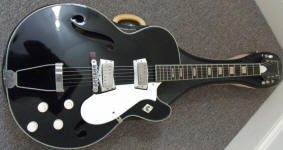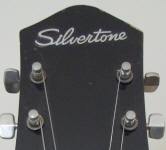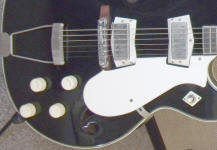 Here's another 'hot' Harmony in high demand, the 1454. Thanks, Dan!

1454 Harmony HBEG VG $861 Clean, logo strong, (2) knobs missing, some side flaking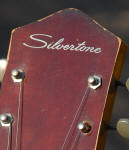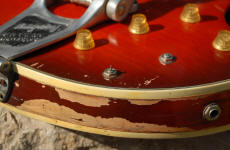 OK, let's break up the Harmony love-fest with a little hop across the road in Chicago to the Kay factory for a couple of Kentucky Blues.

653 Kay FHAC w/ OC E $360 Clean, minimal wear, logo strong, tuners shiny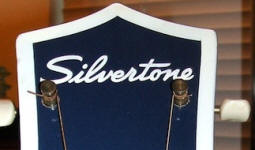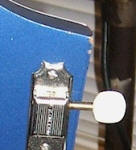 653 Kay FHAC w/ OC VG $525 Clean, light edge wear, logo strong, some neck separation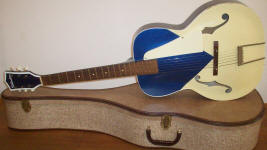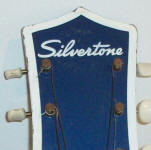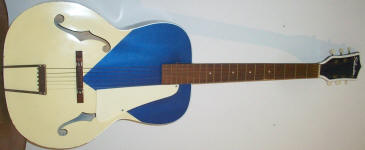 We've been to Jupiter, now let's head to Neptune... New Jersey, that is.

1450 Dano SBEG VG $750 Clean, light wear, whammy bar present, logo strong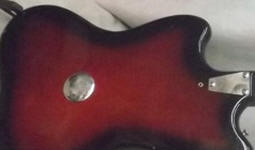 I'll incorporate all this into the eventual page for this guitar, but right now I'll just lay out what I know about the Wish Book 1965-offered 1450, the guitar above. It's basically the same guitar as the solidbody guitar included in the 1452 ampcase/guitar package, the one that took over the position formerly held by the 1457. There are differences that will help you tell the difference between the sold-all-by-itself 1450, and the combo with an ampcase 1452: the 1450 has a 4-ply nitrocellulose faux tortoise pickguard, no chrome bezels around the pickups, and no model number on the back of the headstock. The 1452 guitar has a white-finished hardboard ("Masonite") pickguard, chrome bezels surrounding both pickups, and (more often than not) has the model number 185.14529 and "Made in U.S.A." screenprinted on the back of the headstock.
Here's a 1452: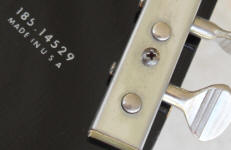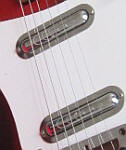 1319 Dano SSEG VG $795 Clean, light wear, logo looks good in limited view provided (come on, sellers... it's a SILVERTONE! That logo is important!), screw cracks at pickguard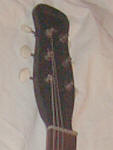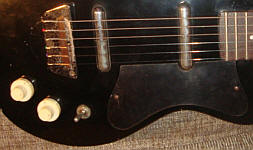 Let's travel across the Pacific for a look at one of the first axes to hit the beach in the Japanese Invasion of the late '60s.

1455 Tesico MIJ HBEG VG $350 Clean, light wear, whammy bar present, logo strong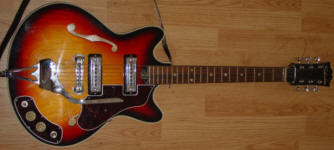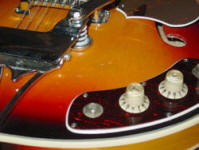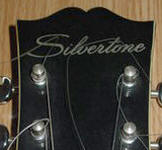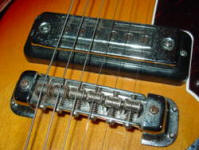 Back to Chi-town for one more beautiful one-owner Harmony-made all-black 1476.

1476 Harmony SBEG w/ OC E $550 Clean, minimal wear, logo strong, chrome shiny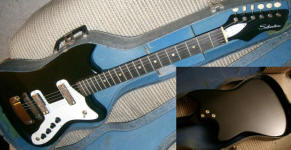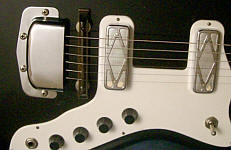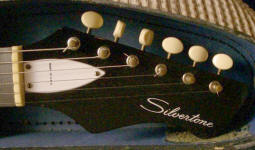 Let's catch a little amplification from that '60s bunch of 'TV' lookin' amps...

1481 Dano tube amp E $329 Clean, minimal wear, sparkly grille,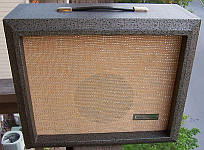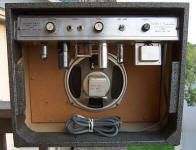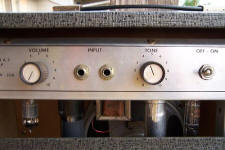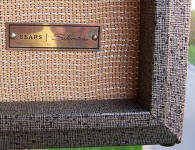 1482 Dano tube amp VG $355 Clean, light wear, tremolo functional, date stamp indicates mid-1967 build; one of the last of its kind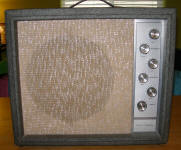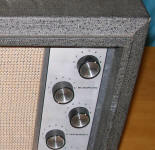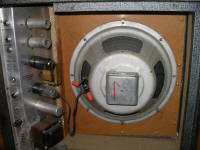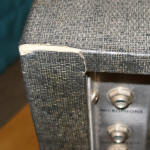 I usually round prices up... but this next lucky number was too good to pass up!

1484 Dano tube amp and speaker cabinet E $777.77 Clean, minimal wear, rev/trem functional, footswitch incl.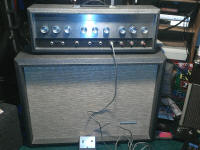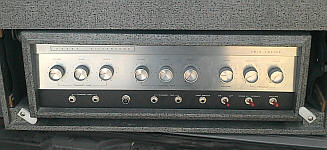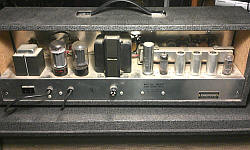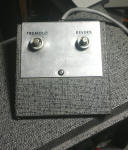 Even particular parts went for a pretty penny!





These were harvested from a 1457:

Dano Pickup $110 & $119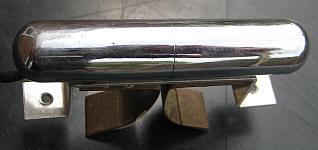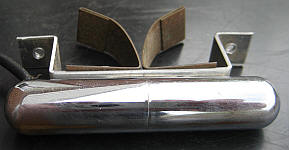 Dano Neck $40 Tuner holes enlarged, some sticker residue on headstock face, some fret wear, nut incl.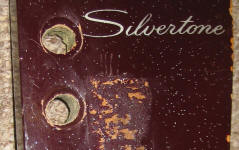 Dano Body $40 Mercilessly modded for a non-stock bridge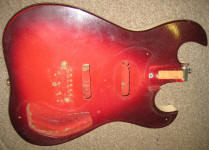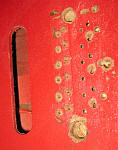 This tuner-less neck is likely from the Wish Book-only 1304

Dano Neck $295 Nut included, dated early 1959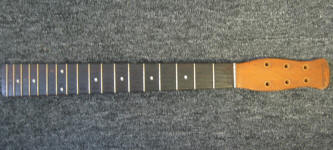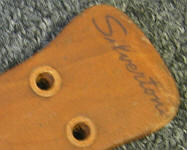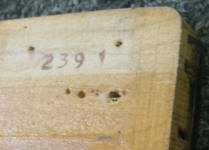 1484 Pedal $120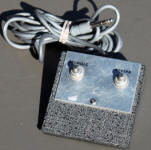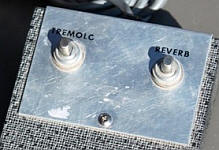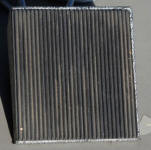 9/25

Fall into Fall, Y'all! Let's do it! The auctions are humming and strummers are strumming! Let's start the autumn off with a guitar that's got some of the golds and browns of the season built right in. It's this beautiful Harmony-made 1352, the last single-pickup 'jazzbox' offered by Sears, and only offered with a 'thick script' logo in 1959/60.

1352 Harmony HBEG w/ OC VG $341 Clean, light wear, logo strong, screw cracks in pickguard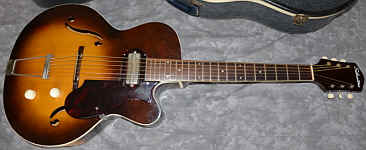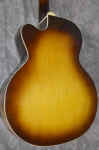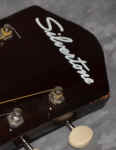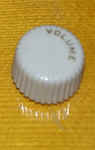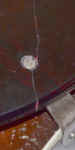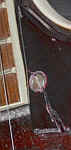 Next up, a beautiful 'Twin Twelve' the grand poobah of what I call the 'TV' series of amps (1474, 1471, 1481, 1472, 1482, 1473... they all resemble televisions to me), a super clean and complete 1474.

1474 Dano Combo Tube Amplifier VG $550 Clean, some light playing wear (esp. near bridge), early bare wood footswitch incl., recently cleaned/tested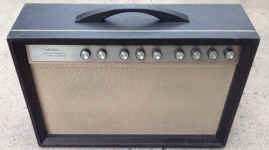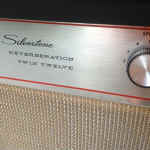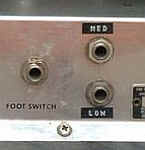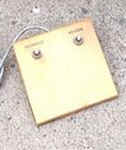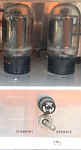 Next up, a nice 'Aristocrat,' the 'boater hat' marker adorned 712.

712 Kay FHAC G $158 Clean, playing wear to top, crack at bottom of bass side f-hole, logo laminate looks good,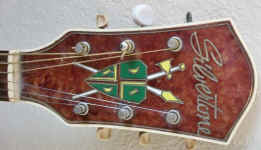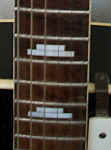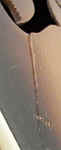 Brand new page up for the 1446 'Chris Isaak' model!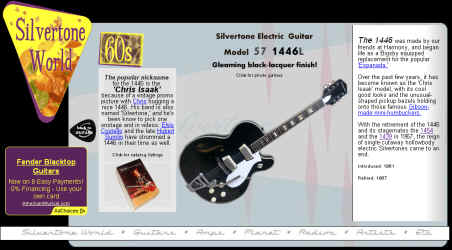 9/21

Fare Thee Well, Summer! Even though Fall officially starts tomorrow, the Silvertone auctions have been 'back to school' for a few weeks now. Lemme tell you what I'm talkin' about... Silvertonium sales are depressed during the summer, with some items going for a song, and other items sitting forlornly for a week or more, unbid-upon. Then, right around Labor Day, the auction action and the prices start to ramp up and get back in the groove. Here's a recent haul of some great Silvertone items, nearly all of them going for at least a cool grand!

This first trio of guitars owes at least some of its 'juice' to Dan Auerbach of The Black Keys, who is seen more often with a Harmony-branded H78 (right, actually a co-branded Heathkit guitar, the TG46, see note below) than a Silvertone 1485 (left, seen with non-stock knobs and whammy, logo missing).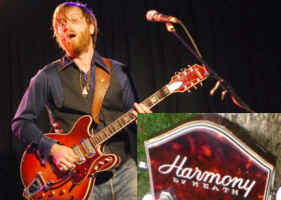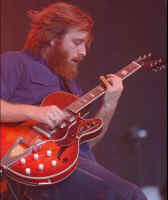 Interestingly, the Harmony guitar most often seen in Dan's hands is a rare variant offered by the Heathkit company, the TG46. Heath contracted Harmony to supply them with a 'you-build-it' guitar, and aside from the small 'by Heath' under the Harmony logo, was identical to the H78.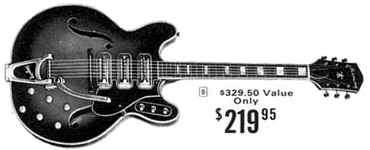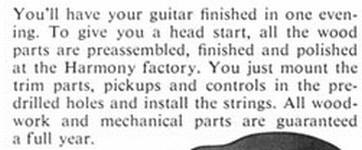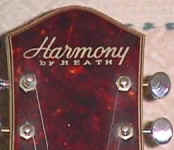 1454 Harmony HBEG w/ OC VG $2695 Clean, light wear, light finish checking, logo strong, stamped S-65-JP, case has a stylized "Strawberry" (Heart? Is/was there such a band?) logo one one end, and a fine attempt at a classic script 'Silvertone' logo at the other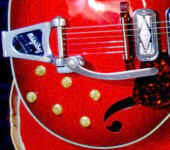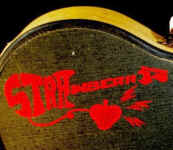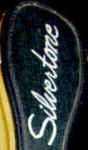 This next one comes to us from Curtis Fisher, a member of the Silvertone Royal Family. His grandfather was Sears Musical Instrument buyer and Nathan Daniels 'co-conspirator,' Joe Fisher. See the auction for some great photos, info and history.

1454 Harmony HBEG w/ C VG $1775 Clean, light wear, light finish checking, some flaking on treble side lower bout edge, NS roller bridge, (1) knob, strap button and pickguard missing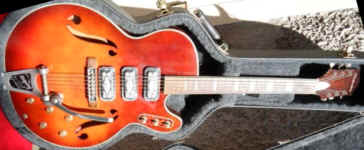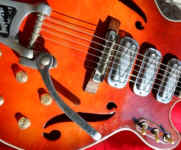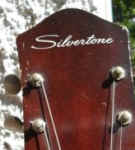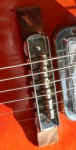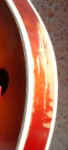 1454 Harmony HBEG w/ OC VG $1250 Clean, light wear, light finish checking, logo strong, stamped S-65-P, unusual clear knobs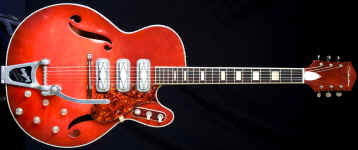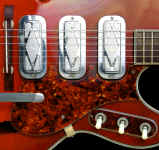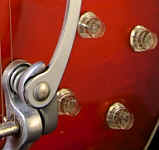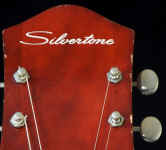 Here's a rare bird from Danelectro, the triple-pickup (the first 3-pu guitar Sears ever offered!) silver/black 1305 from the very late '50s.

1305 Dano SSEG VG $1550 Clean, light wear, logo strong, looks like back cavity cover is slightly warped, knobs with pointers intact, seller is original owners' grandson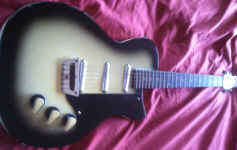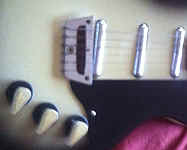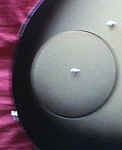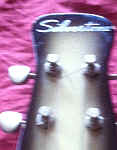 Let's catch a couple more Harmonies by way of Jupiter.

1423 Harmony SSEG w/ C VG $1399 Clean, light wear, logo missing 'Silv,' pickguard legend strong, blender knob not pictured but is included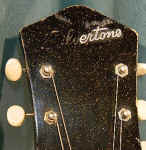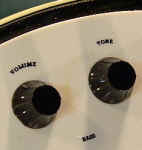 1423 Harmony SSEG w/ C VG $900 Clean, light wear, logo intact, NS tuners marked "Gibson Deluxe"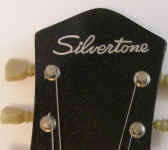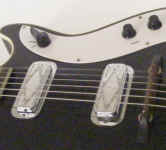 Little bit of fame put some shine on this 1448, owned by Morrisey's guitarist, Alain Whyte.

1448 Dano SSEG VG $1325 Clean, light wear, amp clean and functional, seller says "THE GUITAR COMES WITH AMPLIFIER CASE, ALSO COMES WITH PHOTOGRAPH OF MORRISSEY WITH THE GUITAR AND A LETTER OF AUTHENTICITY OF OWNERSHIP FROM ENGLISH GUITARIST, SINGER, AND SONGWRITER ALAIN WHYTE.ALAIN WHYTE IS FAMOUS FOR BEING MORRISSEY'S MAIN SONGWRITING PARTNER SINCE 1991 AND HIS LEAD GUITARIST FROM 1991-2004. ALAIN HAS MORE THAN 81 KNOW SONGWRITING CREDITS WITH MORRISSEY AND OF MORRISSEY'S 40 CURRENTLY RELEASED SINGLES, WHYTE HAS WRITTEN 16. SINCE ALAIN JOINED MORRISSEY IN 1991, MORRISSEY HAS RELEASED 29 SINGLES GIVING WHYTE THE CREDIT FOR WRITING OVER HALF OF MORRISSEY'S SINGLES SINCE THAT TIME. THIS GUITAR WAS HEAVILY USED DURING THE MORRISSEY "MALADJUSTED" ERA FOR SONGWRITING."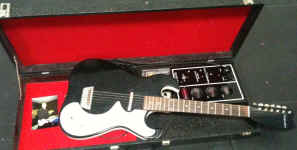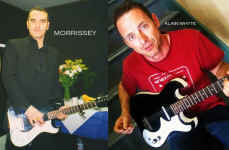 Speaking of fame, I got to rub elbows with Chris Isaak this summer on his 'Beyond the Sun' tour (returning to the States in November), and got to give Chris and Hershel Yatovitz their very own Silvertone logo picks!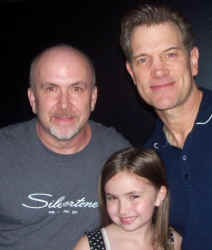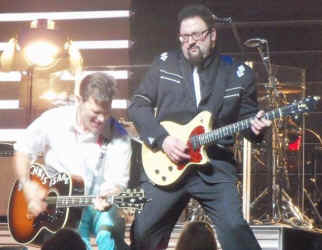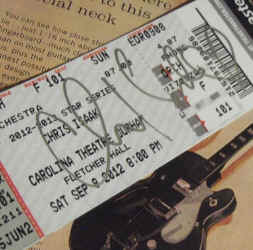 That of course leads me to.... the Pick Store is open once again! Chock full of the popular 'thin script' black logo on a matte-finish Delrin white medium gauge pick! Getcha some!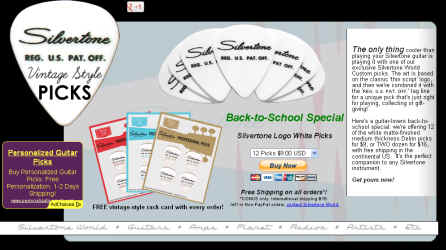 And, we'll close this end-of-summer report out with a nice 'Chris Isaak' from this past week.

1446 Harmony HBEG VG $995 Clean, light wear, logo intact, pickguard missing, light tarnish to Bigsby and pickup covers, knobs yellowed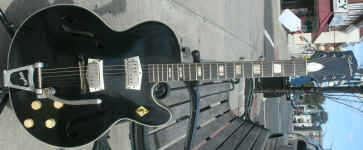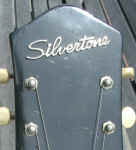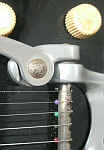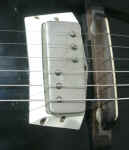 I'll leave the Summer page up a couple days so you can catch up on your reading, then jump into Fall 2012 on Monday.

Summer 2012 is now archived.

Remember to 'Like' us on Facebook, and follow us on Twitter.



9/13

A Tale of Two 'Blues' We've got a couple of 'Kentucky Blue' models up today; and a nice contrast/comparison in finishes. The earliest Blues have faded to a greenish hue over the years, while later models have remained... *ahem* 'true blue.'

653 Kay FHAC VG $389 Clean, light wear, logo strong, faded to green, recently cleaned/setup/restrung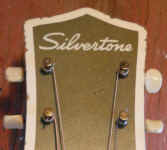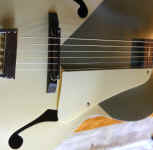 653 Kay FHAC w/ OC VG $350 Clean, light wear w/ some buckle rash, logo strong, rare 'shallow peak' headstock, original blue/white cord 'strap' incl.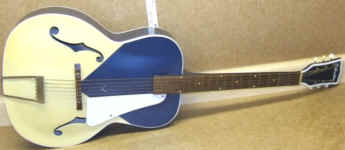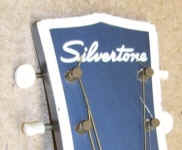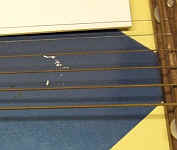 9/12

Just wanted to remind everyone that the entire Danelectro-built Silvertone family is up for your perusal.



9/4

Welcome to the last few days of Summer 2012! Sorry the site's been up and down lately... some server issues I had no control over. Everything (including my ability to update again) seems to firing on all cylinders now. Thanks for your patience.

Ladies and Gentleman, the 619! The Kay-built archtop was super popular during the 60s, and we see a lot of them today. They went through some slight cosmetic changes over the years, but always provided a fine acoustic archtop for a good price. That's today's first up, and a reminder to check out the new page for the popular 619.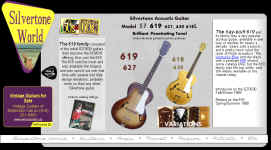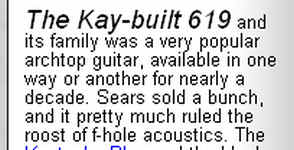 619 Kay FHAC G $106 Clean, light wear, logo strong, neck pulling up at heel, stamped N-6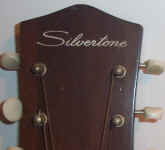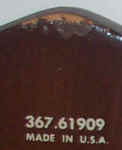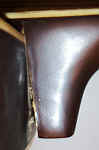 Here's something I ran across the other day that was just cool. The industrial design that I enjoy most from the late 60s was a no-nonsense, more Mission Control than Buck Rogers inspired look that just go the job done. Check this 'bookshelf' component: it's the tube-powered, multi-input stereo amplifier, the model 1029. Went for 173 bucks, all functions tested nominal.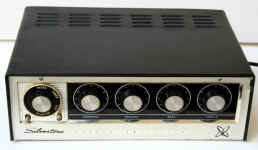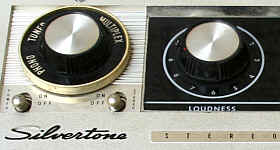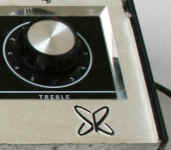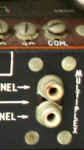 Make sure to visit Summer 2012; we saw some great stuff this past Summer!


MODEL # / MANUFACTURER / INSTRUMENT TYPE / CONDITION / PRICE / NOTES

Abbreviations: M-Mint, NM - Near Mint, E- Excellent, VG- Very Good, G- Good , F-Fair, P-Poor, NS- Non-Stock, HBEG- Hollow Body Electric, FHAC- F-Hole Acoustic, FTAC- Flat-Top Acoustic, SBEG- Solid Body Electric, SSEG- Semi-Sold Electric, MIJ- Made In Japan, MOD - Modified significantly from stock, w/ O/C Original / Case, DNS - Did Not Sell; used mainly to show an item of interest whether it sold or not.

Unless otherwise noted, I'm rating them by what I see in the pictures and read in the description.

The items depicted on this page are not for sale by Silvertone World. These are reviews of items from completed ebay auctions on or around the date specified.

Links in blue open in a new window, and take you to a Silvertone World info page, a period catalog listing, or a link of interest.