Summer 2013 Pt. I


6/28

Going for the Groovy Clapton Look? Maybe that was the impetus for this psychedelic paint job. Maybe the artist had no idea of Clapton's famous PsycheDano guitar. Pretty far out, no matter what.

1419 Dano SSEG MOD $203 Clean, refinished (neck and back unmolested), NS knobs, NS tuners, nut missing, logo intact but bent at 'S,' back cover missing, duct tape over pickup adjustment screws on back, internal stamping and pot dates indicate late 1959 build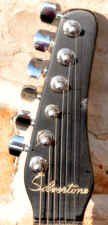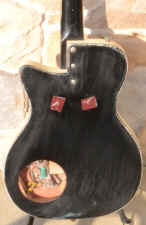 Unusual for a classical, this Harmony-built 1230 model sported a block logo on the slotted headstock, and a subtly different body shape.

1230 Harmony FTAC Classical w/ OC VG $48 Clean, light wear, some binding cracking/missing, finish checking, block logo strong, inner label looks good, stamped S-69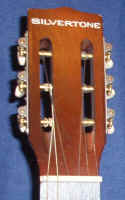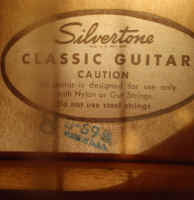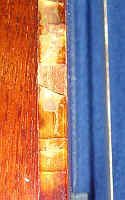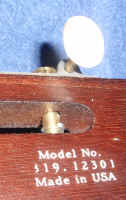 At first I thought this 643 was sun-faded, but the bright yellows and reds are on the sides and back as well!

643 Harmony FTAC G $22 Clean, pickguard missing, stamped S-68, the full scoop from the seller: "This guitar has a lot of little scratches and nicks and some finish checking on the top. The pickguard was removed so there are screw holes in the top. The bridge has some hairline cracks and gouges, the saddle is also bent on the bridge. There is a separation gouge on the side that looks to be repaired as well as some dings on the edges. The back looks good with some scratching and dings there. The neck is straight and plays well, the action is a little high for my taste but it is very playable. The neck and headstock has scratching and nicks all about it, but nothing too terrible."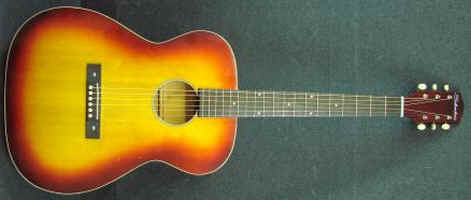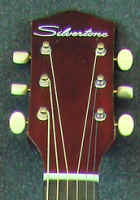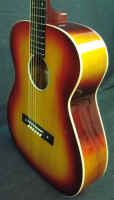 From what I hear, unless you've got the original case, this guitar's pretty hard to find one that'll fit.

1424 Teisco MIJ HBEG G <$325 Clean, light wear, logo missing, needs a little work; neck binding , tuners, pots, trem system all need attention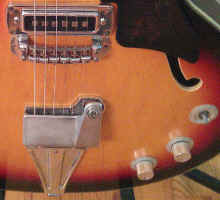 1412 MIJ SBEG E $275 Clean, minimal wear, 'Space Dot' looks good, chrome shiny, whammy intact, bridge cover present, one of the nicest of these I've seen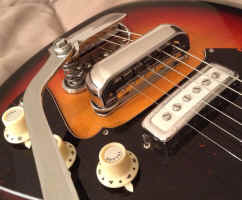 1454 Harmony HBEG w/ C VG $795 Clean, light wear, logo strong, Bigsby intact, truss rod cover missing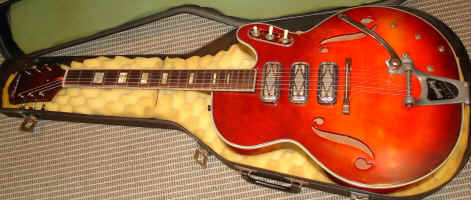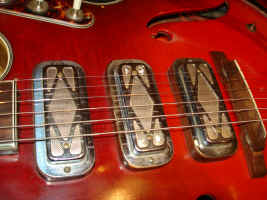 1457 Dano SSEG guitar only w/ C VG $250 Clean, light wear, logo strong with scrape at top of 'S'





1420 Sears tube amplifier VG $76 Clean, light wear, some rust dots to handle captures and jack nuts, some covering ripple on bottom corner, date stamp indicates 1970 build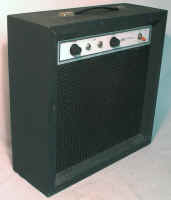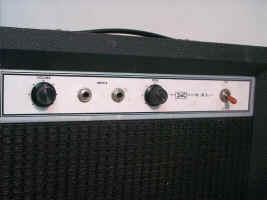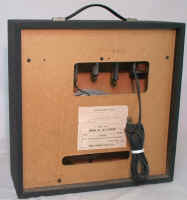 6/27

"Those Kind of Cars Don't Pass You Every Day..." ...that's a line from a Prince song, but I often apply it to the sweet Silvertonium we see comin' across the auction wire... like this National/Valco/Supro-built honey of a Silvertone. Unlike many 'phantom' Silvertone items that haven't appeared in catalogs and I've still been able to suss out a model number from other sources, I still have to give an 'unknown' tag for the model number on this 'Artist.' With the plating worn off the tailpiece, top of bridge and pickup cover, and the wear pattern and disappearance of the 'Flying V' Silvertone logo on the pickguard, we can see this baby got played.

UNK Supro SBEG w/ OC VG $1399 Clean, some edge/surface wear, logo tag on headstock looks good, logo on pickguard has been rubbed off from play wear, plating worn from much of metal, serial # X87243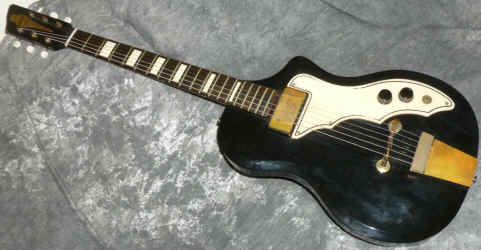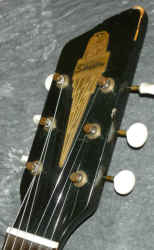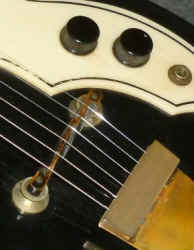 Another rare bird flyin' by... it's the Wish Book-only* 1458, built by Kay, based on its 'Value Leader' series.

1458 Kay SSEG VG $395 Clean, light wear, one pickguard screw crack (pretty common on these...), logo strong, pots recently cleaned, frets levelled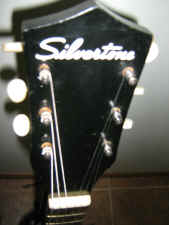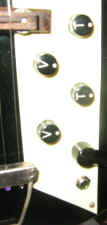 *Well, actually, I found this guitar in a 1960 'Winter Sale' ad I recently came across as well as its early '60s Sears 'Wish Book' appearances. As you can see, they've numbered the amp/guitar combo the 1460 in this ad...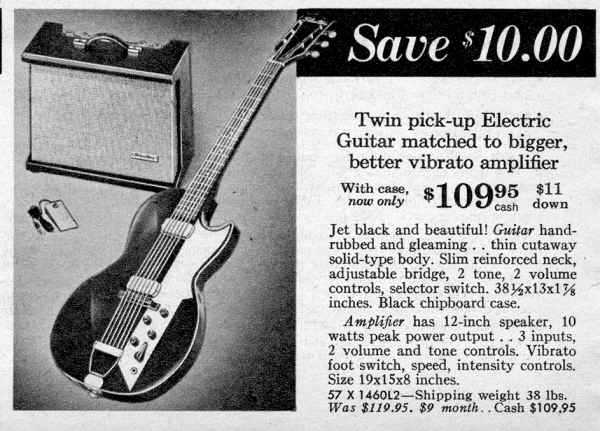 6/24

Silvertone Siblings! We saw the one-pickup partner to this rare early Kay-built solidbody Silvertone a couple of weeks ago.

1363 Kay SBEG w/ OC VG $902 Needs a good cleaning, 'wind chime' logo strong, some edge/surface wear, selector switch tip missing, action high, tuner buttons deteriorated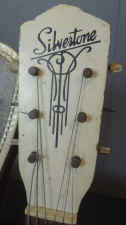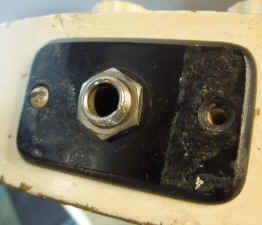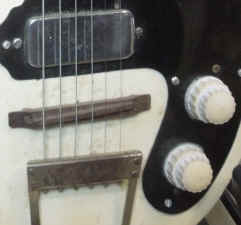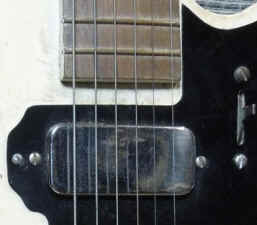 1300 Valco tube amp VG $625 Clean, light wear, tube protection grating still in place, all stock knobs, 3-prong AC mod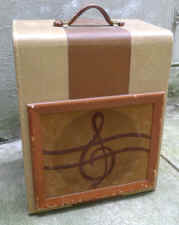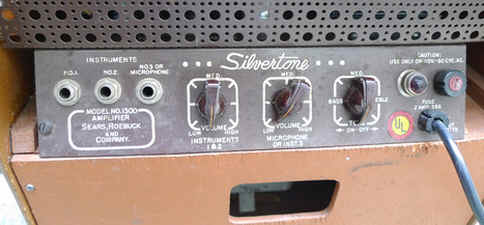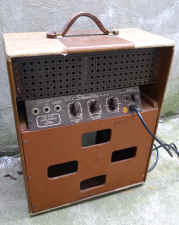 618 Kay FHAC VG <$429 Clean, light wear, logo strong, pickguard missing, neck re-set, refretted, and planed to remove bow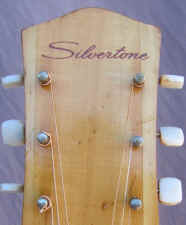 603 Harmony FTAC VG $50 Clean, light wear, logo strong, serial #1519H929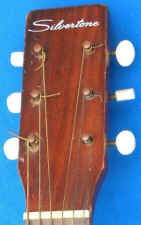 1420 Sears tube amplifier MOD $62 Needs a cleaning, some rust/pitting/oxidation, some vinyl quilting and car stereo decor refit of this one, from the seller: "

...the amp hums when you turn it on, and even with a guitar hooked to it. You can hear a quiet guitar through it even when cranked, but the hum is louder."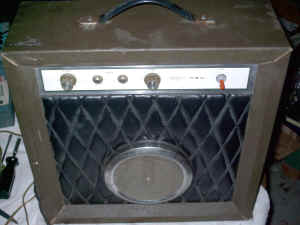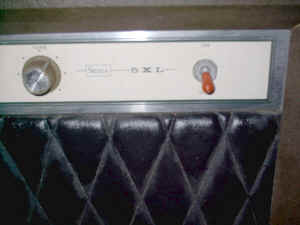 Here are a couple of odds and ends...

Looks like a custom-topped (maybe even custom-built) 1448 body ready for a new neck, some electronics, and three expensive pickups... went for $65.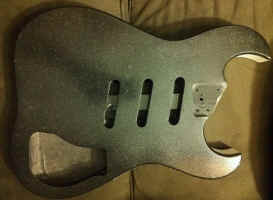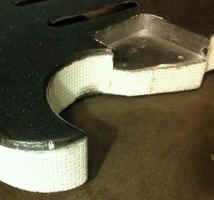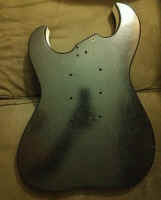 And a body from a 1304 that's been 'rattled canned,' as the seller put it. Brought $178!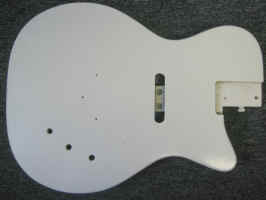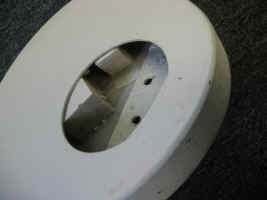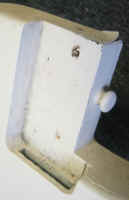 And the Bluebird of Silvertone Happiness, happily plucking a 1448. This piece of art is still available.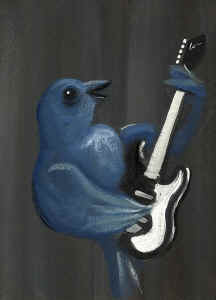 6/18

Picnic Basket Full of Silvertonium on our first day of Summer. Dig in!

1444 Dano SSEG Bass VG $335 Clean, light wear, logo missing except for last 'e,' stamping indicates late 1965 build making this bass one of the last 'modern' U-shaped ( I make the distinction because of the shape of the cutaway, and the large trapezoidal cavity cover) anything to leave the Danelectro factory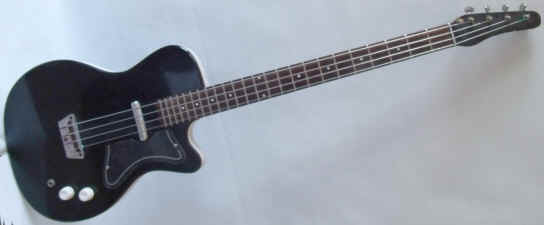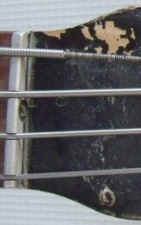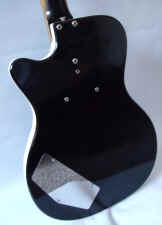 1440 MIJ (Teisco? Univox?) SBEG w/ OC VG <$499 Clean, light wear, whammy bar present, logo intact, chrome shiny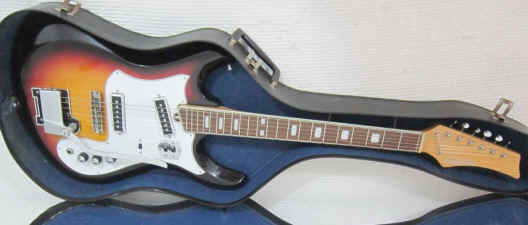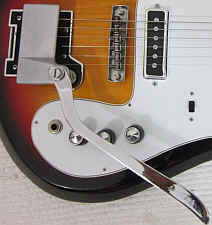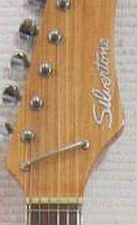 1423 Harmony SSEG MOD DNS Clean and heavily modded: "I used a neck I had from a Silvertone H1454 that was stripped of the original finish, I painted the headstock black with nitrocellulose and shot a few coats of clear nitro over the whole thing with an original metal logo to top it off. I put in a set of really nice Gotoh vintage tuners that really look the part and are silky smooth, I added a new bone nut, A vintage Bigsby B3 and vintage Gretsch/Bigsby bridge. For pickups I chose some amazing sounding Seymour Duncan Antiquity P-90's, each of these pickups are hand signed by Seymour himself, have amazing tone and were worth every penny. I made a pickguard out of three ply white pearloid and cut it in the H49 shape rather than the original Silvertone shape (I like the Harmony pickguard shape better), it turned out pretty cool looking i think. I added a mostly original Harmony wiring harness out of a two pickup Rocket but replaced the bridge tone cap."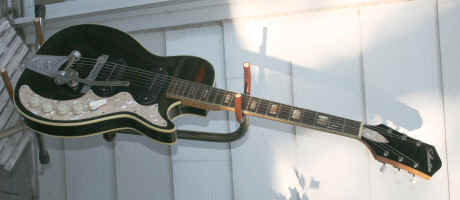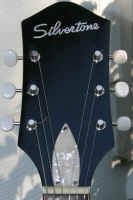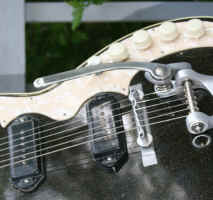 There was an odd little group of misfit flattops in the late 60s, and this 1205 was part of that group that included the 1209 and 1207. Some appeared in catalog listings, some didn't... Sears was selling guitars as fast as they could and with the new imports coming in, things seemed to be in a state of constant flux during this period from 1968 through the early 70s.

1205 Harmony FTAC w/ OC G $31 Clean, block logo strong, bridge broken, soundhole decoration strong, stamped S-69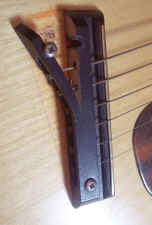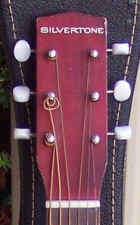 This round-headed, wood-fretboarded 853 uke was sold at Sears from the late 40s through the mid 60s.

853 Harmony Ukulele w/ C VG $153 Clean, light wear, all-wood construction, 'Genuine Mahogany' sticker intact, logo strong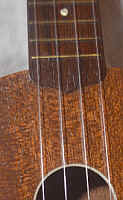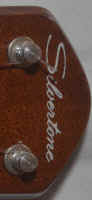 Wonder what it is that turns some Kentucky Blues green? Sunlight? A particular typical cleaner? Not the case with the example below, that's what got me thinking... look at the depth of that blue!

653 Kay FHAC VG $248 Could use a cleaning, some edge/surface wear, logo strong with smudge at headstock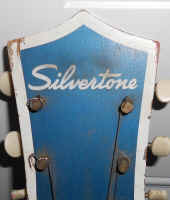 A trio of 1484s, all in various states of cosmetic happiness, accessory inclusion and functionality.

1484 Dano tube amp and speaker cabinet VG $571 Clean, light wear, a grille stain, footswitch incl., tested w/o benefit of guitar; everything seemed to work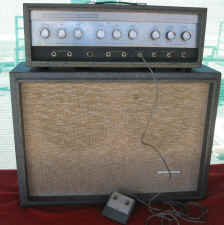 1484 Dano tube amp and speaker cabinet VG $406 Clean, light wear, no footswitch, scratchy pots, reverb non-functional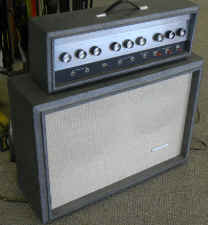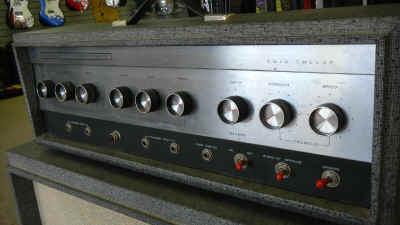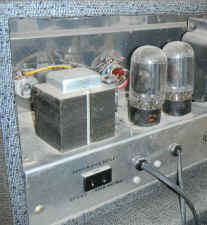 1484 Dano tube amp only MOD $405 Clean, light wear, and I'll let the seller give you the home improvement details: "This has been serviced, a whole line of Sprague 600 volt orange drops thru the signal circuit, all Sprague atom 600 volt thru out the power section, the 1st 2 are 100 uf @ 350 volt per spec for voltage doubling, the output tranny and reverb tranny have been replaced with the Mercury Magnetic Tone Clone trannies that are built to spec for these amps by Mercury, any of the resistors that even looked like they had been heated up were changed to carbon comp type like the originals to values to spec. The head cabinet is as clean as it gets, there is not even a scratch, the tolex is in real good condition, the rubber feet even look like stock they have mild cracking that shows there age. The chassis itself is super clean, you could eat inside of it.6L6s are Raytheon made in England the preamps are RCA and other USA tubes. There is one issue, the face of the amp has a little dent and a scratch other than that it has mild ware. The amp has a great vintage sound that they are known for, you start turning it up it gets into a serious growl. I have read and heard that the reverb on some is sour but this one at about 3 or 4 is really good and thick, if you go past that it's quite airy. The tremolo is very good. With the trem on and the reverb up its really got a wild sound, these amps definitely have there own flavor, and if you look at the knobs these are original, have no grit or ware, I mean this thing is clean."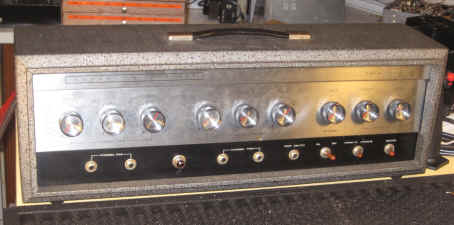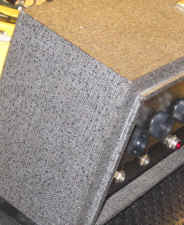 6/17

A 'Longhorn' Acoustic?!?! Yup, they existed... and here's one that pulled in over a thousand dollars at auction recently.

After Danelectro was sold to MCA in late 1967, MCA tried to shift their sales focus to individual guitar shops rather than jobbers like Sears. Didn't work; sales went down, and MCA shuttered Dano's doors in 1968. This acoustic 'Longhorn' is probably one of the last to escape the Neptune factory.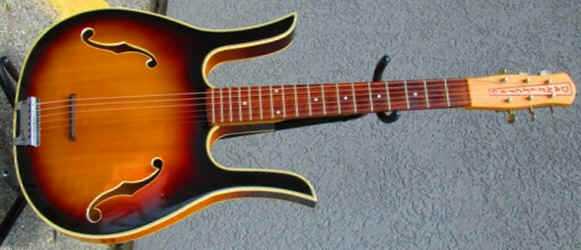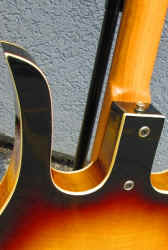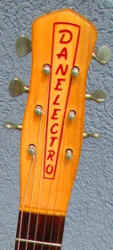 A little more Dano... I don't think you'll mind...

It's a fine example of the 'Leader' amplifier, and it was built at Red Bank, NJ before the move to Neptune! Brought in $445.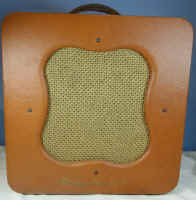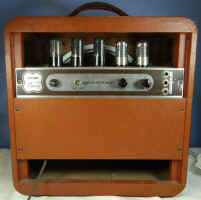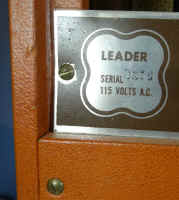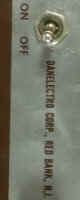 1305 Dano SSEG G <$1100 Clean, pickguard missing, some surface/edge wear, neck painted/stripped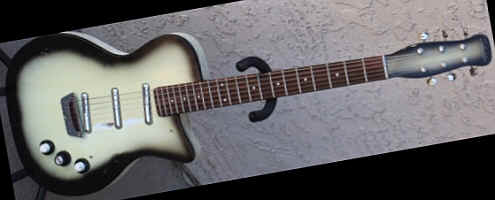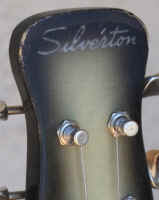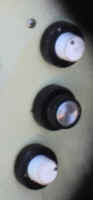 1437 Teisco MIJ SBEG VG $600 Clean, light wear, whammy bar present, logo tag looks good, all stock knob/switches, serial #257152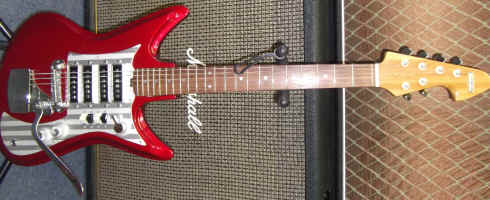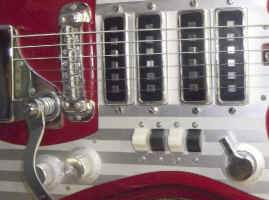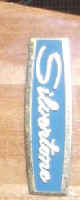 1490 MIJ SBEG Bass G $245 Could use a cleaning, logo repaired with some glue residue present, tailpiece cover missing, NS knobs, some chrome pitting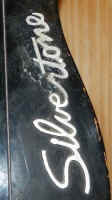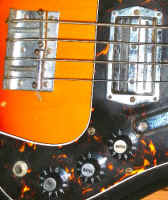 1410 MIJ SBEG VG $103 Clean, light wear, logo strong, chrome shiny, dated (!) 7/31/69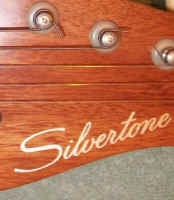 1453 Harmony HBEG VG $500 Clean, light wear, whammy bar present, logo laminate strong, chrome shiny, serial #5941S1453, electronics dated Oct. 1968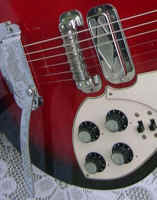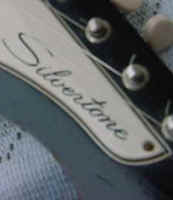 605 Harmony FTAC VG $160 Clean, light wear, 'deco' logo strong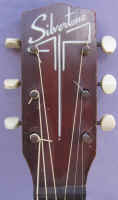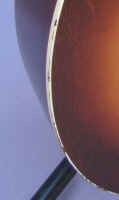 1211 Harmony FTAC w/ C VG $51 Fretboard needs cleaning, light wear, block logo strong, serial #0111S1211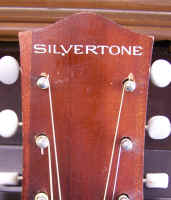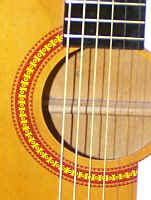 6/14

Dynamite Danelectros! That's what we've got for you first up today; some of those well-engineered, good-looking, straight neck after five decades beauties straight outta Neptune (New Jersey, that is)! All three of these have been modified in one way or another. The first two have had a logo-ectomy and new knobs, the second one has had some traumatic neck surgery, and the third some simple pickguard replacement therapy.

1319 Dano SSEG VG DNS Clean, light wear, NS knobs, logo 'shamed,' pickguard missing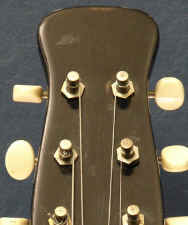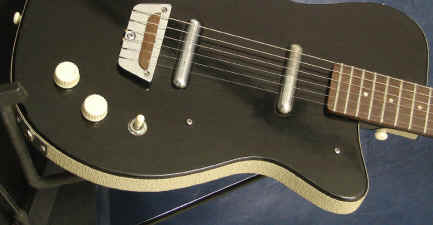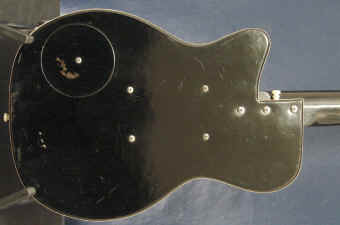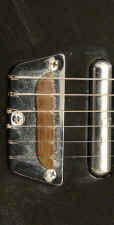 1304 Dano SSEG MOD $225 Refinished, shows wear, logo 'shamed,' pickguard missing, NS knobs, repaired crack in neck, bolt through the fingerboard & neck (the horror!)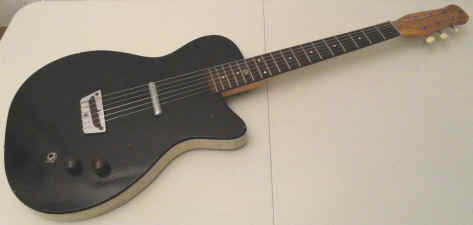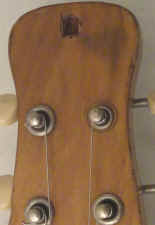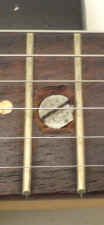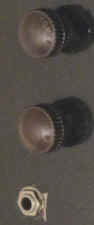 1304 Dano SSEG MOD $335 Refinished, shows wear, NS knobs, logo covered by sticker or gone, NS tuners, back stripped, pickguard missing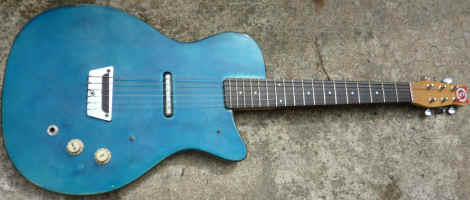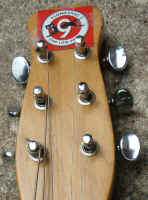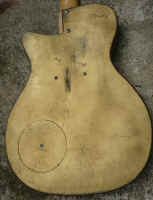 If you need a reminder of what a stock 1304 looks like, remember we've got a brand new page up with all new photos and catalog ads for the 'Wish Book' only guitar, including a rare 1960 non-Wish Book appearance in a Sears Winter Sale flyer!


1302 Dano SSEG w/ C VG $695 Clean, some edge/surface wear, buckle rash, NS pickguard, logo worn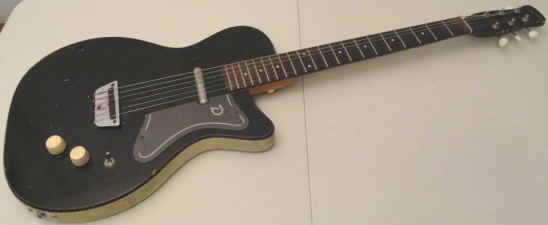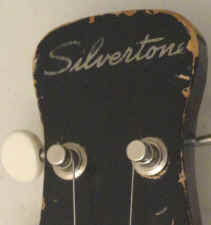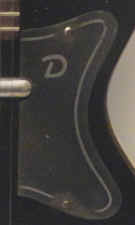 1410 MIJ SBEG VG $100 Could use a cleaning, whammy bar present, some edge/surface wear, logo strong, oxidation to screws/metal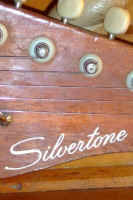 6/12

Couple of Grand Guitars goin' for better than a grand today!

1354 Kay HBEG VG $1299 Clean, light wear, light checking, logo laminate looks good, frets show some wear, pickguard has slight warp, pots scratchy, NS tuners, NS knobs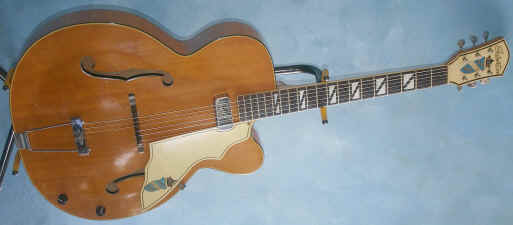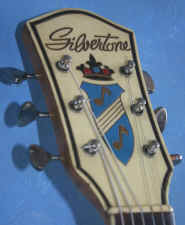 And here's what I have to go through if you don't take a nice full-length picture of the guitar for your auction. They actually did take one for this auction, but for some reason it looked horrible. Anyway, it's a rare early '40s 'Crest', so I felt compelled to give you a look.

291 Kay HFAC VG $1025 Clean, light wear, logo strong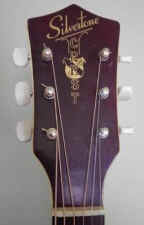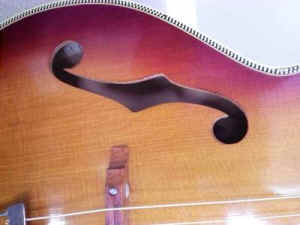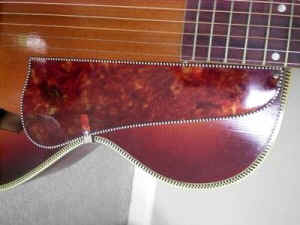 1449 Dano SSEG with tube ampincase VG $600 Clean, light wear, top cracke on bass side of rhythm pickup, amp functional, tremolo unmentioned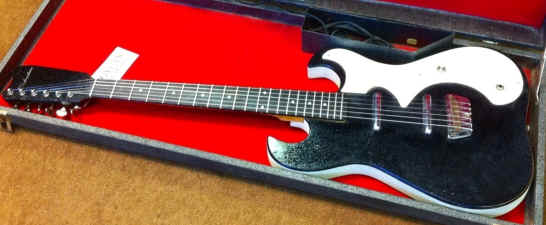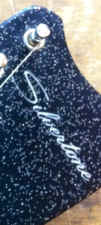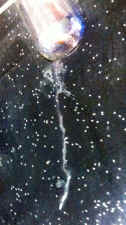 6/10

Chester Arthur Burnett, the mighty Howlin' Wolf, would have been 103 years old today. Here's the Wolf and Hubert Sumlin rockin' some blues in 1966. Look closely on the backline for their 1484 amplifier.


Here's a still from the great documentary "The Howlin' Wolf Story." Wolf's rockin' the harp, and you can see his Gibson Firebird leaning against the Silvertone amp that he and Hubert shared. Next, The Wolf with a 'Thin Twin,' and Hubert cradling a 1446.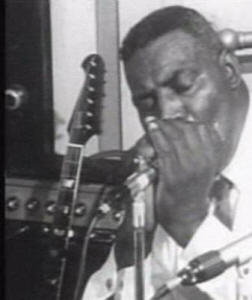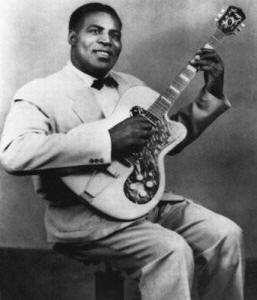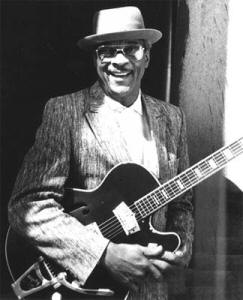 Les Paul's Birthday was Yesterday, and it's kinda cool this guitar had the final gavel go down on that same day. It's always reminded me of Paul's early attempts at an electric guitar, and this is certainly one of the nicest of the the short-lived, ultra-rare, neck-through Kay-made 1954-era 1361 models that I've seen. Oddly, it was illustrated in the catalog much more in the style of a Harmony-built H44, but the catalog depiction was ambiguous enough, and this guitar close enough to it, that I'm sure there weren't many arguments. The 1361 (and its two-pickup sibling, the 1363) didn't last long, anyway; replaced by the Dano-built 1375 & 1377 electric guitars.

1361 Kay SBEG w/ OC VG $1226 Clean, light wear, 'wind chime' logo strong, NS bridge, volume knob has slight damage, neck slightly bowed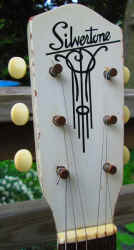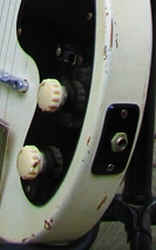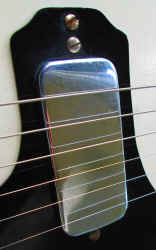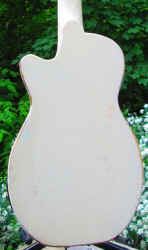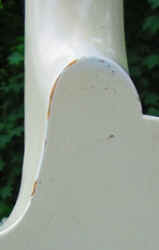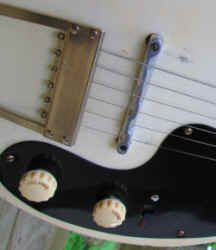 How about some MORE rare Silvertonium from our friends at Kay? Here's a 'paddle-head' 1416, available in the mid-60s. Look closely at the logo; looks like the Kay employee silk-screening logos that day slipped a bit.

1416 Kay SBEG w/ OC VG $312 Clean, light wear, logo factory-smeared, whammy bar missing, pickup cover design strong, NS tuners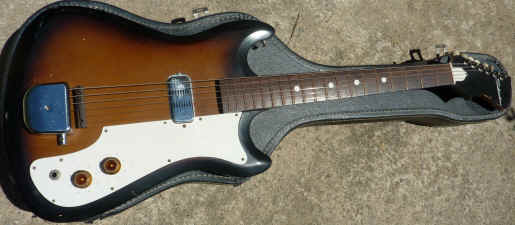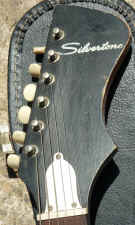 6/9

Ampincase, of course. How About AMPINGUITAR? Teisco made this pot-bellied guitar for Sears in the mid-60s. Never appearing in any catalog, you could plug in like any other guitar, or flip the switch to enjoy a full half-watt of rock 'n' roll power from the internal transistorized amp. This example is most unusual in that it has its model number on the front oval medallion.

1487 Teisco MIJ SBEG w/ internal amp w/ OC VG <$1000 Clean, light wear, logo strong, amp is functional, all covers present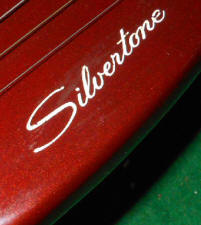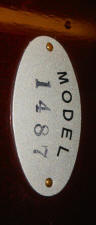 Here's another unusual Japanese-built beauty, the Tele... well, sortaclone 1407.

1407 (Teisco? Univox?) MIJ SBEG VG $162 Could use a cleaning, light wear, light checking, 'Space Dot' strong, jack/pots scratchy, original gig bag incl.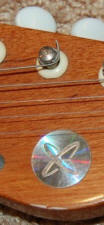 And one more from the Land of the Rising Sun, it's the script-logo'd 1455.

1455 MIJ Teisco HBEG w/ C VG $277 Clean, light wear, logo intact but bent at 'S,' neck has playing wear, pickguard missing, handmade whammy bar, (1) NS knob, NS tuners, lead pickup cover worn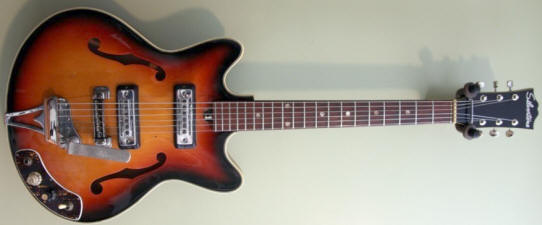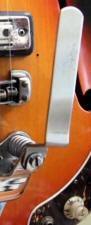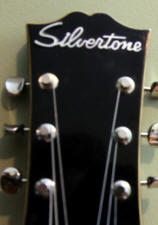 Couple of 'Dark Knights' for ya...

658 Kay FHAC w/ OC VG $399 Clean, light wear, some flaking, light rust to tuner plates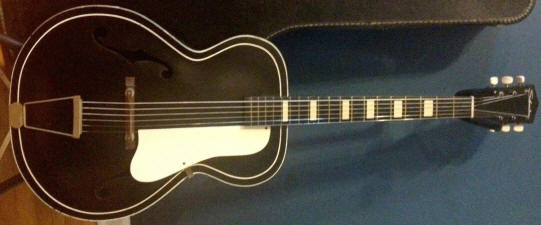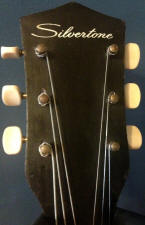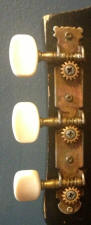 1477 Harmony SBEG w/ C VG $589 Clean, light wear, logo strong, chrome shiny, block markers indicate pre-1966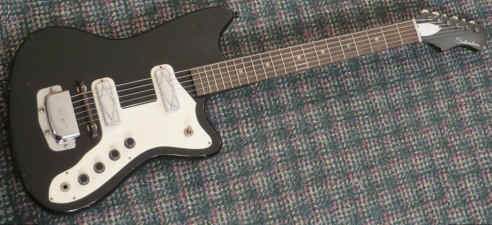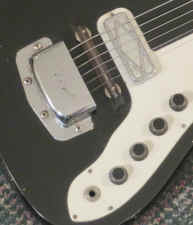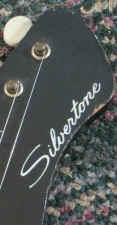 1207 Harmony FTAC VG $115 Clean, light wear, prismatic 'Space Dot' looks good, soundhole design strong, stamped F-71 M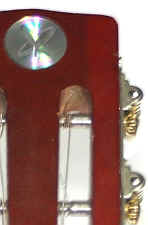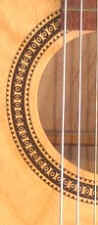 Here's the rare narrow-headstock bolt-necked Kay-built variant of the ubiquitous 604 model.

604 Kay FTAC F $20 Could use a cleaning, surface wear, buckle rash, some fingerboard wear, logo strong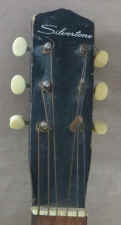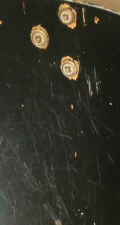 1431 Dano tube amp VG $250 Clean, light wear, covering peel at corners, grille clean, logoplate looks good, knobs need cleaning, AC cord spliced, volume pot scratchy, handle worn, rust to jack nuts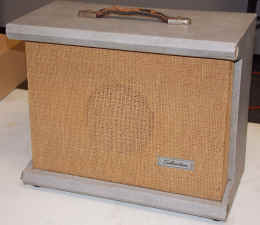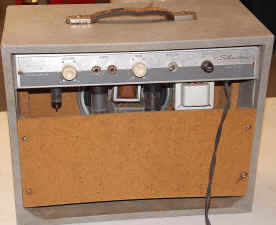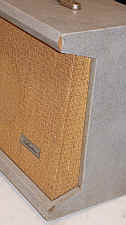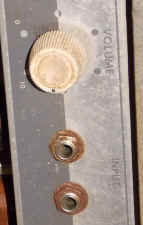 1484 Dano tube amp and speaker cabinet VG <$999 Clean, light wear, pots scratchy, rev/trem functional, no footswitch, cabinet stamping indicates December 1966 build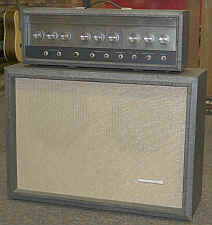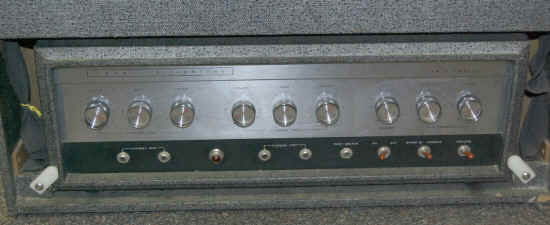 1484Dano tube amp only VG $695 Clean, light wear, rev/trem functional, no footswitch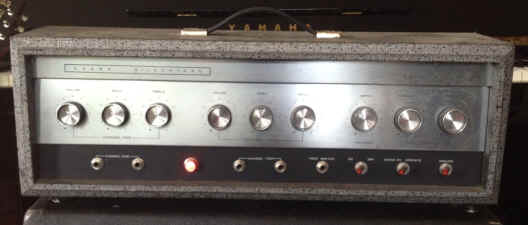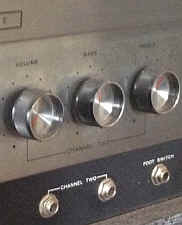 I've tried to find this amp in my catalogs to no avail... it's very similar to the late-era 1421 models from the early/mid 70s. The 1421 catalog illustration is from 1974.

1418 Sears solid state amp VG $30 Clean, light wear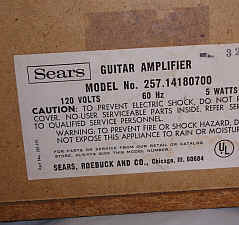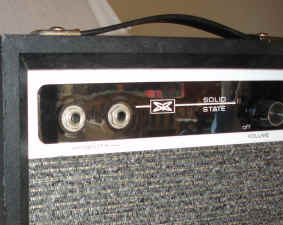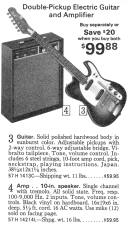 A little extra 'flair' to this formerly-bedazzled 1420...

1420 Harmony SSEG w/ OC MOD <$499 Clean, some wear, playing wear to neck, decorative striping added at tailpiece and headstock, headstock also has residue left by removed rhinestones, stamped S-50-T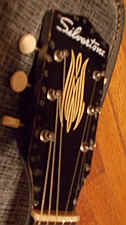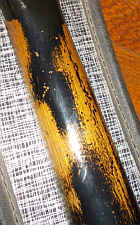 1420Harmony SSEG w/ OC VG $473 Could use a cleaning, some edge/surface wear, logo strong, bottom strap button broken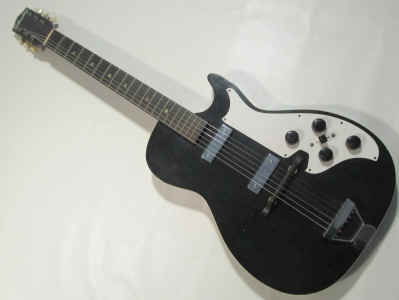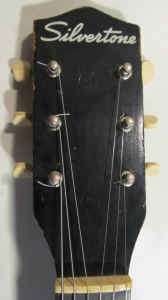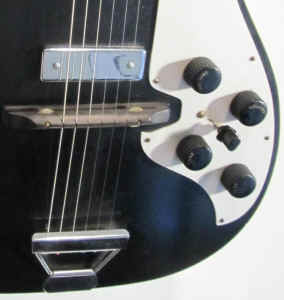 6/5

Graduations, Vacations, Staycations... June is that and lots more. It's meant a little redesign and some housekeeping here at Silvertone World; I've added some Google Ads to the site to help keep us 'on the air.' With the way Google matches content to ads, you're likely to see something you like, and if you'll click through to any that interest you, it'll help us keep the lights on. Thanks!

Now on to some sweet, sweet Summer Silvertonium... hadn't seen a nice full setup on a 1457 lately... here ya go!

1457 Dano SSEG guitar and tube ampincase VG $600 Chrome on guitar could use a cleaning, lead pickup cover split, light wear to guitar and ampcase, logo strong, neck wear, tremolo unmentioned, no footswitch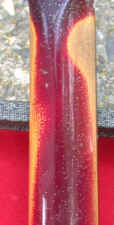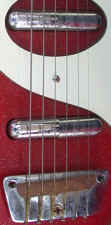 This 1448 setup was found in a church, according to the seller, where they found sheet music in the case with copyrights no later than 1964, so this is one sweet time capsule! Also, what's up with these cameras that's can't handle a thin line? I've seen a lot of pics lately of guitars, and the strings have this odd 'segmented' look to them, as in the 1448 pics below. Curved edges look crappy, too.

1448 Dano SSEG guitar and tube ampincase VG $530 Clean, light wear, light crazing, logo strong, chrome shiny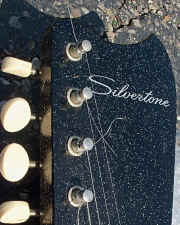 1488 Harmony SBEG w/ OC VG $599 Clean, logo 'shamed,' whammy bar present, selector switches noisy, pickguard has (typical) screw chip at upper bass horn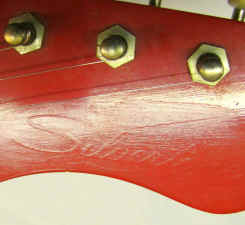 620 Kay FTAC VG $257 Clean, some wear on top, NS pickguard, logo strong, NS truss rod cover (decorative), "slight neck bow"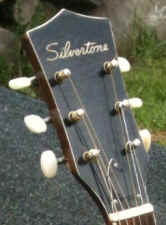 619 Kay FHAC VG $123 Clean, light wear, logo strong, pickguard missing, some odd staining to the top, 'G' tuner bent, stamped N6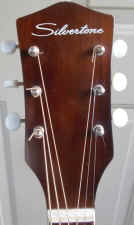 619 Kay FHAC G $123 Clean, some wear/flaking, worn spots on top below pickguard, neck 'repaired' with a nail through the heel, lamination lines showing at headstock, some buckle rash, logo strong, NS nut, NS pickguard, neck has a slight bow, stamped L8931 3887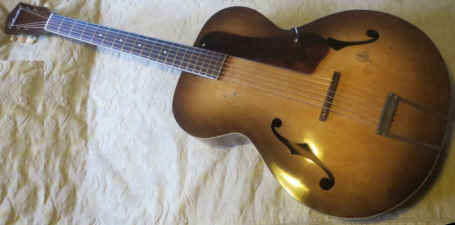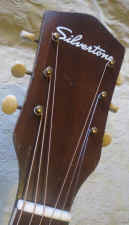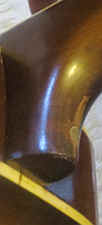 Wow, we really don't see many of these Canadian-sold, Japanese-built archtops! Check those groovy f-holes!

26953 MIJ FHAC G $69 Clean, light wear, logo strong, inside label in good shape, neck is bowed and pulling at heel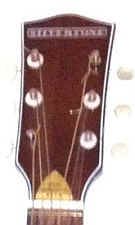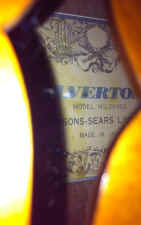 1217 MIJ (Aria? Matsumoku?) FTAC w/ OC VG $139 Clean, light wear, prismatic 'Space Dot' looks good, inner label intact, pickguard design looks good, NS truss rod cover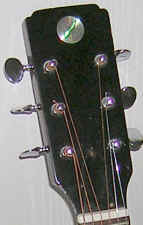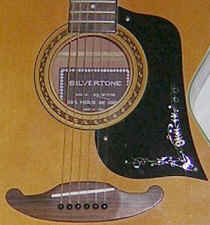 1389 Dano tube amp $108 Clean, some edge & handle wear, logo plate looks good, fuse holder missing, untested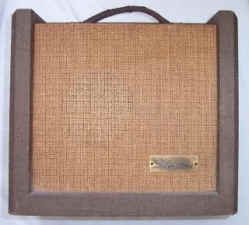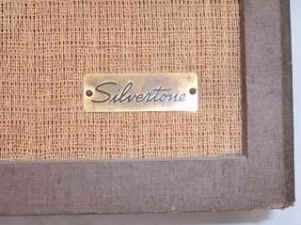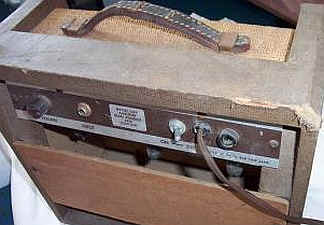 Silvertone / Samick is now shipping the new 'Classic Series' 1303 and 1478 guitars all over the country! Check their Facebook page for a dealer near you.





Time To Get Your Pick On! The pick store is back with classic black 'thin script' logos on a white matte-finish Delrin pick.
Our first batch sold out fast, so get 'em while they're hot!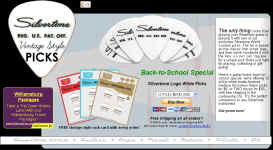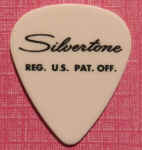 Make sure to visit May 2013, we saw some great stuff as we finished up Spring!


MODEL # / MANUFACTURER / INSTRUMENT TYPE / CONDITION / PRICE / NOTES

Abbreviations: M-Mint, NM - Near Mint, E- Excellent, VG- Very Good, G- Good , F-Fair, P-Poor, NS- Non-Stock, HBEG- Hollow Body Electric, FHAC- F-Hole Acoustic, FTAC- Flat-Top Acoustic, SBEG- Solid Body Electric, SSEG- Semi-Sold Electric, MIJ- Made In Japan, MOD - Modified significantly from stock, w/ O/C Original / Case, DNS - Did Not Sell; used mainly to show an item of interest whether it sold or not.

Unless otherwise noted, I'm rating them by what I see in the pictures and read in the description.

The items depicted on this page are not for sale by Silvertone World. These are reviews of items from completed ebay auctions on or around the date specified.

Links in blue open in a new window, and take you to a Silvertone World info page, a period catalog listing, or a link of interest.