Summer 2012


9/21

Fare Thee Well, Summer! Even though Fall officially starts tomorrow, the Silvertone auctions have been 'back to school' for a few weeks now. Lemme tell you what I'm talkin' about... Silvertonium sales are depressed during the summer, with some items going for a song, and other items sitting forlornly for a week or more, unbid-upon. Then, right around Labor Day, the auction action and the prices start to ramp up and get back in the groove. Here's a recent haul of some great Silvertone items, nearly all of them going for at least a cool grand!

This first trio of guitars owes at least some of its 'juice' to Dan Auerbach of The Black Keys, who is seen more often with a Harmony-branded H78 (left, actually a co-branded Heathkit guitar, the TG46, see note below) than a Silvertone 1454 (right, seen with non-stock knobs and whammy, logo missing).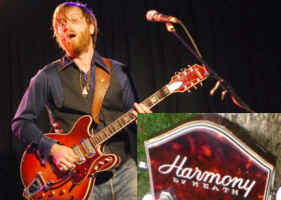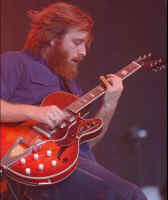 Interestingly, the Harmony guitar most often seen in Dan's hands is a rare variant offered by the Heathkit company, the TG46. Heath contracted Harmony to supply them with a 'you-build-it' guitar, and aside from the small 'by Heath' under the Harmony logo, was identical to the H78.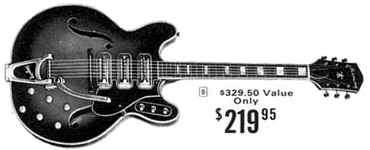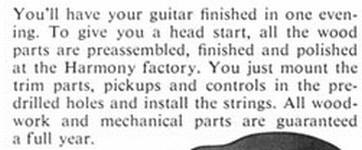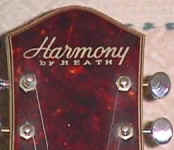 1454 Harmony HBEG w/ OC VG $2695 Clean, light wear, light finish checking, logo strong, stamped S-65-JP, case has a stylized "Strawberry" (Heart? Is/was there such a band?) logo one one end, and a fine attempt at a classic script 'Silvertone' logo at the other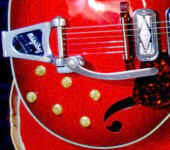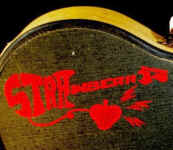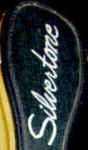 This next one comes to us from Curtis Fisher, a member of the Silvertone Royal Family. His grandfather was Sears Musical Instrument buyer and Nathan Daniels 'co-conspirator,' Joe Fisher. See the auction for some great photos, info and history.

1454 Harmony HBEG w/ C VG $1775 Clean, light wear, light finish checking, some flaking on treble side lower bout edge, NS roller bridge, (1) knob, strap button and pickguard missing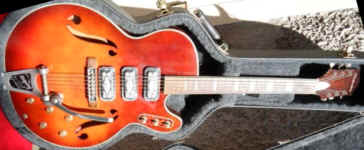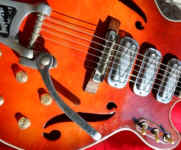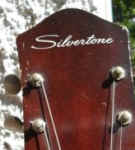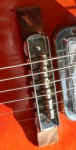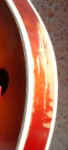 1454 Harmony HBEG w/ OC VG $1250 Clean, light wear, light finish checking, logo strong, stamped S-65-P, unusual clear knobs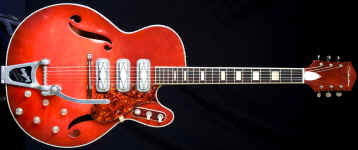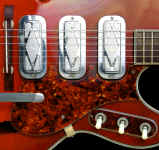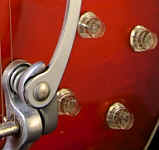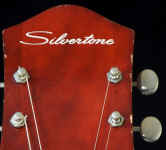 Here's a rare bird from Danelectro, the triple-pickup (the first 3-pu guitar Sears ever offered!) silver/black 1305 from the very late '50s.

1305 Dano SSEG VG $1550 Clean, light wear, logo strong, looks like back cavity cover is slightly warped, knobs with pointers intact, seller is original owners' grandson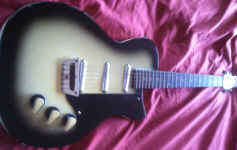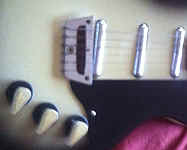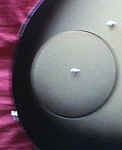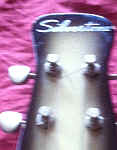 Let's catch a couple more Harmonies by way of Jupiter.

1423 Harmony SSEG w/ C VG $1399 Clean, light wear, logo missing 'Silv,' pickguard legend strong, blender knob not pictured but is included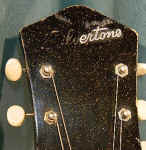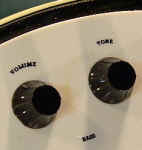 1423 Harmony SSEG w/ C VG $900 Clean, light wear, logo intact, NS tuners marked "Gibson Deluxe"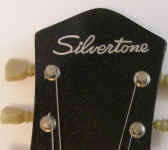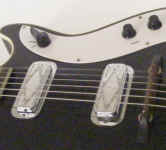 Little bit of fame put some shine on this 1448, owned by Morrisey's guitarist, Alain Whyte.

1448 Dano SSEG VG $1325 Clean, light wear, amp clean and functional, seller says "THE GUITAR COMES WITH AMPLIFIER CASE, ALSO COMES WITH PHOTOGRAPH OF MORRISSEY WITH THE GUITAR AND A LETTER OF AUTHENTICITY OF OWNERSHIP FROM ENGLISH GUITARIST, SINGER, AND SONGWRITER ALAIN WHYTE.ALAIN WHYTE IS FAMOUS FOR BEING MORRISSEY'S MAIN SONGWRITING PARTNER SINCE 1991 AND HIS LEAD GUITARIST FROM 1991-2004. ALAIN HAS MORE THAN 81 KNOW SONGWRITING CREDITS WITH MORRISSEY AND OF MORRISSEY'S 40 CURRENTLY RELEASED SINGLES, WHYTE HAS WRITTEN 16. SINCE ALAIN JOINED MORRISSEY IN 1991, MORRISSEY HAS RELEASED 29 SINGLES GIVING WHYTE THE CREDIT FOR WRITING OVER HALF OF MORRISSEY'S SINGLES SINCE THAT TIME. THIS GUITAR WAS HEAVILY USED DURING THE MORRISSEY "MALADJUSTED" ERA FOR SONGWRITING."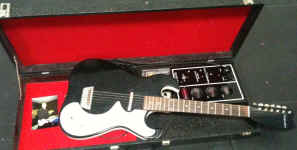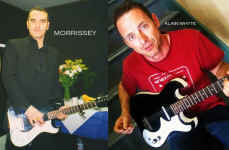 Speaking of fame, I got to rub elbows with Chris Isaak this summer on his 'Beyond the Sun' tour (returning to the States in November), and got to give Chris and Hershel Yatovitz their very own Silvertone logo picks!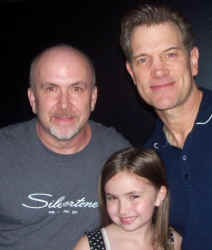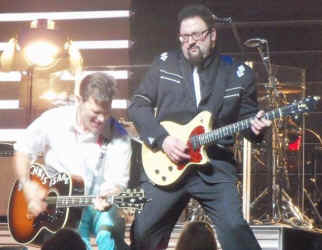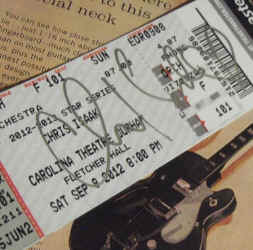 That of course leads me to.... the Pick Store is open once again! Chock full of the popular 'thin script' black logo on a matte-finish Delrin white medium gauge pick! Getcha some!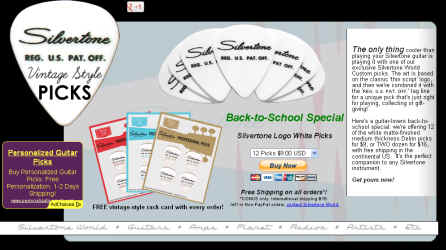 And, we'll close this end-of-summer report out with a nice 'Chris Isaak' from this past week.

1446 Harmony HBEG VG $995 Clean, light wear, logo intact, pickguard missing, light tarnish to Bigsby and pickup covers, knobs yellowed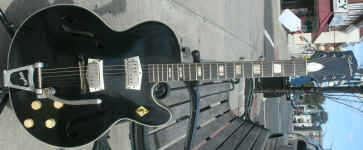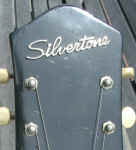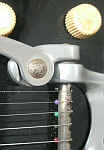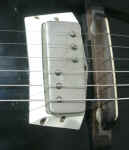 I'll leave the Summer page up a couple days so you can catch up on your reading, then jump into Fall 2012 on Monday.
Remember to 'Like' us on Facebook, and follow us on Twitter.



9/13

A Tale of Two 'Blues' We've got a couple of 'Kentucky Blue' models up today; and a nice contrast/comparison in finishes. The earliest Blues have faded to a greenish hue over the years, while later models have remained... *ahem* 'true blue.'

653 Kay FHAC VG $389 Clean, light wear, logo strong, faded to green, recently cleaned/setup/restrung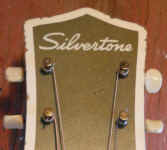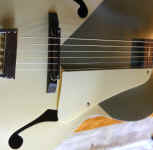 653 Kay FHAC w/ OC VG $350 Clean, light wear w/ some buckle rash, logo strong, rare 'shallow peak' headstock, original blue/white cord 'strap' incl.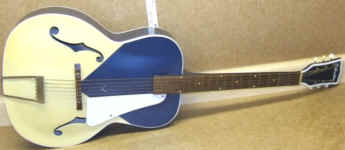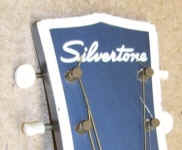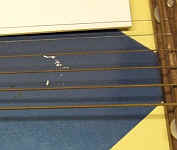 9/12

Just wanted to remind everyone that the entire Danelectro-built Silvertone family is up for your perusal.



9/4

Welcome to the last few days of Summer 2012! Sorry the site's been up and down lately... some server issues I had no control over. Everything (including my ability to update again) seems to firing on all cylinders now. Thanks for your patience.

Ladies and Gentleman, the 619! The Kay-built archtop was super popular during the 60s, and we see a lot of them today. They went through some slight cosmetic changes over the years, but always provided a fine acoustic archtop for a good price. That's today's first up, and a reminder to check out the new page for the popular 619.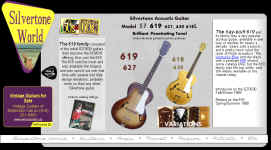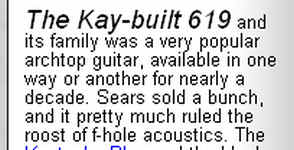 619 Kay FHAC G $106 Clean, light wear, logo strong, neck pulling up at heel, stamped N-6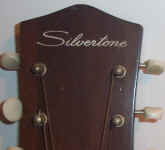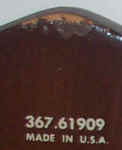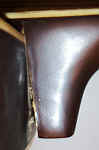 Here's something I ran across the other day that was just cool. The industrial design that I enjoy most from the late 60s was a no-nonsense, more Mission Control than Buck Rogers inspired look that just go the job done. Check this 'bookshelf' component: it's the tube-powered, multi-input stereo amplifier, the model 1029. Went for 173 bucks, all functions tested nominal.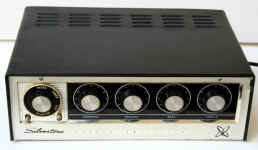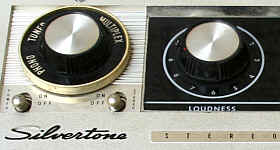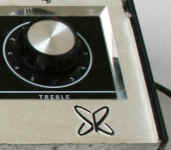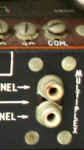 8/23

Sometimes You Just Gotta Say "WOW!" And that's exactly what I said when I saw these two items. First is a "Black Beauty" with the 'S' pickguard and metal Silvertone logo, and the other is a 1485 amp/speaker combo that went for some big bucks. Check 'em out! Ooooh, and check out the snazzy new 1485 page, too!

1384/5 Harmony HBEG w/ C VG $910 Clean. light wear, pickguard has light screw cracking w/ strong 'S' design, logo intact, serial #3949H64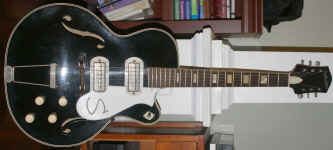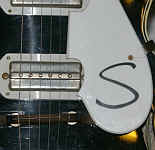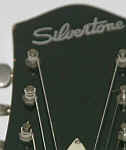 1485 Dano tube amp & speaker cabinet VG $2500 Clean, light cover wear, dunno why the logoplate is a little off kilter, stamping indicates late 1964 build, stored in basement nearly 50 years, amp untested; all tubes test good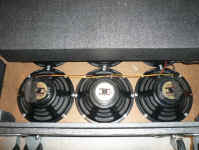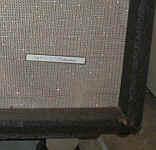 8/16

ELVIS on the news this morning reminded me of where I was 35 years ago today (painting the roof of the family home I now live in), and also of a little piece I wrote back in '09 on the King's first guitar. Good a time as any, I reckon, to revisit and expand on that. Here's the original piece from January '09:

Talking about Elvis the other day got me thinking about his first guitar. Surely, Elvis passed that thing on to someone that kept it, knowing its future historical worth. Well, I was watching a Kris Kristofferson-narrated piece on A&E called "Return to Tupelo," and I got some of my answer. They showed the Tupelo Hardware store where the guitar was purchased and a framed picture of the alleged tape-repaired guitar itself. A little Googling, and I find a great page at Scotty Moore's website detailing some aspects of the guitar with a front and back photo, and also some good info over at the Tupelo Hardware website.

It's a well-worn Kay flattop, with a square-shouldered bridge and a scallop-topped headstock. There's no visible logo, but the body shape conforms to the look of the mid-50s K-XX series of acoustics. There is no provenance other than word of mouth, and apparently no pictures of Elvis with any guitar during this time (which I find very odd), so, Elvis' first guitar still remains somewhat of a mystery.

Now on to today...

Here's that guitar mentioned on the Scotty Moore and Tupelo Hardware pages. I couldn't find any mid-1940s era Kay catalogs to peruse, but the early '50s catalogs had some very similar models such as the K-10 and K-20.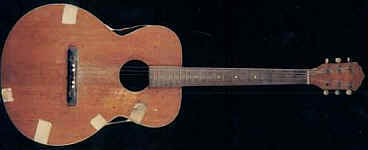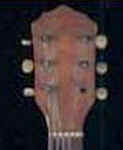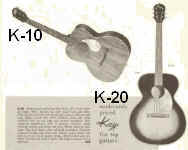 I reckon many of you have seen the well-known picture of a uniformed Elvis playing a Danlectro 6-string bass (also sold as a Silvertone-branded 1373) and assumed it was snapped in Germany. It appeared on Elvis "Army Days" bubble gum cards (card #49) and in the Complete 50s booklet. The shot (and the lesser-known shot shown below) was actually taken in Nashville in June 1958 at the famous RCA Studio B during a session that yielded the hits "A Fool Such As I," "I Need Your Love Tonight," "Big Hunk O' Love" and "Ain't That Lovin' You, Baby." Chet Atkins, Hank Garland (the bass probably belonged to one of them or was part of the studio 'arsenal'), pianist Floyd Cramer, drummer DJ Fontana and the Jordanaires were all there, with Scotty Moore and Bill Black conspicuously absent from the proceedings (thanks, Col. Tom). Here's a great page detailing the goings-on at that session, and much of Elvis' activities of June 1958.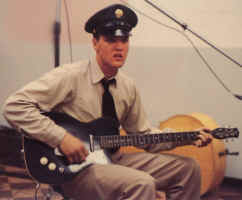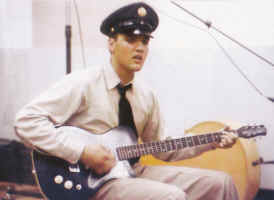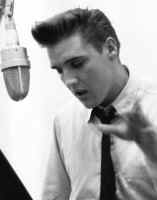 As you probably know, I love to find pictures of famous artists (or anybody, really) cradling a vintage Silvertone. Try as I might, I never could find Elvis with one. I DID, however, recently find one that he signed. It's a mid-60s Harmony-made 603/1200, and the painted-on pickguard-adorned guitar has no Harmony-branded equivalent. It's apparently available for purchase, and I'd like to sign a bill into law stating that all depictions of guitars must include a full-length shot.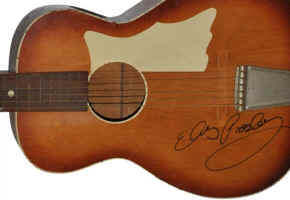 8/9

Classical Guitars Just Don't Get the Lovin', do they? Here we've got a lovely Japanese-made 1232 from the late 60s, little wear, original case, great looking block logo Silvertone label... and not even half a Benjamin? Classicals are so much fun to strum, to pick, and if you've never bent a nylon string... well, you're just missing out. Ah, well... whatcha gonna do?

1232 MIJ FTAC w/ OC Classical E $49 Clean, minimal wear, inner label clean, finish and tuners shiny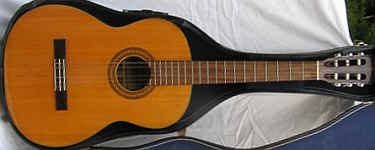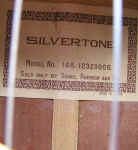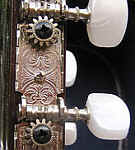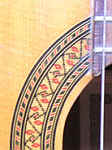 8/6

Tax-free weekend in NC, USA just passed. Remind me never to go out in THAT mob again! Anyhoo, it kind of put me to mind that school is indeed almost back in session for many, and that summer is winding down. Maybe that's where everyone was this weekend, because they sure weren't buying Silvertones! I saw as many unbid upon and unsold Silvertonium this past weekend as I did deals goin' down! Regardless, I have faith that things will pick up (as they tend to do) come September. That said, it's a great time for a great deal in Silvertone World. Just go peruse eBay for Silvertone guitars and amps, or root around your favorite flea markets and pawn shops. Regardless of any perceived slowdown, here's a few sweet pieces that went under the gavel over the weekend.

Rebellious! That's this Harmony-made 1453 store-only guitar... modeled after the Harmony Rebel, this one is comes from trusted superseller Lawman Mike!

1453 Harmony VG $600 Clean, some surface wear, logo laminate strong, a few scratches up around the headstock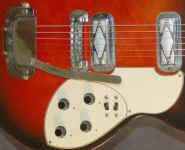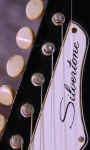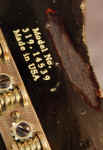 How about this unknown model number Supro? It was a store-only model, never appearing in any Sears catalog, and based on the Rhythm Tone line of guitars, this one sporting an unusually clean pickguard (most of' em have the left side worn away) and shiny, shiny metal parts!

UNK Supro w/ OC VG $740 Clean, light wear, pickguard logo strong (!), tailpiece/pickup cover/headstock logoplate shiny, serial #X86703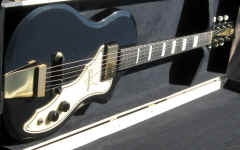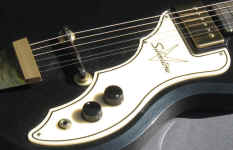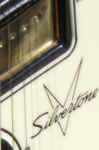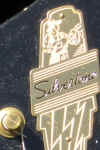 Round out the day with a guitar that DID appear in the Sears catalog, this well-preserved Land of the Rising Sun 1410. One of the last guitars to receive a cursive Silvertone logo.

1410 Teisco MIJ VG $295 Clean, light wear, some light scratching to chrome, logo strong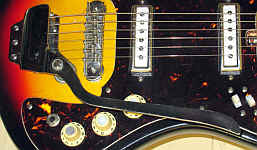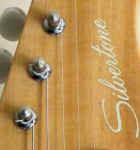 8/3

October is a couple of months away... but really, the season for Frankentones never ends. Here's one we'll be adding to the monstrous horde in a couple of months. It's a Kay-made 619, he very popular acoustic archtop that Sears sold by the truckload for nearly a decade ('59-'68). In addition to the snazzy American flag sticker at the tailpiece, we've also got new tuners, and a homebrew electrification package. Not as scary as some, mind you, but just wait 'til we unveil this years crop of 're-imagined' Silvertones. Moooohahahahahaha....

619 Kay FHAC MOD $170 Clean, light wear, logo strong, NS tuners, pickguard and electronics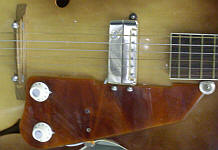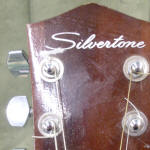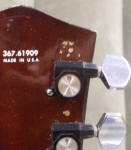 7/31

Here's a great ol' Silvertone... it's a late '30s/early '40s-era Crest that went for three bills a coupla days ago. Check the snazzy appointments: the amazing binding, the fancy headstock laminate, the bound neck. Sweet!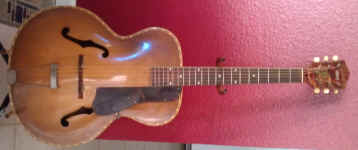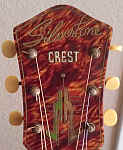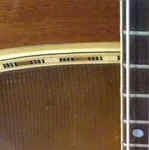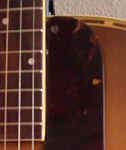 Silvertonian Phred picked up that E string at auction yesterday, and assures me he won't be using it. Here's another Silvertone 'component' that sold today for way above its original price, and it's not even a question as to whether it's gonna be usable or not.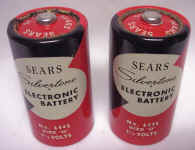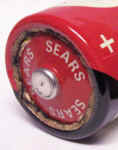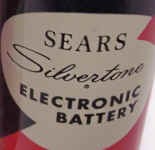 7/30

Hard to Believe Sears would use this much packaging for just one string... but the proof is in the... um... well, we have a picture! Dunno if that ballpoint-pen-scrawled "30" is the original Sears sale price or from the flea market this might have passed through. Amusingly labeled as a 'flatwound,' it'd be a mighty thick high E if it was! I hope the buyer doesn't try to actually use the string... don't reckon it'll ever lose the 'memory' of forty years being coiled up. Oh, yeah... pretty good retained value... sold for $7!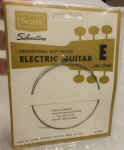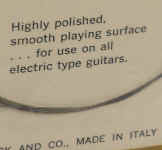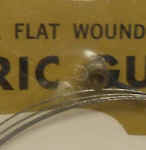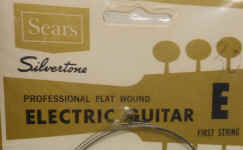 Speaking of retained value, how about five 14XX series amp knobs for $40?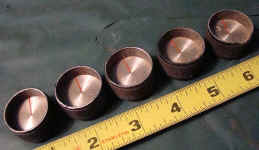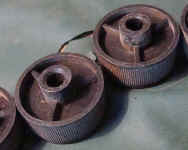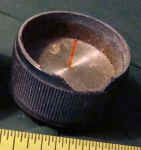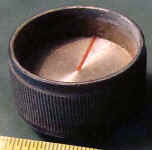 I've been searching eBay lately with the query "vintage guitar photos / photographs / pictures" lately and coming up with some real gems. Here's a few...

Sure looks like a 40s Silvertone 'Crest' to me... this snap was taken in '97, and it's a shame that photographer's thumb is in the way of a clear headstock shot!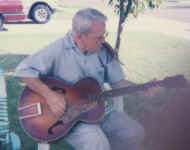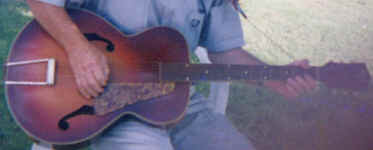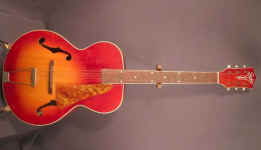 Same guy, same guitar... but it's 30 years prior to the first shot above! The flash washed out the logo this time. Still... same guitar (check the pickguard 'grain'), same guy, three decades apart... how awesome is that?!?!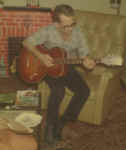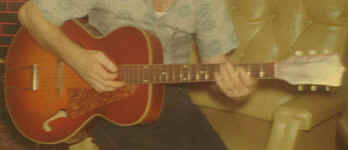 Sad note: The player in the snaps above appears to be Walter Lee Lefler, from Lubbock Texas, who passed away just a couple of weeks ago. From his obituary: "Walter loved to play the guitar and was excellent at it. In his spare time he played his guitar at the senior center, danced and spent a lot of his time with his many friends." Godspeed, guitar man.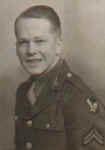 Check out this rockin' family... Dad gets the double-neck Dano, and what kind of guitars are the boys rockin'? I wonder what they called themselves? "The Pizza Hut Table Cloths"? "Checks on the Male?" I guess they couldn't find a pint-sized checkered shirt for Junior.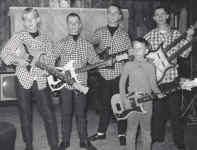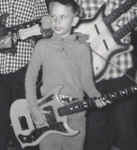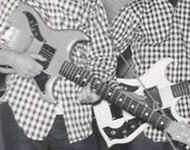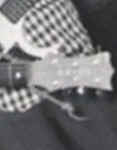 What kind insane contraption is THIS? Looks like some kind of retrofit bridge that gives the player steel guitar-type bending ability on a regular gee-tar! The guitar in question is Teisco-made, based on the MJ-2 series, which the Silvertone 1435 is derived from. Wow!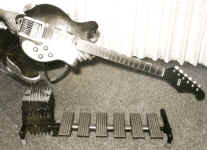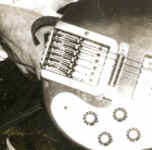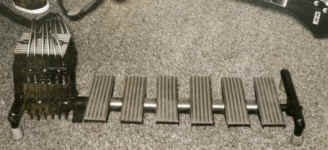 7/26

Proto Dano Neato! I love these 1375/1377 series guitars. They showcase Nat Daniels' genius in design, economy and practicality, and gave us an almost "inside look" at the Dano-built Silvertones to come.

1375 Dano SBEG w/OC VG $800 Clean, light wear, headstock laminate looks good, neck plugs painted white, light finish wear to exposed truss rod on back of neck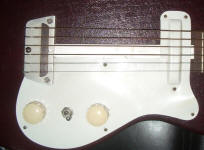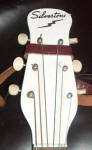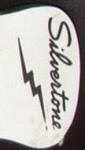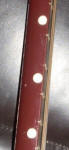 Well... these are absolutely cool, and super rare...

7435 UNK Portable speakers VG $100 Clean, light wear, functional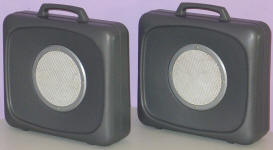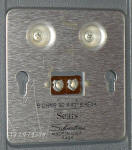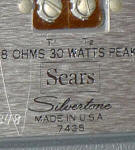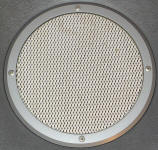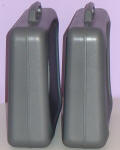 7/23

Hot! Hot! Hot! Seems like this awful heat might be slowin' down everything... including the Silvertone auctions, but I reckon it's just the season. I don't know if this is true across the auction board, but Silvertone sales on eBay are historically depressed during the summer. It's a great time to get a bargain, as there don't seem to be as many buyers in the mix, what with vacations and cookouts and camp and all such as that. That said, here's some of the coolest things I've seen the past couple of weeks.

An amazing bunch of Kay-built guitars have sold the past coupla weeks; here's a few, starting with a lovely electric 'Aristocrat,' the 1354.

1354 Kay HBEG w/ C E $1400 Clean, minimal wear, logo laminate and pickguard design strong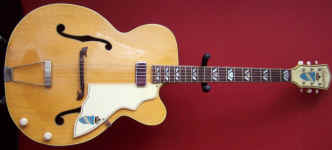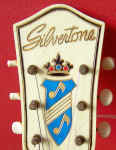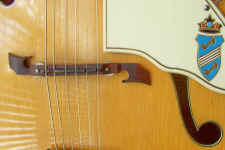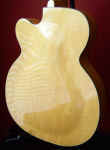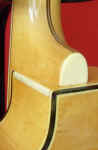 Another member of the Aristocracy, here's a fine 1425.

1425 Kay HBEG w/ OC VG $590 Clean, light wear, some checking, tape/strap markings on headstock, logo strong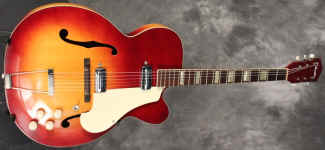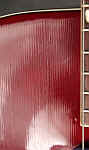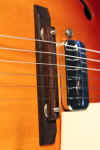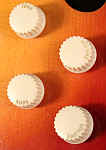 Now for some acoustic goodness, here's an amazingly well-kept 'Kentucky Blue' the 653.

653 Kay FHAC w/ OC E $700 Clean, minimal wear (a couple of small headstock dings and some light buckle rash), finish shiny, logo strong, original manual/warranty pamphlet and braided cord 'strap' incl., vintage chord/music/instructional books incl.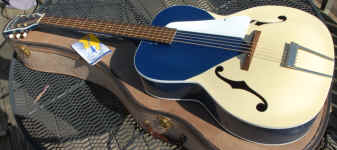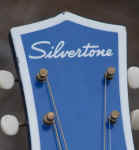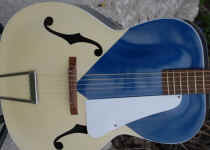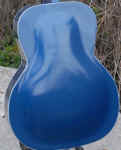 Now for a quick 'Tale of Three Guitars.'

Everyone seems to love the Kay-built 618 and 620. Their 'Jumbo' good looks and good ol' flattop sound made them fairly popular back in the day, and also in today's market. There was a cutaway acoustic offered at the same time that looked to be part of the 618/620 family, the 628, that I assumed was also Kay-made back in my earliest days of collecting/archiving Silvertones and related info. It appeared alongside the 618 in the Sears catalog, and had the same 'Jumboesque' look the 618/620 models had. So, I was quite surprised one day to find Harmony-style stampings inside of one! Here's a neck-pulling-away, finish-checked 618 (with some odd finish damage... looks like some long-term storage/packaging damage) that just sold for $154, a Kay-made cutaway model K18 (in a beautiful and rare black finish) that just went for a fine $425, and a look at the Harmony-built 628.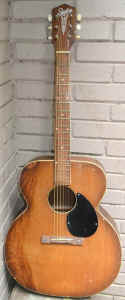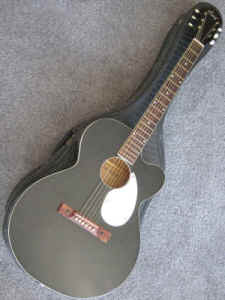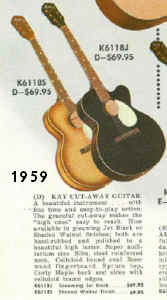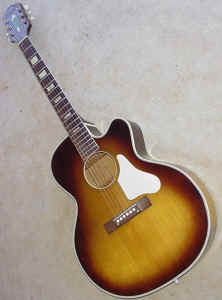 Wanna see some more Kay catalog pages? Head on over to KingOfKays. Here's a little scavenger hunt once you get there; try to find the Kay equivalent to the Harmony-made 604, and locate the model that the 'Jimmy Reed' 1381/1369 is derived from. Have fun!





7/4

Happy 4th to all my American friends, happy July and happy Summer to all!

I've been hard at work on the back end of this website, fixing things that might be creaky, re-vamping things with new-found knowledge, hammering together pages for our Every Silvertone Ever™ initiative, and generally taking advantage of the slower summer pace of auctions in Silvertone World. I still watch 'em, and will resume daily reporting one day, but I don't want the completeness of this website to take a back seat to current events that repeat themselves. If something INSANE comes along, you know you'll get to see it, don't worry. Today, events and available time conspired to let me bring you a tale of multi-part Harmony (with some Italian spice thrown in for good measure). First up is a very nice example of the venerable 600 series, bringing about what you'd expect for the condition it's in.

621 Harmony FTAC G $100 Could use a cleaning, logo strong, bridge sound, some tape residue, side wear & cord melt, stamped S-65 AP, seller says "The neck is straight, but would benefit from a neck set. "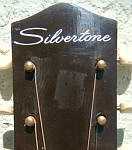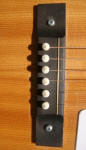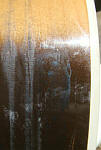 Next is a completely re-built 621 with a nice loooong story from he seller/modder: "I took this guitar apart, pulled out all of the old ladder bracing from the top, and installed the Martin x-brace pattern using Sitka spruce braces. I shifted the x-braces and scalloped them. The bass response in this guitar is very good and the way I scalloped the braces helps to make that happen. I have also done a complete neck reset on this guitar. The original fretboard was beyond repair, so I replaced it with a rosewood fretboard from Martin. I was able to use the original bridge, but had to move it forward about 1/4 inch to allow for the Martin scale (25.4") and to make the intonation come out right. The action on this guitar is great. I have it set at about 3/32 to 7/64 of an inch at the 12th fret. it plays very easily. Also, I have made a solid bone nut and saddle for this guitar. The original finish was a dark brown paint and a lacquer clear coat. I stripped off all of the original finish except for on the headstock. The headstock still looks 100% original. The back and sides of this guitar are birch and the neck is maple. I applied a red mahogany stain the the neck, back, and sides before applying my clear coat. I used a semi-gloss lacquer finish and buffed it out to a nice low luster shine. The tuners have been replaced with a golden gate open back tuner with a nickel finish."

621 Harmony FTAC MOD $525 See notes above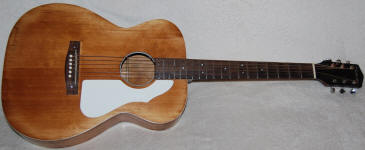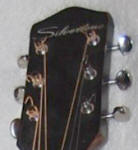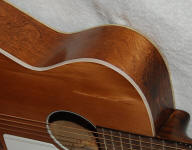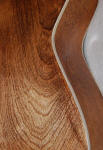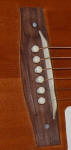 Then there's these sad puppies, that don't sell or go for pennies and parts...

This one didn't sell this go round, but had its original case, no tuners, a detached bridge (was that nut/washer/bolt standard? I need to go reach inside my 643...), strong logo, honest wear.... a little TLC would bring this one back strong.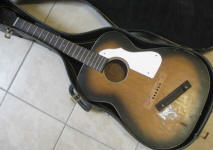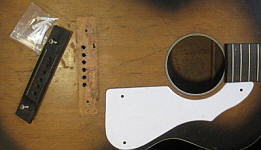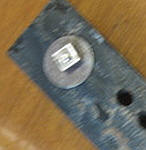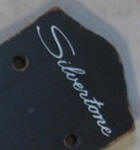 This 621 has an interesting enough grain on the top, I'd almost continue going without the pickguard! No nut, some side cracks and finish checking, a nice case, strong logo on a worn headstock, this one went for just $50.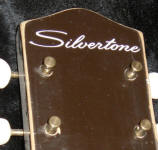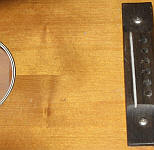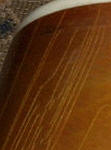 This one hung on to the bitter end! Look at that bridge... nothing but complete structural failure kept that last picker from pickin'! Scrape off what's left, hit StewMac up for a new bridge and some tuners, and this unusually thick-script logo'd model will be a fine strummer once again. It went for $53.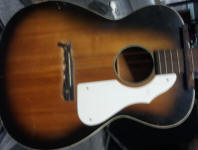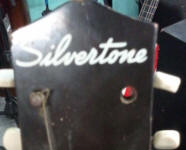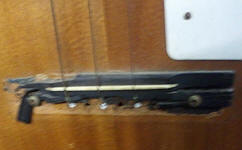 Next up, a pair of Italian-made guitars I admittedly know next to nothing about. There are nearly exact clones of the 600 series, so I'm placing them into a mid-60s time frame, and they very nearly match some EKO models, specifications and production signatures, so I'm going off of that. If these didn't have a prominent model number stamped inside, we wouldn't know that.

We got lucky on this one, a "2 66" stamp next to the "Model 698" stamp puts it clearly into the mid 60s. (See note below) Look at all the completely duplicated from the 600 series detail: the shape of the pickguard, the inner soundhole binding (unusual on a budget guitar, anyway, it was a feature that lasted the entire Harmony-built run of the model), the 'burst paintjob... and the totally UN-domestic features like the bolt-on neck and the curved-at-the-bottom fretboard. In addition, the font for the headstock logo is cursive but still quite different from the logo we know and love. The "Made in Italy" decal on back and the "Steel T" decal up between the 'E' tuners let you know without a doubt at least some of its origins. Oh, yeah... $23 brought it home.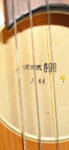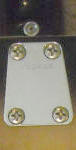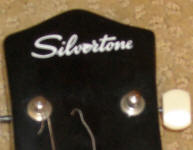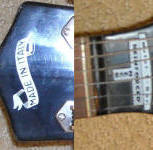 This nice Italian Job didn't sell the first time around, so if you're interested, give it a gander and a bid. It's one of the best one of these I've seen, with the usual finish checking and some cracking/damage on the back, but a beautiful grain still to the top, all the binding tight, and the unique logo strong. Another candidate for some TLC.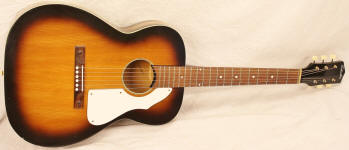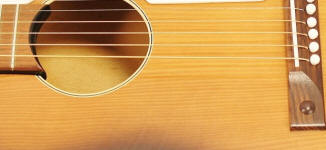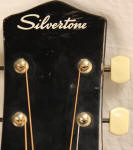 Note Below.
The first 698 had a stamping of "2 66" which I assumed to be February, 1966. The second 698 example, however, had a stamping of "10 21." Employing the same date/year conventions, that would make this October, 1921; clearly impossible. That said, I need to know: does anyone know anything about these mysterious models? Did Sears have stores in Italy in the mid-60s, or were these 'knock offs' (admittedly, of Sears own product) brought over as a test of the market's adoption of import instruments?

Here's a 1973 EKO catalog illustration of the 'Ranchero 6.'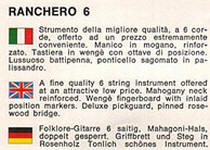 6/26

I'd thought about getting these... they look like fun, but I'm sure a $5 pair of no-name Pacific Rim earbuds from the discount store would surpass them in fidelity. Still, pretty cool setup... maybe mod the innards with today's state-of-the-art components? Well, there's a great project! This particular pair isn't working anyway, so why not gut/refurb? As to this odd little piece's place in the ongoing/unraveling puzzle that is Silvertone World? This item is interesting because it shares the stylized SR 'Space Dot' branding alongside the Silvertone name. The Silvertone name hung around in the electronics department (where it still had a little 'juice' left, apparently) until early 1972, but the name had been out of use for at least a year by then in the musical instrument department.

7443 Sears headphones VG $13 Clean, light wear, logo/imprint on headband and cups strong with original box and paperwork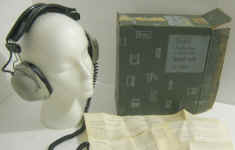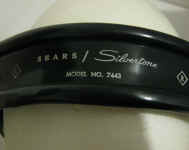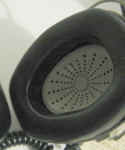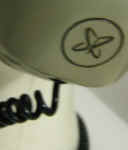 Some more great vintage headphones from eBay seller wi_finds.




6/21

Some Fine Silvertonium has been sold in the past week or so, and I'd like to show you a few pieces. We'll start off this first full day of Summer with a sun 'n' fun treat, the rare Harmony made 851 'skier' model Ukulele.

851 Harmony Ukulele VG $175 Clean, light wear, a few cracks, stencil strong but logo looks 'double screened,' seller says "It has two cracks on the top at the lower bout behind the bridge, one of them that goes up to the sound hole. Both of them have been fixed and the uke is structurally fine. "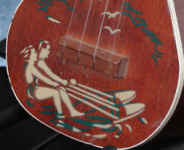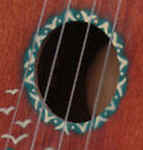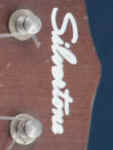 How about a Harmony-built, 'P' pickup equipped, super rare 1352 lapsteel?

1352 Harmony Lap Steel w/ OC VG $318 Clean, light wear, 'deco' logo strong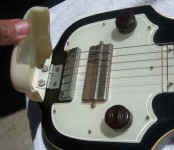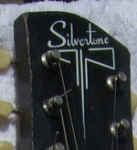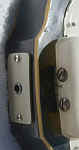 Next up, a wonderful example of the Dano-built 'tan and ginger' covered 1359 guitar.

1359 Dano SSEG w/ OC G $1300 Playing wear to neck and top covering wear (esp. at bass lower bout edge and treble waist and cutaway), logo strong, some internal stamping indicates early 1956 build, seller says "I'm the second owner. I bought this from the 'picker" who found it at the estate sale of the original owner, where it had sat in its case, unused for years. I've done nothing to it except change the strings and play it – all solder joints, all hardware down to the last screw, everything is still just as it came when new except for play wear. The "mojo" is definitely here on this one."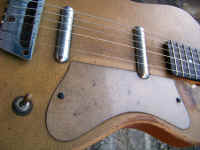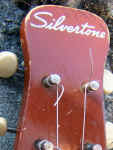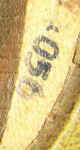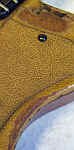 A nice Harmony-made 623 that went for a fine price.

623 Harmony FHAC w/ OC G $365 Clean, some wear and scratches, edge wear, light buckle rash, logo strong but looks 'double screened,' some paint drips on back and neck, stamped S-61, serial #2817H623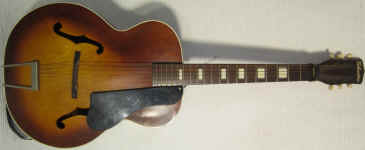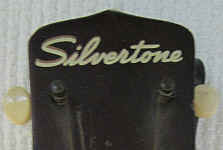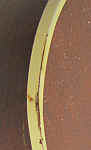 Here's a well-played 'dolphin nose' 1415.

1415 Dano SSEG VG $849 Clean, playing wear all over, logo intact, original gig bag incl., stamping indicates March 1962 build making this one of the last to roll out of the factory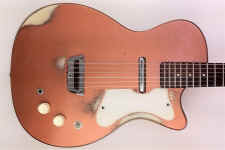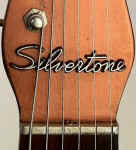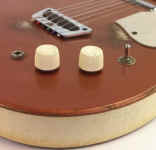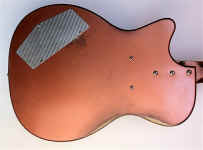 These 'Space Dot' branded amps still have the 'Silvertone' name on the labels inside!

1421 Sears Tube amp VG $184 Clean, light wear, incorrect label applied inside cabinet, seller says "This amp has just been serviced. Three bad filter capacitors and a terminal block were replaced. All tubes are original. All pots and jacks have been professionally cleaned. This amp has a great sound even at low volumes and a nice growl from about halfway up. Tremolo circuit also works perfectly."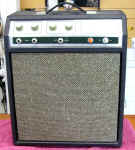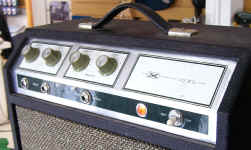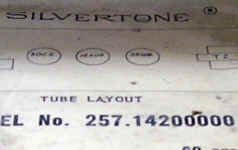 Why does an Aristocrat inspire Bedazzling? This is the fourth or fifth sparklingly 'enhanced' strummer I've seen over the years.

1367 Kay HBEG MOD $407 Bedazzled, cracks at waist, tuners NS or reinstalled, something going on at neck/body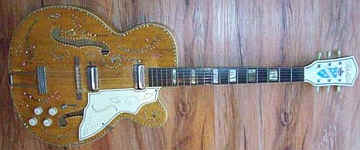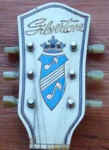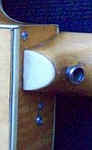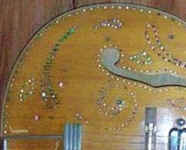 6/13

Every Silvertone Ever marches on as we add the last of the Danelectro-built guitars to the site.
Check out the new pages for the 1317/1319/1321/1323 and the 'dolphin nose' 1417/1419/1415/1416 guitars.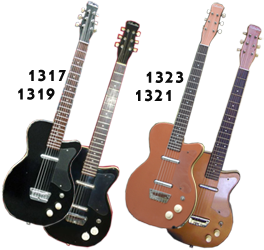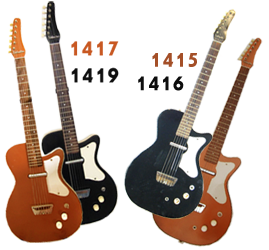 6/6

I love how Silvertones are a door back to a different way, a different look, a different priority on the form and function of an electric guitar. Today's first up is a waaaaay back to the very beginning of commercial electric guitars. Lap steels and 'Hawaiian' guitars had proven the electronics, and now the pickups and controls began to appear on 'Spanish' guitars! This was the first that Sears had to offer in a solidbody non-lap guitar, seen only briefly in the stores and in the catalog in 1954, this prototypical electric guitar is a rarity today; even moreso where the guitar currently calls home in Australia.

1361 Kay SBEG VG $988 USD Clean, light wear, logo strong, pickup cover and knobs look good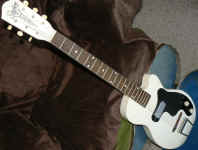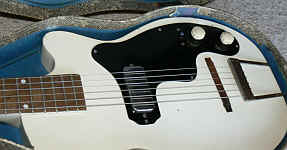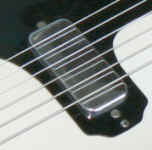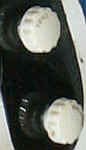 And in the "it slipped in on the 'silvertone' (+, -) word search in ebay" file: it's this completely insane bass guitar. Look at it, with its vaguely Rick-ish head shape and decoration. The very Gibson/Harmony P Series looking pickup (but very differently dimensioned), and the amazingly Dano-ish bridge/tailpiece. Some crazy Frankenstein, or a very small custom run... can we at least ID that bridge/tailpiece?



Whatever it is, it's for sale.


6/4

It's fun to see terms that I've made up here at Silvertone World to get footage out there in the 'real' world. Case in point, this 'Space Dot' model 1212 that sold last week. The guitar's in great shape, and the description really struck me as a great one, too.

What I like:
-All birch grand concert body size. Just has more sound and tone then my smaller birch guitars and still comfortable to sit on the couch with.
-Funky pumpkin color.
-Wide profile neck. Wonderful for finger style blues, folk, country.
-No matter how much I dig in with a pick It doesn't buzz.
-Picking single note jazz lines is just great. Lots of room and it projects soft and loud tones.
-I have some very fine acoustics with rich ringing tones. This is total different. Its loud but has this cool woody, reedy tone that allows single notes to stand out. You can really dig in.
-Playing rhythm is crisp, clean, choppy –so much fun.
-Actually really great to sing blues, country or rock with because of its strong sound without too many overtones.
-This guitar is tough (I almost think I could play baseball with it.-The retro hologram "Space Dot" Vibe. It is so cool to pull this out of its cardboard case in a small gig or with fellow players.
-They look – see the space dot – see the screwed on pick guard absorb the pumpkin flavor and surprise at the sound coming out.
-Then the amazed questions, what the "h-" is that?
- I have been having so much fun finding the voice in guitars that I would have previously ignored. It's not a Martin or Taylor or Gibson it's a Space Dot Silvertone.
- Just like you it has a voice all it's own.
1212 Harmony FTAC VG $203 Clean, light wear, diffraction Space Dot looks good, stamped F-71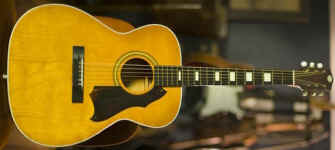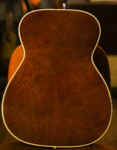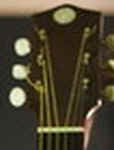 One of the best 619 models I've seen. If you haven't visited the new page for the super-popular '60s archtop, head on over!

619 Kay FHAC VG $220 Clean, minimal wear, finish shiny, logo strong (worn slightly at second 'e'), stamped N-5, original 'how to care for' booklet, picks, strings book incl., seller says "The only things I see with this guitar are the following: One of the tuners has a slight bend, functions fine. Nut on the high e string is chipped, see the photo, but the string retains fine in the slot and in my opinion does not warrant replacement. Action is a bit high...on the 12th fret, it is 1/4 inch. The bridge has been lowered all the way so you may need to shave the bridge down for lower action. Plenty of meat on the bridge to shave it down a tad....I leave that to you."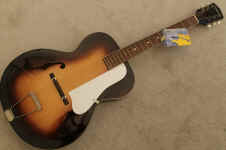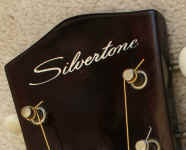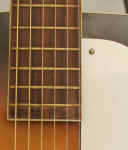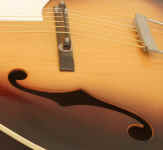 6/1

Gonna ease into the Summer months with a couple of dynamite guitars that are available at auction right now. They're so amazing, I felt compelled to bring them to the attention of our great team of Silvertonians.

Here's the first, an ultra rare 1940 Harmony-built 2256 'Maestro' model from the very first days of Silvertone guitars. Check the beautiful details: the baton inlay at the headstock, the unique Silvertone logos on head and pickguard, the fine multi-layer binding work, and that oh-so-deco note inlay design on the fretboard add up to a real collector's item.
Brought $600 at auction over the weekend.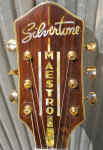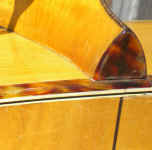 The second, an 'Aristocrat' recently found in a music shop that closed forty plus years ago! It's a Kay-built 642/651, and it's in pretty much 'new old stock' shape. There's a new compensated bridge and a new set of strings, and the only nit to pick is that the filler for the logo looks to have shrunken a bit over the years. Otherwise, you'll not find a better one!
Didn't sell first go-round, give it another shot!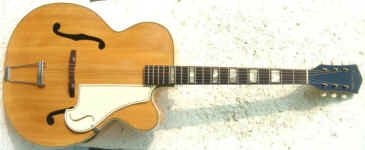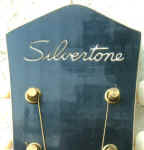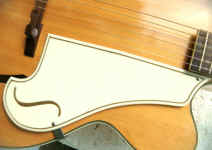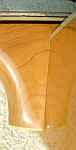 Full disclosure: I receive zero compensation for bringing these auctions to you. I just feel the items need a larger, appropriately appreciative audience.

Make sure to visit May 2012; we saw some great stuff last month!



Help keep Silvertone World 'on the air.' Buy some picks!

Thanks, y'all... we're SOLD OUT of our exclusive new Silvertone World Custom Picks! Head over to the Pick Store and grab a dozen or two in the bulk pack for some serious Silvertone-flavored strummin', all at great prices and free shipping on US orders.
We'll be getting more in soon, so stay tuned!

MODEL # / MANUFACTURER / INSTRUMENT TYPE / CONDITION / PRICE / NOTES

Abbreviations: M-Mint, NM - Near Mint, E- Excellent, VG- Very Good, G- Good , F-Fair, P-Poor, NS- Non-Stock, HBEG- Hollow Body Electric, FHAC- F-Hole Acoustic, FTAC- Flat-Top Acoustic, SBEG- Solid Body Electric, SSEG- Semi-Sold Electric, MIJ- Made In Japan, MOD - Modified significantly from stock, w/ O/C Original / Case, DNS - Did Not Sell; used mainly to show an item of interest whether it sold or not.

Unless otherwise noted, I'm rating them by what I see in the pictures and read in the description.

The items depicted on this page are not for sale by Silvertone World. These are reviews of items from completed ebay auctions on or around the date specified.

Links in blue open in a new window, and take you to a Silvertone World info page, a period catalog listing, or a link of interest.