Fall 2014, Pt. 1

11/1

Nothing Left But The Head... a little disembodied Hallowe'en holdover...

1481 Dano tube amp head only $100 Re-capped, works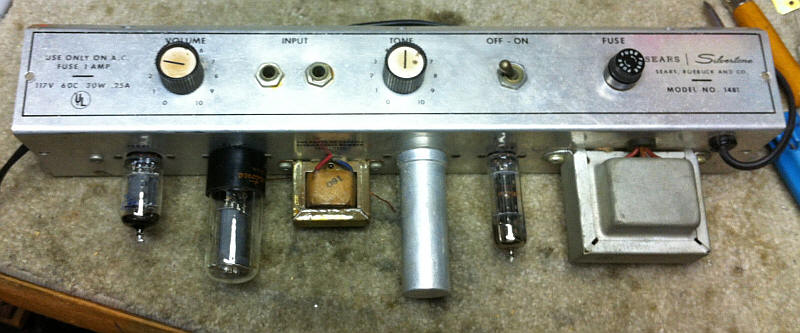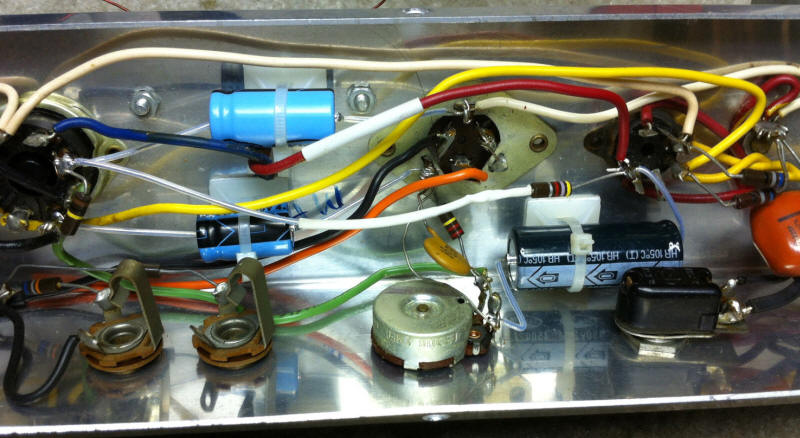 Dispatches from the first week of November, 1964:

The Beatles influence exploded on the American scene in 1964, influencing everything from the music industry (obviously) to fashion to souvenir manufacturing to demand for guitars and amps. Given that, this 'Hot 100' from Billboard with nary a song from the Fab Four ANYWHERE is just weird. The title single from the movie "A Hard Day's Night" had dropped off the charts mid-October, but given the dominance of the Beatles early in the year #1-#5 songs in the Top 10 in April!), it just seems strange not to have at least one of their songs lingering in the charts: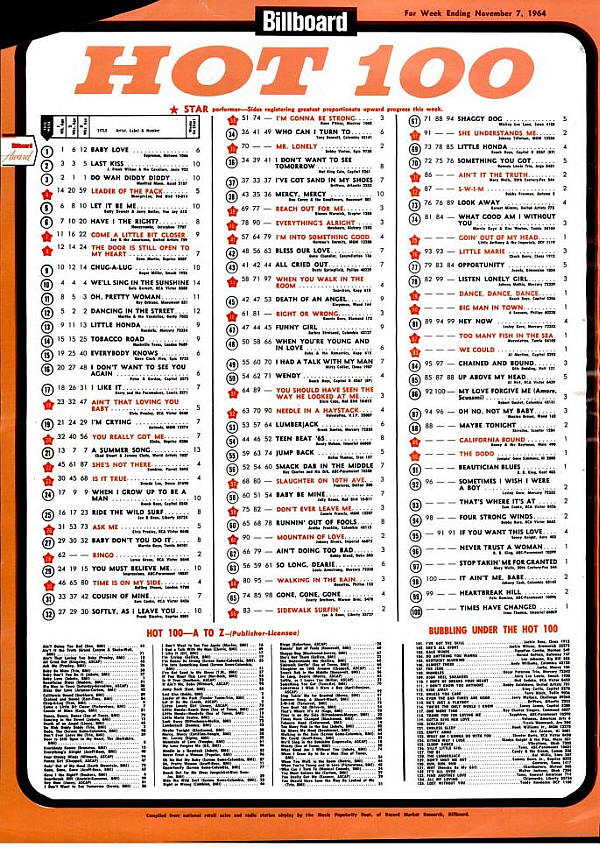 Obviously, there was more to the early '60s than the Beatles: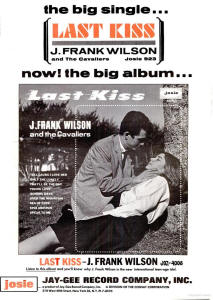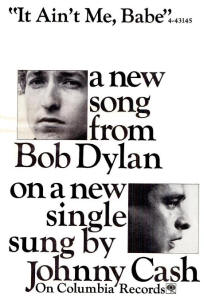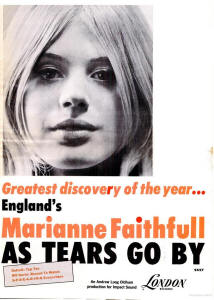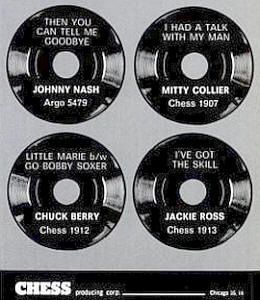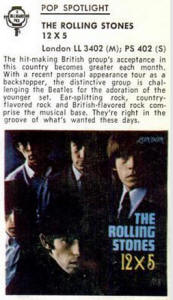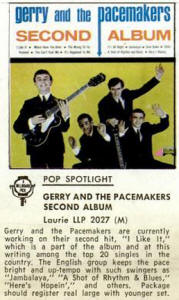 Casting George Hamilton as Hank Williams always seemed odd to me, but Col. Tom Parker introduced Hamilton to Williams' widow, Audrey, and she lobbied MGM for him to portray Hank.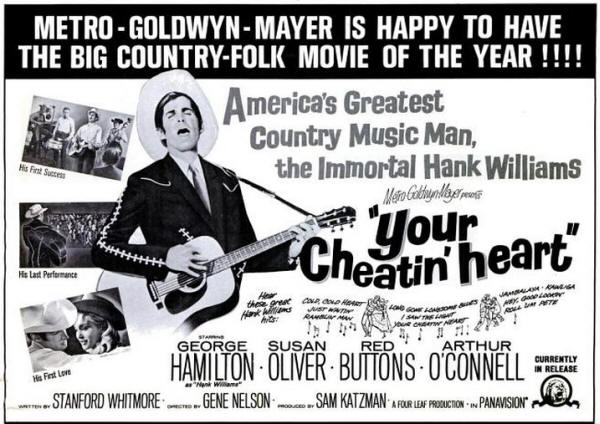 10/31
Tricks and Treats! We're gonna end up the month with one more all-new Frankentone, and then fill your bag with some fun-size Silvertonium for you to enjoy. And, you can enjoy it ALL... no stomach ache! Well, unless you see something that you really wanted and missed out on...

The good Doctor abandoned this creation, but, lucky for us, we get a glimpse into the inner workings of these Dano-built guitars.

1457 Dano SSEG body Asking Price: $150 Cutouts for humbuckers and repositioned lead lipstick, top panel removed, sidewalls removed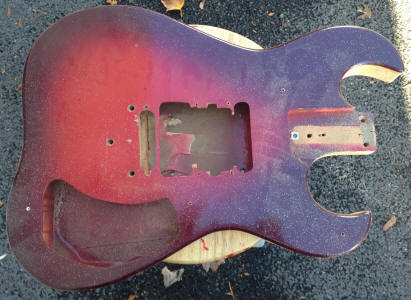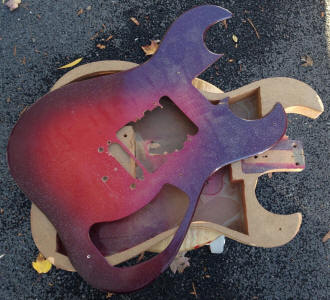 You can see here where the slick top layer of the Masonite adhered to the pieced-together poplar frame when it was removed. I'd certainly love to see every step in the manufacture of these iconic beauties. When I get my time machine, I promise my first stop will be Neptune... New Jersey, that is, so I can make a documentary on the Danelectro factory.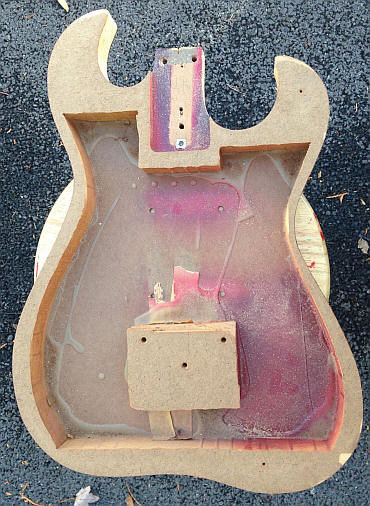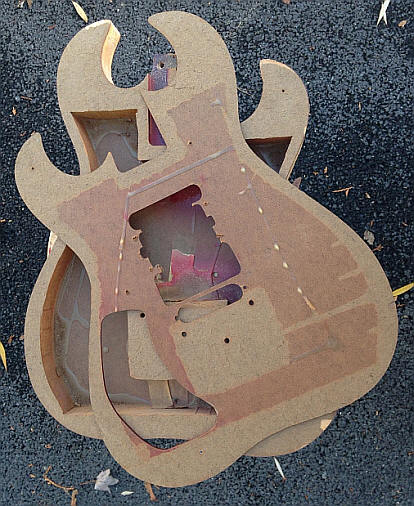 Compare this to an unfinished 'U' shape frame we came across a few months back...





OK, kids... hold that bag open wide... we've got a lot of Silvertone to throw in there.!

Here's one of the best-looking examples that I've seen of the MIJ 'Country Gentleman' clone, the Silvertone 1475, one of the last guitars to receive the Silvertone brand.

1475 MIJ (Univox?) HBEG w/ OC E $537 Clean, minimal wear, very light oxidation to metal, logo intact, bridge cover present (!), original strap incl.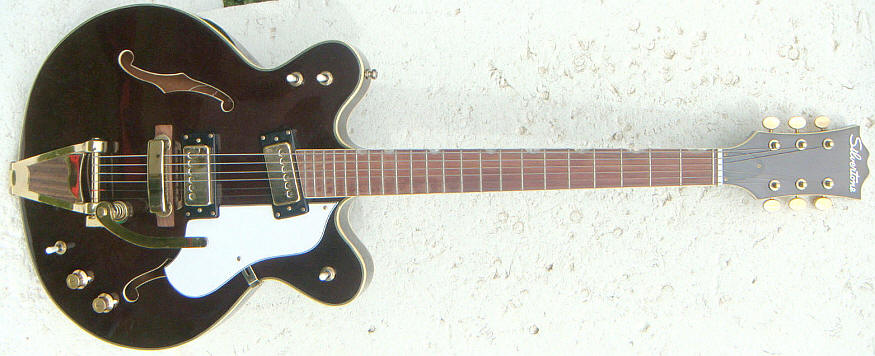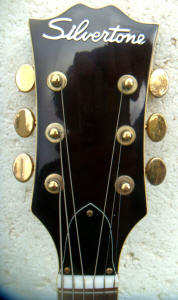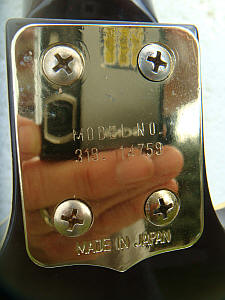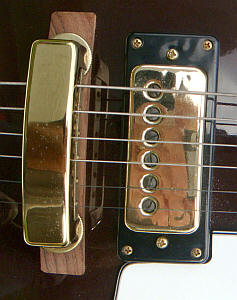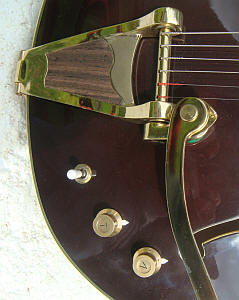 How about this beautiful 'Chris Isaak?'

1446 Harmony HBEG VG <$1300 Clean, light wear, paint worn from Bigsby, NS roller bridge, logo strong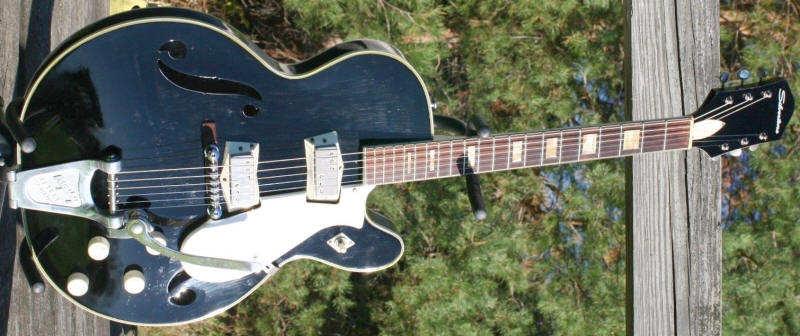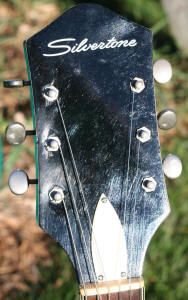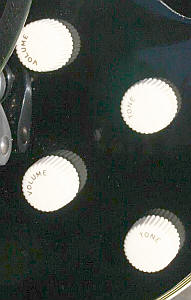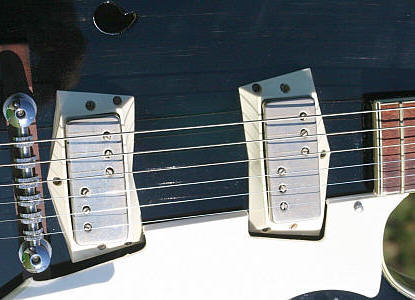 Here's an early model of the classic 'ampincase' model...

1448 Dano SSEG guitar only VG $203 Clean, light wear, logo strong, triangle-legend knobs (tone knob label a bit worn), oval-button strip tuners, three-bolt neck w/ tilt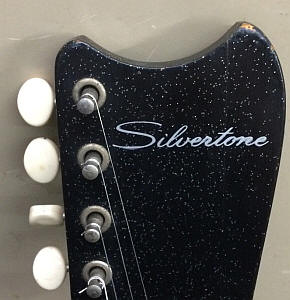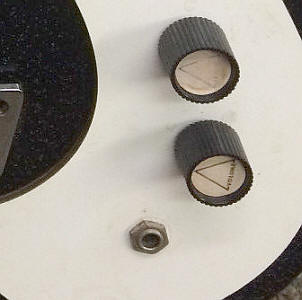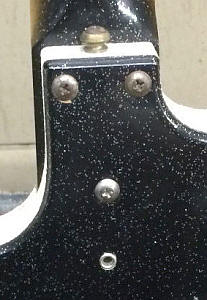 Full kit...

1448 Dano SSEG w/ tube ampincase G $343 Clean, light wear, logo strong, tone knob scratchy, amp needs some TLC, extra set of NOS tubes incl.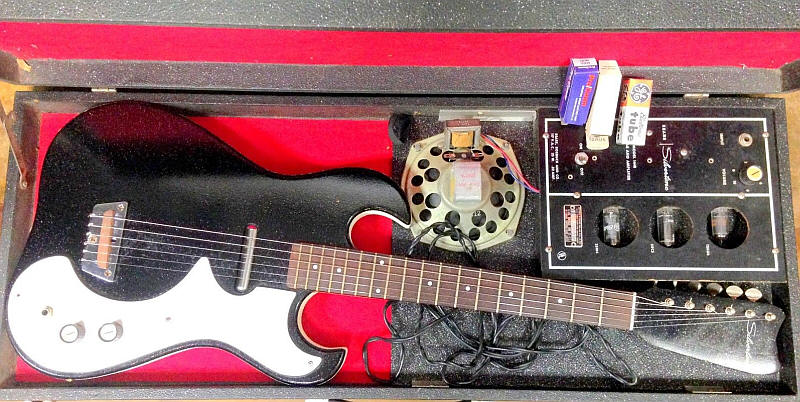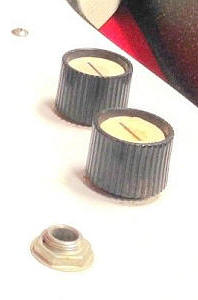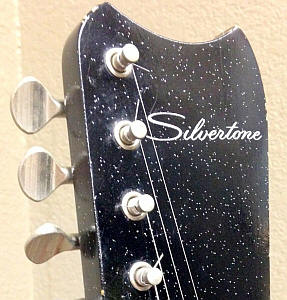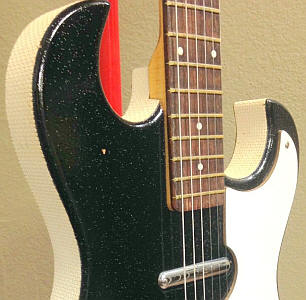 1457 Dano SSEG guitar only G $350 Clean, some edge wear, logo strong, Grateful Dead Bears and Skulls abound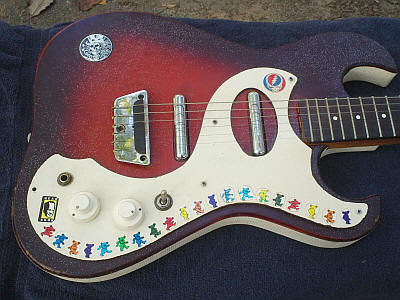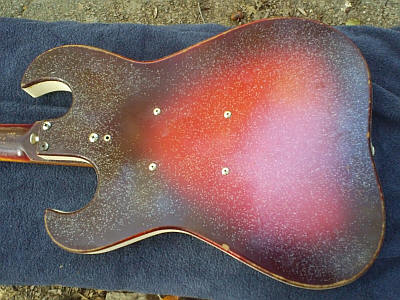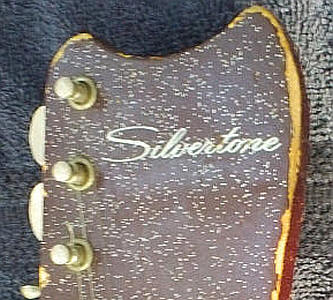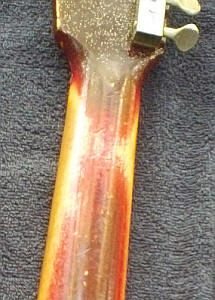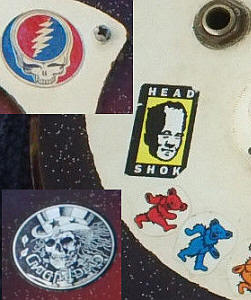 1476 Harmony SBEG w/ OC VG $350 Clean, light wear, chrome bright, logo strong, screw crack in pickguard at treble horn & bass side lead pickup mount area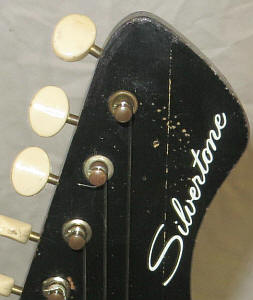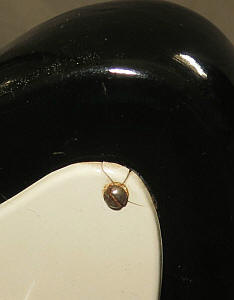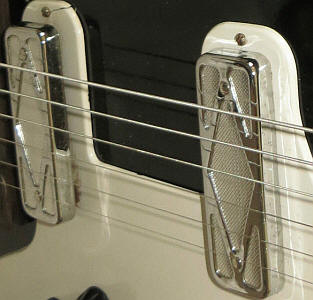 1304 Dano SSEG VG <$600 Clean, light wear, some buckle rash, logo strong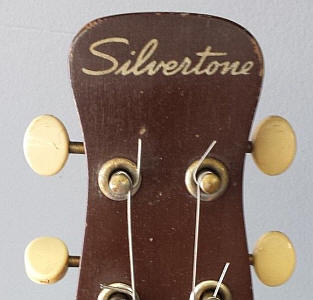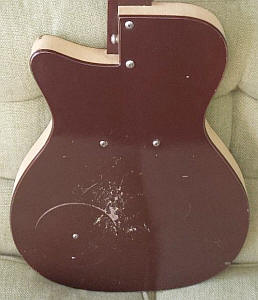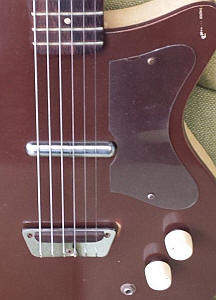 1410 Kay SBEG E $375 Clean, minimal wear, logo strong, chrome shiny, 'cheese grater' pickup cover looks terrific, pots date to 17th week of 1962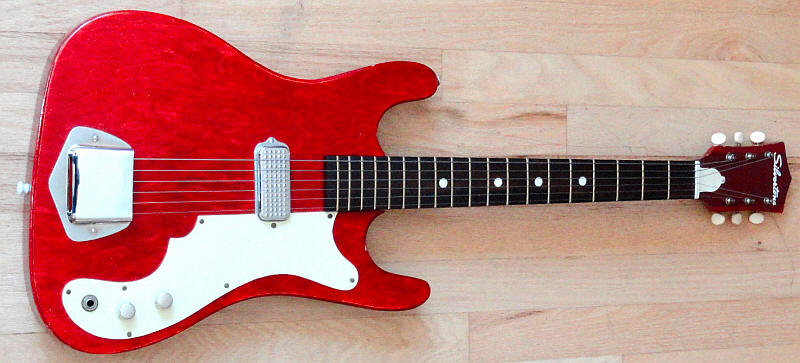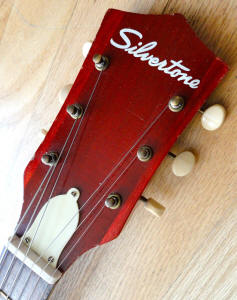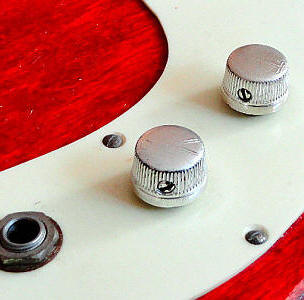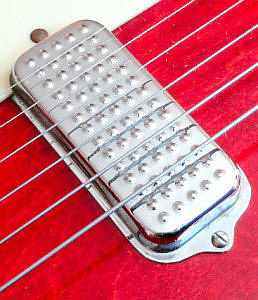 Bonus look at the simple routing and wiring for this guitar: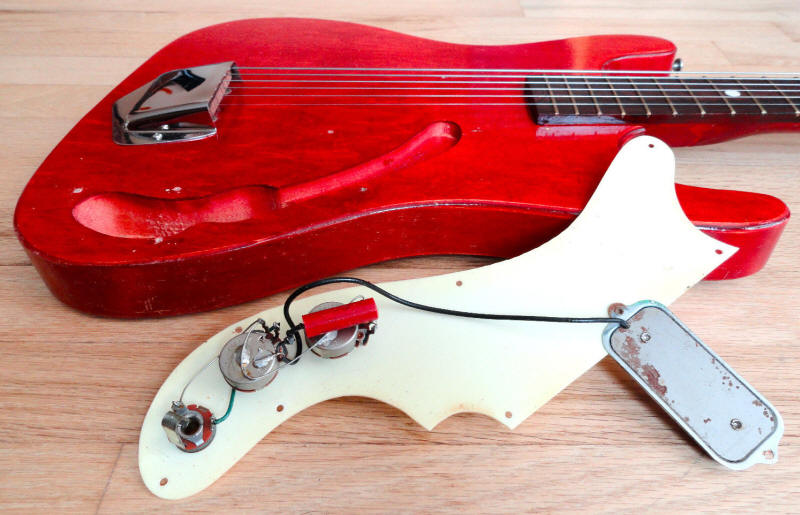 1451 Dano SBEG VG $330 Clean, light wear, coupla dings, adhesive seep to knob inserts, triangle plate at neck attach, logo never clearly pictured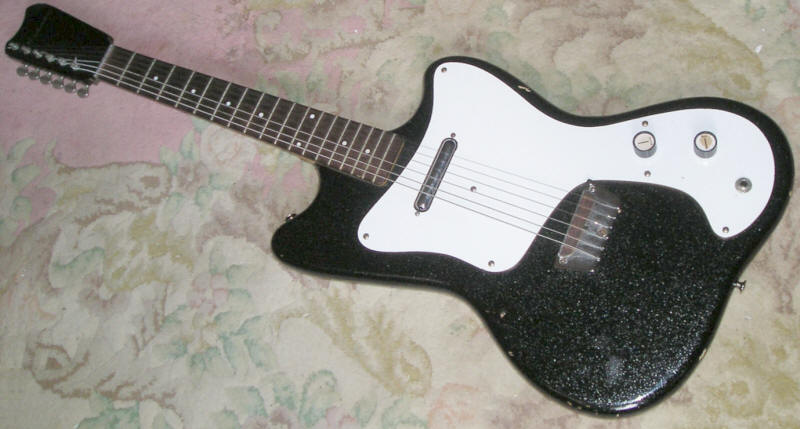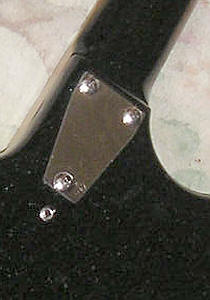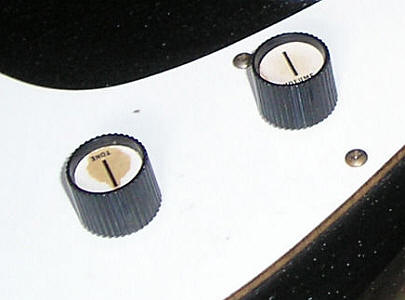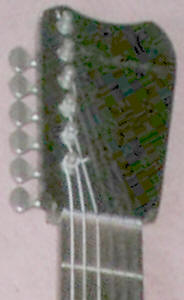 Let's see... now we need something to plug all these guitars into...

1482 Dano tube amp VG $267 Clean, light wear, grille and covering look good, trem unmentioned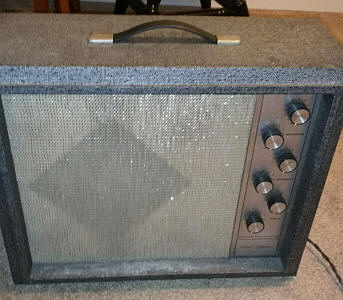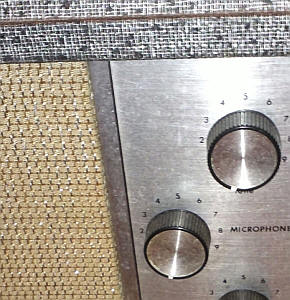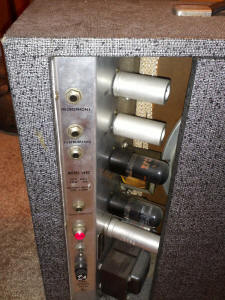 1483 Dano tube amp MOD <$350 Re-cabineted, some knobs broken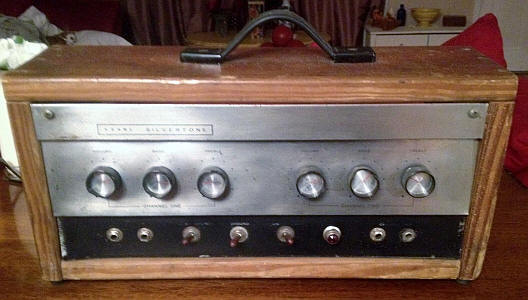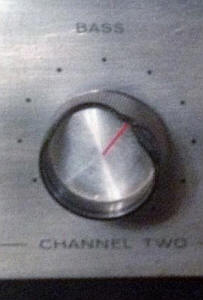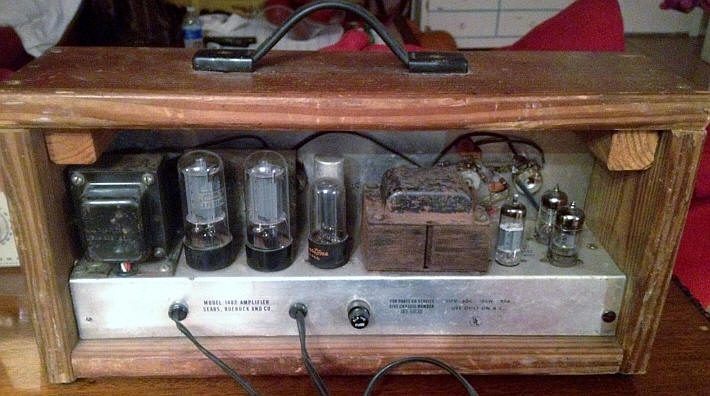 1448 Dano SSEG tube ampincase only VG $343 Clean, some wear, latches show rust, adhesive seep to knob insert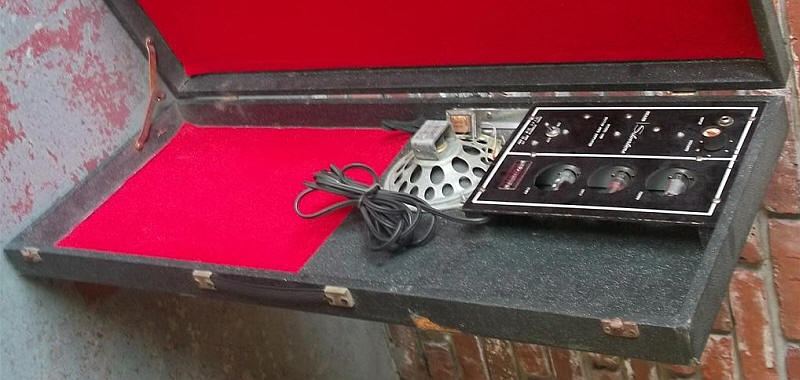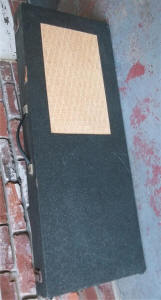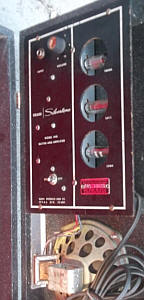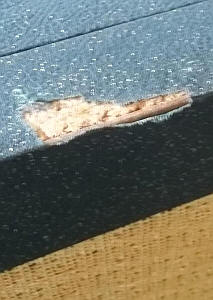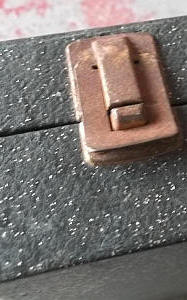 1449 Dano tube ampincase only VG $250 Clean, light wear, one end notched out, one latch broken, trem functional, scratchy pots, date stamp indicates Summer '63 build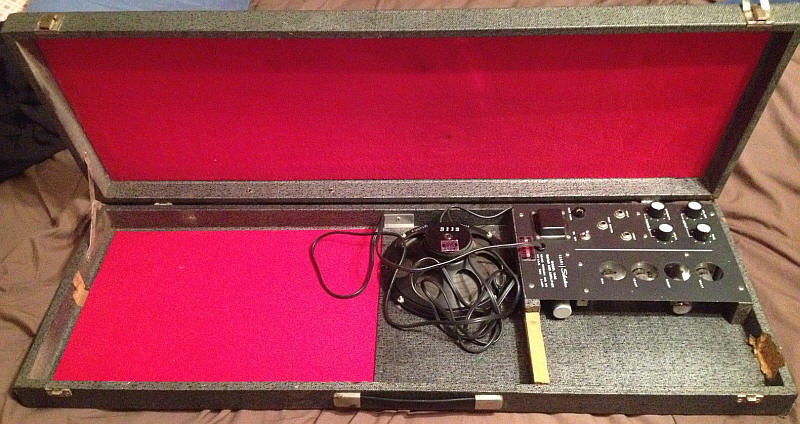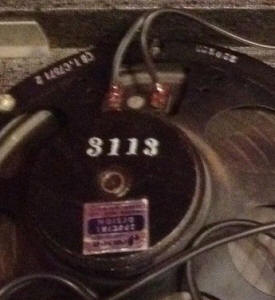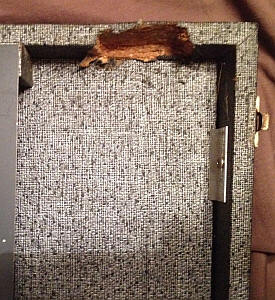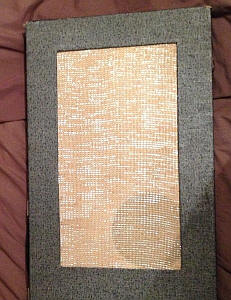 1434 Dano tube amp <VG $950 Clean, light wear, handle worn, grille looks good (that's sunlight in the photo), footswitch incl., recently serviced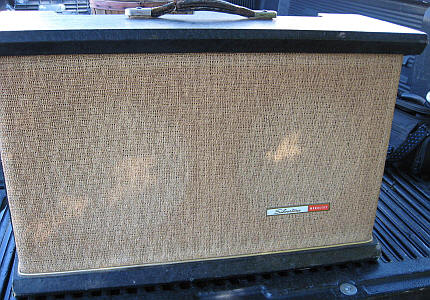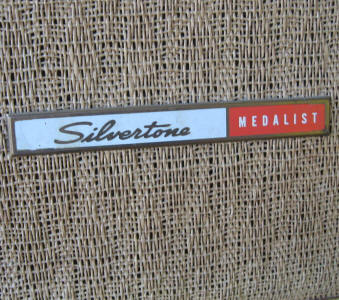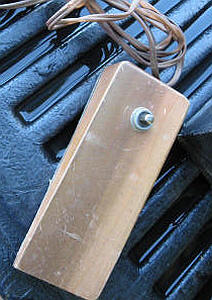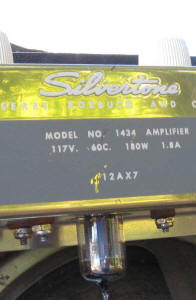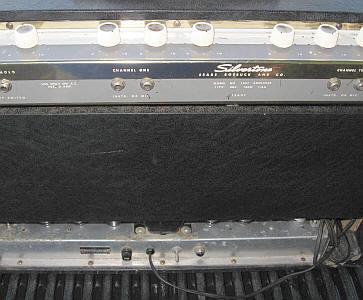 Now, let's leave the electricity behind...

658 Kay FHAC VG $113 Clean, some wear and scratches, some playing wear to fingerboard, logo strong, neck needs a reset, tape at neck/body junction (covering a hole?)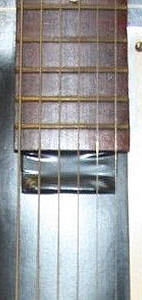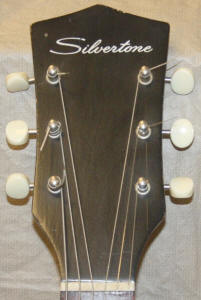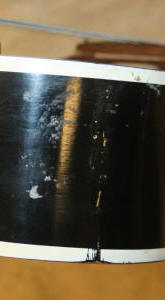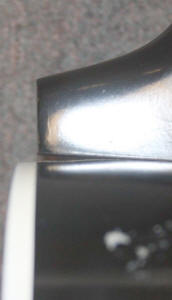 653 Kay FHAC G $162 Clean, some wear and scratching, finish checking, logo strong, pickguard missing, screws at tailpiece pulled through, strap button missing, back needs a little re-gluing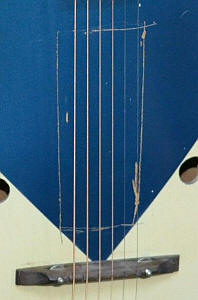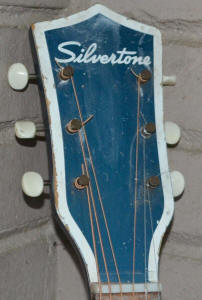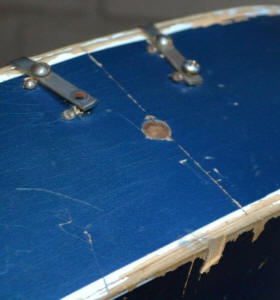 600 series Harmony FTAC G $130 Clean, some wear/scratching, neck needs a rest, logo strong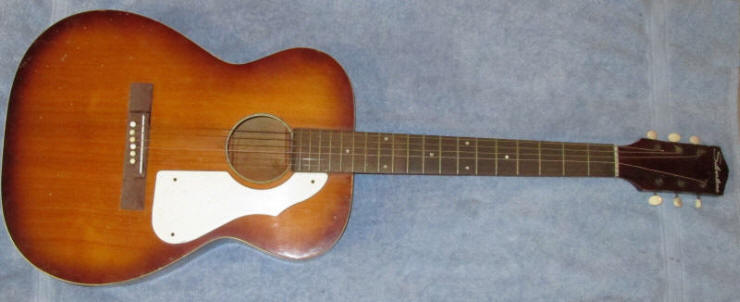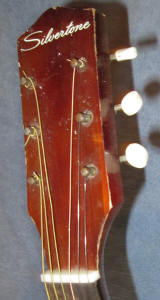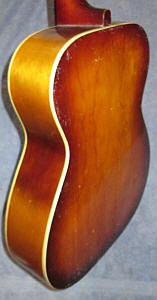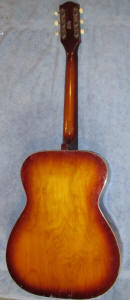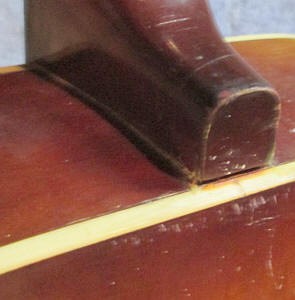 710 Harmony FHAC G $100 Clean, 'deco' logo strong, some wear, finger shows playing wear, headstock has a couple of cracks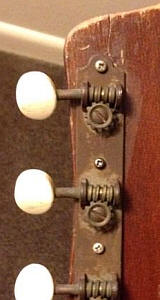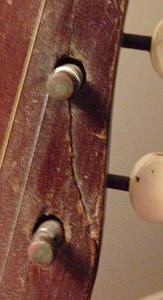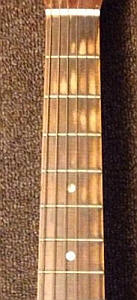 We'll finish today's bag o' tricks and treats with this oddity... it's not a Silvertone, it's not even Harmony or Kay made... but you know I'm always on the lookout for guitars that tried to cash in on the success of Buck Owens famous red, white and blue 'American' guitar seen on "Hee Haw," and this is one of the pretenders. It's from our Dutch friends across the pond at Egmond!

Egmond was kinda the Silvertone of Europe. Brian May, George Harrison and Paul McCartney all started on one. Click that link up there for the whole story.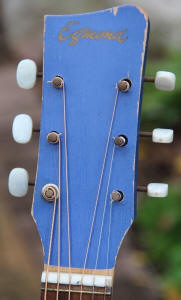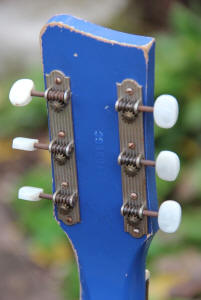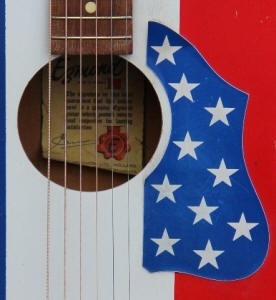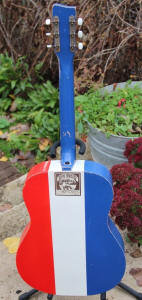 10/30

They're Not Always Frightening... a few Frankentones turn out to be some right purty pieces... check out this 're-imagined' 1474 setup...

1474 Dano tube amp MOD DNS Re-cabineted, re-capped and ready to go. Reverb disabled.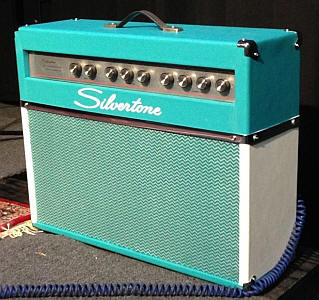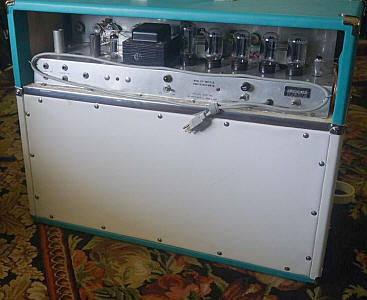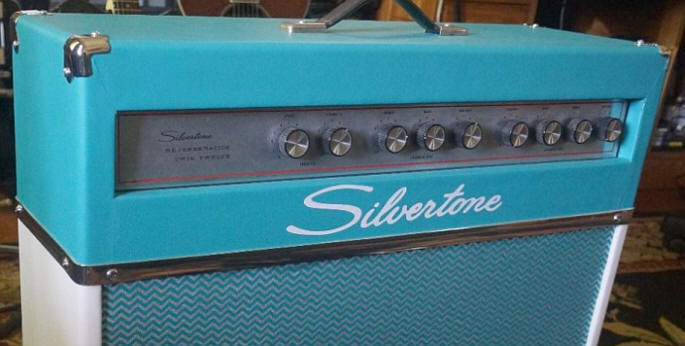 1420 Harmony w/ C VG $350 Clean, light wear, logo worn, replacement black pickguard, NS pickup bezels, NS knobs, NS tuners, some rewiring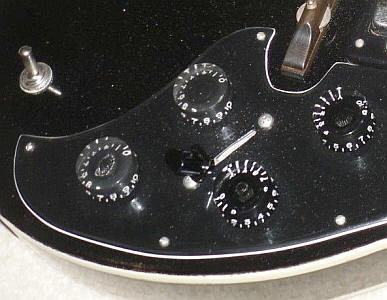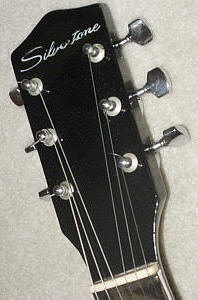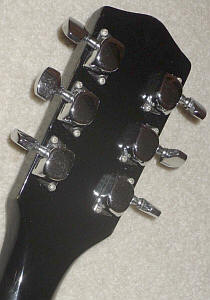 And here's a happy little redecorating job on this 'dolphin nose' Dano-built Silvertone...

1417/1419 Dano SSEG MOD DNS Space is the Place!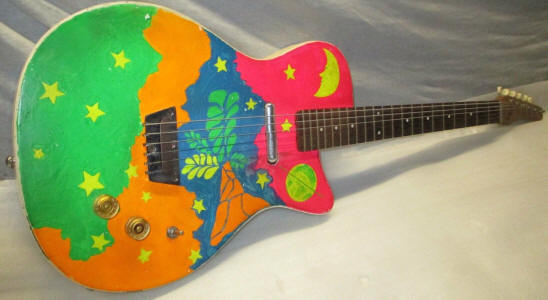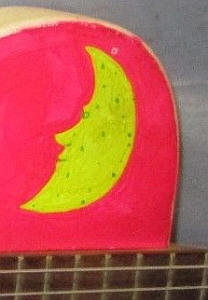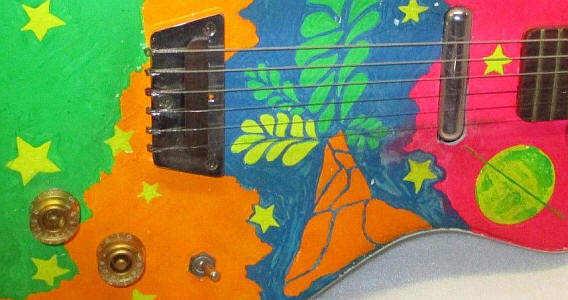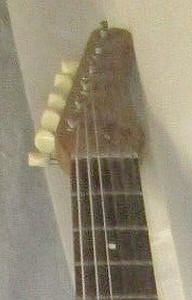 10/29

They Just Keep Coming... mooooohahahahahahha!

Here's a made-for-the-season Frankentone, complete with a grinnin' Beelzebub...

1420 Harmony SSEG MOD $249 Painted and decorated pickguard, replacement bridge, mismatched knobs, plenty of dings and wear, replacement tailpiece, faded logo, and some 'O FENSIVE' lettering 'round back...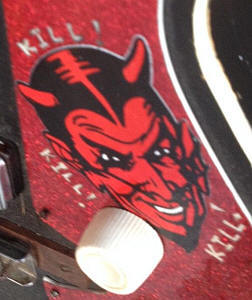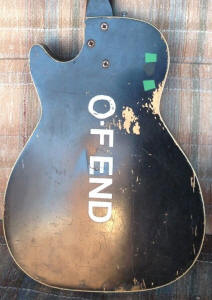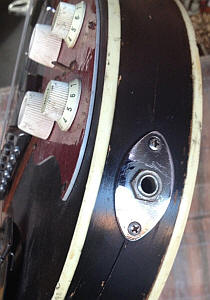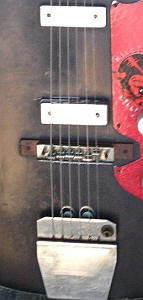 10/28

Here's Today's Frankentone From The Crypt!

1448 Dano SSEG with amp-less case MOD $154 The crime scene photos tell it all!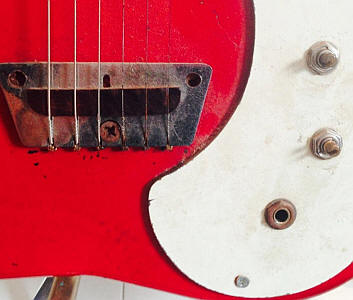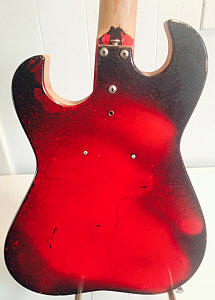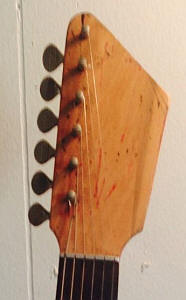 Let's make it a two-fer on this Tuesday...

Well, the neck (and maybe the pickup) on this lab-built beast is from a Silvertone, anyway... probably harvested from a 1405...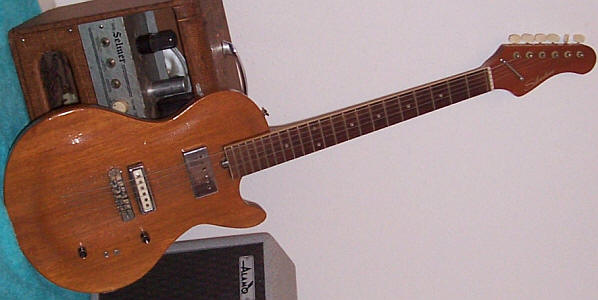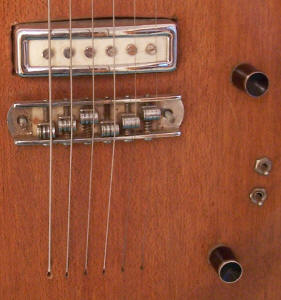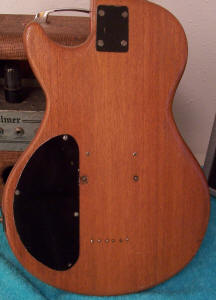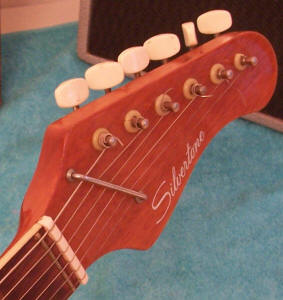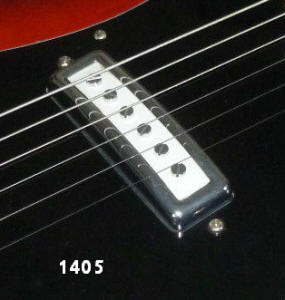 10/27

Frankentone-A-Day! Here's a few new creations that didn't make it into this year's gallery... we'll try and catch a new ghoul every day this week.

619 Kay FHAC MOD $89 Could use a good cleaning, finish checking, high 'E' ferrule missing, 16th fret missing, (1) knob missing, rare triangle-topped version with added Lafayette electronics, MIJ Whammy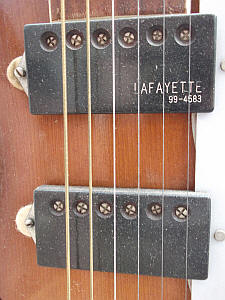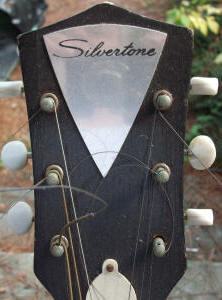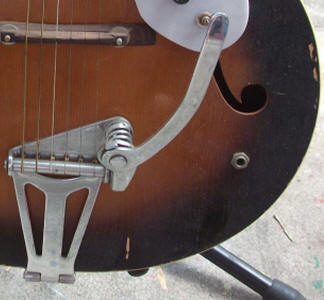 10/1

It's That Time of Year Again... time to dig up the mods and hack jobs and reupholstering and refinishes and craft projects that I've seen from the past year perpetrated on SIlvertones of every stripe and put 'em in a big bowl, just ready for you to come ring the bell for some tricks and treats. There are literally hundreds of Frankentone projects depicted, so I hope you'll drop by, laugh and cry and maybe.... scream. Just dim the lights, grab some popcorn, click on the screen capture below and enjoy.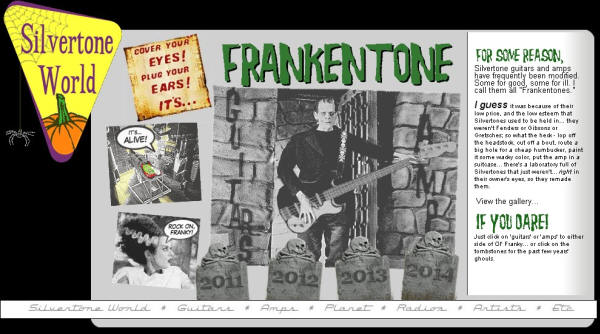 My buddy Paul Johnson wrote a song called "Frankenstein Island" a couple of years back, basing it on a horrible movie that both he and I love. I animated the video below, and of course just had to feature ol' Frankie rockin' some Silvertonium. Enjoy!





9/28

Double Double Doozie! A good chunk of money thrown at these two double plays!

1427 Harmony HBEG w/ OC E $1552 Clean, minimal wear, hardware shiny, logo intact, sat in a safe and then a closet from 1963-2013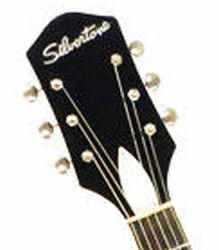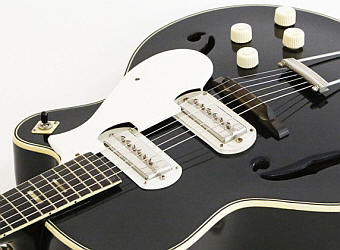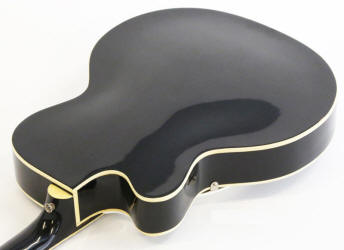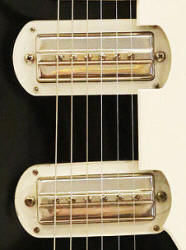 1385 Harmony HBEG MOD <$1400 Clean, light wear, pickguard missing, logo intact, NS tuners/bridge/Bigsby, alternate hardware incl., stress crack at jack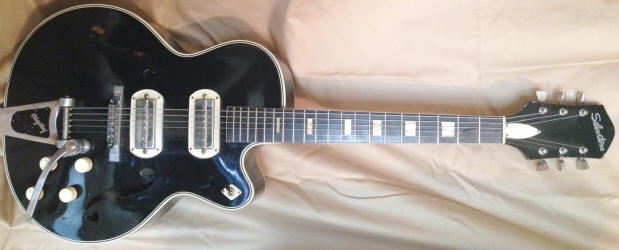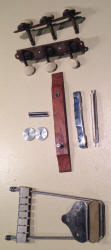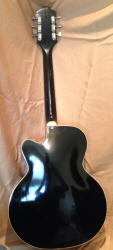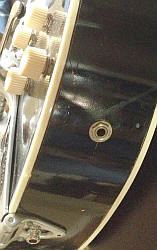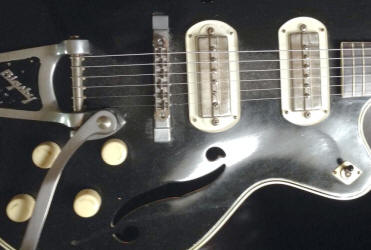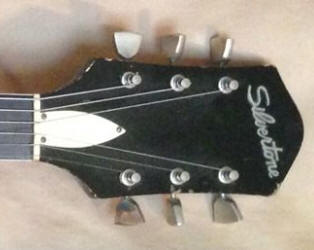 1219 Harmony FHAC w/ C VG $2000 Clean, light wear, second owner, headstock laminate replaced (stock piece incl.), stamped F-70, serial #9632H169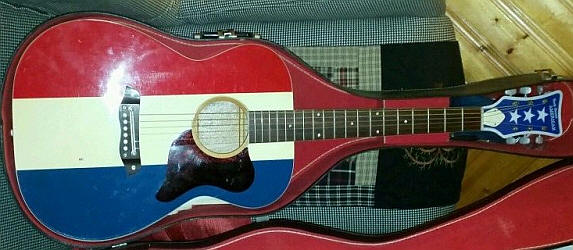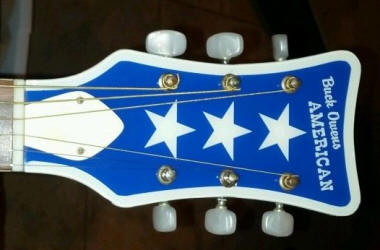 1219 Harmony FHAC w/ C G $1000 Clean, playing wear to neck, some yellowing/checking of white finish, original headstock laminate shows some wear w/ crack at truss rod cover and is separating, tuner pegs oxidized, stamped F-70, serial #9922H169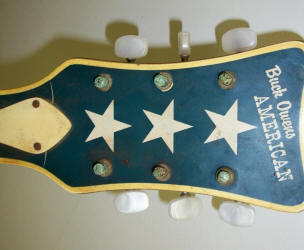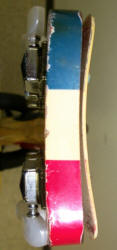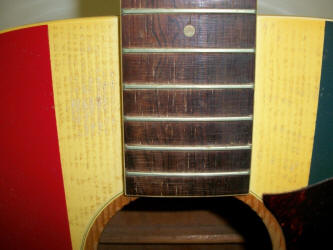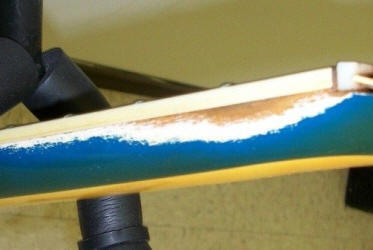 It Never Appeared In Any Sears Catalog... but it sure seemed to sell a few 'in store.' Check out this 1487 'ampinguitar' model, complete with super cool Silvertone-branded strap, gig bag, and the original schematic/user manual pamphlet. Went for a song!

1487 Teisco SBEG with sold state amp onboard VG $268 Clean, light wear, logo strong with slight flake-off at 'S,' amp non-functional, original paperwork and strap incl.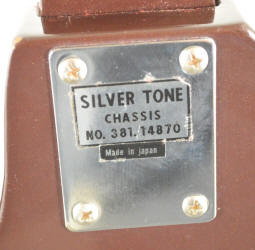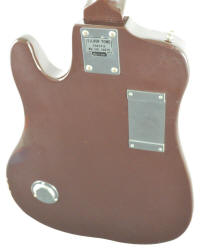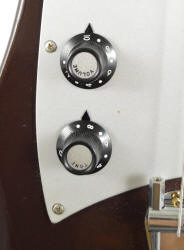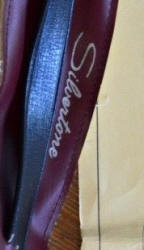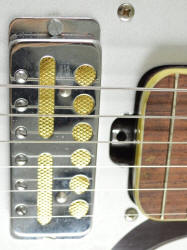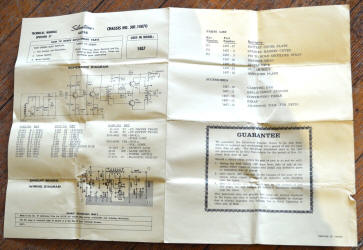 1421 Harmony SSEG VG $650 Clean, light wear, some picking wear to top between pickups, replacement metal logo, stamped S-62, Stackpole pots date to mid-April 1962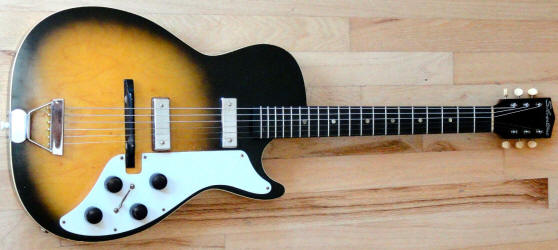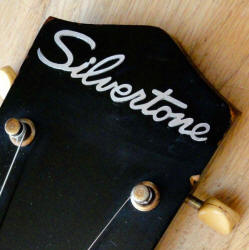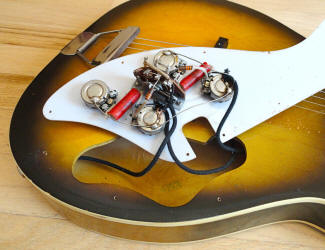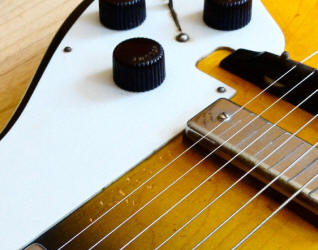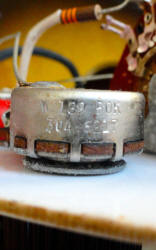 1457 Dano SSEG guitar only G $395 Clean, wear to knobs/pickguard edges/body, some sidewall peel, logo strong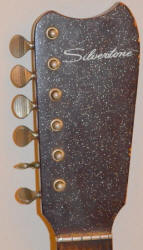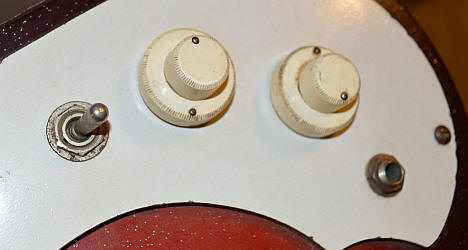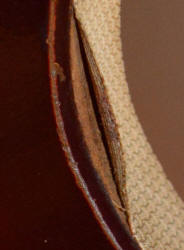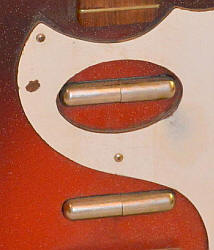 Blurry pics, rare guitar, steal of a deal. Here's a seldom-seen MIJ 1424.

1424 MIJ HBEG VG $104 Clean, light wear, logo tag looks good, whammy intact, stock knobs, pickguard missing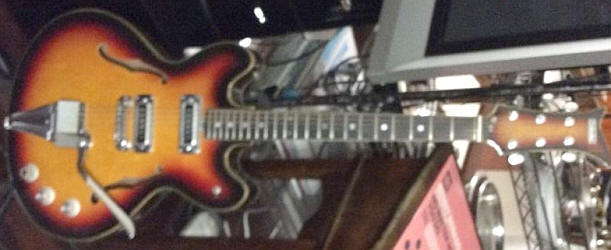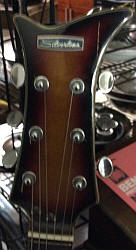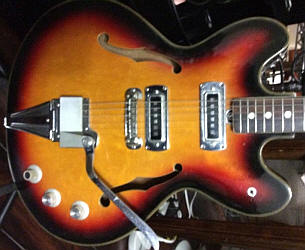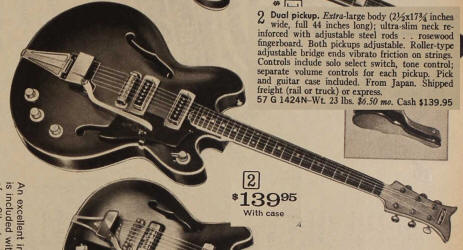 1481 Dano tube amp VG <$275 Clean, light wear, logoplate missing, stamping indicates late 1966 build date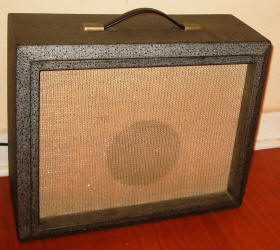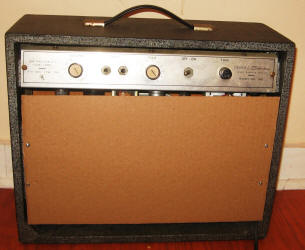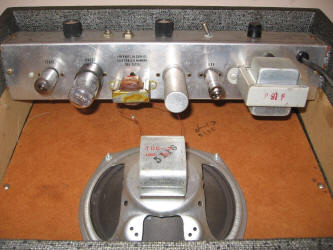 1417 Dano SSEG VG <$695 Clean, light wear, small ding on top under bridge location, logo intact, date stamp indicates early 1960 build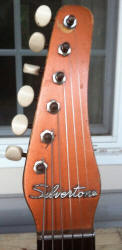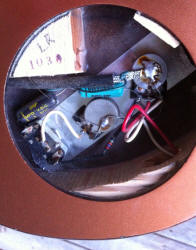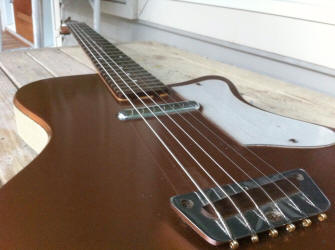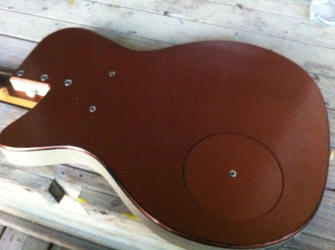 Oh, baby... me gotta go! Mighty fine 'Kentucky Blue' with what looks like some original "Louie Louie" sheet music. Aside from some tape residue or some kind of splotch on the pickguard, this is one of the nicest Blues I've seen in a while.

653 Kay FTAC w/ OC VG $395 Clean, light wear, stain on pickguard, logo strong, hardware shiny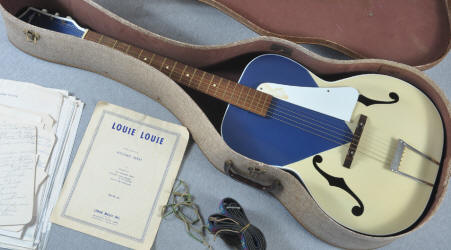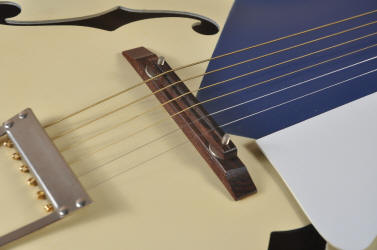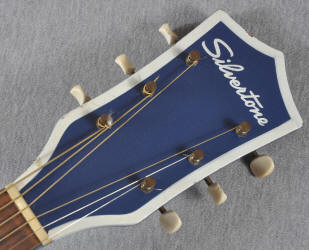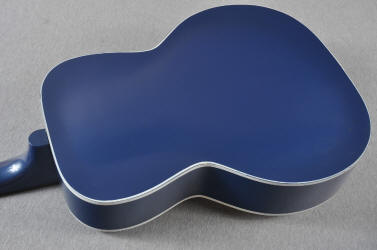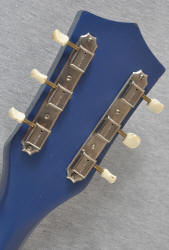 658 Kay FTAC G $280 Needs a dusting, light wear, logo strong, big ding to top by bass f-hole, block markers indicate pre-'66 model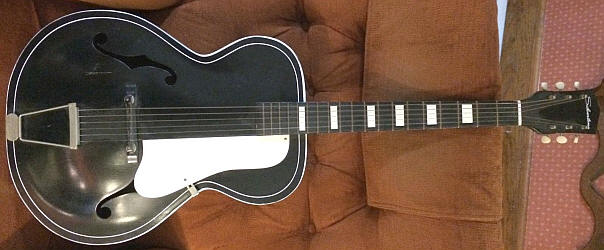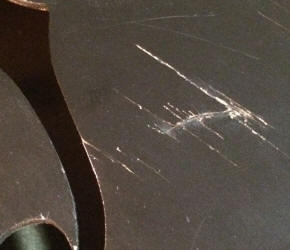 A little something from the 1964 File...

Capitol was pushing this "Command Performer" proto-karaoke setup fifty years ago, and look at the guitar they chose to decorate their ad with!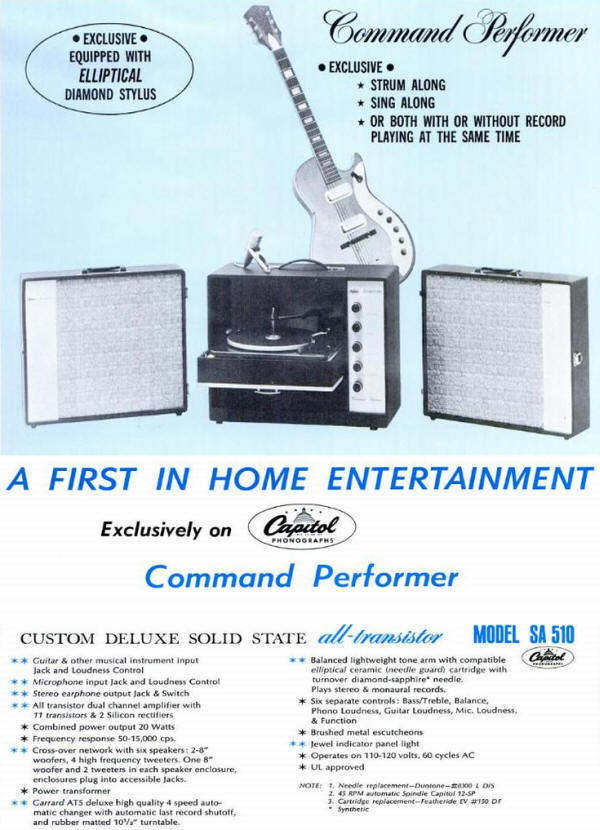 That's right, it's a logo-shamed Silvertone 1423 'Jupiter', built by Harmony.

Here's a little blurb from the October 3, 1964 Billboard: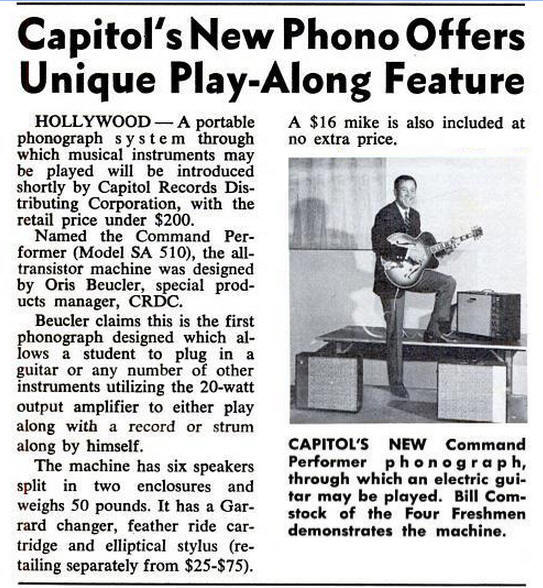 9/26

This Guitar Is 75 Years Old?!? Yes, indeed. Before Sears began applying its tried-and-true-since-1916 Silvertone name to musical instruments, it used the name 'Supertone.' This lovely Harmony-built carved top f-hole strummer was one of the very last guitars to receive the Supertone moniker, as the changeover occurred in 1939 and '40, with the full Silvertone line taking over in the musical instrument department.

286 Harmony FHAC w/ OC VG $450 Clean, light wear, logo worn, stamped F-39, serial #3285H286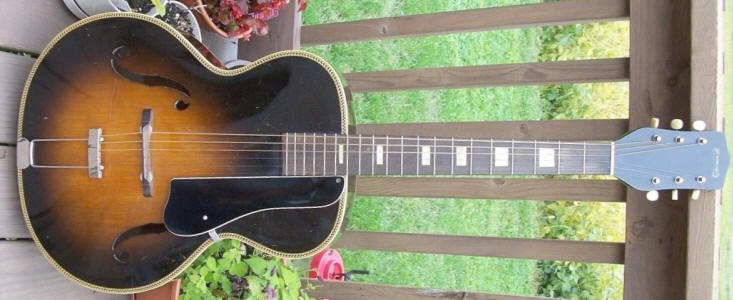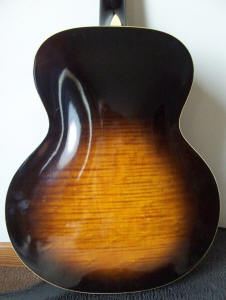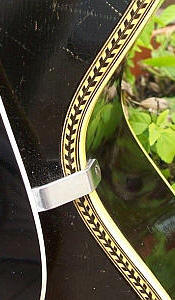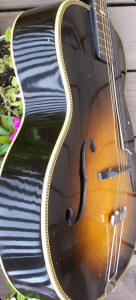 I'm Still Kicking Myself for letting one of these 1451 guitars slip from my grasp for $140 16 years ago. Fell asleep before the auction ended.

1451 Dano SBEG guitar only G $599 Clean, some edge & pickguard wear, logo strong, knob insert shows yellowing/adhesive seep, pots scratchy, slight hump to pickguard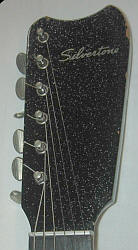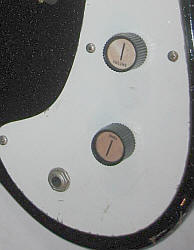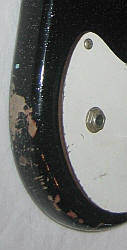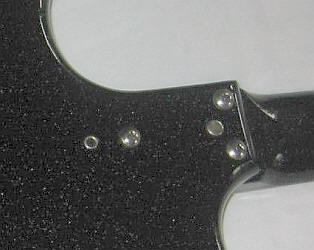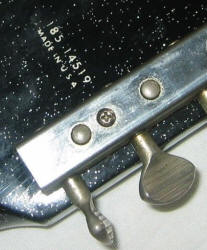 And I could kick myself now for missing out on this beauty. What a deal!

605 Harmony FTAC VG $52 Clean, light wear, logo strong, original 'under the tree' gift box incl., stamped F-58-T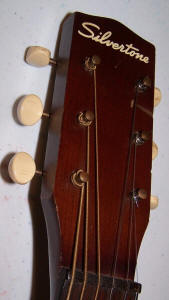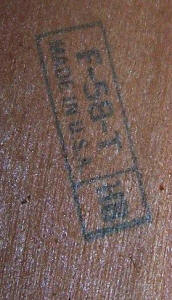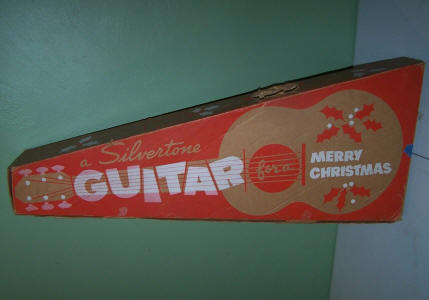 Over on our Facebook page, Silvertonian Charles shared some great shots of his band, Poor Richard & the Almanacs. Charles can be seen here with his Bigsby-modified 1476, a short-lived classic from the early '60s. You'll also notice the Dano-built 1444 bass in the 'onstage' shot.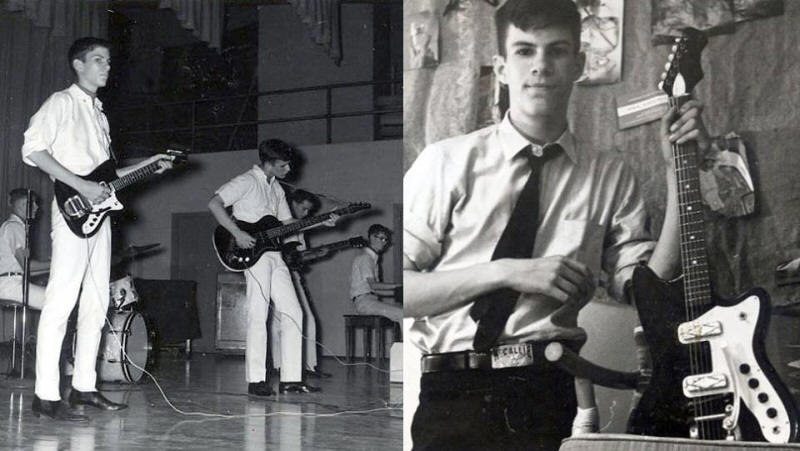 1476 Harmony SSEG w/ C VG $355 Clean, some edge wear, logo strong, one tuning post missing, pickguard date-stamped Sept. 1964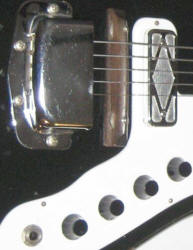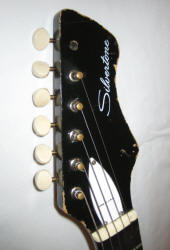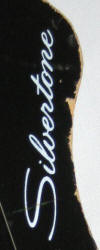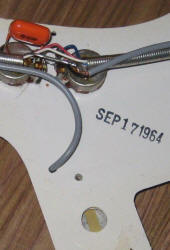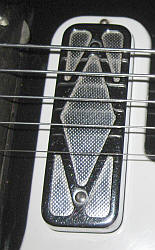 Rarest Silvertone Lap Steel Ever? Yes. Yes it is. Pretty amazing, y'all. I'd seen this oddly shaped lap steel in my catalog for years, but had never come across one in the real world. Well, that changed this week when this amazing Dano-built machine showed up on eBay. It's the model 1304, and was only offered in the Fall/Winter catalog of 1955. Given such a small window of availability, it's no wonder that these would be so rare. It's an odd affair, with an unusual body (I think of the Kay 'Solo King' when I see it) and a very 'Gumby' headstock. It also sports the vacu-form 'bump' pickup that showed up on the first Dano-built 'real' guitars, as well as a modified flattop that Sears sold around this time. Paired with a 1330 amp from the same period, it went for over 600 dollars.
1304 Dano Lap Steel and 1330 amp VG $638 Clean, light wear to both guitar amp amp, logo slightly worn at 'ne,' guitar & amp functional, slight damage to nut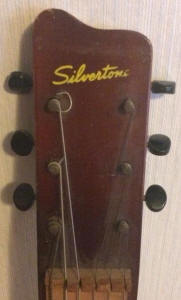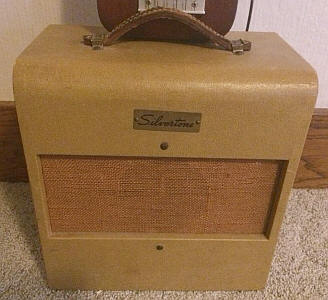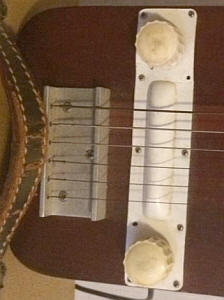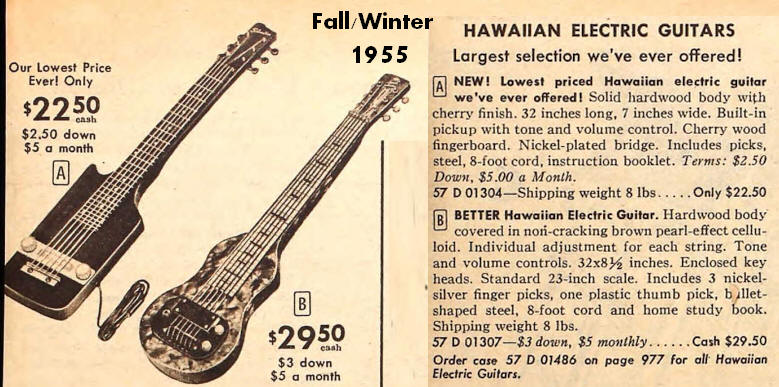 Here's a look at the guitars that shared the same 'before the lipstick' pickup; they are mighty rare as well:
1375/77: You'll note that these knobs (and the single one on the flattop bleow) are identical to the ones on the lap steel.




1316:
You might notice this acoustic-turned-electric shares the same yellow 'thick script' logo as the lap steel, and the same black-buttoned tuners appear on the lap steel and the acousti-lectric, as well. So, what do you think? Harmony/Kay/Somebody shipped these hole-less flattops off to Dano for electrification, hardware-izing and branding?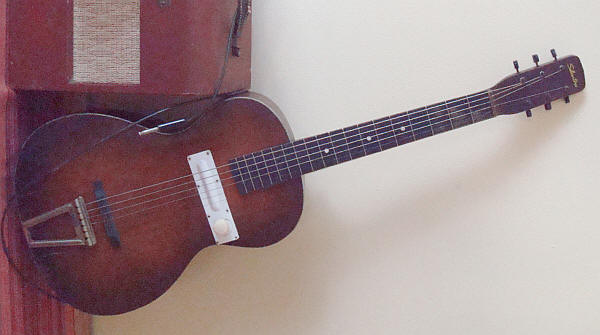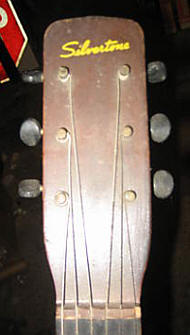 Just for grins and comparison, here's that funky Kay 'Solo King' I was talkin' about.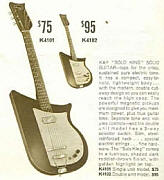 Now, that's just beautiful! Check this dynamite 1448 setup, one of the best I've seen this year.
1448 Dano SSEG with tube ampincase E $599 Clean, minimal wear, amp and guitar functional. Early transitional model; line-legend barrel knobs, three-bolt neck with oval-buttoned strip tuners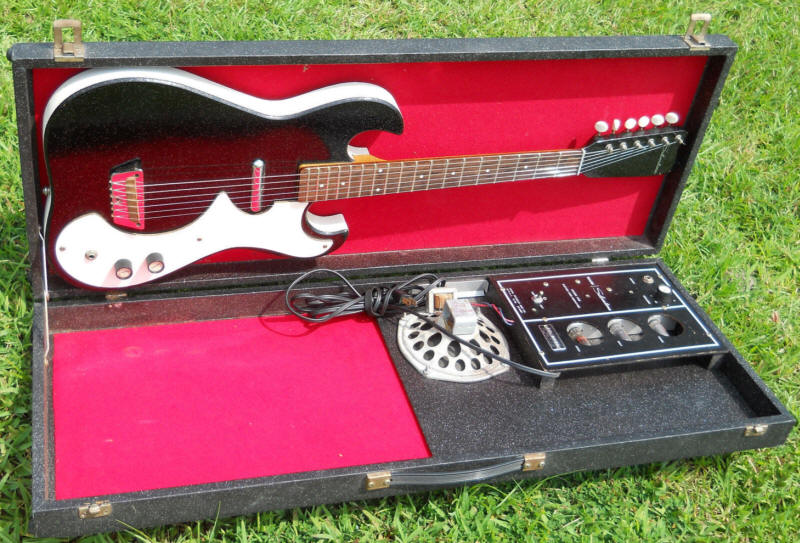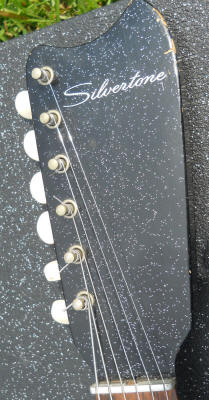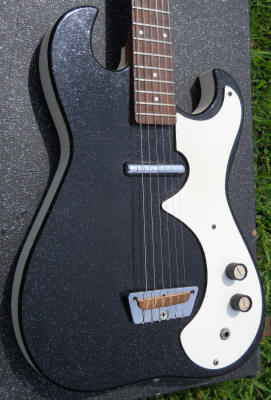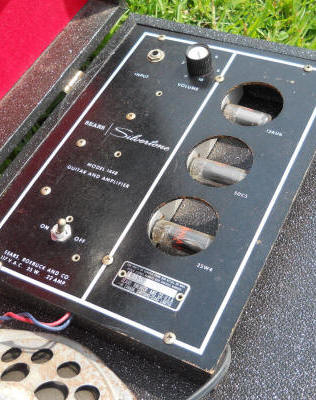 9/10

I Don't Want This To Happen to 'little fish' like me, and, in turn, to all our Silvertone fans worldwide.
Support Net Neutrality!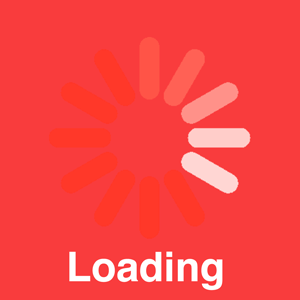 9/5

Rock On, T.S.! Here's a fine pre-'57 'Thin Twin' 1381. The first versions of this guitar, which was introduced in 1954, had the Silvertone brand as a stylized script on a plastic laminate, and the last guitars of the line featured a two-layer laminate black headstock with a Silvertone logo stencil-routed to reveal the white layer underneath. The black headstock axes also got a number model change to the 1369.

1381 Kay SSEG w/ C VG $1040 Clean, light wear, light finish flaking, logo laminate looks good, tuner buttons shrunken/deteriorating , (1) NS tuner button, 'T S' monogram stockers on treble bout area of pickguard worn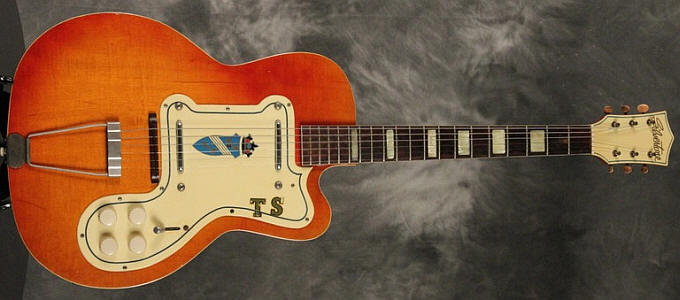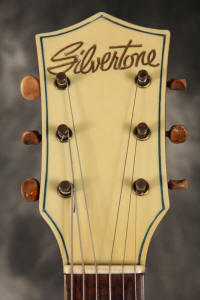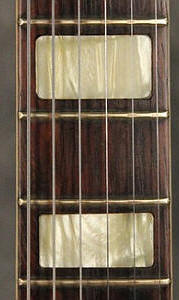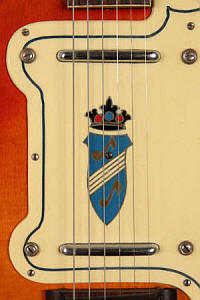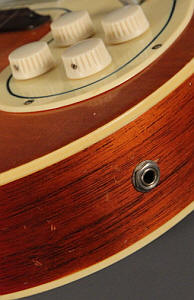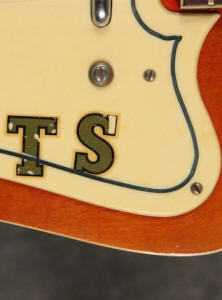 Just for fun, here's a treat: I'd never seen the 'Old Kraftsman' branded version of this guitar 'til recently. I'm diggin' the 'lightning bolt' motif. Want it? It's up for bidding on eBay.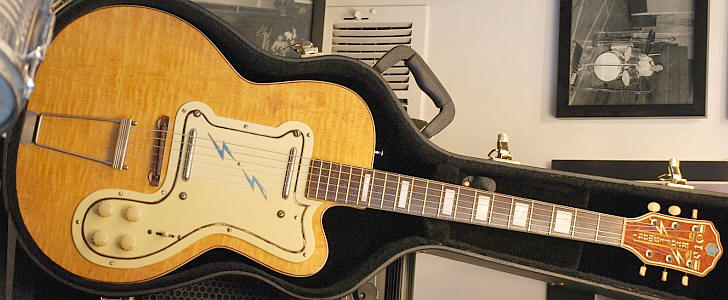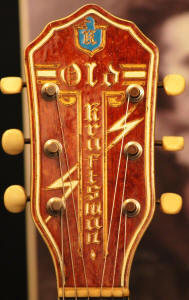 Here's a little ad for a big song from this week in 1964, it's a trade ad in the back pages of Billboard for the quintessential teenage tragedy song, J. Frank Wilson and the Cavaliers "Last Kiss," just beginning its climb up the charts.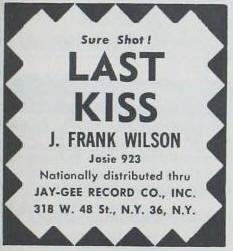 8/15

Whew, it's been QUITE a Summer! Now that we're gettin' back in the 'back to school' mode, I figured it's time to get back on the Silvertone World horse here, with some updates and new pages, and even more from 1964. Of course, I never *really* take time off from Silvertonin'... our Facebook page recently passed 1,000 likes, the visits here on the website are as strong as ever, and Silvertone is holding a firm footage on stages all over the world, with Beck, Coldplay, Vampire Weekend, The Bots, Dum Dum Girls, Dex Romweber, and many more bringin' the Silvertonium to the people!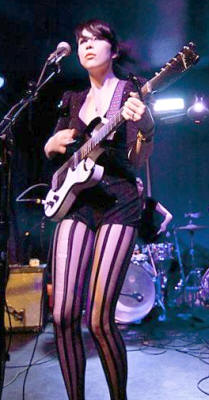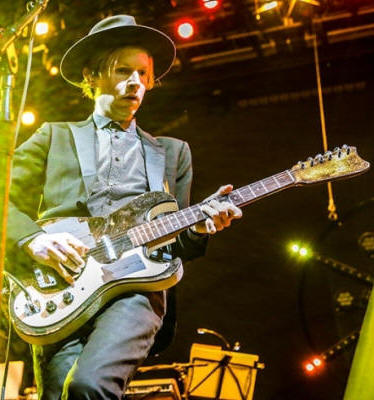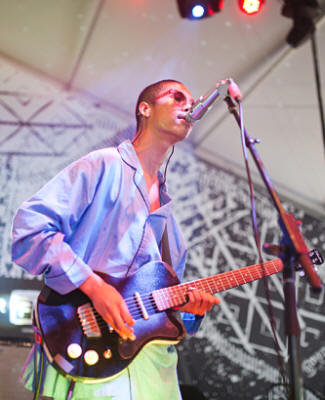 The Beatles continued their domination and influence on the music scene over the Summer of 1964, and here's something interesting from this season 50 years ago: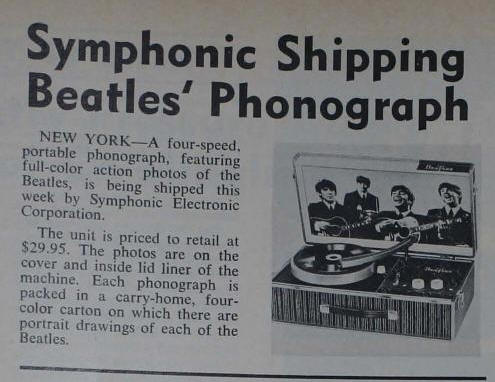 A couple more tidbits from the same week: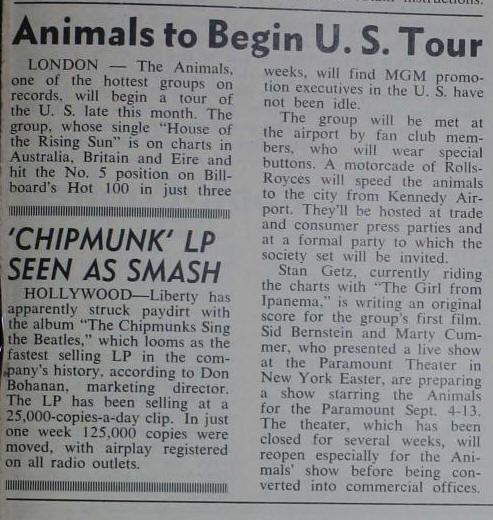 The Chipmunks' Beatle album was actually my first exposure to the music of the Fab Four!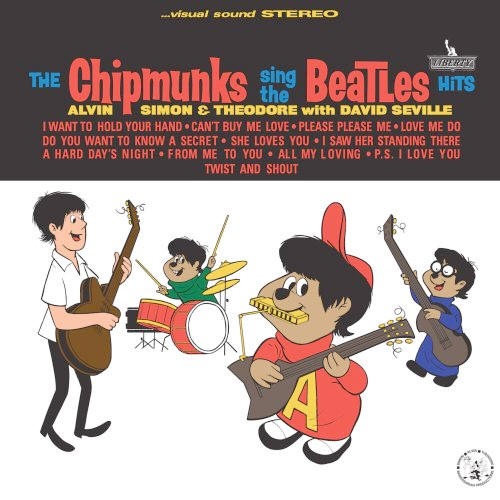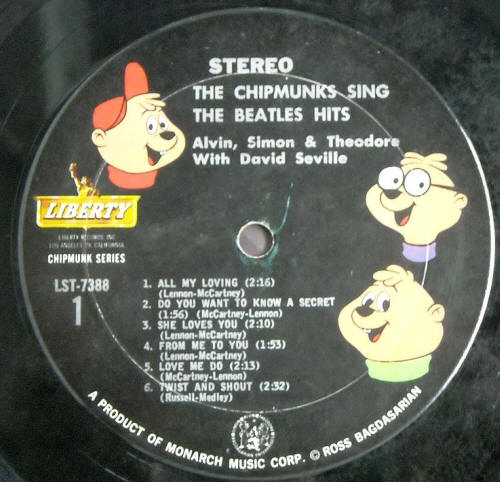 I remember buying this album as a teenager, part of which was recorded right around this time in 1964. If you've heard the disc, you know that the record execs "hoping the anticipated screaming [would] dissipate" because of the Hollywood Bowl being an outdoor setting didn't quite work out...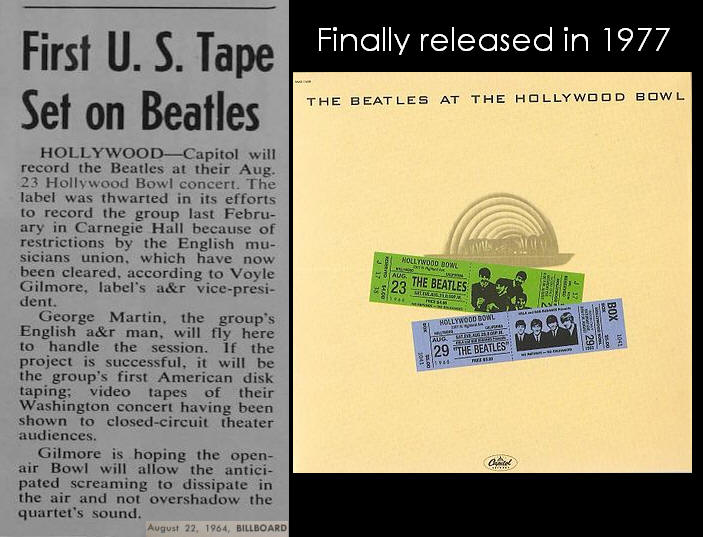 If you haven't heard the record... well, here ya go. Thanks, YouTube!

ABBREVIATION KEY:
MODEL # / MANUFACTURER / INSTRUMENT TYPE / CONDITION / PRICE / NOTES
Abbreviations: M-Mint, NM - Near Mint, E- Excellent, VG- Very Good, G- Good , F-Fair, P-Poor, NS- Non-Stock, HBEG- Hollow Body Electric, FHAC- F-Hole Acoustic, FTAC- Flat-Top Acoustic, SBEG- Solid Body Electric, SSEG- Semi-Sold Electric, MIJ- Made In Japan, MOD - Modified significantly from stock, w/ O/C Original / Case, BOA - (related to price) Best Offer Accepted; price shown was asking price, sold for less, DNS - Did Not Sell; used mainly to show an item of interest whether it sold or not.
Unless otherwise noted, I'm rating them by what I see in the pictures and read in the description.

The items depicted on this page are not for sale by Silvertone World. These are reviews of items from completed eBay auctions on or around the date specified.