Summer 2010

8/31

Well, here we are; the end of my summer break. Tomorrow it's back to full-tilt every Silvertone that comes down the pike reportage. Are you ready? I'm ready! I'm still pondering whether to revert to just picturing the exceptional stuff, or throwing in a photo of everything. I mean, we all pretty much know what a 1448 and a 1457 and a 1484 and a 604 and a 'Chris Isaak' and a 'Thin Twin' and a 'Black Beauty' and a 'Kentucky Blue' look like, right? I give you a link of some sort to everything I talk about; whether it's a Silvertone World page or a quick catalog listing because I haven't put a page together yet for a particular model. Maybe it'll be better for your load times and bandwidth and looks and brevity if I do what I've done during the summer; I'll bring you pictures of the exceptional... the unusual... the standouts. I think my verbiage and rating system can give you a pretty good idea of condition, and we'll save the pictures to illustrate the best (and worst... I do love bringing you some ugly/modified stuff, as well) of what goes under the gavel daily. Deal? Deal! Now, let's say goodbye to Summer 2010!

We had a Teisco 'Starship' triumvirate a few days back, so today we'll head back into space with a tremendous trio of contrasting 'Jupiter' models, the 1423 from the designers at Harmony. The first one is the nicest of the fleet, with minimal wear, strong pickguard print, repro logo, and a crack in the pickguard at the selector. This was an early 1423, the pots dating it to the first year of availability, 1959. Top money of the three at $599.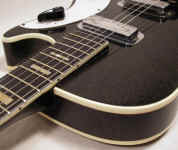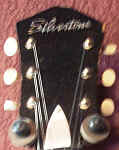 Number two is lookin' good, little bit of edge /surface wear, missing (1) knob, but still bringin' some good mission funding; $511.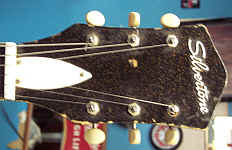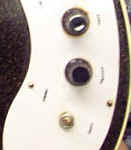 The third 'Jupiter' looks good from a distance, but the closer you orbit in, the worse off things get. This one's got all her knobs, but the plastic logo is a replacement of some sort, there's some weirdness going on with the fingerboard/binding, some stress cracks at the jack, and some wear/rash on back and some finish checking. This one landed a smaller figure, just $330.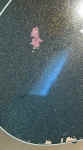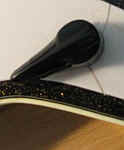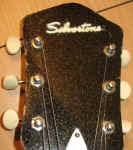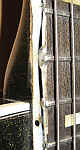 This has been a summer of bargains, and here's one example right here: this 1448 setup going for just $150! The electronics in the guitar work, the logo looks good, and it's got a little playing wear all over. Sure, it's got non-stock knobs, the amp lights up but produces no sound, and the ampcase is a little worn... but, hey! A hundred and fifty bucks! I'd have bought it... it's like Charlie Brown's tree... it just needs a little love...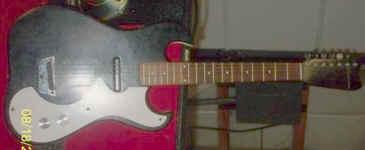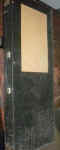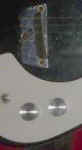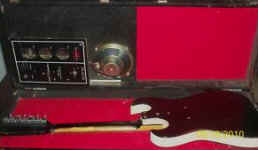 The ubiquitous low-end acoustic, the 604/1204 has been 'classed up' lately with some sellers calling it a 'parlor guitar.' Well, it's a stretch... but OK. Here's a 1204 for the parlor that went for a bargain $38. Little bit of edge wear and a nice case included, this one is from the first year of the '12' prefix model number upgrade, 1968.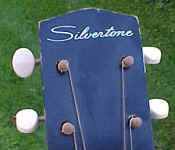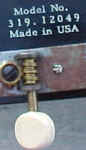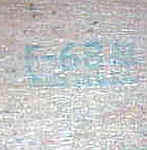 Finally, just to get you revved up for the UNKnown models to be coming your way soon, here's an archtop that went for $103, with a case. As usual for these late 50s/early 60s f-hole strummers, I'm unable to pin down the model number with any certainty. The seller gave no mention of any numbers stamped inside, and this is the sole photo from the auction.



8/30

The heat's still on and the surf is up! No end to Summer 2010 here on the East Coast anytime soon. Hot temps and stokin' waves (courtesy Hurricane Earl) are ruling the day, so why not get a little tropical with today's first up? It's the sought-after "Hula Girl" design uke, and this is the later model, distinguishable from the 30s era model in its plastic fretboard vs. the earlier models wood and fretwire construction.

Lookin' for a wahini in a silk-screened bikini? Here's a fine 50s vintage 852 "Hula Girl" uke that went for $100.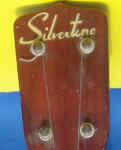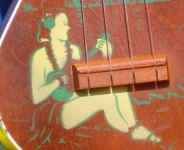 Here's a faux-grained ivory 702 archtop model in great shape. Serial stamped 2771H1214, and based on the Harmony 1214, this fine example of this 50s era guitar went for $193. Strong 'deco' logo, and suffering from just one little crack on the top of the bass side f-hole and a bit of edge wear.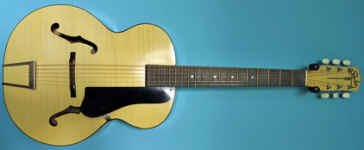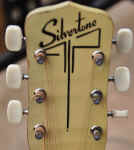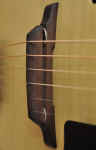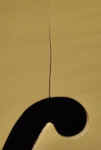 Did they launch the fleet? The third 'Starship' 14XX series in as many days, here's yet another red 1436! Whammy and logo tag present and it brought a nice $283. I've said it before; things sure seem to happen in groups here in Silvertone World... and this third member of this Teisco-built group had the serial number 313003.
Ooooooweeeeeeooooo...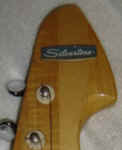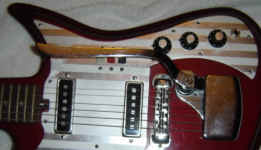 Whenever my girls are watching "Wheel of Fortune" with their grandma, we always hear shouts of "BIG MONEY! BIG MONEY!" Well, here ya go:

Here's a good-looking 1457 setup with just a little wear to the guitar and oxidation to the metal parts of the ampcase, original footswitch present and the wheel stops on $1000.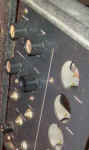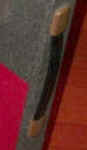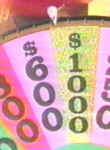 Beautiful late-in-the-run 1369 "Thin Twin," tiniest bit of wear to neck, cursive-on-black 'bump' headstock, and a tidy $830. A steal, really.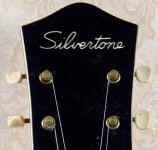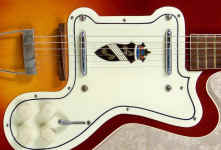 Kay made a right pretty archtop in the 640 series. Big fret markers, unique pickguard, strong logo. Here's a nice example from the late 50s with some mild checking and a little neck pull. Brought $302.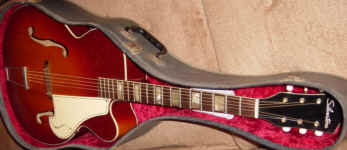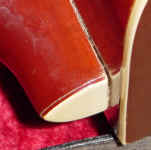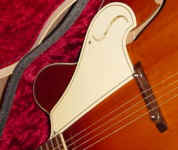 The one weekend I don't shave, and this comes up! Thanks for keeping me clean, Silvertone World! Oh, by the way, this looks like a British brand, and nobody ponied up the dough (about US$3) to secure this wrapper-only auction.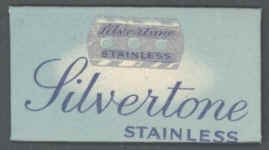 8/27

One fish, two fish, red fish, blue fish! Well, a blue 'Starship' 1437, anyway. Yesterday we had a nice red one to start the day off, and today we launch with a cool blue one in great shape (serial #321782) that sold for $425. I really would like to hear what this one sounds like with all FOUR pickups on at once...
*speaker crackle* Attention.... harmonic overload in sector 1437.... repeat... harmonic overload in sector 1437. Rock immediately. *crackle*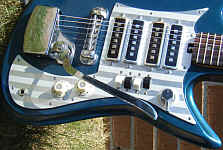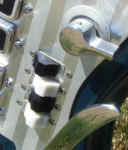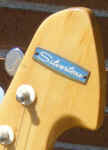 8/26

Tech issues seem to have been conquered for now... so on to some choice Silvertonium!

This is the first red 1436 'Starship' we've seen all summer. Serial #266507, this futuristic Teisco music machine brought $305 with just a few battle scars present. The whammy's still there, stock knobs and switches all around, the logo tag is present, and I believe we're cleared to ROCK!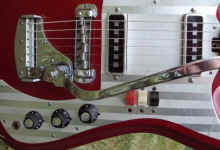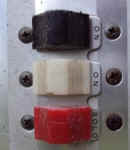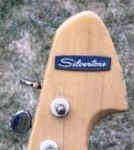 Classicals don't get a lot of notice, but you gotta sit up and take a gander at one that looks this good! It's a 657 from 1965 and it's in uncommonly good shape, very little wear, binding tight, even the case looks good! Brought an uncommon $153, as well.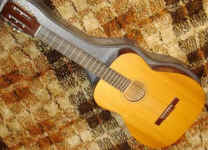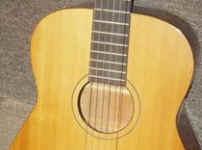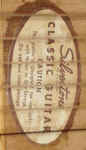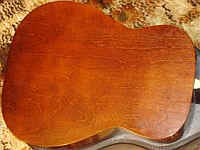 The next two items were estate-found together, but the seller separated them for sale at auction.

Haven't seen many of the "movie star" 1413 this summer (it had a featured turn in "That Thing You Do"), and here's a nice example of the Kay-built turquoise twanger with its bridge cover and pickup silkscreen still lookin' good! Brought in a decidedly non-shrimpy $225.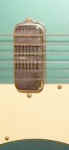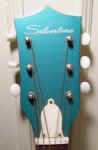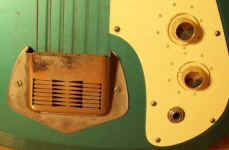 Here's the partner amp, the oddball 1470. With its lunchbox-handled looks and single volume control simplicity, I really don't believe this was a Danelectro-built product. I've been unable to locate this triple-tube powered model in any Sears catalog. This one's in A-OK operational and cosmetic condition, and brought in $115.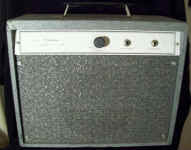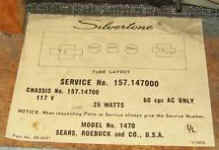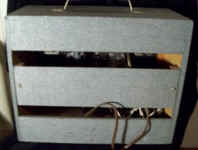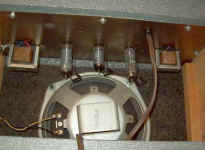 This one's Dano-built, for sure! Here's a very clean 1331 with a 3-prong AC mod and a replacement leather handle in great shape going for a nice $370! Dunno if the back panel is really missing or just off for the photo session, the seller didn't say.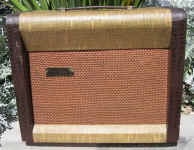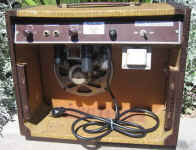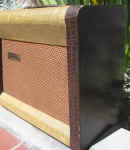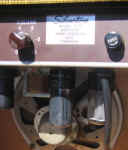 Dynamic Duo Deal here in this 1304 sold with its companion 1451 amp for just $450! Bargains abounding!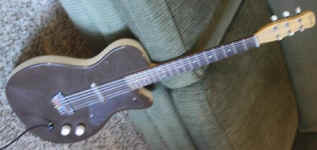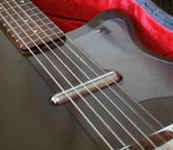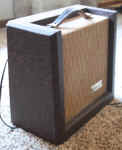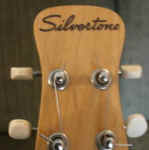 And a Harmonious axe to round out the day... this terrific 1429 from 1963! Clean and in the case for a big $590!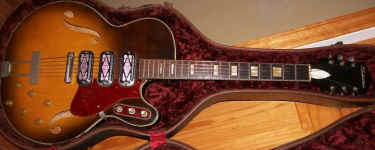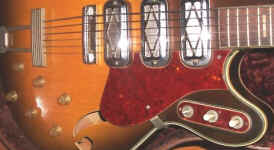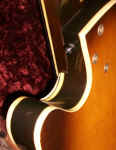 8/25

Tick, tock... September's on its way! We're only a week out from the "buckle down" season; back to school, cooler temps (I hope!) and back to daily Silvertone auction reports. Will we return to the big money of yore (nearly 100 grand in March), or will the auctions follow the general economic downturn in the US and the world, making amazing bargains still available? Time will tell.

Technical note: having some file-loading issues currently; it's why I haven't updated in a week... hope to have it ironed out soon.

We don't have to wait to see a nice Harmony "Rebel"-derived 1453 going for a fine sum! This Rick inspired axe never made it into any Sears catalog that I've found, but they still sold a few of them. This one is clean with a little edge wear, still has its whammy and a clean headstock logo laminate, replacement knobs and brought $467.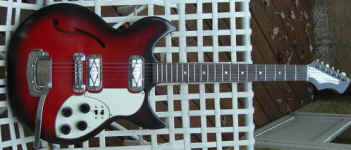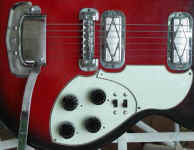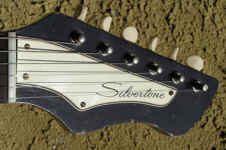 My first Silvertone amp was the 1481, I paid $90 after a friend told me it was at our favorite downtown pawn shop. This example that went for just $135 is in much the same shape; a little dirtier than mine, otherwise well-kept and slightly different from mine in that it sports the square speaker cutout beneath its gold-flecked grille cloth.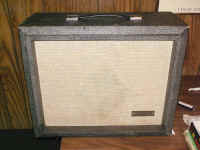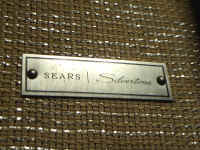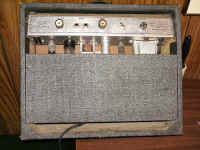 Here's a playworn faux-grained 702 that went for a tidy $150. There's another one up on ebay right now, if this is your kinda axe.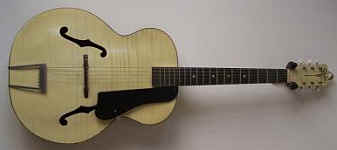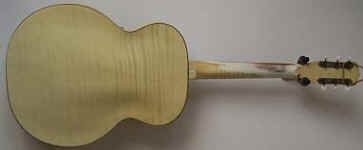 Here's a mighty nice Kay 'Jumbo,' the model 618. Looks good, sounds good, went for a nice $430.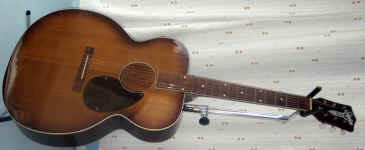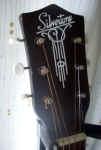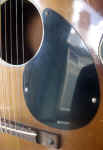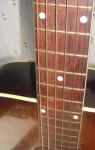 Here's a quick look at this whammy-armless 1413. It went for $199 in pretty nice shape; roller bridge and original knobs still present. Just a reminder to check out its 'sister' guitar, the rarer 1407.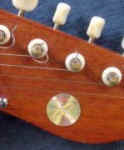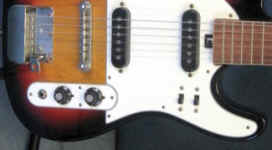 Here's a good-looking 1484 head that has been recently serviced and went for a nice $520.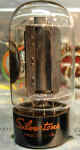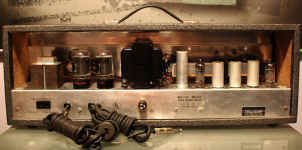 Lastly, my jaw kinda dropped when I saw this 1448 go for $566! No ampincase, just the guitar. The neck attach strap button had been moved to the bass horn. There was nothing exceptional about it. A little edge wear. It was pretty clean. It wasn't a rare early model, the only thing really unusual about it was what look to be a double-screened logo on the headstock. Somebody just really, really wanted themselves a 1448. Can't argue with that!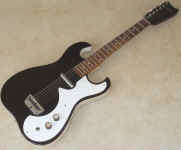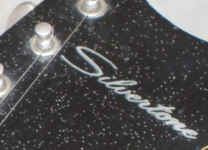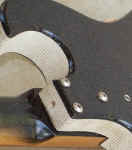 8/18

Mid-week mahhhvelous! I'm just gonna treat you with one guitar today, but it's a beaut! A wonderful 1352 from the early-mid 50s, with a 'P' series pickup, a beautiful pickguard, a strong, clear 'deco' logo, some honest wear here and there, and it brought a well-deserved $965. Stamped H61 internally, the very last of this series (late 50s) had a cursive logo, rather than the one we see here.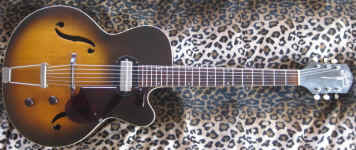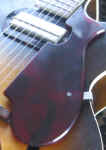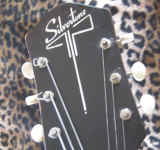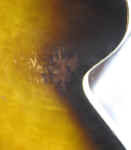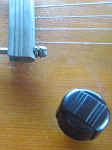 8/16

Back to school, back to work, back in the Silvertone swing! Summer's winding down (but not quite out), and it was a mighty big weekend of Silvertonium exposure. My Geiger counter registered a distinct uptick in guitars and amps just over the past four days. Just as a 'fer instance,' there were four Harmony-built 1423 'Jupiter' models that the gavel went down on since Friday. Here's the best of that lot, and a sampling of several more great items.

Out of the four that were for sale this past weekend, this 1423 was the best of the bunch, selling for $700. The other two went for $500 and $529, and one (a fixer upper) didn't sell.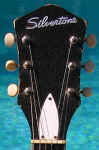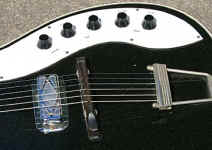 Time for some ultra-rare Silvertonium... these very early lap steel setups had some oddly inconvenient names... this 2320 package went by the moniker "Hawaiian Mono Unit" in the Spring/Summer 1940 catalog. This one is in really remarkable shape (aside from the 'Silvertone Shame' modified headstock), with the snap-over speaker cover and blue fuzzy guitar protection material still present in the hideaway cubby of the GEIB-manufactured cabinet. I believe the Jensen speaker is a replacement, but seeing this pair (made by Valco) together in this shape and still together after so many years just warms my heart. It even had a nice little backstory: "the seller told me that it belonged to his grandmother, and that back in the 1950s she would take this around to local night spots and entertain the regulars... her picks and slide are still in the little change purses from the period." The amp lights up and crackles, and the V/T knobs on the steel itself "won't budge." Sold for $395.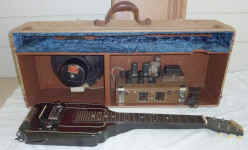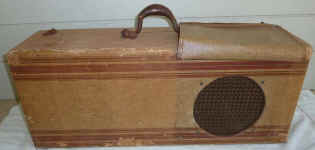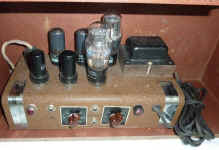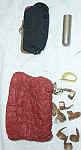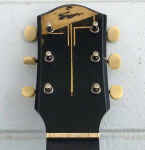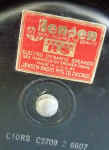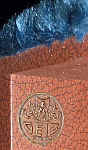 Here's a beautiful 1444 that went for a whopping $1100. Clean, nice case, ready to (as the seller said) "rule the world!" Serial number dates it to late 1965, making this 1444 one of the last manufactured by Danelectro.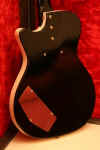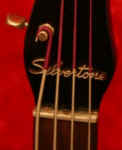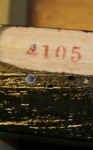 Here's another of those foil pickguarded 1303 models... serial number dates it to 1958, some honest playing wear all over, and it sold for $887.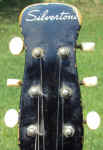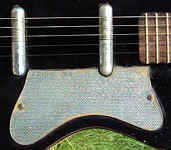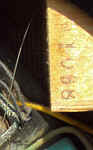 It's been just a week since we saw a beautiful 1317, and here's another that's actually prettier. Interesting 'bookmatched' faux grain on back. Clean, light finish checking, minimal wear, great logo, stamped H53... went for $800.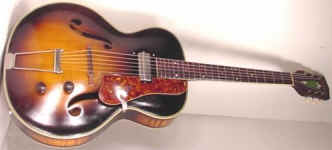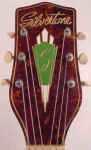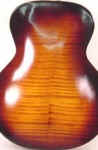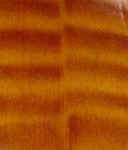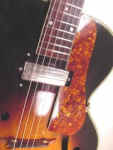 What's green, marbled and awesome? This super-cool 'candy cane' Silvertone radio! 1939 Model 7023, with great machine age/deco styling and an amazing color scheme. Went for some green, too: $505!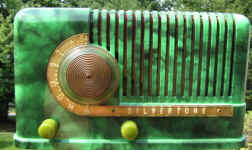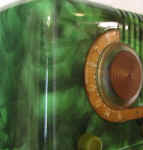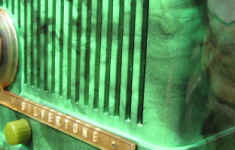 Got a light? We see these pop up every now and again, and it's a great little promo item, probably given out to salesfolk at Sears and also at Warwick in the late 50s . A little research revealed the tie-in to the Warwick Manufacturing Company; they manufactured Silvertone television sets. This Zippo went for $18.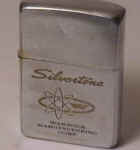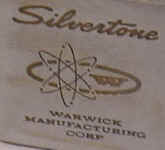 8/13

The Major can put away his gong! Whatever that means. It was the opening line in the 1936 catalog description for today's first up, this Supertone model 220 arched-top round soundhole guitar, originally priced at a 'Golden Jubilee' special of just $4.79! Yeah, you read that right... John Boy could have driven from Walton's Mountain to the Charlottesville Sears & Roebuck and bought one of these for less than 5 bucks! It's in amazingly fine shape for being nearly 75 years old, and this rare strummer went for almost its model number: $204. This Harmony-built guitar featured an arched front and back, a snazzy tailpiece, and what was to become a classic pickguard shape (one that served on the 600 series for the next three decades).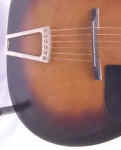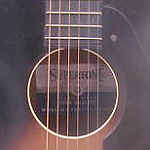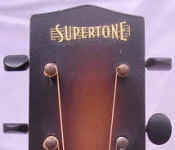 Here's an 'Aristocratic' 1354 from the mid-50s. Missing its 'bat-wing' pickguard, a lamination split at the bottom of the neck, and it's gained a bump or a bruise and a non-stock bridge along the way... but still brought in a nice $350. I put 'aristocratic' up there in quotes because I'm still waiting on someone to give me a citation as to where that nickname derived from.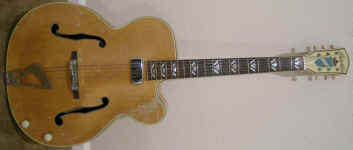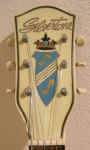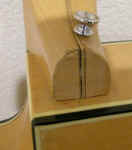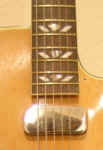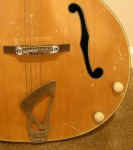 8/12

Hey, kids! It's the Silvertone World back-to-school gadget edition! All the 'must haves' to be cool at school! Check it out!
First up, we know you kids love your 'rock and roll' and bebop... and here's the latest, greatest way to carry your 'tunes' to school! It's the exciting Silvertone reel-to-reel tape recorder! We know you've heard about these amazing devices; they record music or any sounds onto a convenient, easy-to-carry reel of long-lasting plastic tape... you can play back those favorite singles you've 'taped' from the radio or record player anytime... in the order you choose! A featherweight 19 lbs, this 'all-in-one entertainment machine' includes tapes, microphone and built in carrying handle with cooling fan included! Just $23 at auction!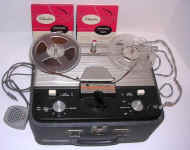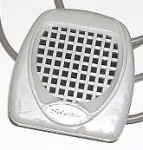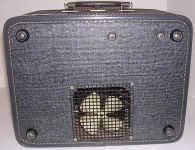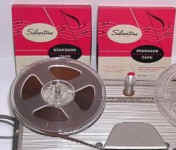 Next, the Silvertone Powr Shiftr lets you power all your gadgets from just one source! Throw away those bulky 1.5V 'A' and 90V 'B' batteries and put the juice to all your devices with the POWR SHIFTR. As you can see, there's a full array of sockets to power all your tube-based devices... from your AM radio, to your broadcasting turntable, to your um... other AM radio... this is the one device you'll need to eliminate bulky batteries forever! Just $22 at auction! 110V AC required.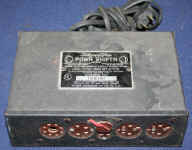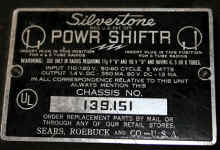 Lastly, remember to protect all your gadgets with this patent applied for Silvertone brand blue porcelain insulator! Just $9 at auction!





OK, back to what passes for reality around here... a few interesting deals from the past couple of days.

Here's a beautiful example of a classic Silvertone amp, the famous 1474. This one is nice and clean with its two original 12" Jensens ready to rock. With the speaker chokes and the (non-functional) reverb tank removed, NOS tubes plugged in and (1) NS knob onboard, this sweet amp went for $775.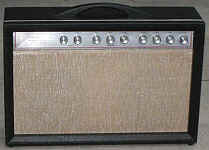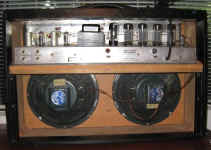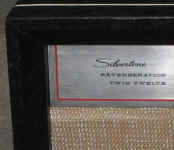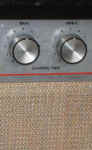 Here's an oddity... I've never seen a 2575 model autoharp, but the seller says this ivory-colored instrument had a sticker on back proclaiming just that; "On the back of the autoharp is a silver sticker that reads: 'Made in U.S.A. 797∙25759.' " The 2574 and 2573 models out there both have that 'natural' honey-colored finish, while the ivory-finished models I've seen have been the 18XX series of autoharp. Nevertheless, this one is in fine shape with some great vintage materials in the case, including the Mother Maybelle 'how to' record, and sheet music for Bobby Gentry's biggest hit, "Ode to Billy Joe" . The whole kit went for $123.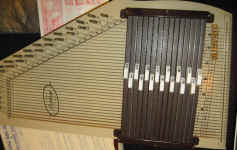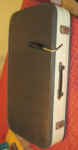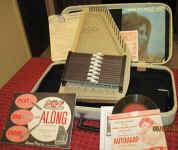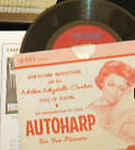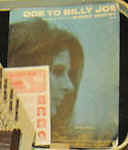 Wrapping up today with a nice "American" model that sold for $599, and we present it to you on the head Buckaroos birthday. The late, great Buck Owens came into this world on August 12, 1929. His patented design Harmony-built guitar still commands a nice price, and any country band wish they sounded as good as the Buckaroos. Here are a couple of classic clips. In the first one, Buck and Don sing "But You Know I Love You" on the old "Hee Haw" show, backed by Susan Raye (!) and the Hagar Twins (trying to "Partridge Family" things up with their "ba pa pas" and a tambourine). Buck plays the Semie Mosely (Mosrite) designed original "American." Note the Mosrite name on the headstock (instead of the stars), and a smaller body with different soundhole placement. The second clip is the classic Bakersfield sound of "Open Up Your Heart." Again, Buck is playing the original "American."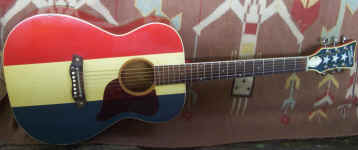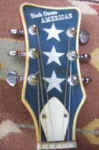 8/10
While I was away, we had a few interesting guitars go under the gavel, so let's open our bag and see what kind of Silvertonium spills out...

Here's a nice 'Thin Twin' that went for $900. A few scrapes on back of this Kay-made axe, some deteriorating tuner buttons, but otherwise a nice piece.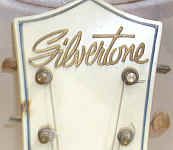 Another nice Kay-made Silvertone, this 1371, went for a mighty nice $730. Clean, nice Gretsch case, clean hardware, strong logo and intact pickguard, this is the rare version of the 13XX line, and was available with the simple script logo only in 1958-59. Stamped L1486 8999.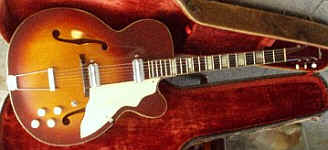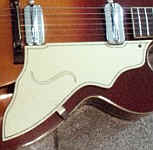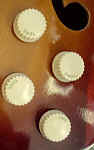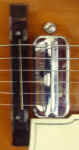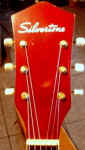 How about a mid-40s 1317? P-series pickup, nice vintage case, pretty clean, nice grain to the back... well worth the $585. This one was stamped H53 inside.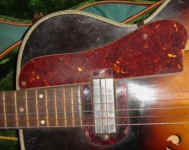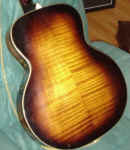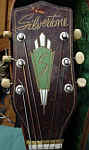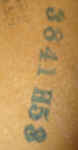 No full length shot (*sigh*), but I'm pretty sure this is a Kay-built '40s-era 'Crest' of some sort. Still has its vintage braided 'strap,' and some vintage Silvertone string packs. Brought a nice $411.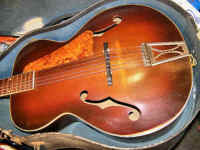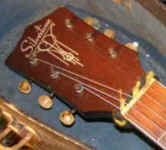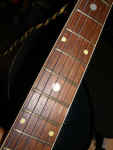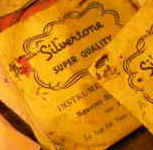 Over a grand for a grand 1446. This 'Chris Isaak' with repro pickguard, new bone nut, new Kluson tuners (orig incl.), went for $1050.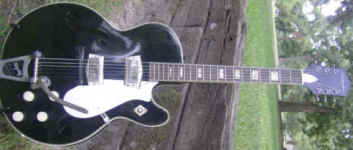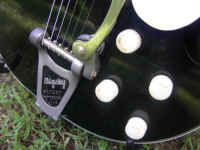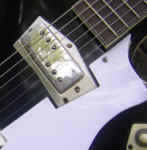 The last Dano-made bass offered by Sears, this 1442 went for $490. The logo's a little distressed, and the tuners, bridge and knobs are new, but still a respectable thumper.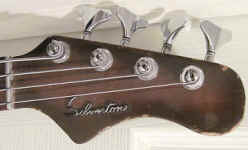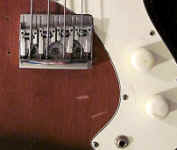 And in more Dano-built bass action, this logo-less late-era 1444 went for $600. Original case, everything but the low 'E' tuner is stock, it's missing the pickguard, and the pots date to early 1963.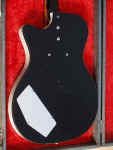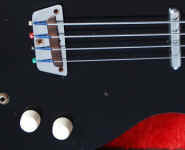 All for one and one for... wait... all in one and ... whatever... here's a 1487. Yup, that crazy Teisco amp-on-board from the mid 60s went for $213 with all covers in place. Seller says the amp just does work.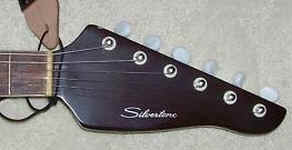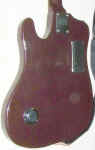 Here's an oddity... the Kay-made 604 model. Apparently at some point in the 60s, Harmony couldn't meet quota, or maybe Kay was trying to horn in on the low-end strummer biz by showing Sears they could put together a basic 6-string, too... these pop up every now and again. Some with a bolt on neck, some like this one, with a traditional glued-in affair. Stamped N-2 and L-1507, tunerless, but with original case and braided 'strap,' it went for $47.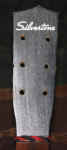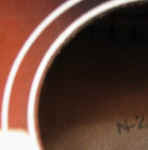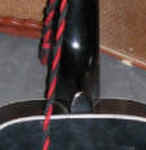 Another unusual guitar, this time from Japan by way of Canada... it's a Canadian-sold Teisco 'Mosrite clone' series guitar that I've never seen before. Two slanted pickups set close to the bridge, and a silver cursive logo. I asked the seller if there were any numbers etched anywhere (none were apparent in the auction photos), but never received and answer. Missing its whammy arm and some neck binding, and fitted with a nice pirate-y bass horn strap grabber and potential arm-digger attachment, it went for $64.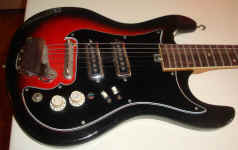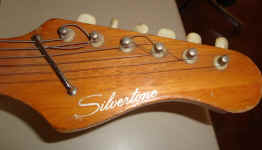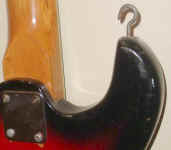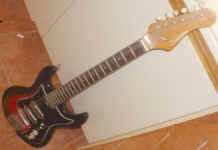 8/5

The Perseid Meteor Shower has started for this year, and it should peak on August 12th. Folks have already begun to see a few early 'shooting stars.' Get a lawn chair, find someplace dark and check 'em out! If you can't do that, really nerd out and listen to their radio reflections right here on the web! We now return you to our regularly scheduled Silvertonium obsession.

I love boxes! I especially love Silvertone boxes. They can display so much great info, and lots of them look really cool, too! Today's first instrument up had a very nice box that it came in, made by the leading paper container concern in Japan, Rengo-Shiki. The sturdy, rather plain box held a very nice example of the model 1255 ukulele, available from late 1968 until mid-1973. The well-kept (but strangely logo-less on the headstock or inner label) uke brought a nice $104.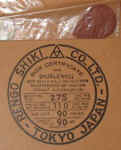 Just for fun, here are a few cool boxes: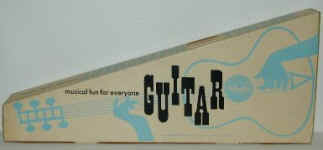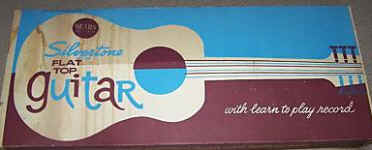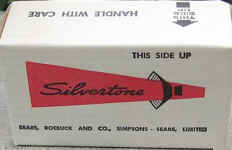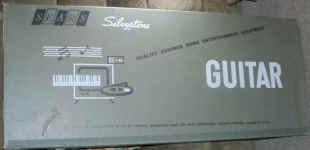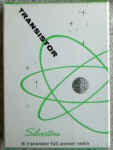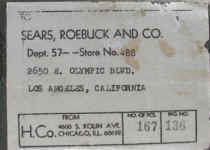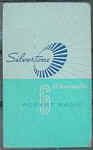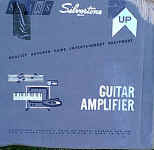 This non-catalog 1208 had the kind of logo I was looking for on the 1255 up there... you can see it up there on the uke's box, and here on the headstock of this low-priced strummer. It's the last Silvertone logo before the reign of the 'Space Dot'. I call it the 'block logo.' This plastic-nutted flattop is in pretty good shape, and brought $69.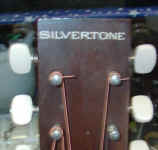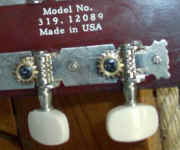 8/4

One Item Today, and it's good 'un...
Big money for an exceptional guitar... this estate-acquired one-owner Kay -built 1445 went for $899. Original case, 'no-mishap' guitar strap, looks like the original cord, clean corrosion/oxidation-free hardware, very light buckle rash and stand wear. Look at the 'bird's eye' grain! This has got to be the nicest 1445 I've seen.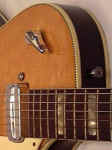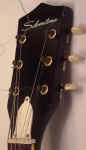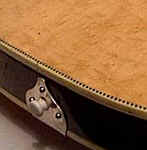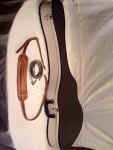 8/3

Is the price pendulum already swingin' back towards expensive? We went from some amazing deals over the weekend to some big money thrown around just yesterday and last night! Here's a sampling:

This nice 1457 went for $1450, twice the price of a setup just a month ago! A little edge wear, nice strong logo, some oxidation to the tuners, both amp and guitar knobs were a little dirty, and the ampcase looked good with just one hinge relocated. No footswitch.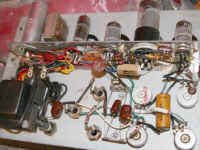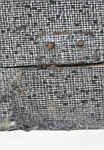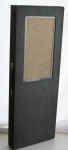 How about a clean (albeit logo-less) 1444 going for over a grand? Yep, this Dano-built bass went for $1200. That's a thingy in the wall holding it up, not a modified headstock. I also beleive the pickguard to be a custom-decorated replacemnt. Rock on, Mr. P!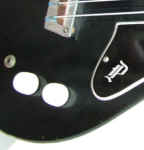 Here's a mighty fine 619 that went for $256. Clean, shiny, very nice example of this popular Kay-made archtop. No pickguard, but it's still one of the prettiest I've seen lately. Just a note, this is one the 619 models that have the useful silkscreen on the back of the headstock. Internally there's just a confusing N-12 stamp.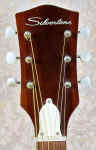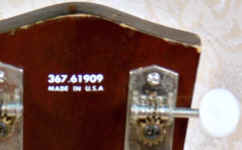 Little amp, big price. This 1459 went for $159. A rare amp, it was the predecessor to the widely available low-end 1420. Some oxidation to the mirror chrome front panel, and some light wear to the cabinet and covering, especially on the back.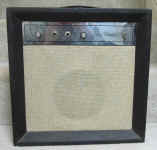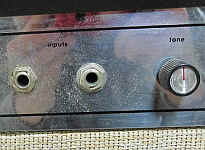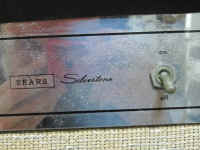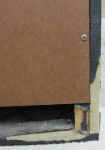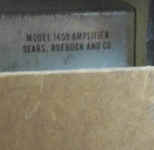 It wasn't ALL big money, there were still deals to be had:

12 strings your pleasure? Here's a clean 1225 for $112. This particular model was one of those 'inbetweeners' that never showed up in a major catalog. This model went through some numbers, too... from the 666 to the 1225 to the 1226 and finally as a 'Space Dot' to the 1227. What a headstock!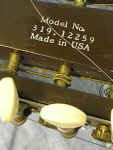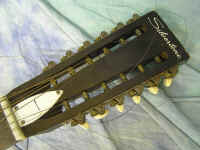 Here's a 'Willie Nelson Special' that went for just $16. Well, it's not quite as beat up as Willies... Harmony-made 657, dates to 1964.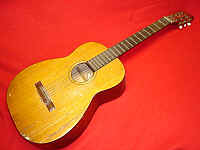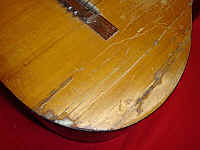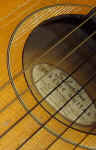 A clean 643 estate find that went for a paltry $45... just about what I paid for mine at a thrift store 25 years ago (mine was in its original case with the cool little 'How to Care For' booklet). This one had the bridge crack that is fairly common to this Harmony-built strummer, but otherwise looked pretty good. Serial #7595H643.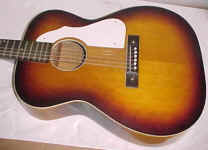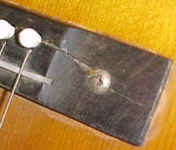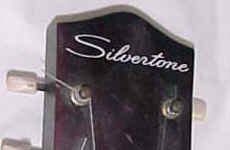 Finally, a sub-$100 deal from our Teisconian friends.... here's a nice whammy-less 1440 that went for $99. The metal logo looks great, and it still has the bridge cover!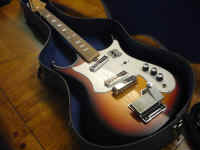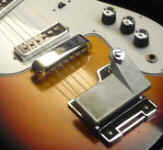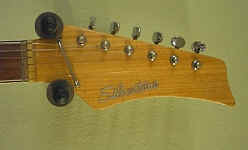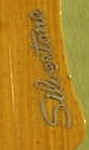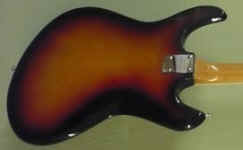 8/2

Zoo Wee Mama! I've never read "Diary of a Wimpy Kid," nor do I plan to... it just seemed that exclamation was in order after looking at the weekends' deals. I'm tellin' ya: get in on 'em while you can, 'cause when it's back to school time, it'll be back to the big money... guaranteed! Here's a nice sampling of some sweet Silvertonium that went under the gavel this past weekend:

I really don't think the seller knew what he had, and I hope the buyer got a clue from the included spec of an overall length of 43+ inches (vs. the usual 38 or so); this is the quite rare 1373, the famous (well to us, anyway) six-string bass that Sears offered in the late '50s. And for just $275?! Yeah, the logo's nearly gone, and the controls and sidewalls are a little dingy, but still.... what a deal!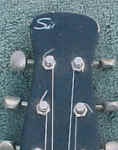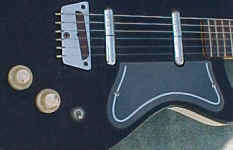 Cosmetically challenged? Nah, some folks pay HUGE $$$ to get their brand new axes looking like this! It's the last of the 'C' or so-called 'peanut' shaped Dano Silvertones, and this example of the model 1321 certainly looks like it's got plenty of natural mojo. Interesting jack mod, and a playing-stripped but solid neck, this guitar went for $472.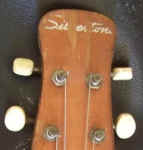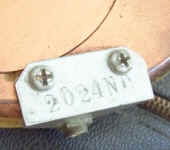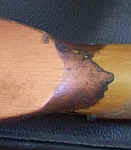 Dano Deals Undimmed, here's a late-era 1304 that went for way less than we usually see, just $256. A little finish wear, and the logo's seen better days... but everything else looks good; there's plenty of glitter, some very nice graining to the fretboard, and I'd be proud to hand this one in my guitar rack, for sure! I know it's a late-era model (likely a Wish Book 1960) because of the swoop neck cutaway and the five-sided corrugated aluminum circuit access panel. These 1304s were the last of the so-called 'Coke bottle' headstock'd guitars, the 'dolphin-nosed' 1415 and 1416 retired in late '62 being the last of the 6-string 'U' shaped bodies, while the final 'U' guitar, the 1444 bass, soldiered on until 1965.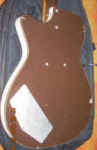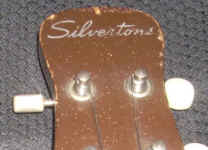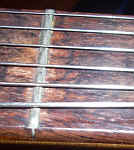 Even the Chris Isaaks are goin' cheap! Yep, this 1446 went for just a bit under $700, and it's in great shape; Bigsby looks good, finish is shiny, the logo is strong, it has replaced tuners and truss rod cover... $680 was a dynamite deal!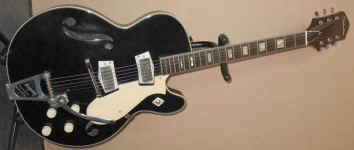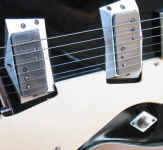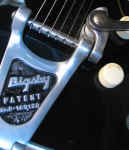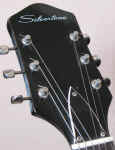 Now boarding for Jupiter, tickets just $661. That's what this beautiful 1423 went for! Super clean, pickguard print nice and strong, logo looks great, plenty of glitter... this Harmony-built guitar is just sweet all over.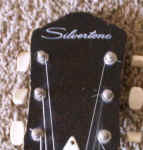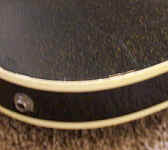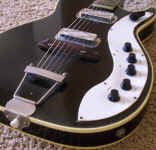 Now for a little AMPitude...

Hold down the bottom, or crank up the top with this 1483 head; it's been pressed into 6-string duty for some famous names lately, Peter Buck and Rilo Kiley, for example. This one went cheap, just $184, mainly because it had no speaker cab, and was housed in a non-original cabinet... but the amp itself still tested officially LOUD.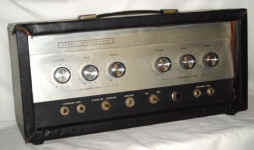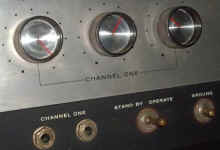 Another stripped amp; this one didn't even have a cabinet to hide in... this tubeless, untested 1391 went for a mere $60.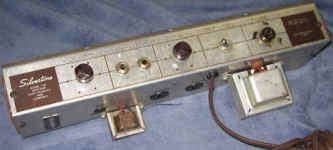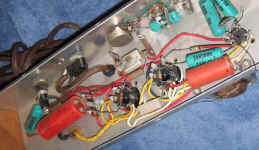 7/30

Some things it seems you just can't get a bargain on... and I'm still kicking myself for missing out on a 1451 setup that went for $138 twelve years ago...

Of course, this 1451 setup certainly deserves a grand price... the amp and the guitar both are mighty fine looking, right down to the 'redneck mailbox' personalization of the bass bout. Honestly, this is one of the nicest I've seen lately. $1000.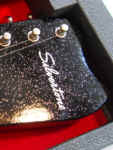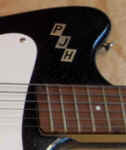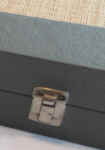 Jack White has made certain that the 1484 and 1485 amp line always commands a high price in good shape... this super-clean, recently cleaned and serviced 1485 head went for $670.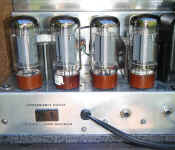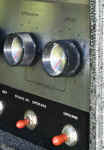 I know it ain't a Silvertone, but I just gotta show you this wacky axe from Harmony; the 'Montclair.' 'Harmo-metal' binding front and back, and some potentially finger-snagging decorations on top. I imagine Pete Townshend stayed away from these... This one had a Regency pickup added on, and didn't bring its starting bid of $699.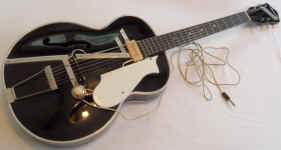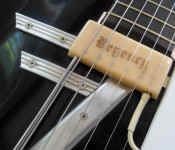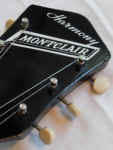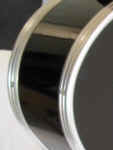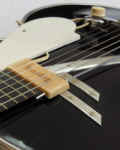 7/29

Ho! Ho! Ho! It's Christmas in July! I'm sure that's what some ebay bidders are feelin' like with the deals they've been gettin' on the Silvertonium lately! Check out these amazing deals:

How about this nice 1478 going for less than 2 Benjamins? With whammy bar! Little rough around the edges and a couple of tuners posts missing, but still a nice deal. Plus, you get that snazzy personalization from J. TAYLOR! Sold for $198.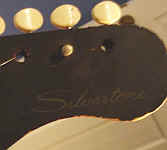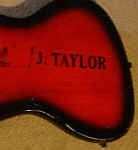 Roll those Sevens! Here's a triple-dip of 7XX models from the mid-50s.

Pretty sure this is a Harmony-built 710. It's stamped F-56-T, and that's the only guitar sold in 1956 that really meets the look and the specs of this axe. Went for a mere $61. Some honest playing wear to the neck, but the logo is strong, and the pickguard is still with us.... looks like there was some damage and repair to the bass side f-hole, however.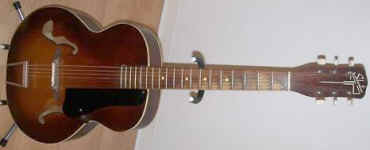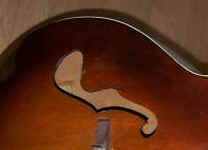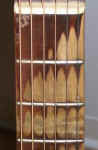 And another 710 going for double the last one. A little separation to the back, but overall sound. Went for $135. This one was stamped F-57; interesting difference in finishes just a years apart.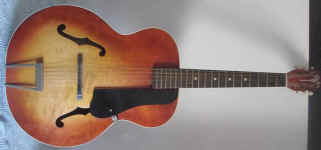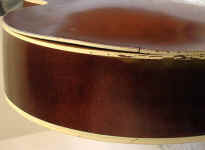 Here's a 700 model going for $135. It's in nice shape, with what I'm thinking is a replacement pickguard. A couple of repaired cracks on the back, this one actually dates to the late 40s.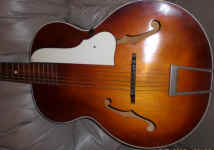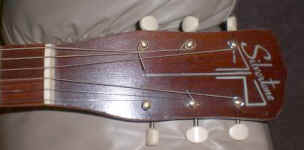 Now on up into some higher dollar territory, but still awesome deals, IMHO...

This 1444 bass is one of the prettiest I've seen. Glossy finish, bright hardware, blindingly white sidewalls... and a large but no too price: $475. The pots dated to 1963, which would be right in line with its 'swoop' cutaway and corrugated aluminum access panel, which appeared in the 1960-1961 corridor.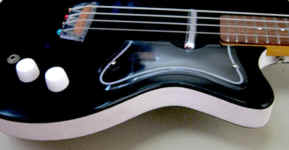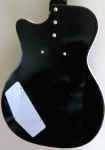 Here's a very pretty 1365 Kay-built archtop going for a nice $730. Clean, minimal wear, nice Frost & Stone case.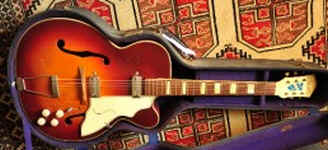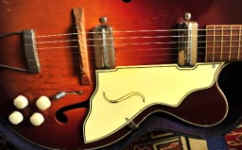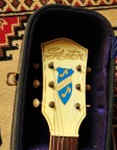 Round out the day with a rare amp...

Here's one we just don't see too many of; it's the 1346, some damage to the front corner, but otherwise operating and in good shape, it went for $356.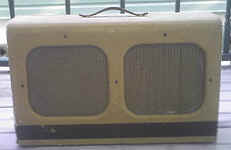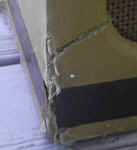 7/27

Bucks for Buck! A fine 1219 'American' model signed by the head Buckaroo himself, it went for over a grand! $1085, to be precise. Headstock laminate looks good (except for a little wear on the big 'C' and 'N'), the typical yellowing/mellowing of the finish, and Buck's well wishes inscribed just below the bridge.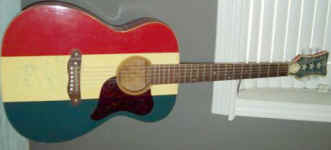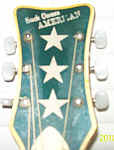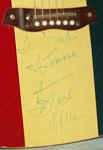 I'm tellin' ya... the bargains are abounding this summer! Take this nice 1304, for instance. Clean, ready to rock and it went for just $255!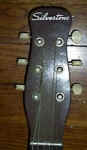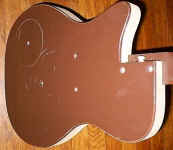 Here's a happy holiday pair... well, I reckon they could have been sold together anytime during the year, and it's nice to see them still together. It's a pretty clean Teisco-made 1412 guitar paired with a slightly worse for wear 1420 '5XL' tube amp. The darling duo went for $228.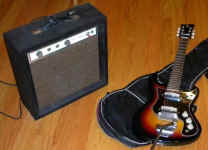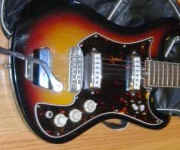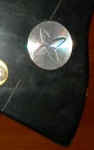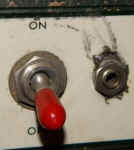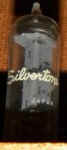 Here's a mid-50s 710 built by Harmony, with an added 'Speco' pickup and minus its pickguard. Serial #2516H710, it sold for $205. 'Deco' logo looks good, fingerboard has some playing wear. Oh, and the bridge has collapsed.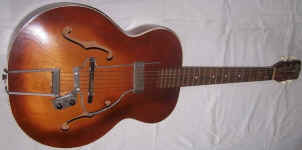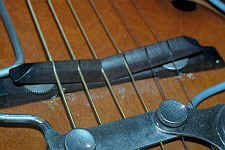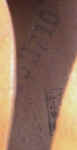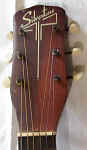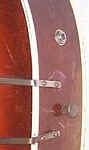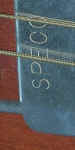 7/26

Kind of a slooow weekend, Silvertone auction-wise. Of course, here in the Southeastern U.S., it was too hot to click a mouse. A few things sold, but nothing spectacular.

I did get some great info on the 1377 via email from a proud owner of one of the nearly prototypical Dano-built guitars:
"My guitar seems to be an early model. The body is solid wood and the square, hollow duraluminum tube goes from the nut to the bridge. The nut is aluminum and the original bridge was as well, however it wore through at the screw adjustment holes and was replaced by a later bridge. The fretboard is as straight as it was the day it was made, in 50-plus years it hasn't moved a bit. It rings like a grand piano.

The pickups are not thin; they are very similar in construction to the lipstick pickups, only not in the lipstick cases. They do not rest on top of the metal and wood but rather there is a routed area that the pickup resides in, it just sits in there, no screws. The routes cut through the top and sides of the square duraluminum tube and into the solid wood on both sides of the tube. The pickguard is a very thin plastic and was vacuum formed over the pickup area.

When I got (the guitar) about 30 years ago, only one pickup worked. I contacted Dan Armstrong, who I barely knew at the time, and described the guitar to him over the phone. At first he said it sounded like it was some kind of Kay or other strange thing, and that perhaps I might have been 'taken' when I bought it. However, when I brought it up to his place in Sylmar, he said that it was absolutely Nathan Daniel's work. He took the magnet from the shorted pickup, wound a new coil around it, no bobbin; taped it up with a piece of Scotch tape and soldered it back into the circuit. He was impressed with the way they had wired it, each pickup had its own volume and tone (network) and were not cross-wired to each other like a Gibson, but independent of each other. He also said that kind of circuit would not work well with a stronger set of pickups such as Humbuckers. He also said I probably shouldn't open it up again, that the pickguard might disintegrate and there wouldn't be any way to get another one unless I knew someone with a vacuform machine. Dan and I became good friends from then until he passed away.

BTW, those are caps over the screw holes on the back, the screw heads are underneath." Thanks, Peter! Looking forward to your photos!

Here are a few 1377 pics from the Silvertone World archives: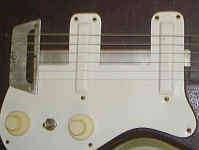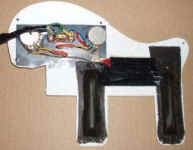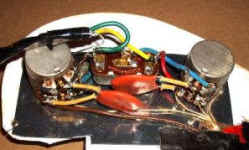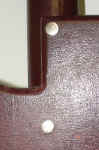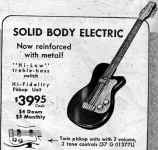 There was this nice-looking 1422 '40XL' solid state amp that sold for just $53!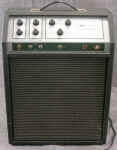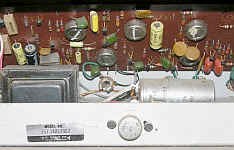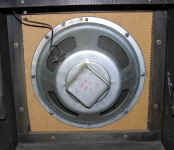 ...and this odd classical from Japan that snuck through the filter... the "Silver Mellow Tone" Guitar. Seems to come from the Kasuga Musical Instrument Manufacturing Company. Sold for a surprising (to me) $211!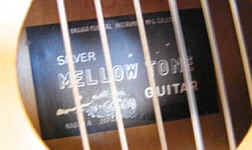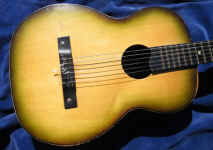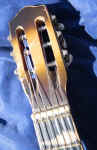 7/22

New page up! It's the sporadically-listed, multi-spec'd, early '70s bottom-end placeholder guitar, the 1406!

We just don't see a lot of the 1421 model, it's mainly the all-black finished 1420 variation of this Harmony-built model that we see up for sale, so I was happy to see this one under the gavel recently. It was stamped S-63-JP, and the pots date to late 1963. It went for a little over half a grand, and if you want to see how to write up an item with maximum seller excitement about the product (which usually translates into maximum buyer interest/excitement) and maximum information conveyance (which usually equals maximum moolah for your auction), as well as a great set of detailed photos and ctual sound bytes of the instrument being auctioned, this auction listing is a great example.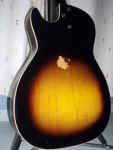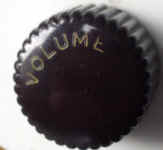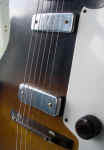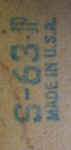 Well, it's still vintage, anyway... just wanted to show you one of the cool little "has the word silvertone in the description" items that sometimes sneaks through my "eliminate most of the jewelry and other junk" ebay filter. Plus, it was my first car. Well, not this one obviously, but a real '65 Ford Mustang. This one's a 7" long metal bank (made by Banthrico of Chicago), and for $14, it'll soon be sittin' pretty in someone's collection. Also, I should point out that although it's labeled on the license plate as a 1965, the grille portrayed is the slat-type grille of a '66. The '64½ and '65 models had a 'honeycomb' grille. Just sayin'.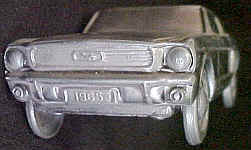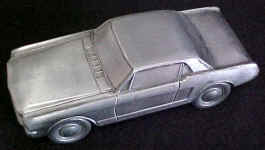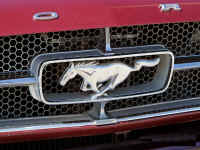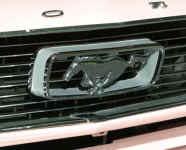 7/21

Just a couple o' chunks of Silvertonium today, a nice teardrop style mandolin and a sharp ElectroHarp.

This mandolin was probably sold as a model 750, which was the designation for the 'blonde' finished mandolin in the Sears catalog over the years. Interestingly, I can't find any illustrations or listings of it spec'd out with the attractive double faux-tortoise binding and pickguard or that headstock style. Regardless, it's in great shape, with some honest playing wear to the neck, and went for a nice $299.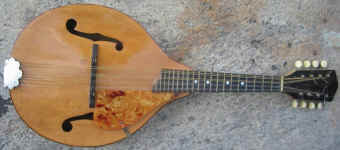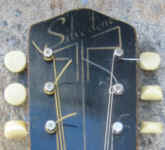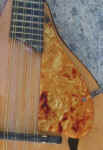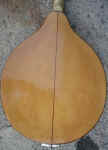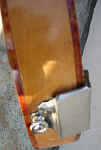 Ladies and gentlemen, I present to you the amplified wonder of our time: the Oscar Schmidt-manufactured ElectroHarp, Silvertone model 1850. This one's in pretty good shape, and went for a bargain $99. Amp works, no tuning wrench.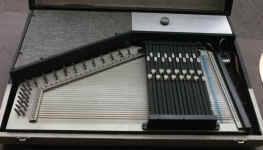 7/20

Forty-one years today since we first set foot on the moon ... and just about as much time since the Silvertone name was abandoned by Sears. Our first up today is a nice little amp that lived in both worlds as a Space Dot XL and a Silvertone. I honestly don't know who built these, since the Danelectro factory had been shuttered for some time (after its sale to corporate giant MCA), but here ya go!

It's a 1421 with an elongated 'Space Dot' logo and a '10 XL' legend right beside it. On the back, the late-era Silvertone block logo can be seen atop the schematic/product label. These little puppies pumped 10 watts into an 8" speaker, complete with tremolo! This one isn't the best I've seen, but still quite nice; recently serviced, it went for $275.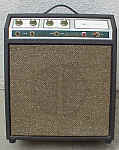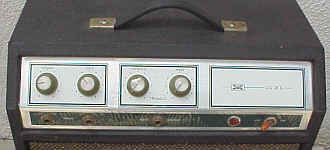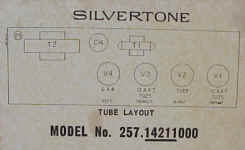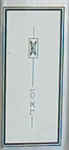 A beautiful example of what the catalog called the 'Venetian,' the Kay-built model 758. Clean, minimal wear, nice case, replaced tuner buttons, it went for $181.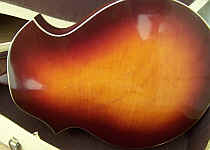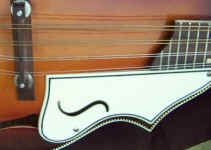 Couple of ukes: one oddly decoupaged, and one that went sky-high in a fierce bidding war.

This Harmony-built 853 had some home-brew uke decals added... looks like part of a ukulele awareness campaign: "Say it With a Ukulele!!" Certainly one of a kind, it went for $119.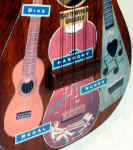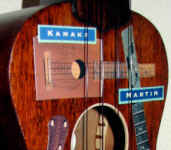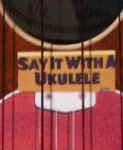 The Hula girl is a happy girl! Even with the stencil a bit off-register (which arguably adds to its rarity/value), this late 30s-era Harmony-built model 452 uke went for (after a 20-bid war) an amazing $530! The earlier wahini-adorned ukulele can be differentiated from its successor, the 50s era 852 by its all-wood fretboard. The 852 sported a cheaper, more easily installed/manufactured plastic fretboard.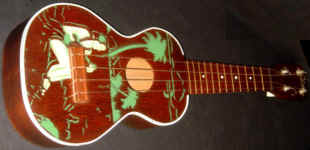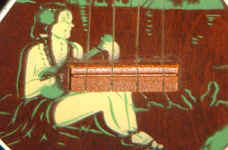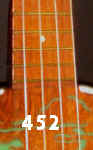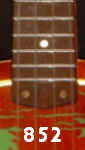 Here's a long-neck open-back 5-string banjo from the mid-60s that went for $250. It's the 805 model, and we don't see as many of this long, cool one as we see of its less-lengthy cousins. It was the only one that came standard with an armrest.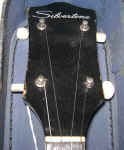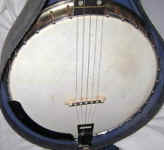 Here's a nicely modded 1485 that got a new tweed-covered home, and a cool nameplate (wonder where they got that from?). Went for $200. Even the footswitch got tweeded! Reverb tank is missing, tremolo works.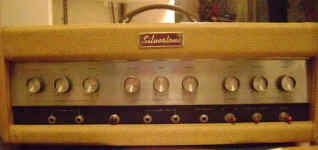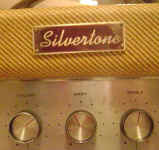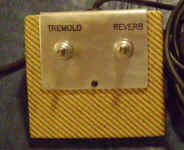 7/16

A drought, then a FLOOD! Kinda sleepy this week, as my no updatedness would indicate, then ka-boom! The clouds let loose and a deluge of rare and unusual Silvertones come charging down the auction gulley, all at summer bargain prices. Check 'em out! Some of these I've never seen before! I love surprises!

Let's start things off with the seldom-seen mid-50s Harmony-made 614 flattop; a cool little guitar with 'snowflake' fret markers, a black pickguard similar to the one found on the 600 series, floating bridge and trapeze tailpiece, and a 'deco' logo on the headstock. Serial #2909G614, it went for $133.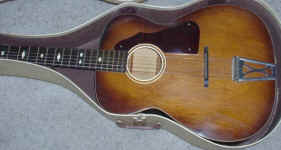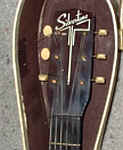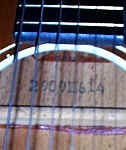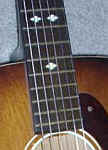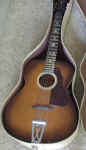 Ya don't see many of these! It's a Kay-made model 232 from the early 1940s. The logo is unusual (look closely; you'll see it's the stencil-y father of the of the 'wind chime' logo), the fret markers are unusual, the body shape is certainly not run-of-the-mill, either. Some binding shrinkage, some finish checking and some re-engineered 'wingnut' tuner buttons, this interesting axe went for just $75.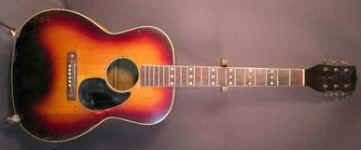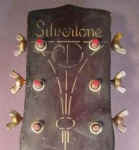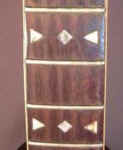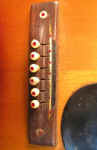 Here's a rarity: the unfortunately-numbered model 666 from Kay, the direct descendant of the 661/663 model and only available in the 1957 catalogs. Checker-bound like its predecessors, with nice big block fret markers, it 's main distinction from the 661/663 was the the inlaid 'bump' headstock. Scarcity aside, this one has a very poor neck re-gluing, deteriorating tuner buttons, no bridge, tape residue, and some finish checking/flaking. Stamped L7780-6891 & P4. Went for $102. Sears would later re-use the 666 number for its first acoustic 12-string.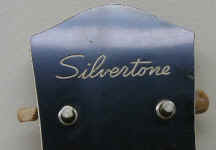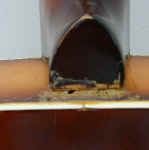 Remember STP stickers? You used to see 'em everywhere! Clipboards, bike seats, your clubhouse door, even cars! Well, here's a nice Dano-made 1417 with one of the famous stickers applied. Pretty good shape, logo looks good, little bit of playing wear on the lower bass bout, also missing its access panel cover, pot codes indicate early 1960 build, this revved-up guitar went for a bargain $333.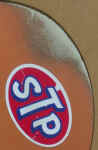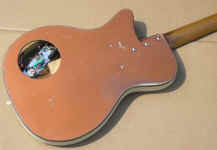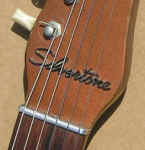 Bargains abounding this summer! Check this nice 1211 with case going for just $46!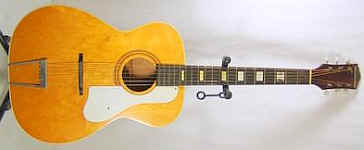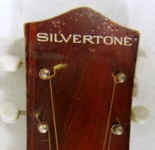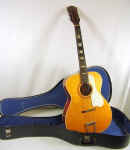 Gotta show you this Odd Mod Squad 1304. Refinished, re-pickguarded, re-tuner button'd, and re-knobbed, with its logo nearly worn away and bridge saddle missing, this wacky axe still went for $425.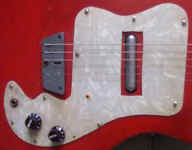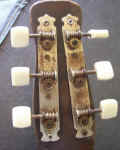 I just like the way the glitter was worn off this 1448, and the fact that whoever stripped the neck preserved the Silvertone logo. Neck and body sold for $101.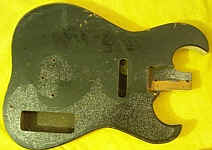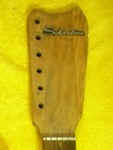 7/13

Well, it didn't sell... the bidding got up to just a little over a grand, and that wasn't enough to break through the auction reserve. Indeed not. This is a rare gem, and deserves an appreciative home. It does point up two things: summer is a slow time for auctions and a great time to get a bargain, and sometimes rare doesn't always equal money. This guitar belongs in the Silvertone museum (if there was one), and we'll have a page for it and its sisters (the 1365 and 1367) up soon, but what it really deserves is to be played and treated lovingly. Maybe it'll come up again under more favorable market conditions (I'll let you know), or maybe it's happy right where it is.

1955 SILVERTONE 1368 GOLDTOP! SUPER RARE!!!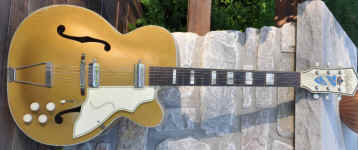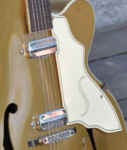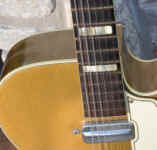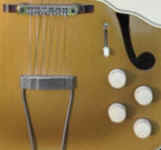 7/12

Here's a few nice pieces of Silvertonium that changed hands the weekend:

A nice mid-50s Kay-made 1354 that went for $500.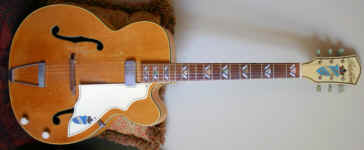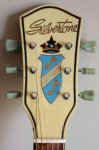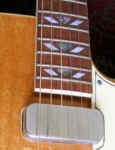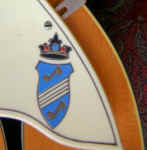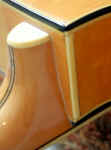 And a couple of mandolins:

Here's a model 1297, Harmony-made, and only listed in the 1971 Wish Book. Refurbed by the seller, it went for $99.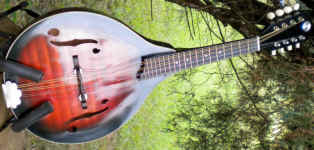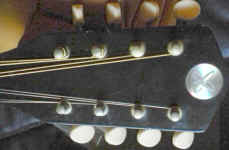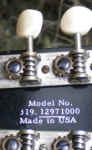 One from Kay: The model 752, stamped P-4 inside, 'wind chime' logo, went for $100.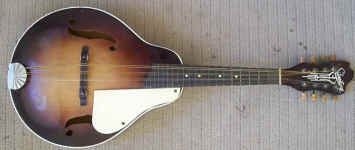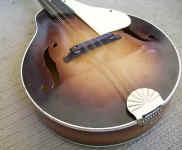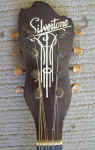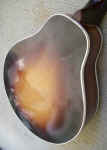 7/9

Some newly-found catalog illustrations, partner guitar pictures and information on Silvertone's life during wartime at the 1306 amplifier outfit page.

Some great new catalog images, and a few small detail changes to the 714 page; the only Silvertone made by GRETSCH!




7/8

Maybe it's the heat... it's been pretty steamy here on the East Coast, with temps up in the triple digits the past couple of days... maybe it's just summertime; everybody's out gigging and strumming at beach parties and on the porch with friends... just not as much time to buy and sell stuff. That's why I take the summer off from daily updates, anyway. Here are some interesting, pretty, and just plain wacky things that have sold the past few days.

First, the wacky. It used to be a 606 guitar. Now it's the Thing From Another Dimension. I guess the side string setups went to those angled bridges for some kind of sympathetic vibration, a la the Danelectro Sitar, and the Lafayette pickup would then transmit messages to outer space send a signal into an amplifier. Went though one auction cycle, then sold on the second for $100. OK, so maybe not... saw the auction ended AGAIN on the 11th; no sale.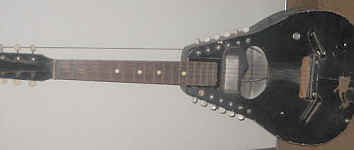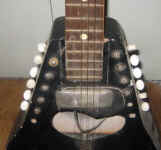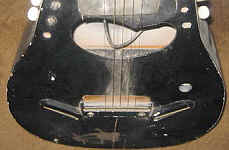 Here's another modified Harmony, albeit this one wasn't operated on by Dr. Frankentone... it's a 625 with a vintage DeArmond pickup (scrounged from a Harmony-branded electric more than likely) and some nicely aged 'cupcake' knobs installed. Interestingly, the vintage pots date to 1958, a year before the 625 was available. Cracked bridge, neck needs a re-set. Sold for $73.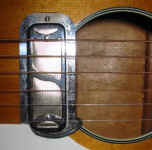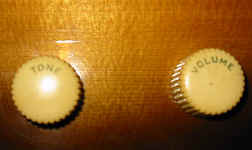 One more funny-car mod, this hot-rodded 1448. It's the earlier two-bolt neck pointier horn model, and here's the entire "what was done" scoop from the seller: "When we got it it was a body, neck and pickguard, with aftermarket Kluson style machine heads on it. It had a stop tailpiece/tunamatic holes in the top- we doweled the holes and airbrushed over them, no no sparkle but it looks nice. A generic but not real hot rail humbucker (5+K) and a lipstick tube pickup out of a Jerry Jones was our pickup selection, new pots, repro Gibson style knobs, 2 volume and one tone control, 3 way switch- sounds great, very Tele like in the middle position. The low E Kluson has part of the machine head top broken off, but the bigger E string wraps around it fine and doesn't cause an issue. The bridge is a NOS Dano from several years ago, one where you can set the intonation. The guitar plays great!"
Sold for $249. Start your engines!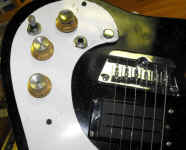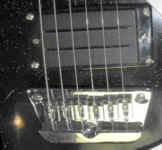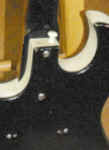 Hi-Ho, Silver! Here's a good condition late 1930s vintage 'Lone Ranger' guitar. It was the full-sized model 206, and went for a rootin' tootin' $139.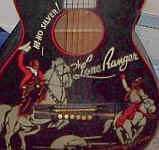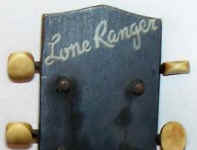 Here's a sweet 605 with its cowboy case! Very clean, light wear, strong logo and shiny tailpiece. Serial #4332H605, stamped S-56. Went for $63. See what I told you about summer bargains?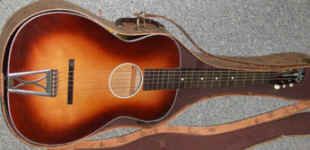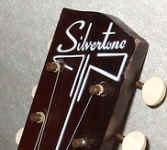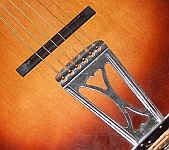 Here's a mighty nice 1303, from the last days of the Coke-bottle head 2-pickup 'U' shape models. Normal wear, interestingly bound and pickguarded in a reflective-backed material, and some cool graining to the fretboard, it went for a nice $745. Relisted a few days later, went for $699.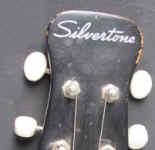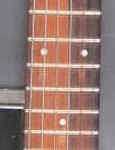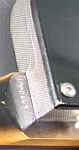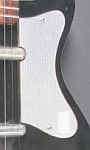 How about a nice Kay-made 708 model. I'm pretty sure about the ID; there seems to be 2 versions of the 708; one from Harmony, one from Kay. This one went for a steal; $118!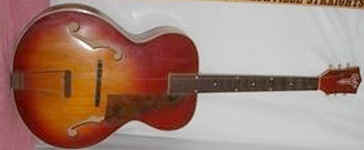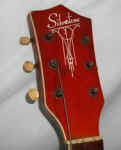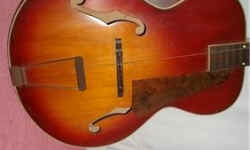 Just realized there ain't an amp in the bunch! Mostly because there haven't been many up for sale, and the ones that were have been kind of run-of-the-mill. Here's a nice 1344 that went for $350 the other day. Strong logo, fairly clean case, functional, but tremolo status unknown.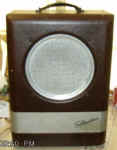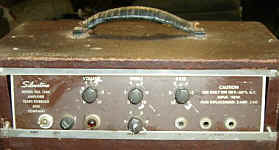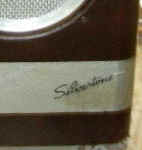 I'd been ruminating about an odd 1439 that I had in my photo collection, when part of the mystery was cleared up by this item sold from a custom pickguard/part maker over the weekend. The main mystery is that I have images of two different 1439 guitars that have the same unusual knobs and toggle switch mounting plate on them. One of them also had this pickguard on it, and I'm glad at least that part of the mystery is cleared up. However, the question of the odd knobs and black switch surround remain. Oh yeah, the pickguard went for $25.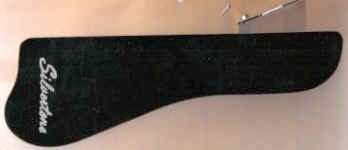 7/2

Long holiday weekend on its way, maybe we'll see some groovy Silvertonium next week. I'll let you know, of course. Remember, it's my summer hiatus from complete daily rundowns of Silvertone auctions. It was a pretty active June for unusual items (check 'em out below), and the summer has begun in its usual what I call 'repressed' mode. Lots of items don't sell, many more go for a song. If you're looking for a Silvertone bargain, these hot months are the hot time for getting one.

Meanwhile, catch up on all the new goin's on here at Silvertone World! Scroll on down for a handful of new pages and information of our favorite instruments.

A shiny new page for the super-cool and under-appreciated Harmony-built 1439.

Minor corrections/additions to the 1446, 1416 and 1407 pages.

I used this model guitar as an example back in May when I went through how I go about trying to ID a guitar (archtop acoustics mostly, but the process is valid for any mystery machines). It's the checker-bound Kay-made 661. Here's a very pretty example that sold for $281 yesterday. Check that last pic. I always think it's funny when the faux grain criss-crosses the real grain.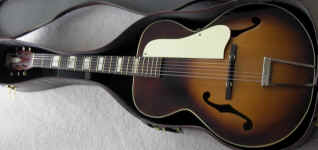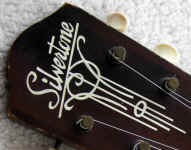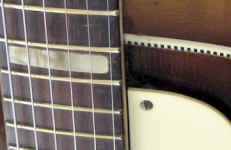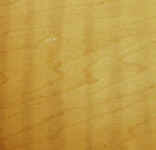 6/30

During the regular season when I'm rating every instrument and amp that comes across the auction wire, I don't give out 'Near Mint' or even 'Excellent' ratings very much. Frankly, there just aren't that many Silvertones out there that rate it. Today's first up is an exceptional 1457 guitar and ampcase setup that went for an equally exceptional (though, I feel, summer-suppressed bargain-y) $790. The only flaw I can see is that little teeny ding on the headstock by the 'e,' and some very light back of the neck wear... it's about as close to the 'fresh out of the box' experience on one of these as you're likely to see. All that's missing is the manual. And the wrapping paper.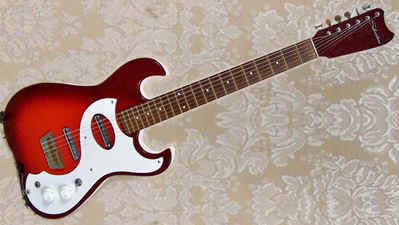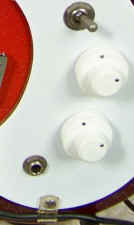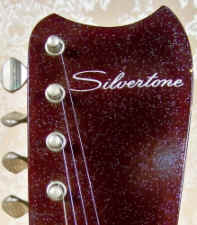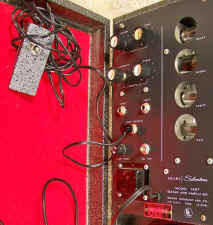 I've got a few more treats for you today, starting off with a brand-spankin' new page for the other 'Space Dot' Tele™ clone;
the rare, Japanese-made, ivory-finished, one-pickup 1407.

Here's a fab 1433, complete with rockin' video! Sold last week for $550.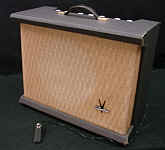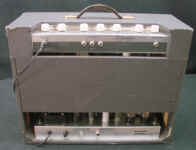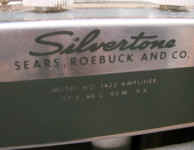 How 'bout a pretty 1417 that sold last week for $450. Non-stock knobs, a replacement pickguard and a low-gloss red refinish job on this 'dolphin-nose' 'U' shaped guitar.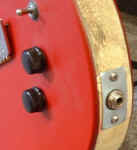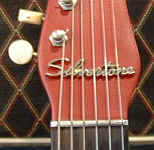 Let's round out the day with a funky monkey from a couple weeks back, this odd mod 1484. Pillow-topped, cut and rearranged, this custom job went for $204.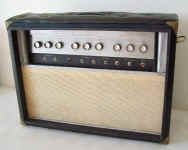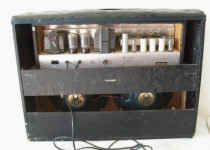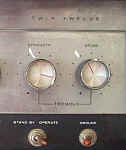 6/28

It's been too hot to do too much else, so I've added and revised some pages, reflecting some new info I gained from my recent research trip. Here ya go:

Some catalog listings and availability brackets for the Japanese-made 1413 Telecaster™ clone.

Some minor revisions to the 1418 page.

I couldn't leave 'em alone, so I've revised the 1455 and 1456 pages and added one more to round out the line; a page for the Simpson-Sears sold versions, and the Woolworth/Woolco sold 'Audition' version.

Here are some pretties that did (or didn't) change hands the past few days. Enjoy!

Since we're already on the subject, here's a 1455 with an interesting armrest and a replacement tailpiece that sold this week for $198. The seller didn't say if there was a hole under that 'armrest.' I wonder if this guitar was left-handed for a period and then switched back? That would also explain the removal of the whammy tailpiece.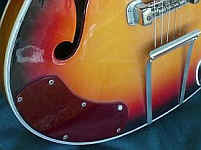 This 1406 looks quite different from the 1406 we usually see. Nicer lines, and just a prettier guitar. This one's in great shape with minimal wear (although that 'Space Dot' is just barely there), and sold for $140. This one is stickered 14060001, while the other, more common 1406 models are 14060100 and 14060000. The last picture is an '0100 model.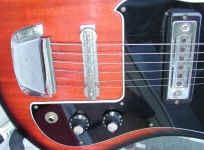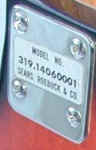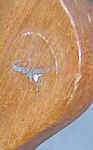 Here's a very nice 'Wish Book' only 1304 setup that I was surprised didn't bring its asking price of $600 over the weekend. It's great to see the guitar that sold with the amp (the 1451), and both in great shape. The seller said the bottom strap button is missing, and "The amp is a little fuzzy. The case is lined with red velvet. Pick up is not good and might need some fixing. It was working for the first few days we had it and now it has stopped."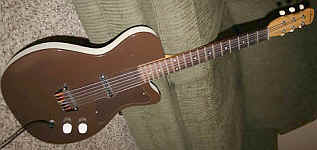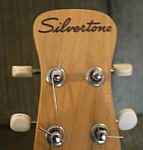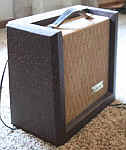 Friends don't let friends do this to their Silvertones. Just sayin'. Still sold for $143.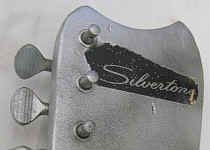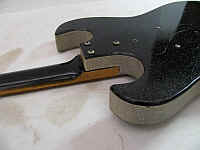 Here's a uke I can't find a listing for. It's sporting a very old-school logo, and some nice binding on front and back and in the soundhole, and I'm unable to locate a catalog listing for it. It's in great shape, has recently had the neck re-set, and sold for just $50.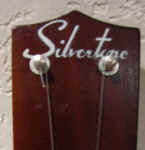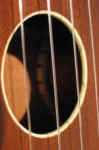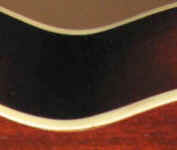 6/23

Rock it! New pages up for the Japanese-made, end of the Silvertone line 1455 and 1456!

Here's a nice 40s vintage lap steel (or at least, what's left of it) that went for $67 today. I'm reckoning it was an early Valco-made instrument, and the deco-logo'd model 2320 had the snappy name of "Hawaiian Mono-Unit."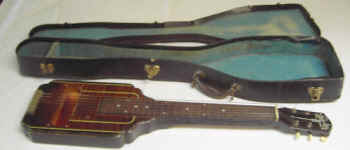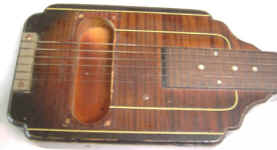 6/21

Happy First Day of Summer! Couldn't let it slip by without jumping in.... here' are a couple of items that changed hands recently.

It's the wiring harness and pickups from a 'Chris Isaak' 1446. Looks like everything's there but the knobs. Went for a hefty $367! The body, neck, Bigsby and NS tuners (in a separate auction) went for $107.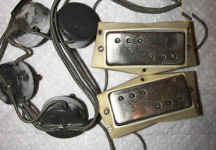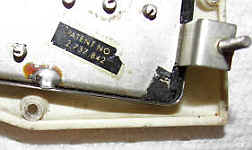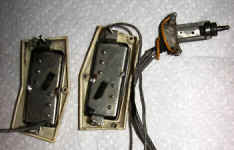 I know I badmouth Kay's number stamping practices frequently, because the majority of the time they are so non-sensical. So, I thought I'd show you this 618 that sold today, and let you know that sometimes Kay's stamp numbers are actually helpful! This tuner button-less example went for a tidy $215.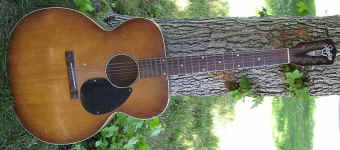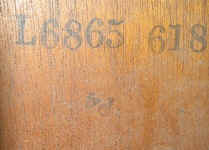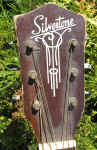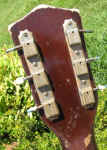 6/17

An interesting haul the past day or so; here's a bunch of unusual or otherwise notable acoustics.

The best of both worlds... this 1217 has the 'Space Dot' on its headstock, and a late-era block logo Silvertone legend inside. Went cheap, as the seller described a top riddled with cracks, and a messy bridge re-glue. Interesting NS wood pickguard added, seller indicated it still played well, sold for $25.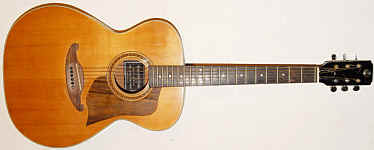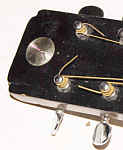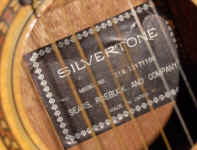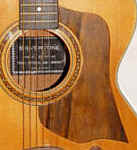 How do I know Kay made this 660? Look at that fancy-pants '7' peeking out from behind the paper label. That's how. Fairly nice example of this shapely slot-headed guitar, showing a little bit of edge and fretboard wear, but classicals just don't feel the love from our wallets like the rest of the guitars do... went (with case) for a mere $10.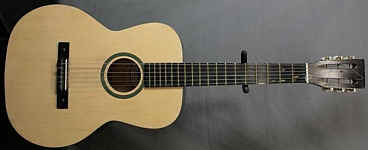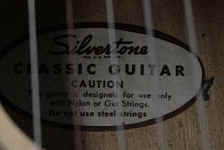 Another week, another 670! This one's a little different from last week's example, sporting a bump-top headstock, and some after-market electronics. The seller indicated that the pickup was just hangin' on with some double-stick tape... you'd think if the modder went to the trouble of drilling/installing a V/T network and jack, they'd have put the pickup on a little better. Still, it brought a nice price of $339.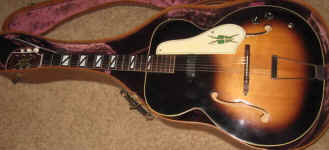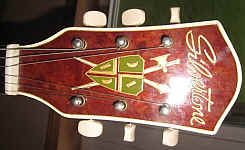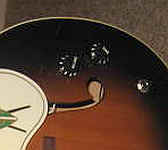 Quality Assured Home Entertainment Equipment... I love boxes! Especially when there's a great-looking 604 inside. Stamped S-65, serial #2139H604, sold for a nice $76. Look how clean that logo is! The rest of the guitar was nearly as sharp, showing minimal wear.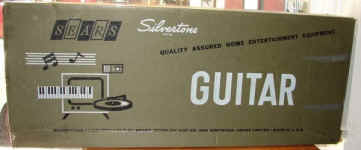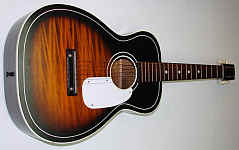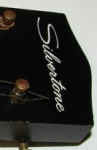 6/16

(Almost) Summertime, and the auctionin' is easy... If you've got some extra cash, and a desire for some Silvertonium, now is the time to get a-biddin'! Sales are a bit slower during these hot months, and the prices are somewhat depressed, as well. So, there are some great bargains to be had... now, git yer wallets out, and reach for the mouse!

For instance... here's a terrific Dano-built 1442 that went for just $182 yesterday! Nice case, logo intact, a scratch/ding here or there but nothing major, the tailpiece cover and finger rest is still there, and someone got a sweet deal!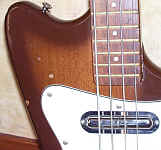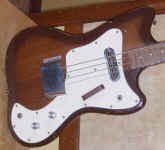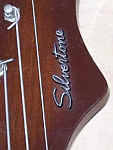 Another example is this Harmony-built 694 (availability 1950-1955) from yesterday. Nice plush-lined case, the 'S' on the pickguard is strong, fret markers look great, the 'deco' logo on the unusually-shaped headstock is clean and strong, it's a one-owner guitar, well-kept, minimal wear, binding looks great and it went for just $144!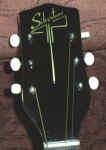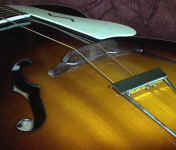 Here's an oddball: a 'Space Dot' mandolin that I can only find in the Wish Book from 1971. Model 1297, serial #6609H410, made by Harmony, went for $76.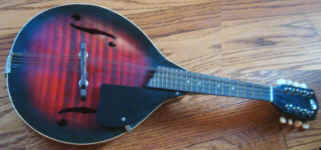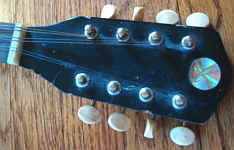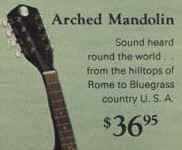 And one more to round out the day... with some fancy pickin' on video! A well-worn Dano-built 1415, with stock ribbed dome knobs, a few extra screw holes, a well-played neck, and a cool NS pickguard that comes down over the tone switch. Went for a sweet $378.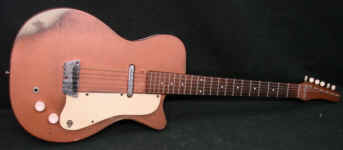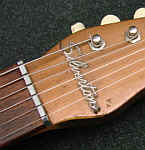 6/15

HOT times here in the Southeast, and some cool Silvertones trading hands (or not) these past few days; check 'em out!

I don't know if this is the first of its kind, but this Teisco-made 'amp in guitar' was certainly one of the earliest in a long line of all-in-one amp/guitar combos (check these links, everyone's a different guitar with a built-in amp... even one from SEARS!!), and this 1487 is an fine example, still possessing all its parts, as well as the 'Silver Tone ' medallion. A few scratches on back and some playing wear to the pickguard, and the seller doesn't mention if the amp actually works... and it didn't bring its asking price of $400.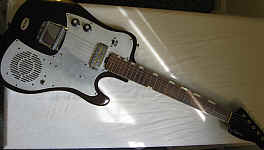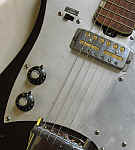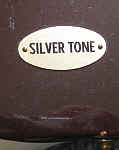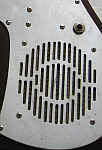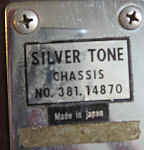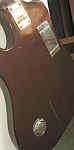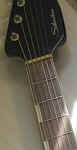 'Hillbilly Electric,' while being a great name for a band, is also how the seller advertised this interesting Frankentone of a 625 married to a Harmony lap steel pickup assembly. A previous owner screwed the lap steel assembly to the top of the guitar, threaded the lead out through the bottom strap button hole, and "Lookie, Maw! I got me an e-lectric geetar!" Shouldn't be so harsh, I reckon; folks have gone to wacky lengths to electrify their axes, many famous makers starting out with some wild experiments on the path to the modern electric guitar, and the design wasn't that far off from the design of early 40s 'electric' guitars sold by Sears. Serial #3108H625, it was stamped S-60, and sold for a cool $100. Shoot, that Harmony 'P' series pickup was worth that. I'd love to hear this thing...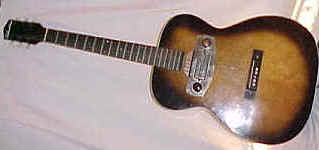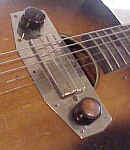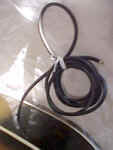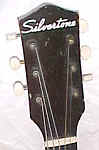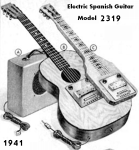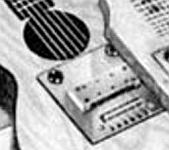 A 'Dolphin Nose' 1415, and a note about the last of the U-shaped Danelectros at Sears. Here's a nice 1415 model that went for $425 the other day. The knobs are period, but non-stock (although the owner insists they came with the guitar), and this attic find had a date stamp of 2071, placing its build date in May (20th week) of 1961. The 1415's first availability in the Sears catalog was officially Fall/Winter 1961, so I'd imagine a few of these were sold under the 1417 Sears part number. Academic, I know, but it demonstrates how I do my best to bracket model availability by comparing numbers and guitars in my Sears catalog collection; it's really the basis of all my various timelines and model IDs. The so-called 'Dolphin Nose' models were the last available 6-strings from Sears that utilized the 'U' shape bodies (along with the still 'Coke bottle'-headed 'Wish Book' only 1304 models). The extremely popular 'amp in case' models (the 1448 and 1449/1457) came immediately after these, while the 'U' shaped 1444 bass soldiered on until early 1966. The quickest way to tell your Dolphins apart? The 1417/1419 models had the circular access panel and 'square' neck joint that earlier U-shape models share, while 1415/1416 models have a 5-sided corrugated aluminum access panel, with a 'swoop' cutaway at the neck joint. The 1444 bass and the 'Wish Book' only 1304 6-string models also have this line of demarcation at the mid-1961 manufacturing border.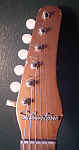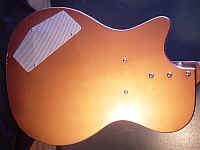 6/11

No time like the present, as they say... time for a Silvertone World Exclusive Information Reveal™, fresh from a catalog research trip: our guitar of the day is now known to be a model 1458 (complete with case), offered in the 1961 Wish Book, and nowhere else that I can find. It's always exciting to ID a guitar, especially one that's been evading that identification since the first time you saw it. Kay-built, based on the "Value Leader" series, here is the 1961 Wish Book listing for the unusual axe. As so often happened in the Wish Book, Sears put together a guitar and amp as a package deal. The 1458 (the part number for the combo was 1412L2) was offered, oddly, with a gigantic console amp on legs, the model 4707. The 4707 was generally advertised as an organ amplifier, and only had volume and 'vibrato' controls. The 1458 featured top-legend V/T knobs, a rotary selector lever, and those shiny, flat, chrome-encased round-corned surface-mount DeArmond pickups. Today's example went for $300, with case.




6/10

Just thought you might like to see this nice 1396 amp that went for $660 recently. It's got that cool 'flying V' Silvertone logo, the top-mounted controls, the diamond-weave cane grill... this one's all stock, too, cranking 50 watts into two 12" speakers. Rock on!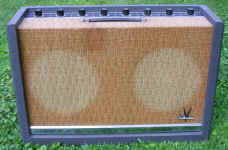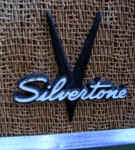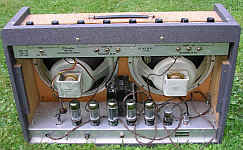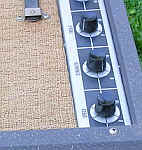 Also thought I'd throw in a funky late-60s Kay-built 1245 archtop. Look how much 'harsher' the sunburst paintjob is on these later models. This one's got some nice Kay-specific details; the 'bell' truss rod cover and a bolt-on neck. Went for $121.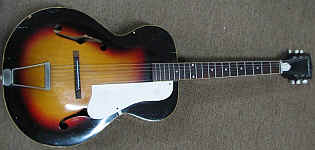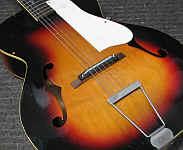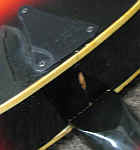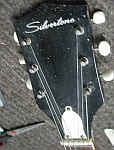 6/9

Aristocrat? Well, OK... but you couldn't prove it by me...

Here's a sweet Kay-built model 670 that sold yesterday for a respectable $380. Once again, it was given the 'Aristocrat' moniker in the listing, but I have yet to find any Kay materials that put that name on any model guitar. I ain't complainin' you understand... just wonderin' where these nicknames come from sometimes. Bobkat, Stratotone, Kentucky Blue, Thin Twin.... those are all easy to verify because they were widely used in advertising and catalog descriptions. Can someone point me to (or email me) a catalog shot or other verified listing of a wide-body, square shoulder, electric, acoustic, cutaway or not Kay being called 'Aristocrat?' Thanks.

Scratches all over, and some playing wear on that upper treble bout, but otherwise pretty nice. Check out those shield, spear and axe decorations on the headstock and pickguard... if anything, I'd call this one 'the Warrior!'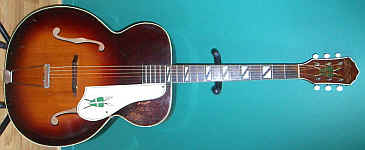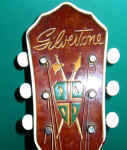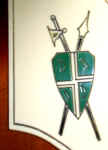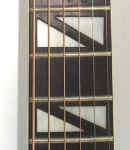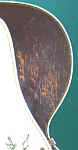 Speaking of Kays, check out the cool 'Thin Twin' resissues!


Here's a curious one... this Harmony-built 600 series guitar didn't sell the other day, but there was an odd twist to this popular and easy to come by guitar: the pickguard. It was the right shape, but I've never seen a "Made in the USA" stamp on one! Experiment? Replacement from a similarly pickguarded Harmony? Store guitar? Who knows.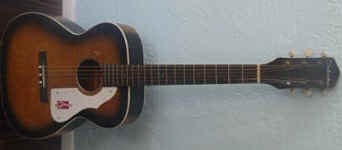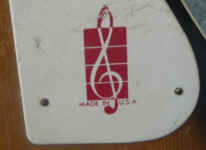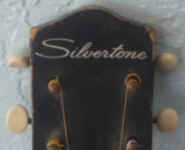 6/7

One of my favorite Silvertone guitars has always been the 653, or as it was more colorfully known in the catalogs, the 'Kentucky Blue.' They're built by Kay, and they've got a unique look that initially was explained in the Sears catalog by tying it to advances in automobile paint and styling. After a couple of years of that odd excuse, they just let the Kentucky Blue be what it was, a funky, cool guitar. My Kentucky Blue (I got it from Chris Malpass a few years back) exhibits a fine playability and a woody, twangy sound. Here's one that sold last week for a hefty $620, with some hefty modifications, as well; a small Kent humbucker, pickguard-mounted controls, an endpin jack, and a strap pin screwed into the neck heel.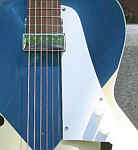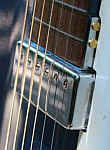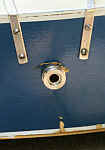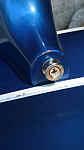 And in more Kay Kraziness, well, I'm not sure WHAT to make of this one. The f-hole shape and the triangle decoration say "619" to me, as all the guitars I've seen decorated with that aluminum triangle have been that model. This one, however, has an odd 'arc' headstock, and what looks to be a homemade truss rod cover. Whatever. With high action and a missing pickguard, it went for $58. It's a prime example of how f-hole guitars drive me crazy, identification-wise. Just within the 619 model line, there are guitars with 4 fret markers, 5 fret markers, meaningless Kay-stamped numbers, helpful "57-619" legends stamped inside, silkscreened numbers on the back of the headstock, and examples with and without accessible truss rods.

I've also never seen the aluminum-decorated 619 in any catalogs, and I wonder if there is a corresponding Kay-branded guitar that has a decoration with the precise piece cut OUT of the attachment. Kay loved to put decorative thingies on their headstocks, and probably wouldn't have wanted to throw out a big chunk of aluminum as scrap if it could be silkscreened and re-purposed on a Silvertone.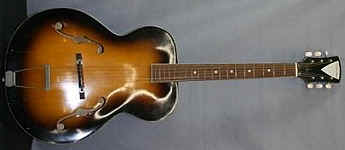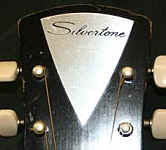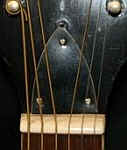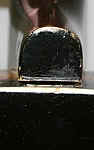 One more from the Kay kraftsmen (OK, I promise to lay off the kwazy Kay komments...), a nice lookin' (and pretty rare) late '50s 644. We don't see many of these anyway, and it's usually a tobaccoburst finish (model 640) when we do, so it's nice to see this lovely guitar.... the binding has yellowed a bit, and there's some checking/flaking, some glue residue (or a poor paint touch-up) on the headstock, a scratch here and there and a small crack on the bass side top, and some new Kluson tuners, but it still went for a nice $299!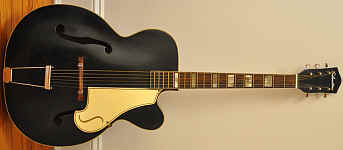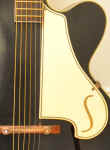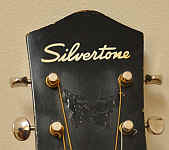 6/4

The beginning of June marks the summer hiatus of daily auction reports here at Silvertone World. I'll still be keeping an eye on the auctions, of course, but I'll only report on exceptional or unusual items that go under the gavel, and maybe track the daily sales of a few popular items on a couple of graphs. That said, I'm embarking on a catalog research trip this month, and I'll also be working all summer on a bunch of new pages for the site, so it's a perfect time to sign up to follow Silvertone World on twitter. I'll 'tweet' a message your way every time I do report into the recap page with a new item (it won't be daily), or to let you know of a newly published page here at Silvertone World.





Blossoms of cash! That was May 2010. Not quite up to the awesomely record-setting March 2010 of nearly 100 grand, but pretty respectable with 263 tracked items going for $75,162! That's $6,000 better than May of '08; seems I didn't total up May last year. Well, as long as the graph keeps on its way UP!

Here's some highlights of what changed hands: (21) 1448 guitars/amps or one or the other, (18) 1457 guitars/amps or one or the other, (17) 1484 amps, (14) 1482 amps, (6) 1481 amps, (4) 'Chris Isaak' 1446 model guitars, (6) 1427 'Black Beauty' guitars, and (7) 1423 'Jupiter' guitars. The highest dollar item a rare aluminum-bound 1384f 'Black Beauty' that went for $2500. The least amount brought in April was $4 for a pitted 1477 tailpiece.

If you haven't visited May 2010, give it a look... it was QUITE a month!