DATE / MODEL # / MANUF / TYPE / COND / PRICE / NOTES

Abbreviations: M-int, NM - Near Mint, E- Excellent, VG- Very Good, G- Good , F-air, P-Poor, NS- Non-Stock, HBEG- Hollow Body Electric, FHAC- F-Hole Acoustic, FTAC- Flat-Top Acoustic, SBEG- Solid Body Electric, SSEG- Semi-Sold Electric, MIJ- Made In Japan, MOD - Modified significantly from stock, O/HSC Original/Hard Shell case, BIN (Auction ended at 'Buy It Now' price), UNK - Manufacturer or model number, ACC - accessory. ALL RATINGS SUBJECTIVE. Unless otherwise noted, I'm rating them by what I see in the pictures and read in the description.
---
January 2008
Link Back to Current Month
January ended with a flurry... of activity, anyway... it's raining here in North Carolina. An OK 1371 going for big money, and another one of those pesky 699 Italian made models... anybody ever seen one of those in a catalog? Good-looking 1442 bass going reasonably, and I was amazed at the three Benjamins that poor old broken down 1446 brought.
1317 Harmony HBEG w/HSC F $650 BIN

'P' series pickup w/ cracked p/u bezel

, significant wear/checking all over, fancy deco headstock

, pickguard missing, stamped 1960H53 inside

699 Made in Italy w/HSC F $29


Finish checking all over, unique logo script

, small piece cracked off nut, serial 0565

UNK Silvertone Hi-Fi Speaker Cabinet VG $91




1200 Harmony FTAC G $21

Lots of finish checking, inside stamped S-69 one of the last Silvertone branded guitars

617 Harmony FTAC G $87

Some finish scratches

, edge wear, bridge starting to split

, serial 237?H617

UNK Kay FHAC F $53

Nail through fretboard and neck in a repair attempt, lots of wear, bridge glued to top, rusty tailpiece, stamped L 9203... back looks good!

1442 Dano SBEG Bass G $450

Some edge wear, stock tuners

, strap/storage mark on back




1446 Harmony HBEG P $307

Bigsby gone, scars all over, (1) knob/pot missing, headstock modified and re-labeled GUILD (?!?)

, missing parts of sides

, at least the mini-humbuckers are still there...


688(?) Kay FHAC G $200

A little neck separation

, thin script logo

somewhat faded, L 8168 stamped inside body, may be a 702

604 Harmony FTAC w/OHSC G $50

Original owner, NS tuners

, Serial #8230H604, 'Warren'

scratched his name on the back of the headstock

603 Harmony FTAC G $76

Deco headstock Serial 2938H603
Not much January left, and it's been quite a month in Silvertone World. Visits to the site are increasing steadily, so I'd like to thank each and every one of you who have been dropping by to browse, peruse, or simply for some quick reference info. It's also been quite a month on the auction scene, Silvertone-wise. Lots of post-holiday money burnin' up folks' pockets, I reckon, so the prices have gone kinda high on some items. We'll be doing a recap of just how much moolah has changed hands and the most-sold items for January as soon as I compile the numbers, somewhere around Groundhog Day. In the meantime, let's look at a few of the notable items below.

The famous 1448 forges forward with fearsome ferocity, fending off foes and faring fabulously... that said... nearly 1600 dollars?!?
Another 'famous' guitar in that the 1449 you see below was used in the band 'Electro Group' for several years as a main studio and stage guitar. Hit the link if you'd like to hear some of their tunes on their MySpace page. An OK 1410, I only mention it because I've seen ( and a Silvertonian has recently told me about his) a 1410 style guitar with two pickups! Anybody got a catalog listing, 'cause I can't find one! I don't know how they got such a small Silvertone logo on that 1448 down there, maybe printed a picture out and glued it on before the clearcoat! How about the 1485? The inside stamp indicates a 1454 lineage... perhaps as the 1485 production line was cranking up , Harmony had a few old 1485 backs they modded for the double cutaway. Seems like there's always a mystery waiting to be solved in Silvertone World...
1/30/08
1448 Dano SSEG w/ Tube amp in case NM $1575

What can you say? It's nearly perfect.

1481 Dano Tube amp VG $129 Round hole spkr. cutout, clean covering, clean grille, clean knobs and shiny handle/captures

1449 Dano SSEG w/ Tube amp in case VG $570 Seller used as main studio/live guitar in the band Electro Group from '92 to '03

1410 Kay SBEG G $123

Finish clean, 'cheese grater' pickup shiny

, tailpiece cover missing

, looks like a 'pullout' accident by slightly re-located strap button

, chip on pickguard



802 Closed-back banjo w/OHSC E $168

Clean finish on back, still has records and 'how to' books

, 'alligator' case very clean

1448 Dano SSEG w/ Tube amp in case VG $442 Still has 'cord holder' by output jack, vinyl sides clean, lights dings on headstock, corner tear on amp, fret board looks a bit 'dried out'

1/29/08

1448 Dano SSEG w/ Tube amp in case VG $442 Very clean and shiny guitar

, amp shows a little wear / grille fade, chipped saddle, misconfigured bridge

(the 2 top screws should be under the bridge), a couple of very small dings to the vinyl

1448 Dano Amp in case only F $139 Moisture damage / rust, edge wear, functionality unknown
1448 Dano SSEG Guitar only MOD $154 Repainted black, NS knobs, strap buttons missing, re-logo'd

(look how teeny it is!), some scuffs
1485 Harmony HBEG VG $566


Clean, no pickguard, very little wear, but it's weird... this is a 1485 with a 1454 serial number stamped inside. Serial is 5739H1454 and S-67 is stamped inside, so this is one of the very first 1485s off the line (they were introduced in F/W '67)... did they use an old 1454

back?
1449 Dano Amp Only G $169 Edge tears, NS speaker, paint on grille


Four days doesn't seem like a very long time, but it certainly is in Silvertone World! Just look at all of the auctions that have been gaveled since we last spoke! I'm gonna start at the top, and work my way down, see what we find that's new or notable... Well, there ya go, right on top of the stack: does anyone have a Sears catalog listing for a 'Newport' style guitar? I've seen the Harmony catalog

from '56, but never seen a Sears listing or model number. How 'bout it, Silvertonians?
Don't see too many of the Kay-made tenor 4-strings from the mid-60s, but there's a nice one, going for pretty reasonable money. Big money for an untested 1421 amp... I was kinda surprised by that one. Lots of pretty normal auctions, 1448s, 1457s, very nice 1413, big money on a nice 1446, mighty surprised at the relatively low price on that 'Thin Twin' 1381. 1464 going cheap, but it ain't a 1484, right? Don't see as many 'skier' ukes as we do the 'hula girl' models, so that was nice to see. Weird blue 1457, but I do like the dice for knobs.
1/28/08
UNK Harmony G $890

Based on Stratotone Newport, Wear on neck, split bridge

, a few dings here and there, otherwise good

661 Kay FTAC 4-string G $153

L17124(?) stamped inside,


1421 Sears Tube Amp '10XL' VG $210 Untested; tubes light/ speaker hums, pace dot logo

, water stains on back panel,


1202 Harmony FTAC G $43

Scuffs, edge wear, rusty 'closed' tailpiece

1448 Dano SSEG Neck Only $58 No tuners
1457 Dano SSEG Guitar only G $339 NS bridgepiece

, crack on headstock

1423 Harmony SBEG G $480 Dings on headstock, some edge wear, otherwise good
1477 Harmony SBEG G $203

Headstock cracked/repaired

, scuffs, dings
1446 Harmony HBEG E $940

Looks great, all stock, shiny, nice

1481 Dano tube amp MOD $250 NS caps, tubes, speaker, grille
1413 Kay SBEG VG $295

Very nice, color excellent, tailpiece dull/dented, pickup still has 'arrow' design



1/27/08

1304 Dano Tube Amp G $550 Homemade handle, pilot jewel missing

1457 Dano SSEG w/ Tube amp in case E $710 Very clean, very nice amp and guitar

1456 Teisco MIJ HBEG G $203

Finish checking all over

, pickup bezels cracked, electronics sound, script logo



1482 Dano tube amp G $257 Round spkr. cutout, functionality unknown, dirty covering with some wear, grille stained



1481 Dano tube amp G $108 Non-functional; tubes light / no sound, NS speaker, logoplate missing, grille and covering look good; one small corner ding, small bend in amp chassis



1448 Dano SSEG w/Tube amp in case Guitar: VG Amp: G $409 Guitar very clean, best headstock I've seen in a while; no visible dings

, tone pot 'scratchy,' amp operates at a low volume level, grille very clean, corner dings, edge wear



1457 Dano SSEG Guitar only MOD $163 Toilet water Royal blue paint job


, headstock unmercifully modded

, logo obviously gone, some pretty cool dice for the top of the volume/tone stack



DeArmond Pickups by Rowe, 2 auctions - Pair: G $36 one p/u dated 1965, other unreadable, short leads. Single: G $26

Raised coil/bridge position pickup, dated 1965

1/26/08
1381 Kay SSEG G $521Missing knob

, cracks in headstock

, 'scriptus maximus' logo (indicates earlier model)

, deteriorated tuning pegs



619 Kay FHAC G $154

Good finish

, some neck separation



1482 Dano Tube Amp G $336 Square spkr. cutout, one new capacitor, one new 6X4 tube, a few covering dings

1482 Dano Tube Amp G $350 Round spkr. cutout, NS tubes, 3 prong AC cord added, Jensen replace, trem workd, no hum, a few corner tears

1/25/08
UNK Kay FHAC VG $103

, Rough bridge

, 'Bolt on' neck mod and endpin


, some kind of 'repair'

, Serial # L 3102 6887

UNK Dano U1 style SSEG G $456 Vinyl sides nice and clean, a few finish flakes and headstock dings, NS knobs

, NS tuners

, brown with gold flecks paint job, a rare bird, never appearing in any major catalog.

1459 Dano Tube Amp G $78 Possibly NS knobs

, back panel missing, stock tubes

, grille nice and clean, last of the Dano amps

1464 Dano Solid State amp only G $120 One channel 'sketchy,' amp needs cleaning / lots of dust

, a few small scratches on back chassis

1448 Dano SSEG w/ Tube Amp in case E $455 Very clean amp and guitar, finish on guitar bright, innards of amp clean

1444 Dano SSEG Bass G $326 Bridge/pickup/knobs/pickguard look good, Logo worn

, headstock dings,

, back cavity covered in plexiglas



851 ukulele VG $78

Water skier scene

, stencil bright, finish looks great, 50 years worth of light dings

1333 Dano Tube Amp F $228 Lots of edge wear

, functional, cord chassis 'crimp' missing

Swinging as wildly as the stock market, prices were all over the map these past coupla days, and popular models flying around like so much Google stock! THREE 1448s, TWO 1457s, a 1484 amp, a 'Thin Twin' 1381 and a 'Chris Isaak' 1446 all in the mix. Quite a variety, and some stuff really going kinda crazy. The pictures for the $900+ 1457 were pretty poor, I think I would have asked for better photos (maybe the buyer did, I'm just sayin'...). Big money for the 1484, really looks like the amp of the moment, all thanks to Jack White, or just because its a doggone great amp? Nice to see an early 'electrifier,' that 1310 pickup accessory; the later ones were chrome, this is a good example of the mid 40s through early 50s bakelite models. No, it's not a long, lost prototype... the seller sanded that 1448 down to the bare wood and Masonite™. Speaking of major modifications, check out the headstock on that $231 1457... Yikes! Very pretty 'Kentucky Blue,' I'm surprised that slight neck problem knocked the price down so much.


1/24/08 1321 Dano SSEG F $272 Plenty of finish wear



, lipstick tube is 'wired shut' to keep it from splitting further, NS tuners, electronics sound good, plays well
1/24/08 1220 Harmony FTAC w/OHSC E $281

Very nice example of one of the last Silvertone branded guitars, quite a modern bridge

, very nice case, serial #4479H1220

1/24/08 1421 Harmony SSEG G $350 Logo missing

, pickguard cracked / very visible repair

, major buckle rash

, jack area repair

, pot codes date to 34th week of 1959
1/24/08 852 ukulele G $145

Edge wear

, bridge wear

, neck and tuners look good

1/24/08 617 Harmony FTAC G $51

F-63 printed inside
1/24/08 1310 ACC G $68 Pickup for arched f-hole guitar, late 40s/early 50s model


1/24/08 1484 Dano Tube Amp & cabinet E $860

Recently serviced, re-capped, trem/rev work, amp & cabinet very clean, footswitch included

1/24/08 710 (?) Harmony FHAC VG $181 Very clean

late 40s/early 50s era 'deco' logo



1/24/08 1448 Dano SSEG Guitar Only MOD $310 Sanded down to the the raw Masonite™

, NS bridge

, NS knobs

, NS tuners, logo obviously missing
1/24/08 1448 Dano SSEG w/Tube amp in case VG $417 Clean guitar, clean amp, little bit of edge wear on amp, small dings on amp panel



1/24/08 7678 ACC VG $20 'How to care for your guitar' booklet

, 'Listen and Learn' book and record copyright 1959

1/24/08 1457 Dano SSEG w/ Tube amp in case VG $921 Original owner, small separation on lead pickup

, edge wear to case

1/24/08 1457 Dano SSEG Guitar Only MOD $231 Very NS tuners


...three on a side, otherwise OK

1/23/08 856 ukulele w/OHSC E $150 BIN Very nice baritone ukulele

with peg info hang tag

, one little ding



1/23/08 653 Kay 'Kentucky Blue' FHAC w/OHSC G $131 Very good color

, neck separation at heel

, bent tuner



1/23/08 1381 Kay SSEG VG $573 'Thin Twin'

Little bit of buckle rash, some headstock dings, scriptus maximus logo



1/23/08 1446 Harmony SSEG w/OHSC G $510

Bigsby and pickups/controls good, dings on headstock

, 'wrap-around' repair to jack area

, some scratches on back, finish wear /cracks on upper sides, missing pickguard, chipped truss rod cover



1/23/08 1448 Dano SSEG Guitar only G $357 Gigantic replacement saddle

, dirty knobs and side covering



1/23/08 1431 Dano Tube Amp F $157 Logo missing, stained grille, cigarette burn on top cover, tears on corners


I think we've set some kind of record for 1484 amps today... three by noon, and another before sundown! Well, East Coast time, anyway... a smorgasbord of prices on 'em, all subjective equations of desire. From the 'wish I'd a bought it' list; I can't believe that 602 went as cheaply as it did! That J-200ish body... that purty finish... like I say, sometimes you get a diamond for a rhinestone price! Speaking of gems, check out the high-dollar auction for that beautiful 233 'Crest' ftat-top. It's the first time I've ever seen this guitar- one of the very first Silvertone-branded guitars. I've never seen a Made in Italy model 699 in any catalog, but there's one that's just finished its auction, and there's another one active on ebay right now! That 1457 went for some good $$$, considering the red paint, the wear and tear and missing logo. A premium 1448 setup for a premium price; and how about that 1437? $1250! Wow!
Now, here's something that always troubled me about the whole pointy Teisco 14XX family... I've never seen them in any catalog, and there are bunches of those guitars out there! Was it some kind of 'store only' deal? I've got most of the catalogs from the era those date to (mid-late '60s), but not a stripey pickguarded, arrowheaded, multi-pickup'd one in the bunch! They all clearly have a neat little Silvertone tag on the headstock, and usually a silver sticker underneath the neck plate proclaiming a Sears model number. Holiday specials? Test models to see if MIJ guitars would fly in the US market (kinda like a 'limited time only' McRibwich?)? Any former Sears salesfolk out there?

1/22/08 UNK Harmony ukulele G $34

Hula scene

, vintage uke books included

1/22/08 623 Harmony FHAC G $123 Cracks from f-hole to edge, stamp inside reads F-60
1/22/08 UNK Kay FHAC G $156



1/22/08 233 Kay FTAC VG $722 Super-rare Silvertone 'Crest' model

, full product number 12K0233 from 1941 catalog
1/22/08 1484 Dano Tube amp with cabinet G $425 Stock Jensens, NS footswitch incl., recapped, some tubes replaced, a few dings on the amp

, 3-prong AC cord

1/22/08 1448 Dano SSEG w/ Tube amp in case E $757 Guitar and amp both super clean

1/22/08 1437 Teisco MIJ SBEG w/OHSC E $1250 BIN


Looks like it just came home from Sears, some very slight wear to back and tremolo cover, all stock



1/22/08 1200 Harmony FTAC F $13 No tuners or bridge



1/22/08 1484 Dano Tube Amp and cabinet G $405 (1) NS knob

, NS power tubes, stock preamp, (1) NS spkr., 3-prong AC mod, reverb non-functional, covering lacquered for protection

1/22/08 1429 Harmony HBEG G $457

Some finish wear

, 'moustache' style DeArmonds

, NS tuners/bridge, some electronics modification

1/22/08 1484 Dano Tube amp and cabinet G $510 Speakers blown, small tear on front of cabinet, covering/grille v. clean

1/22/08 1448 Dano tuners VG $35



1/22/08 UNK Kay FHAC G $47

Inside stamp F2 or P2 & L5745, nut in bad shape

1/22/08 1484 Dano Tube Amp only G $487 Rev/trem work in channel 2, oxidation on panel, small dent by one knob



1/22/08 602 Harmony FTAC G $68

Early round-bottom of the 600s series, Serial 4272 H602

1/22/08 699 Made in Italy FTAC G $49

Seller assured me there was a Silvertone logo on the headstock; never seen this profile in any catalog, here's the full quote: "There is a Silvertone logo on the front of the headstock along with a sticker that says, "Metal T-bar reinforced neck". On the back it has Made in Italy painted on it. Inside the soundhole it says Model 699 and underneath that is has 0503 stamped on it"

1/22/08 1423 Harmony SSEG Parts $205 More like a kit than an actual guitar, it's all pretty much here

, neck looks good, varying degrees of wear/damage to fingerboard, electronics untested/incomplete, knobs missing

1/22/08 1457 Dano SSEG F $350 BIN Headstock and neck painted red

wear on left bout and lower edge back and front

, NS knobs, tuners and switch

, larger cutouts at both pickup locations



I really don't like putting 'UNK' beside a listing, but sometimes you just can't tell exactly what model the guitar is. Most times, a visual ID is easy (because some models are just so familiar) or a stamped number inside or on the headstock will pinpoint a model number, and in turn, the maker and approximate year of availability. Sometimes, though, there's no number visible, UV light having faded it away, or maybe the seller can't see it or doesn't respond. Anyhoo, I do my best, trying to ID from headstock or tailpiece (chancy, since they are often replaced) or the finish, or some other unusual or unique feature of the guitar.
As I saw engraved on a tombstone once: 'He Hath Done What He Could.'
1/21/08 UNK Kay FHAC G $178

Looks like a re-finish, tortoise binding / pearl dot-neck, could not determine Sears model number, Kay serial #2831L1407



1/21/08 UNK Kay FHAC MOD $204

Humbucker install destroyed arch supports

, headstock script same style as 'Jimmy Reed'



1/21/08 619 FHAC F $115

Neck shimmed

, poorly done headstock repair (see the nails?)

, flakes/cracks in finish

1/21/08 612 Harmony FHAC F $47

Crack on lower left bout

, serial # 3091H612

1/21/08 1484 Dano Tube Amp VG $633

Channel 1 non-functional, rev/trem functional, covering in v. good condition on cab and amp, original Jensens / orig. tubes
1/21/08 1457 pickguard $28

Painted black, you can see the white underneath



1/21/08 653 Kay FHAC 'Kentucky Blue' G $425 BIN Faded almost to a greenish color

, some rust on the tuners, dings on headstock, some checking/flaking

, pickguard intact

A real variety of goodies today, not one but TWO Silvertone 'fake book' speakers, Mark Twain and Shakespeare... I reckon if they made 'em today it'd be Stephen King and J.K. Rowling fake books, yes? Yet another iteration of the block-markered red with white pickguard gee-tar, this time it's a 615, still with the braided cord and tassel! Nice 1452, with the same material pickguard as a 1443 bass, the 1452 (along with the 1451, of course) was the last Dano-made Silvertone solid body 6-string. Solid 1457 goin' for good money. Speaking of last Silvertones... that 1232 classical sporting the 'block' logo was another end of the road Silvertone. Nice mod on the 658, clean looking and functional. Don't know what to make of the back cutout on that 1482... cord storage?

1/20/08 1482 Dano Tube Amp VG $203

Weird oblong cutout on back panel

, square skpr. cutout, non-functional, xformer disconnected (incl.), manual incl., in storage the past 30 yrs

1/20/08 9626 UNK VG $20 'Shakespeare' speakers





1/20/08 615 Harmony FHAC G $46

Serial #289H615

Still has tasseled cord



1/20/08 1232 UNK Classical G $35

'Block' logo on sticker, one of the last Silvertones

1/20/08 1452 Dano SBEG VG $661


Clean, whammy missing, tortoise pickguard, headstock v. clean

1/20/08 750 Kay Mandolin VG $129


40s era, orig. tuners w/ new buttons, NS bridge/tailpiece

1/20/08 1457 Dano SSEG w/ Tube amp in case VG $811 Everything looks great; stock and clean, even has the cord holder thingy down by the jack



1/20/08 1800 (Kratt?) Harmonica F $7

w/box, 'how to play' sheet



1/20/08 7448 UNK E $52 'Mark Twain' Speakers





1/20/08 658 Kay FHAC MOD $275 Clean electric mod

, DeArmond 'foil' pickup

, LP-type gold knobs, small break on f-hole tip


1210, 641??? What's going on? Look at yesterdays last auction for a 641... there's the number stamped right inside. Now, look at the auction the very next day for a 1210. It's all part of the logical (?) progression of Silvertone model numbers over the years. For some reason, in 1968, all the 6XX series acoustic guitars got shiny new 12XX numbers. Who knows why, I sure don't. Any former Sears office workers out there have a clue? Speaking of mysteries, there's one of those 1485s that has '664' marked on the headstock in the model number slot. Good looking Kay-made 'Jimmy Reed' model goin' for some good money... the Silvertone version of this guitar really is much better-looking than its Kay-branded counterpart. Changin' hands, makin' money... check that 708 that sold a month ago for 200 bucks almost doubling he dollars the next time around!

1/19/08 708 Harmony FHAC G $375

NS pickguard, deep scratches in top, serial 1290H708, same guitar auctioned 12/24/07
1/19/08 1381 Kay SSEG VG $945

A few flakes off the finish here and there, but otherwise a very nice all stock example of the much-sought 'Thin Twin,' this one has the black headstock with the thin Silvertone script

, the buttons on the Kluson tuners have shrunk and discolored a bit

, block neck markers



1/19/08 1485 Harmony HBEG G $451


Some buckle rash

, otherwise good... never understood why these are all marked 664 on the headstock

1/19/08 1210 Harmony FTAC Project $36


Neck separation and bridge height problems, serial #6495S1210



A mixed bag with a few standouts: that 1452 sure skyrocketed! And, we don't see too many ElectroHarps... they were only available in '63 & '64. Nice to see even a badly abused 1423 going for some good money. Remember: friends don't let friends modify their Silvertones like that! Someone got a deal on that nice $350 1448 setup, I've seen crappy ones go for a lot more! There's a clean 70s era 1420 Solid state amp, with 'Space Dot' logo. Anybody know who made this tinny little monster? There is an Underwriters Laboratory code of 166H on the label that appeared on other Sears amps of this era. I tried a quick search at the UL website, but could only find current listings

. That Brown with gold fleck Dano-made Silvertone was listed as a '61, but 'Coke Bottle' Silvertones ended in Spring/Summer '59, to be replaced by the 'Dolphin Nose' style in the Fall/Winter '59 catalog. So... maybe this was an odd bird made from spare parts at the Dano factory, clearing out the old headstock styles as the newer ones came in... I've seen another brown/gold-fleck model and its potentiometer codes dated it to January '59, which would be in line with my somewhat convoluted (but certainly plausible) theory. Also, if you compare the neck/body joint on this example

to other 'Coke Bottle' models

, it's the 'Dolphin' style body

, although some early 'Dolphins' still had the squared neck/body joint. Confused yet?
1/18/08 641 Harmony FTAC VG $50

Serial #8487H641


1/18/08 1420 Harmony SSEG Project $175 BIN

No pickups or electronics, dings, scratches, scuffs, 3 dot markers missing from neck
1/18/08 1482 Dano Tube Amp G $327 Round hole spkr. cutout, corner edge tear

, cover otherwise clean,

smudgy aluminum, handle looks good, grille clean, poorly spliced AC cord, NS (Sovtek) tubes

1/18/08 1448 Dano SSEG w/Tube Amp in Case G $350 Solid condition, a few dings on headstock, amp has some edge wear

1/18/08 1410 Teisco MIJ G $103 Clean,

whammy intact, one NS bushing on tuners

, some cracks in the clearcoat
1/18/08 UNK Dano U1 style SSEG G $403 Replacement saddle, jack and nut, 'Coke bottle' headstock

, brown with gold flecks paint job

, a rare bird, never appearing in any major catalog.

1/18/08 604 Harmony FTAC P $11 Poor thing...

Discolored (replacement?) pickguard, cracks, dings, very worn, original tuners look good



1/18/08 1452 Dano SBEG w/ Tube Amp in Case VG $1050 Clean amp

, clean guitar

, a few dings on headstock



1/18/08 1420 Solid State Amp VG $31


'Space Dot' branded, 8 inch spkr., 3 watts, '5XL'

Don't confuse this one with late 60s/early 70s tube 1420s.
1/18/08 1850 Oscar Schmidt 'ElectroHarp' G $116


Early 60s electric Autoharp with tube amp built into case, functional, tuning tool incl., edge wear on case



1/18/08 Supertone ukulele F $13 20s/30s era


No tuners, small cracks front and back

1/18/08 1423 Harmony SSEG Project $152

Logo damaged, NS tuners, pickup cutouts enlarged for humbuckers, switch mods on cracked pickguard

1/18/08 HSC $13 Wacky campaign stickers on this 60s era case




Talk about increasing in value! Check out the final price for that 1372! It was $124.95 new, and it's worth has certainly gone up! It was listed as a '61, but that doesn't seem possible... just going by catalog listings and illustrations, the 'crest' headstock disappeared after the SS '58 catalog, and was replaced by the familiar 'thick script' Silvertone logo for FW '58, the last major catalog the 1372 was offered (or any 'wavey-edge' pickguarded Silvertone for that matter). No matter, it's a (somewhat hot-rodded) lovely guitar, ready to rumble! Speaking of lovely guitars, someone snapped up that 1445 nearly immediately, and got a pretty good deal, I'd say. Also going quickly was the seldom-seen blond 688 for a bargain price. What a difference a week makes... a nearly-in-the-same-shape-as-the-other-one 1451 going for about half of a very similar setup just a week ago. What's that U2 song? 'Desi-i-i-i-re!' Nice 40s/50s era 1319 lap steel down there, too, going for a respectable price. Nice look inside that backless 1320... you don't often get to see the internals of many of our goodies (ya just can't take 'em apart!). Nice 758 'Venetian' mandolin in today's bunch as well.
1/17/08 1451 Dano SSEG and Tube Amp VG/Both $457

A few dings to the guitar, a few scuffs to the amp case, super clean knobs, manual included
1/17/08 1445 Kay SSEG E $750 BIN Somebody couldn't wait!

100% stock, shiny knobs, beautiful finish, great guitar
1/17/08 DeArmond pickup $110 So-called 'Hershey bar' pickup

, functional, light scratches

1/17/08 688 Kay FHAC VG $175 BIN The rare blond-headstocked

688, NS bridge, tuners & tailpiece

1/17/08 1372 Kay HBEG w/HSC VG $1677


NS Bigsby, NS tuners & bridge, 'Crest' headstock

, beautiful guitar

1/17/08 1319 Harmony Lap Steel w/HSC VG $211

'P' style pickup, cord attached, came with bar and slide

1/17/08 604 Harmony FHAC G $27


1/17/08 1320 Harmony HBEG $150 40s era, No Back, needs restoration, 'P' style pickup functional


(inside back), NS tuners
1/17/08 1425 Kay HBEG w/HSC VG $511 Some paint flaking at edges

, N-3 & L3532 8999 stamped inside



1/17/08 1294 Harmony FHAC G $35 Space dot logo


, crack on back by neck
1/17/08 758 Kay Mandolin

VG $156 Stock tuners, couple of small headstock/body dings, minor heel separation at body, missing tail piece cover

1/17/08 1208 Harmony FHAC w/OHSC VG $100 'Block' style logo

, one of the last Silvertones, came with some books also

An interesting handful of Silvertone-y goodness this go round. One of the nicest 1423s I've ever seen, going for almost a grand! Mighty surprised to see that 1457 setup go so high, especially with the sizeable rip in the guitar trim. It's all about desire, innit? That '1429' was mis-ID'd, it was actually a much later (and rarer) guitar, the '68 era 1485; one of the last Silvertones available. Interesting tailpiece mod on that otherwise unremarkable 604, and a rare, never-made-it-to-a-major-catalog parlor-ish 1208, and the funky-pickguarded 602, another one that never made it to a major catalog.

1/16/08 602 Harmony FTAC VG $54

Finish looks good, tuners bright
1/16/08 1423 Harmony SSEG w/OHSC E $968

Stock everything, beautiful guitar, a little headstock wear, and one small ding on neck, pots dated 1376134, original owner estate sale

1/16/08 1471 Dano Tube Amp G $174 Mostly NS tubes, original Utah spkr., stock knobs, 3 rubber feet missing

1/16/08 1208 Harmony FHAC G $50


'Block' style logo, one of the last Silvertones

1/16/08 604 Harmony FHAC G $26

Tailpiece

1/16/08 1485(listed as 1429) Harmony HBEG G $844

Bigsby present, scuffs & nicks, 2 two bent tuners. Listed as '1964 1429',' but was actually a 1485 from the late 60s.

1/16/08 604 Harmony FHAC G $54 Top starts to bow at pitch, cosmetically OK

1/16/08 1457 Dano Guitar/Amp In Case VG: Guitar E: Amp $1175 Some buckle rash on back, small ding on left bout edge, 1+ inch rip in vinyl trim

, footswitch and manual included

1/16/08 Kay 'Speed Bump' pickup $24 Functional



'Well, alright,' as Buddy Holly used to sing... one exceptional deal gone down since last we wrote; that near-mint 1482. Man, that is one nice example of what is becoming a very popular amp. That electric mandolin is a real puzzler; I've never seen one in a seasonal catalog from Sears, but the fit and finish on the one below sure was nice. You know, after 1959, only the 'Venetian' Kay made mandolin (the 'pointy' one) was available in the major catalogs. I don't know about the special 'musical instrument catalogs' that Sears distributed (Anybody got one? Scan it in for me and I'll be your best pal...)

1/15/08 UNK (752?) Kay Electric Mandolin E $245

Never seen one listed in catalog, possible custom order, or very good after-market job, raised logo

, chrome knobs

, looks like a 50s era 752

1/15/08 UNK ukulele F $25


Crack on lower top

1/15/08 1482 Dano Tube Amp G $355 Square hole sprk cutout, grille staining, a few scuffs, dull/some rust on handle captures
1/15/08 1448 Dano SSEG Guitar only G $218 Dings on headstock, edge wear front & back, big scratch lower left bout,
insert missing from one knob



1/14/08 625 Harmony FTAC F $50 Stamped F-61 inside, not playable, needs neck reset, the usual dings and scuffs

1/14/08 1485 Dano Tube Amp Only G $455 Missing one tube and fuse holder

1/14/08 1448 Dano SSEG w/ Amp in Case VG $383 The usual dings and scuffs, NS speaker, mean ding on heasdtock, pots on amp date to 29th week of 1965
1/14/08 1482 Dano Tube Amp NM $588

The nicest 1482 I've ever seen; super clean, footswitch/manual incl., square hole spkr. cutout, the vinyl on the handle is still shiny, stock EVERYTHING

1/14/08 604 Harmony FHAC P $19 Crack in pickguard, top separating, 'musty smell,' stamped S-65 inside, mounted on plywood stand

1/14/08 1431 Dano Tube Amp VG $144 Original tubes and knobs, worn handle corner scuff or two, grille and covering look good, some noise


No recession in Silvertone World, it would seem. A 1451 ampincase setup going for over a grand? Yowza... I remember getting angry at myself for missing out on an auction in 1999 for a 1451 rig that barely went over $100 ($138.50, to be exact). A $600 ending price for an average 1484 with no reverb? Someone has some holiday money burning up their pocket... well, they had some money... Who let the 1481s out? Three in a row, all within $6 dollars of each other. I was surprised at the high price for that 1423 pickguard, but if you gotta have one, they sure ain't makin' no more! The John Waters signature sure jacked the price up on a really below-par (cosmetically, anyway) 1457... better seal that signature with some poly spray, it sure has faded since I first saw it back in December.

1/13/08 604 Harmony FHAC VG $75 Slight neck bow, very clean finish, Serial #4191H604 Stamped F-61
1/13/08 607 Harmony FHAC F $12 Weird slotted headstock





1/13/08 604 Harmony FHAC w/HSC G $70 Serial #292H604, stamped F-63

1/13/08 603 Harmony FTAC VG $120 F-66 stamped inside, includes orig. box
1/13/08 1456 Harmony HBEG VG $275 F-70 Stamped inside, 'block' logo



1/13/08 1423 Harmony SSEG VG $500 Repro logo, some finish issues on the head, otherwise very nice
1/13/08 UNK Kay FHAC E $417

L7506 Stamped inside

1/13/08 1484 Dano Tube Amp/Cabinet G $600 Reverb non-functional, high volume hum, dings and edge wear, NS tubes in place, original tubes incl., original Jensens in cab., footswitch incl.

1/13/08 UNK Classical G $25 Shipping costs more than the guitar, looks like late 60s/early 70s vintage
1/13/08 750 Mandolin VG $ 178



1/13/08 1451 Dano SBEG VG $1025 A couple of edge dings on guitar, manual included

, pickguard clean and pickup and bridge shiny
1/16/08 1423 Pickguard $43

Pickguard for the Harmony-made 1423; the so-called 'Jupiter'

1/13/08 UNK Banjo G $160 Closed-back design, 4-string tenor
1/12/08 653 Kay 'Kentucky Blue' FHAC F $103 Some neck issues

, pickguard intact, some fingerboard wear / possibly broken

1/12/08 1457 Dano Tube Amp only G $180 Rust on screws. hinges, dirty, case in good shape
1/11/08 1440 Teisco MIJ SBEG G $138

Broken tremolo, no whammy bar, a few dings
1/12/08 1481 Dano Tube Amp G $158 Square hole spkr cutout, writing on grille


1/12/08 1481 Dano Tube Amp G $152 NS 8" Speaker

and a larger hole cut out for it, nice clean knobs

, shiny handle captures
1/11/08 1481 Dano Tube Amp G $153 Square hole spkr cutout NS Tubes, rusty handle captures, dusty inside, dirty knobs
1/11/08 1432 Dano Tube Amp G $355,
All stock, some wear on grille and covering

, leather handle worn, Flying V intact

!
1/11/08 1457 Dano SSEG Guitar Only F $350 Heavy dings on pickguard and finish, heavy wear on neck

, rust on tuners, electronics are sound, signed by John Waters


1/11/08 702 Harmony FHAC VG $171

Hairline crack on one f-hole
1/11/08 1481 Dano Tube Amp G $150 BIN Loong tear/old tape on covering

also on side

, I don't know if they were trying to do an Eddie Van Halen remodel, but it didn't work! Back panel intact, one rubber foot missing
1/11/08 1482 Dano Tube Amp VG $362 Round hole spkr cutout, cover clean and tight, all rubber feet present, orig. tubes, came with a few extras


1/11/08 1423 Sears Solid State Amp G $101

'125XL' Pilot light out, no footswitch, rev/trem functional

Quite a variety as we roll well into the new year! Interesting deal on that Teisco/Dano pair down there. That poor, poor 1448... hope the buyer can bring it back to life! Boy, those 1484s are sure going! Thanks a lot, Jack White! Quite a crop of 1482s here lately as well. Someone got a great deal on a 1413 (remember it from 'That Thing You Do?' Rock on, Cap'n Geech!).

1/10/08 Pair of Dano Lipstick Tube Pickups $104

Original pickups, no screws/spring included, short (approx. 6") leads

1/10/08 1437 Teisco MIJ SBEG and heavily modified/refinished

1448 Dano SSEG 1437: G 1448: MOD $423/both Original owner, 1437

looks good, works well, has no logo tag on heasdstock. 1448 has no pickup,

has been refinished and the headstock whacked

1448 ampincase has no amp
1/10/08 1484 Dano Tube Amp Only F $305 Reverb tank removed, tremolo functional, funky brass corner protectors



1/10/08 1484 Dano Tube Amp & Cabinet G $510 Tubes light, pots scratch, no sound, cabinet beat up a bit, amp not so much, original owner since 1965, in storage since '86

1/10/08 1448 Dano SSEG Guitar Only VG $405 Finish looks good, all stock, a little dirt on the knob inserts (hard to avoid), very few dings

1/10/08 1423 Harmony 'Jupiter' Body Only $255 No bridge/tailpiece, looks like blender control is NS, pickups show a stamp date of Sept 26 1961


1/9/08 1482 Dano Tube Amp VG $301 Square hole spkr cutout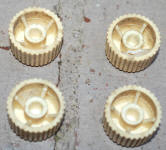 , original tubes, tremolo works, chassis aluminum a bit dull, cover/grille looks good, a little rust on the handle captures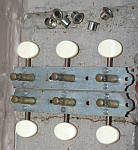 1/9/08 1413 Kay SBEG VG $213 Nice late era 'paddle head' 1413, missing volume knob and bottom strap button, a few scrapes/dings, screen print design still on pickup
1/9/08 1311 or 1442 Valco Lap Steel Guitar VG $175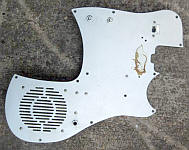 Gold sparkle tuner buttons, white fingerboard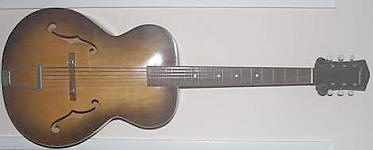 It became the 1442 in Fall/Winter '59, and was available as the ONLY lap steel in the Sears main catalogs until the demise of the steel guitar from the main seasonal catalogs, Fall/Winter 1962. Ya gotta love those sparkles!
1/9/08 1444 Dano SSEG Bass G $450 NS tuners, rough logo/paint flaking on 'dolphin' headstock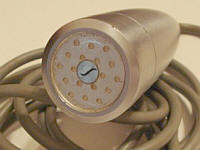 , dings/scratches
1/9/08 1415 or 1417 Dano SSEG G $280 'Dolphin' headstock w/ logo intact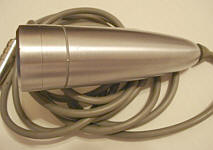 , this one's been played, wear marks on lower left bout, right hand side of bridge and back of neck, NS knobs, right hand side of lipstick p/u split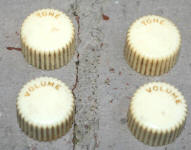 , original bronze color, a few dings

1/9/08 1482 Dano Tube Amp VG $399 Square hole spkr cutout, some electronic mods, scuffs on covering/corners, NS baffle/back

Happy Birthdays Elvis Presley & Stephen Hawking! We haven't seen a 1457 setup since the first part of December, and a nice black-heasdtocked Jimmy Reed went for a steal! The buyer knew it would probably go a bit past the 'Buy It Now " price! What a difference a logo makes! The Silvertone name was missing (as was one tube), so that 1448 setup went for a song! posted Jan 8, 2008

1/8/08 1457 Dano Guitar/Amp In Case VG/Both $587 Guitar: some nicks on headstock, otherwise very nice; Amp: Tremolo works, tear on edge near buckle, NS speaker

1/7/08 1448 Dano SSEG w/Amp In Case G $241 Logo worn off guitar, amp missing 12AU6 tube, NS tuners, finish & case wear

1/7/08 1381 'Thin Twin/Jimmy Reed' Kay SSEG w/HSC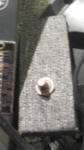 VG $610 A little paint flaking, looks like humidity/mildew flaking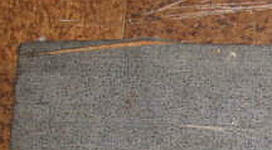 1/7/08 UNK ukulele VG $62 Old-school logo, probably early '50s 853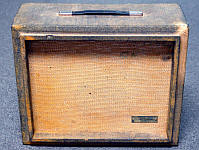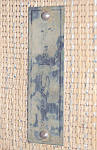 1/7/08 1482 Dano Tube Amp VG $325 BIN Round hole spkr cutout, original speaker, re-capped, corner dings and some covering separation at bottom

Some unusual items to look at to start the week. I saw the 1448 modified amp on ebay years ago, and here it is changing hands again! The 'Unknown' amp sure threw me for a loop... I've got a gap in my catalogs from the mid 30s into the early 40s , so it's probably in there somewhere. Check out those refinished guitars down there; equal paint time for Dano and Harmony! A little further down, a rarely-seen tiger-striped 1240 (one of the last of the Silvertone branded guitars) going for pretty cheap, considering its relative rarity and condition. posted Jan 6, 2008
1/6/08 1448 Dano Tube Amp MOD $113 Saved from case and put into oak cabinet with 4" speaker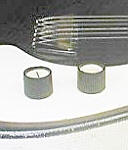 1/6/08 UNK 30s/40s era Valco Tube Amp G $134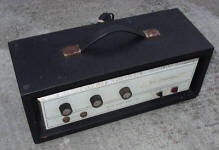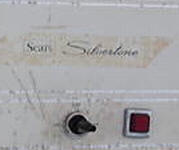 163-32 is the designation on the Sears, Roebuck & Co. tag, but no other tags or IDs are available, funky knob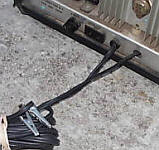 , flat back metal panel with oblong vent holes

1/6/08 1490 Teisco MIJ SBEG Bass E $300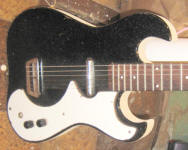 Chrome and switches still clean and shiny, finger rest present, one small ding on back

1/6/08 1417 or 19 Dano SSEG w/HSC F $233 Repainted blue,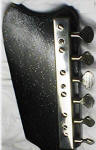 NS knobs, NS cavity cover, uninstalled replacement side trim kit included
1/6/08 1476 or 77 Harmony SBEG G $302 Repainted red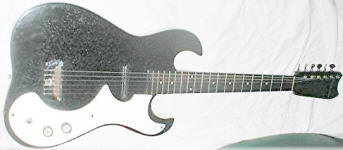 1/6/08 1484 Dano Tube Amp, amp only G $344 Reverb/tremolo work, 1/4" jack mod for plugging in speaker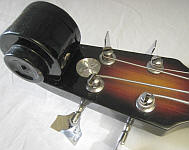 ; nice mod, they put it right where the speaker cord went originally

1/6/08 1457 Dano SSEG (guitar only) VG $480 (auction ended with best offer) A few dings, overall very nice
1/6/08 1448 Dano SSEG w/Amp In Case NM (rated by knowledgeable seller) $862 Beautiful guitar and amp, instruction manual included, NM says it all!
1/6/08 1240 Harmony FHAC VG $213 Late '60s era 'block' Silvertone logo

, 'tiger stripe' paint job

, a few dings, info from seller, not backed up by photo: "Stamped inside: 5-69 (more likely an 'S'), 3114S12401"(more likely an 'H') (parentheses mine)

1/6/08 623 Harmony FTAC w/HSC G $40 Serial #2538H623
1/3/08 1437 Teisco MIJ SBEG G $286

Whammy bar present, a few dings, model sticker missing

1/3/08 UNK Harmony FHAC G $76

Large scratches on back, rusty tuners, crack under tailpiece

1/3/08 1420 Harmony SSEG G $256 Surface dings, bent tuning peg, crack in pickguard
1/3/08 Classical L 8634 UNK

VG $41

1/3/08 1327 or 1421 Harmony SSEG F $255 Scratches/writing on front, rough edges at cutaway

1/2/08 Footswitch for 1484, etc. F $75 What can you say? It's a functional footswitch.
Getting 2008 off to a great 'spend that holiday money' start, y'all. Some stuff going cheap (check out that super-clean classical goin' for just $68!!!), a few things goin' large (I'll drop slightly back to '07 for that $725 1300 and that $711 1448 setup), but most everything pretty much in line with desire and worth. Keep your eyes peeled and your wallets open, I think this collecting year is gonna be a great one for Silvertonians everywhere! posted Jan 2., 2008

1/1/08 660 Classical w/OHSC E $68 Guitar and case both very clean

1/1/08 1205 Harmony FTAC w/OHSC F $41 Tuner key missing, bridge damage, 'block' Silvertone logo

1/1/08 1448 Amp Only G $100 BIN Dings on covering, band logo on outside of case;

rock on Kingpins!
1/1/08 1482 Dano Tube Amp VG $356 Roundhole spkr cutout, clean covering, all functional, NS AC cord
1/1/08 1457 Dano SSEG Guitar Only G $390 NS tuners, small dings all over, strap holder moved

1/1/08 1448 Dano SSEG Amp In Case Amp-G, Guitar G $461 Guitar has NS knobs, NS tuners, split p/u cover, otherwise very clean, amp has some dings, NS knob, broken latch
1/1/08 1484 Dano Tube Amp Parts $76 Chassis/potentiometers, knobs, no tubes or cabinet



1/1/08 1391 Dano Tube Amp G $103 Functional, grille stains, worn-out handle still present, amp chassis clean

1/1/08 9075 Extension Amp $70 Non-functional, looks good, manuf. unknown



1/1/87 1331 Dano Tube Amp F $183 Functional, dinged up, back panel missing, grille stain, AC cord mod

1/1/08 1413 Kay SBEG VG $325 Late era ('65-'66) 'paddle' headstock, original vinyl bag, screenprint still on tailpiece and pickup covers, 20 yrs in storage

Pricing archives for

February 2011
January 2011
~~~~~~~~~~
December 2010
November 2010
October 2010
September 2010
Summer 2010
May 2010
April 2010
March 2010
February 2010
January 2010
~~~~~~~~~~
December 2009
November 2009
October 2009
September 2009
Summer 2009
May 2009
April 2009
March 2009
February 2009
January 2009
~~~~~~~~~
December 2008
November 2008
October 2008
September 2008
Summer 2008
May 2008
April 2008
March 2008
February 2008
January 2008
~~~~~~~~~
2007