May 2013


5/18

Coming Soon To A Music Store Near You! In case you hadn't heard, the Samick Music Corporation is resurrecting the classic logo and the classic guitars of yesteryear with a brand new line of vintage-style Silvertones! First out of the gate are these reissues of the 1478 and a grayburst reimagining of the 'U2' body style 1303 Both reissue strummers apparently also to be available in classic. My buddy Tony at Samick/Silvertone assures me we should be able to lay our hands on 'em some time this month!

Check this beautiful 1478 reissue, with a real Bigsby, dual single-coil pickups and the classic Silhouette/Bobkat lines of the 1400 series:




And how about this cool 1303 reissue, with a compensated string-thru bridge, lipstick pickups and the classic narrower lines of the so-called 'peanut' or 'C' body shape? Sweet!





Here's a fine 1956 vintage 1359 that brought somewhere under it's asking price of $1495. I can't be more specific, because eBay doesn't publish 'best offer accepted' prices.

1359 Dano SSEG w/ OC VG <$1495 Needs a dusting at the very least, light wear, some neck wear, logo strong, date stamp indicates spring 1956 build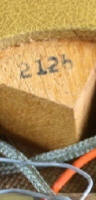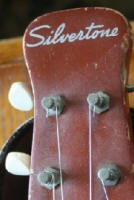 5/17

Super-Duper Bonus Grab Bag! That's what we've got today; our haul of Silvertonium runs the gamut from ukes to amps to electric to acoustic to even a couple of cool radios that I thought you might enjoy. Dig in!

Interesting... this double cutaway is tagged on the headstock as a 1454 (and probably stamped internally as one, as well), but the model number given this double cutaway is the 1485. It's enjoying some 'heat' these days as one of the many guitars that Black Keys axeman Dan Auerbach employs.

1485 Harmony HBEG VG $1200 Clean, light wear, logo strong, Bigsby intact, NS truss rod cover, stamped as a 1454, (2) knobs missing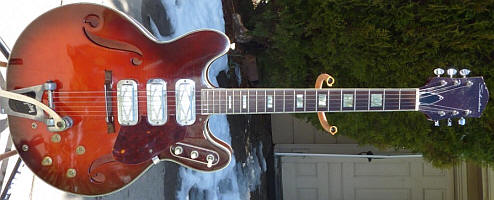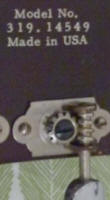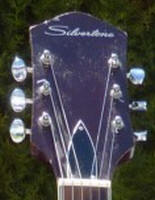 Part of the 'stealth' Japanese Invasion, this non-catalog guitar, along with the 1436 and amp-in-guitar 1487 paved the way for the sea change of late 1968 to nearly *all* Japanese-built electric guitars available from Sears.

1437 Teisco SBEG w/ OC VG $535 Clean, light wear, logo tag looks good, whammy bar present, pots/switches 'a little scratchy,' selector 'chicken head' NS, serial #314717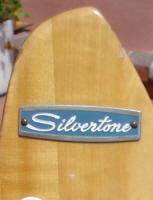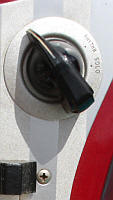 Here's a great 'skier' uke; this is the later mid-50s model with the molded fretboard.

851 Harmony Ukulele VG <$170 Clean, some edge wear, logo and stencil strong, plastic fretboard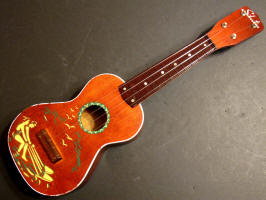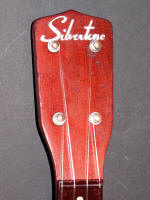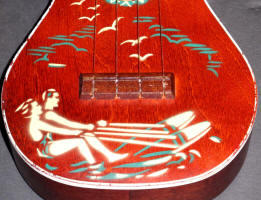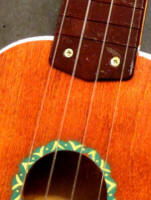 Bizarro Guitaro!

1840 Oscar Schmidt Guitaro w/ OC VG $150 Clean, light wear, original guarantee card, tuning/playing guides and tuning wrench incl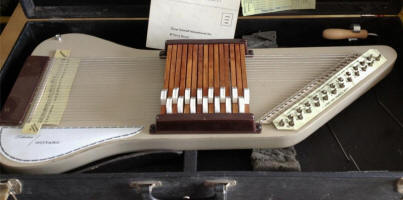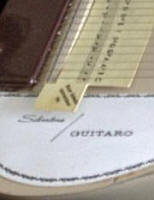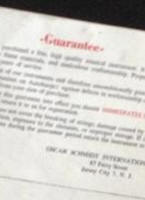 Double Vision!

1304 Dano SSEG VG $394 Clean, some wear esp. on back, logo strong with light scratch on 'S,' light rust to tuner plates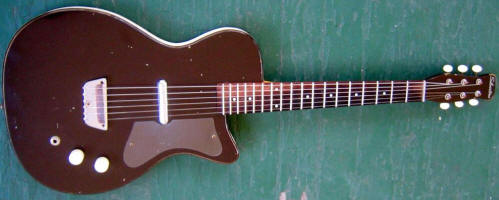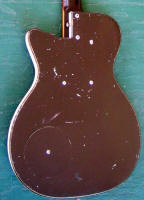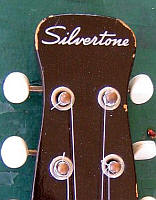 1304Dano SSEG VG $565 Clean, some wear/scratches and neck wear, logo shows some wear, arm wear on lower bass bout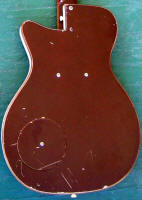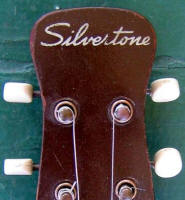 Nice shade of Frankentone Green™ on this one...

1415/16 Dano SSEG MOD $124 Refinished, NS knobs and cavity cover, logo gone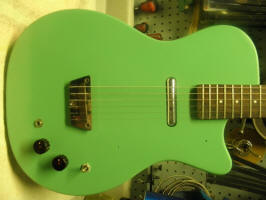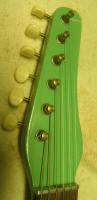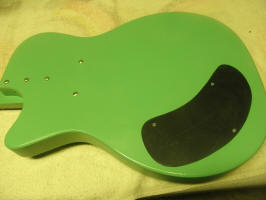 Another double play, this time of the four-string variety...

1443 Dano SBEG Bass VG $700 Clean, light wear, some wear on bottom edge, logo intact, finger rest relocated, tailpiece cover missing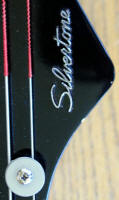 1443Dano SBEG Bass w/ OC VG $725 Clean, light wear, logo broken at 'S,' NS knobs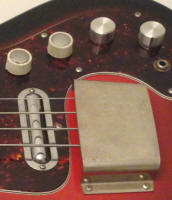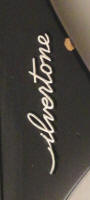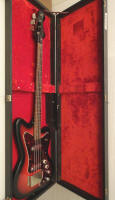 A little woodworking...

1483 Dano tube amp MOD $226 Re-cabineted, rust dots to front face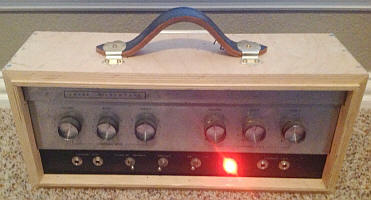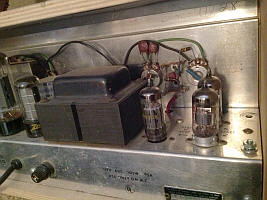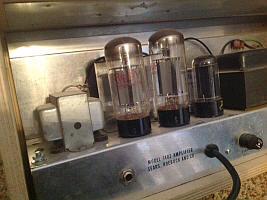 Don't see too many of these...

1465 Dano tube amplifier and speaker cabinet $200 Could use a good cleaning, functionality unconfirmed, rust to xformer and handle captures, no footswitch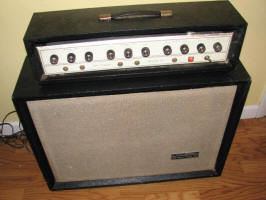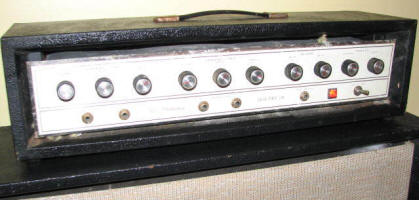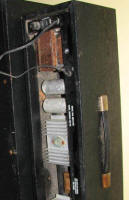 Nice mid-50s archtop...

710 Harmony FHAC w/ OC VG $168 Clean, light wear, light buckle rash, 'deco' logo strong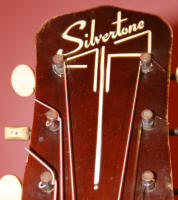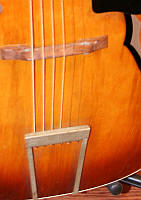 A fine example of an early classic ampincase, celebrating its 50th anniversary this year...

1448 Dano SSEG w/ tube ampincase VG $460 Clean guitar, light wear, logo strong, ampcase re-felted, amp 'has slight hum,' early version with two-screw neck attach, triangle-legend knobs and strip tuners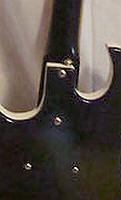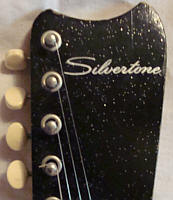 Closely related to the 1445, this Japanese-made twanger bridged the gap from the 60s into the 70s.

1441 Teisco SBEG VG $205 Clean, light wear, 'Space Dot' looks good, whammy bar present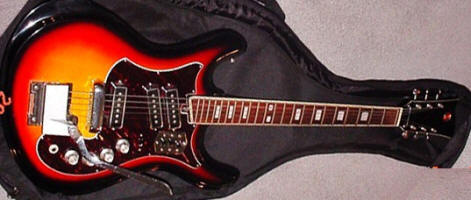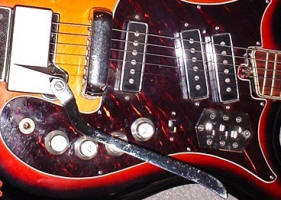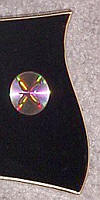 The Sovereign-based 633/1220/1221 had a fairly long life, available in the catalog from 1965 through 1972.

1220 Harmony FTAC w/ OC VG $225 Clean, light wear, logo strong, glue residue on headstock, serial # 4475S1220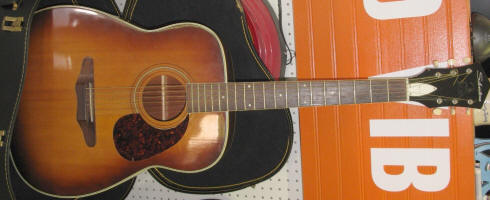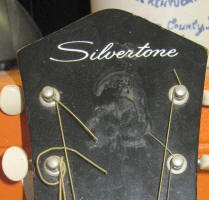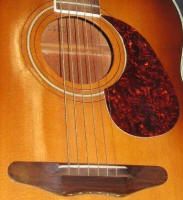 This 'Thin Twin' needs a little TLC, but still brought some good money.

1369 Kay SSEG G $661 Clean, logo strong, finish checking, binding missing, rust dots to tailpiece, tuner buttons deteriorating, neck has been re-set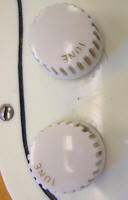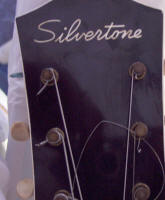 One more stereovision sighting, this time dueling 'Chris Isaaks!'

1446 Harmony HBEG w/ C VG $1295 Clean, light wear, logo intact, Bigsby intact, patent # pickups, light oxidation to pickup covers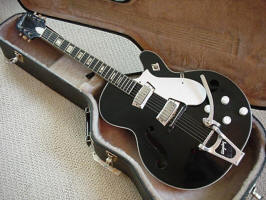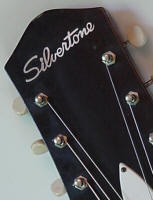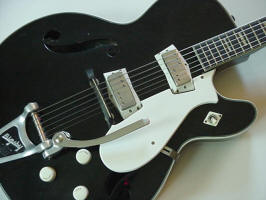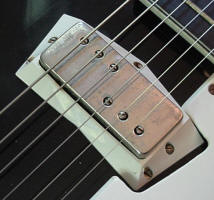 1446Harmony HBEG w/ C VG $725 Clean, light wear, logo gone, Bigsby intact, jack area repaired, NS pickguard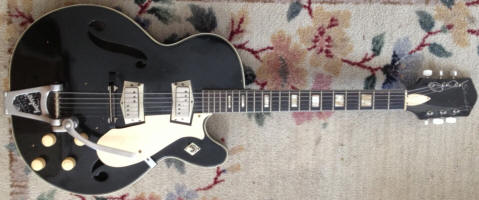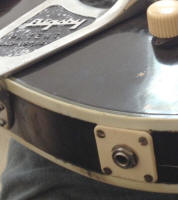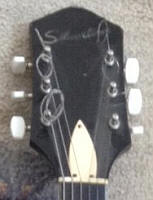 The end of the venerable 1477 line saw some beefed-up specs in a better bridge, a little extra color, and bigger knobs. The knobs have been replaced by non-stock dials on this example.

14772 Harmony SBEG VG $475 Clean, some wear, logo 'shamed,' NS knobs, whammy bar present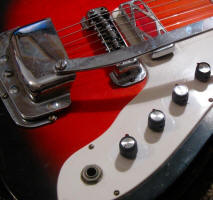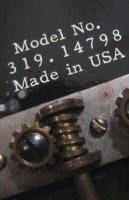 All aboard for Jupiter!

1423 Harmony SSEG w/ C VG $791 Clean, light wear, logo intact, NS tuners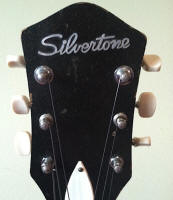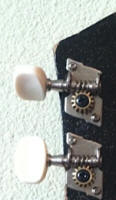 Here's a couple of the non-Dano amps that appeared in the catalog when Sears switched gears (by force, more likely than choice) after Dano was bought out by MCA and subsequently shuttered in the late 60s.

1422 Sears Solid State amp VG $233 Clean, light wear, footswitch incl., untested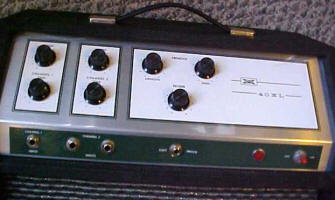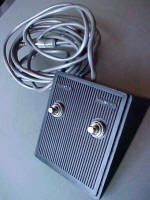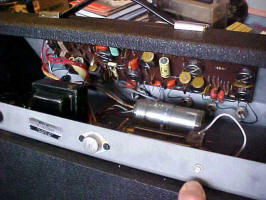 Variations on a theme... two different 1421 amps.

1421 Sears tube amp VG $186 Clean, light wear, NS speaker, NS tubes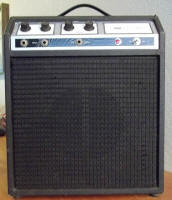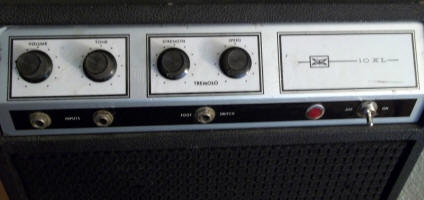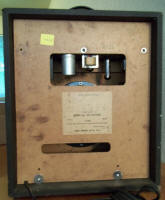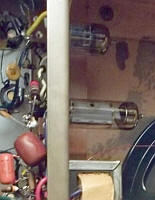 1421 Sears tube amp VG $233 Clean, light wear, this 'olive' color covered amp is the earlier version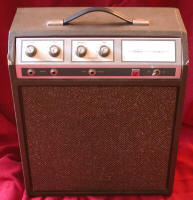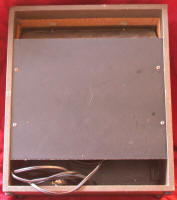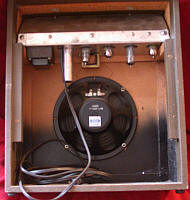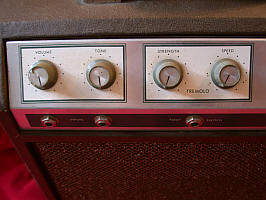 My favorite Dano amp of this design era, the lovely 1392...

1392 Dano tube amp VG $ 323 Clean, light wear, logo emblem looks good w/ some oxidation, handle worn, oxidation to panel face, tremolo non-functional, no footswitch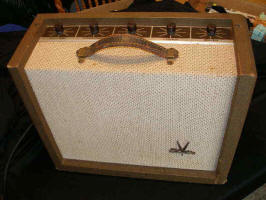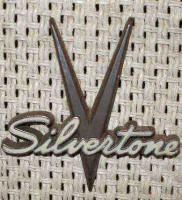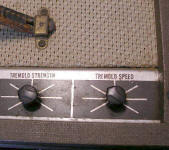 That flying 'V' symbol is just the coolest...

1433 Dano tube amp VG $550 Clean, light wear, grille staining, logo emblem looks good, "great fully functioning condition," no footswitch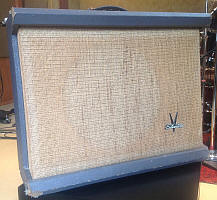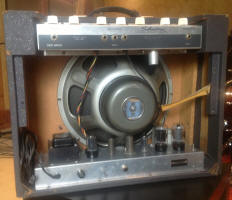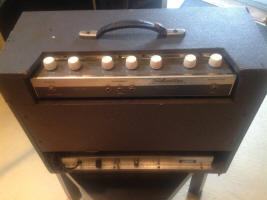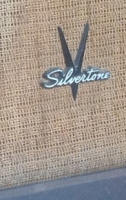 Faux alligator and tweed? Well, OK...

1331 Dano tube amp VG $191 Clean, edge wear, jack mod on side, 3-prong AC mod, logo tag shiny, back panel present but not pictured, recently serviced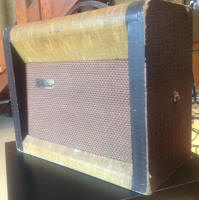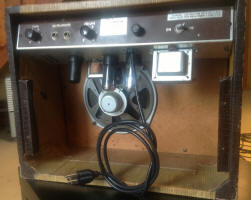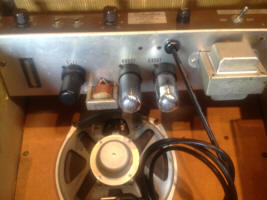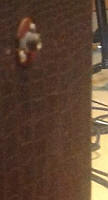 I wish I could tell you more about these EKO-built guitars, but they were never in any catalog, and if it weren't for some fortunate stamping inside, we'd not even know the model number.

698 EKO FTAC F $25 Clean, finish checking, logo strong, bridge lifting, high action, United Airlines wings medallion on treble upper bout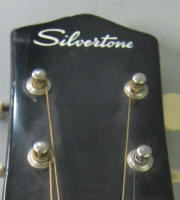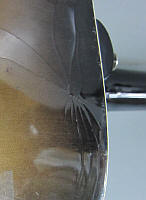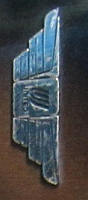 We see plenty of the all-black 1420 models, but the 'shaded walnut' 1421 is a welcome seldom-seener...

1421 Harmony SSEG w/ OC VG $495 Clean, some surface/neck wear, buckle rash, logo strong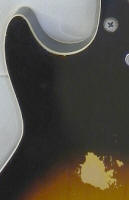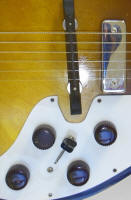 The 'Champ' of Dano-built Silvertones, this little 1481 packs a sweet punch.

1481 Dano tube amp VG $180 Clean, top of cabinet slightly bowed, knob inserts discolored/worn, recently serviced, looks like an extension speaker mod there on back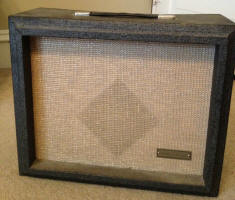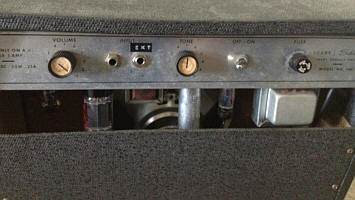 "All transmitters to full... all receivers to boost..." Came across some cool radios this past week, thought I'd share.

I just love this late-30s vintage mini-radio; great design, super cool elongated font, RED knobs, and oh, so small! Look how tightly packed those tubes are! Sold for $330!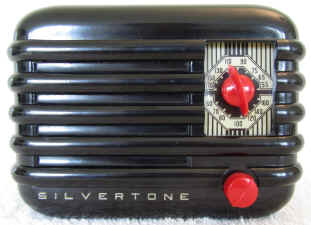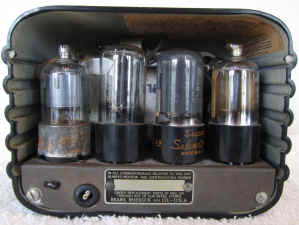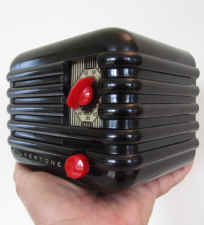 'Matched Twin Speakers' on this cool pink-encased AM radio. Model number label is gone, but the seller claims late 50s vintage. If true, this is certainly the earliest appearance of the 'Space Dot.' Brought $130.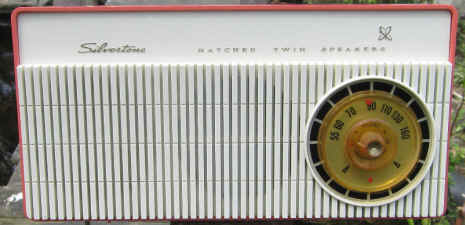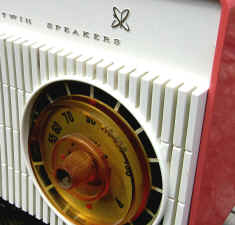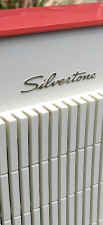 Available from Sears for just $12.95 in 1938 and '39, this radio was advertised as "designed for modern people living in a modern world." The model 6110 was also available in walnut brown and ivory 'plaskon,' and the design of this 'Machine Age' radio is PATENTED! This one went for a whopping $845!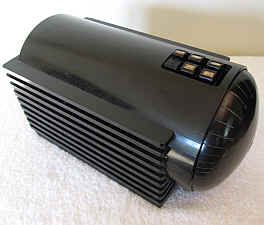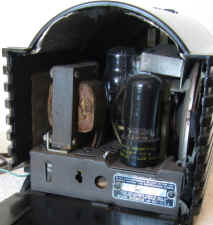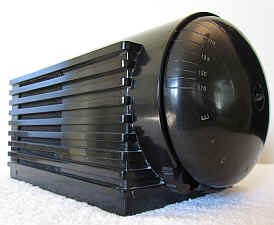 Here's a 1938 Sears catalog ad: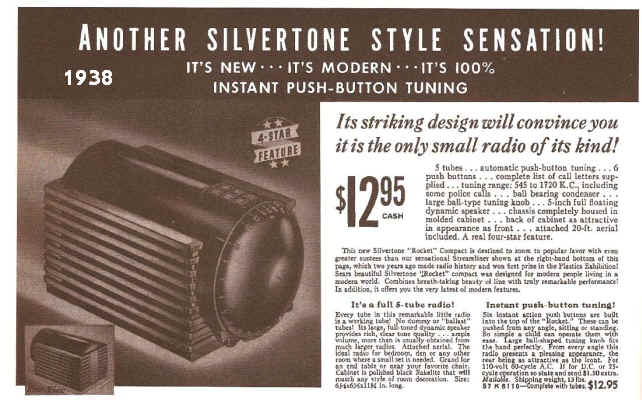 And here's Clarence Karstadt's patent; Des. 113,004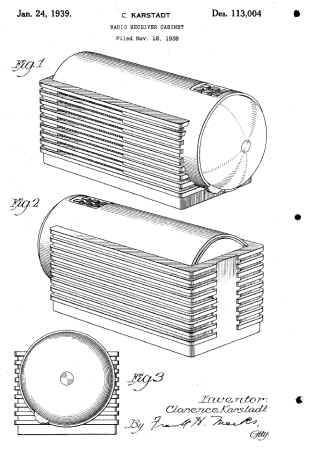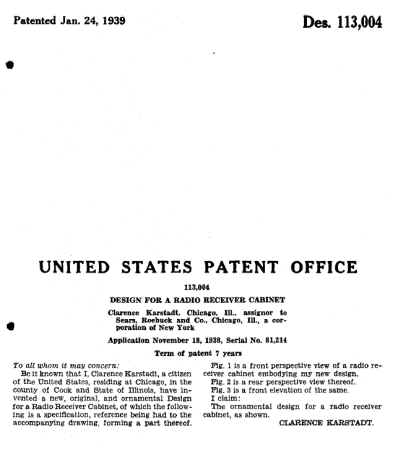 5/10

I Don't Usually Do This... but this amp is so amazing, I feel it needs a wider, appreciative audience. It's one of the very first Silvertone amps ever offered; so early in the game that it's not even branded 'Silvertone.' It's in simply jaw-dropping shape for a 70+-year-old amp, too. Check it out, and grab it if you got six Benjamins burnin' a hole in your pocket. As you can see in the vintage catalog listing below, this amp was made available with the very first electric archtop from Sears, a kludgy affair with a standard acoustic F-hole married to a Valco pickup. Note the cord snaking out through a hole on the bass side lower bout.

12K02328 Valco NM Buy It Now at $599 Clean, minimal wear, seller says "The caps in both the power supply and coupling have been replaced. The glass is new (I can send the glass that was originally in there when I purchased it) and a 3 prong plug/power cord has been added for safety. Let the photos do the talking, but please feel free to ask questions. She is exceptionally clean, just that very slight tear on the bottom corner featured in the photo. With respect to full disclosure, there is a bit of intermittent scratchiness that I can not trace. All sales final due to vintage of this piece."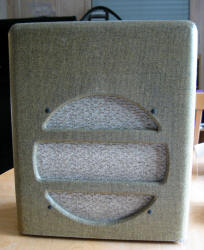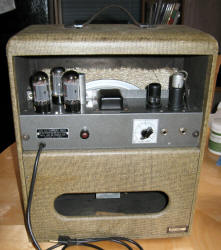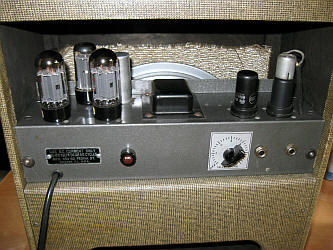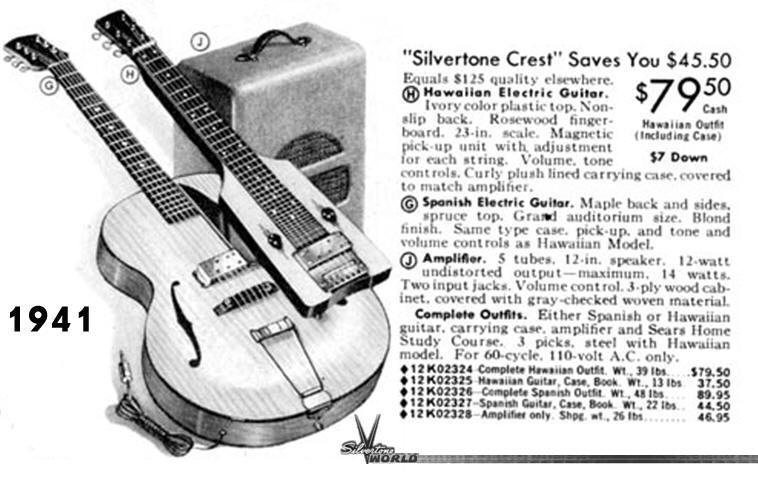 5/7

Extremes... one refinished Harmony 'Stratotone,' and one ridiculously low-priced Harmony-built Silvertone.

H88 Harmony SBEG MOD $1301 Refinished in red, repro logo decal, stock knobs/electronics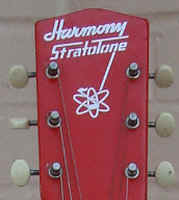 700 Harmony FHAC w/ OC VG $10 Clean, light wear, 'deco' logo strong. Yeah, ten bucks.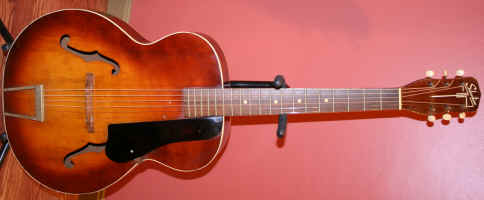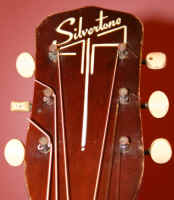 There's 'Silvertone Shame,' and then there's 'Silvertone Pride;' this one falls under the latter category. Looks like a custom-cut vinyl 'deco' logo on the head of this re-made 702.

702 Harmony FHAC MOD $255 Refinished, re-logo'd, custom pickguard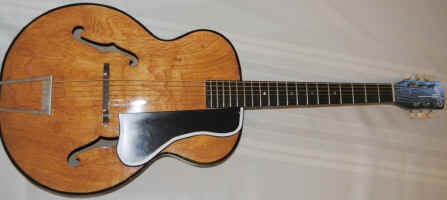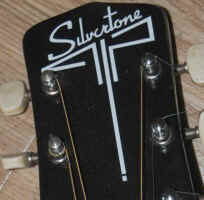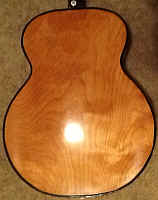 5/2

Let's Start off May with a terrific "Me and My Silvertone," and a little history lesson. We've got a great shot of some Army Air Force personnel in the winter of 1942 relaxin' with a Harmony-built 'Lone Ranger' guitar. These men were part of an installation on the west coast of the United States near Yachats, Oregon. Known as Cape Perpetua, the location was used during World War II as an observation site and radar station for the detection of enemy submarines and aircraft, and a large coastal defense gun was temporarily installed. The catalog illustration is from the 1938 Sears catalog.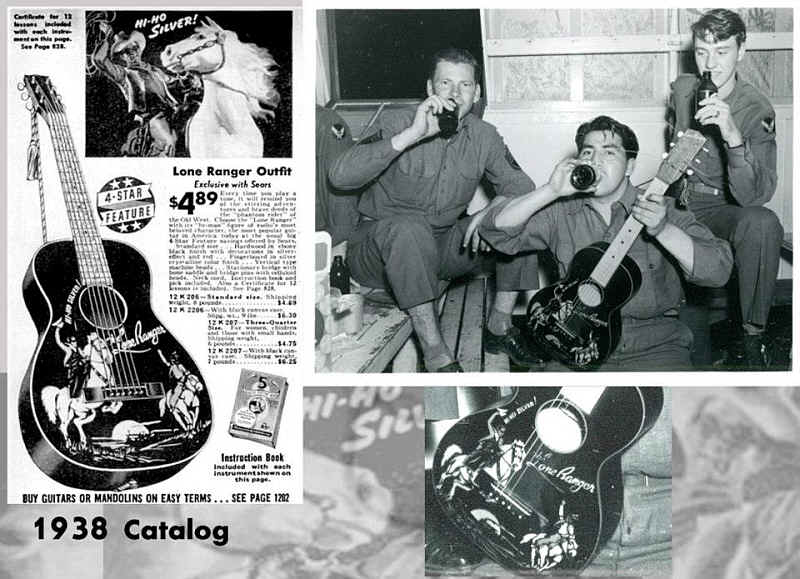 And of course, it's Link Wray's Birthday today! With his seminal, made-up-on-the-spot, banned for its corrupting influence (yeah, right) on youth, speaker-rattlin' rockin' anthemic 'Rumble,' Wray invented the power chord, and rocked audiences until his death in 2005. Here's a dramatic shot of Wray with his Dano 'Guitarlin,' and an American Bandstand clip of Wray and the Raymen rockin' (well, pretending to) some 'Rawhide.'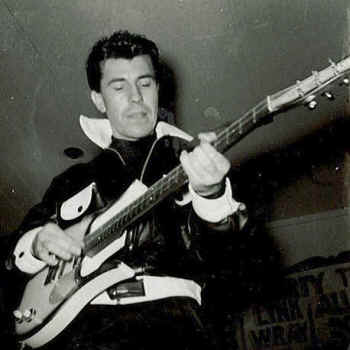 "If I could go back in time and see any band, it would be Link Wray and the Raymen." – Neil Young




Time To Get Your Pick On! The pick store is back with classic black 'thin script' logos on a white matte-finish Delrin pick.
Our first batch sold out fast, so get 'em while they're hot!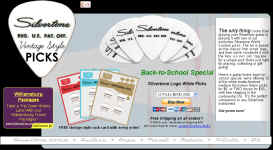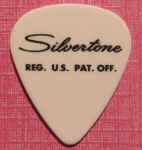 Make sure to visit April 2013, we saw some great stuff as we moved into Spring


MODEL # / MANUFACTURER / INSTRUMENT TYPE / CONDITION / PRICE / NOTES

Abbreviations: M-Mint, NM - Near Mint, E- Excellent, VG- Very Good, G- Good , F-Fair, P-Poor, NS- Non-Stock, HBEG- Hollow Body Electric, FHAC- F-Hole Acoustic, FTAC- Flat-Top Acoustic, SBEG- Solid Body Electric, SSEG- Semi-Sold Electric, MIJ- Made In Japan, MOD - Modified significantly from stock, w/ O/C Original / Case, DNS - Did Not Sell; used mainly to show an item of interest whether it sold or not.

Unless otherwise noted, I'm rating them by what I see in the pictures and read in the description.

The items depicted on this page are not for sale by Silvertone World. These are reviews of items from completed ebay auctions on or around the date specified.

Links in blue open in a new window, and take you to a Silvertone World info page, a period catalog listing, or a link of interest.