Summer 2014





1964 was an incredible year for Silvertone, and we've designed this incredible 11"x17" full-color Limited Edition Poster to celebrate what we really think of as a peak year in the Silvertone realm. Want one? Just click on the link below for details on how to purchase one of your own. Now just $20 with shipping! They're goin' fast! Get 'em while they're hot!

EXCLUSIVE Silvertone World 1964 Poster Offer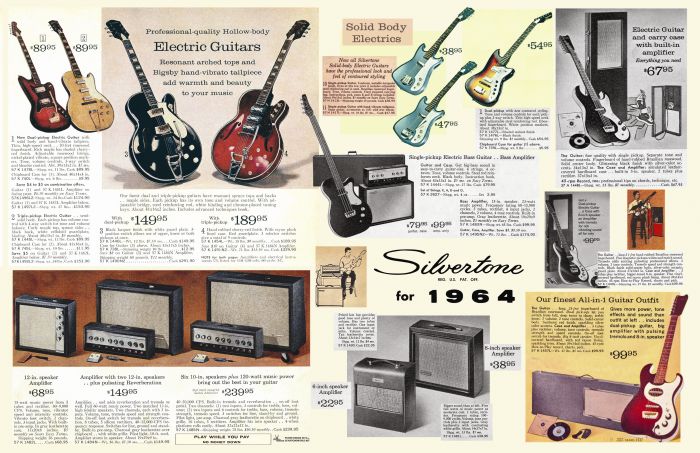 9/10

I Don't Want This To Happen to 'little fish' like me, and, in turn, to all our Silvertone fans worldwide.
Support Net Neutrality!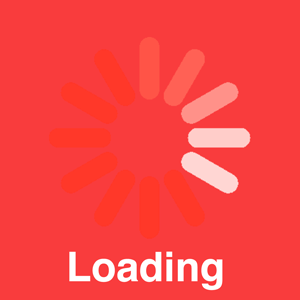 9/5

Rock On, T.S.! Here's a fine pre-'57 'Thin Twin' 1381. The first versions of this guitar, which was introduced in 1954, had the Silvertone brand as a stylized script on a plastic laminate, and the last guitars of the line featured a two-layer laminate black headstock with a Silvertone logo stencil-routed to reveal the white layer underneath. The black headstock axes also got a number model change to the 1369.

1381 Kay SSEG w/ C VG $1040 Clean, light wear, light finish flaking, logo laminate looks good, tuner buttons shrunken/deteriorating , (1) NS tuner button, 'T S' monogram stockers on treble bout area of pickguard worn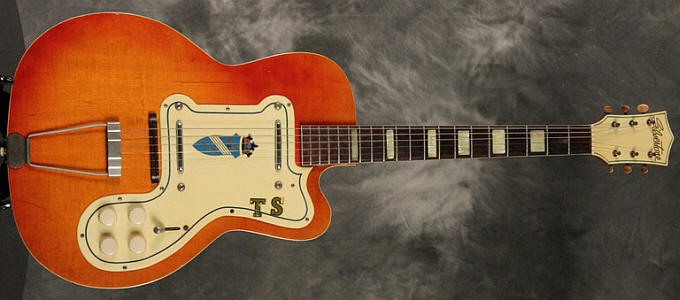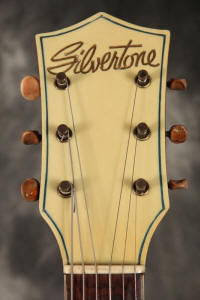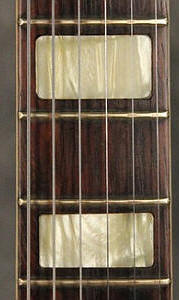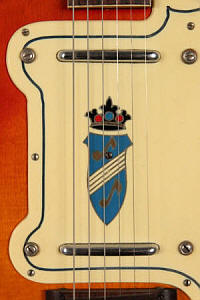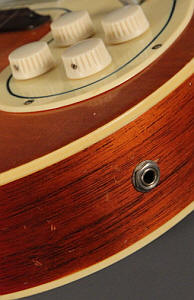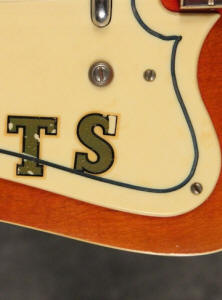 Just for fun, here's a treat: I'd never seen the 'Old Kraftsman' branded version of this guitar 'til recently. I'm diggin' the 'lightning bolt' motif. Want it? It's up for bidding on eBay.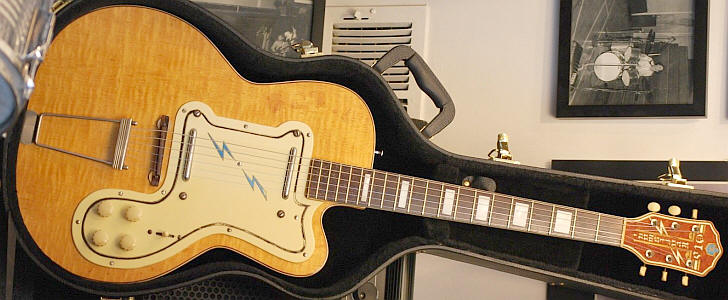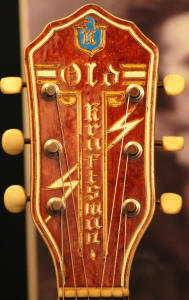 Here's a little ad for a big song from this week in 1964, it's a trade ad in the back pages of Billboard for the quintessential teenage tragedy song, J. Frank Wilson and the Cavaliers "Last Kiss," just beginning its climb up the charts.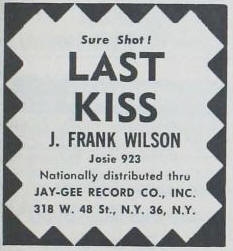 8/15

Whew, it's been QUITE a Summer! Now that we're gettin' back in the 'back to school' mode, I figured it's time to get back on the Silvertone World horse here, with some updates and new pages, and even more from 1964. Of course, I never *really* take time off from Silvertonin'... our Facebook page recently passed 1,000 likes, the visits here on the website are as strong as ever, and Silvertone is holding a firm footage on stages all over the world, with Beck, Coldplay, Vampire Weekend, The Bots, Dum Dum Girls, Dex Romweber, and many more bringin' the Silvertonium to the people!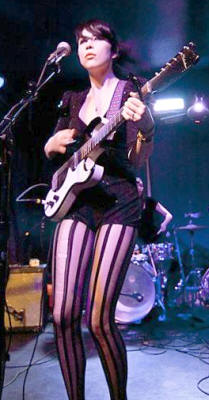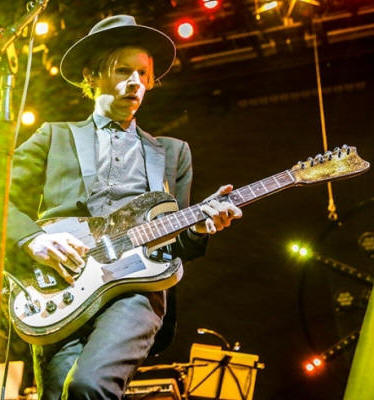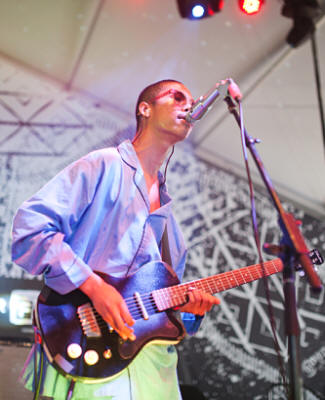 The Beatles continued their domination and influence on the music scene over the Summer of 1964, and here's something interesting from this season 50 years ago: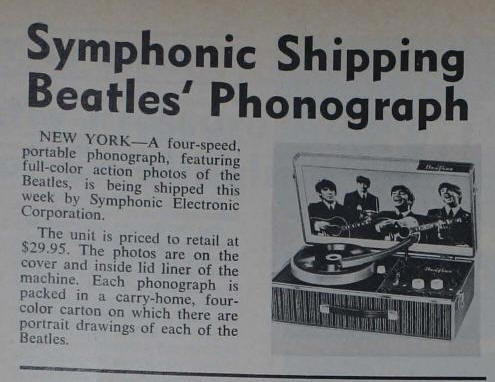 A couple more tidbits from the same week: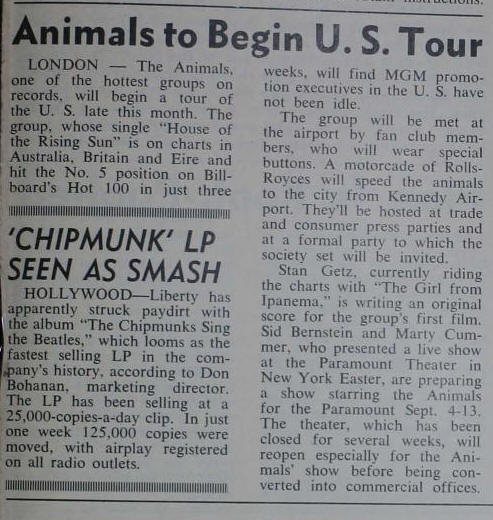 The Chipmunks' Beatle album was actually my first exposure to the music of the Fab Four!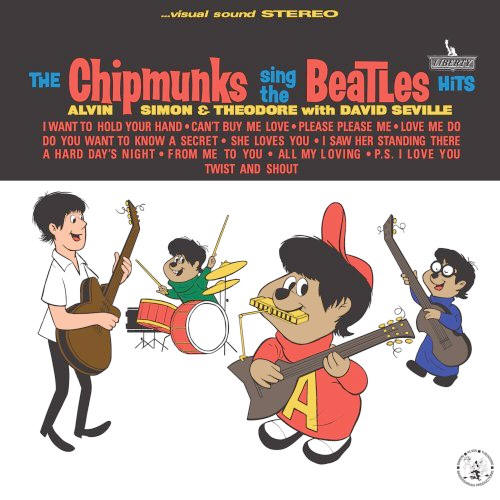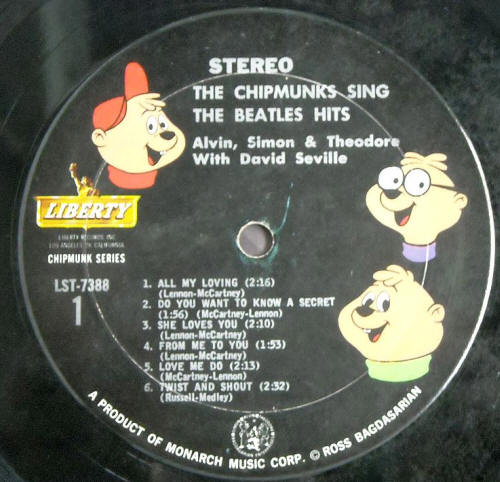 I remember buying this album as a teenager, part of which was recorded right around this time in 1964. If you've heard the disc, you know that the record execs "hoping the anticipated screaming [would] dissipate" because of the Hollywood Bowl being an outdoor setting didn't quite work out...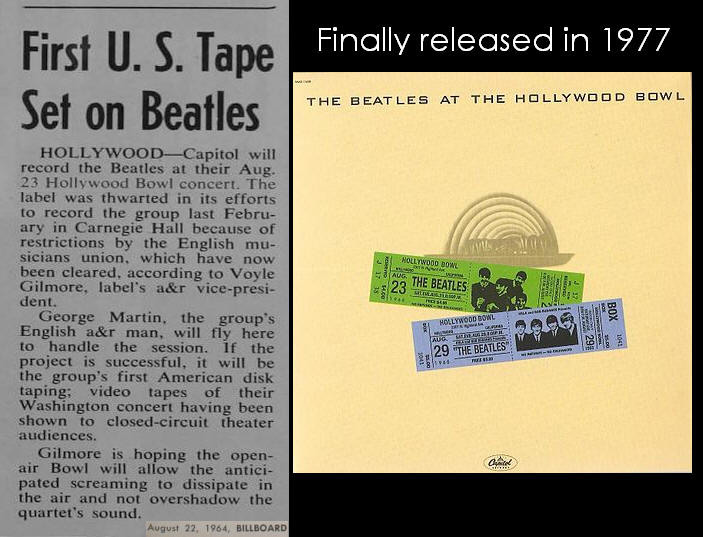 If you haven't heard the record... well, here ya go. Thanks, YouTube!






Make sure to visit Spring Pt. 3 2014, as we rolled along in the new season for our continuing spotlight on 1964 memories, and of course, lots of great Silvertonium...



MODEL # / MANUFACTURER / INSTRUMENT TYPE / CONDITION / PRICE / NOTES

Abbreviations: M-Mint, NM - Near Mint, E- Excellent, VG- Very Good, G- Good , F-Fair, P-Poor, NS- Non-Stock, HBEG- Hollow Body Electric, FHAC- F-Hole Acoustic, FTAC- Flat-Top Acoustic, SBEG- Solid Body Electric, SSEG- Semi-Sold Electric, MIJ- Made In Japan, MOD - Modified significantly from stock, w/ O/C Original / Case, DNS - Did Not Sell; used mainly to show an item of interest whether it sold or not.

Unless otherwise noted, I'm rating them by what I see in the pictures and read in the description.

The items depicted on this page are not for sale by Silvertone World. These are reviews of items from completed eBay auctions on or around the date specified.

Links in blue open in a new window, and take you to a Silvertone World info page, a period catalog listing, or a link of interest.





Pricing & Commentary Archives: