Elvis' star was quickly rising, as 'Country Music's Mr. Rhythm' was now signed to an exclusive deal with RCA Victor. On a bill that featured Mother Maybelle and the Carter Sisters among others, Elvis was again top of the bill, just coming off his third appearance on the Dorsey Brothers' "Stage Show." According to Bill "Tex" Davis (an early promoter of country music in Norfolk and now a Nashville honcho), Elvis' announcement of the Norfolk shows on Saturday night's Dorsey Brothers "Stage Show" caused a near riot the next day at the auditorium's box office. Also, said Davis, Elvis felt misunderstood in the Norfolk area, but felt after these shows on the 12th he had " made it!"



Elvis was also interviewed by the Oscar High School radio station WFOS, the first high school FM station in the U.S., and still on the air. According to Steve Jones (the young man with the headphones) the WFOS engineer, Ray Pulley conducted the interview.

Raymond H. Pulley was a professor of history at the University of North Carolina at Chapel Hill, 1966-1973, and at Appalachian State University, 1973-1995. While a student at Oscar Frommel Smith High School in South Norfolk, Va., 1955-1957, Pulley worked as an engineer and disc jockey at the student-run radio station WFOS-FM, hosting The Cuzin' Ray Hoedown, a daily two-hour program that featured rock and roll, country, and hillbilly music.


Elvis performed at the Paramount Theater in Newport News the next day, getting a ticket for driving backwards down Washington Avenue.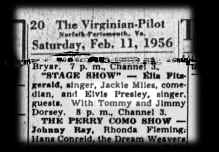 Listing from the Pilot for Saturday evening's TV entertainment showing Elvis on the Dorsey Brothers show.

Here's a Video link for that 'night before Norfolk' performance: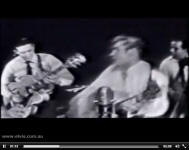 Here's an exciting find:

Scotty Moore's website has a completely awesome and well-researched illustrated page on this set of shows and the 1955 shows as well as a nice bit about the auditorium itself, along with audio of the interview being conducted at left, as well as one with the Carter Sisters.

Looks like Scotty's researchers hit the same microfilm spools at the Kirn Library that I did, because they've got some of the same ad reproductions (right down to the scratches!).